Have a lot of watercress? Then make this healthy watercress soup, a French classic. It's not only packed with vitamins but has a particularly gorgeous spicy flavour - even a bit cheesy without the cheese!
Get the easy recipe below - but first, a visit to see watercress being harvested in the fields in Normandy, France.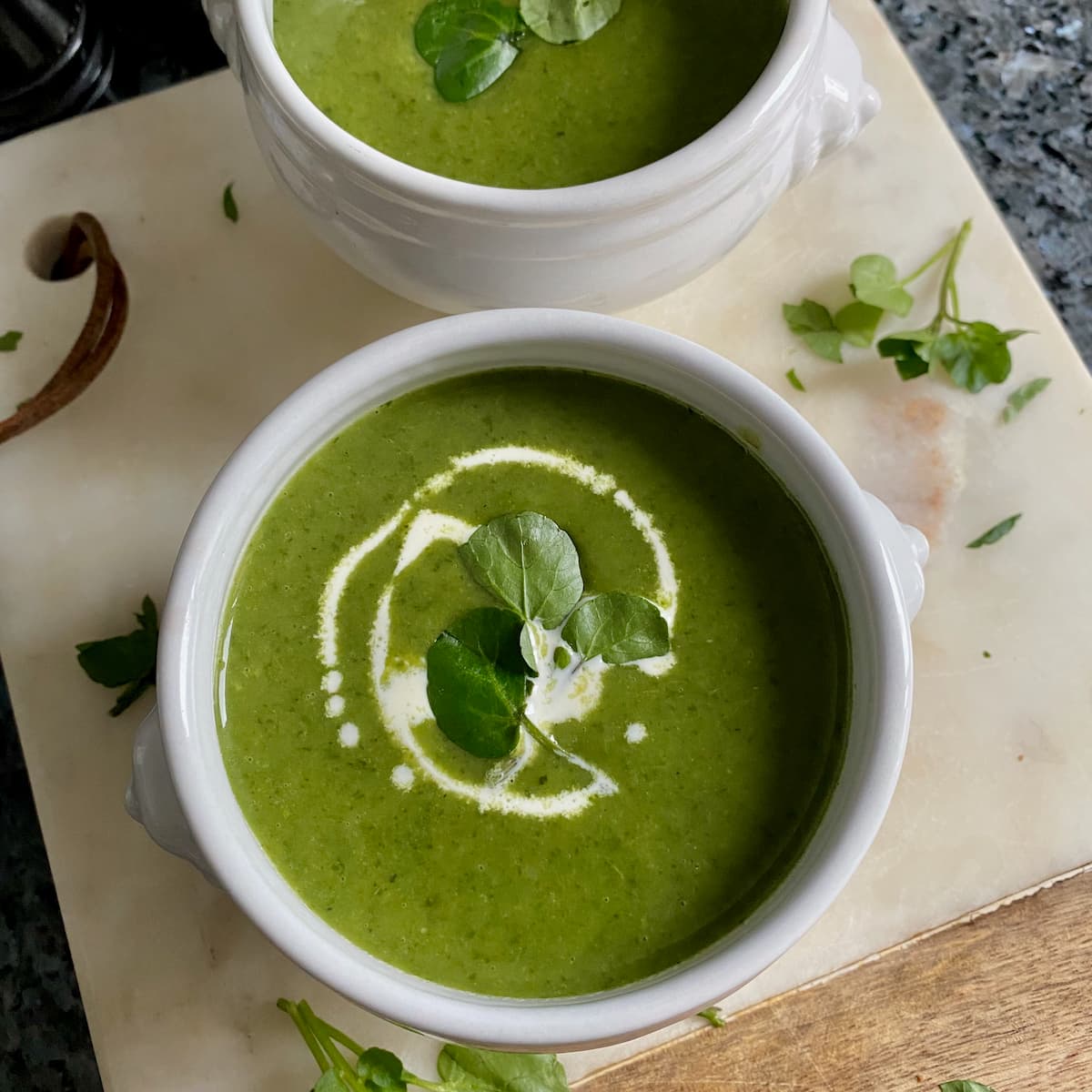 How is Watercress Grown?
Come join me on a walk along watercress lane (I want to live in a street called Chemin des Cressonnières - isn't it romantic?) in the Pays-de-Caux in Upper Normandy. It's the way to see the French watercress fields, or Cressonnières in Veules-les-Roses.
Watercress (Nasturtium officinale) thrives in cool flowing streams, where it grows submerged, floating on the water, or spread over mud surfaces.
Don't confuse it with the tiny ornamental watercress (genus Tropaeolum) that's grown on the windowsill and famously put into British egg sandwiches - they are both completely different.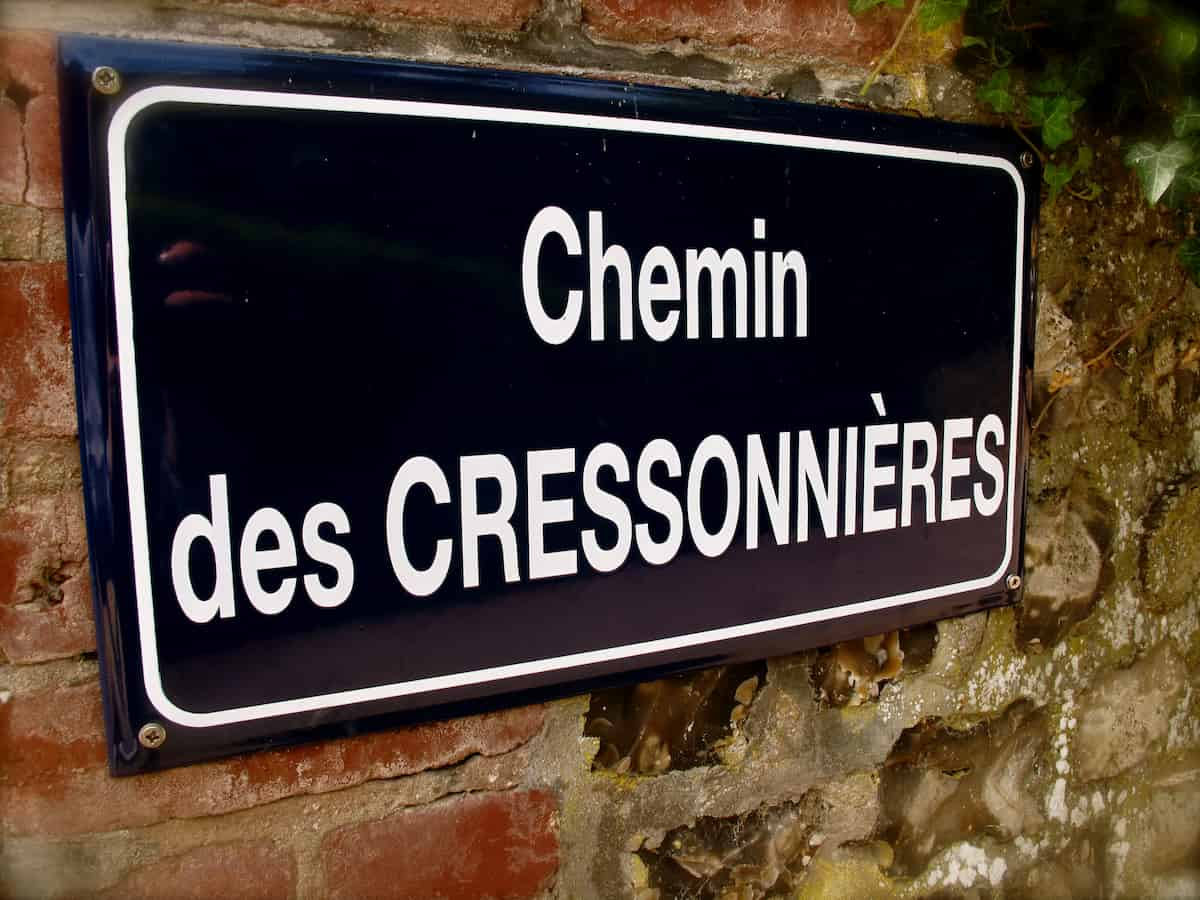 Veules-les-Roses French Watercress Fields
Veules-les-Roses on the Normandy coast is one of the prettiest towns in France. It has two main attractions:
It's home to the smallest river in France, the Veules. It's the shortest sea-bound river at 1.194 km (about ¾ of a mile), along which there are three restored 18th Century watermills.
It's home to the beautiful watercress beds, (cressonnières) at the source of les Veules river.
The clear running water's current of Veules-les-Roses has favoured the cultivation of watercress here since the 14th Century.
Harvesting watercress is done by hand with just a knife and ties to make each bundle.
The season lasts between September and May with December seeing the best of the harvest.
In April, there's even a Fête du Cresson in Veules-les-Roses. So if you fancy partying around watercress and learning more about it in France, this is where to go.
For more on Normandy, read my top 10 reasons to visit Honfleur.
How is Watercress Harvested?
The bunches of watercress that are formed during harvesting are called chignons, when the roots of the stalks come outside the bunch.
Luckily these days, harvesting is done wearing rubber boots, rather than sodden feet steeped in 10cm of cold (about 10°C) water wearing clogs with heavy metal leggings!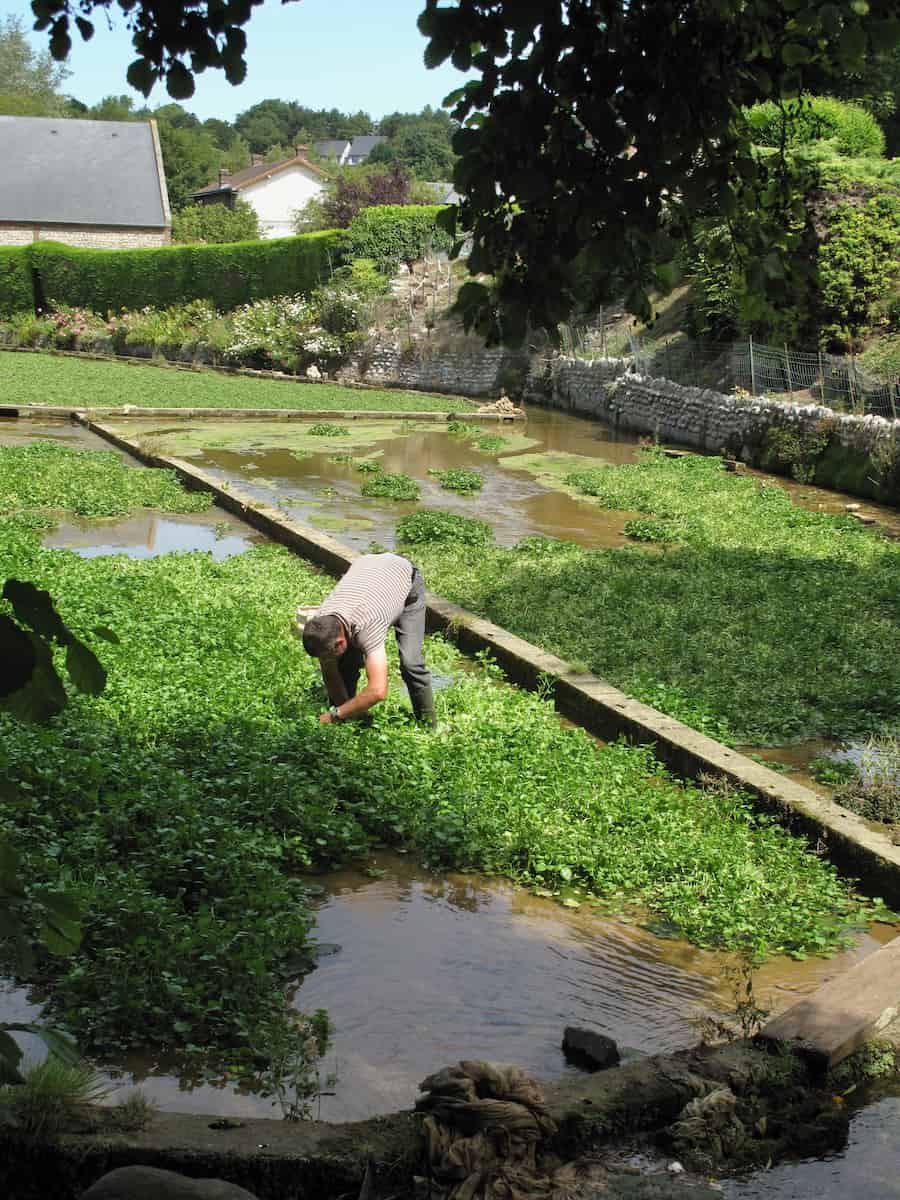 What Does Watercress Taste Like?
Watercress is known for its fine leaves and particularly spicy taste. It isn't bitter once cooked and if served as raw leaves in a salad, it's deliciously peppery with hints of mustard. We love it raw in small doses and it's delicious mixed with other salad leaves - served with this Onion Tarte Tatin, for example.
How do you Make Watercress Soup Less Bitter?
However, the strong peppery taste in watercress calms down when cooked. It's not like the taste of spinach or even like this rocket (arugula) soup.
Once cooked in soup with a floury potato and a little nutmeg, it even has a slight taste of cheese to it. Don't ask why but my daughters confirm they get that too.
Is Watercress Soup Good for You?
A comforting bowl of Soupe au Cresson is extremely healthy, as it contains iron, calcium, potassium and vitamin C - and is a great antioxidant and source of protein. It's even said to reduce the effects of skin ageing.
In France, it's popular in Autumn and Winter at the market to see stacks piled high of neatly tied bouquets of watercress.
Each time I discuss watercress with the market sellers, there's really only one recipe the French associate with it - and this is it! Approved by the French family - even my Corsican Parents-in-Law who adore soup. It receives a firm thumbs up each time. So now over to you to make it.
How to Make French Watercress Soup
First prepare all your ingredients: chop an onion, a garlic clove, potato (floury variety best for soup, like Russet and Binje in France) and wash the watercress.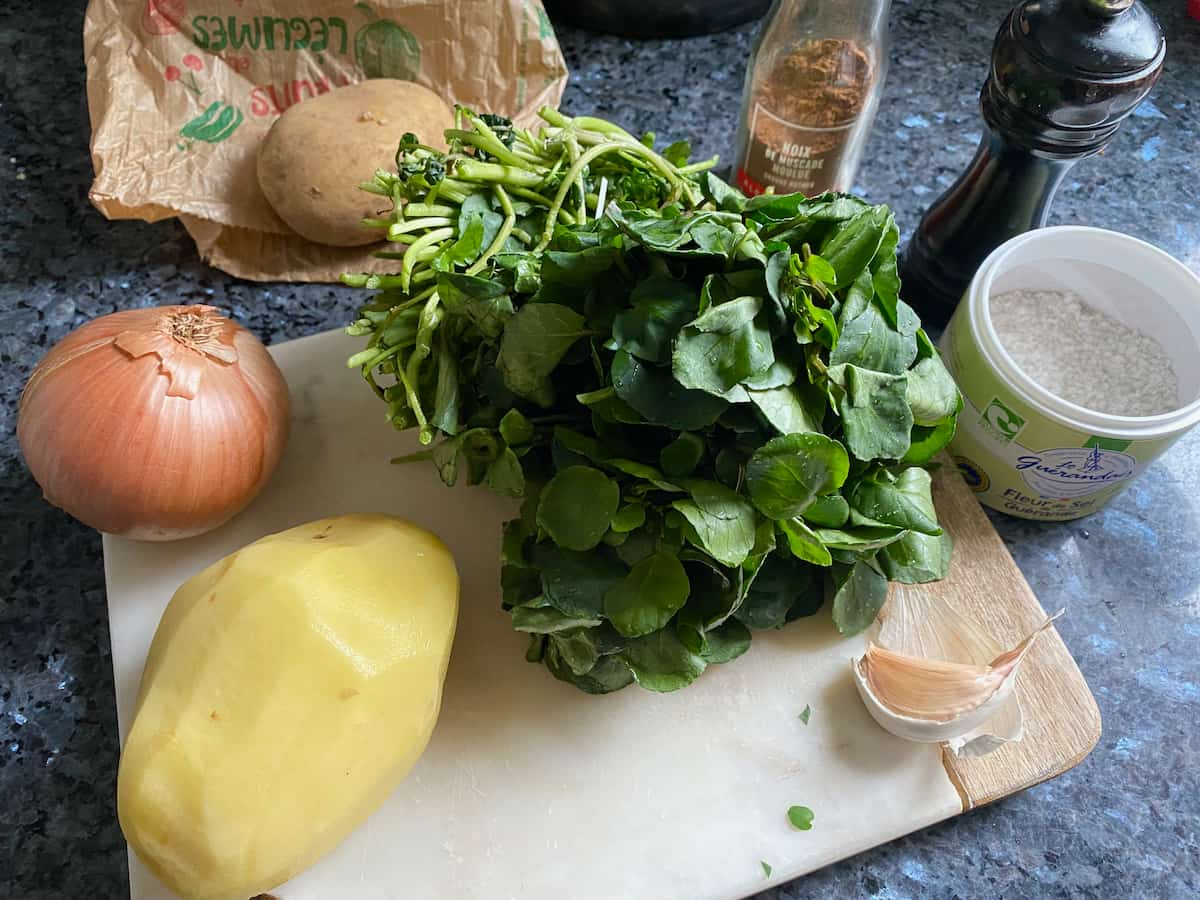 In a large saucepan, heat the butter and olive oil until melted (not browned). Sweat the chopped onion and garlic for about 5 minutes until translucent and add the ground or grated nutmeg.
Meanwhile chop the potato and chop off the head of the watercress bundle. Discard only the large, thick stalks and keep the thin ones with the little leaves on them. This makes watercress much easier to prepare.
Keep a few little leaves aside for the garnish.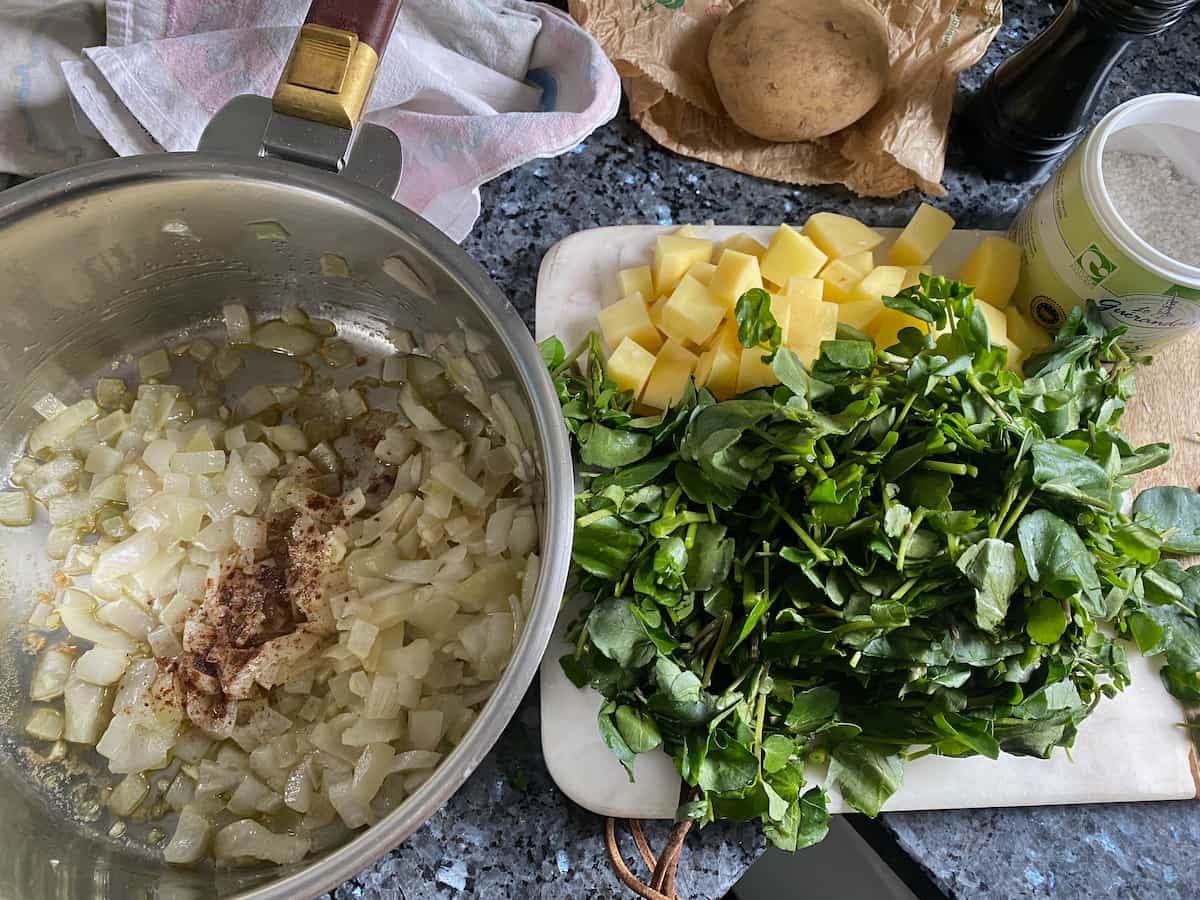 Over a medium heat, add the chopped potato, watercress and cover with the vegetable stock (or chicken if you prefer). Heat on high at first, then reduce heat to a simmer and cover with the lid slightly askew to let a little steam escape.
Cook gently for about 20 minutes or until the potato is soft.
Blitz the soup with an immersion blender then add salt and pepper to your taste (for salt, I use French fleur de sel, otherwise UK Maldon salt or US Celtic salt).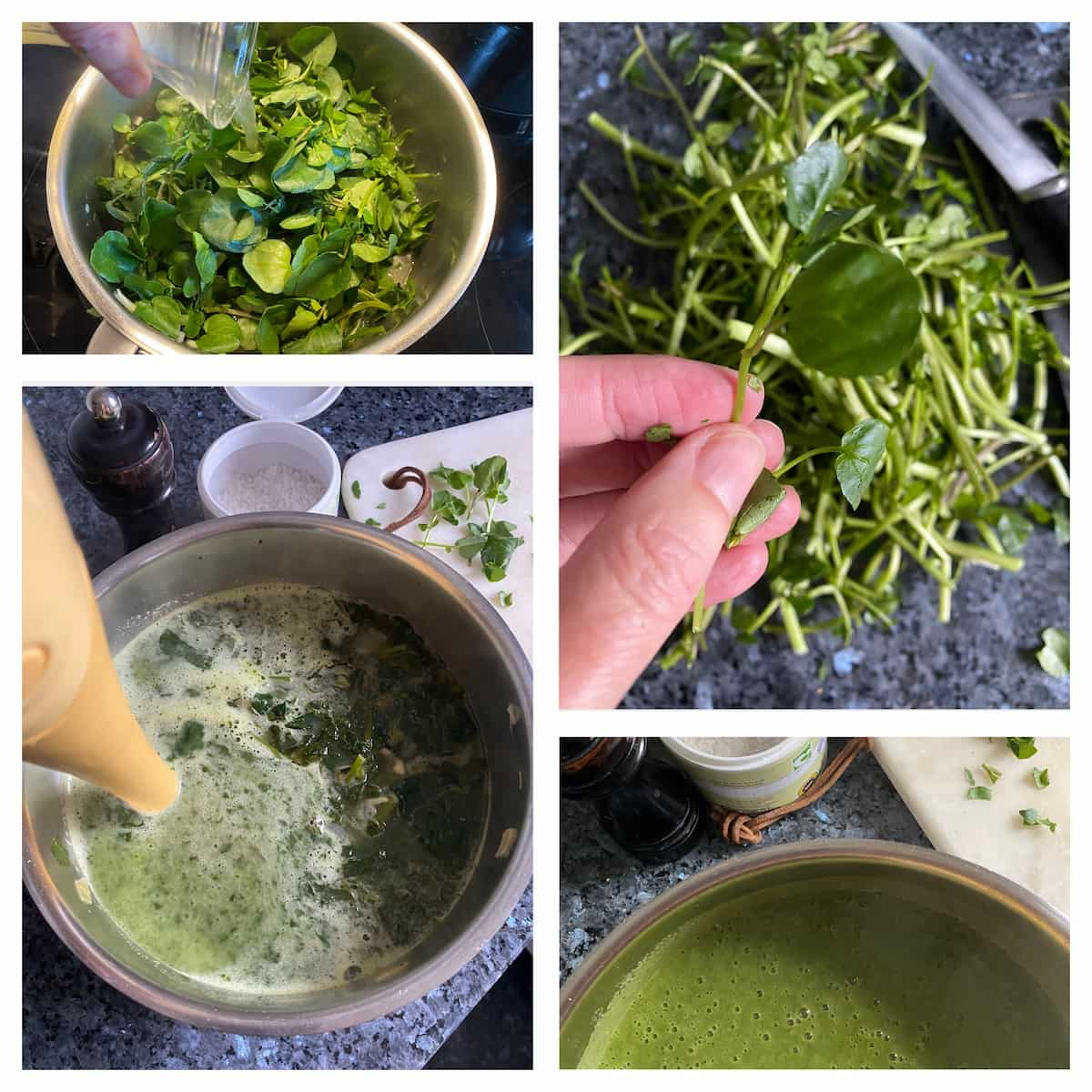 How Long Can I Keep it?
Cool then keep in the fridge covered for up to 2 days.
The soup freezes well. Leave the soup to cool and chill in the fridge in large jam jars or sealed bags then transfer to the freezer. Use within 3 months.
How to Serve Watercress Soup
Watercress is so good with light accompaniments, so not to interfere too much with its subtle flavours. At a limit, it's excellent paired with cheesy bread. Here are some serving ideas:
A crusty baguette with either a little butter or dip into good olive oil.
If serving as an elegant starter dish, top with the little watercress leaves, swirl in a dash of cream or a wee dollop of crème fraîche.
For something fun, why not surprise your guests with a mini savoury Mad Mac herb macaron? The recipe is on page 97 of Mad About Macarons;
Lovely served with fluffy cheese scones.
Watercress Soup (Soupe au Cresson)
A delicious French soup of fresh watercress made with potato. It's not just packed with vitamins but has a particularly gorgeous spicy flavour - even a bit cheesy!
Ingredients
25

g (1oz/ ¼ stick)

butter

1

tablespoon

olive oil

1

small onion

finely chopped

1

clove

garlic

finely chopped

¼

teaspoon

ground nutmeg

1

large

floury potato (Binje, Maris Piper)

peeled, roughly chopped

800

ml (1.5 pints/ 3 cups)

vegetable stock

(or chicken)

1

large bunch of watercress

200g once prepared - smaller stalks included (big ones discarded)

good pinch

Salt & pepper

to taste
Instructions
Wash the watercress, drain and set aside. Chop off the leaves and keep the smaller stalks (discard the large, thick stalks) and reserve a few smaller leaves for the garnish.

Heat the butter and olive oil in a large saucepan and sweat the onion and garlic until cooked but not browned for about 5 minutes.

Add the nutmeg then the chopped potato, watercress leaves (including the smaller stalks) and stock. Heat to a boil then lower the heat and simmer, covered with the lid slightly askew to let some steam escape. Simmer gently for up to 20 minutes until the potato is cooked through.

Blitz the soup with an immersion blender or in a food processor until smooth. Season with salt and pepper to your taste.
Notes
Freezes well for up to 2 months.  Otherwise can keep in the fridge covered for up to 3 days.
If serving as an elegant starter dish, swirl in a little cream. Why not surprise your guests with a mini Mad Mac herb macaron? The recipe is on page 97 of Mad About Macarons.
Nutritional Information: 124 Calories per serving; 2g Protein; 9g Lipids; 8g carbohydrates.
Measures: Please note that all my recipes are best made using digital kitchen scales in precise metric grams. Both ounces (and cups) are given as a guide. 
This post was first published 5 November 2013 but has now been updated with new photos, more info and tips.