A healthy Smoked Garlic Arugula (Rocket) Soup recipe with no cream in sight, only 60 calories a serving and made in just 30 minutes. Give your guests a blind-tasting game to guess what the vegetable is! It's "surprisingly delicious", says Antoine. So there you have it!
A Soup to Scare off the Flu!
Instead of waltzing to the Vienna Philharmonic, I literally FLEW into the New Year with the latest trend: flu.
Just before landing, as I squinted down at the snow-covered French fields after leaving a mild Scotland, I realised my window-seat neighbour had been discreetly running a raging fever as we rubbed elbows and shared the same breathing particles on that flight back to Paris.
It has taken a good two weeks to feel back on my feet and "normal" (or mad, whatever you think). So, on finally returning to the kitchen, I concocted this deliciously healthy garlic soup as a real detox boost to recuperate - without even stinking everyone out with garlic.
Love Garlic but find it too Strong? Try Smoked Garlic!
If you're like me and find that garlic sticks around you for a while, you'll love SMOKED GARLIC, as it is much milder but strong on smoke. I can't believe it took me so long living in France before I discovered this French speciality!
When I saw it mentioned with a soup recipe in the December Newsletter by my friends at La Cuisine Paris Cookery School, I immediately asked my organic Vegetable guru at our local market in Saint-Germain-en-Laye to get some from the smoked garlic French capital of Arleux in Northern France. Smoked garlic from Arleux is usually in season in the winter months.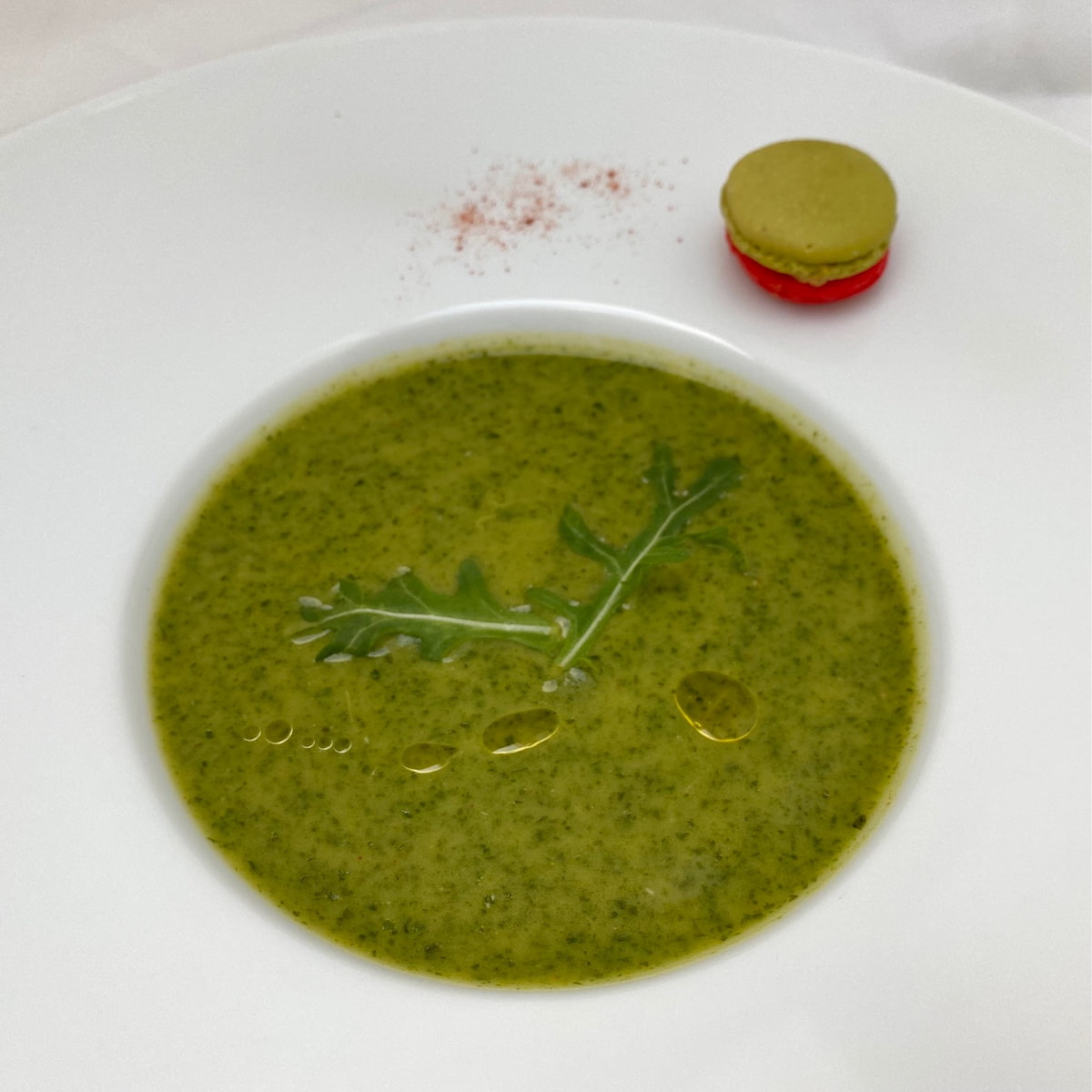 Ever since, my vegetable man now regularly has smoked garlic in stock (can never resist a good pun).
Creamy Soup Recipe with No Cream!
Rather than use a lot of potato, which is traditionally used in abundance for a classic French smoked garlic soup, I was inspired by a Scottish rocket (arugula) soup. I often serve this with kiln-smoked salmon for dinner parties - although the recipe was laden with cream. In the end, not even intentionally, the recipe ends up being vegan but if you like a dash of cream in there, then be my guest.
So I completely omitted the cream, adding only a small amount of potato - just to thicken it slightly - some leek to cleanse the body (see my notes in this leek and pumpkin soup) and added the smoked garlic for that special extra ingredient.
Try playing a guessing game for guests when serving this as a blind tasting. It's so difficult to detect that it's arugula or rocket, never mind the smoked garlic! It's so good.
What's the Best Potato to Use for Soup?
The best potato variety to use for making soups is a floury potato such as Bintje. See more on potatoes from the market.
Smoked Garlic and Arugula (Rocket) Soup
A nourishing, creamy soup with no cream in sight, only 60 calories a serving and made in 30 minutes.
Ingredients
2

tablespoon

olive oil

4

cloves

smoked garlic*

peeled, germ removed, chopped finely

1

small leek or onion

finely sliced

200

g (7oz)

floury potato (e.g. Binje)

one large potato

400

ml (14fl oz)

vegetable stock

150

g (5.5oz)

arugula (rocket) leaves

1

tablespoon

flat leaf parsley

finely chopped

salt & pepper

to taste
Instructions
Heat the olive oil over a medium heat in a high-sided pan and add the chopped leek (or onion). Sweat for a few minutes, stirring continuously, ensuring the leek doesn't brown. Add the finely chopped garlic (and smoked paprika if using) and sweat for a couple of minutes more.

Add the chopped potato, adding the stock.  Boil then reduce heat, cover and simmer for about 10-15 minutes or until the potatoes are cooked.

Finally add the arugula (reserve a few for the decor) and parsley leaves. Return very BRIEFLY to the boil with the lid on, then immediately turn off the heat.

Blend until smooth, adding some salt and ground black pepper to your taste.

When ready to serve, reheat gently (do not boil), drizzle with some good quality olive oil and decorate with some arugula leaves.
Notes
TIP: just as with regular garlic, remove the inner germ from each clove, as this aids digestion.
Can't find smoked garlic? Use only 2 cloves of regular garlic and add a teaspoon of smoked paprika.
NUTRITIONAL INFORMATION: 60 Calories per serving; 3g protein; 12g carbohydrates.