This rustic, warming French leek and potato soup is an authentic classic. Known as Potage Parisien or Le Bonne Femme it's served unblended and made without cream.
Not to be confused with Vichyssoise, a classic chilled potato leek soup or Potage Parmentier, which is essentially a blended cream of potato soup with only a little leek added.
Leek and Potato Soup Without Cream
It's funny how many recipes use cream for leek and potato soup. This authentic French recipe is thanks to no other than Auguste Escoffier from his legendary Guide Culinaire.
According to Larousse Gastronomique, this started out in history as Potage Parisien or le potage à la parisienne, a rustic, peasant-style soup base of equal quantities of leeks and potato. It uses NO cream (or crème fraîche), is made with either water or chicken stock, and isn't blended.
In Auguste Escoffier's Guide Culinaire, this soup was given an upgrade as of the 19th century, called Soupe à la Bonne-femme. The only difference is Escoffier adds more butter at the end of cooking and adds (as an option) that milk is used instead of water or stock.
This soup is not unlike the Potage Parmentier, referred to as a "crème de pommes de terre" (cream of potato) in Larousse Gastronomique. As the name implies, this came from pharmacist Antoine Parmentier who promoted the humble potato in France - it's mainly a creamy potato soup with the addition of only a little leek.
For more on Parmentier, see the market page on potatoes.
Is Magic Leek Soup a Real Thing?
Following the airing of 'Emily in Paris', tourists have been walking about Paris in berets, bright coats and boots - but also some are still talking about Magic Leek Soup. Is this really a thing? What on earth is going on with all this about leeks?
This obsession about a slimming leek soup comes from French Women Don't Get Fat. Author, Mireille Guiliano, calls leeks a miracle vegetable, as it's basically a mild diuretic. She claimed that French women lose weight from a 2-day fad diet of purely leeks boiled in water to make a soup and, as if by magic, the calories drop.
Frankly, I believe this makes eating not much pleasure and, after personally experiencing anorexia while back in Scotland, this kind of continued fad dieting could develop an unhealthy relationship with food. Instead, I have kept a steady ideal weight in the 30 years I have lived in France. How?
Simply by sticking to these first five realistic eating habits: see our 5 ways to eat like the French.
On the other hand, I first heard of leeks on French radio (RTL) many years ago while driving the kids to the lycée. The celebrity doctor explained how to boost our immune system on returning back to school for la rentrée.
To avoid colds, his simple recommendation was to eat more leeks (poireaux). Without getting into the digestive details, leeks are good and clean the body.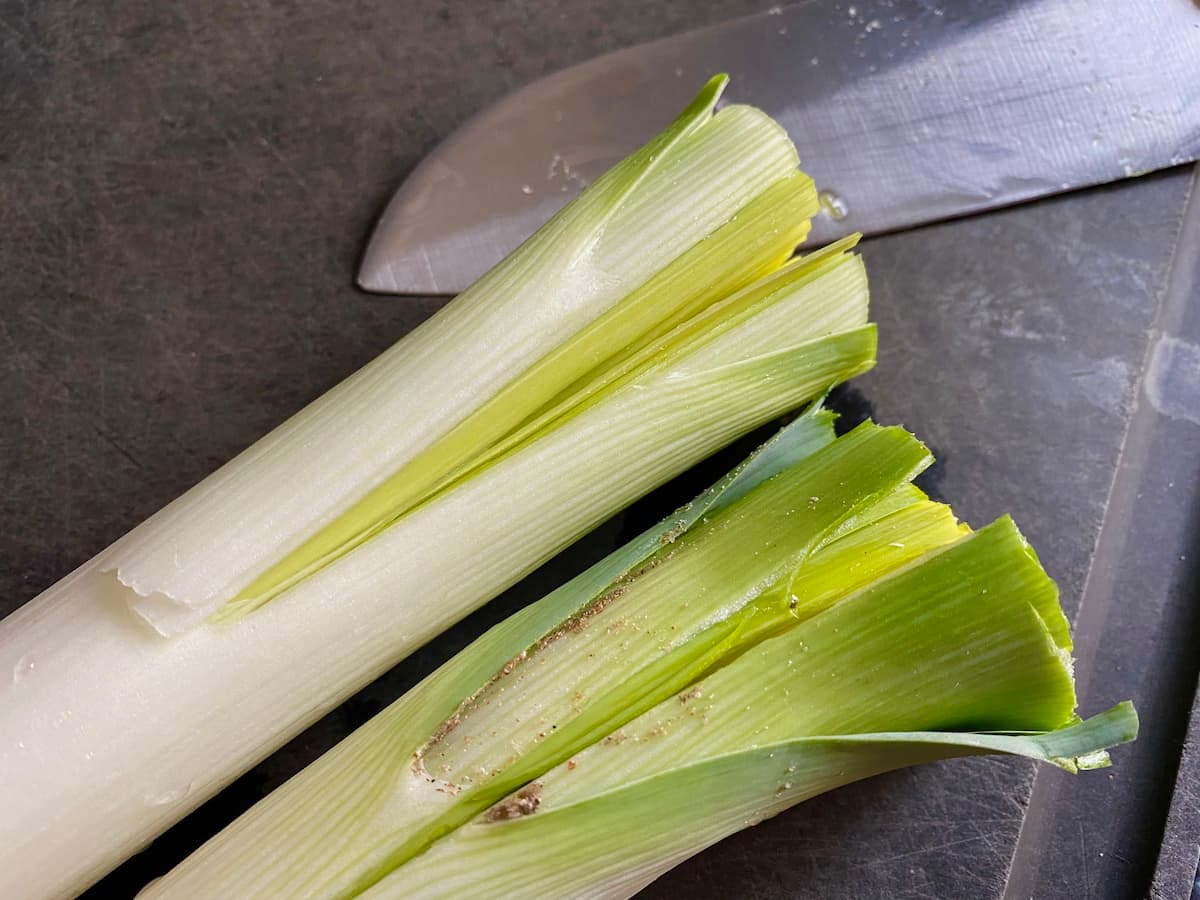 Healthy Recipes with Leeks
So, since then, to eat more leeks in our diet, I replaced onions with fresh leeks in many delicious soups including:
I also sautéed them in a little butter and olive oil to serve with scallops or fish. Plus added it to more French recipes, such as:
As a result of that one doctor's brief many years ago that, over time, I use leeks a lot!
How to Make Leek and Potato Soup
First wash and prepare the leeks - see how to on the market produce page on leeks (poireaux). Leave on about 5cm (2 inches) of the greens above the leeks' whites and remove the root stalk.
Sweat the chopped leeks in butter in a large soup pot (or Dutch oven) with the cover on, turning from time to time for at least 10 minutes. The leeks should not brown.
Add the chicken stock (or water for vegetarians - or milk) and bring to a boil. If you prefer your soup less thick, increase the liquid to 1.5 litres (6 cups).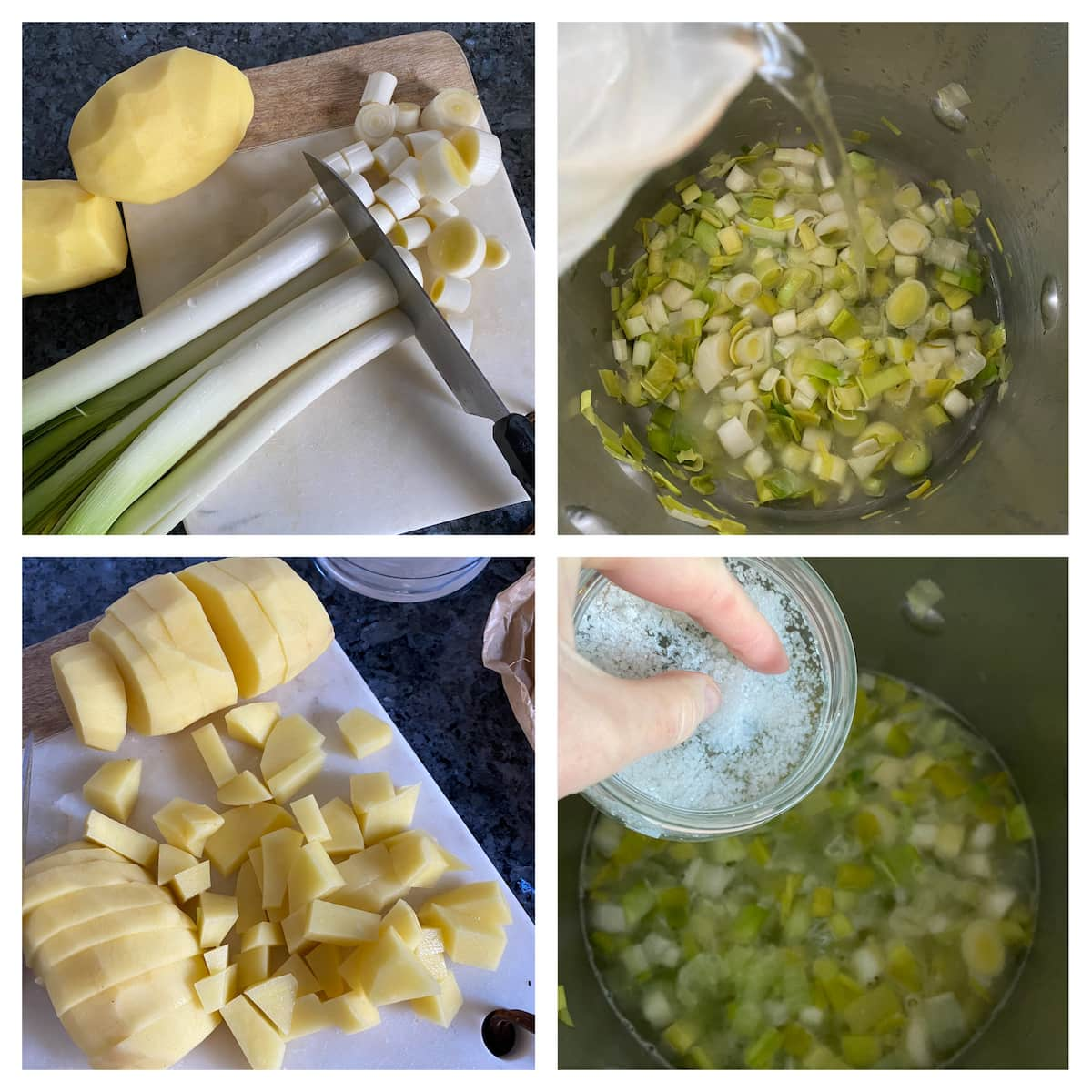 Add the roughly chopped and sliced potatoes. Cover and cook for about 15 minutes or until the potatoes have softened. At the end of cooking, adjust the seasoning with salt and pepper to taste. I prefer French fleur de sel (Maldon salt or Celtic sea salt are good equivalents).
There's no need to purée, blend or mix the soup. It's traditionally served rustic with all the bits, topped with a little fresh parsley or chervil and a bit more butter. Enjoy with a good, crispy French baguette.
How to Serve Potage Bonne Femme
For an authentic Potage Bonne Femme, this French leek and potato soup is served piping hot with a little aromatic fresh herbs such as chervil (or parsley, as it's easier to find). Serve with a good, crusty baguette - even better if slightly warmed with a little butter.
To add my Scottish touch, this soup would also be good with fluffy cheese scones.
It may not be magic leek soup, but the calories and taste with fresh ingredients are just as magic at only 115 calories a bowl.
Leek and Potato Soup (Potage Bonne Femme)
This rustic French leek and potato soup is a classic recipe from the Paris region. Known as Potage Bonne Femme, it's served hot and made without cream. No need to blend to a purée, it is traditionally served with all the bits - although delicious done half blitzed with bits still in it.
Ingredients
500

g (about 4)

leeks

sliced whites only with a little green

20

g (1½ tbsp)

salted butter

(if use unsalted add ½ teaspoon salt)

cracked pepper

to taste

500

g (18oz)

floury potatoes*

peeled and roughly sliced

1.25

litres (5 cups)

water

or chicken stock if not vegetarian

6

little sprigs

fresh parsley or chervil

to serve
Instructions
In a large pot, melt the butter and sweat the chopped leeks for about 10-15 minutes with the lid on over a medium heat. Turn them in the butter every so often, to stop the leeks from going brown.

Add the water (or chicken stock for non-vegetarians). If you prefer your soup less thick, increase the stock to 1.5 litres (6 cups).

Season with salt and a few turns of the peppermill. Boil on high heat then turn heat down, add the sliced potatoes and leave to simmer covered for about 15 minutes until the potatoes are softened.

Add any more seasoning of salt and pepper to taste and finish with a little sprig of fresh herbs on each bowl. Optional: add a little extra butter and melt it in at the end of cooking.
Notes
Floury potatoes: Binje, Manon, l'Artemis, Marabel in France – otherwise Russet, Desiree, King Edward, Maris Piper, Estima.
For more, see the market produce page on potatoes (pommes de terre).
Water, Stock, Milk: This authentic recipe is either made with water, chicken stock or with a little milk. This recipe is without milk or cream.
To Serve: delicious piping hot with a good, crispy baguette and butter.