Butternut Squash and Walnut Gratin, French family comfort food in one dish. Healthy veggies of leeks and squash are topped with toasted walnuts, parsley. It's all topped with bubbling melted cheese which forms a delicious cheesy crust that the family end up fighting for!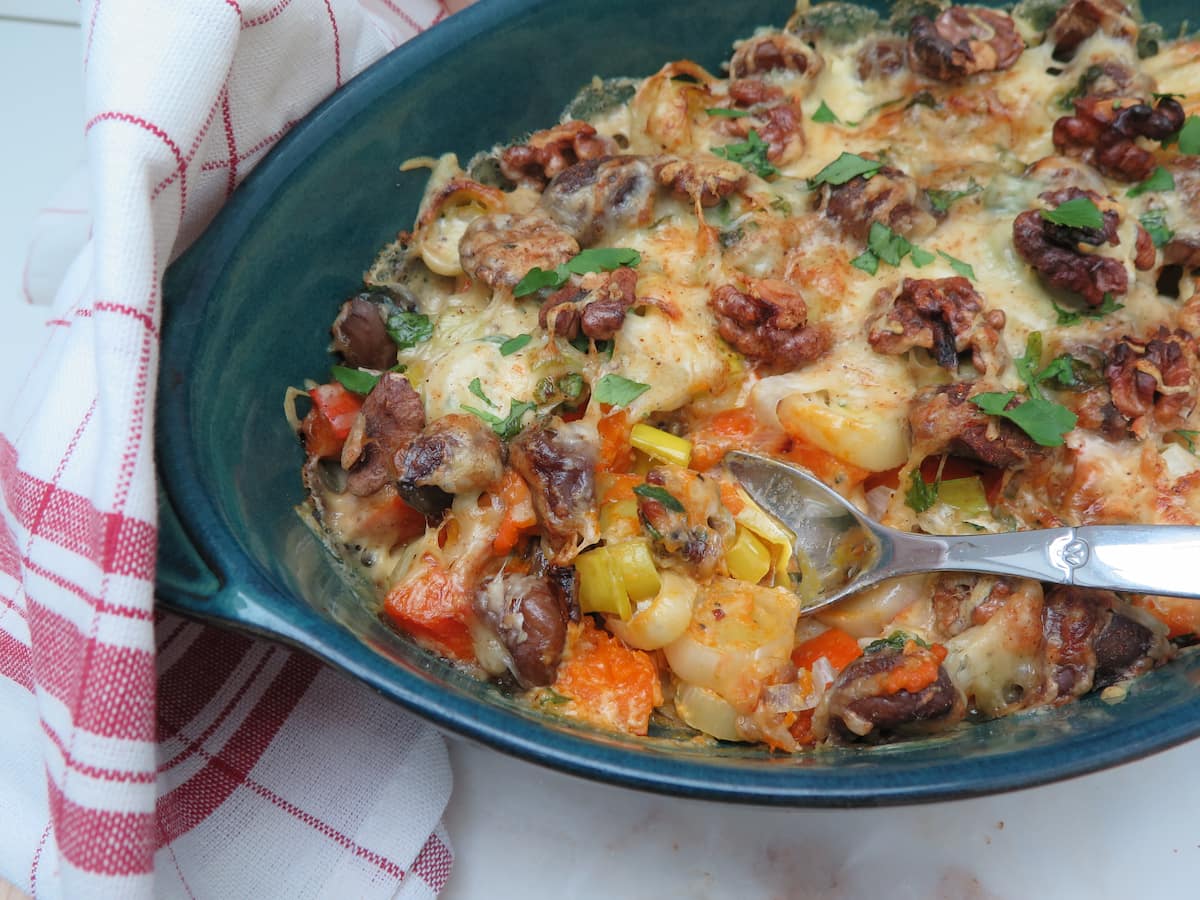 This is my form of playing squash in Autumn and Winter - with delicious butternut. This Butternut Walnut Gratin is so simple, it's not even much of a recipe. When my French family is craving cheesy comfort food, this is one of our favourites. A healthy meal in just one dish, it's a perfectly easy French dinner recipe for all the family.
Great Leftover Pumpkin Recipe
This gratin is also great using pumpkin - ideal for Hallowe'en leftovers, after making a pumpkin lantern.
Butternut squash is great with this dish but any other kind of your favourite pumpkin will do. I often use the popular French potimarron (marron meaning chestnuts in French), that are everywhere at our markets, more than the regular pumpkin. Known as Japanese pumpkin or Kuri - meaning chestnut in Japanese as it actually tastes of chestnuts - we love potimarron, as the skin is edible whereas butternut it's preferable to cut it off.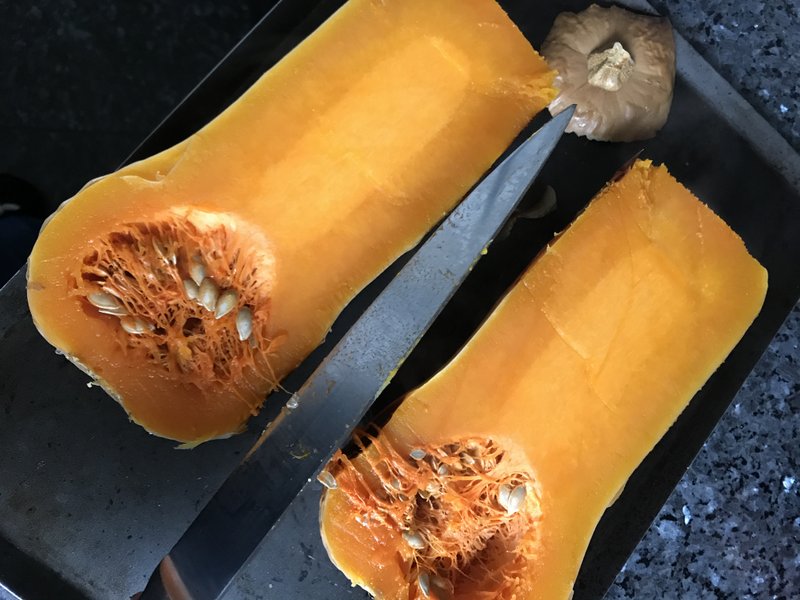 How To Prepare Butternut Squash
For this butternut walnut gratin recipe, I'm lazy and find it too difficult to cut it up raw as it's far too hard. Perhaps I don't have good enough knives but my lazy method is to just prick the skin with a fork and pre-roast the butternut on a baking tray in a medium oven for up to 15 minutes.
This makes it much easier to remove the skin and cut into chunks for the dish (which will end up being cooked again to perfection with the other flavours). However, you could (to save time) prick the skin and place on a microwaveable dish for about 10 minutes and continue with the recipe below.
Chestnuts - the French's Festive Favourite
As you can tell from many recipes here, the family love the association of pumpkin and leeks - and above all, chestnuts!  The French are MAD ABOUT CHESTNUTS, especially during the festive season. See more about chestnuts in all its forms on its chestnut market page.
Instead of chestnut flour this time, I'm adding vacuum-packed pre-cooked whole chestnuts (I keep a store of them like a squirrel, as there's no need to keep in the fridge). If you can't find them, replace with mushrooms.
To top it all off, toasted walnuts add that essential crunchy texture, clinging and adding some earthiness to the cheese. I have added smoked paprika but if you prefer the real non-vegetarian thing, then if you're a bacon lover, add some pre-fried smoked bacon slivers or lardons (bacon bits or cubes of poitrine fumé).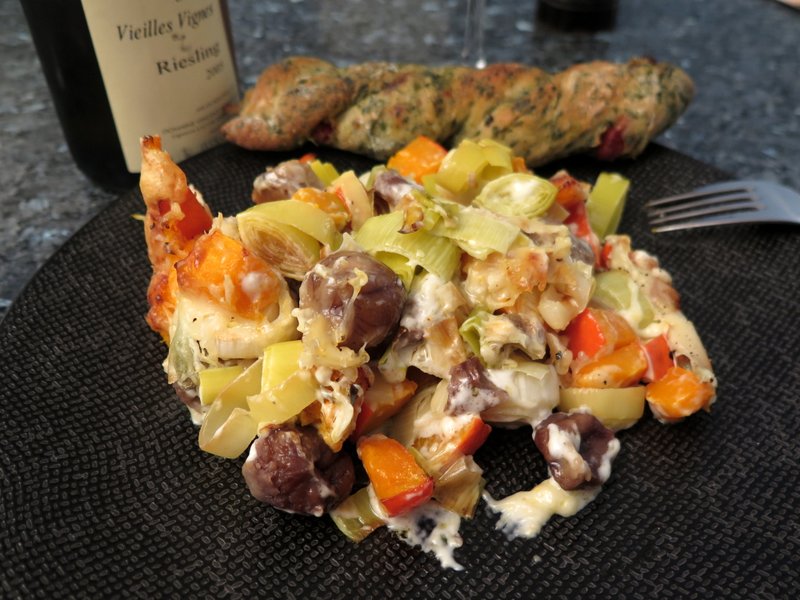 What to do with Butternut or Pumpkin Seeds?
Don't discard the seeds, as you can toast them with spices, salt and pepper and serve with drinks before the meal! The French are particularly into no waste (myself included), so never throw them out! I haven't posted the recipe yet but my Scottish friend, Janice from Farmersgirl Kitchen, has a super recipe for toasted pumpkin seeds which is also just as good with squash seeds.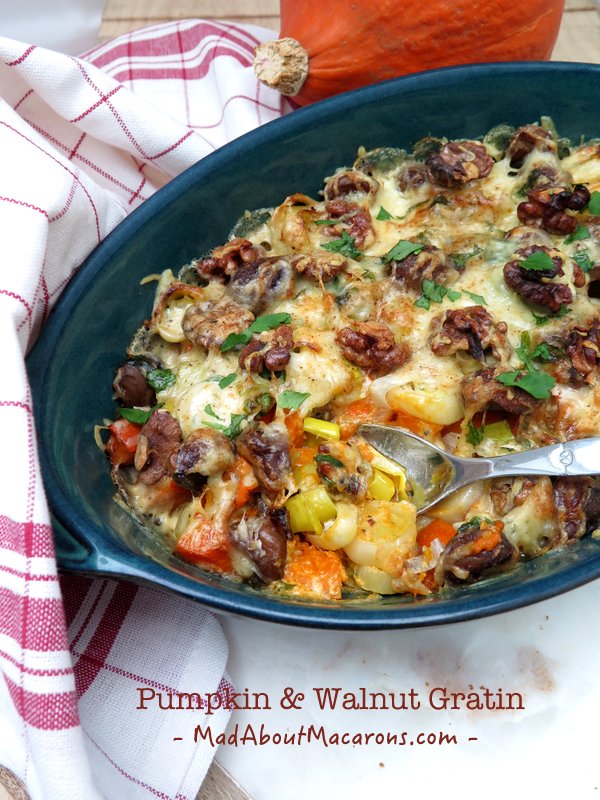 Butternut Walnut Gratin Recipe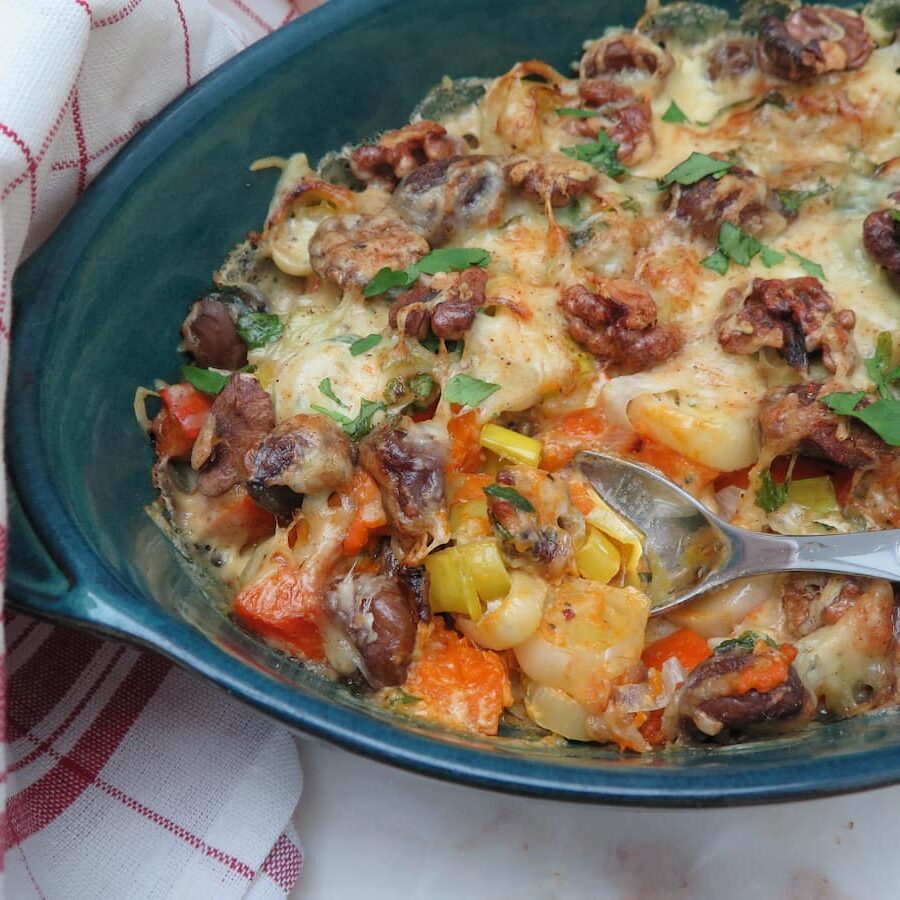 Butternut or Pumpkin Walnut Gratin
French family comfort food recipe in one dish. Pre-roasted butternut squash or pumpkin, leeks, ready prepared chestnuts, a subtle warming sprinkle of smoked paprika - all topped with toasted walnuts and bubbling melted cheese.
Ingredients
500

g (18oz)

butternut squash or pumpkin

(weight with seeds removed), cut into rough cubes

1

tablespoon

olive oil

2

leeks

cut into slices

200

g (7oz)

pre-cooked chestnuts

I use vacuum-packed but in jars or tins are good too *

110

g (4oz)

half fat thick crème fraîche

12% fat

175

g (6oz)

Emmental cheese

grated**

50

g (2oz)

walnuts

1

tablespoon

fresh parsley

finely chopped

salt & pepper

to taste

½

teaspoon

smoked paprika
Instructions
Preheat the oven to 200°C/180°C fan/400°F/Gas 6.

Prick the butternut squash's skin and roast it whole (or pumpkin) in the oven for 15 minutes until the skin starts blistering. Remove and leave to cool slightly. Alternatively, prick the skin and put on high in the microwave for 10 minutes.

Heat the olive oil in a large non-stick frying pan and gently sauté the sliced leeks for about 10 minutes until softened. Set aside.

When the squash is easier to handle, peel off the skin and cut in 2 using a good knife. Remove the seeds with a spoon (don't discard) and cut the softened squash into rough chunks.

In a gratin dish, throw in the slightly softened squash chunks, the leeks and cooked chestnut.

Top with the crème fraîche by dolloping on some spoonfuls in regular intervals, add a touch of salt and pepper to taste and sprinkle lightly and evenly the smoked paprika.

Top the lot with the cheese, walnuts and parsley.

Bake in the oven for 30-35 minutes or until the cheese is bubbling and golden and forms a slight crust. If you prefer yours without the crispiness, then bake for slightly less.
Notes
Serve with a good French baguette and a chilled white such as a Riesling from Alsace. If you can't find chestnuts, replace with fresh mushrooms that have been dry fried separately until they lose their juices (to concentrate their flavour).
** Emmental Cheese: if following a strict vegetarian diet, ensure it's a vegetarian version.
I've added smoked paprika but if you prefer, add 100g of pre-fried lardons or bacon bits.