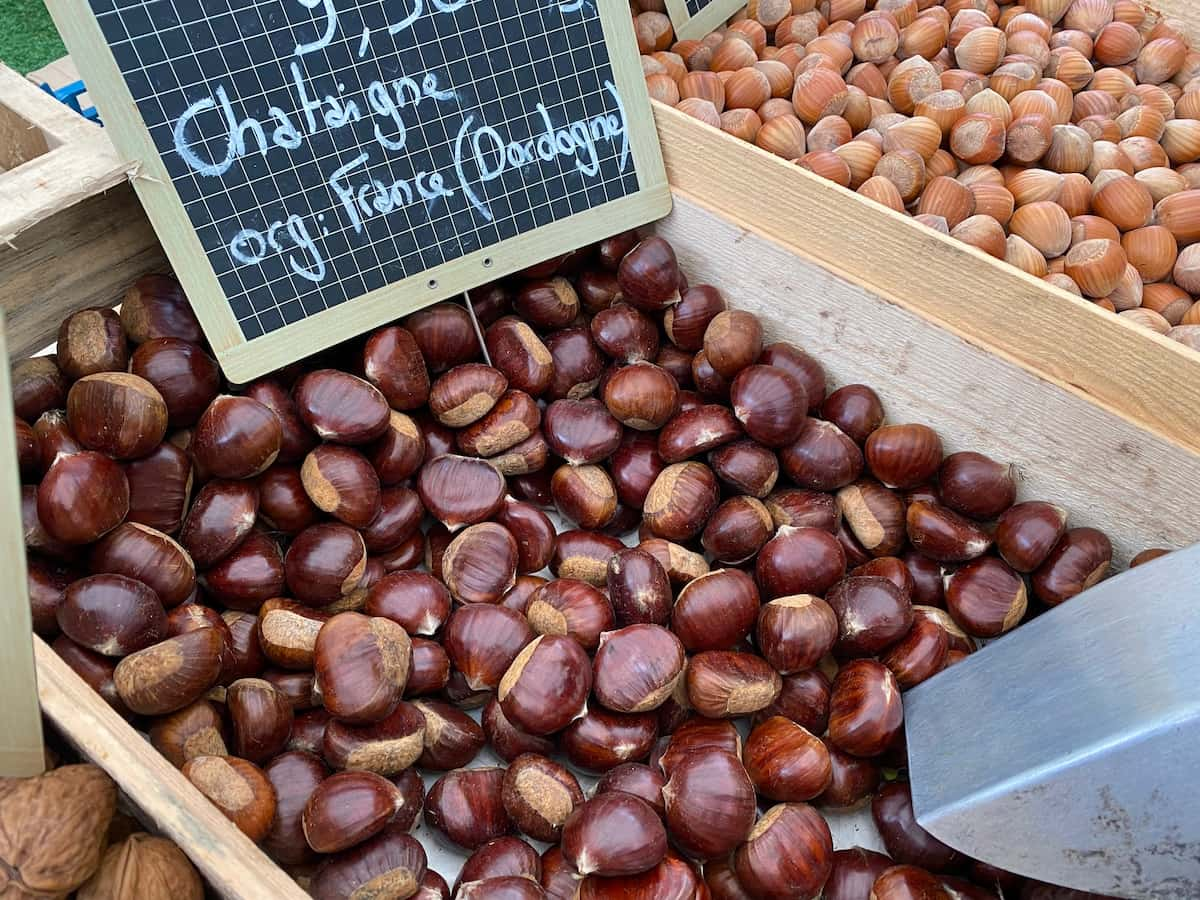 Random Facts About Chestnuts in France
Did you know that chestnuts are extremely healthy for you? According to Aprifel, they are high in Vitamin B9, potassium and fibre;
How to choose the best ones? Ensure there are no holes and the shinier the better reveals that they are fresh;
Grown in mainly mountainous regions in France (Corsica, Auvergne, Cevennes, Ardèche), the French refer to the chestnut tree as the Bread Tree (l'arbre à pain) as they grow in areas where wheat is virtually impossible to grow. It's therefore the main cereal used in these regions and the flour is used in many recipes. As my husband is Corsican, you'll find many recipes here using chestnut flour in tart bases and in cakes, inspired by his family's hilltop village near Corte;
When using chestnut flour in recipes, as it tends to be pretty strong and rustic in character, lighten cakes and pastries by mixing it with plain flour;
In France, we use sweetened chestnut & vanilla purée or paste in many cakes and desserts.  Children are familiar with a simple dessert of fromage blanc served with a dollop of the purée. Added to cakes – and macaron fillings (as in my recipes in 'Teatime in Paris'), it adds an extra moisture and silky texture – right to the classic Mont Blanc pastry, which has a meringue and cream heart, encased in delicious, thin strands of chestnut and vanilla cream.  The most famous paste available around France is by Clément Faugier;
On the savoury side, chestnuts are easily found at the market and in supermarkets vacuum-packed or shelled in jars/tins.  These are delicious added to tarts or gratins or topped on soups – try them mixed into mushroom soup (Use quickly once opened);
In Autumn and Winter in Paris, it's a familiar and welcoming sight to see chestnuts roasting on top of supermarket trolleys on large pans, sold in pokes at the exits of metro stations or just on the street – a real treat!
Chestnuts may be associated with a poorer history but today you'll find chestnut in many christmas treats, especially in yule logs (bûches de Noël). However, perhaps the most celebrated way of enjoying chestnuts over the winter holidays is with marrons glacés: candied chestnuts, found in most top patisseries around France.

French Chestnut Season
Autumn