French Pâte sucrée is the best all-round sweet pastry dough for tarts. This is the most basic and easiest recipe to work with - taken from my book's tart chapter in Teatime in Paris.
The result means no soggy tart bottoms, just a delicious tart pastry base with a touch of vanilla. It's a perfect, classic base for fruit tarts, chocolate tarts (also in my book), plus delicious in almond pear tarts and this local Saint-Germain cake.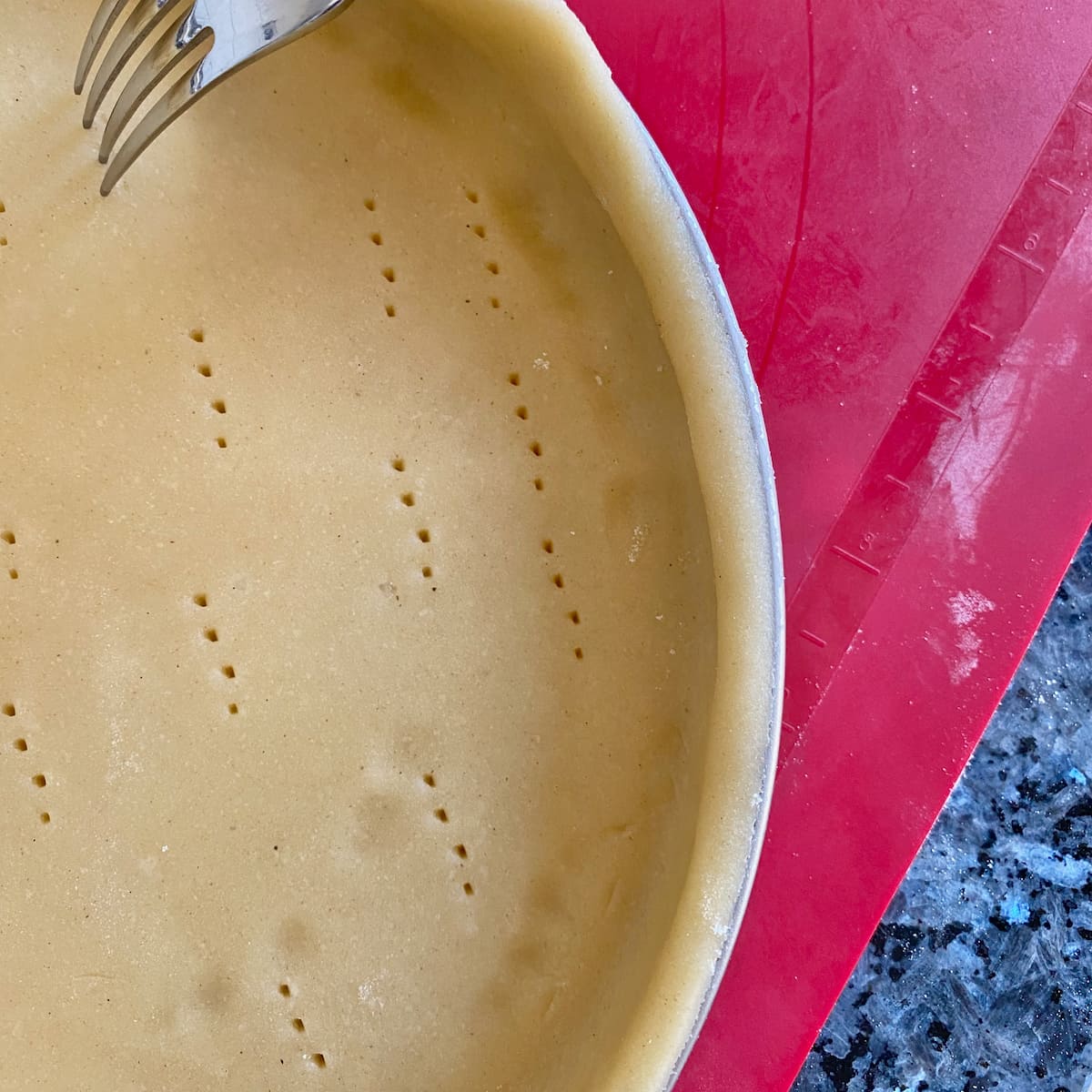 What is the Difference Between Pâte Sucrée, Pâte Sablée and Pâte Brisée?
There are 3 similar classic French pastry doughs used for tarts: pâte sucrée, pâte sablée and pâte brisée. The 4th is puff pastry but this takes so much longer to make a good one - and any case, as a busy Mum I cheat and buy it ready-made (like in this easy Apple Tart)! Here is what makes the 3 main pastries different.
Pâte sucrée is much easier to work with and sturdier than the other French pastry doughs. While this pâte sucrée is the easiest and best recipe to use for making fruit, chocolate and almond tarts, the other two are more delicate.
In short, this sweet pastry dough is first made by creaming the butter and sugar together before adding the flour. Alternatively, both pâte sablée and brisée are first made by rubbing the butter and flour together like a crumble.
Pâte Sablée or sweet shortcrust pastry in English, literally means 'a sandy dough'. This refers to the way it's made: as the richer pastry contains much more butter than pâte sucrée, it's crumbly and the finished baked shell is prone to breaking.
It's not that different from shortbread (see my recipe as a shortbread base for honey iced parfaits), except sablée pastry contains egg yolks, changing the consistency.
Unlike pâte sucrée, sablée is to be eaten on the day it's made. Keeping it for a day or two will make a sweet shortcrust pastry go soggy.
Pâte Brisée is used for savoury tarts and is more on the flaky side of pastries. With only 3 ingredients, flour, butter, water and salt, it can be prepared in advance like the pâte sucrée. For examples, see my recipes for French leek pie (Flamiche) and Chestnut flour tart with mushrooms and pumpkin.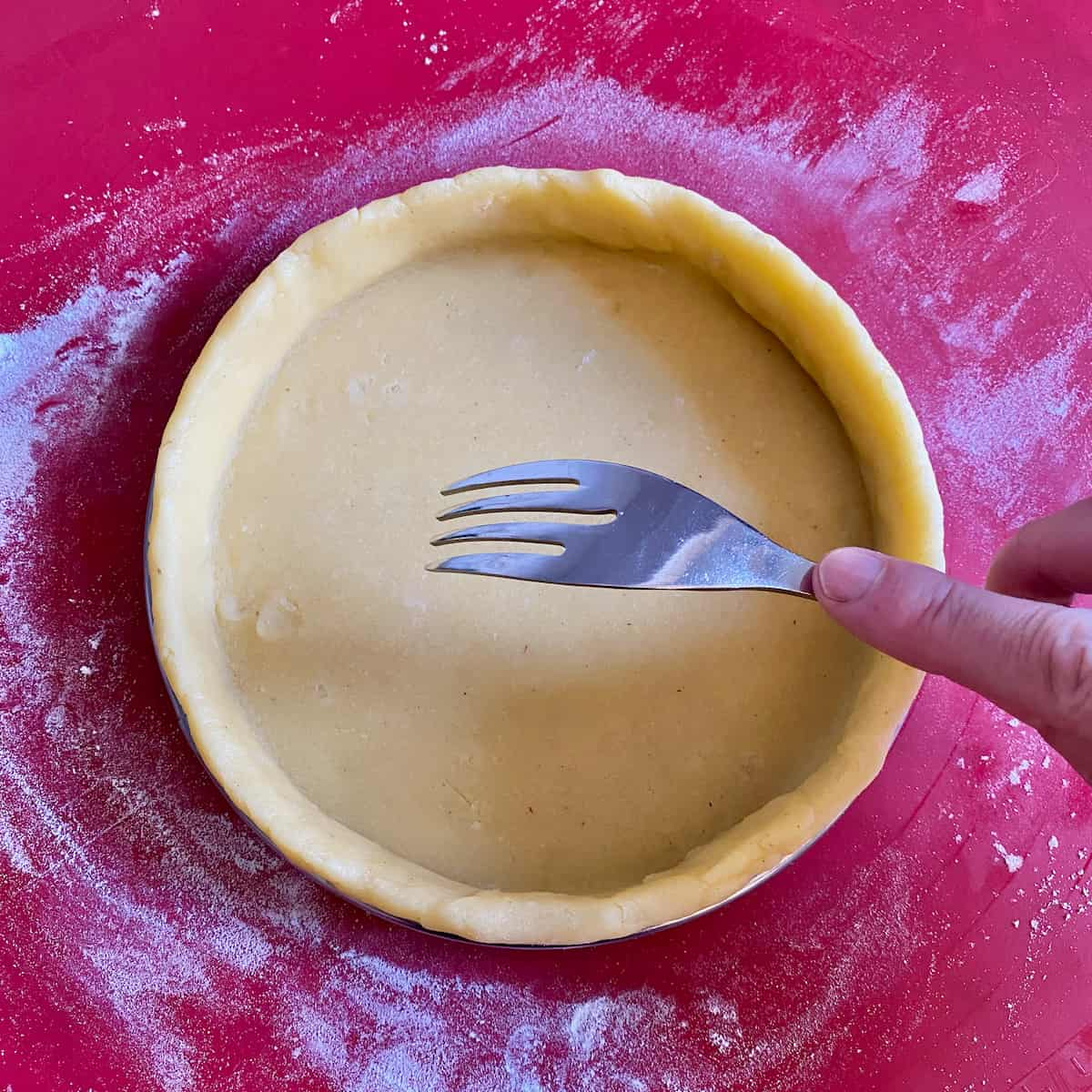 Pâte Sucrée Recipe for Mini Tarts
This recipe is so easy and is interchangeable to make mini tarts or tartlets as well as medium to large tarts.
As this makes 500g of pastry dough, it's enough for one large tart, 2 medium tarts or 8 tartlets or mini tarts.
What is Pâte Sucrée Made Of?
Different types of pastry dough all have one main common ingredient: plain flour (all-purpose). The other ingredients and their quantities vary depending on each pastry dough recipe but include butter, salt, eggs, sugar, water or milk - or even none of the last three.
For this easy pâte sucrée recipe, I use just 5 basic ingredients: unsalted butter, salt, icing/powdered sugar, a medium egg and flour. Although all-purpose is great, I find using a finer cake flour, known as T45 in France (Italian '00'), makes this even better. Many chefs also use a little ground almonds in the dough but I'm keeping this basic recipe simple. For this dough with almond flour, see my recipe for Bourdaloue Tart.
The extra French touch is a good pinch of vanilla powder or extract. Please avoid synthetic vanilla essence or aromas, as this will not give at all the same taste. If you can't find powder or extract, don't use any vanilla.
The salt is an important ingredient, as it has the most gorgeous taste sensation in a sweet tart. Try my favourites in Paris from Bontemps and Kevin Lacote, for example, to discover the play of the tart shell's salt with the sweet filling.
I use unsalted butter to control the quantity and quality of salt. As it's not always easy to find the best quality salted French butter (82% fat), using unsalted is best. Just add a good pinch of fleur de sel sea salt from the Guérande. The closest equivalents are Maldon and Celtic sea salt.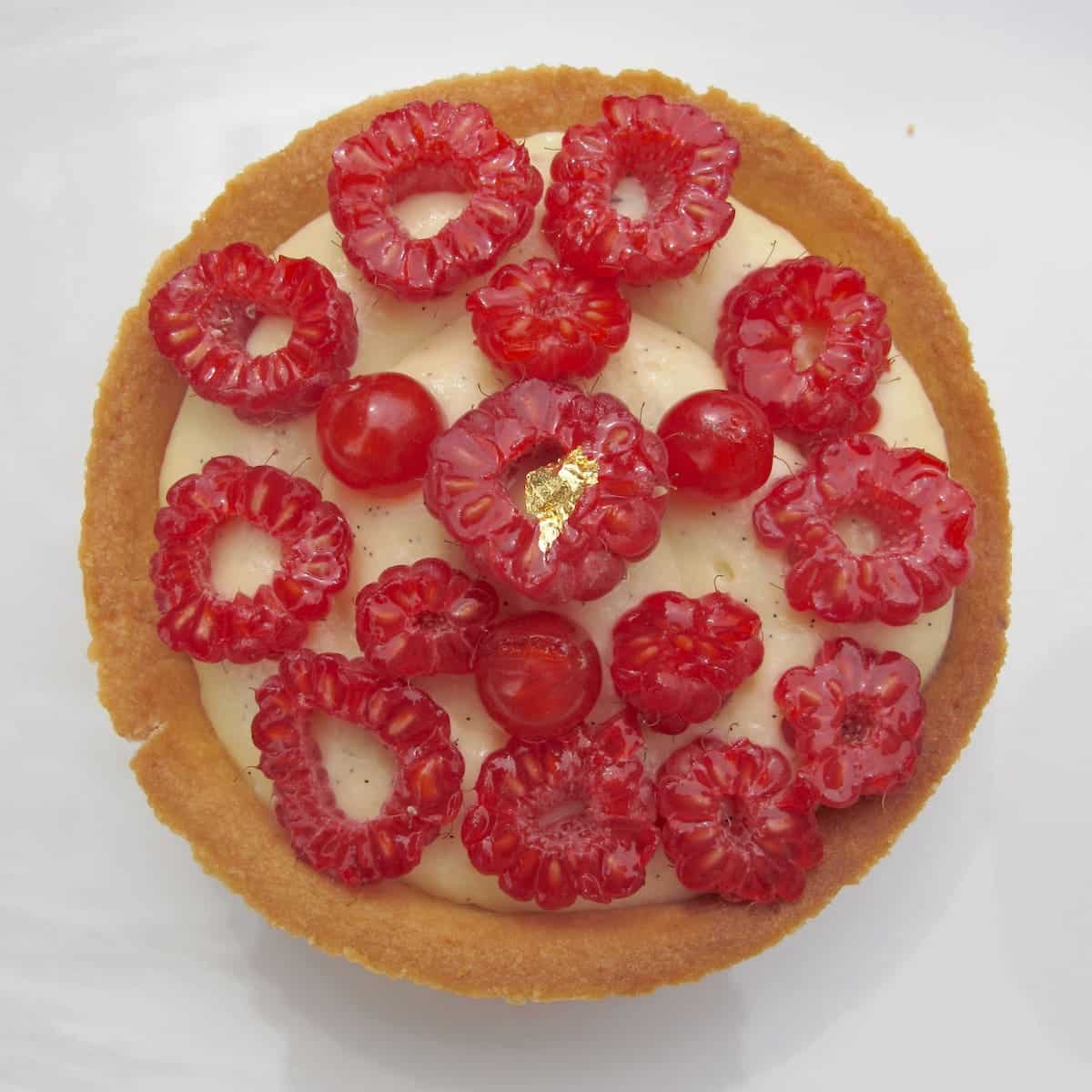 Easy Pâte Sucrée Recipe
The printable recipe below is best made using weights in grams. I have added cups simply as an approximate guide to help. This recipe originally came from my all-time favourite spattered coffee-table book, France the Beautiful Cookbook (1989) by the Scotto Sisters but has gradually been Jilled over the years with a lot of my own explanations and tips.
Cream together the softened butter, icing/powdered sugar, salt and vanilla until pale and creamy using a stand mixer with paddle attachment or by hand.
On a low setting, add the egg and gradually add the flour. Half way through mixing, stop and push down the dough from the sides and from the paddle beater using a spatula.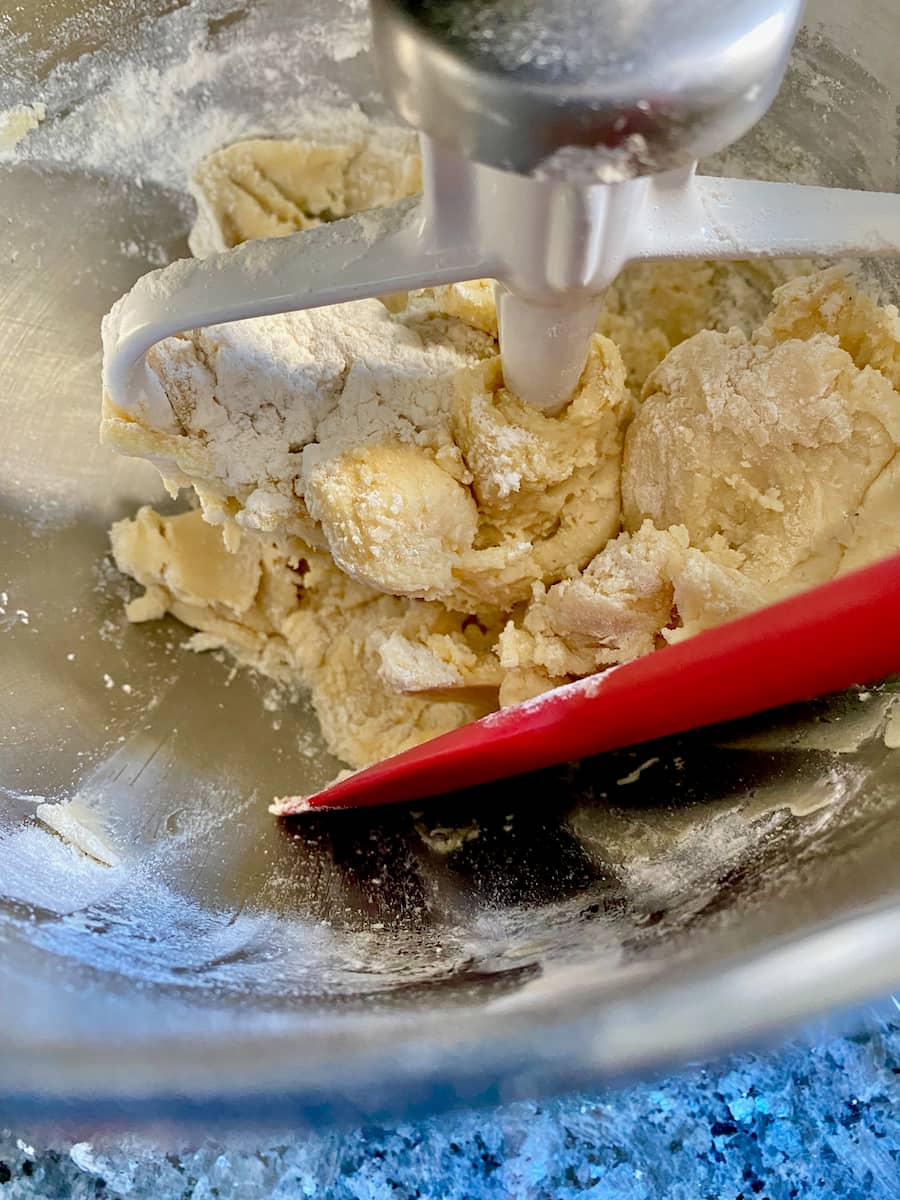 As soon as the dough is combined, smooth and comes away from the side of the bowl, STOP. Don't overmix. It's ready.
Roll into a ball, cover in cling film and leave to chill for at least an hour in the fridge. The ball shape means it's easier to roll out into a circle later.
The dough will be pliable after only 5 minutes out of the fridge. Lightly flour the surface - the beauty with this recipe is that it doesn't need too much.
Roll out the pastry with a rolling pin (even better with rings to ensure an even thickness) to 3-4mm, turning over the pastry after each roll.
The pastry should be rolled out so that it's at least 2-3 cm larger than the tart tin, depending on the size of lip height of the tin.
Whether you use a tart tin with a loose bottom or a pastry ring like I use here, transferring the dough to the tin is the same.
Roll the pastry around the rolling pin to place it on top of the tin/ring. If using a ring, first place on a baking mat or paper that will go directly in the oven.
Push the dough well into the sides of the tart tin, especially at the bottom so there are no air holes. This will stop the dough from sinking slightly in the oven.
Roll over the top of the pastry with the rolling pin to give it a beautiful finish like in a Parisian pâtisserie.
Roll up these loose ends, add to any remaining pastry and chill for a little tartlet or mini tart or yet another tart.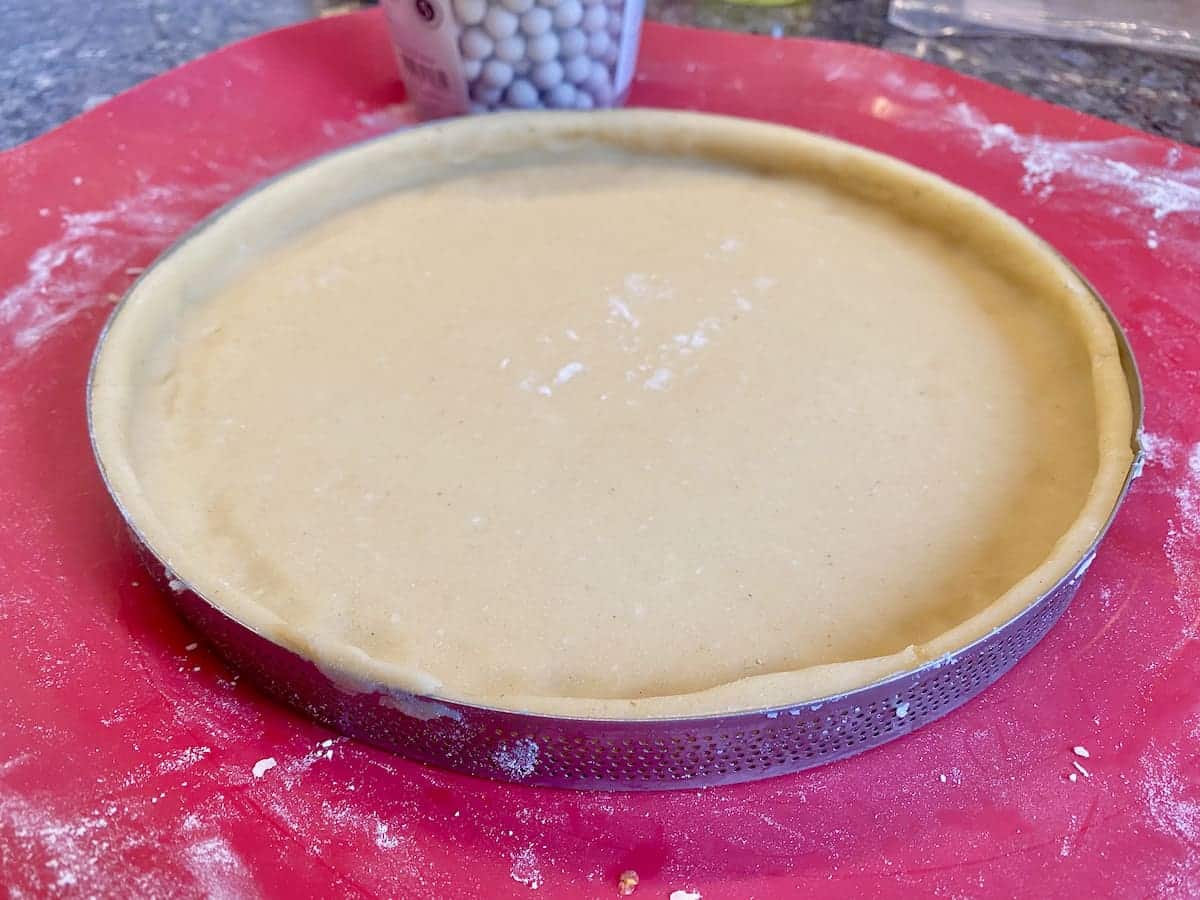 Prick the pastry with a fork to ensure even baking.
To blind bake, cover with baking paper topped with baking beans.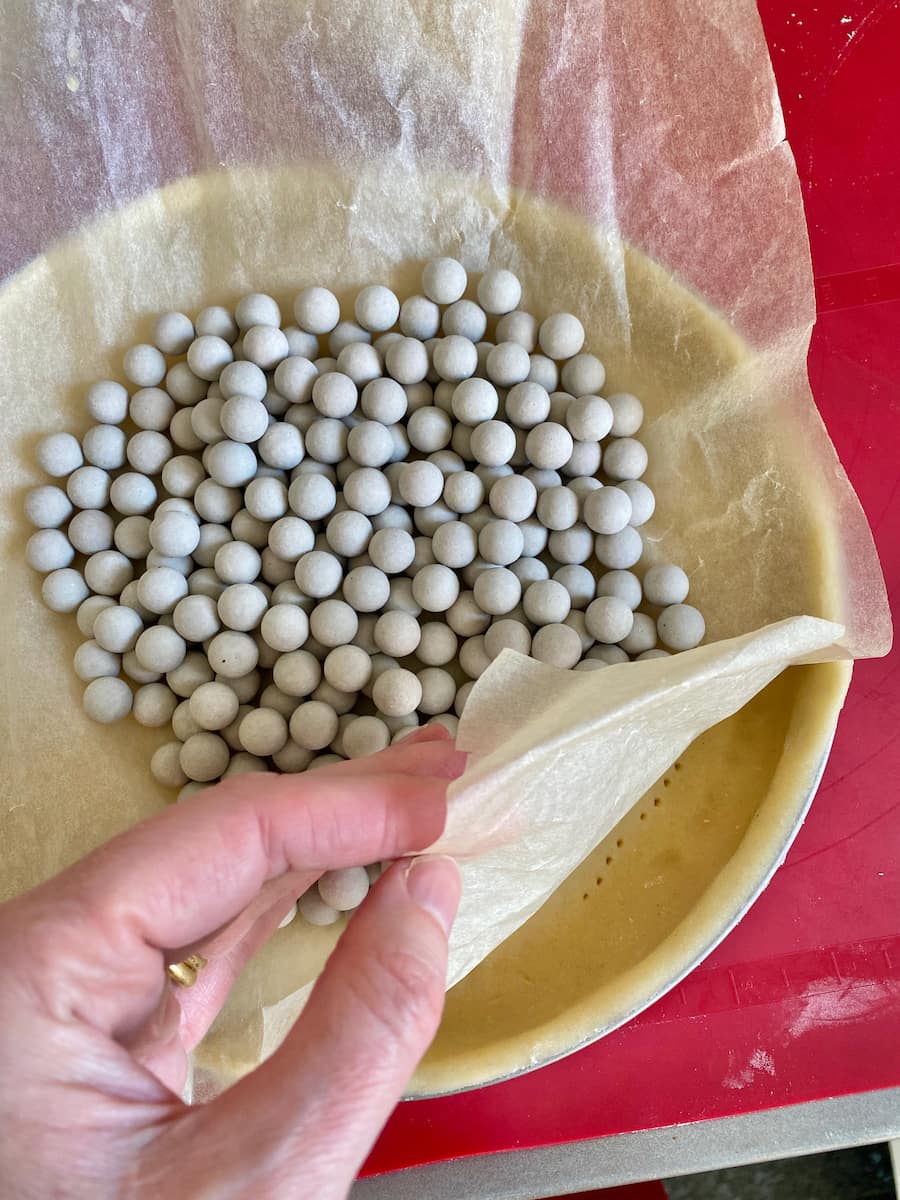 Push the baking beans into all the nooks and crannies.
Don't have baking beans? Then use washed coins, dried beans or rice.
Bake for 15 minutes, remove the beans and paper and return to the oven to cook uncovered for another 5-10 minutes. You're done once it's golden. Leave to cool.
Why Does my Dough Collapse in the Pan When Baking?
If your dough slides down the tart tin slightly, then there are reasons why this could happen. It could be because:
The dough was overmixed, stimulating the gluten in the flour
The dough wasn't pushed completely right into the edges of the tart tin or ring.
The dough wasn't chilled enough to set before baking and/or no baking beans were used to blind bake.
Top Tips for the Best Pâte Sucrée Tart Shell
So here are my top tips to make the best pâte sucrée tart shell.
Ensure ingredients are at room temperature
Don't overmix in step1.
Press the pastry dough right into the tart tin/ring, especially at the bottom to avoid the pastry collapsing slightly in the oven
Prick the dough evenly in rows with a fork to ensure even baking
Chill the dough enough to settle and set before baking.
Does It Freeze Well?
This is such a handy recipe to make in advance, as pâte sucrée dough freezes well.
Either freeze the raw dough in its ball in cling film or ready prepared in its tart tin or ring, covered and carefully placed in the freezer.
Even the baked tart shell freezes well covered too.
In all cases, chill in the fridge before freezing and eventually defrost thoroughly before use.
Et voilà !
Now you have the empty shell ready, fill it with any of these easy French tart or pie recipes or from my 2nd book.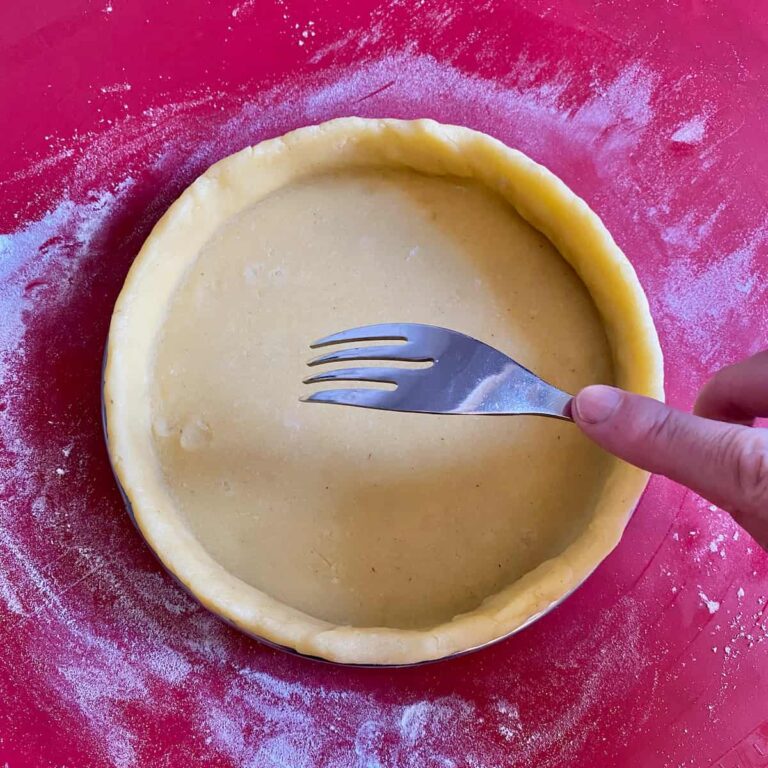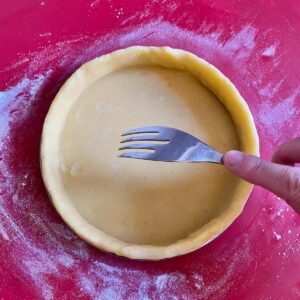 Pâte Sucrée Recipe (Sweet Pastry Dough)
French Pâte sucrée is the best all-round sweet pastry dough for tarts. This is the most basic and easiest recipe to work with - taken from my book's tart chapter in Teatime in Paris (2015).
The result means no soggy tart bottoms, just a delicious tart pastry base with a touch of vanilla. It's perfect as a base for fruit tarts, chocolate and almond tarts. Makes 500g pastry dough for 1 large tart or 8 tartlets.
Equipment
loose-bottomed tart tin or tart ring (27-28cm/11" diameter x 3cm)

stand mixer with paddle attachment

optional as dough can be mixed by hand

Rolling Pin

with optional end rings to roll out evenly

baking beans

or washed coins, rice or dried beans
Ingredients
125

g (4.5oz/½ cup)

unsalted butter

at room temperature (not melted), cut into cubes. Chilled if mixing by hand.

75

g (2.75oz/½ cup)

icing/powdered/confectioner's sugar

½

teaspoon

sea salt

fleur de sel

1

medium

egg

organic (room temperature)

¼

teaspoon

vanilla powder

or extract

240

g (8.5oz /1.9 cups)

T45 French all-purpose/cake flour

or plain (all-purpose) flour, sifted
Instructions
Using a stand mixer with a paddle beater (otherwise mix by hand with cold butter), mix the butter, sugar, vanilla and salt until pale and creamy.

On low speed, gradually add the egg and flour and mix until combined. Half way during mixing, push the dough down the sides of the bowl and paddle with a spatula. Continue mixing just until the dough comes away from the sides of the bowl and stop.

Form the dough into a ball. Wrap in cling film and chill in the fridge for an hour. Normally you will only need ⅔ of this dough quantity - either freeze the rest or keep it chilled for up to 3 days.

Remove from the fridge and after 5 minutes (as easier to work with), roll out the pastry to 3-4mm (⅛ inch) thickness on a lightly floured surface.

When completely rolled out about 3cm (about an inch) bigger than the tart tin/ring, transfer the dough by rolling around the pastry roller and cover the tart tin. If using a tart ring, place the ring on baking paper or a silicone mat.

Press well into the tart tin or ring, leaving no air holes around the edges. Trim off excess pastry by rolling over the edges with the rolling pin. Prick evenly with a fork.

Leave to set in the fridge uncovered in the tin/ring for at least 20 minutes. Preheat the oven to 180°C/160°C fan/Gas 4/360°F.

Blind bake (top with baking parchment and baking beans - see NOTES) for 15 minutes. Remove baking paper and beans.

Bake uncovered for a further 5-10 minutes or until the pastry is golden. This step may be optional, depending on the recipe filling's instructions (such as this almond rum tart, which stays in the tin and is baked further with the filling in it).

Leave to cool for about 5 minutes then remove from the tart tin/ring. Set aside on a wire rack to cool completely before filling.
Notes
For the original detailed step-by-step recipe, see the tart chapter in my book, 'Teatime in Paris' (2015) along with many more tart recipes.
Storage: although this dough can be prepared on the day of baking, it can be made 1-2 days in advance. Keep chilled rolled in cling film until ready to roll or prepare the tart shell and keep covered in the fridge. Otherwise freezes well - either the raw dough or the baked tart shell. Just defrost thoroughly before use.
Flour: Although all-purpose flour is good, I generally prefer a finer T45 (French all-purpose) cake flour for tarts. For more, see FAQs
For chocolate pastry, add 1 tablespoon unsweetened cocoa powder to the flour in step 2.
This recipe was first published in my book, Teatime in Paris: A Walk Through Easy French Pâtisserie Recipes, published 2015 by Waverley Books.