A popular French winter classic, Flamiche Leek Pie. A vegetarian recipe from Picardy usually served as a starter (entrée) in Parisian brasseries. It's as easy as Leek Pie! The secret is the touch of curry powder in the homemade pie crust.
What is a French Flamiche?
A French Flamiche is a regional northern speciality of Picardy, originally called a Flamique by the locals.
The Flamiche is a warming seasonal buttery leek pie, seen on many winter menus in Parisian brasseries or bistros. Typically it is served as a slice as a starter (French entrée). What's more, it just so happens to be a vegetarian recipe.
No olive oil is used. As it's a French classic from the North of France, instead it uses good butter.
Some variations to the classic include cheese and other vegetables such as pumpkin, but the most popular you'll find are made simply with plain leeks, nothing more. For non-vegetarians, add some bacon or lardons.
How to Prepare Leeks
My youngest daughter (now a student so is making her own food) asked me how to prepare leeks the other day. That's when I realised I should perhaps mention this here.
As we buy them straight from the farmers' market (more on the leek page), there's rather a lot of dirt hidden inside them. By cutting off the green tops (⅔ from the top), cut through horizontally in the middle in order to clean out the dirt inside each layer under running water.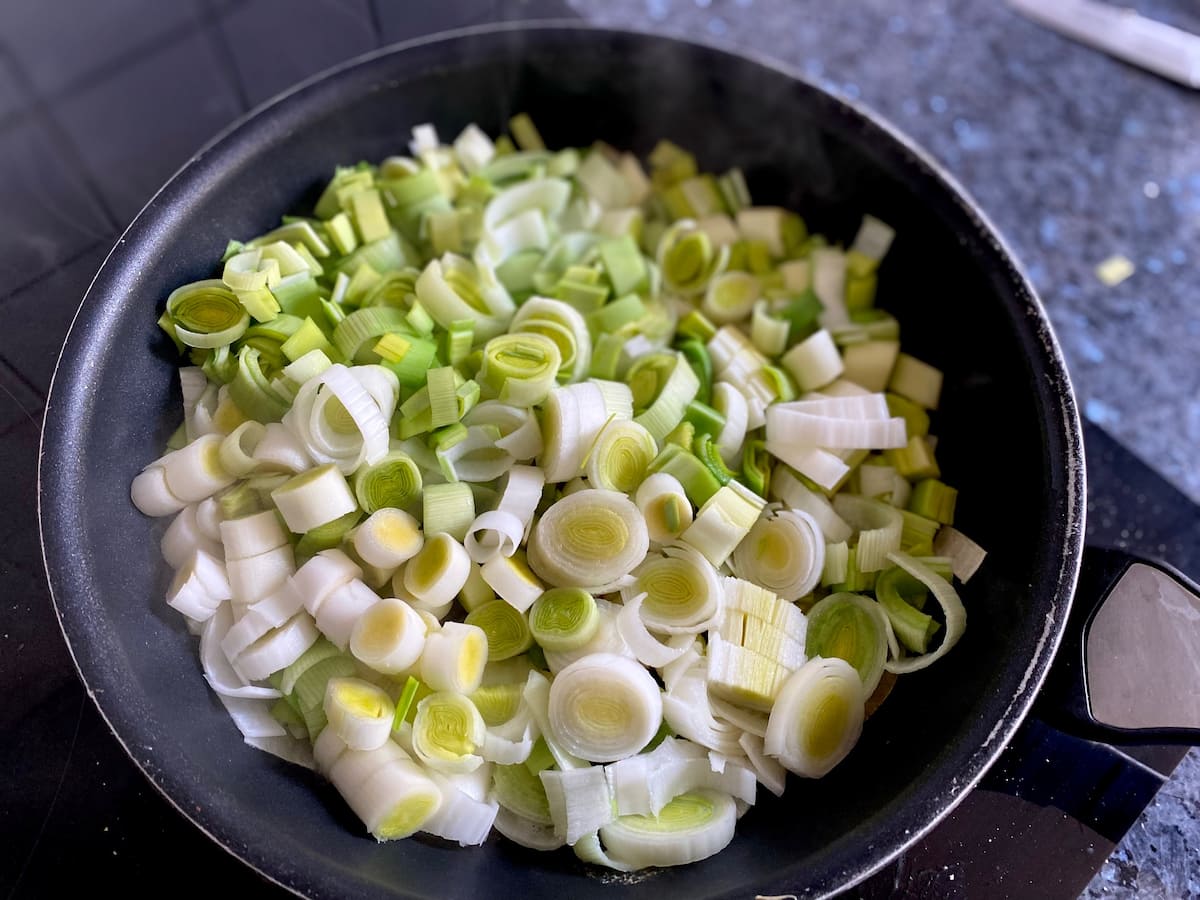 Buttered Leeks for the Pie Filling
The leek pie filling is simple: basically buttered, softened leeks, crème fraîche, nutmeg and seasoning.
Slice the cleaned leeks and toss over a medium heat for 5 minutes in melted unsalted butter.  As it's often difficult to find good quality salted butter, I like to use unsalted butter and add a good pinch or two of French fleur de sel salt. Turn them around, lower the heat, cover the pan and leave them to soften for about 15 minutes. Then leave them to cool with the lid off so that there's no condensation, making them soggy.
The Secret Ingredient in the Pie Dough
I strongly recommend making your own pie dough or pastry for this Flamiche. Especially as I love to add the secret touch of curry powder into the pastry for a special homemade touch. Adding a touch of curry powder enhances the leeks' flavour. Once you try this, I'm sure you'll want to do this again with also a chicken or left-over turkey pie for the holidays!
Roll out the pastry not too thick. A thin pastry-like dough for this leek pie makes it particularly light. Blind baking the pastry just for 15 minutes using baking beans ensures that the crust will be crisp and not become soggy later with the leek filling.
When topping the pie with the third of pastry dough that's left, make a hole in the middle. Insert a "chimney" by rolling a piece of parchment baking paper or aluminium foil to let any air escape during baking.
Then brush over with the 4th egg yolk to ensure a lovely pie glaze.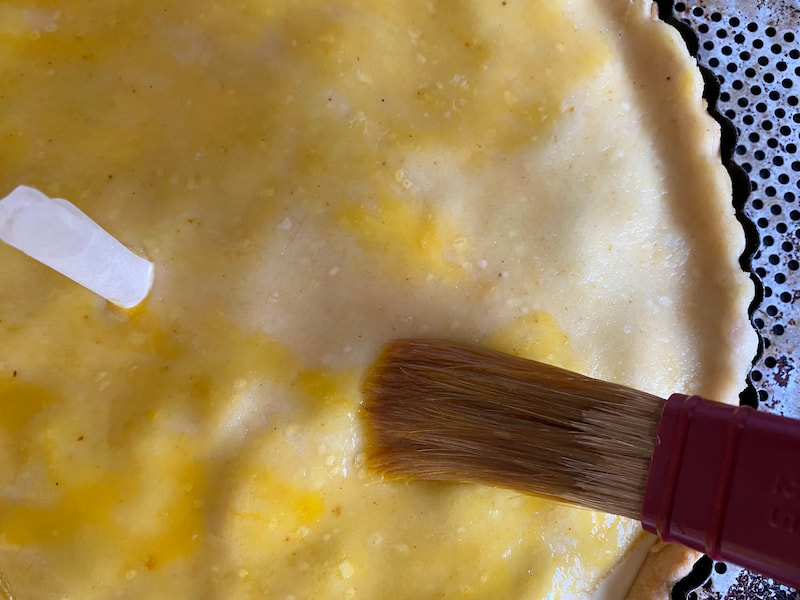 Can I Use Puff Pastry for the Pie Base?
For busy gourmets, you can skip making the pie dough and simply prepare it using ready-made puff pastry. Although ensure it's good quality "pure butter" puff pastry (look for Pâte feuillétée 'Pur Beurre' in France).
If you use ready-made puff pastry, then cooking times will be quicker. Just follow the cooking instructions on the packet.
However, the whole point of making this French Flamiche is to make your own pie crust. I find that this pie dough recipe is particularly light, easy to roll out and is beautifully buttery.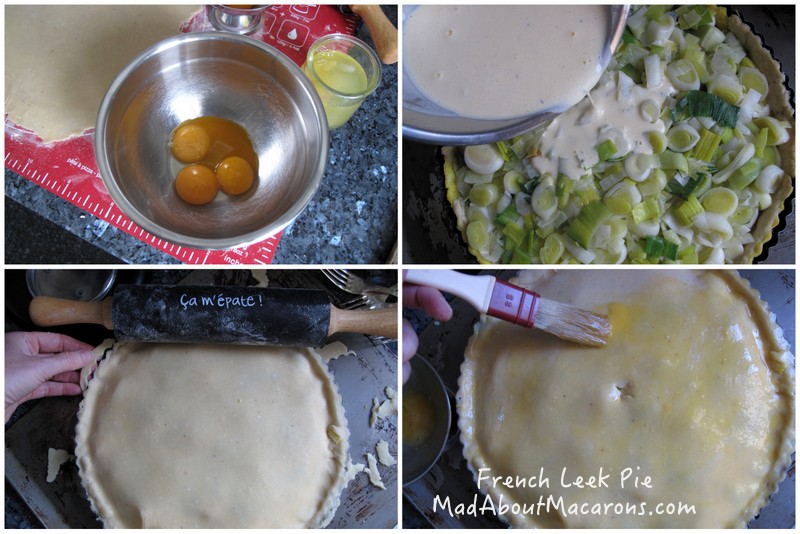 Recipe Using 4 Yolks
This is also a good egg yolk recipe for macaron, financier and meringue lovers who need the egg whites to make them. You'll find recipes for these in my books.
What Can I Make With the Leftover Egg Whites?
As the egg yolks need to be used straight away, the good news is that egg whites can keep stored in a sealed jar for up to a week! Here are some egg white recipes to use them:

Flamiche Recipe - French Leek Pie
French Flamiche Leek Pie
A typical French winter classic, Flamiche Leek Pie. A vegetarian recipe from Picardy usually served as a starter or entrée in Parisian brasseries. It's as easy as Leek Pie! The secret is the extra touch in the homemade pie crust.
Equipment
28cm/11 inch diameter pie tin
Ingredients
Leek Pie Base
350

g (12oz/3 cups)

Plain flour (all-purpose)

175

g (6oz/¾ cup)

Butter (unsalted)

softened

pinch

Fleur de sel salt

7

tablespoon

Milk

½

teaspoon

Curry powder
Leek Pie Filling
900

g (2lb)

Leeks (about 4-5 medium)

chopped

40

g (1.5oz/3 tbsp)

Butter

4

Organic egg yolks

3+1 for glaze

200

g (7oz/¾ cup)

Crème fraîche 12% fat

(or light cream/Greek yoghurt)

¼

teaspoon

freshly grated nutmeg

pinch

Salt & pepper
Instructions
Pie Dough
In a large bowl, sift the flour then add the butter, milk, salt & pepper and curry powder (if using).  Whizz together in a mixer until the dough is well blended, or mix by hand until smooth.

Split the dough in 2 (⅔ and ⅓), reserving the smaller one in the fridge wrapped in cling-film.  With the ⅔ part, roll out the dough on to a lightly floured work surface to form a circle (30cm for a 28cm/11 inch diameter pie tin, or 2cm more than your tart pan).  Transfer and push well in to a buttered pie tin (no need if using non-stick).

Leave to chill in the fridge for about 30 minutes then preheat the oven to 180°C fan (200°C/400°F/Gas 6).

Place a sheet of baking paper over the tart base and top with ceramic beans or rice.  Blind-bake in the oven for 15 minutes, remove the baking beans then leave to cool. Remove the rest of the dough from the fridge to bring up to room temperature and roll out to a circle the size of your tart pan.
Leek Filling
Remove the root bases and about ⅓ of the green leaves, then clean the leeks by cutting down the tops on either side and wash under the tap to remove all dirt from the inside layers. Cut the leeks into ½ cm rounds.

Melt the butter in a large non-stick pan and cook over a medium heat for 5 minutes until golden.  Turn down the heat, cover the pan and leave the leeks to soften gently for 15 minutes or until the liquid has evaporated.  Uncover and set aside to cool.

Beat the 3 egg yolks in a small bowl then add the crème fraîche, salt, pepper and nutmeg and mix until smooth.

Spread the leeks on to the pastry base then evenly pour over the egg mix.  Cover with the 2nd pastry circle, pressing the edges together to seal well.  Crimp the edges of the pastry with a fork or make lines using a knife, and finish with a pastry roller to remove any rough edges and seal.

Beat the remaining egg yolk and brush over the pastry to glaze. Pierce a small hole in the middle of the pastry and insert a "chimney" with a small roll of baking paper or aluminium foil to leave the air to escape. Bake in the oven for 35 minutes or until golden brown.  Leave to cool for about 10 minutes and remove from the tin directly on to a serving plate.
Notes
Delicious with a glass of chilled Pinot Blanc from Alsace, or a Sauvignon Blanc from the Loire or Bordeaux.
Puff Pastry: This Flamiche can be made by using ready-made puff pastry (ensure it's good quality 'pure butter'), although the secret to this recipe is the homemade pie dough, as the touch of curry just takes this to another level.
Measures: Please note that all my recipes are best made using digital kitchen scales in precise metric grams. Both ounces (and cups) are given as an approximate guide. 
This recipe was first published on 22 January 2016 but is now updated with new images and text has been completely refreshed.