I wish I could write a blog post as quick as it takes to make this Quick French Apple Tart.  Seriously, taking photos and posting them here takes me forever. There are times I'd rather pop into the kitchen and rustle up a family treat than slave over a hot computer!
50 Shades of French Apples for Dessert
Rant over – blame a bad back, the downside of being tall and so grocery shopping has been kept to a minimum lately. The other evening, I was craving dessert. Instead, even a gorgeous assiette de fromage wasn't going to happen: the cheese plate was beautiful, ready and waiting but we didn't even have cheese to put on it. I fancied another apple dessert, especially after this Apple Crumble Cake, a recipe that's perfectly easy for entertaining but needs 24 hours in the fridge to set.
With our Autumnal surroundings suggesting 50 Shades of Apples all around Paris (and chestnuts too) and dropping temperatures, we want pomme-pommes. (Chapeau to you if you can smile at that dreadful pun!)
Even our garden mole is going mad about apples – albeit for fake Granny Smiths from our garden centre.
If you haven't yet met la taupe du jardin, she's quite a local celebrity with the passing French kids that go to the pre-school maternelle en route. They peer over the garden wall to see the latest message, if I've remembered her the night before – and sometimes post on Instagram/FaceBook stories. Do you think I'm teaching her wee fans to become a teacher's pet?
Back to this Quick French Apple Tart. The patisseries/bakeries by this time were closed, there wasn't much in the fridge and so I had 15 minutes to prepare dessert before dinner was ready.
Does this sound familiar?
Can You Make a Quick Dessert with 2 Granny Smith Apples?
With only 2 Granny Smith apples left in the fridge and a ready-made (rolled) puff pastry (pâte feuillétée 'pur beurre'), I found this so quick to make. Two apples are not enough for a classic Tarte Tatin and although fine for a French Apple Custard Tart, there wasn't enough time.
Then I had this flash of preparing a quick – almost cheat – recipe based on the one I use for my Fast Fig Tart in 'Teatime in Paris'. Et voilà. Not exactly ground-breaking stuff: an apple tart is an apple tart, right?
However, see how far only 2 Granny Smith apples can go with thin slices?
The beauty with preparing this kind of speedy tart with Granny Smiths is that by working quickly and slicing them up finely (use a sharp knife), there's no need to pre-soak the apples in lemon juice.  They don't have time to go brown!
Instead, I melted a little butter in the microwave, mixed it with muscovado sugar and brushed it over the apples before slamming it in the oven with some slivered almonds scattered on top to echo the thin, almond-pasted base. But that's entirely up to you.  That thin, buttery sugar topping isn't even necessary. Serve either warm or at room temperature with a dusting of icing sugar.
French Fall Apple Tart
I saved you a slice for next day to take a better photo and this time with a dollop of Calvados Cream.
Except, I snapped mine so quickly to join the others for teatime that I knocked over the plate. Not at all the same kind of 'accident' like the upside-down apple tart invented by the Tatin sisters! Have you ever tried Calvados Cream with pine needles? I didn't eat that part but I still enjoyed it as a French Fall Apple Tart!
Quick French Apple Tart with Calvados Cream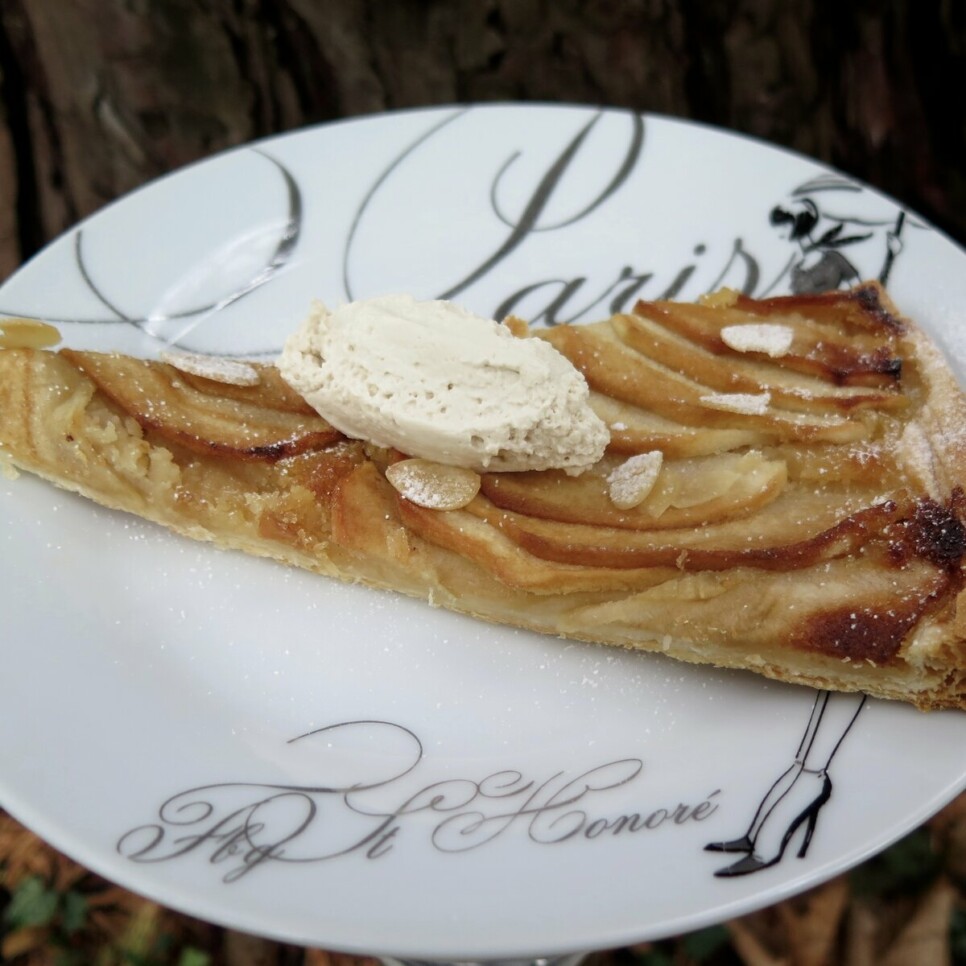 Quick French Apple Tart with Calvados Cream
---
Description
A fast and easy apple dessert to prepare at the last minute with ready-made puff pastry, 2 Granny Smith apples, honey, butter, almonds and Calvados. Add the extra Calvados cream for special occasions.
Ingredients
French Apple Tart
1

packet

ready-made all-butter puff pastry

ready-rolled, if possible (250g)

2

Granny Smith apples

organic

85

g (3oz)

ground almonds

1

tbsp

runny honey

(e.g. Accacia)

60

g (2oz)

butter

softened (unsalted)

1

tbsp

Calvados

(or Pommeau)*

1

tbsp

muscovado sugar

or organic coconut flower sugar

1

tbsp

slivered almonds

optional (for decor)

icing (confectioner's) sugar

optional (for decor)
Calvados Cream
140

ml (5oz)

whipping cream

no less than 30% fat

60

ml (2oz)

mascarpone cream

2

tbsp

Calvados

(or Pommeau de Normandie)*
Instructions
For the Apple Tart:
Preheat the oven to 200°C/400°F/180°C fan/Gas 6

If the puff pastry isn't already rolled, roll out the pastry to about 5mm (1/4") thickness in either a rectangular or round shape. Place on a baking sheet covered with baking paper.

Prepare the almond paste: in a bowl, stir together the ground almonds, honey, 15g of the softened butter and Calvados (or Pommeau). Spread evenly over the pastry, leaving a small space (1cm) in from the edge.

Peel and core the Granny Smith apples and slice them as thinly as possible using a good, sharp knife. Quickly arrange them in rows on the pastry.

Melt the remaining butter, stir in the muscovado sugar and brush on top of the apples. Scatter with slivered almonds, if using and bake in the oven for about 20 minutes.
Calvados Cream:
In a chilled bowl, whisk the whipping cream with the mascarpone and add the Calvados or Pommeau towards the end, just as the cream thickens.
Notes
* Pommeau is a lighter apple wine from Normandy made with 1/3 Calvados and 2/3 non-fermented apple juice.  If you can find this easily, this is fabulous to replace Calvados.
Serve with a dollop of the Calvados or Pommeau cream - or, if you prefer ice cream, replace the Drambuie to make this no-churn Calvados or Pommeau Ice Cream.