Quick French Apple Tart recipe made with ready-made puff pastry. Baked in 30 minutes using 2 Granny Smith apples, butter and sugar. Serve with Calvados cream for the ultimate apple puff pastry tart - or just a dollop of good crème fraîche.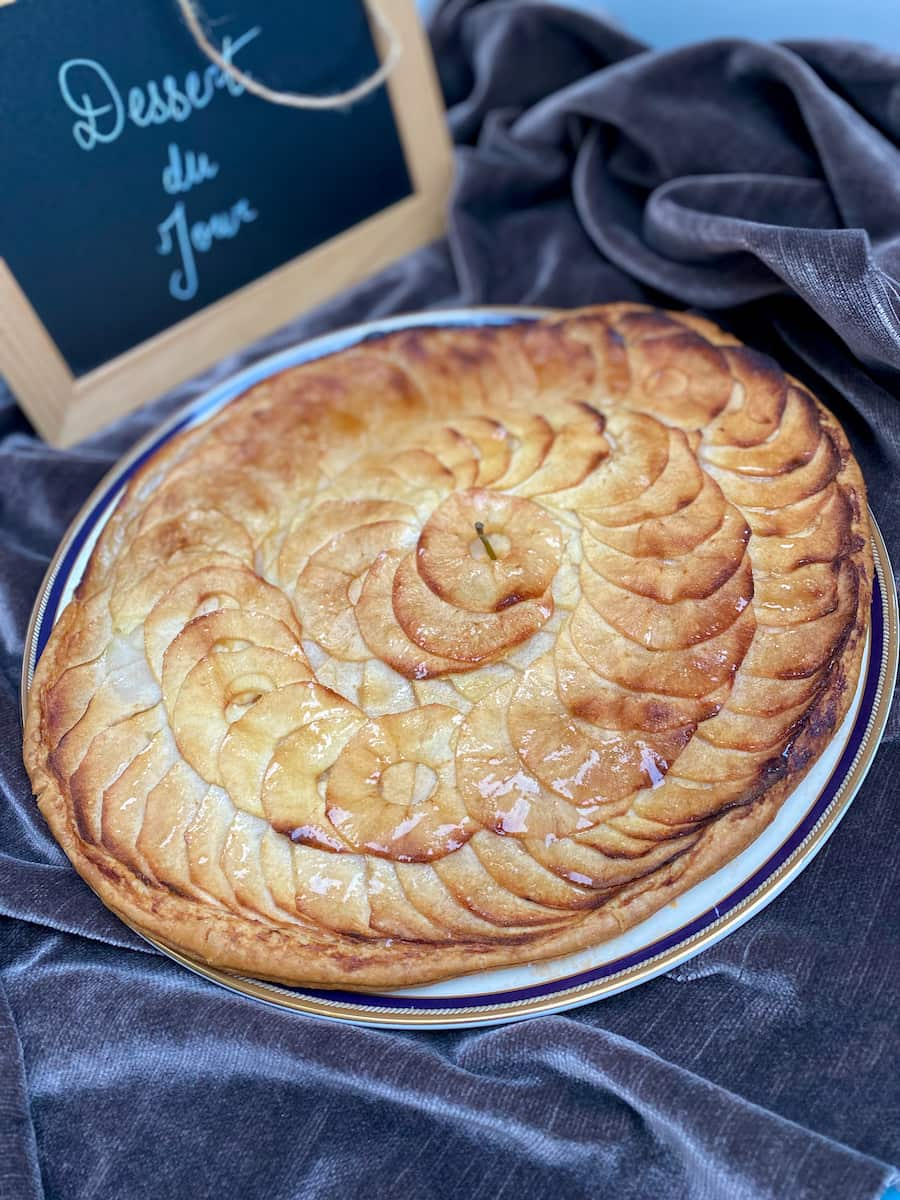 What is the Difference between a Tart and a Tarte Tatin?
The classic French tart ('Tarte' in French) has the pastry baked as a base with a filling.
The pastry is either blind-baked separately with the filling added afterwards. Likewise, the pastry is baked at the same time as the filling, such as this tart or almond tart. The tart is always baked with the pastry underneath.
Although the The Tarte Tatin is served with the pastry as a base, it is baked with the pastry placed on top of the filling, rather than underneath the apples. To serve, the tarte tatin is upturned so that the pastry is served 'upside-down'.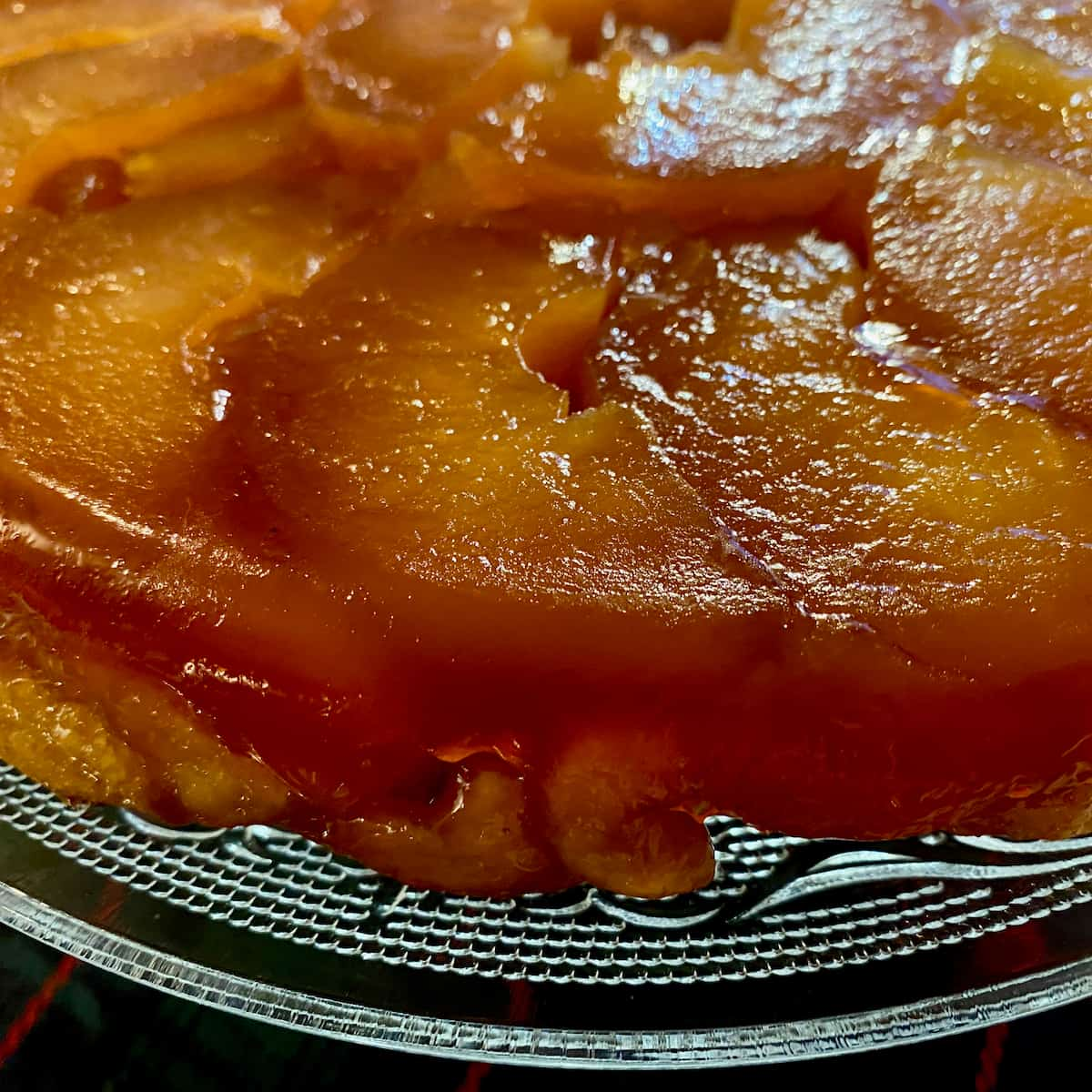 Can Puff Pastry Be Used as a Tart Crust?
Ready-made puff pastry is one of our staples in the fridge. As its shelf life is quite long, it's always handy to have a stock of it - or in the freezer. Just defrost thoroughly before using. It's excellent used as a tart crust - for both sweet and savoury.  If you have the choice for puff pastry like there are a few variations in France, pick one with added butter ('pâte feuilletée pur beurre').
In France, it's even easier, as the pastry is pre-rolled in a circle or can be bought as squares. To avoid any waste, either make this rectangular, square or round according to your ready-made puff!
Puff is also ideal to make a classic French Tarte Tatin.
For a quick and easy savoury tart, use ready-made puff for an Onion Tarte Tatin and this Asparagus Puff Pastry Tart.
What Apples are Best for Tarts?
What kind of apples you use for tarts depends on your personal taste.  For a quick apple tart like this one, we love Granny Smith apples, as they are particularly acidic and tart. What's more, they keep their shape in the oven without going mushy.
If you prefer less acidic apples, use Golden Delicious, as they are perfect all-rounders for many tarts. However, if cut thinly with a mandoline, the slices do tend to break so Granny is better for thinner slices. Golden Delicious are good in this French Apple and Custard Tart - or an Apple Nougat Tart.
For much more on what kind of apples are best for tarts and other desserts,
see the market produce apple page.
French Apple Tart with Puff Pastry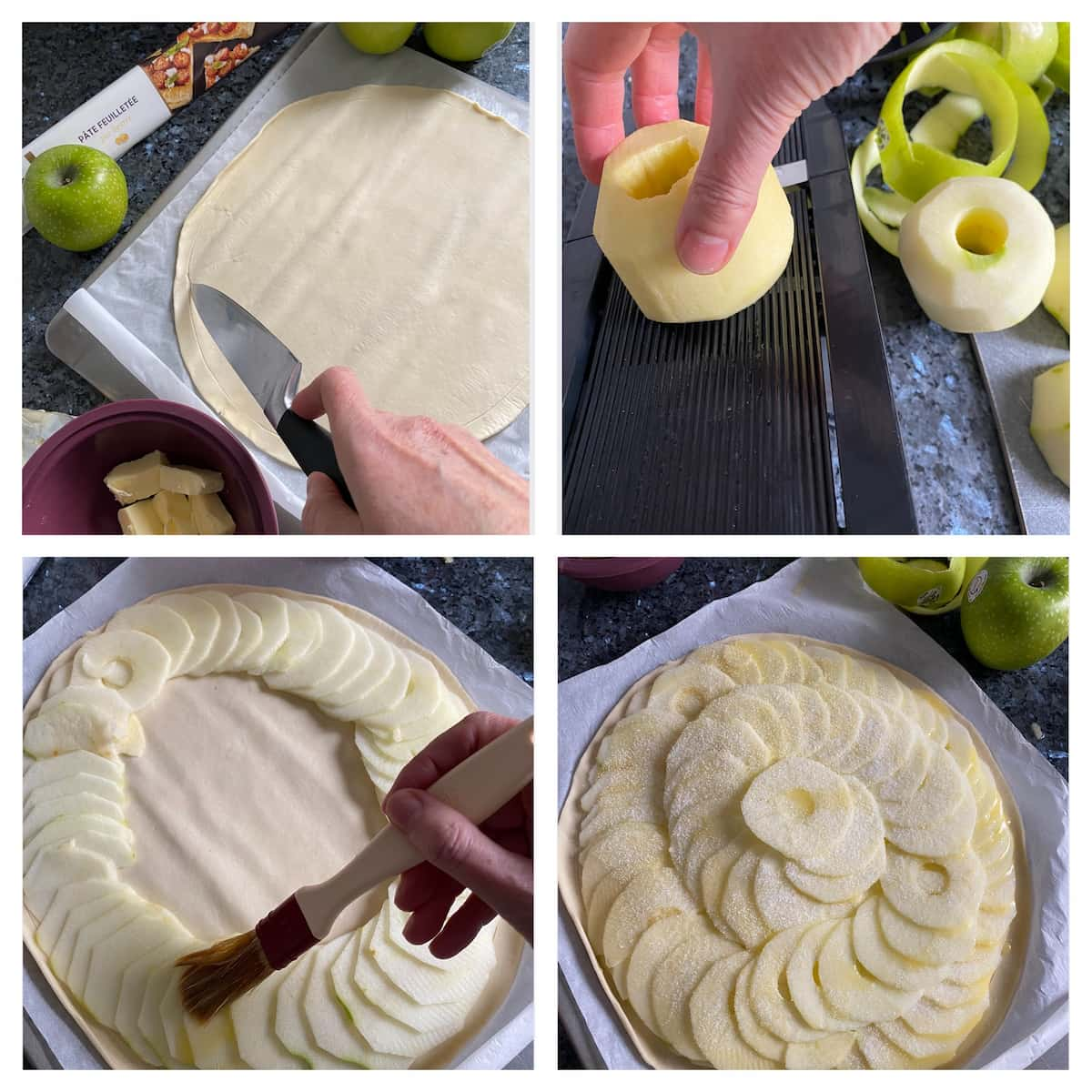 This easy recipe is basically sliced apples on ready-made puff pastry. They're just brushed with a little melted butter and sprinkled with a little sugar and that's it.
By working quickly and slicing up the apples finely (use either a sharp knife or mandoline), there's no need to pre-soak the apples in lemon juice. They don't have time to go brown! However, if you prefer to take more time, make a bowl of water with a little squeezed lemon and steep the slices in it quickly to prevent the apples browning.
Melt a little butter in the microwave and quickly brush it over the apples and scatter over some sugar. Then slam it in the oven. Sometimes I like to add a few slivered almonds too.
Apple Slices
Normally I use only 2 Granny Smiths as if sliced using a mandoline, it's possible to obtain 30 slices out of just one apple!
I like to make this tart with even more apples and pile it higher. If you do this by using 4 Granny Smith apples, then just ensure you add another 10 minutes to the cooking time - but keep your eye on it in the oven.
Apricot Jam Tart Glaze
If you like your apple tarts extra shiny, brush over warmed apricot jam just before serving to create a quick glaze.
Did you know the French refer this glaze as 'abricoter une tarte' (literally apricot-ing a tart)?
For much more on this, see the apricot market produce page.
Quick Puff Pastry Tart with Pears
This recipe is also great using pears instead of apples. The mix of pears and almonds are so good. Try it in this classic Parisian Bourdaloue Tart.
I also like to sprinkle on a handful of dark chocolate chips, as pear and chocolate goes so well - especially in a pear, apple and chocolate crumble.
Do you Eat Apple Tart Warm or Cold?
Although apple tart can be served chilled, we prefer to serve this tart warm. Moreover, it's delicious served at room temperature with a simple dusting of icing sugar.
Either serve with the Calvados cream, or with a dribble of warmed salted caramel sauce - or just on its own.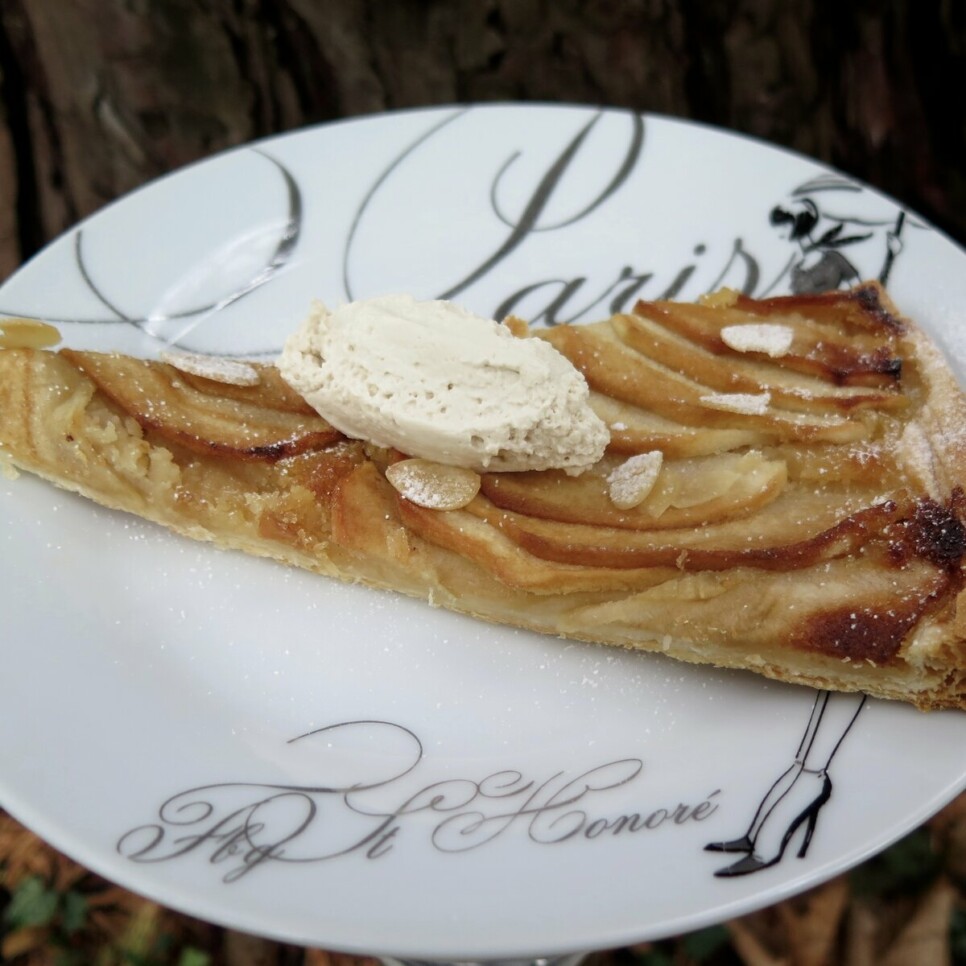 French Apple Tart with Calvados Cream
Quick and easy apple tart recipe with ready-made puff pastry, 2 Granny Smith apples, butter and a little sugar. Add the extra Calvados cream for special occasions.
Ingredients
for the Apple Tart
1

250g packet

ready-made all-butter puff pastry

or thawed if frozen

2

Granny Smith apples

organic

1

tablespoon

sugar

30

g (2 tbsp)

butter, unsalted

melted

1

tablespoon

apricot jam

optional - to glaze
Calvados Cream
140

ml (5oz/¾ cup)

whipping cream

no less than 30% fat

60

ml (2oz/¼ cup)

mascarpone cream

2

tablespoon

Calvados

(or Pommeau de Normandie)*
Instructions
For the Apple Tart:
Preheat the oven to 200°C/400°F/180°C fan/Gas 6.

If the puff pastry isn't already rolled, roll out the pastry to about 5mm (¼") thickness in either a rectangular or round shape. Place on a baking sheet covered with baking paper.

Peel and core the Granny Smith apples and slice them as thinly as possible using a good, sharp knife. Quickly arrange them in rows on the pastry, leaving a small space (1cm) in from the edge.

(If you're worried about them browning, prepare a bowl of a little water with lemon juice and steep the slices in it first).

Melt the butter and brush on top of the apples. Scatter with a little sugar and bake in the oven for about 30 minutes until golden.

Optional: if you like your apple tart to shine, melt a little apricot jam in the microwave and brush over once baked and still warm.
Calvados Cream:
In a chilled bowl, whisk the whipping cream with the mascarpone and add the Calvados or Pommeau towards the end, just as the cream thickens.
Notes
* Pommeau is a lighter apple wine from Normandy made with ⅓ Calvados and ⅔ non-fermented apple juice.  If you can find this easily, this is fabulous to replace Calvados.
To Serve: with a dollop of the Calvados (apple liqueur) or Pommeau cream - or, if you prefer Calvados ice cream, replace the Drambuie Whisky to make this no-churn Ice Cream recipe. Without alcohol: serve with a little (good quality - French full fat) crème fraîche or this no-churn plombières ice cream.
Apple Tart Glaze: If you like an extra glaze on your apple tart, brush over some warmed apricot jam before serving.
Variation: Also works well with pears - just replace with 2 medium-ripe pears and sprinkle with a handful of dark chocolate chips.
Measures: Please note that all my recipes are best made using digital kitchen scales in precise metric grams. Both ounces (and cups) are given as an approximate guide. 
This post was first published 13 November 2019 but has now been completely updated.