There's something a bit decadent about a Tarte Tatin, isn't there? This French classic dessert looks so complicated with all its caramel glistening over tightly-packed apples. It's so much easier than it looks. Discover its history and name, what pan to use, plus the traditional recipe.
What is Special about Tarte Tatin?
The Tarte Tatin's special feature is that it's an upside-down caramelised apple tart. The pastry is placed on top of the apples before baking then it is served by upturning the tin on to the plate.
Why do we do this? Ah, it's all down to the history of how this recipe was created – quite by accident.
History of the French Tarte Tatin
According to my 1984 edition of Larousse Gastronomique (given as a wedding present as a young Scot about to embark in a French kitchen), the Tarte Tatin dessert was first served in Paris at Maxim's.
It's not sure if they gave a bow to its creators, the famous Tatin sisters – as they had spied on their famous new dessert and wanted to copycat it in Paris. That was the start of its popularity in France and how it got its name.
However, it was both Stéphanie Marie (1838-1917) and Geneviève Caroline Tatin (1847-1911) who created it while making a tarte solognote.
They came up instead with this irresistible dessert quite by accident at the end of the 19th century. While running their hotel/restaurant in Lamotte-Beuvron, in the Sologne region, they were apparently so busy with clients at the front desk that they were often distracted.
I have two conflicting stories from many different cookbooks, but I prefer to stick with this one. As the apples were caramelising in sugar and butter in the oven for their tarte solognote, they either realised they'd forgotten the pastry or that they'd burned the apples, so they simply plopped the pastry on top, baked then flipped the tart upside down, and Mon Dieu, look what turned up?
From then on, it was served as "La Tarte de Mademoiselles Tatin" (mentioned in a local newspaper in 1889 according to 'On Va Déguster France' by François-Régis Gaudry). This tart was their speciality until they retired in 1906. They never called it a Tarte Tatin until it was renamed at Maxim's in Paris.
What Kind of Apples are Best for a Tarte Tatin?
Newly married, I was totally intimidated by my French Mother-in-Law's Tarte Tatin. Her dessert looked so sumptuous and grand with its glistening slices of warm caramelised apples sitting on top of a crispy pastry, just oozing with the sticky juices. How did she do it?
Pressing her short and simple recipe in my hand, I was assured it was easy and inrattable; "You can't go wrong", she said.
Well I did get it wrong.
For a start, I used apples that didn't survive the cooking process (Pink Lady) and when I quickly turned the pan upside down for the grand finale de-moulding moment, some of the apples stuck to the bottom and the rest sat there miserably as light, uncaramelised mush. I thought of inventing a new Apple Sauce Tart but somehow it didn't have quite the same "accident appeal" as that of the elderly Tatin Sisters.
So, lesson learned: use good quality firm and tart apples such as Granny Smith or French Golden Delicious. As a result of a few other little helpful tweaks to add to mother-in-law's instructions, you can also now be rest assured that what flips out at the end will be much more of a pleasure!
For much more on apples including more apple recipes,
see my Market Produce Page on Apples.
Can I make a Tarte Tatin with Pears Instead of Apples?
Absolutely! Using this recipe, substitute the apples with firm to medium pears (Conference, Williams, Hardy). The result works well, but I personally prefer the traditional version made with apples.
However, if pears are too ripe and juicy, there's more of a chance of a soggy bottom with the pastry. That's why I prefer to make the same tatin baking concept with pears in this French Chocolate Pear Cake. That way the pear juices make the chocolate cake particularly fondant.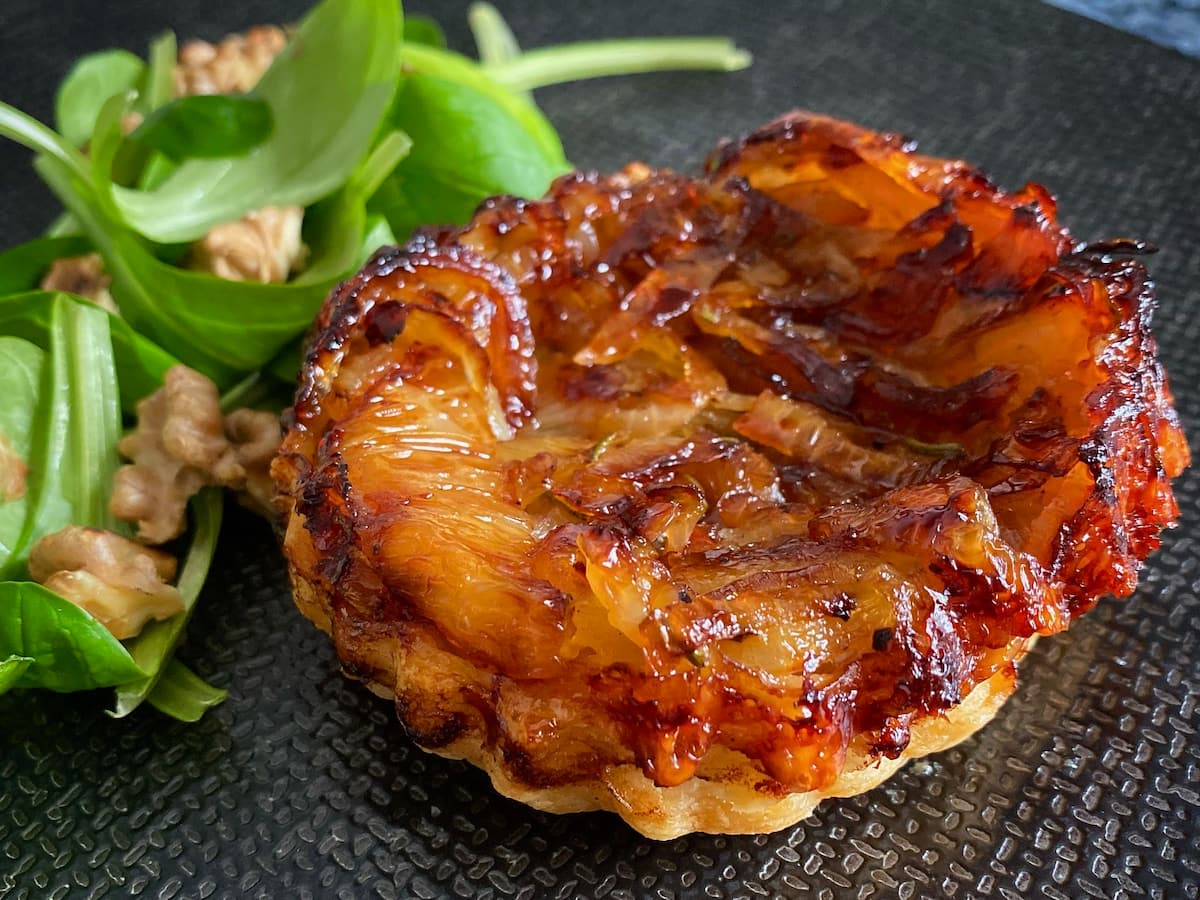 Have you made a savoury version? See my recipe for French Onion Tarte Tatin.
What Pan Can I Use for Tarte Tatin?
For best results, butter a round 25cm deep baking tin (ideally non-stick), or use a good solid-based ovenproof frying pan. The most important is that the pan should be able to be transferred easily to the oven.
How do you Keep it From Getting Soggy?
Oh, we all love to talk about soggy bottoms, don't we? It's a touch of British Bake-Off fever. Don't worry about this. In fact, it will naturally be a little juicy and that's perfectly normal with the juices of the apples.
However, I recommend you make the recipe all in one go to avoid this. If you plan on making this in advance and caramelising the apples first, then wait for them to cool completely before adding the pastry. The easiest method is just to make it all in one go, leave the tart to cool for 5 minutes then upturn onto a serving plate. If serving later, hold back any juices left in the pan and pour on top when both are reheated.
Should Tarte Tatin Be Served Hot or Cold?
This is best served warm, rather than hot or cold. We love it served just on its own, but many restaurants in Paris accompany it with a spoonful or two of crème frâiche. (If you can't find crème frâiche, use Greek yogurt).
If you'd like to be different, serve with this Calvados Cream, I use to accompany a quick French apple tart. Alternatively, accompany it with this Drambuie ice cream for a Scottish-French Auld Alliance dessert.
For more apple desserts, see the index of winter recipes.
Classic Tarte Tatin
The authentic classic recipe for a Tarte Tatin uses shortcrust pastry (pâte brisée) as the base.  Instead, I like to cheat to make this much quicker and easier using ready-made shortcrust or puff pastry (all butter).
Tarte Tatin Recipe
---
Description
Tarte Tatin, the classic French dessert of caramelised apples served upside down on a crispy base of shortcrust or buttery puff pastry. Created by accident by the Tatin sisters in France's Sologne at the end of the 19th century.
Ingredients
2

tbsp

water

120

g (4½oz/ 2/3 cup)

granulated sugar

plus 2 tbsp for sprinkling

50

g (2oz/3 tbsp)

unsalted butter

plus 15g/1 tbsp extra

15

g (1 tbsp)

Calvados

optional

pinch

salt

(fleur de sel, Maldon or Celtic sea salt)

5-6

apples

Golden Delicious or Granny Smith

200

g (7oz)

ready-made shortcrust or puff pastry

ideally pre-rolled/thawed, if frozen
Instructions
In a heavy bottomed saucepan, stir the water and sugar together and then, over a medium heat, leave to bubble and simmer until a light golden brown caramel forms (no need to stir at all until the caramel turns colour).

Stir in the butter (and salt if using) and splash of Calvados until the caramel is smooth and immediately pour into the baking tin.

Preheat the oven to 190°C/170°C fan/375°F (gas 5).

Peel the apples, cut them in half, remove the cores with a sharp knife (or use an apple corer) and cut them again horizontally.

Arrange the apples upright in a circle and pack them as tight as you can (they'll shrink while cooking), filling as much space as possible in the middle. Cut up any leftover apple and stuff them into the spaces.

Top evenly with the extra butter cut into small bits (or brush with melted butter) and lightly sprinkle over the extra 2 tablespoons of sugar. Bake in the oven for 20 minutes.

Remove the caramelised apples from the oven to cool slightly as you prepare the pastry.

Ideally your puff is ready rolled so there's no need to do anything. (If the puff pastry is in a block, roll it out to about 2mm thickness and cut out a circle very slightly larger (2-3cm) than the size of the pan you're using). Place the pastry circle on top of the apples, tucking in the sides as far down the edges as you can, as it will neatly hold the apples when turned over at the end.

Pierce a few small holes in the pastry to allow any steam to escape – this will prevent the puff pastry from puffing up too much while baking.

Bake in the oven for a further 15-20 minutes, or until the pastry is golden brown and the apple juices leak around the edges.

Leave to cool. Run a sharp knife along the edges just to help release the sticky beauty. To turn out the tart, cover the pan with a large deep plate (to catch the juices) and hold the pan and plate together and flip upside down quickly, pastry side down.
Notes
Serve warm either on its own, or with a dollop of crème fraîche. Alternatively, add some Calvados Cream or for something different, Drambuie ice cream for a Scottish-French Auld Alliance dessert.
For more on apple varieties for baking, see the market produce apple page.
Measures: Please note that all my recipes are best made using digital kitchen scales in precise metric grams. Both ounces (and cups) are given as an approximate guide. 
This recipe was first published 8 October 2015 but the text is now updated to make it easier to read. 
Enjoyed this classic Tarte Tatin? Please leave your rated review below – thank you so much for your support.
Looking for a savoury recipe? Try this French Onion Tarte Tatin.