Easy recipe for French onion tarte tatin - or individual tatins - of caramelised onions, toasted walnuts with or without cheese.
Ready-made puff pastry makes this even easier to prepare. It's healthy too - as onions are naturally sweet. So there's no need to add any sugar or honey; the onions caramelise themselves!
Onion Tarte Tatin with Puff Pastry
Chèvre goat's cheese is hidden under the caramelised onions before hitting the tart's crispy puff pastry. The flavours are divine in this easy Onion Tarte Tatin - especially with a touch of fresh rosemary and toasted walnuts sprinkled on top, almost as an afterthought.
I took inspiration for the accompanying flavours in this recipe from the classic French salade de chèvre chaud (warm goat's cheese salad). For those of you not keen on goat's cheese, however, you can replace the cheese with Comté, Emmental or your own favourite cheese - or omit the cheese entirely.
Make-Ahead Tart for Entertaining
One large onion tarte tatin serves 6-8 slices. Cook it in advance on the day for no longer than 25 minutes until light golden, upturn on to a serving plate that can transfer to the oven then leave to cool. For individual (mini) versions, it's even quicker - see below.
Just re-heat in the oven for 10 minutes and it's an easy, stress-free dish that's ready to serve to your guests.
Story of the Tarte Tatin
According to my old 1984 edition of Larousse Gastronomique, the sweet Tarte Tatin dessert recipe of caramelised apples was first served in Paris at Maxim's giving a bow to its creators, the famous Tatin sisters.
Stéphanie and Caroline Tatin came up with this irresistible dessert quite by accident at the end of the 19th century while running their hotel/restaurant in the French Sologne region, south of Paris. The story goes that, as the apples were caramelising in sugar and butter in the oven for their tarte solognote, they either realised they'd forgotten the pastry or that they'd burned the apples, so they simply plopped the pastry on top, baked then flipped the tart upside down, et voilà.
From then on, it was served as their speciality until they retired in 1906, although they never called it a Tarte Tatin until Maxim's took it on by storm in Paris on their dessert menu.
Caramelised Onion Tatin with No Sugar
Onions are naturally sweet: they contain 10% sugar, which is good news for making an onion tarte tatin. So it's extra easy: there's no need for making any caramel or adding any sugar. Cooking the onions slowly first means they caramelise themselves without any sugar.
If you do have a sweet tooth, however, you could add a touch of balsamic vinegar. This adds a bit of acidity and extra rich colour, although I personally feel it's not needed.
See my market produce page on onions for more.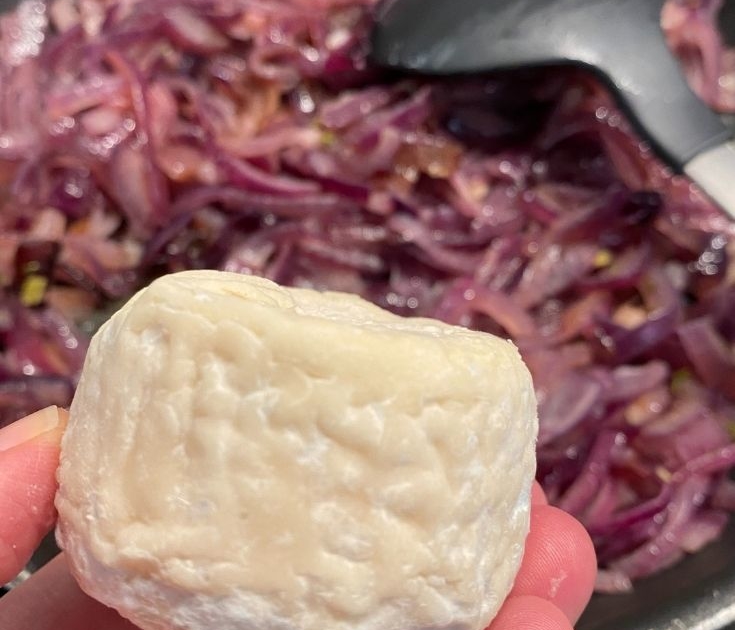 French Onion Tarte Tatin with Goat's Cheese
As in most recipes using goat's cheese - see this walnut pasta sauce - don't skimp on using good quality goat cheese. I like to use a couple of Crottins de Chavignol made with raw goat's milk (lait cru). Not creamy fresh and not too dry (mouldy mature), either - just somewhere in between, which is perfect for cooking and full of flavour.
Can't find Crottin de Chavignol? No worries - use a good quality farm goat's cheese and about 6 thick slices in total for a whole onion tarte tatin. It depends on your taste.
Otherwise, replace the goat's cheese with a few slices of comté cheese (as I use in the tartlet tatins on the video) and serve with some lamb's lettuce, fresh watercress or other salad. Not keen on cheese at all? Omit the cheese entirely and the tatin will be just as good - just don't forget the walnuts!
Individual Onion Tatins with Puff Pastry
If entertaining, mini versions are chic. Make individual onion tartlet tatins using non-stick tartlet moulds (this recipe makes 6 tartlets). See just how quick and easy they are to make on my video below, just like the large onion tarte tatin.
On the video, I made them with regular yellow onions. If you can find them, use the best of French's 'Roscoff' onions with some comté cheese.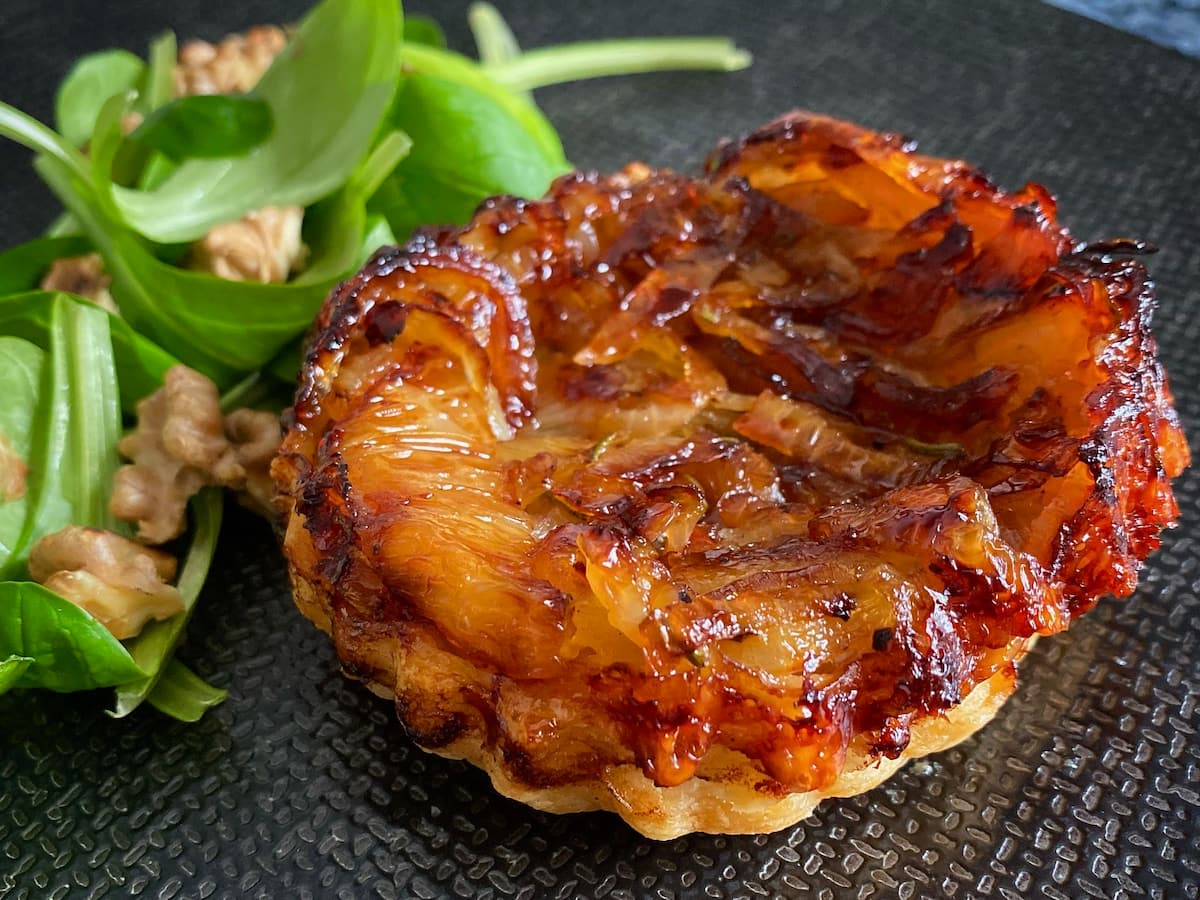 How to Serve
Serve this onion tarte tatin with a few salad leaves (I like lamb's lettuce with it). Sprinkle them with a little olive or walnut oil and season and top with toasted walnuts.
For those not vegetarian, go the full monty with added fried bacon bits (lardons), as in a warm goat's cheese salad.
Made without the cheese, I love this on its own just as much. However, top with a few slices of black pudding (Stornoway from Scotland is best). It gives it a stunning touch of the Auld Scottish-French alliance on a plate!
What Wines Match Onion Tatin?
Fruity, sunny whites from the Languedoc and Provence go well, as do rosé wines. Ideally, serve a wine from the Loire Valley since it's the top French region for goats cheeses (Sancerre, Quincy, Menetou-Salon, Pouilly, Reuilly...).
So serve this onion tarte tatin with chilled Sauvignon Blanc, Chenin Blanc or Cabernet Franc (the 3 white varietals from the Loire). A Chardonnay from the Jura (Côtes de Jura) is also fabulous.
The resulting sensation with the goat's cheese and caramelised onions brings out honey flavours. If you prefer red wines, a Sancerre red, or lighter fruity slightly chilled Pinot Noir from Alsace is good. Gutsy Bordeaux (Cabernet Sauvignon) matches if you're adding black pudding or boudin noir.
Onion Tarte Tatin
Onion Tarte Tatin, a savoury French classic upside-down tart made with puff pastry. Easy recipe for individual tarts or a large tart with caramelised onions, toasted walnuts with or without cheese. No added sugar. Ready-made puff pastry makes this onion tarte tatin even easier to prepare.
Equipment
23cm (9 inch) non-stick cake tin

or 6 non-stick tartlet tins
Ingredients
4

large onions

red or yellow

1

packet (230g)

ready-rolled puff pastry, all butter

(or defrosted puff pastry, rolled into a circle)

25

g (1oz/ 2 tbsp)

unsalted butter

1

tablespoon

olive oil

1

sprig

fresh rosemary or thyme

(or ½ teaspoon dried Herbes de Provence)

handful

walnuts

pinch

salt & pepper

100

g (4oz/ ½ cup)

goat's cheese or comté

(optional)
Instructions
Peel and cut the onions into thin slices. Meanwhile, over a medium-low heat, melt the butter with some olive oil in a non-stick frying pan (ideally that can be transferred to the oven otherwise use a 23cm non-stick cake pan to bake the tatin).

Fry the onions until translucent. Leave to soften, cover and cook for about 15 minutes, turning a few times to coat the onions in the butter and oil.

Preheat the oven to 200°C/180°C fan/Gas 6.

Add chopped fresh herbs (or a teaspoon of dried Herbes de Provence) and season the onions. Transfer to a cake pan, if using. Slice the goat cheese (3 slices per person) and place them on top of the packed caramelised onions.

Top with the larger disk of puff pastry, tucking it in around the sides of the pan. Prick the pastry (to stop the puff from rising in the oven) then transfer to the oven. Bake for 30 minutes, or until crisp and golden brown (slightly less if making smaller tatins).

Remove from the oven. Place a serving plate larger than the pan over the top. Carefully turn the tatin upside down on to the plate.
Notes
Serving Suggestions:
A side-salad of lamb's lettuce (mâche) tossed in olive or walnut oil, white balsamic vinegar and extra toasted walnuts.
Wine pairing with onions:
With goat's cheese: serve with a chilled white Sauvignon Blanc - the sensation with the goat's cheese brings out honey flavours. Ideally, serve a wine from the Loire Valley since it's The French region for goats cheeses (Sancerre, Quincy, Menetou-Salon, Pouilly, Reuilly...). A Sancerre red is also a good match.
Otherwise with onions: serve with a fruity Chenin Blanc (e.g. Vouvray, Savennières) or rosé.
A version of this recipe was first published on le blog on 10 December 2013.
The text is now updated with a printable recipe card and video.