Easy goat cheese pasta sauce, a creamy warm version of the French classic, Warm Goat Cheese Salad, with toasted walnuts, fresh herbs and half fat cream. Bring some French summer sunshine to your plate at any time of year.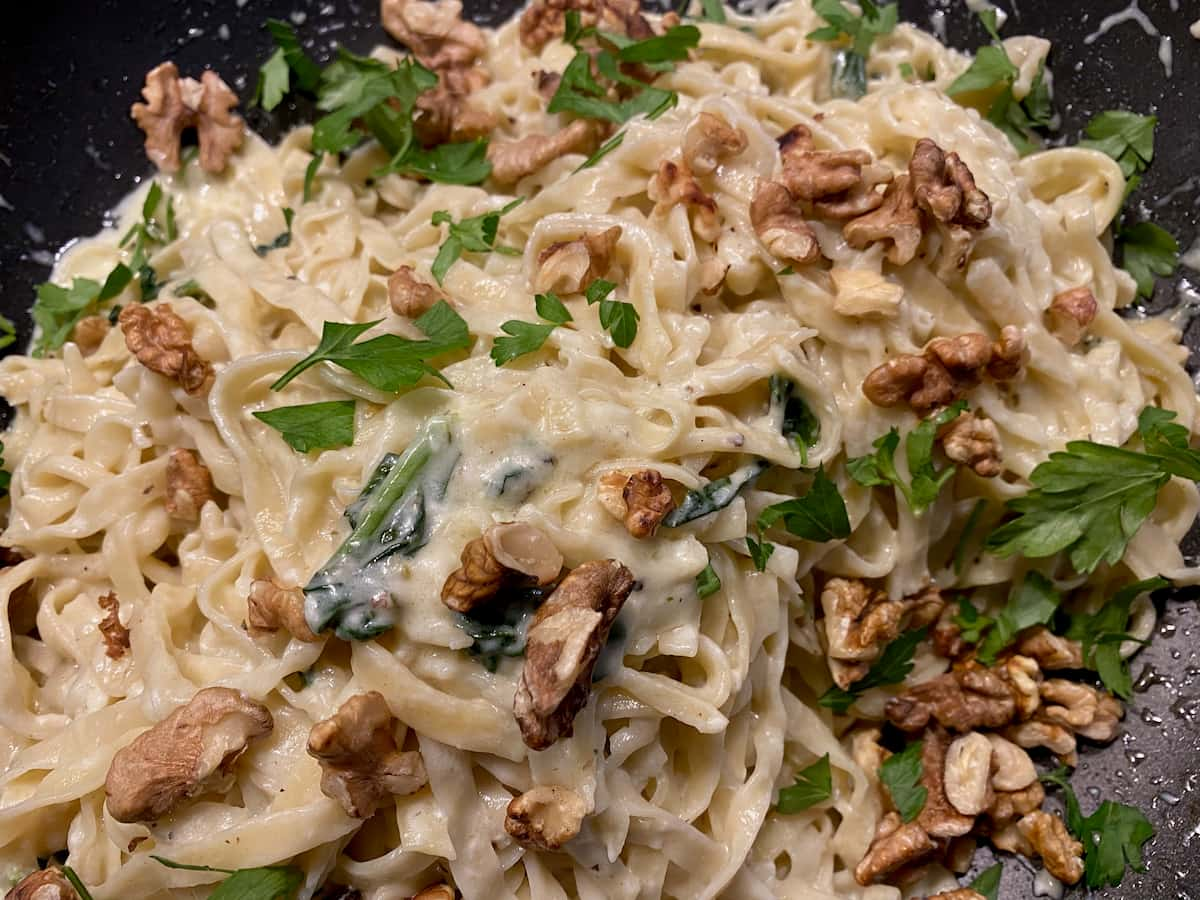 Can You Melt Goat Cheese?
This Goat Cheese & Walnut Pasta Sauce has just evolved over the last few years. It's a Salade de Chèvre Chaud without the salad. Instead we just liquify the goat cheese: melt it down in a hot pan with the usual classic French salad ingredients.
We love the salad version, but we often find salads difficult to digest in the evening. Outside the summer months, we also don't feel like salad. Enough said.
For this hot salad version, place some small spinach leaves on the bottom of each plate for more greens. The heat of the pasta slightly wilts them. More ideas below.
Best French Goat Cheese to Use for Cooking
Like the salad version, don't skimp on using good quality goat cheese. The best kind of goat cheese to use is Crottin de Chavignol (from the charming little Loire village that also boasts some remarkable Sancerre wines from the famous town up the road) made with raw goat's milk (lait cru). They are small individual cheeses and can be 65g-100g, sold around France, from supermarkets to cheese shops and at the market.
In some of the touristy brasseries in Paris, watch out for the cheap'n'nasty stuff; the other day I was served a sickly sweet version with a thick layer of fig jam spread on Poilâne bread, then topped with the cheapest supermarket goat cheese that was bitter and didn't like being melted (incidentally, fig jam is best served separately with a cheese board - just saying.
So if you see fig jam included - avoid it! Sitting on top of a ridiculous amount of green salad without much dressing, this seriously gives our visitors to France the wrong idea of the classic dish.
Needless to say, it gets my goat. Stick to garlic, olive oil, good cheese, fresh herbs and walnuts.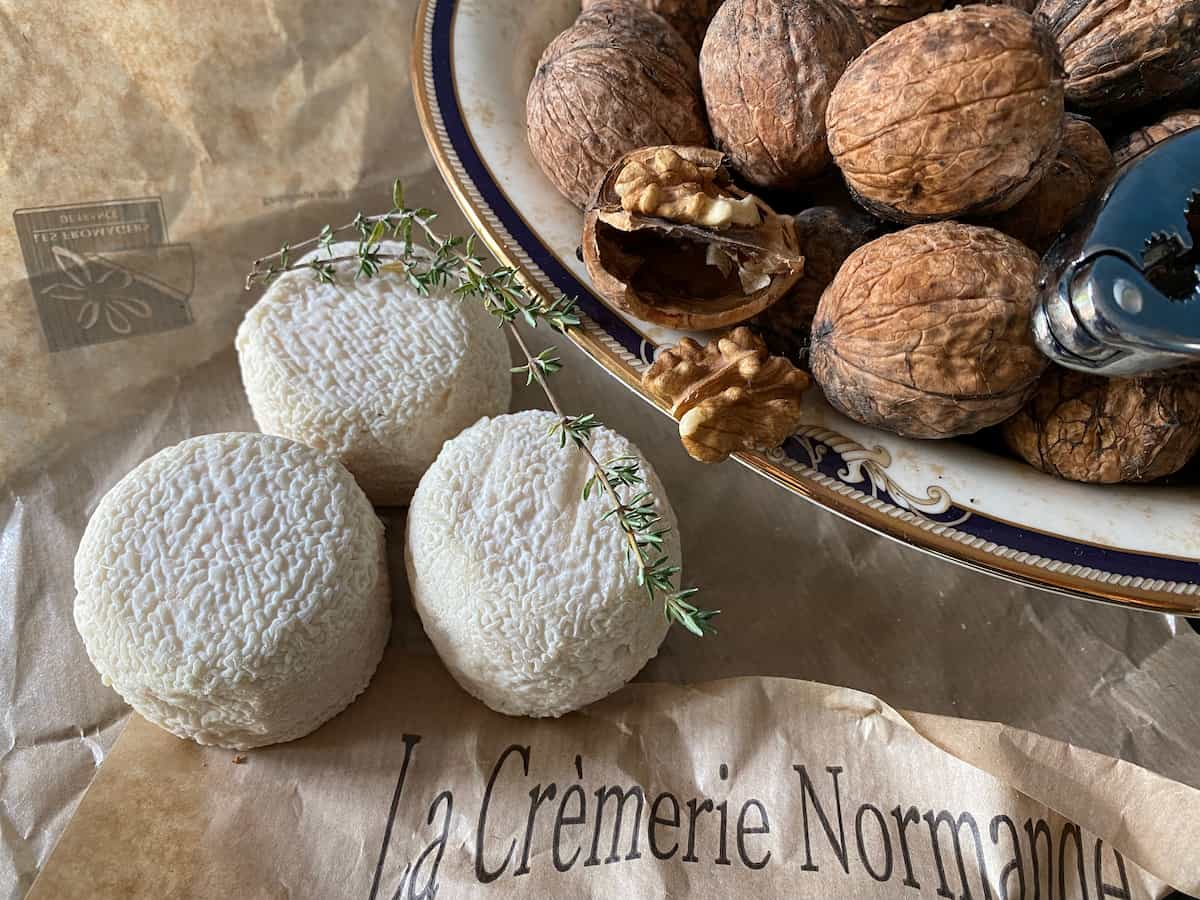 What Does Goat Cheese Go Well With?
We love goat cheese (chèvre) with this combination as all the ingredients combine well together.  The mix is a taste of France on a plate with these main ingredients, first.
The others below are great optional ingredients that are also great added:
Garlic;
Olive oil;
Fresh herbs such as rosemary, thyme, parsley, chives (or dried herbes de Provence);
Toasted walnuts - or pecans, pine nuts or almonds;
Chopped bacon or lardons;
Fried onions;
Sun-dried tomatoes or a side of fresh tomatoes;
Dried or fresh figs; a side dish of roasted figs with honey;
Green leaves (spinach, lamb's lettuce, watercress, lettuce, rocket/arugula);
A little spice such as cayenne pepper.

Goat Cheese Pasta - My Tips
As with the salad version, I gently fry chopped garlic in olive oil, add chopped fresh rosemary or thyme from the garden, melt in the goat cheese, toast some walnuts either in another frying pan (dry fry) or quickly under the grill to toss on top.
Add some chopped sun-dried tomatoes or fried bacon bits (lardons) for the full monty!
Either cook dried pasta (about 10 minutes - follow packet instructions) or fresh pasta noodles for a couple of minutes and toss it in the sauce with a bit of cream, dinner is ready as soon as we've opened the wine!
Have you also tried this creamy lemon spaghetti?
Great with fresh seasonal vegetables, prawns, chicken - or leftover turkey.
Goat Cheese Pasta - Creamy Sauce with Walnuts
My saucy take on the French classic, Salade de Chèvre Chaud, with toasted walnuts, rosemary and fresh parsley to create a creamy goat cheese pasta sauce. Serve with fresh tagliatelle, spaghetti or fusilli - and add some chopped sun-dried tomatoes or fried bacon bits to go the full monty.
Ingredients
2

(100g/3½oz small cheeses)

Crottins de Chavignol

or good quality matured goat cheese (about ½ cup)

2

tablespoon

walnuts

3

cloves

garlic

peeled, core removed & chopped finely

4

tablespoon

olive oil

extra virgin

1

tablespoon

fresh rosemary (or thyme)

finely chopped (or herbes de Provence)

115

g (4oz/½ cup)

half fat cream

(15% fat)

100

g (3.5oz)

lardons/bacon bits

OPTIONAL

250

g (9oz)

fresh pasta

(recipe link below)

handful

fresh spinach leaves

optional
Instructions
Toast the walnuts under the grill for a couple of minutes (keep an eye on them, as you don't want them to burn) or dry-fry in a non-stick frying pan. Set aside.

Gently fry the chopped garlic in the olive oil for a minute but don't brown (it will otherwise turn bitter). Add the fresh herbs then chopped goat cheese and leave it to melt then add the cream, plus salt and ground pepper to taste.

Meanwhile, prepare the pasta according to packet instructions. I prefer using fresh pasta which only takes a couple of minutes but if you use dried pasta, prepare the pasta more in advance or take the sauce off the heat so as not to overcook.

Drain the pasta and toss into the pan with the sauce, sprinkling over the toasted walnuts.
Notes
Good matching wines: Sauvignon Blanc or fruitier Chenin Blanc, ideally from the Loire (the goat cheese is from the same region). The result is a creamy, almost honey-like taste that marries to well together.
For my fresh pasta recipe, see Alsatian egg noodles.
Measures: Please note that all my recipes are best made using digital kitchen scales in precise metric grams. Both ounces (and cups) are given as an approximate guide. 
This recipe was first published 22 September 2018 but has now been completely updated.
More Goat Cheese Recipes
More cheesy recipes using chèvre goat's cheese. Also as the freshest of goat cheese to substitute Corsican Brocciu (or ricotta):