This Corsican Cheese Lasagna recipe is based on the classic dish of Cannelloni au Brocciu in Corsica. Made instead with ricotta cheese, you'll never look at a spinach and ricotta lasagna the same way after tasting this version!
There's one vital ingredient that sets it apart from the others. Just don't tell the neighbours in Antoine's Corsican village that I told you the following secret.
My daughter's favorite especially as it reminds us of our holiday in Corsica a few years ago. Thanks for the recipe.

Tanya
What is Corsican Cheese Lasagna Made Of?
The Corsican classic dish of Cannelloni au Brocciu is either served as a starter/entrée or as a main course and is just about on every menu in traditional Corsican restaurants. Although it's around all year, the Corsican signature cheese, Brocciu, is traditionally used to make this.
However, brocciu cheese is really only available between November and May-June. If you see it on menus over the summer months, don't scoff like my Corsican mother-in-law does. You'll probably just be getting a delicious substitute of soft ewe's milk cheese, Brousse, or ricotta instead.
So, a good quality ricotta is best if you can't find brocciu cheese to make this.
Is Lasagna Better with Ricotta or Cottage Cheese?
As ricotta is the best substitute for the traditional Brocciu cheese, is cottage cheese better than ricotta?
My simple answer is no. Use it if you really can't find ricotta. We find that cottage cheese in comparison is bland and doesn't give the typical flavours of the lasagna or cannelloni you would find on the island of Corsica.
So it's a good quality Italian ricotta all the way. Just add a good pinch of salt to it for an authentic taste like the Brocciu. Corsica is perhaps officially French but it's much more Italian in spirit - including the food. Of course, even better if you can find Brocciu cheese!
Do you Put Egg in Ricotta Cheese for Lasagna?
I add a couple of eggs to the ricotta cheese in this lasagna. It's important to bind the filling with egg, otherwise the filling will be too runny. Adding egg results in the lasagna setting beautifully in the oven plus adds a bit more protein to the whole dish.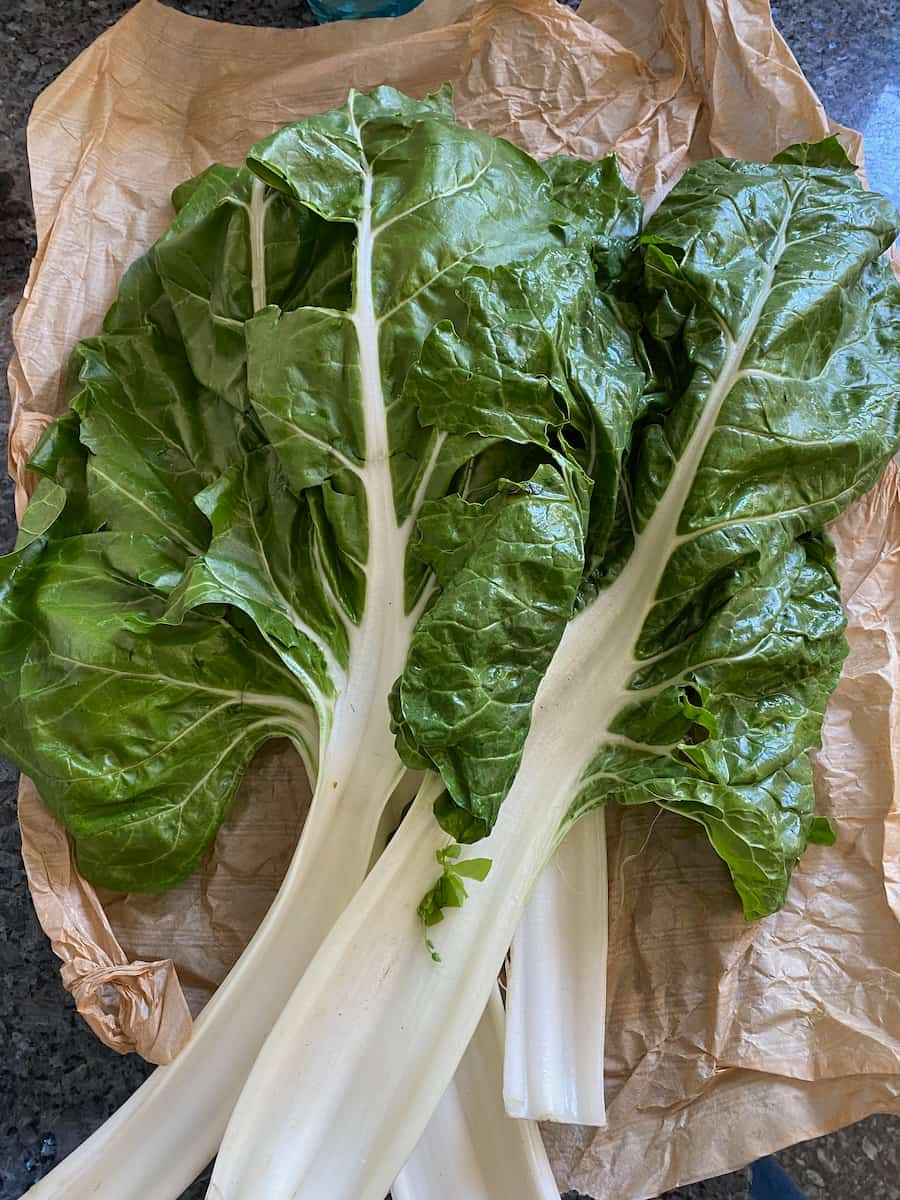 Ricotta Lasagna with Spinach - or Chard
As in many Corsican recipes, blette or swiss chard is used in this classic dish.
Can't find chard easily? The best substitute for chard is spinach - or even beetroot leaves.
Using fresh lasagne sheets sandwiched with fresh ricotta or brousse (instead of classic brocciu in summer) with chard or spinach is in the same taste league as the traditional cannelloni. It's quicker and less fiddly than stuffing dried cannelloni tubes or rolling up fresh lasagne sheets.
However, this is my lazy version of the classic Corsican cannelloni au brocciu so if you want the authentic version, then replace lasagna with cannelloni tubes. Otherwise the taste in this recipe is authentic.
Luckily, Lucie is my willing helper in the kitchen who adores stuffing the tubes while listening to I Muvrini singing. Just listen to them and be transported to the Corsican island, known as Île de Beauté!
If you want to make your own pasta from scratch, here's my recipe for fresh egg pasta noodles, that uses up some yolks so you can make macarons with the leftover whites.
Corsican Herbs Add the Authentic Taste
"I would recognise Corsica with my eyes closed..."

Napoleon Bonaparte (born in Corsica)
Napoleon Bonaparte was referring to Corsica's Maquis, the distinctive Mediterranean shrub-land that covers the island, full of wild herbs and flowers that emanate the most incredible fragrance: it's a mix of woody, smoky notes that can't be equaled anywhere else in France.
Corsican Mint
As with many Corsican dishes, a good amount of aromatic herbs are used that are found growing wild in the undergrowth of Corsica's Maquis or bush. The best tasting I had of this dish was in Rogliano, a tiny village at the most northern point of the "Island of Beauty's" Cap Corse. Their secret was the addition of fresh mint to the filling. Since then, I always add it to this dish. You'll see: it makes all the difference, secretly tucked inside.
Nepita, a typical Corsican herb from the maquis is also used in Corsican cooking: it's a mixture of peppermint and oregano and added to tomato ragouts and stews, such as a Veal Stew with Peppers.
Corsican Cheese Lasagna Recipe with Ricotta
First briefly pre-cook the chopped chard or spinach leaves for about 5 minutes then set aside to cool.
Fry the chopped onion in a little olive oil, then add the garlic, tomatoes, purée and thyme.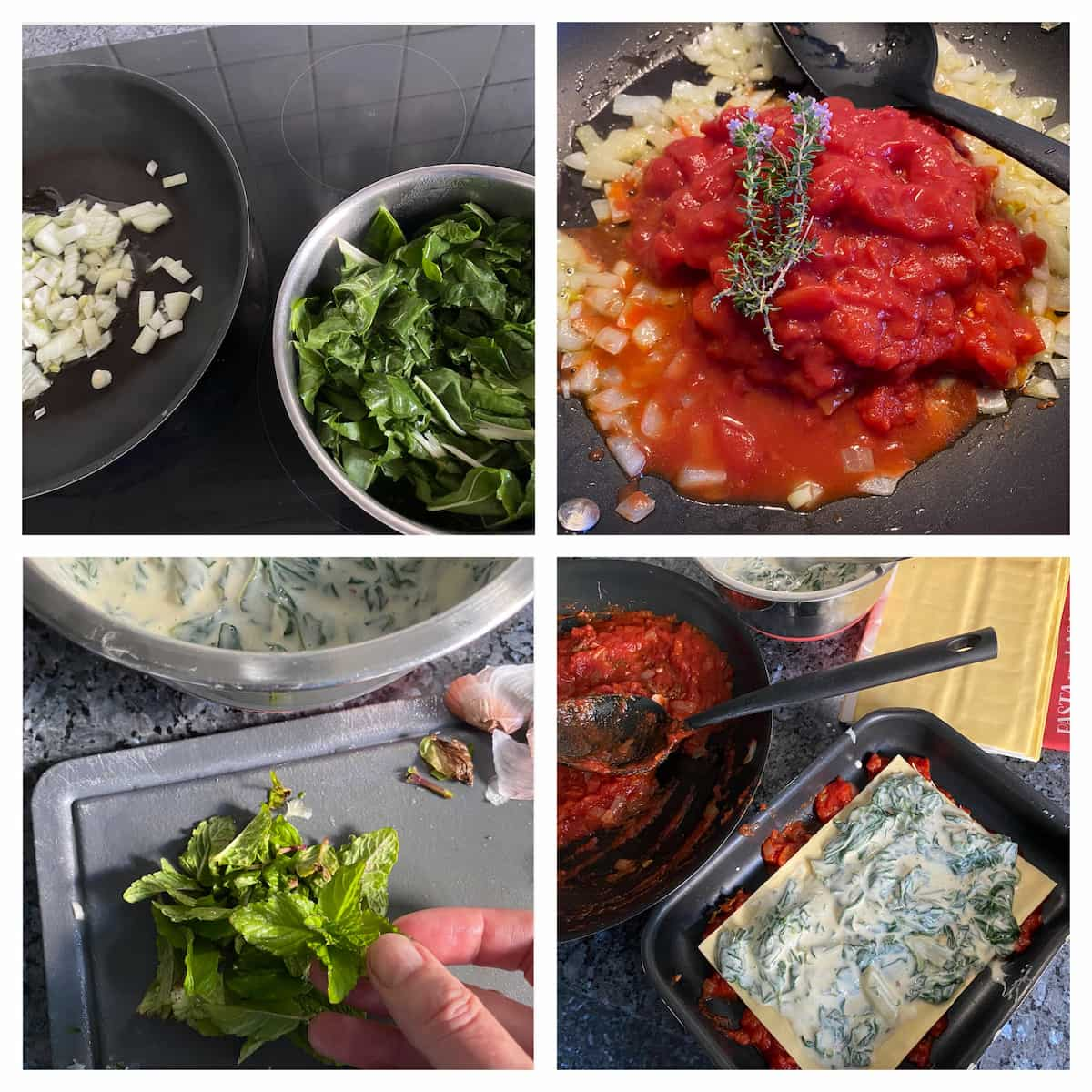 In a bowl, mash and mix together the ricotta with the cooked chard or spinach, nutmeg, chopped mint, eggs, salt and freshly ground pepper.
Layer half of the tomato sauce at the bottom of an ovenproof dish that's big enough to hold the lasagna sheets.
Top with a lasagna sheet, then spread over the cheese mixture and repeat until the 2nd last lasagna sheet.
Finish off with the tomato sauce and grated parmesan, if using then bake for about 20-25 minutes. If using dried pasta (or dried cannelloni tubes) then allow for another 20 minutes in the oven.
The Top Layer
While we normally add a top layer of cheese to a meat lasagne, this recipe is different. As cheese and spinach is in the filling, do like they do in Corsica: add a top layer of tomato sauce and garnish with more fresh mint.
However, we also like to add some freshly grated parmesan to finish before baking or to serve at the table. When I say Parmesan, I mean a block of good quality Parmigiano Reggiano. While really good to add, it's not a vital ingredient like the mint!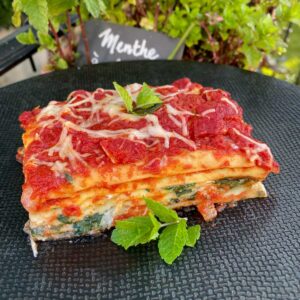 Corsican Cheese Lasagna
Easy cheese lasagna recipe, an adapted version of the classic Cannelloni au Brocciu with ricotta and fresh mint, which makes the taste of Corsica travel to your kitchen.
Equipment
ovenproof dish

large enough to hold the lasagna sheets
Ingredients
500

g (18oz)

Swiss Chard (or spinach, fresh/frozen)

16 cups of fresh leaves or 2 cups if cooked

500

g (18oz/ 2 cups)

Ricotta cheese

or brocciu cheese

2

eggs

organic

2

tablespoon

fresh mint leaves

chopped

good

pinch

salt, pepper

to taste

pinch

freshly grated nutmeg

1

tablespoon

olive oil

3

garlic cloves

finely chopped

4-5

organic tomatoes (or a tin of good quality chopped tomatoes)

peeled and chopped

1

medium

onion

1

tablespoon

tomato purée (concentrate)

1

sprig

fresh thyme

1

10-sheet pack

fresh lasagna sheets (no pre-cook, bake only)

or dried cannelloni tubes (add 20 mins to baking)

30

g (2 tbsp)

Parmesan cheese

freshly grated from a block (optional)
Instructions
Cut the leaves from the swiss chard, if using, and cook in salted boiling water for 5 minutes (same for fresh spinach. If using frozen, follow packet instructions). Drain well, leave to cool then chop finely.

Make the tomato sauce: gently fry the onion in olive oil and cook on medium heat for about 10 minutes. As soon as translucent, add the garlic, tomatoes, purée and thyme.  Boil quickly then reduce the heat and simmer (uncovered), for about 10 minutes. Remove the thyme stalk.

Preheat the oven to 200°C/180°C fan/400°F/Gas 6.

In a large bowl, mash the cheese with a fork and gradually mix in the cooled chopped swiss chard/spinach leaves, eggs, mint, nutmeg, salt and pepper. Lightly oil an oven dish large enough to fit the lasagna sheets.

Spoon on a thin layer of tomato sauce, cover with a lasagne sheet, then top with a layer of the cheese and mint mixture.  Continue each layer of lasagna and cheese mixture until the last lasagna sheet. Top the last layer with the rest of the tomato sauce.

Finish off with some grated parmesan, if using, and bake for about 20-25 minutes.

If using dried cannelloni tubes, add another 20 minutes to baking time.
Notes
Wine Suggestions with Corsican Cheese Lasagna Ideal served with chilled rosé or red wines.
Enjoy with a Corsican wine such as a Nielluccio, which is a typical grape variety for rosé and red wines from Patrimonio (north of Corsica). Known as Sangiovese in Italy, choose a Chianti, Brunello di Montalcino, or Montepulciano which is easier to find.
This recipe was first published April 26 2017 but is now completely updated.