Fiadone is the most popular of Corsican desserts and is essentially a ricotta cheesecake that uses the local Brocciu (goat or ewe's) cheese, eggs, sugar, lemon and a splash of liqueur. This easy recipe is both tested and approved by my Corsican husband and family.
My coworker is from Corsica and I made this as a surprise for him for Bastille Day. He said it was just like how it was from his childhood and he absolutely loved it! Thank you for such a fabulous recipe, and such wonderful substitutions for those of us in the US.

Delaney
Fiadone: Most Popular of Corsican Desserts
As soon as the temperature drops in Autumn, fresh Brocciu cheese appears at our local market from the island of Corsica. So I love to celebrate its arrival by making a Fiadone Corsican Cheesecake.
Fiadone is found on just about every Corsican dessert menu and every family in Corsica has their recipe, including my husband's. It's also popular in all Corsican bakeries. It's said to have originated in the central town of Corte, but each time I ask in the patisseries in town (it's not far from Antoine's family's home up in the hills, hidden from Corte's Citadel), I don't get any clear answer. So I'll report back here one day when I get further in my gourmet research.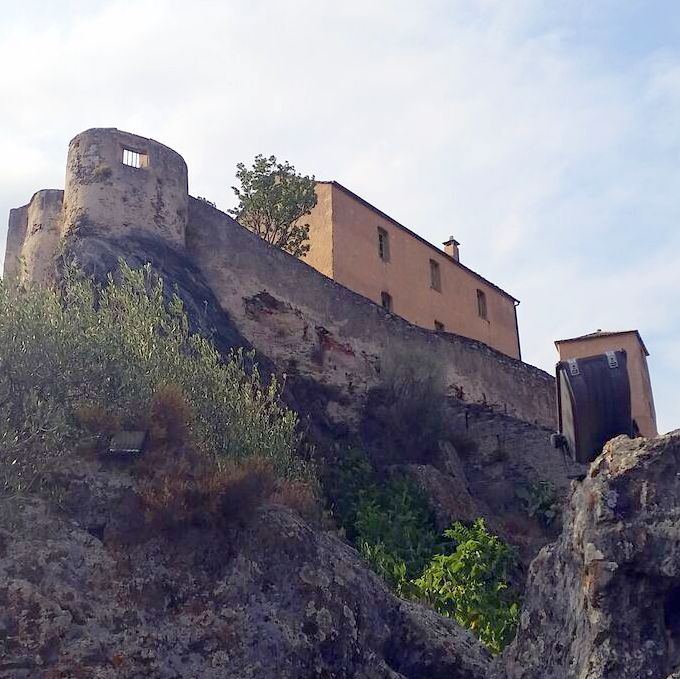 What is Fiadone?
Pronounced Fee-a-don, the Fiadone is said to have come from the Italian Fiadoni flans from around the 16th century. Corsican cuisine is largely inspired by Italian cuisine, thanks to its history and so its main ingredient is like ricotta rather than using a cream cheese.
Although we call this a Corsican cheesecake, the Fiadone doesn't have a biscuit base. Some pâtisseries - especially around the region of Ajaccio in the south - serve it in individual pastry cases with a puff or short crust tart base, called Imbrucciata or Imbrucciate.
Like its name suggests, the Fiadone resembles a flan with 4-5 simple ingredients: brocciu cheese, eggs, sugar, lemon zest and/or a touch of Eau de Vie liqueur.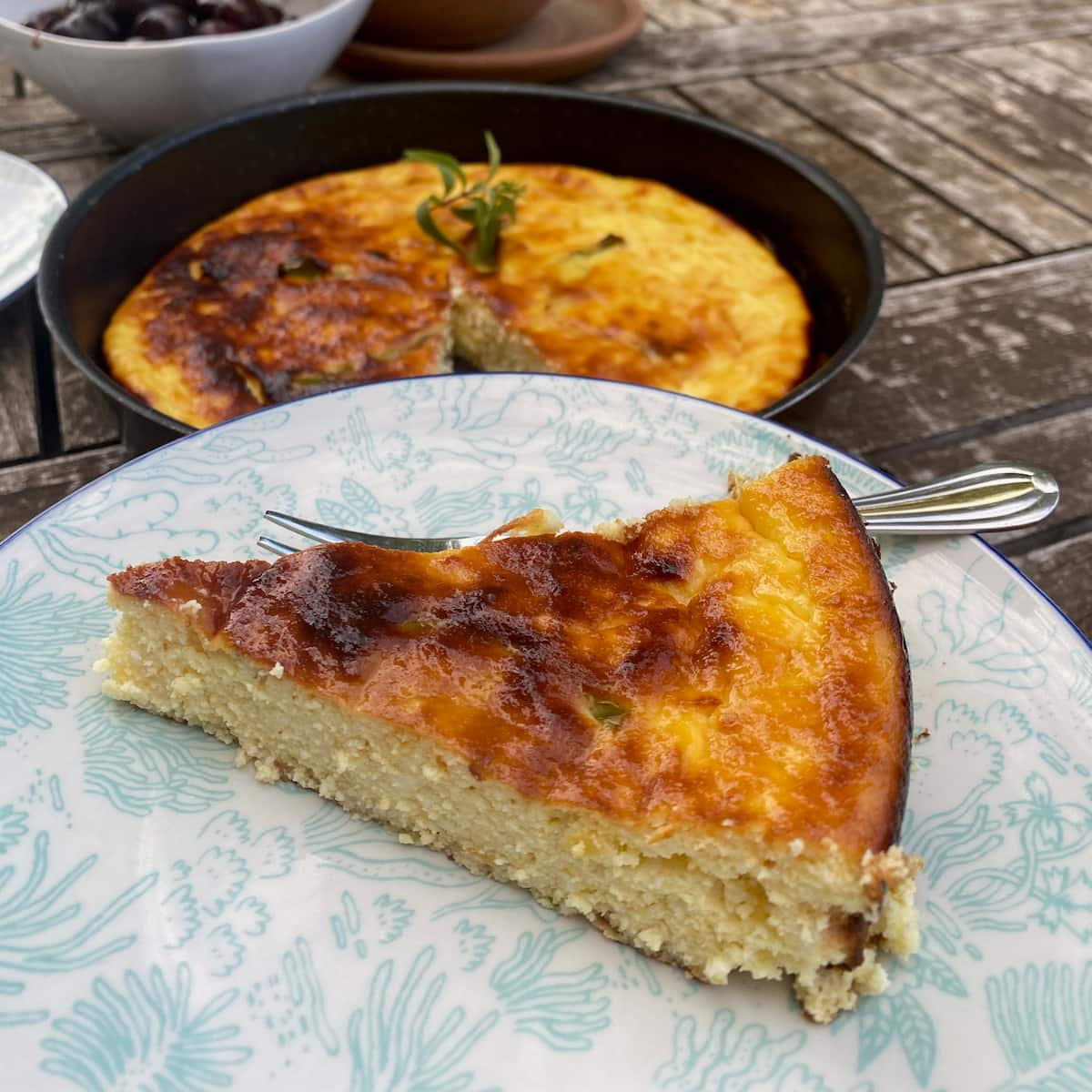 How is a Ricotta Cheesecake Different to a Regular Cheesecake?
Like an Italian-style ricotta cheesecake, the Fiadone is different to regular (New York) cheesecake in that it doesn't use cream cheese. What's more, there's no biscuit base like a regular cheesecake. Instead it is served as it is, as a plain cake of ricotta (or rather, Corsican Brocciu) cheese, as it were!
That's why I call it a lazy cheesecake - it's so easy to make.
What Does Fiadone Taste Like?
Fiadone has a particularly rustic texture due to the main ingredient of brocciu cheese or ricotta. With the eggs, there's a soft and squeeky bite to it.
The cheese isn't strong, so the taste is very light and the taste of lemon shines through in the aftertaste but shouldn't be strong either. There's only a hint of citrus.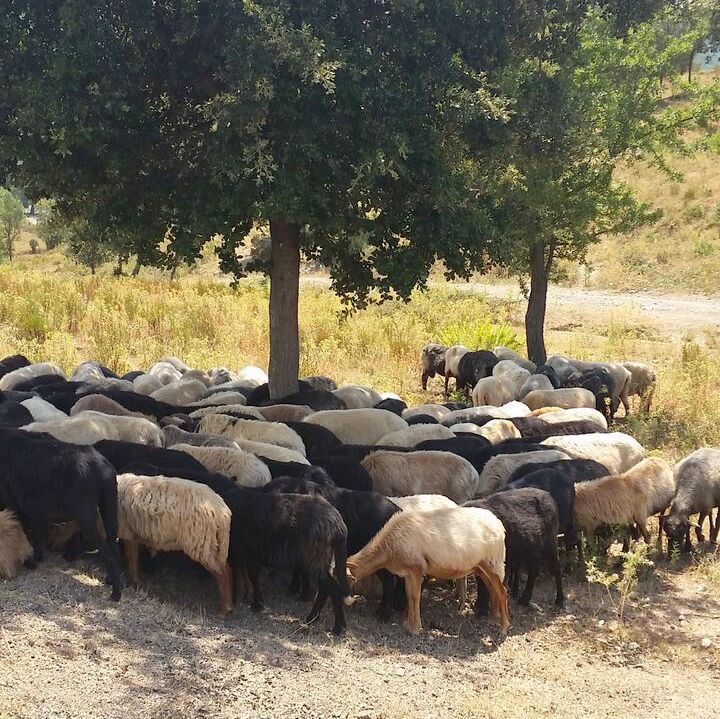 What is Brocciu Corsican Cheese?
Antoine's Corsican family, like many on the Île de Beauté, serves this typical family dessert in the winter and spring months. Why? It's due to the main ingredient, Brocciu.
Brocciu (pronounced Brotchiou, more often Brooch) is the only Corsican cheese that is certified with AOC (controlled designation of origin) and AOP (protected designation of origin, the European equivalent) labels. It's also the only French AOC cheese made from whey.
According to the Corsican Agricultural and Rural Development agency, Brocciu is not to be confused with Brousse, since its AOC status has to contain at least 40% fat; if it has any less, it's called Brousse.
If Brocciu is left to age slightly and has added salt, this is used for savoury dishes, such as in this traditional Corsican Mint Omelette or in Stuffed Courgettes.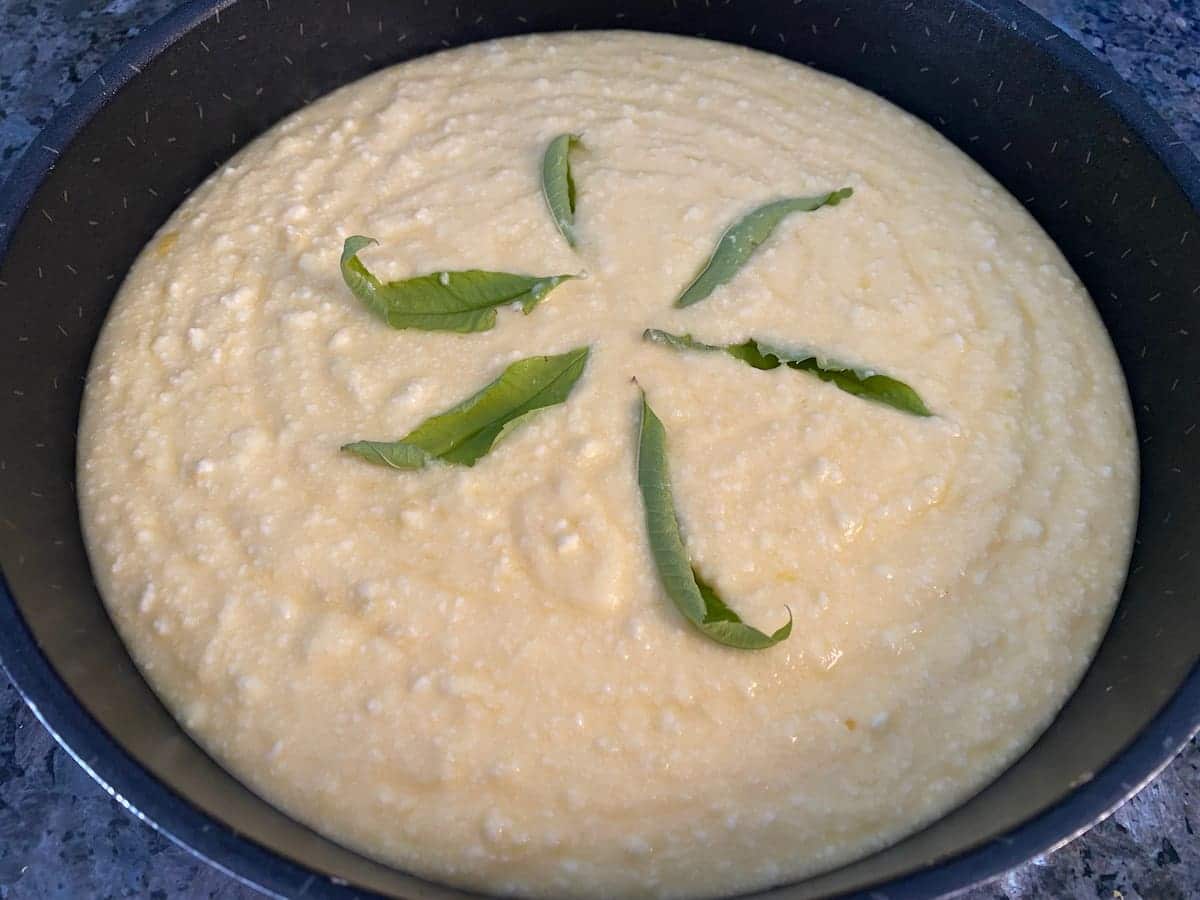 How to Serve Corsican Brocciu Cheese
As with all Corsican cheeses, Brocciu is made from goat or sheep's milk - or both - but it's a unique delicately fragranced curd cheese.
Produced only between November and May/June when milk is at its richest, it's usually served very fresh on its own for dessert.
As a result, Brocciu is served fresh in the following ways as a typical family dessert:
a sprinkling of sugar and a splash of Corsican myrtle Eau de Vie liqueur;
With mountain honey (Corsican honey is strong, coming mainly from the Châtaigniers - see page on chestnuts);
A spoonful of chestnut and vanilla paste/purée;
Serve it with a spoonful of Corsican fig jam, just like my mother-in-law does.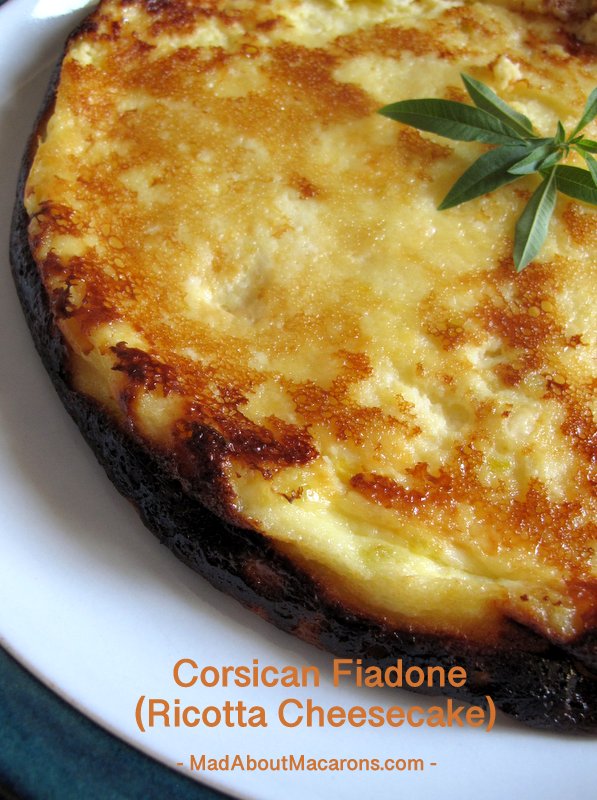 Corsican Brocciu Substitutes?
As it's difficult to find fresh Brocciu cheese, here are some substitutes.
As brocciu resembles an Italian Ricotta, use Ricotta instead. (Don't use cottage cheese as this is too lumpy).
One Corsican chef in Calvi (who was kind enough to let me in to his kitchen and chat about the recipes) even suggested Faisselle for Fiadone, a soft cheese easily available in French supermarkets. Although it's good, it's made with cow's milk, so the taste isn't quite the same. However, it's not far off and still tastes delicious.
The best substitute for Brocciu is a really good quality goat's cheese - plus the freshest you can find. There's nothing to beat Brocciu but we have to do the best we can, right?
Authentic Corsican Fiadone Recipe
This recipe is such a classic that I certainly can't claim to owning a typical recipe. Basically it consists of soft ricotta-like cheese, eggs, sugar, lemon zest and a splash of liqueur.
So, my own twist is a reduction in sugar (as much as I dare without affecting the taste) and sometimes replacing the lemon with lime or clementine oranges. It may sound like no big deal, but serve this using lime to my Corsican family and it's like I've completely derailed. However, Antoine also likes it this way and so I'm sticking with it!
However, don't even think of adding anything else but citrus to this, otherwise it won't be a Fiadone. Liqueur used can vary but the Corsicans have a wonderful myrte or even a chestnut liqueur which goes well together. Otherwise use Limoncello or other citrus liqueur of your choice.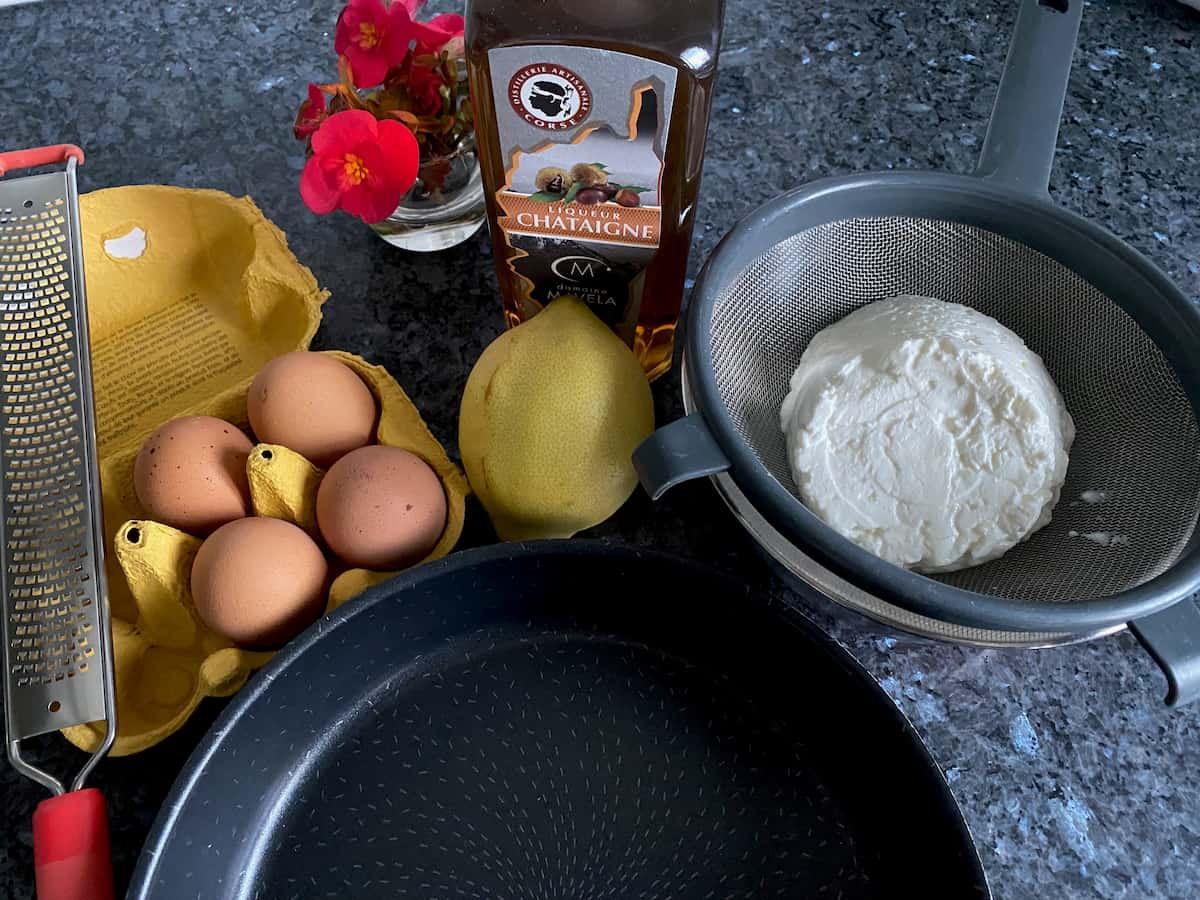 Fiadone Cooking tips
Don't beat the mixture too much, otherwise it will rise more like a soufflé and break, which is less visually appealing.
If you prefer your Fiadone cheesecake with more caramelised edges (like we do), then bake it in a metallic tin to heat the edges more. Otherwise bake it in a porcelain or glass ovenproof dish.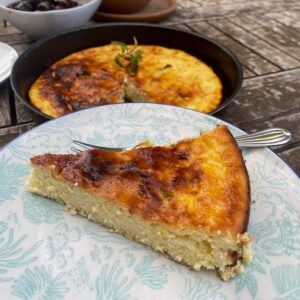 Fiadone Corsican Cheesecake
Light and fluffy Fiadone Cheesecake - the most popular Corsican dessert is quick and easy to make using local Brocciu ewe/goat's milk cheese or ricotta cheese outside Corsica.
Equipment
non-stick metallic cake tin (22cm /9 inch)

or pie dish
Ingredients
500

g (18oz/ 2cups)

Brocciu cheese

(or a light soft fresh goat's cheese, ricotta or Faisselle)

110

g (4oz/½ cup)

Sugar

4

Organic eggs

medium

1

tablespoon

Grated lemon (or lime) zest

from one unwaxed lemon

1

tablespoon

Myrtle/Chestnut Liqueur

or Limoncello
Instructions
Preheat the oven to 220°C/425°F/Gas 7/200°C fan.

Break down the Brocciu soft cheese using a fork. If using Ficelle, strain off the extra liquid in the cheese by placing it in a sieve over a bowl until the liquid is strained.

Beat two of the eggs with the sugar just until well mixed (don't beat too much, as the eggs will rise in the oven and it will be more like a soufflé), add the soft cheese, the zest and liqueur (or Limoncello) then beat in the other two eggs.

Pour into a well greased round cake tin (22cm/9 inch diameter) and bake for 25-30 minutes.  It will be ready when you insert a knife in the middle and it comes out clean.

Leave to cool in the tin then turn out onto a serving plate.
Notes
Serve chilled or at room temperature.
Fiadone can apparently last for up to a week when chilled in the fridge but I have to admit we have never managed to wait that long, especially as it's also delicious for breakfast!
NUTRITIONAL INFORMATION: 277 Calories per serving (11g protein)
Measures: Please note that all my recipes are best made using digital kitchen scales in precise metric grams. Both ounces (and cups) are given as a guide. 
This post was first published 3 November 2016 but has now been updated with more explanations and new images
Made this recipe?
Leave a review below and hit the stars (you can now rate it!)