Corsican Mint Omelette, a typical easy dish from the French Island of Beauty. Unlike a regular French omelette, it's served flat with or without cheese and cooked with olive oil. The mint makes this a good filling for a refreshing breakfast, light lunch or vegetarian dinner.
Mint - A Good Filling for Omelettes
The recipe comes from my Corsican Mother-in-Law. Made with just fresh organic eggs and plenty of fresh mint, it's a deliciously refreshing dish.
Before I hear you say, 'What? Mint in an omelette?' Try it - it's fabulous. Sometimes the most simplest of dishes is the most surprisingly tasty.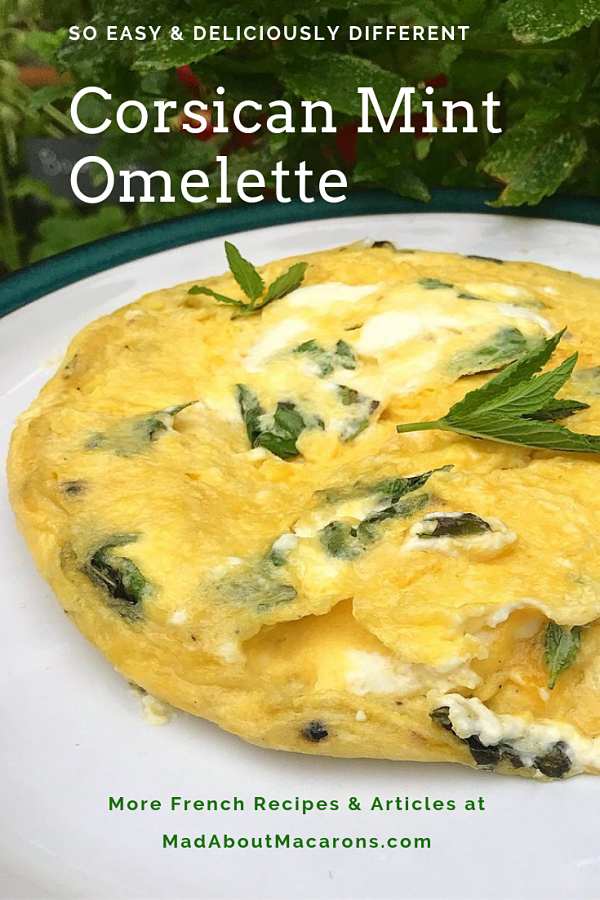 A Classic Dish from Corsica
My mother-in-law always makes it just with mint - but there are two versions to a Corsican Mint Omelette: one is with mint, the other with mint and cheese. However, I didn't tell you the best part about a Corsican mint omelette.
Firstly let me tell you, if you're new here, that my husband is Corsican. He's from l'Ile de Beauté, the beautiful island that sits southeast of France's hexagone and above the Italian island of Sardinia. While Corsica has officially been part of France since 1768, its culture is still predominantly Italian.
Corsican Language - A Mixture of French and Italian
It's fascinating listening to my mother-in-law speak the Corsican language with her neighbours, with its Italian and French lilts. To give you an example, bonjour is bonghjornu and au revoir is avvèdeci.
I'm not good enough to attempt the lingo, as there's a particular accent that sets the Corsicans apart - you could say it sets their 'bones apart' (Sorry, couldn't resist an awful pun, as Napoleon Bonaparte was born here).
What two words are most easy to say in Corsican? Say va bè (ça va), said slowly with a positive shoulder-shrugging gesture that probably says, "I may sound ridiculous but yes, everything is cool".
Popular Corsican Cuisine
Two-thirds of the island is made up of dramatic mountains with perched hilltop villages, which influences Corsica's cuisine. Although fresh fish and seafood are popular in the touristy coastal resorts, inland there's trout from the rivers - always served simply - but good, rustic food from the land features most.
Corsicans love their meat (namely lamb, boar and lots of veal: try this Corsican Veal and Peppers recipe here), and their own cheeses (notably brocciu - read more here in my recipe post for Fiadone, Corsican Cheesecake).
The addition of fresh vegetables and wild herbs from the unique maquis adds the most unmistakably Corsican fragrance of the surrounding shrubs that cover the island.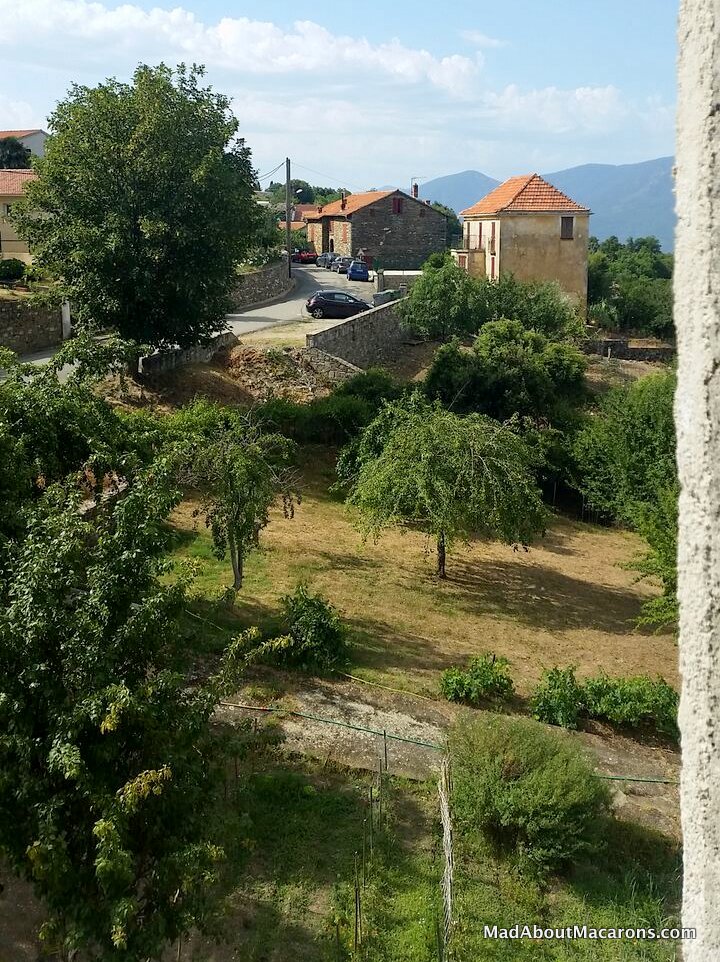 Corsicans Add Mint to Their Cuisine
Antoine's family hilltop village is nearest the mountain town of Corte. Homegrown vegetables and herbs are in most of the villagers' gardens and, while there are plenty of dishes I could cite here, let's focus on mint - otherwise I can feel the next book coming on!
It's a powerful, yet subtle ingredient that's added to many of the most memorable dishes I've had in Corsica, including the traditional Cannelloni au Brocciu. Ever since I tasted the mint coming through the cheese in a restaurant in Rogliano (in Corsica's top finger on the map) I make a lazy version of it (without stuffing cannelloni tubes). Adding mint just gives it that special, extra intriguing taste to this Corscian Brocciu Lasagne and stuffed cheesy courgettes - like, "What is it that I'm tasting?"
It's peppermint.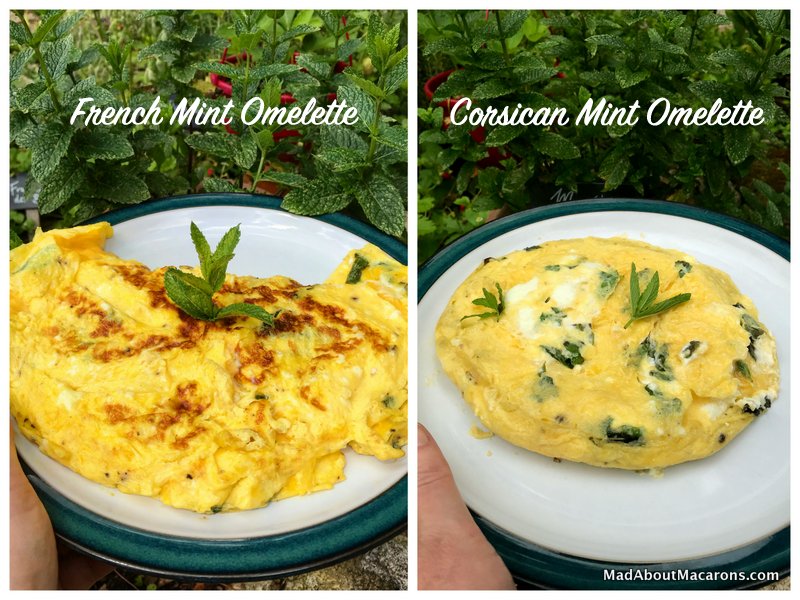 Differences between a French and Corsican Omelette
I left the best for last. So, what makes a Corsican omelette different to a regular French omelette?
One is folded over, the other is served flat but still runny and soft inside.
Authentic Corsican Omelettes
Authentic Corsican omelettes are made using OLIVE OIL and, instead of being folded or rolled over, they are SERVED FLAT - cooked more underneath and just a quick minute (maximum) more on the facing side.
As with the regular French omelette, it's still deliciously runny inside; as the French say, it's an Omelette Baveuse - literally dribbling.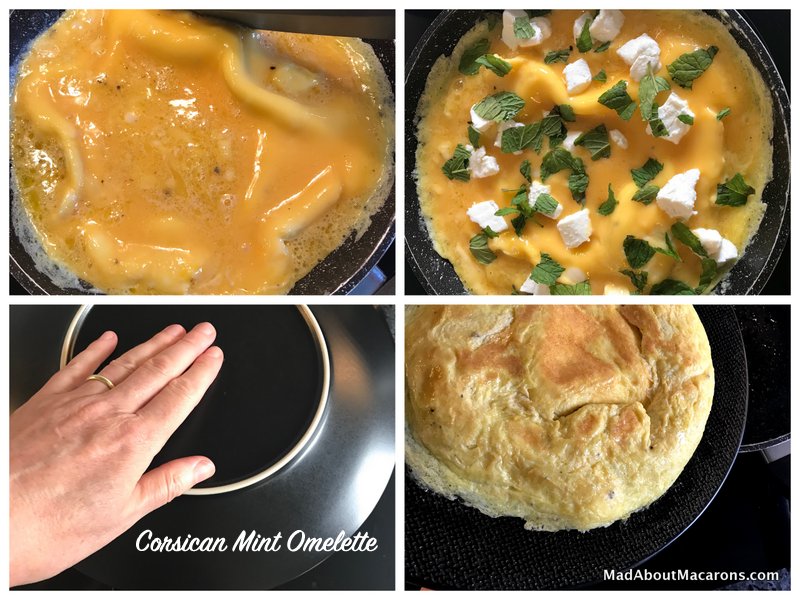 Best Substitute for Brocciu Corsican Cheese
Traditionally, brocciu cheese is often added to a mint omelette. However, as it's difficult to find and expensive, we need a cheese substitute.
It's also not easy to find during summer as brocciu is normally produced between November to June, when the milk is at its richest - otherwise it's known as 'brousse' if it's not 40% fat by AOC standards.
A Corsican chef from Calvi told me to use la Faisselle in France, which is good. I believe the best substitutes for brocciu is a good quality, soft fresh goat's cheese or a good, salty ricotta cheese.
Corsican Mint Omelette - A frittata incu a menta (e brocciu)
Corsican Mint Omelette
A simple omelette, popular in Corsica made with mint and often includes Brocciu cheese. If you can't find fresh Brocciu, a good fresh goat's cheese or ricotta is excellent.
Ingredients
6

Large eggs

Organic

pinch each

salt and pepper

2

tablespoon

olive oil

Extra Virgin

10-15

Fresh mint leaves (peppermint)

chopped finely

50

g (2oz/¼ cup)

Brocciu or fresh goat's cheese

roughly chopped or crumbled (OPTIONAL)
Instructions
In a large bowl, beat the eggs with a fork just until the eggs and whites are mixed together. Add the salt and pepper, according to taste.  

Heat the olive oil in a non-stick omelette pan over a medium heat.

Tip the egg mixture into the pan with the hot oil. As the eggs cook, quickly move around the mixture away from the sides, tilting the pan so that the liquid from the middle goes all around the outside, to enable more even cooking.

Top evenly with the mint and cheese (if using) and, while still a bit liquid, top with a large plate and tip the omelette onto the plate. 

Carefully, slide the omelette back into the pan, cooking the other side just for a minute then serve the omelette with the least cooked side upright.  The omelette should be soft and runny in the middle ("baveuse" or dribbling, as the French say).
Notes
Corsican omelettes are served flat and not folded over like French omelettes.  It doesn't matter if the omelette isn't coloured - it's normal! Just ensure the eggs are cooked but the omelette is still a bit runny or baveuse (juicy).  Nutritional information: provides 21g protein
Have you tried an authentic Corsican cheesecake dessert too? This Fiadone recipe has to be the laziest, delicious cheesecake on the planet!