Mediterranean baked zucchini stuffed with ricotta cheese. A tasty vegetarian main meal or side dish with tips to avoid them going soggy.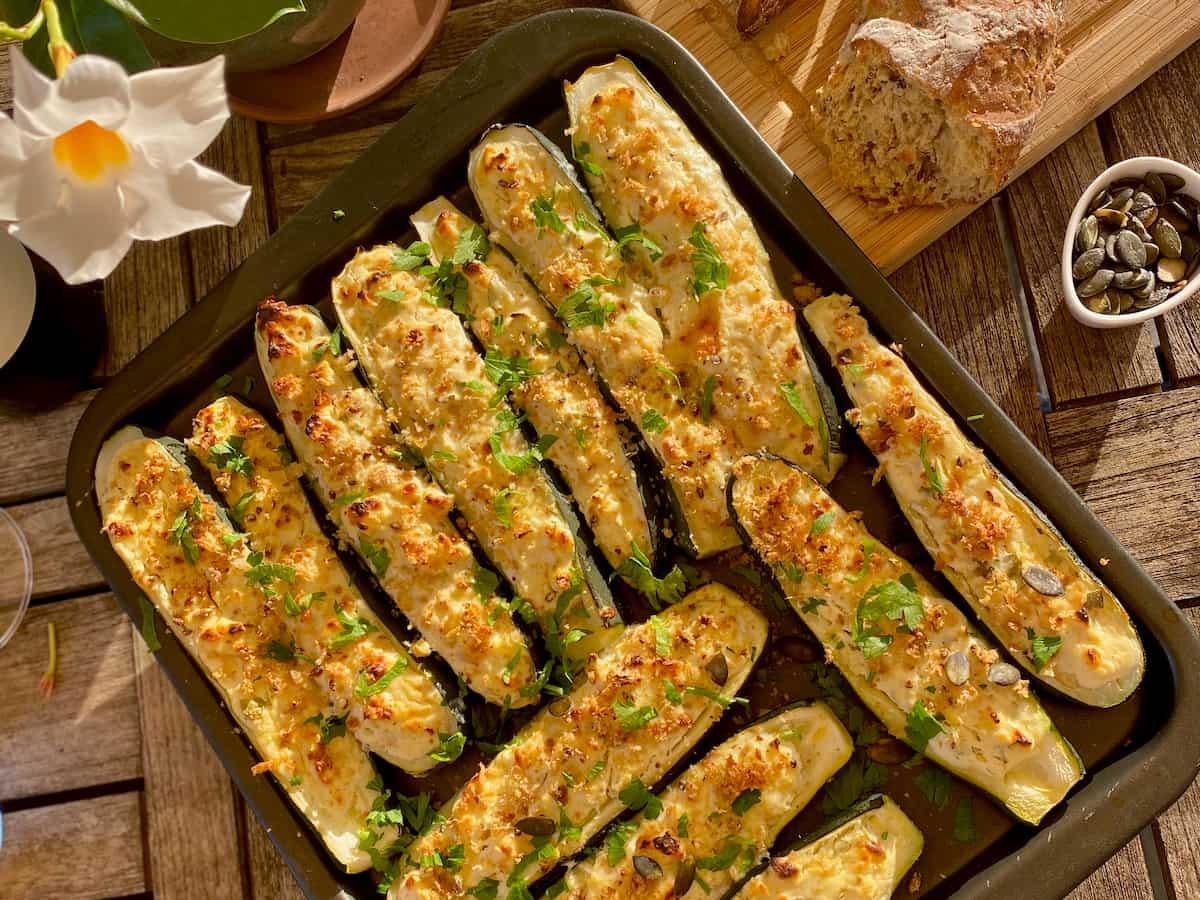 Mediterranean Stuffed Zucchini - A Taste of Corsica
I came to France from Scotland and although it's not far from each other, the culture difference was pretty mind-boggling. I didn't just marry a Frenchman; I married a Corsican.
The island of Corsica in the Mediterranean has been in and out of so many hands in history but although it now belongs to France politically, it's closer to Italy than France in its culture.
One of Corsica's popular dishes is courgettes farcies au brocciu. Zucchini's rather bland taste comes alive with the Corsican speciality cheese, Brocciu (pronounced 'broach' in Corsica), which is made from unpasturised goat's or ewe's milk.
Brocciu is fresh and fabulously creamy - a bit like Italian ricotta but it's not. As it's unlikely you can find Brocciu, use a good quality ricotta cheese instead.
Cheese Stuffed Zucchini Boats
The original recipe for this caught my eye in a Corsican cookbook, 'La Bonne Cuisine Corse' by Christiane Schapira (1994). It was my very first book of authentic recipes I found in Corsica so I could hopefully impress my mother-in-law.
Easier to pronounce in French than Corsican, it's Courgettes farcies au brocciu (E zucchine piene incu u brucciu).
What I loved about the recipe is that it only had 7 ingredients: courgettes (zucchini), fresh brocciu cheese, parsley, garlic, oil, an egg and breadcrumbs.
To make this easily outside of Corsica and tasting more like the island, I added fresh mint to ricotta, added fresh parmesan (grate from a block of quality Reggiano if possible) and pine nuts for extra flavour and texture.
The resulting taste is very Mediterranean and a bit different to classic cheese stuffed zucchini boats. Dare I say, really tasty?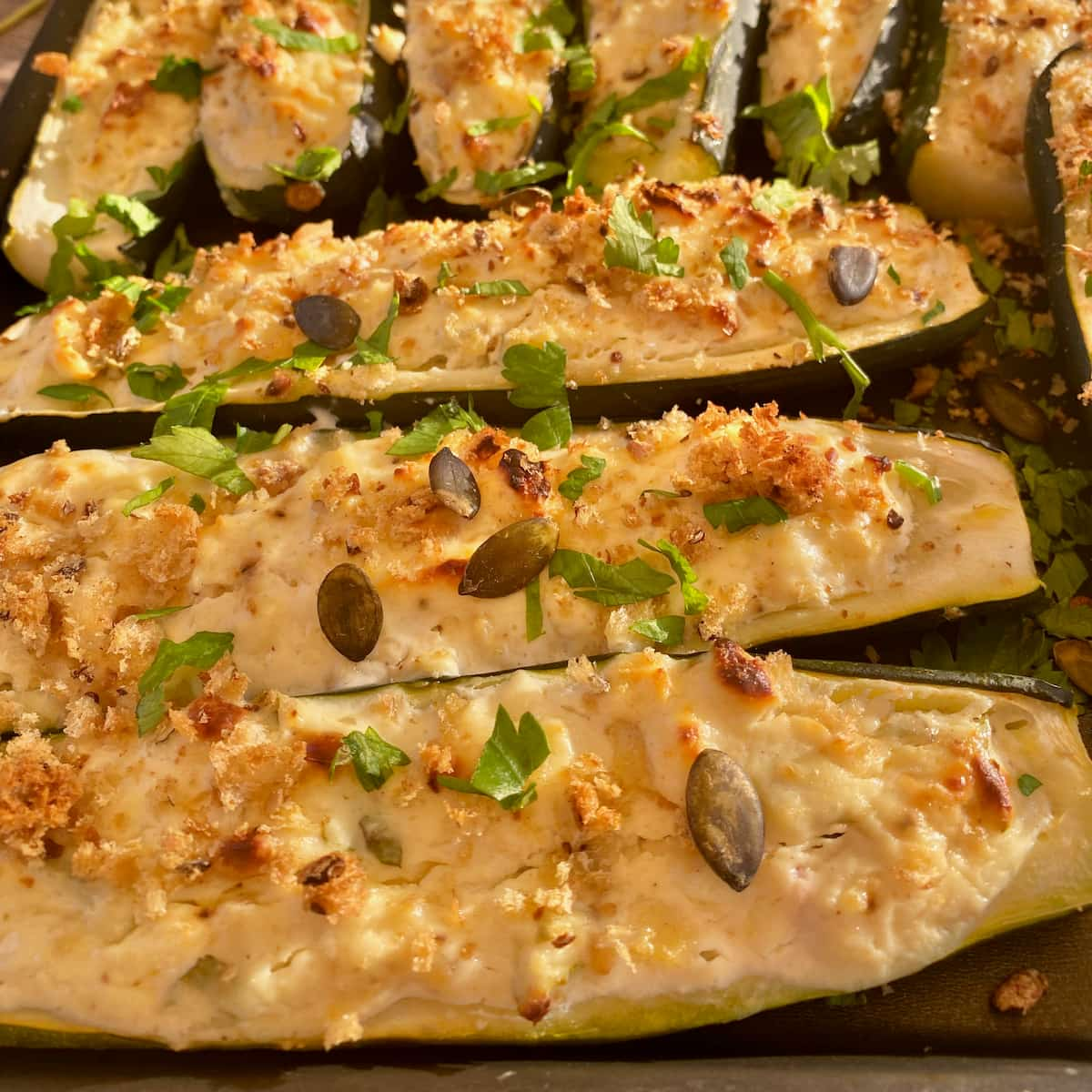 Mint and Zucchini is so Corsican
This recipe is my own adaptation - since the best ones I have tasted on the island use mint rather than parsley or basil. Just try mint and ricotta in both these recipes to travel to Corsica on the tastebuds!
Do you Leave the Skin on Zucchini when you Cook it?
The zucchini skin is what makes the dish hold together and keep its boat shell. Aesthetically, they are prettier with the dark green skin. What's more, you're getting the valuable fibre that makes this dish even healthier.
No need to remove the seeds either. They all get mashed together with the rest of the pulp in making the cheese stuffing. The egg yolk just binds it all together.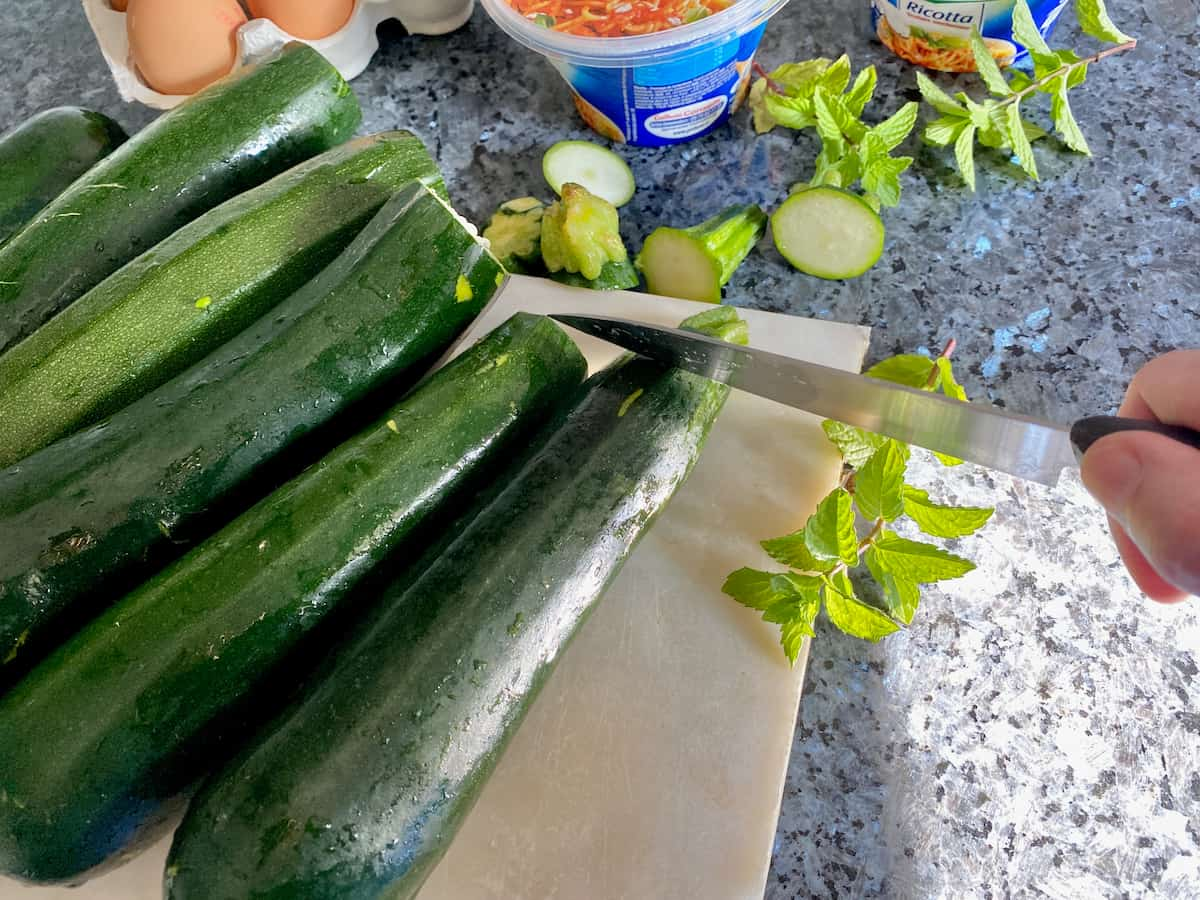 Why is my Baked Zucchini Soggy?
To avoid your baked zucchini becoming soggy, follow these 3 simple steps:
Pre-cook briefly in well salted boiling water. This not only helps to soften them for easy stuffing but the salt also helps draw out some of their water content.
Before baking, squeeze the chopped zucchini pulp well to remove excess water. Keep squeezing until they give off most of their liquid.
Before filling, the boat shells are then dried with kitchen paper.
However, don't be too worried about having a little moisture, otherwise they may even become a little dry. The secret is just to remove excess water.
How do you Hollow out Zucchini?
Hollowing out zucchini flesh is easy, especially as the vegetables are briefly pre-cooked in salted boiling water.
Using a small spoon (a serrated grapefruit spoon is even better), hollow out the flesh leaving a boat shell about 1cm thick.
Leave the flesh aside and then chop it up roughly.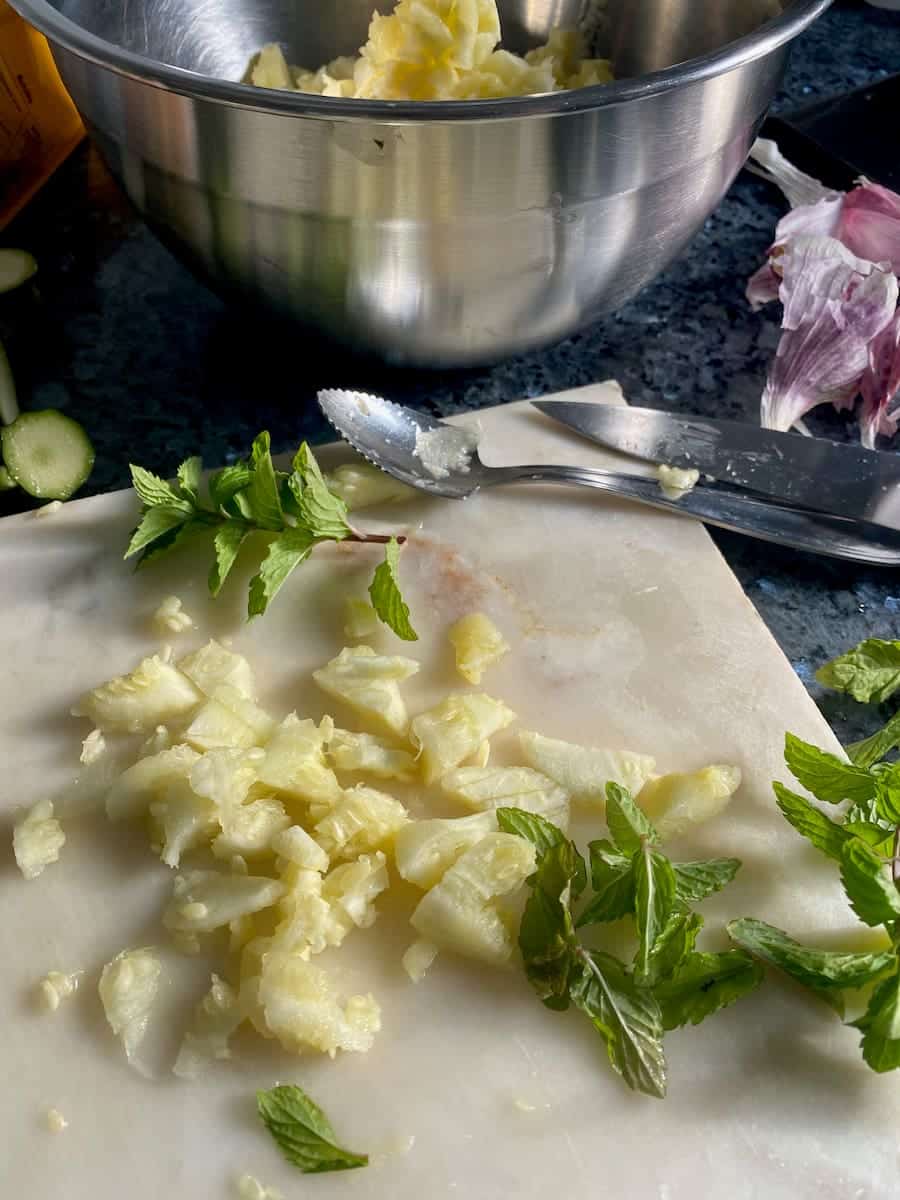 How to Fix Soggy Zucchini
As I mention above, there are 3 simple tips to avoid any soggy zucchini. It's best to fix it from the beginning before the baking!
Ensure that the flesh is chopped but squeezed out of as much of its water as possible first before adding to that mixing bowl.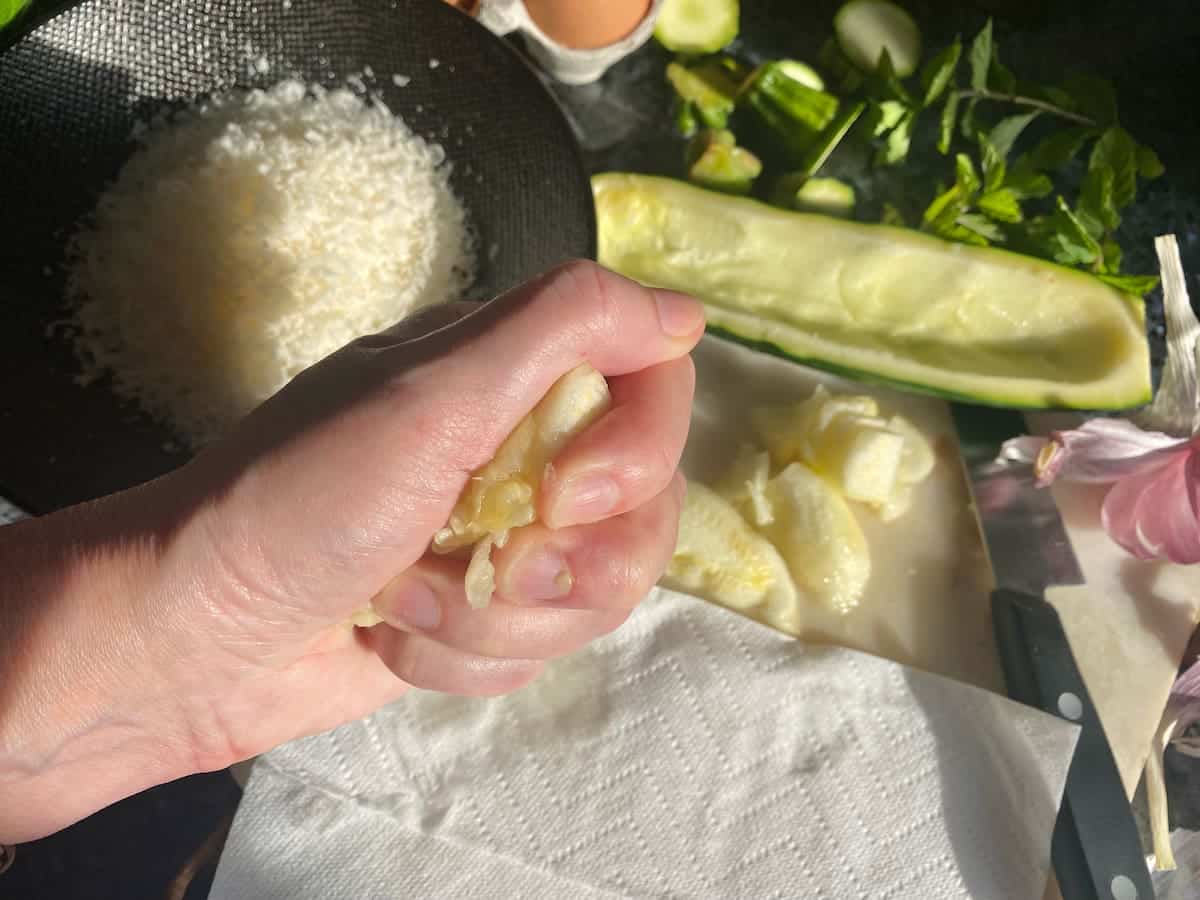 The final stage to avoid the baked zucchini going soggy is just to pat the shells dry with a kitchen towel or paper.
These steps are so easy but make all the difference to the final dish.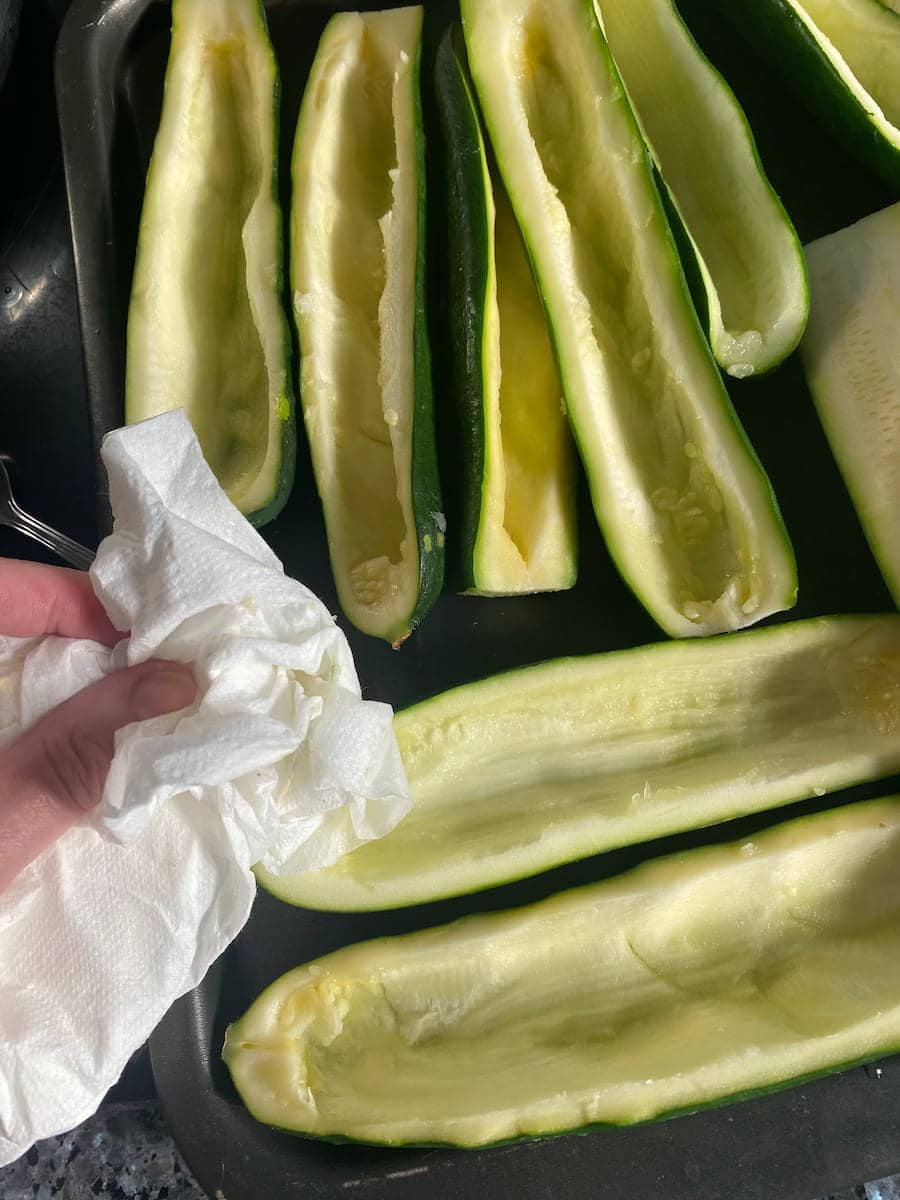 What Kind of Breadcrumbs are Best?
I like to use a couple of slices (@ 50g each) of wholegrain bread then blitz in a processor (or stick blender) to breadcrumbs.
White bread is also good and even better if a few days' old, as this will help to absorb the delicious natural juices of the cheese and pulp stuffing. If you have panko breadcrumbs, then this is just as good.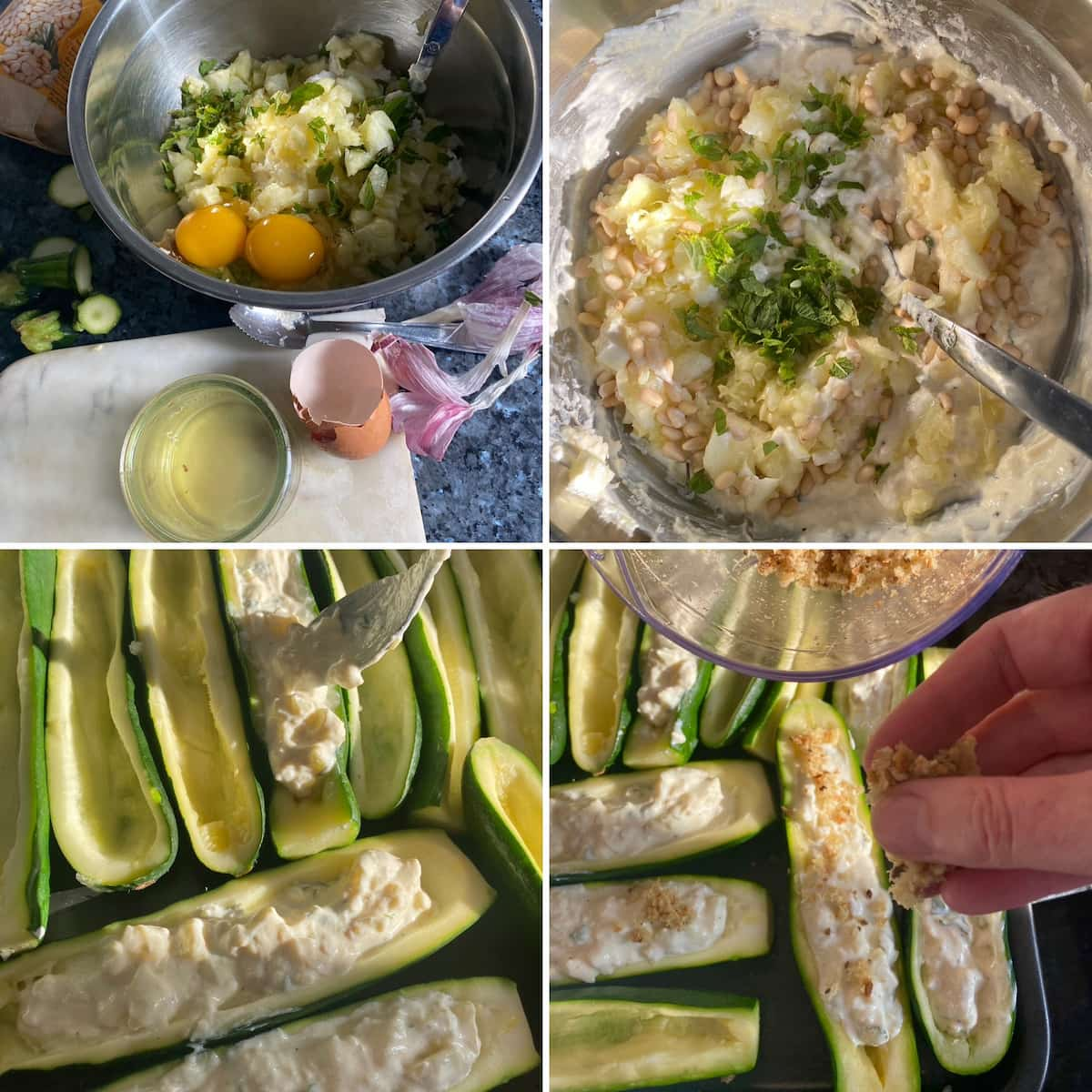 How to Serve Stuffed Zucchini Boats
These vegetarian zucchini boats are stuffed with a soft filling so the pine nuts and breadcrumbs are beautifully toasted after about 40 minutes in the oven.
I love to add an extra crunchy texture after they come out of the oven.
Just before serving, add freshly chopped parsley (or more mint) and add a few toasted pepitas or pumpkin seeds (graines de courges).
I was inspired by the famous chefs at traiteurs Potel & Chabot in Paris who recently served pepitas in a bowl at the table and we were asked to plant by sprinkling them on our food. So, get planting at the table and row these boats.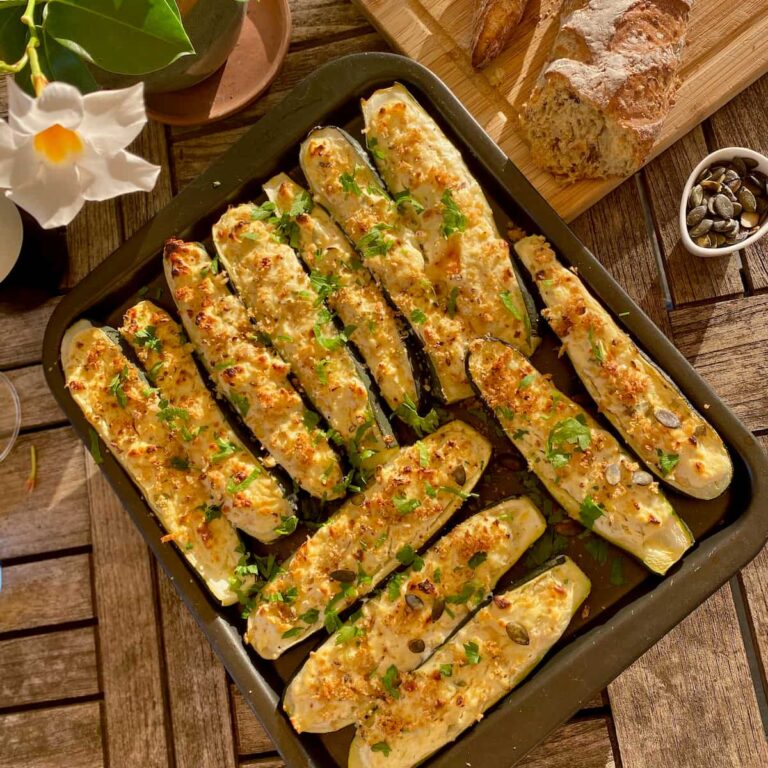 Stuffed Zucchini with Ricotta
Corsican style baked zucchini (courgettes) stuffed with ricotta cheese and mint. A taste of the Mediterranean, it's a delicious vegetarian meal on its own or side dish.
Ingredients
6

medium

zucchini or courgettes

3

cloves

garlic

finely chopped

1

tablespoon

fresh mint

finely chopped

100

g (2 slices)

mixed grain bread (mixed to breadcrumbs)

or panko

500

g (16oz/2 tubs

ricotta cheese

25

g (1oz/2 tbsp

fresh parmesan

grated

2

egg yolks

2

tablespoon

pine nuts

¼

teaspoon

ground nutmeg, salt and pepper
Instructions
Drop the zucchini/courgettes into a large pot of salted boiling water and leave them to soften for up to 5 minutes, depending on their size.  Remove with a slotted spoon and set aside to cool while preparing the other ingredients.

Preheat the oven to 200°C/180°C fan/400°F/gas 6.

Using a mixer or hand blender, blitz the bread into crumbs or weigh out the panko breadcrumbs.

Trim off each zucchini core end then halve them lengthwise. Using a small spoon (a serrated grapefruit spoon even better), hollow out the flesh leaving a boat shell about 1cm thick.

Chop up the removed zucchini flesh and gradually squeeze out the excess water from each with your hands over a kitchen towel.

In a bowl, mix the zucchini flesh, garlic, cheeses, egg yolks, mint, pine nuts, and add the nutmeg, salt and pepper. Sprinkle over the breadcrumbs.

Dry the courgette shells with kitchen paper then stuff each one generously.  Place them in a single layer on an oiled or non-stick baking dish.

Bake for about 40 minutes, or until golden brown and well toasted.
Notes
Serve hot or warm with some extra fresh mint or parsley. Top with extra nuts or seeds, such as pepitas. 
Wine pairing: serve with a chilled glass of Vermentino (Corsican, Italian/Sardinian), a fruity rosé or a Corsican red such as Sciaccarello (Corsican Pinot Noir).
This post was first published October 12, 2011 but is now completely updated