Flat, Alsatian egg noodles are one of the specialities of Alsace cuisine. Either serve simply or with French meat stews. What's more, the recipe uses six egg yolks - so macaron-making bakers will have plenty of egg whites left to make them.
Egg Yolk Recipes
You know how I love sharing egg yolk recipes with you - especially if you're mad about macarons, financiers, meringues and light French chocolate mousse plus more delicious egg white recipes.
In fact, it's a delicious vicious circle, needing to keep egg whites aside for recipes - and 'having to' use up the yolks!
For much more, see all my egg yolk recipes.
Homemade Pasta Party
When my kids were growing up in Paris, one of their best party souvenirs was based on a homemade pasta theme. They adored dusting the strands of pasta with flour. Well, this included dusting flour on themselves and flour-dusting the kitchen floor.
Everyone at the homemade pasta party took turns to rotate the pasta-maker's handle. One of the highlights was to watch the strands appear for the grand finale like a beaded curtain found in Mediterranean yesteryear groceries.
The best part, however, was at the end. The biggest satisfaction was to watch them all tuck in around the table, tongues twisting with concentration as they twirled their lovingly homemade noodles around giant forks as they lapped it all up. It couldn't have been simpler: just tossed in butter with a few fresh aromatic herbs from the garden and topped with some freshly grated parmesan cheese.
Years later, I love that both Julie and Lucie want to make homemade pasta again - this time by themselves just using this recipe.
Alsace Cuisine - Fresh Pasta
This egg pasta is extra special as it uses so many egg yolks.
I first discovered the classic recipe for them as Alsatian Noodles (Nouilles à l'Alsacienne) by the late Chef Bernard Loiseau, who loosely called for 8-10 yolks (or 5 whole eggs) but over the years I've used a couple of eggs in there with 6 yolks.
The result is homemade pasta that's so easy to work with - especially as the noodles should be as thin as possible.
How to Make Alsatian Egg Noodles
To make noodles, this recipe is so much easier using a pasta machine, although it's not completely necessary. It's important to make the noodles as thin as you can. As the noodles are drying, ensure there is enough flour sprinkled on them to ensure they don't stick together.
See printable recipe below.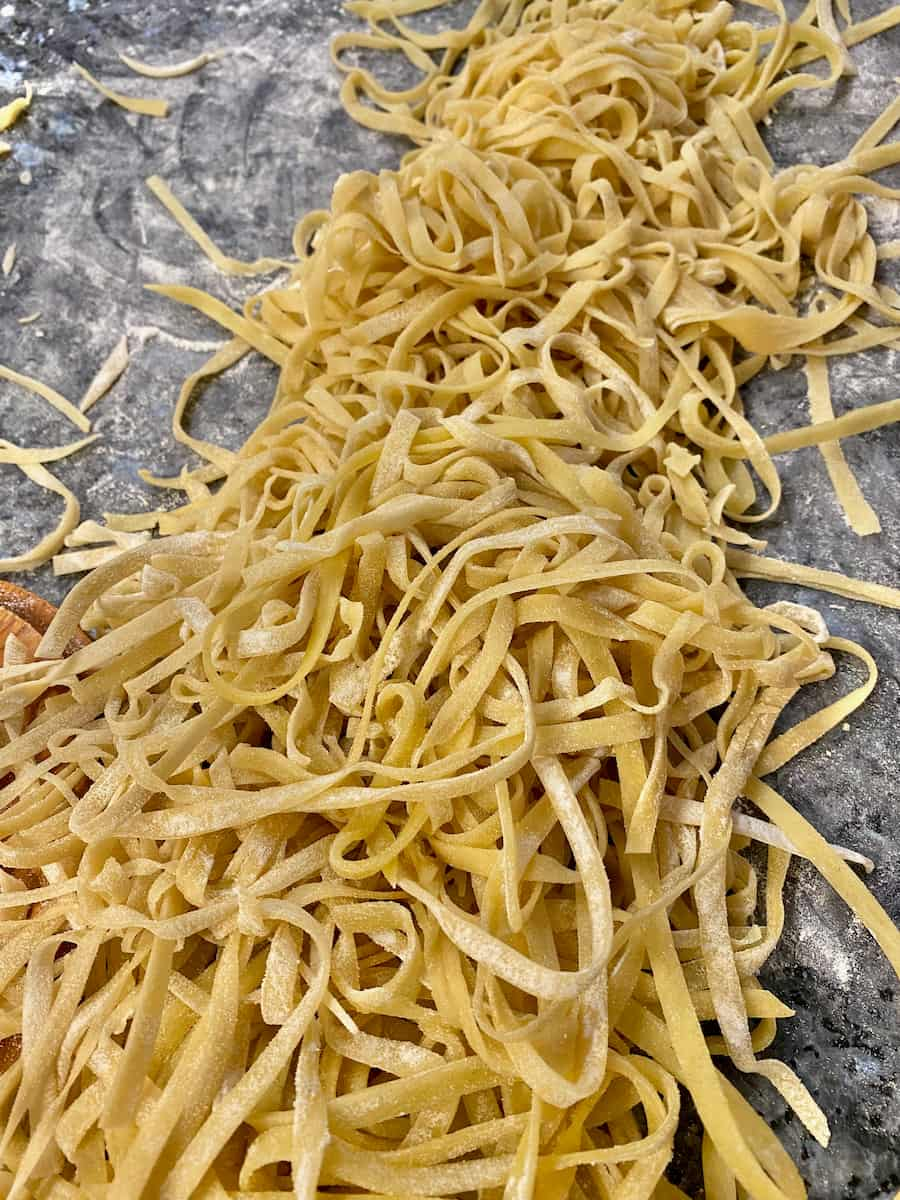 How to Serve
Normally the beautifully rich noodles are simply tossed in good butter, a little olive oil, freshly cracked pepper and fresh herbs. During the spring, excellent with lightly cooked fresh asparagus or peas. In France it's often served with slow-cooked stews such as Lapin Chasseur, a right old French grandmother's rabbit dish.
This is also delicious served with Coq au Vin (chicken in red wine casserole) and this Corsican Veal Stew with Red Bell Peppers - both are my favourite easy make-ahead dinner party recipes that go well with fresh egg noodles. Normally both recipes are just served with a crusty baguette but if there's any leftovers, toss it into the pasta. It's divine. For something a bit different, serve with this healthy nettle pesto.
Also, if serving for more than 6 people, it's a delicious way to make it go a long way.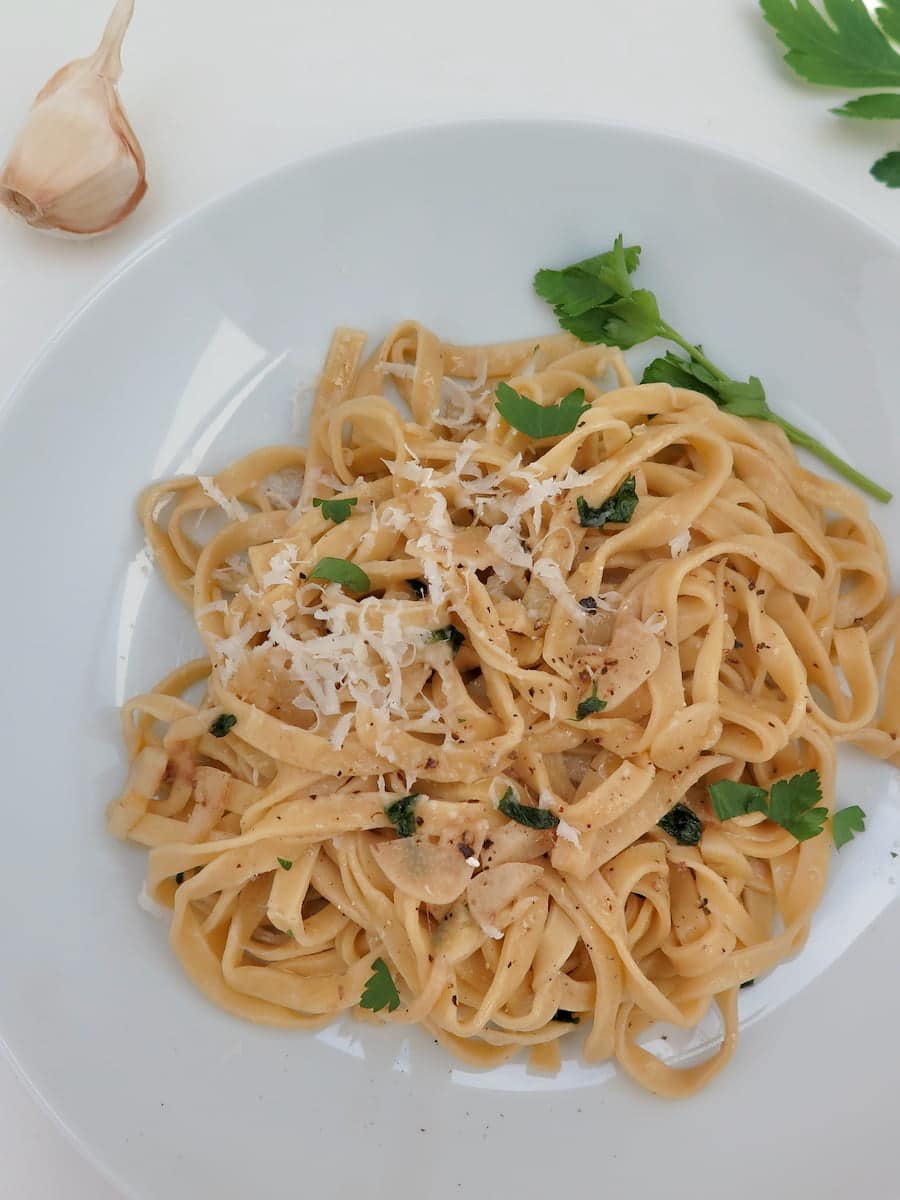 Fresh Alsatian Egg Noodles (Nouilles à l'Alsacienne)
Alsatian egg noodles, an easy recipe using egg yolks. To make the flat noodles, this recipe is so much easier using a pasta machine, although it's not completely necessary.
Equipment
pasta machine

(ideal, although not entirely necessary)
Ingredients
500

g (18oz/ 4 cups)

plain flour (type 45 or 00)

+ extra 50g/2oz for dusting

8

egg yolks

(organic) or 5 whole eggs

½

teaspoon

salt

3

tablespoon

olive oil

extra virgin
Instructions
Ideally, using a food mixer, mix all the ingredients at low speed until well mixed. (If you make this by hand, make a large well in the flour, add the salt and crack the egg yolks (or whole eggs) and oil into it. Gradually mix in the flour with the hands until you have a non-sticky dough. If too sticky, add a bit more flour).

Divide the pasta dough into 4, cover each with cling film and refrigerate for 30 minutes.

Lightly flour the working surface. Taking each dough ball at a time, flatten each with the palm of your hand. Turning the dough horizontally, turn in each side to make the dough a neat rectangular shape. Press into the first and largest setting of the machine to flatten it out.

Repeat each step a couple of times with each of the 4 balls until the dough runs through the pasta machine rollers more easily. Continue the process on setting 2, 3, 4, 5 and 6 until the pasta elongates into beautifully long sheets.

Sprinkle with flour, then pass through each sheet through the noodle attachment.

(If making by hand, flatten to 2mm using a rolling pin, sprinkle with flour, then roll the dough into a spiral and cut into thin strips using a sharp knife).

Spread out the long noodles, coating them with the extra flour so that they don't stick together and leave to dry for about an hour.

Place a large pot of water to the boil with a couple of tablespoons of salt and plunge in the pasta. Stir immediately to prevent any noodles from initially sticking to each other.

The noodles are ready as soon as they remount to the surface, after about 3-5 minutes (depending on thickness).
Notes
To Serve: toss in butter or olive oil with sautéd garlic and season to taste. Add some chopped fresh herbs like flat leaf parsley, basil or chives at the end to preserve their flavours and vitamins. Delicious with nettle pesto or goat cheese pasta sauce.
What Can I Make with the Leftover Egg Whites?
Now you've used 6 egg yolks for the pasta, leave the egg whites in a clean jam jar with lid on for up to 5 days and enjoy making these recipes using egg whites: