French Meringue Snowballs, generously filled with roasted hazelnut praline, lemon jelly, vanilla cream and candied chestnut. Festive individual desserts, easy to prepare in advance for a dinner party.
Stress-Free Holiday Dessert
This is an ideal dessert to make in advance, as the meringue shells freeze well - as well as the lemon jelly.  Just store them carefully in an airtight container (be careful, as they are fragile) and on the day of serving, defrost thoroughly and assemble the rest.

French Pastry Chef Inspiration from Christophe Michalak's Paris Lab
Thanks to the baking equipment and digital scales experts, Terraillon France, I was invited to a special Christmas Noël pastry demonstration. Given by Chef Alexandre Favre at Christophe Michalak Masterclasses, it was a special treat to see so many top French patisserie ideas made in front of us.
French pastry demonstrations are run in their new Parisian pastry workshop behind the chic boutique in rue du Faubourg Poissonnière in Paris' 10th.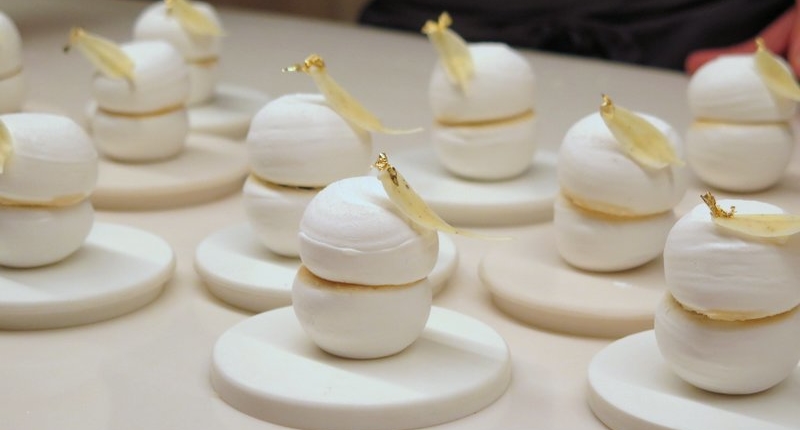 A New Concept for French Meringue Pastries
What a meringue revolution, thanks to Christophe Michalak. I'm not the biggest fan of meringues as I find them too sweet. So imagine my surprise: mini meringues had been piped out using upturned silicone mini dome moulds.
The result? Each had a large hollow inside, leaving a hidden cavity to fill with less sugary fillings!
French Meringue Filled Snowballs
Chef Alexandre's boule de neige meringues were sensational mini meringue snowballs - as he had smaller moulds and piped them out as more realistic snowballs without any swirly effects.  As my moulds were slightly larger, I piped out a spiral effect to make them into larger, rather melted meringue snowballs.
Two separate desserts were prepared during the demonstration, including these impressive Mont Blancs with pear, lemon jelly and praline on lemon cake bases.  I was so smitten with the tart lemon jellies that I added them to my melting meringue snowballs to add that zingy acidity to make the meringues slightly less sweet.
French Meringues Filled with Lemon
The result? The lemon just makes it! Although the lemon jelly recipe calls for sugar, it doesn't even need it if you prefer a tart surprise inside. TIP: If you're using organic unwaxed lemons for the juice, grate the lemon zest, place in a zip-lock bag and freeze. You'll love this for an even quickly-made Moist Lemon Almond Cake, for example.
Chef Alexandre uses the French meringue method for his boules de neige snowballs - just like I use in my recipe for Parisian macarons in both my books. I find it so much easier to work with and there's no need to fuss about with a thermometer. Why make things complicated when you can keep it simple?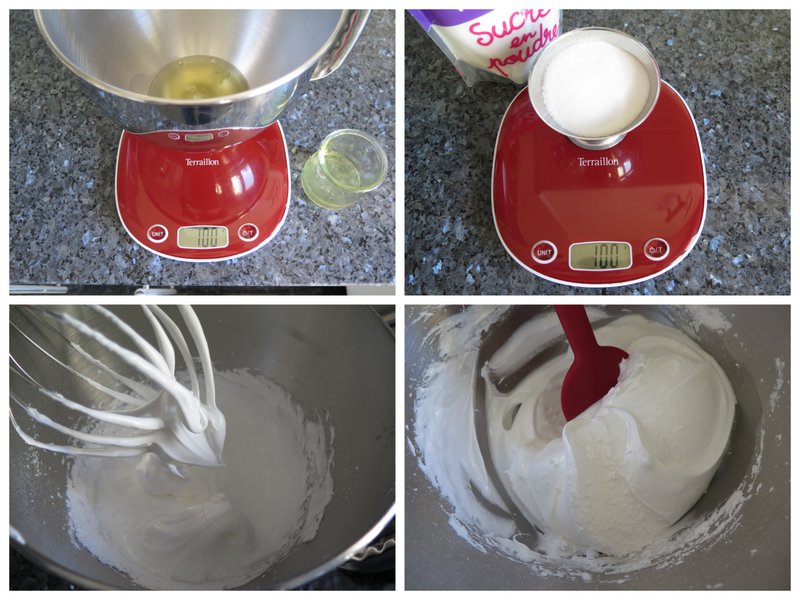 Why It's Essential to Weigh Out Ingredients
Equal quantities are measured out of the egg whites (like the macaron recipes in my books. I use egg whites that have been stored in the fridge for 3-4 days), sugar then whisked together until soft, firm peaks. Then the sifted icing sugar (powdered sugar) is folded in using a good spatula.
Don't forget that measuring out your ingredients using a good digital scale is vital in French patisserie. For years, I have been using Terraillon's Macaron digital scale for precision and constant results in my baking.
After constant use for over a year since I've had it, the batteries only gave up on me yesterday.  The good news is that this kitchen scale lets you know STRAIGHT AWAY with "Battery" flashing up so that your baking is kept consistent.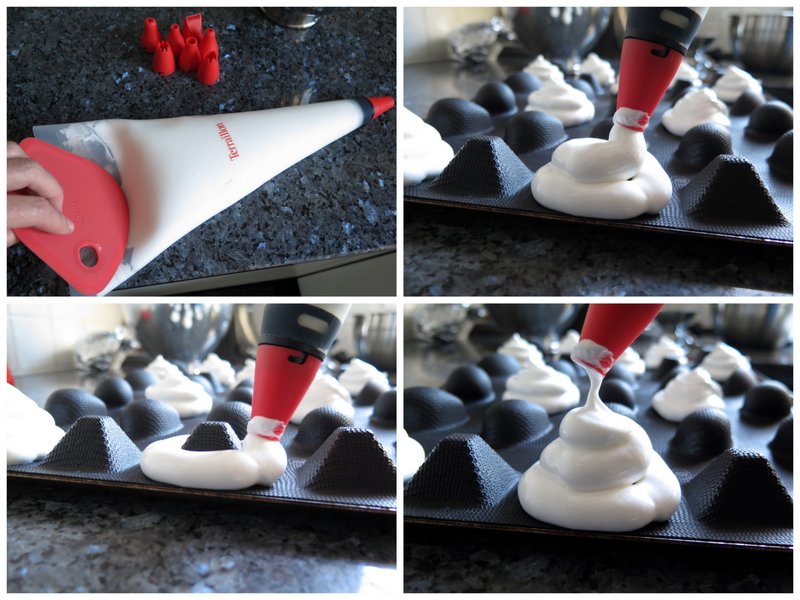 How to Make Hollow Meringues
The new Terraillon silicone piping bag comes with a variety of exciting tips, easily clipped on to the bag's holder. To push the batter or whites in the piping bag, use a patisserie scraper (corne en plastique). I used a simple plain tip to pipe out around the moulds.
Two hours later, once the meringues are left to cool, they easily come off the silicone moulds - with a most beautiful hollow ready to fill!
Each meringue base just needs to be filed off using Terraillon's new microfilm grater, part of their new baking utensils range.
This way your melted meringue snowballs can sit perfectly upright without falling over.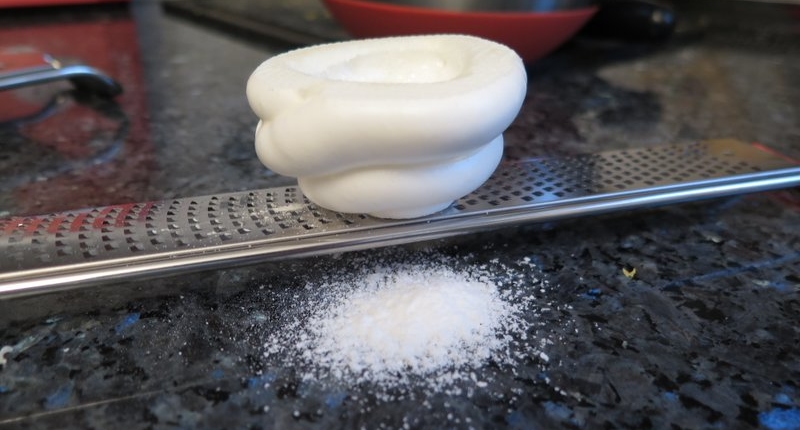 Hollow Meringues Filled with Praline, Lemon & Vanilla Chestnut Cream
It's not just a Melting Meringue Snowball - it's generously filled with toasted hazelnut praline, bitter lemon jelly, unsugared vanilla cream and I added a candied chestnut (marron glacé) just to complete the French-style festive touch.

Make-Ahead Desserts for a Festive Dinner Party
Again, weighing out the ingredients carefully, the praline can be made in advance and kept at room temperature for up to a month.
Separate the meringues into couples and in each half, fill with praline and lemon jelly; the other half, fill with unsugared vanilla cream and drop in half a candied chestnut (marron glacé).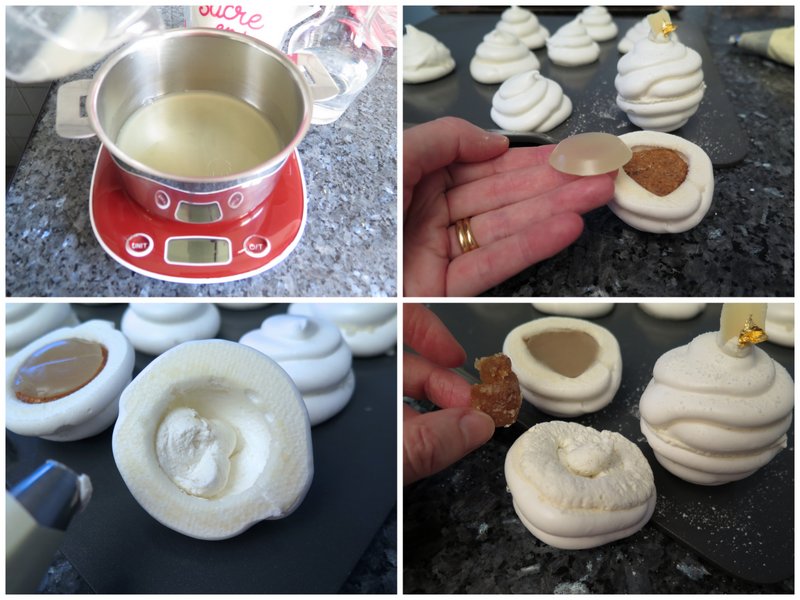 Stick them together with the vanilla cream, add a tiny dollop on top of each melting meringue snowball and top with some gold leaf and white chocolate shavings.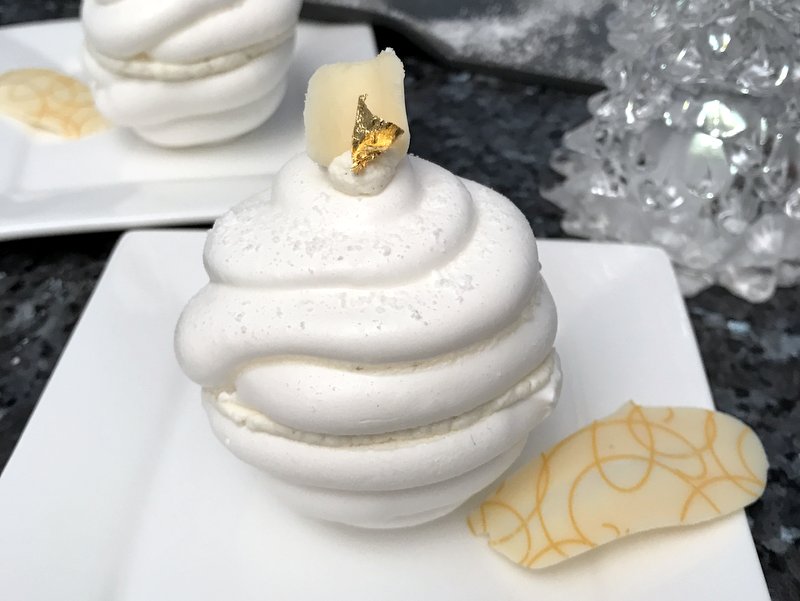 Serve with a semi-sweet Champagne to celebrate.
With huge, special thanks to Terraillon France for hosting the event and to Chef Alexandre Favre for such a wonderful festive demonstration and meringue inspiration from the Christophe Michalak Masterclass in Paris.
Now it's over to you - Express Your Chef! The recipe may look long but please don't be put off.  It's just all explained in detail and so worth the effort.
French Meringue Filled Snowballs
French Meringue Snowballs
French Meringue Snowballs, generously filled with roasted hazelnut praline, lemon jelly, vanilla cream and candied chestnut. Festive individual desserts, easy to prepare in advance for a dinner party.
Ingredients
French Meringue:
100

g (3.5oz)

egg whites

(I use 3-4 days aged whites)

100

g (3.5oz)

sugar

100

g (3.5oz)

icing/powdered sugar
Hazelnut Praline:
50

g (2oz)

sugar

100

g (3.5oz)

hazelnuts
Vanilla Cream:
100

g (3.5oz)

Whipping cream

30% fat

1

vanilla pod/bean - seeds scraped

(or ½ teaspoon powdered vanilla)

50

g (2oz)

mascarpone

4

candied chestnuts, cut in half
Lemon Jelly (Optional):
100

g (3.5 fl oz)

freshly squeezed lemon juice

25

g (1oz)

water

7

g (0.25oz)

sugar

(optional if you prefer a more tart lemon surprise)

2.5

g (one sheet)

agar-agar
Instructions
French Hollow Meringues:
Using an electric whisk or a stand-mixer, beat the egg whites at medium speed until the whites start to foam. Add ⅓ of the sugar then increase speed until the meringue starts to form. Gradually add the rest of the sugar while beating until the peaks are soft, shiny yet firm.

Stop the mixer and fold in the icing sugar using a spatula until well incorporated. Transfer the meringue to a piping bag with a plain 10mm tip then pipe out spiral mounds around an upturned silicone mini cake mould.

Bake in a cool oven at 80°C fan for 2 hours (according to the chef but I can't make my oven that low - so baked at 110°C fan/130°C/250°F/gas ½ for 2 hours. As the meringues were bigger than his minis, it still worked out well at 2 hours. After 2 hours, switch off the oven, open the door and leave inside for 10 minutes. Remove to cool then lift off the moulds.

Once cool, grate the wispy tops off half of the meringue shells to smooth in order to let the meringues stand upright.
Lemon Jelly:
In a small saucepan, bring the lemon juice and water to the boil. Add the sugar (if using) and the agar-agar.

Pour the mixture immediately into mini silicone cake moulds (preferably the same size as the meringues) and leave to set in the fridge for at least 30 minutes. Once set, they're easy to remove from the moulds.
Hazelnut Praline:
Toast the hazelnuts under a hot grill for a couple of minutes. When cooler and able to handle, rub the hazelnuts between your hands to easily take off the skins.

Gradually heat half of the sugar with a few drops of water in a small saucepan until it starts to melt. Add the rest of the sugar and leave to melt until a golden caramel forms.

Immediately transfer the warm, liquid caramel to a food processor and mix together with the toasted hazelnuts until it forms a soft paste. Transfer to a piping bag.
Vanilla Cream:
Using an electric whisk or a stand-mixer, whisk the whipping cream with the vanilla on high until it thickens. Whisk in the mascarpone then transfer to a piping bag.
Assembly:
Separate the meringue shells into couples for each Melting Meringue. Pipe in the praline into one half, top with the lemon jelly. In the other halves, pipe in the vanilla cream and add half a candied chestnut.

Stick both halves of each meringue together with the cream. Add a tiny blob of cream on top and garnish with white chocolate and gold leaf.
Notes
Decorate with gold leaf and white chocolate shavings. Sprinkle each meringue with the meringue powder, following grating of each base.

__________________
Disclaimer: I was invited by Terraillon France to watch this demonstration. I was not compensated for this post and not obliged to write about the experience. As always, all opinions are my own. Huge thanks to Chef Alexandre Fevre for permission to use his recipe.