Planning on visiting Monet's House and Gardens at Giverny? Then be inspired as a day trip out of Paris with some ideas of where and how to lunch in the area. Note that the gardens are open late March to late October so plan accordingly.
How Much Time Do You Need at Giverny?
Give yourself between 2-3 hours to see the gardens and house in Giverny. The secret is to leave early in the morning and get there for opening time at 9.30am so that there's not much of a bouchon (traffic jam) on Monet's Japanese bridge.
Each year 500,000 visitors visit the gardens during the 7 months they are open annually, so this is important.
The house and gardens have been open to the public since 1980. It needed 10 years of renovation (with major donations from the USA) after the site's neglect after World War II.
Monet's Garden at Giverny
Most of the flowers are seen in the Clos Normand, in front of the house. What a lovely idea to have an avenue of nasturtiums up to the front door. Imagine how many summer salads you could decorate with these (and eat)?
There are also many fruit trees, including pears and apples. Thoughts are turning to Monet's food, his still life paintings and his love for fresh fruits.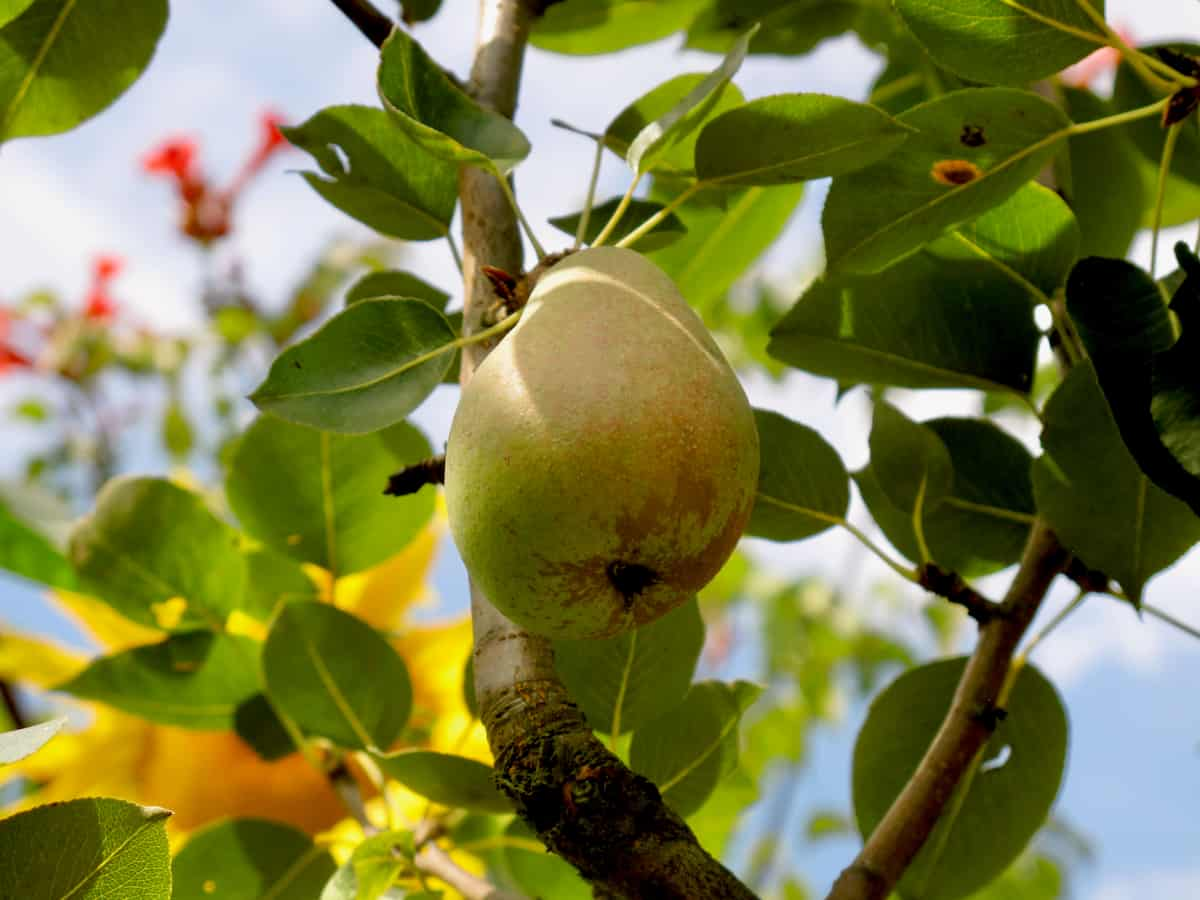 Claude Monet set to planting and sowing seeds as soon as he arrived in 1883 and his house is filled with volume upon volume of plant encyclopaedias and Japanese prints.
Giverny's talented gardeners continue to succeed in showing different varieties all through the year, as the seasons change. The Giverny Foundation has created a calendar of plants and flowers in bloom according to season.
Best Lilypond Paintings of Monet in Paris
You can see why the master of the Impressionists lived in this idyllic spot for nearly 46 years (1883-1926.)  Seeing the water garden live for the first time, it was just as he had portrayed them in his works of art. Do you recognise them?
To see Monet's lilypond paintings, visit L'Orangerie Museum in Paris.
For more of his paintings - including the original painting, Impression Sunrise, which gave Impressionism its name - visit the Marmottan Monet Museum in the 16th Arrondissement. Follow with a visit to Pascal Caffet Chocolaterie & Patisserie (the best pralines in Paris!) in the 16th. For more on tea salons in the area in Paris, see my Guide to Best Parisian Tearooms.
Unlike Japanese bridges painted in red, Monet painted his bridge in bright green. Everyone around the garden's visitor route was transfixed on the lily pads and nymphéas, made so famous by his paintings of them started in 1897. My girls loved watching an cute ugly duckling hobbling from lily pad to the next.
Monet's House
There wasn't much to visit in the house, to be honest, and there is a lack of information as to what you're seeing. Unfortunately photos were prohibited inside. His living room was impressive and although it's filled with replicas, it's still incredible to think he would lie on his chaise longue, puffing on his pipe while looking up at his masterpieces. Photos of Monet are around the house.
Just up the road, the Hotel Baudy welcomed guests - particularly many American painters who came to Giverny for inspiration and to meet Monet.
Where to Eat in Giverny?
The Ancien Hôtel Baudy is a great address to eat at their restaurant-brasserie. Step back in time, imagining Renoir, Rodin and Sisley dining in this legendary establishment.
For a special treat, head to chef Eric Guerin's Michelin starred restaurant of at Le Jardin des Plumes.
I'd suggest booking in advance via their websites.
Otherwise, there are some lighter, more informal places around the village serving salads (go for a salade de chèvre chaud), omelettes etc. although they do tend to be crowded.

Can You Picnic at Giverny?
Alas, there are no picnic tables around Giverny and picnics are forbidden in Monet's garden.
So the best way to picnic is to either walk along by the River Epte and find your own perfect spot nearby.
However, if you move further away from Giverny along the river where the Epte meets the Seine, there are many wonderful possibilities.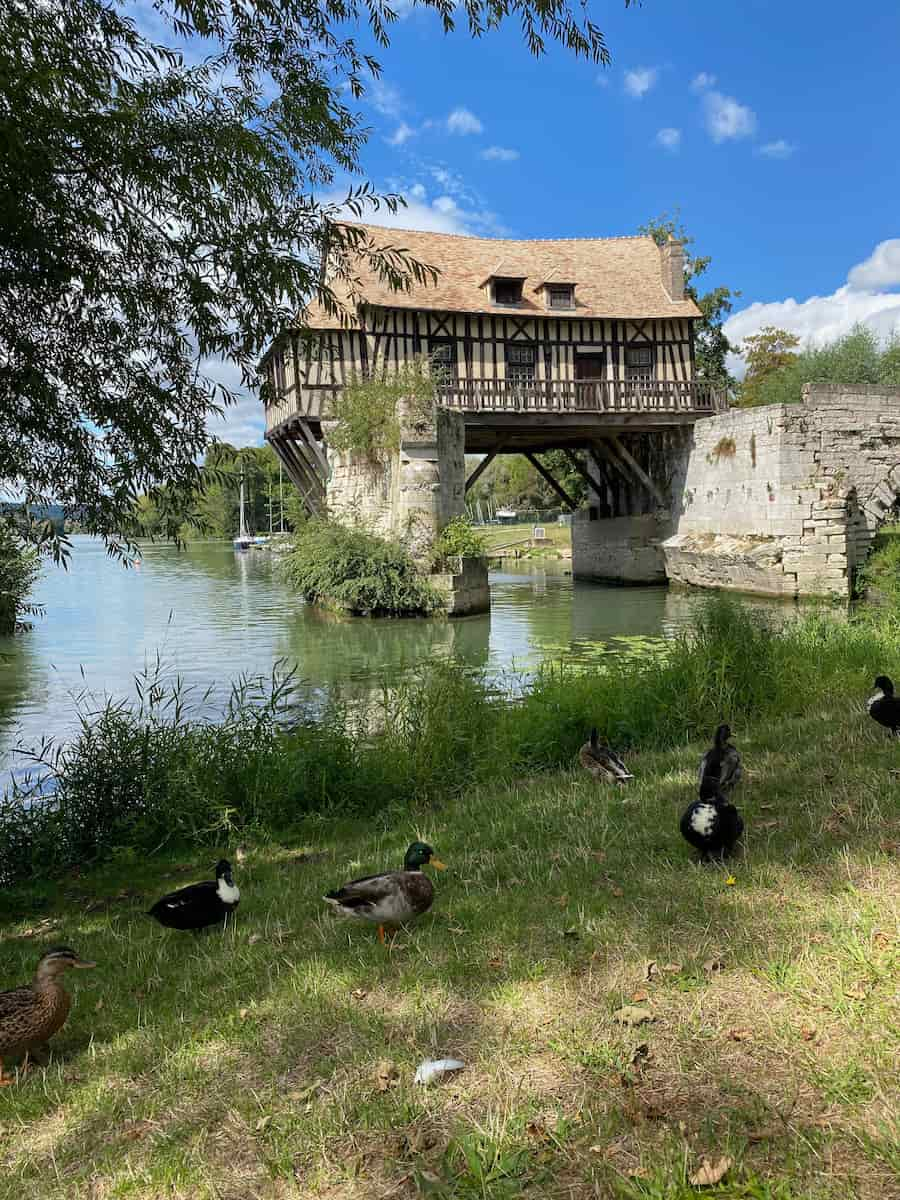 Best Picnic Spot in Giverny
A short drive further up the Seine, there are many perfect picnic spots. Choose from under many a weeping willow tree where you can dangle your toes in the River.
Alternatively, further up the road in either Vernon and Vernonnet, are perfect, romantic picnic spots. Either pop into some of the bakeries here or bring along your own picnic. Just by the river is The Old Mill, the remains of an old flour mill, built on the columns of the medieval bridge. The first half-timbered building dates from the 17th century and recently was restored in the 1980s, although can't be visited.  Instead admire it from underneath with your picnic basket.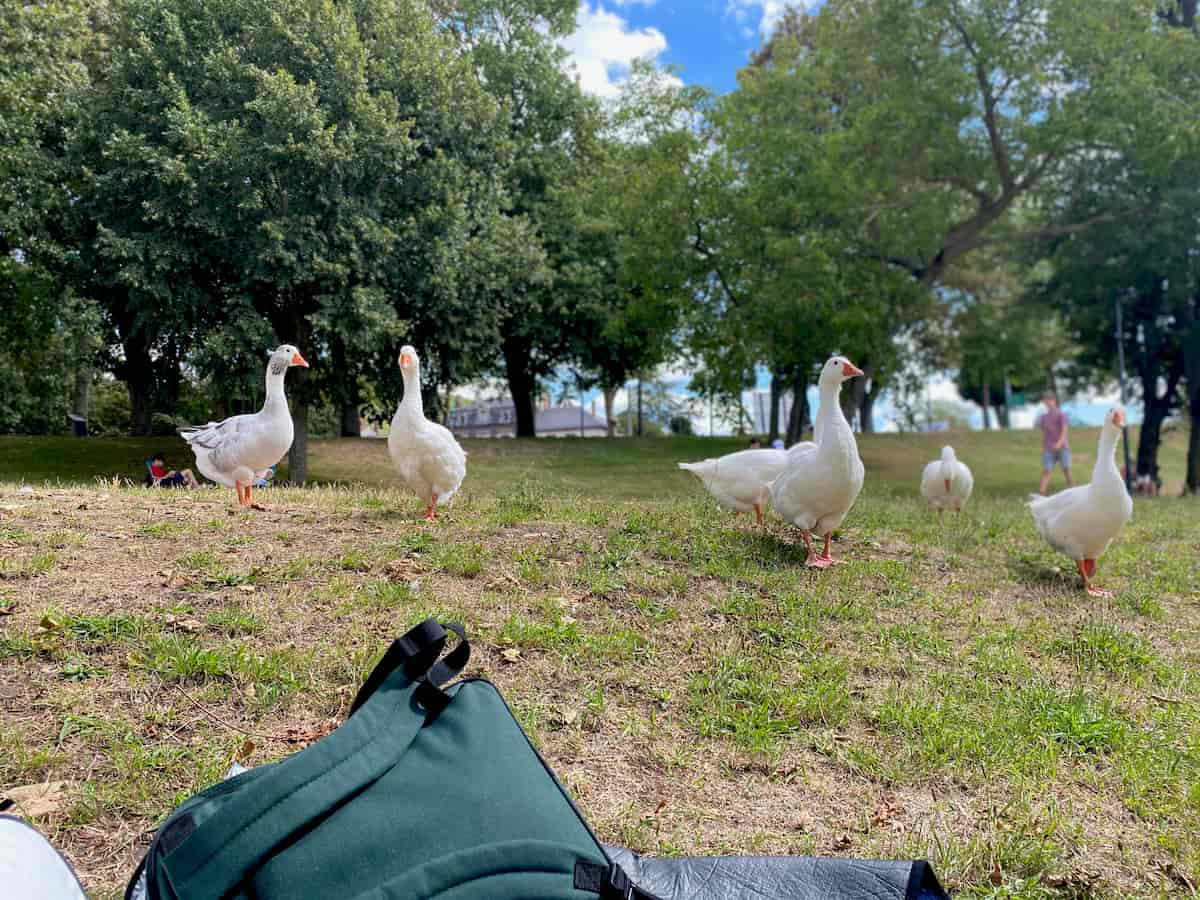 Watch the ducks but beware there are many geese who could just eye your picnic!
See my picnic recipes for inspiration.
Take a walk in the surrounding park starting at the Old Mill. If coming by car, I suggest you park in Vernonnet. It's just across the road from the castle, the Château des Tourelles with its pepper-pot roofs. This was originally a fortress to protect the medieval bridge's entrance on the right bank of the Seine (sadly bombed by a UK bomber in WWII). Enjoy a walk around it in the park to better see it up close, although the last time we were here, lying on the grass is prohibited.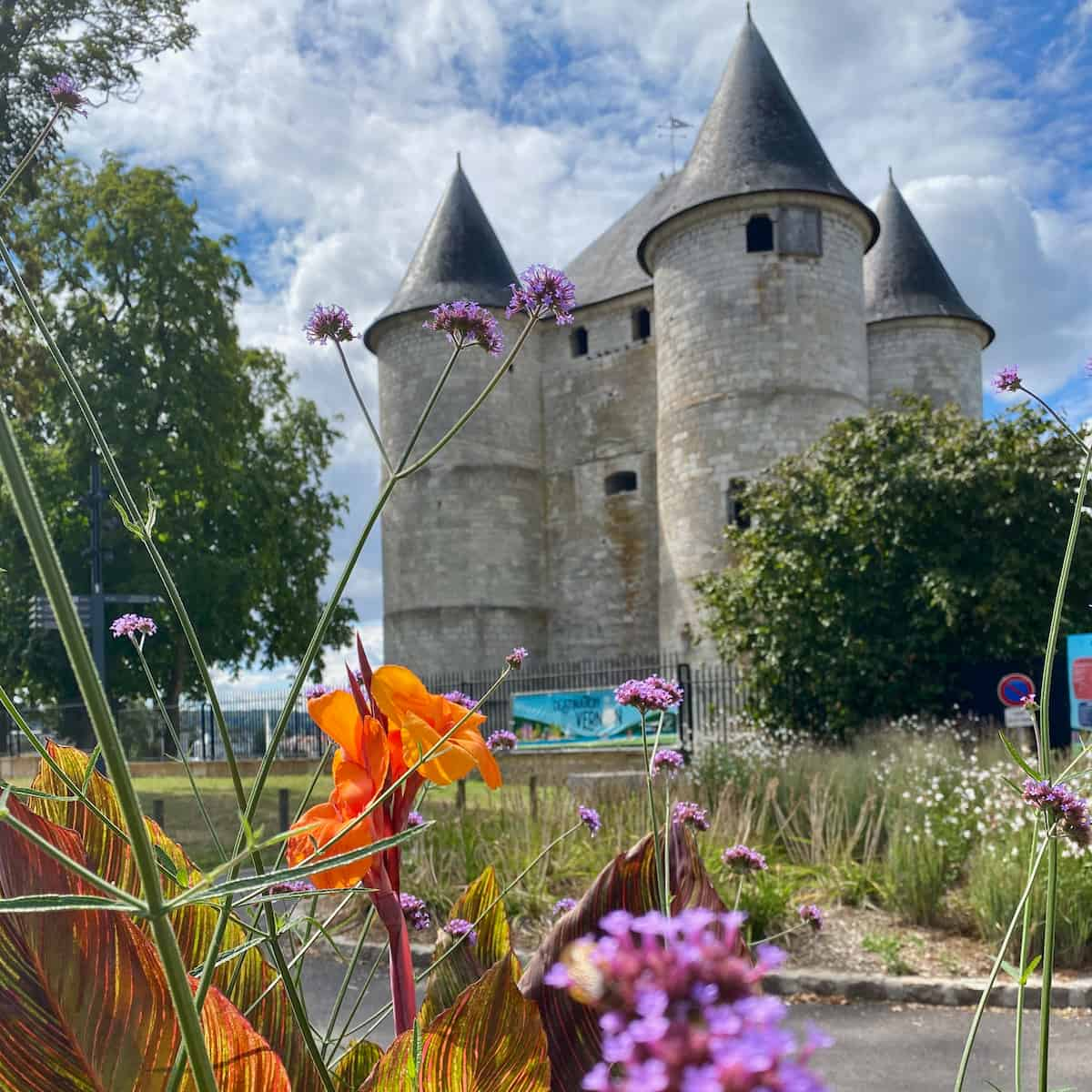 How to Get There
If coming by car, take the Autoroute (motorway) A13 via Mantes-la-Jolie then Vernon. Giverny is well signposted.
Trains are frequent, running from Paris Saint-Lazare.
For more updated information on tarifs, visiting times, tours and how to get there, see the official Giverny website.
This post was first published 23 August 2012 but is currently being updated.