Planning to visit Monet's House and Gardens at Giverny? Then be inspired with a day trip from Paris, including things to do and where to eat in the area from restaurants, cafés to picnics.
Note that Monet's house and gardens are open 1 April to 31 October,
so plan accordingly.
How Much Time Do You Need at Giverny?
Give yourself about 2 hours to see Monet's house and gardens in Giverny. Leave early to get there for opening time at 9.30am so that there's not much of a bouchon (traffic jam) - particularly on the famous Japanese bridge!
Each year, half a million visitors visit the house and gardens during the 7 months they are open. It's the 2nd most visited destination after le Mont Saint-Michel in Normandy, so be aware it's popular and get tickets online in advance.
Although many people visit Versailles and Giverny in one day, I personally think it's too ambitious. If your time permits, I recommend visiting each separately as a day trip.
That way, enjoy a leisurely lunch (see where below), walk around the village up to the peaceful church where Monet and his family are buried, and visit the Musée des Impressionismes.
A walk around the closest town of Vernon is also well worth a visit, including the Musée de Vernon. See more about picnic spots below.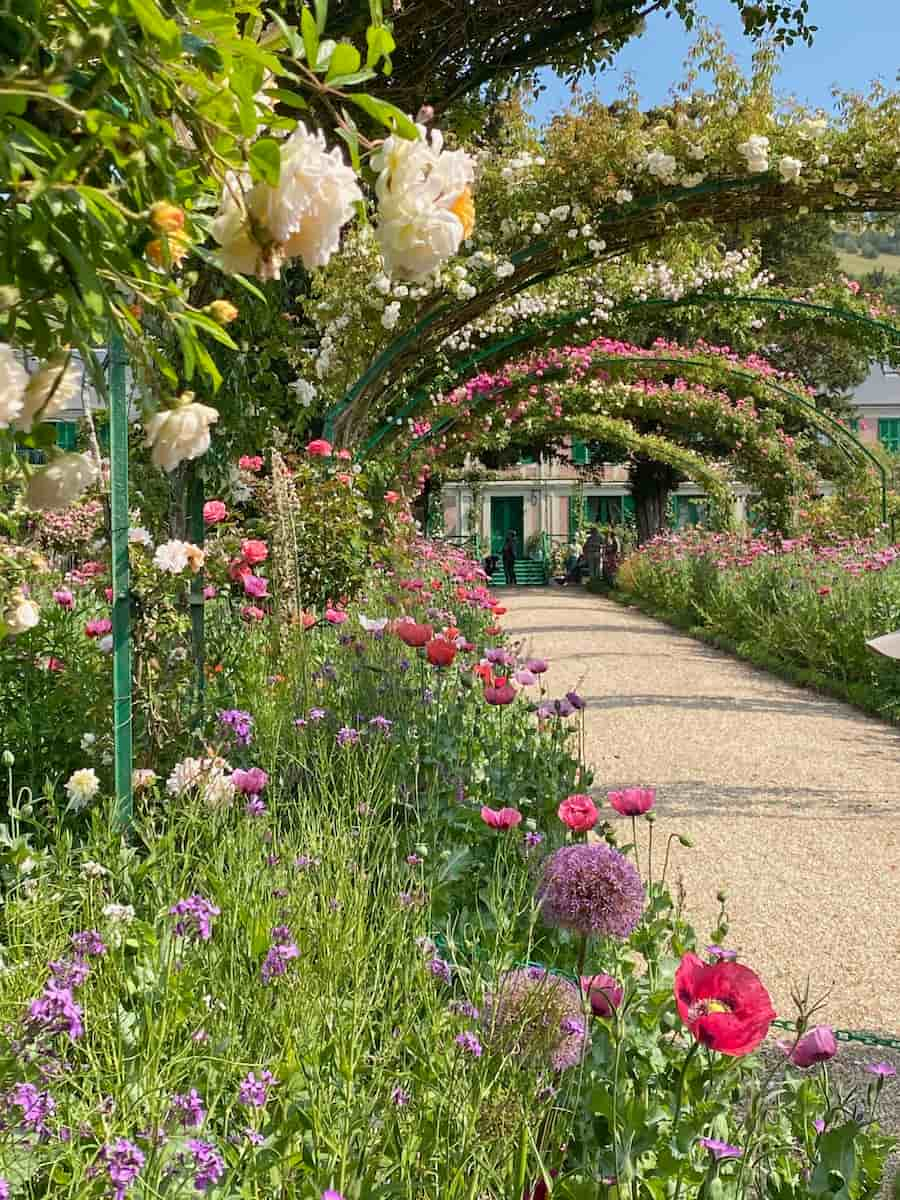 Best Month to Visit Monet's Garden
The Impressionist painter, Claude Monet lived here for over 40 years from 1883 until his death in 1926. The house and gardens have been open to the public since 1980. It needed 10 years of renovations after the site's neglect after World War II.
Claude Monet set to planting and sowing seeds as soon as he arrived in 1883 and his house is filled with volumes of plant encyclopaedias and Japanese prints reflecting his garden's inspiration. The resulting seasonal flowers in bloom are at their best between 1 April to 1 November, the precise opening visiting times, so anytime is best.
Most of the flowers and fruit trees are seen in the Clos Normand, in front of the house with cherry trees (blossoming in Spring) and pear and apple trees, most popular in Normandy. There's an underpass that takes you to the huge lily pond (bassin aux nymphéas), where vegetation is more champêtre or rural but still very organised.
Talented gardeners continue to work discretely during visits - spot the bucolic rowing boats with gardeners regularly cleaning the pond.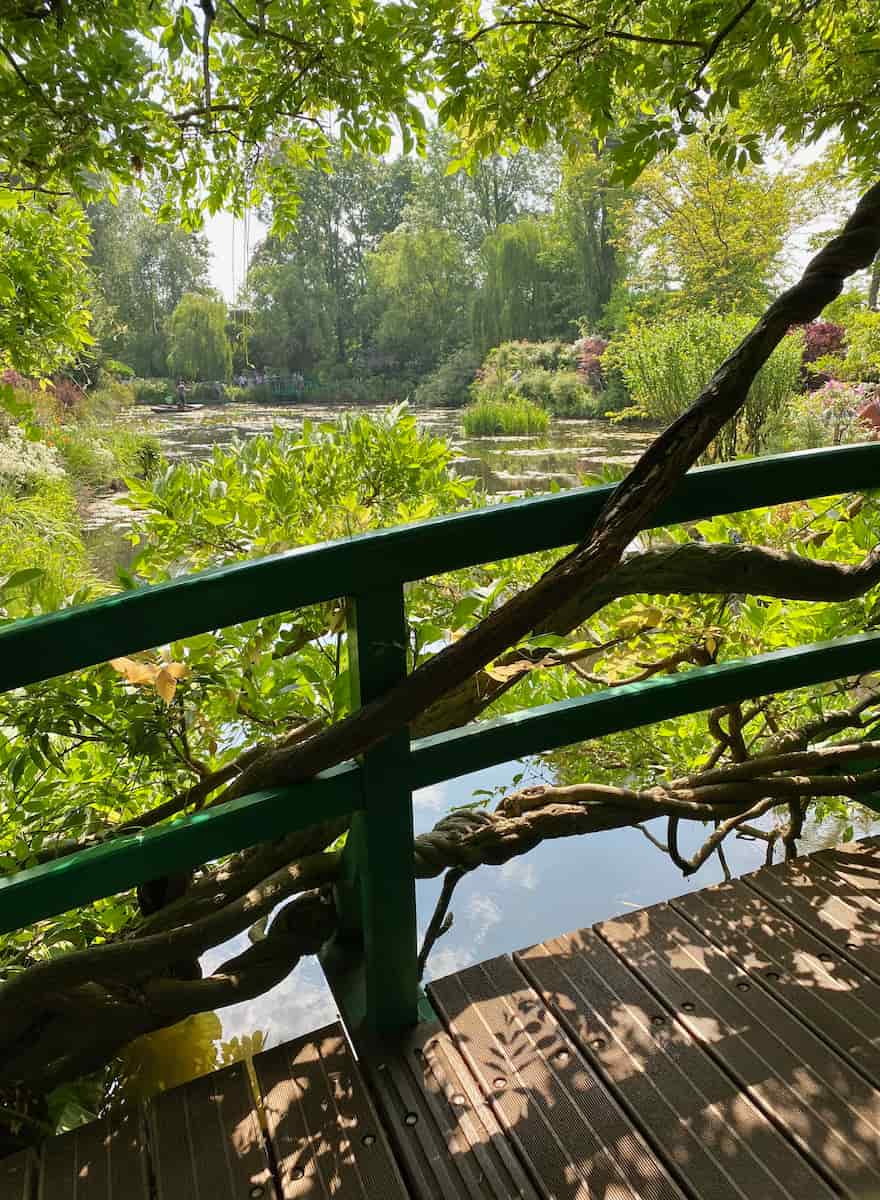 Monet's Japanese Bridge
Unlike Japanese bridges painted in red, Monet painted his bridge in bright green. Everyone around the garden's visitor route is transfixed on the water lilies or nymphéas, made so famous by his paintings of them started in 1897.
Where are Monet's Water Lily Paintings in Paris?
To see Monet's water lily paintings, visit L'Orangerie Museum in Paris in the Tuileries Gardens and opposite the Seine, on the 5th floor at le Musée d'Orsay.
For more of his nymphéa paintings - including the original painting, Impression Sunrise, which gave Impressionism its name - visit the Marmottan Monet Museum in the 16th Arrondissement.
For nearby tea salons, see my Guide to Best Parisian Tearooms.
Monet's House
When I last visited in 2012, there wasn't much to visit in the house and photos were prohibited inside. The good news? Many rooms have since been renovated and I can now share my photos.
Monet's Kitchen and Dining Room
Both the kitchen and dining room are particularly bright. Monet chose two shades of yellow for the dining room so that the colours would compliment the blue of the crockery and the kitchen next door with tiles from Rouen.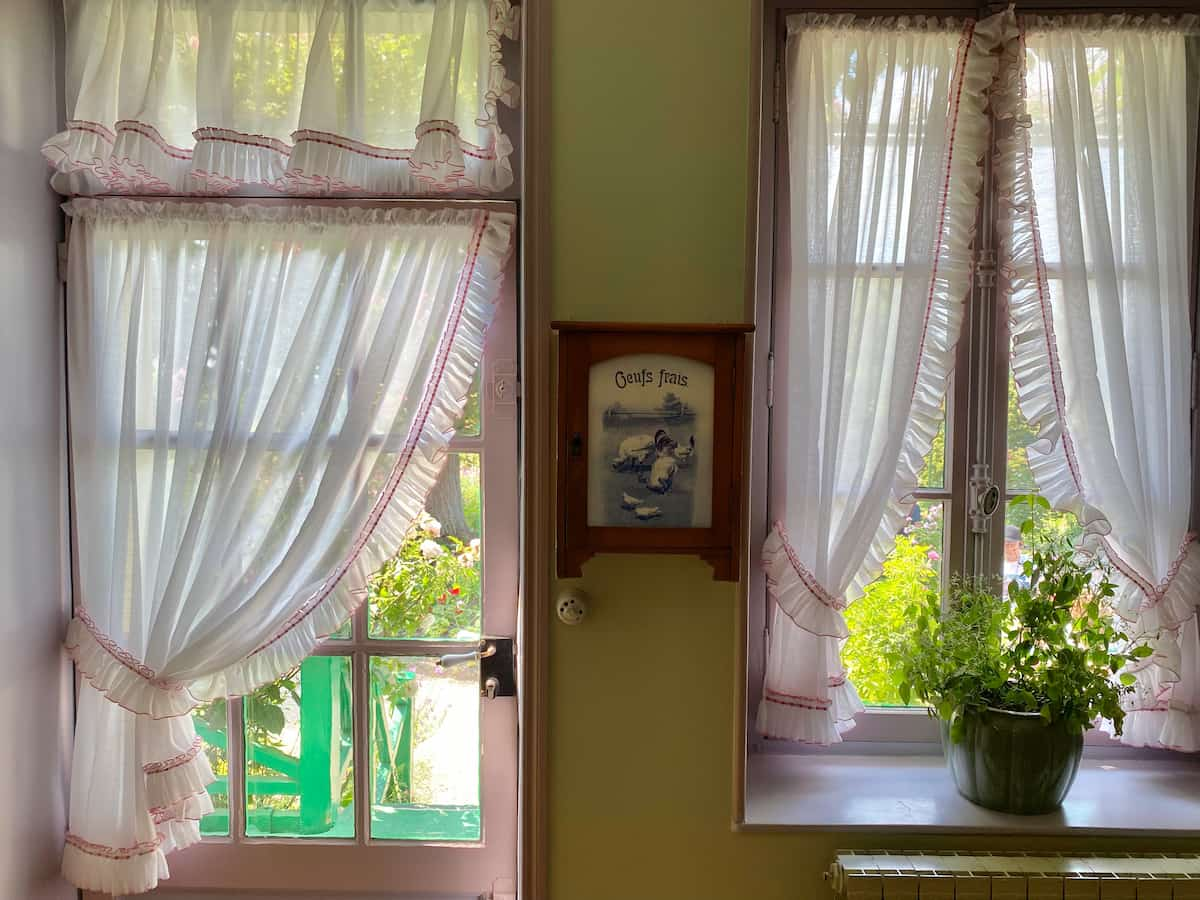 The Pantry
Monet kept hens in the garden (the pen is next to the house), so fresh eggs were an-oeuf (pun groan) to make an omelette or a cherry clafoutis for dessert. As the area by the back door was naturally cool, it was ideal as a pantry. I love this egg box between the door and window, marked 'oeufs frais'.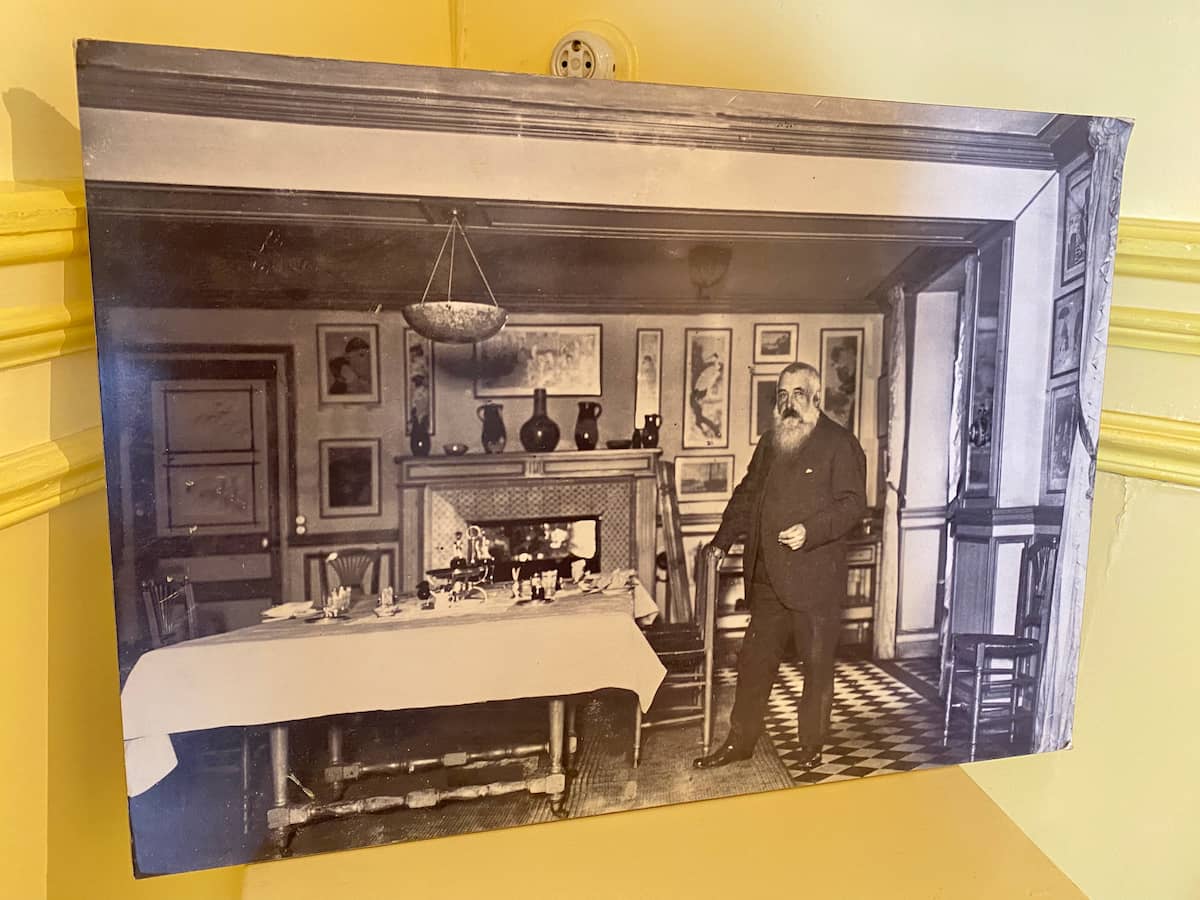 Claude Monet's still life paintings around food include lunch scenes with melon, Les Galettes (1882), bottles of wine with bread and cheese. Plus there's the famous Déjeuner sur l'herbe - perhaps the most famous French picnic in the world. Alas, I was looking for Monet Cookbooks in the gift shop (the artist's 2nd bigger studio) but they had all sold out.
Speaking of food gifts, the shop sells local Giverny cidre, Calvados (apple liqueur) and apple jams. There are a few shops in the village that sell more - including apple juice (jus de pommes), cidre vinegar etc.
Where to Eat in Giverny?
Much that I'd personally love to make a light lunch in the kitchen and enjoy at that long table in the dining room, thoughts turn immediately where to lunch.
Although this is a particularly touristy attraction, thankfully local restaurant owners have visibly done their best to accommodate a large (often overwhelming during peak season) influx whilst keeping things simple.
There are plenty of places nearby in the village - from restaurants, brasseries, a bakery, snack bars and take-aways for picnics.
The Restaurant Les Nymphéas is just opposite Monet's house. This ex-farmhouse has ample seating either indoors or outside with two terraces.
Either go for the Monet Menu, a weekend 3-course menu in the style of the artist's favourite dishes, such as lapin au cidre (rabbit in cidre) and Tarte Tatin.
Lighter, seasonal salads include a house Salade Monet: smoked salmon, lettuce, asparagus, tomatoes (alas lacking in flavour), and mushrooms.
Otherwise a breaded camembert salad with lettuce, lardons, andouille sausage with apple is a Normandy variation to the classic warm goat's cheese salad. To finish, apple and pear sorbet was just the perfect refreshment. Although not a huge choice, ingredients are fresh, the area is beautiful and service was swift when we were there.
There's also a separate kiosk for take-away snacks for your own DIY picnic.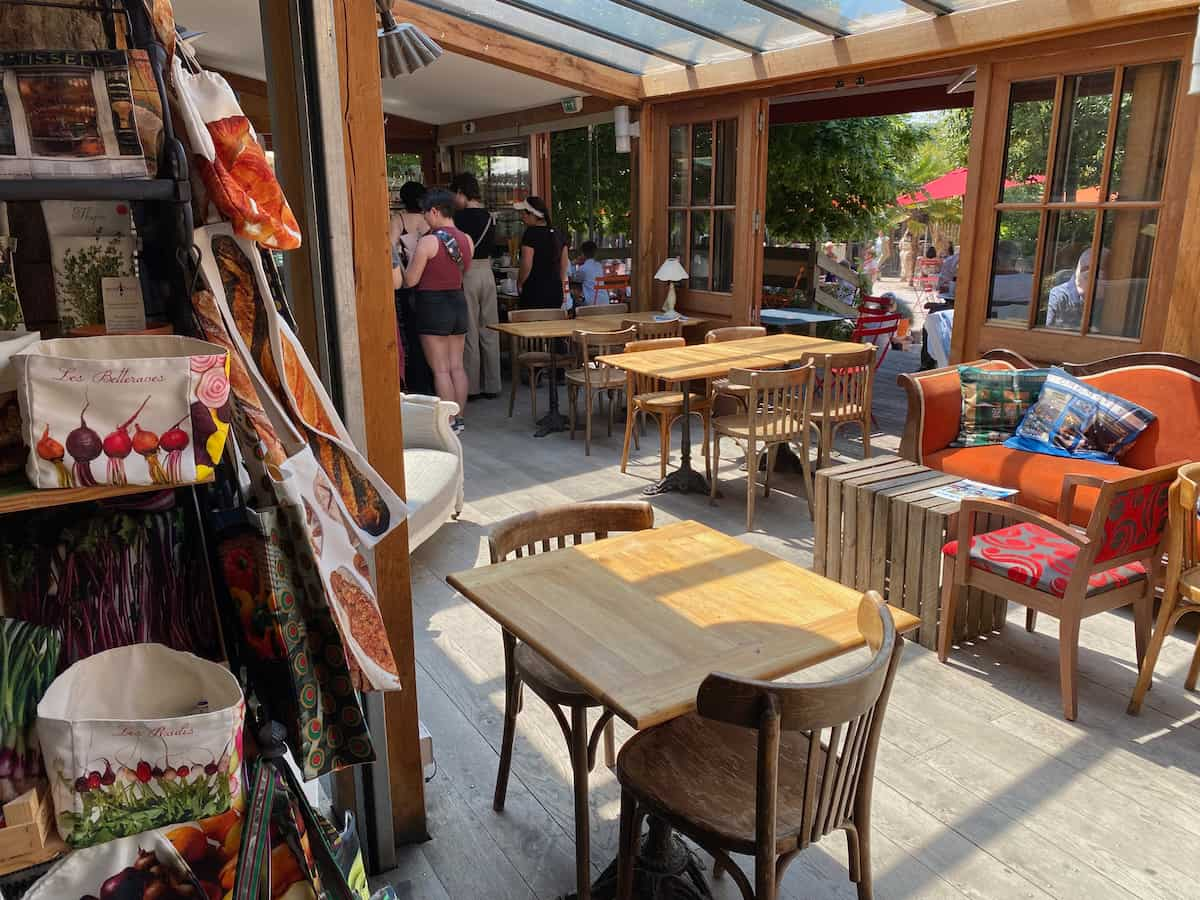 Literally a few steps away is the eating complex of La Capucine. With 3 establishments in the same garden (le Botanic Café, la Cabane et le Pressoir), there's plenty of choice. In the garden amongst the bamboo, we spotted tables where hens were freely roaming and a large crêpe bar, with a large choice of crêpes or French pancakes with typical toppings.
Le Brasserie des Artistes and tea room is part of the Musée des Impressionismes but independent. Although if you do have time, this museum is also worth a visit.
The Ancien Hôtel Baudy is the historical address where Claude Monet's painter friends would meet between 1887-1914. Step back in time, imagining Cezanne, Renoir, Rodin, Sisley - plus Mary Cassatt and more American impressionist painters dining in this legendary establishment with Monet.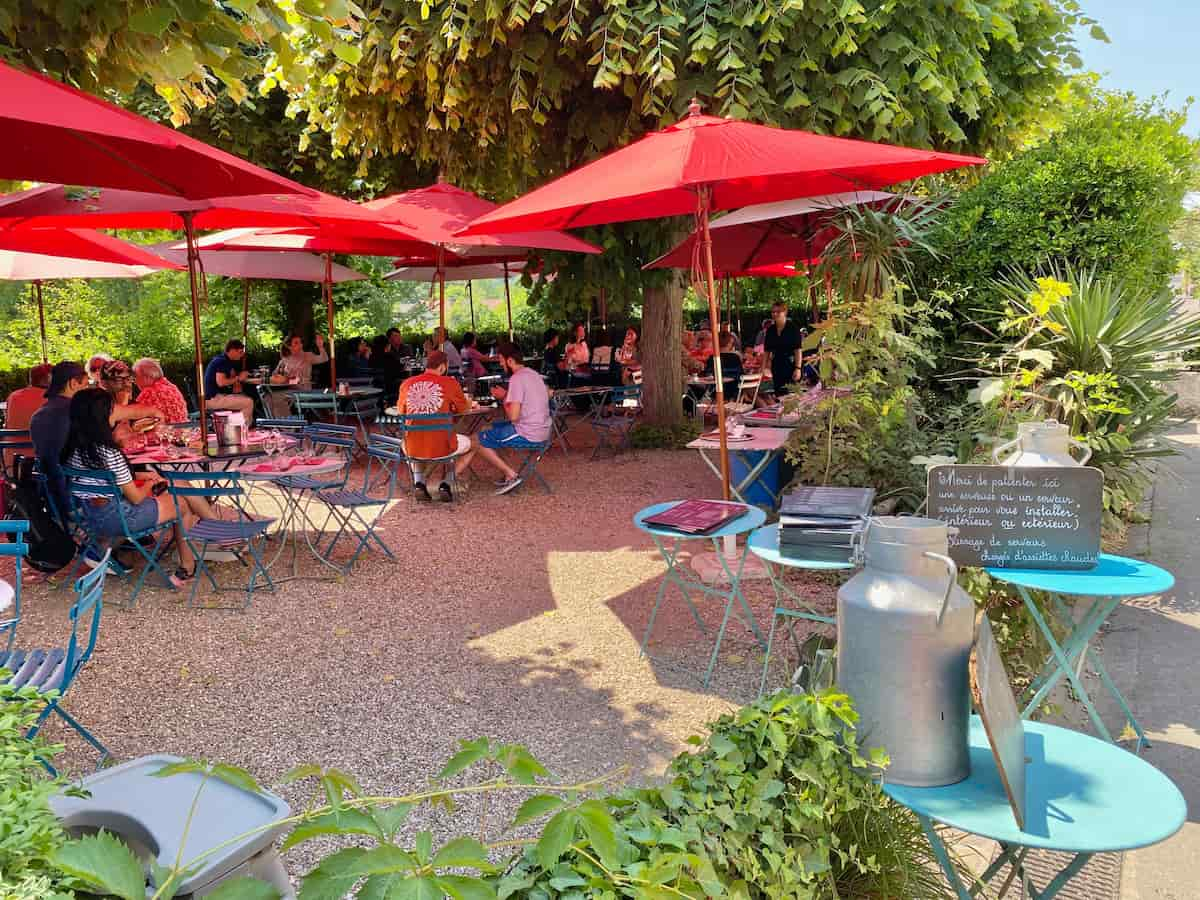 During the summer months, they have a shaded terrace across the road.
My tip: Like all eating establishments in Giverny, wait to be seated rather than find your own table. That way, they know you're there and service will be smoother.

Jill
For the ultimate treat, head to chef David Gallienne's Michelin-starred restaurant and hotel at Le Jardin des Plumes. It's still on my bucket list but as we're only a 45 minute drive from home, I have no excuse! Antoine, chéri, I hope you're reading this hint, hint.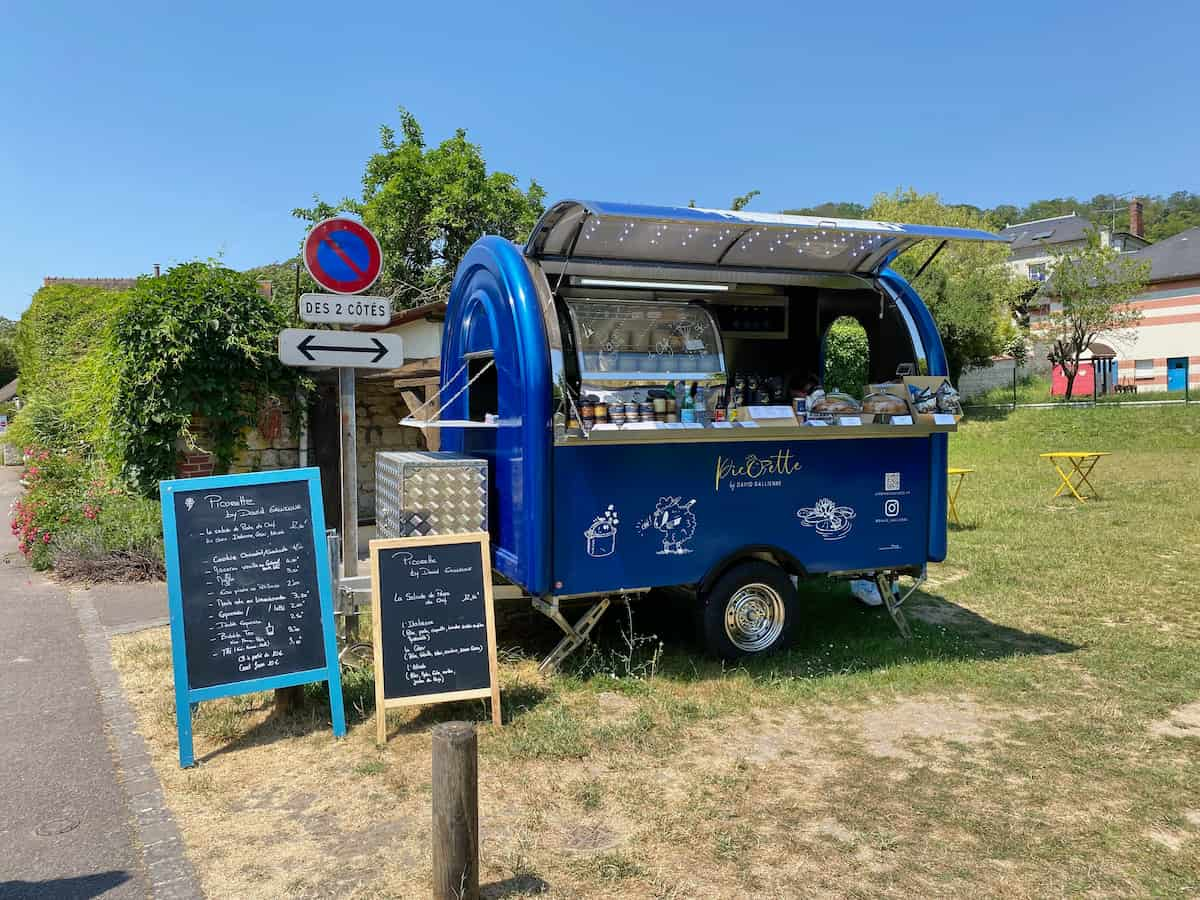 For a more light-hearted taste of David Gallienne's cuisine, he has a food truck, Picorette. From a choice of salads, his take-away has picnic tables in the field to enjoy a simple non-alcoholic drink with a muffin or chocolate chip cookie. You know my choice? A vanilla or salted caramel macaron!
Giverny has one bakery or boulangerie, which is an ideal stop for light snacks (breakfast or a sandwich menu), hot or cold drinks or just an ice cream. Either seating outside or take-away. I love the French play on words, as it's 'Coin du Pain'tre' Bread corner - but sounds like peintre (painter).
Speaking of ice cream, I forgot to mention ice cream vans selling glaces maison - this one was just outside the back of Monet's house!
Can You Picnic at Giverny?
There are no picnic tables at Monet's garden since picnics are, understandably, forbidden.
So the best way to picnic is to either walk along by the River Seine or smaller Epte river and find your own perfect spot nearby.
Best Picnic Spots near Giverny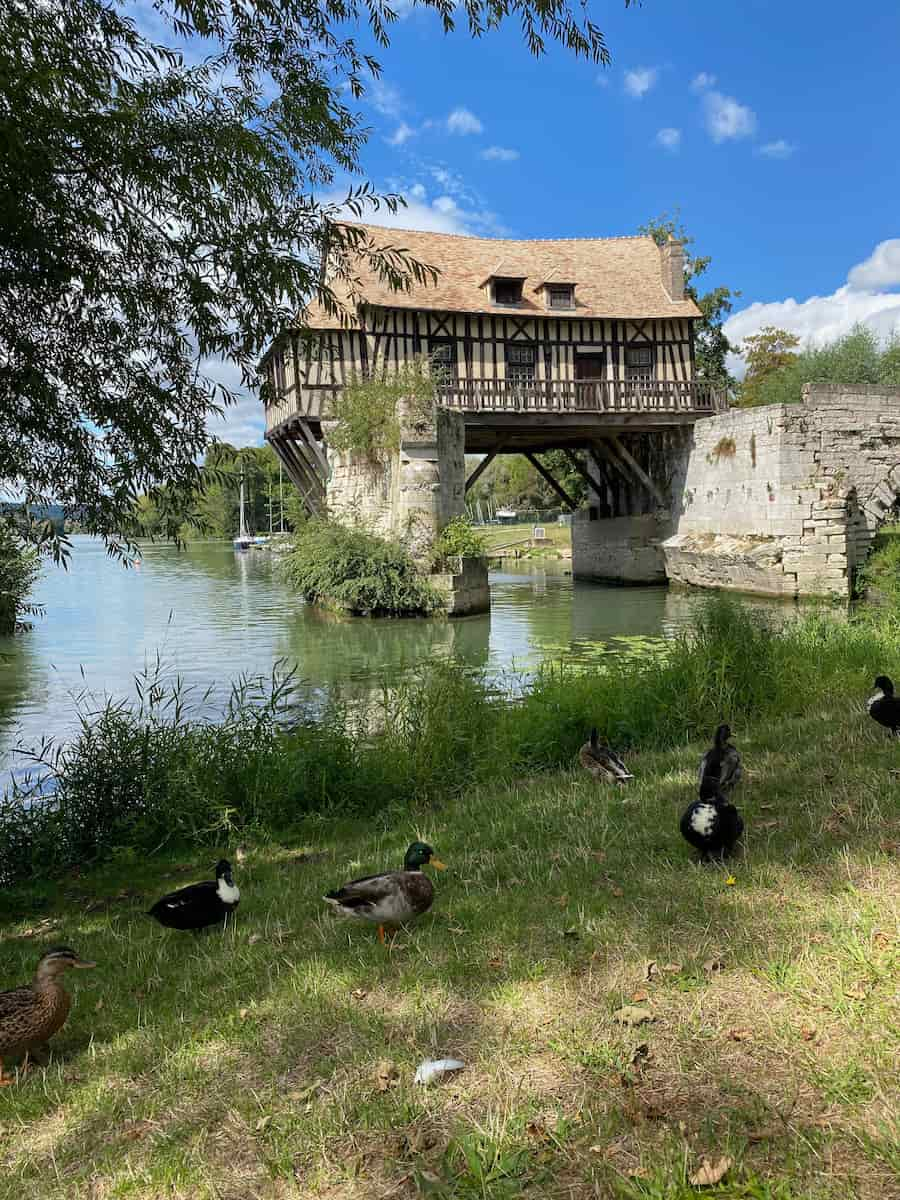 There are many great picnic spots following the banks along the River Seine and not far from the car parks by the smaller Epte river. Choose a spot in the shade from under many a weeping willow tree.
Alternatively, there are more romantic picnic spots further up the road in nearby Vernon with a 10-minute drive.
Just by the river is le Vieux-Moulin or Old Mill. This photogenic spot is the remains of an old flour mill, built on the columns of the medieval bridge. The first half-timbered building dates from the 17th century and recently was restored in the 1980s, although can't be visited. Instead admire it from nearby with your picnic basket. There are even more waterlilies to complete the impressionist theme.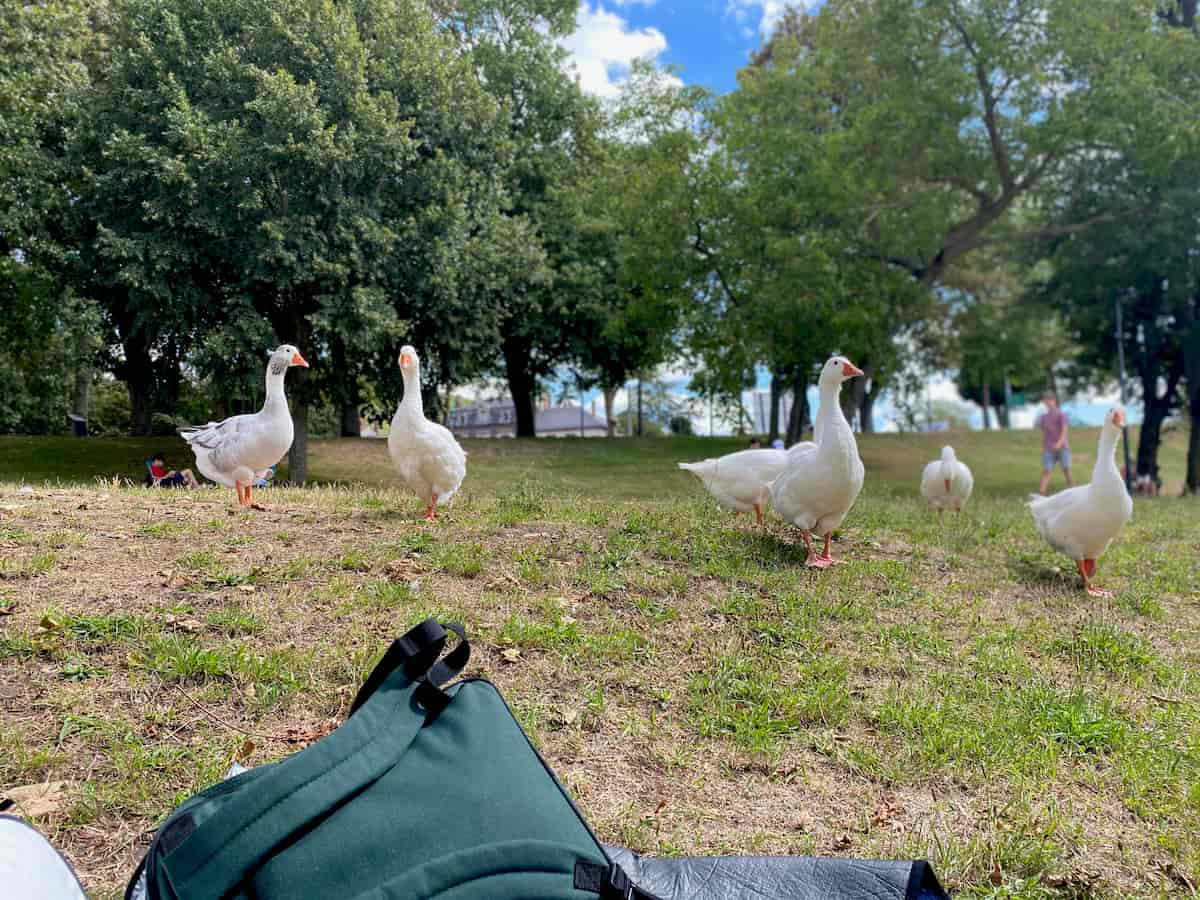 If coming by car, I suggest you park just across the road from the castle.
Le Château des Tourelles with its pepper-pot roofs was originally a fortress to protect the medieval bridge's entrance on the right bank of the Seine (the original bridge was bombed by a UK bomber in WWII). There's a park around it and plenty of picnic opportunities with a view of the Old Mill.
See my picnic recipes for ideas.
Otherwise there are more bakeries/boulangeries and supermarkets in Vernon.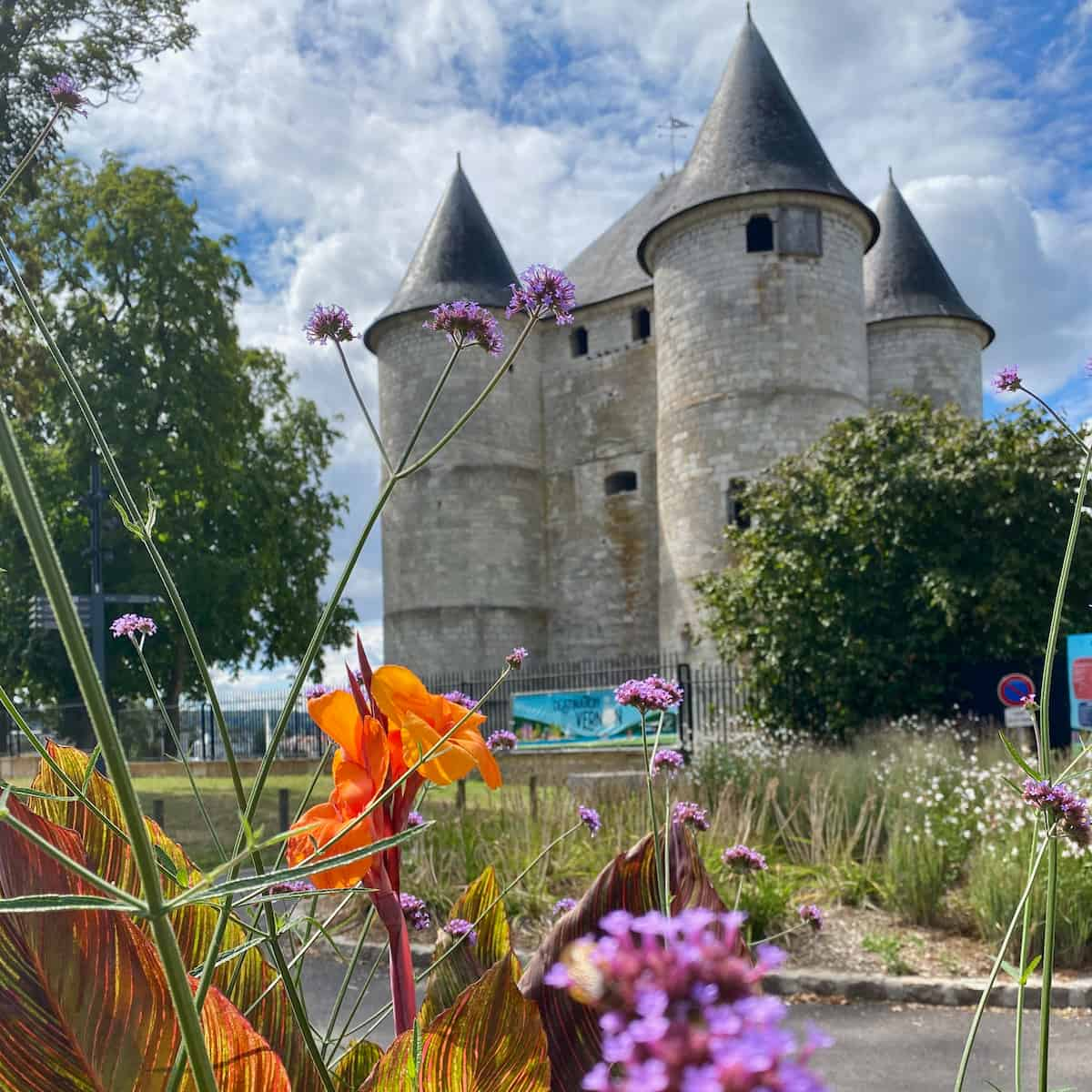 Paris to Giverny
Although just over the border from Ile-de-France and in the region of Normandy, Giverny isn't far from Paris - only 75km.
From Paris by car, it takes just over an hour. Take the A13 Autoroute (motorway) direction Rouen via Mantes-la-Jolie then exit (Sortie 14) at Bonnières and Vernon, Giverny's closest town. Giverny is well signposted. There are 3 free car parks.
From Paris by train, Giverny is an hour's ride from Gare Saint-Lazare to Vernon station. Trains are frequent. From Vernon (only 7km from Giverny), there are shuttle buses and taxis. However, there is a flat pathway to walk there directly (away from the road).
This post was first published August 23 2012 but is now completely updated following my latest visit to Giverny in June 2023. As always, none of the places mentioned above are sponsored and all views are my own.