Welcome to the Tuileries garden, the most popular Parisian park between the Louvre museum and the Place de la Concorde. Grab a chair while we explore a bit of history of the gardens, plus share our family tips and top picks where to eat when visiting.
Are the Tuileries Gardens Free?
The good news is that there is no entrance fee. Access to the Tuileries Garden is completely free to the public, so there is no need to buy any tickets.
However, during the annual summer and winter fairs, tickets are needed for individual amusement attractions. These are simply bought sur place, right on the spot. More on that towards the end of this post.
Ensure you wear good walking shoes that are easily cleaned. The gravel can dust your shoes, especially on a windy day so be prepared if you plan to go anywhere chic straight afterwards!

In summer wear sunglasses: the ground is very bright and take a water bottle to make the most of the drinking water fountains in the gardens.

Jill's top tips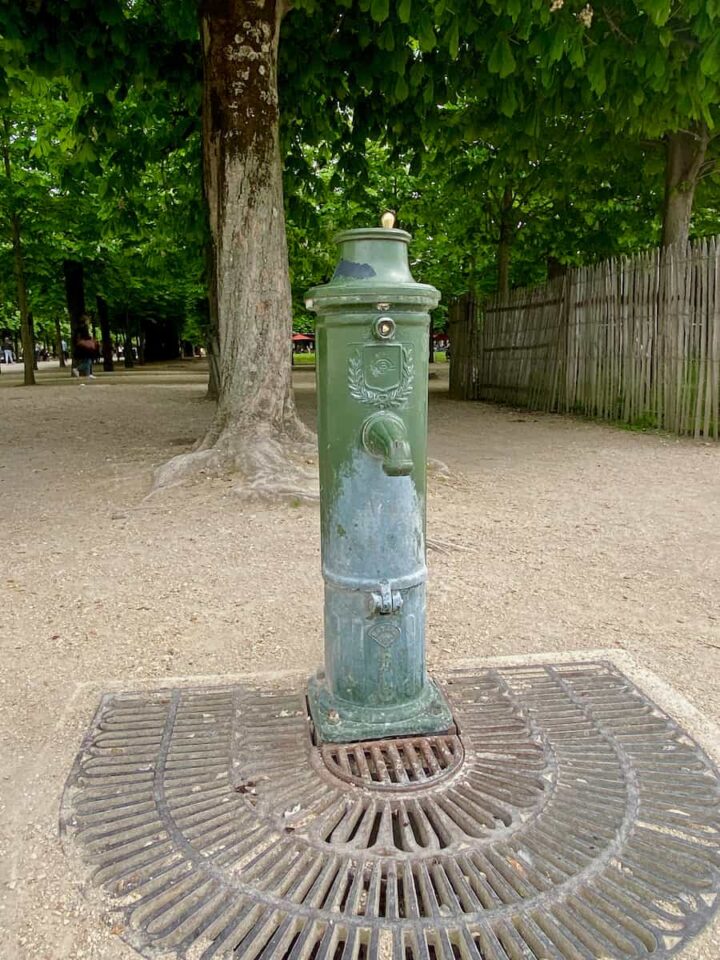 Who Built les Tuileries? A Brief History
The Tuileries Garden was originally created in 1564 as part of the Tuileries Palace under Queen Catherine de Medici (widow of Henri II and mother of 3 French kings). The Palace served as the Parisian residence of French royalty from Henry IV to Napoleon III.
King Louis XIV transformed the Tuileries Palace residence in 1666, when he commissioned his favourite gardener, André Le Nôtre, to design a vast new park with elevated terraces around a central axis. He did this after completing the terrace at Saint-Germain-en-Laye (another practise shot before Versailles).
The Tuileries Garden was partly opened in 1667, and in 1793 was opened to the public, making it the first free park in Paris.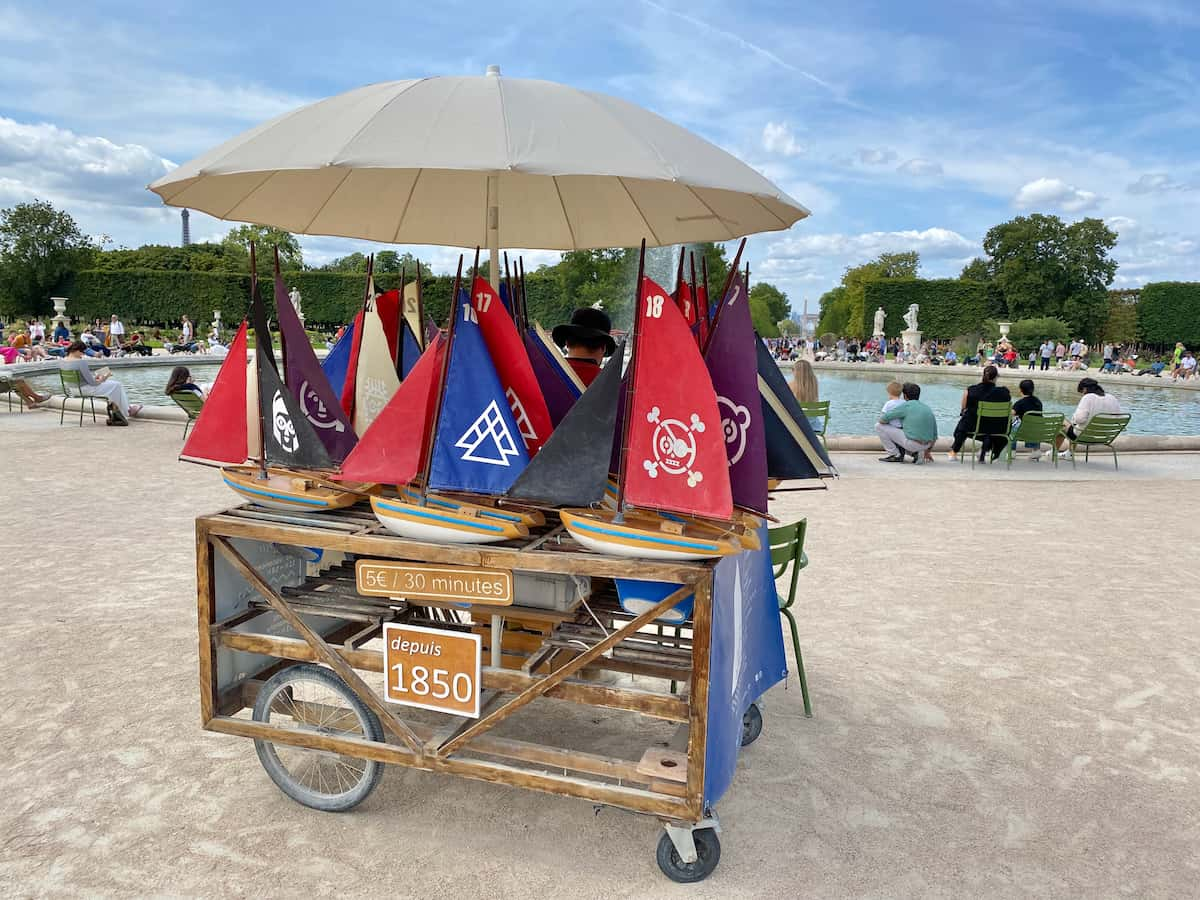 Tuileries During the French Revolution
In 1871 the Tuileries Palace was set on fire and although destroyed in 1883, we continue to enjoy the splendour of the gardens today which is more or less as Le Nôtre designed it with its some 63 acres (23 hectares) and water basins.
What does Tuileries Mean in French?
The word Tuileries refers to the tile kilns that previously existed on the site. The French word comes from 'Tuile', meaning roof tile - which is also a famous French biscuit or cookie.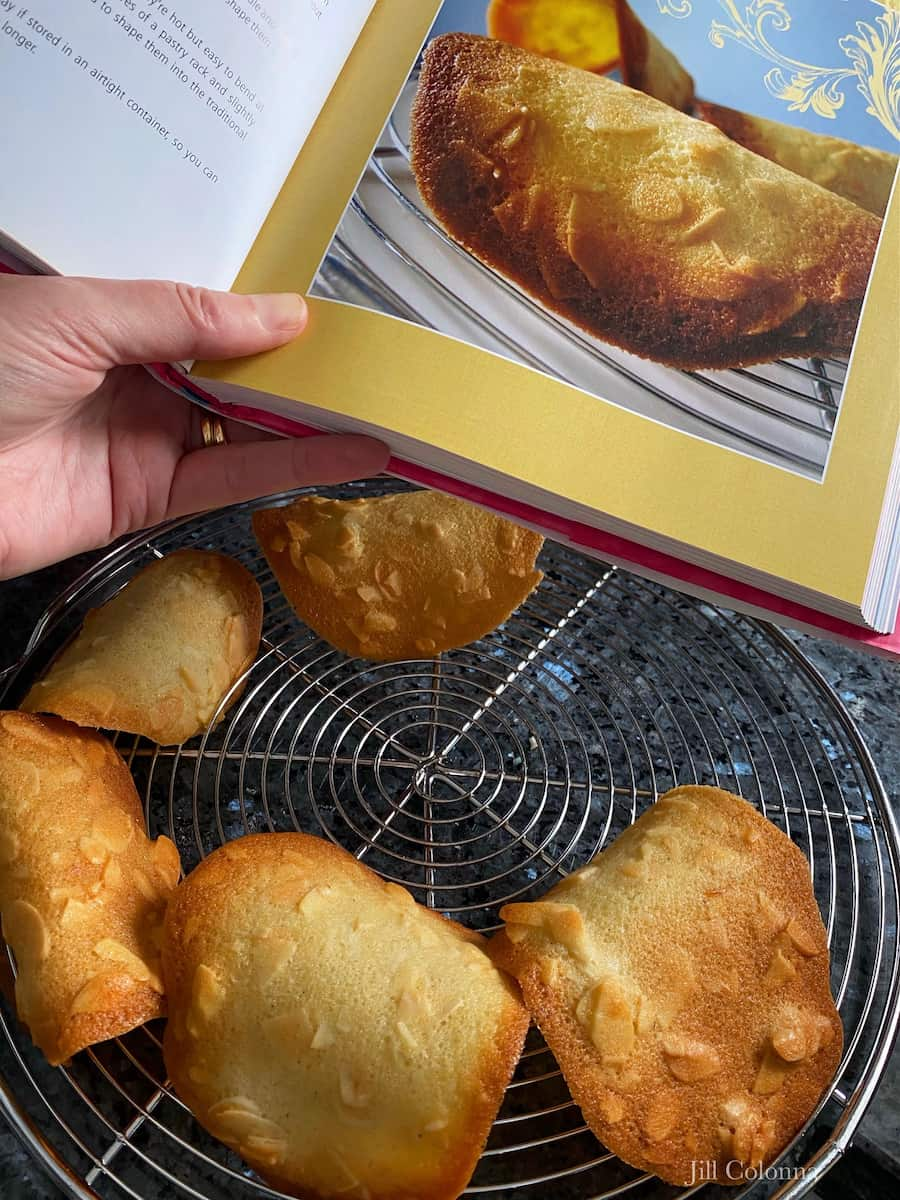 What Kind of Trees are There?
Many of the trees are signposted throughout the gardens but many regimented avenues consist of horse chestnut trees. In Spring, enjoy their pink or white candle flowers.
From May to July, my favourite time is to enjoy the shady avenues of scented lime blossoms. Their heady fragrance is so magnificent, it's no wonder the French use it as a herbal infusion (known as 'Tilleul' in French). Their flowers are dried and steeped in boiling water to infuse. Try the dried flowers in this Lemon Verbena ice cream.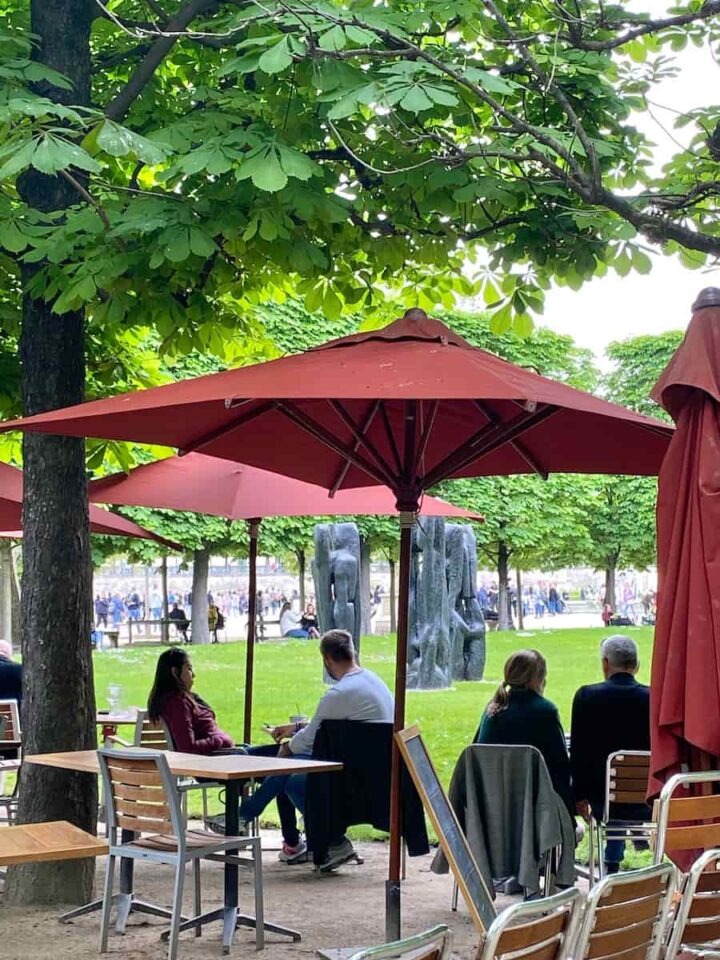 Where to Eat or Drink in the Tuileries Garden
Whether you're looking for a sweet treat or a sit-down meal, there are plenty of options for eating within the gardens.
While the general central avenue tends to become crowded in summer, head towards the outer sides of the park if you're looking for more peace and quiet.
For high end luxury in summer, head towards the Carrousel end at the Musée des Arts Décoratifs. Their Italian restaurant, Loulou, is expensive but if you can splash out, then this is a quiet area of the gardens with a view to the Eiffel Tower. Be prepared to pay €32 for a pizza and €50 with added truffle. The rest includes pasta, risotto and light salads served with homemade bread and choice of Italian desserts.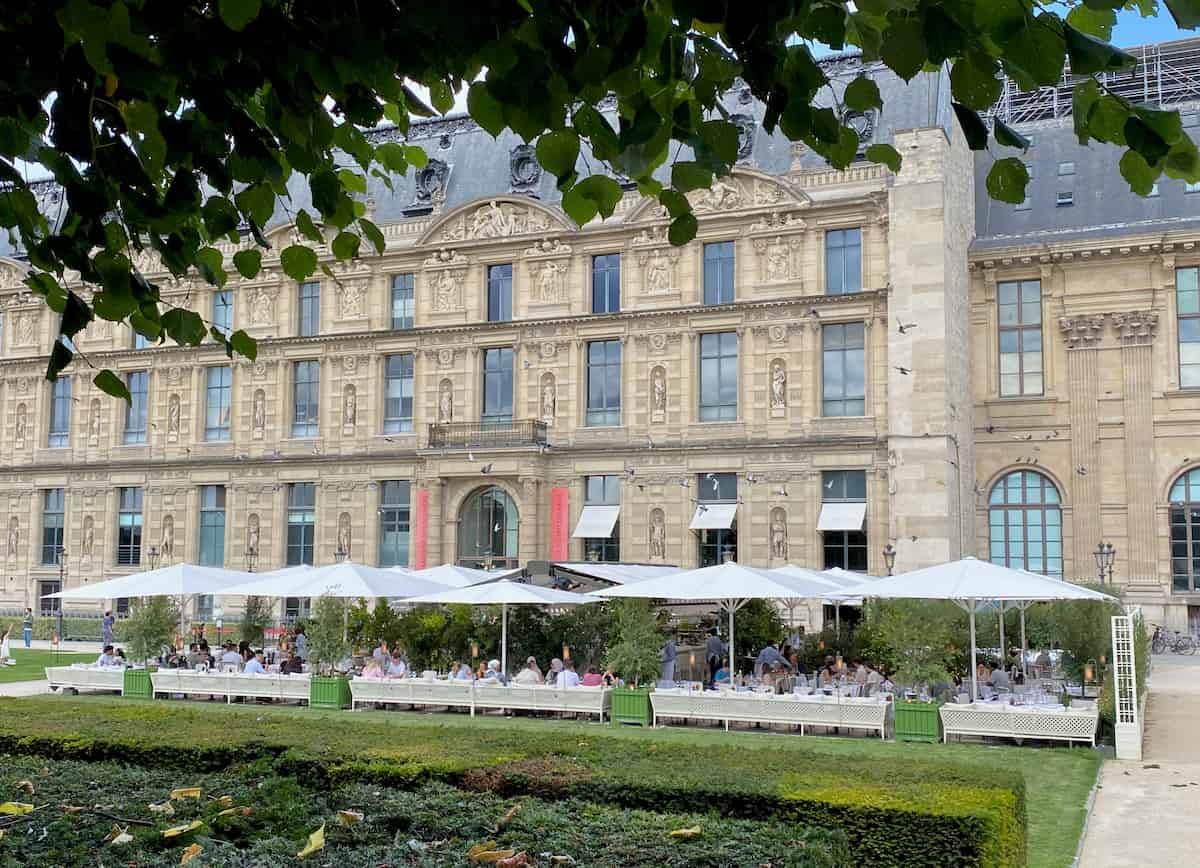 On a budget? Grab a few things from my picnic recipes and fill your water bottle from the drinking water fountains located around the gardens. Head to the quieter spots on the garden's 'péripherique'.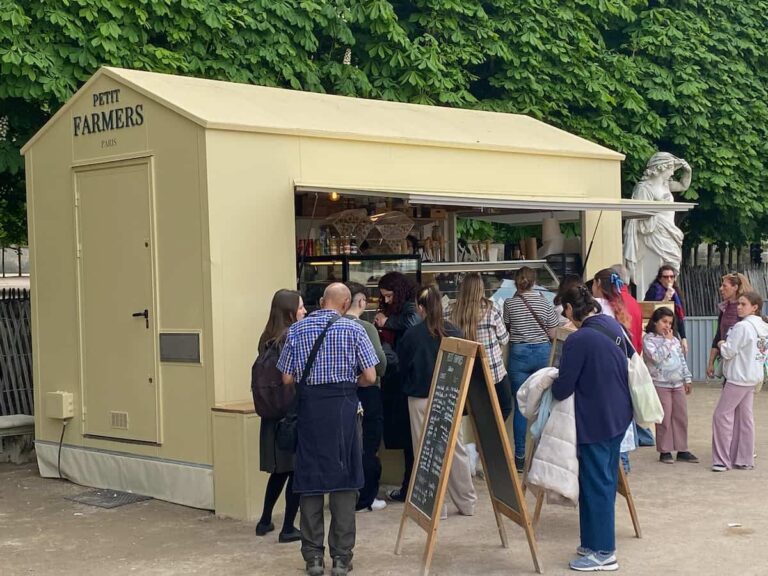 Otherwise, during peak season, be prepared to queue for crêpes, hot chocolate, ice creams and sorbets, and more drinks at the stands, such as Petit Farmers. Eric Kayser also has some outdoor seating with a good choice of light snacks, salads and sandwiches.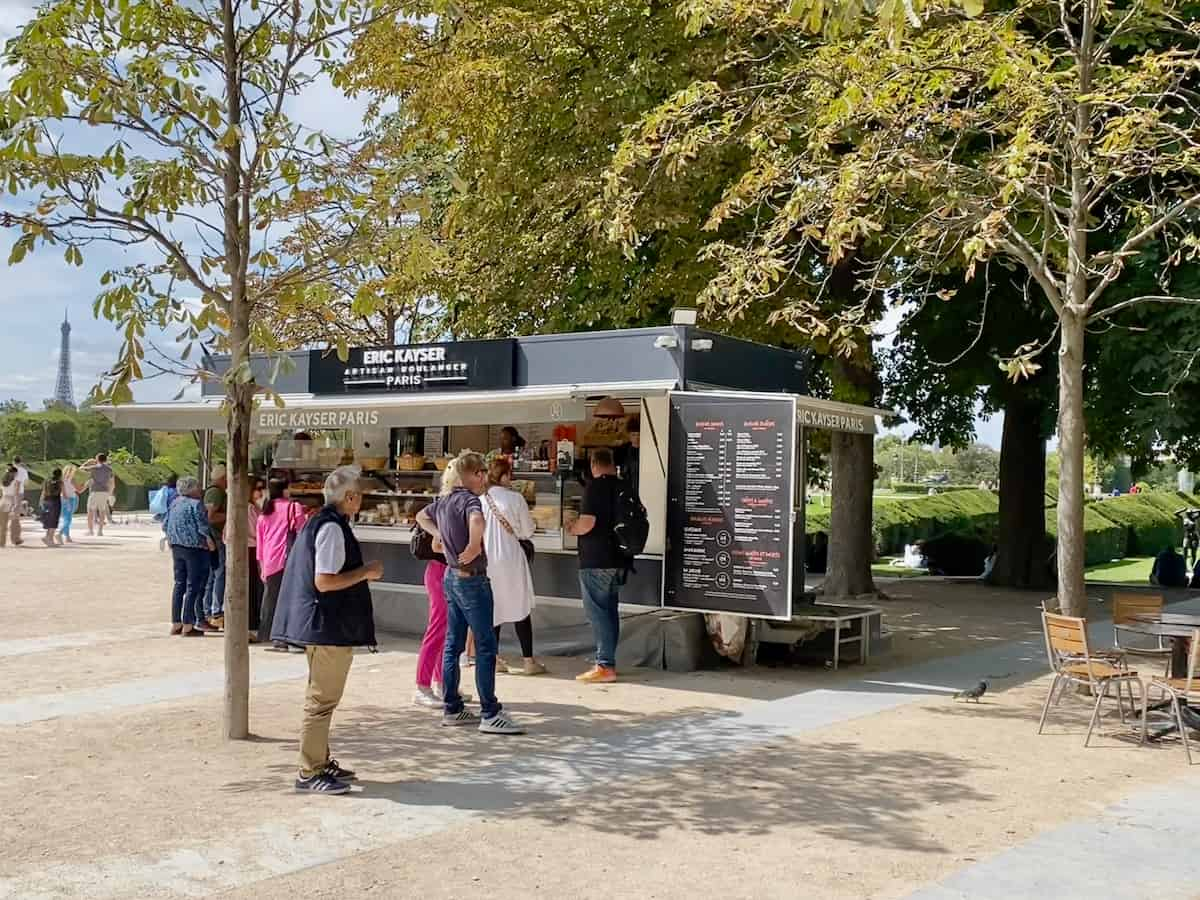 Sit-Down Meals in the Tuileries Garden
For something more substantial like a sit-down lunch, there are the following central restaurants on the main avenue (Allée Centrale). The first two are lighter for lunch with outdoor seating only and takeaway service.
Typical dishes such as Croque Monsieur, galettes de sarrasin (savoury pancakes - see my savoury buckwheat pancakes) and crêpes.
La Terrasse de Pomon. Choice of salads, tarts, sandwiches, charcuterie and cheese plates, Croque Monsieur (although no bechamel but frankly, with such a small kitchen, I'll let them off). Lunch menu during the week includes a savoury tart and cherry clafoutis. Friendly service (also in English). Good ice creams (Mövenpick) and a chocolate crème brûlée.
Petit Plisson. Much as above but notably a salade très très verte (very green!), pain perdu, French toast made with brioche, and a French rice pudding (riz au lait de compétition)!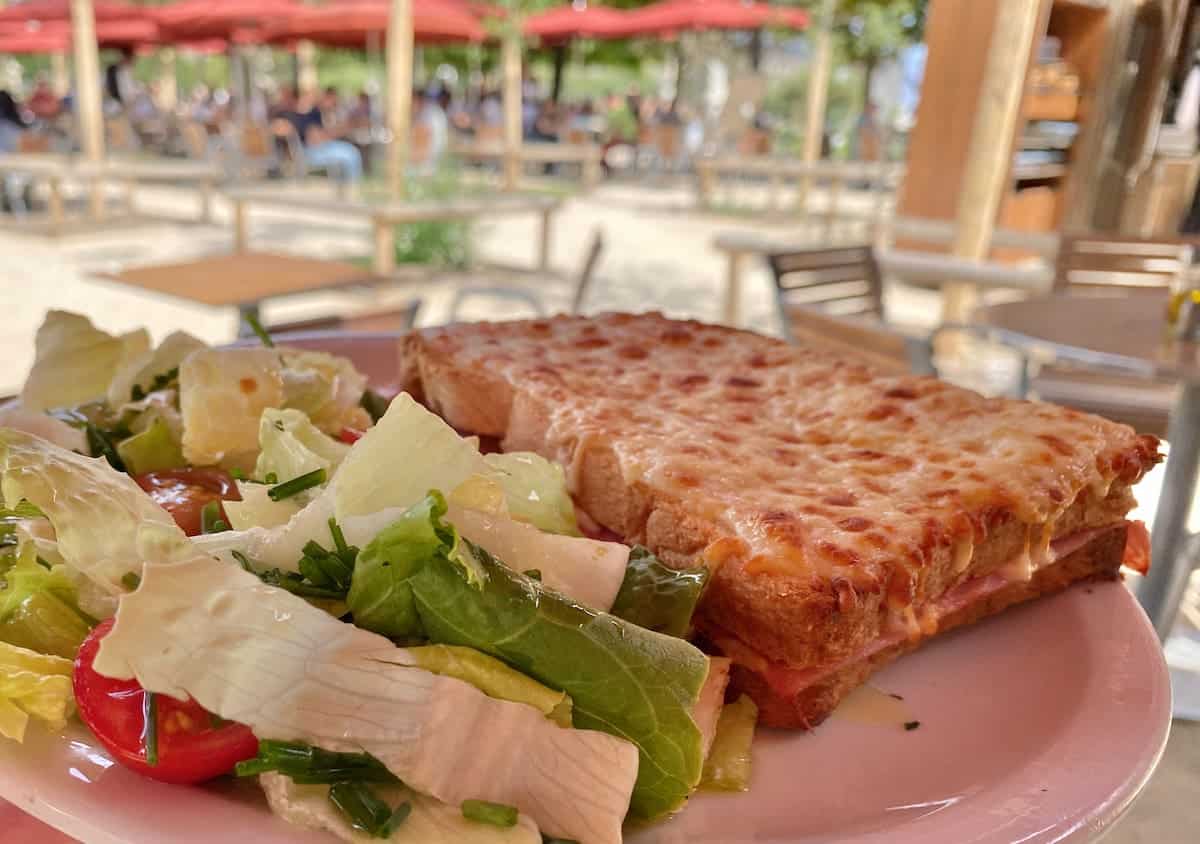 The following have more substantial dishes and indoor seating:
Le Pavillon des Tuileries. Pricing is reasonable - particularly their wines by the bottle (average 35 euros/ cocktails €13). Recommend their cheese and charcuterie boards for a more French experience since the rest isn't very French: salads, fish and chips, burgers, pasta.
Café des Marronniers. Pricing also reasonable (cocktails start at €9) with fresh fruit juices (jus de fruits frais), iced tea (thé glacé) and a good citronnade maison.
Note on Ordering French Drinks
Popular alcoholic drinks are beers (bières). À la pression is draught/on tap while 'en cannette' is in a can. Cidre, wine (vin) and French cocktails are popular, particularly the classic Kir or sparkling Kir Royal. For beverages and non-alcoholic drinks, there are plenty of choices.
Citronnade, Lemonade and Lemon Juice - What's the Difference?
Citronnade is different to lemonade in that it's less fizzy. It's a homemade citrus-pressed lemonade that's more tangy with pressed lemon.
Citron Pressé: not for the faint hearted if you have a sweet tooth. I personally love this as (normally) no sugar is added and it's just freshly squeezed lemon juice on ice. It arrives about a third full, along with a carafe of water to top it up. So refreshing in summer, it conjures up the tartest lemon tartlet.
Ordering Coffee
A word on coffee in Paris: you'll find a mix of latté, cappuccino, américano (filter coffee). If you're looking for an espresso with a little milk (macchiato), it's known in Paris as a Noisette (literally means hazelnut).
Otherwise a large coffee with milk (normally served in a bigger cup in the morning at breakfast) is known as a café crème. Don't be put off by the word, crème as it's made with milk, not cream. You could say a café au lait but generally the Parisians prefer café crème. Don't ask me why.
Tuileries Garden Café Nearest Concorde
Heading towards the elevated northwest corner of the gardens towards Place de la Concorde, is the Galerie nationale du Jeu de Paume, a museum of contemporary art.
The Rose Bakery café is both indoors and has a stand here on the terrace next to the Jeu de Paume. Here it's surprisingly quiet since closest to the bustle of the Place de la Concorde! Get away from the main avenue with the crowds and just sit in the shade near the lime blossom trees for a light casual lunch or teatime.
Likewise, there is the café in the Musée de l'Orangerie on the opposite corner, although its access is part of the entrance to the museum.
For a list of many more options nearby, see my Guide to Paris tearooms - both in the 1st (Concorde-Louvre) and 7th (around Orsay) arrondissements.
Annual Summer Fair
Summer season sees the start of Paris's popular annual fête or amusement park situated on the rue de Rivoli side of the Tuileries Gardens. The Fête Foraine des Tuileries is open free to the public usually all of July and August with a choice of 80 paying attractions. Perhaps the most popular being the Ferris wheel to grab an arial view of Paris, so be prepared to queue during peak time in the afternoon.
With bustling holiday crowds and traditional wafts of candy floss (Barbe à Papa), here are some of the classic snacks you'll find:
waffles (gaufres)
toffee apples (pommes d'amour)
doughnuts (beignets)
marshmallows (guimauves)
smoothies (also in French, said with a lovely accent!)
There is something for everyone - and for those of you like my daughters who love the high-sensation rides, you won't be disappointed. I find it hard enough to even watch them! Thankfully more healthier snack options are now available, such as fruit stands.
Beware of sellers around the park with bottles of water for one euro. It's uncertain if these are properly sealed. Best bring your own or stick to the designated official stands in the park.

Jill's tips
Tuileries Garden Christmas Market
Likewise in winter, there's the Christmas Market with roasted chestnuts, vin chaud (mulled wine) and yet more rides.
Ever since my kids were little, they'd enjoy the thrilling rides during the annual fairs. While they were screaming to their heart's pulsing content, you'd find me strolling in the rest of the more civilised Tuileries Gardens, away from the crowds.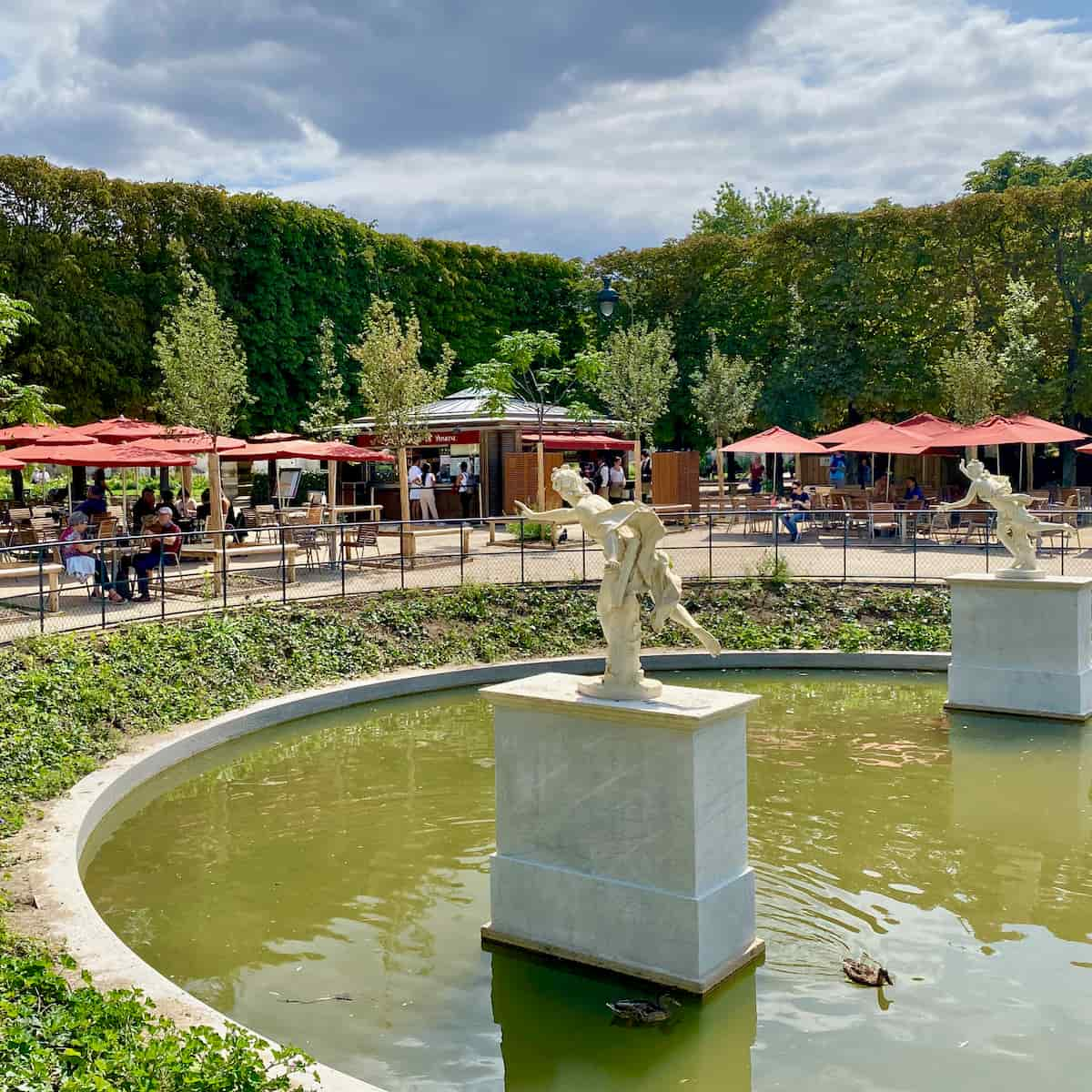 The Tuileries Garden is a must-visit destination for anyone travelling to Paris. With its rich history and beautiful scenery, it's no wonder that the oldest gardens in Paris have been a popular destination.
Do you have any questions about the food in Paris? Leave them in the comments below and I'll answer you with pleasure.
This post was first published 1 July 2016 but is now completely updated.