Sweet chestnut season means it's festive time in France. From roasted chestnuts sold around Paris, enjoyed in savoury dishes to candied chestnuts in cakes and desserts, they're also deliciously healthy. Conserved the rest of the year in the form of gluten free chestnut flour, discover its many uses.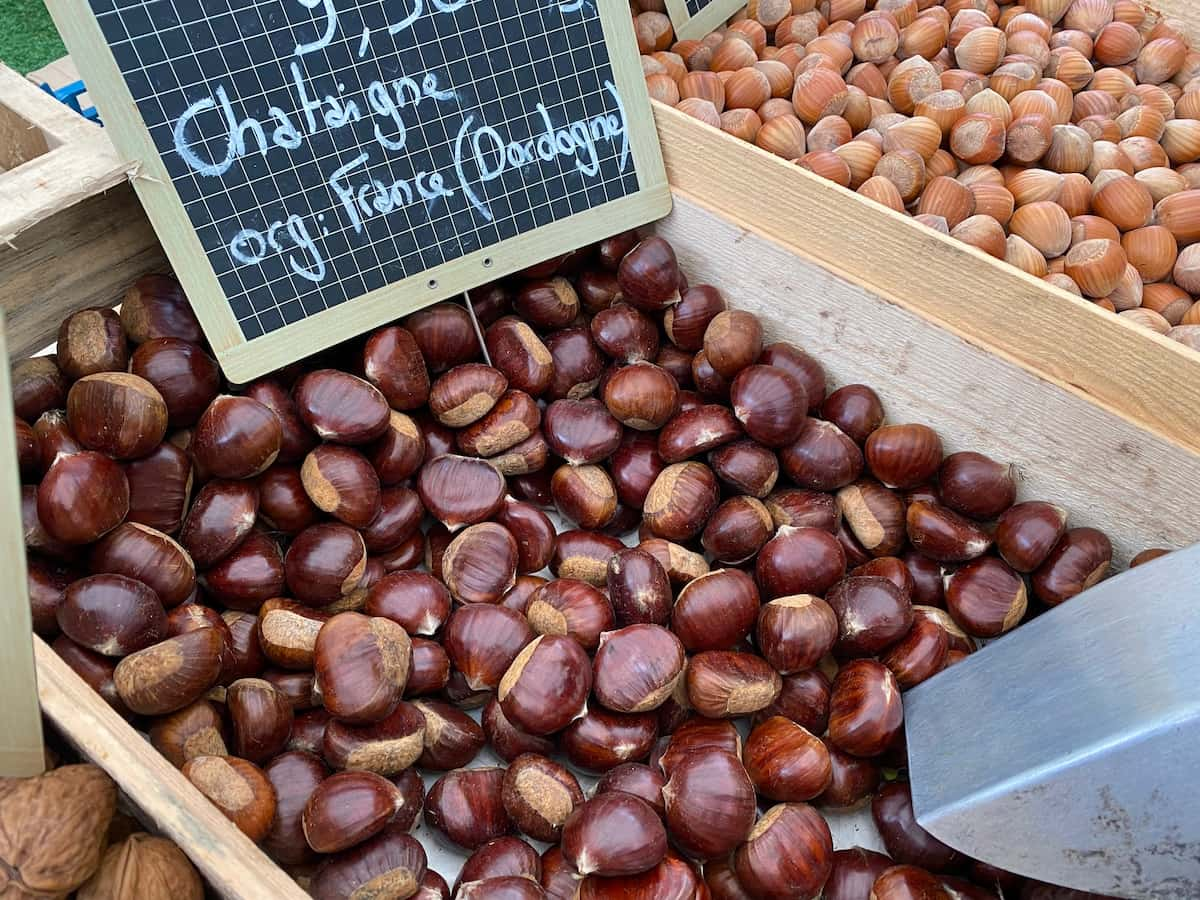 French Sweet Chestnut Season
Autumn/Winter; October, November, December & January.
Difference Between Horse Chestnut & Sweet Chestnut (Chataîgne vs Marron)
The sweet chestnut's long prickly cupule or "burr" is brown and contains 2-3 little nuts.
However, these are not to be confused with the horse chestnut or conker tree which is found in cities and parks and inedible: its thick burr is green and only contains one inedible nut. Best keep these as conkers for the nature table! For more information on the differences, please see the French health site, Anses;
Marron vs Chataîgne: It can be confusing hearing the word, marron in French as the 'marronier' is the horse chestnut/conker tree but its inedible fruit is known as the marron d'Inde. Marron, however, refers generally to the edible sweet chestnut fruit from the Chataîgnier.

Random Facts About Sweet Chestnuts in France
Did you know that chestnuts are extremely healthy for you? According to Aprifel, they are high in Vitamin B9, potassium and fibre;
How to choose the best ones? Ensure there are no holes where insects could have hidden - and the shinier the better reveals that they are fresh;
Chestnuts are always eaten cooked, never raw;
They're grown in mainly forests and mountainous regions in France (Corsica, Auvergne, Cevennes, Périgord/Dordogne, Ardèche with AOP since 2014);
The French refer to the chestnut tree as the Bread Tree (l'arbre à pain) as they grow in areas where wheat is virtually impossible to grow. It's therefore the main cereal used in these regions and the flour, naturally gluten free, is used in many recipes. See below for inspiration!
As my husband is Corsican, like in Italy, you'll find many recipes using chestnut flour in tart bases, drop scones and in cakes, inspired by his family's hilltop village near Corte;
In the Cevennes, they produce a chestnut syrup called 'la Cévenole'. Our friends from the Auvergne use it to make a delicious kir cocktail;
In France, we use sweetened chestnut & vanilla purée or paste in many cakes and desserts. The most famous paste available around France is by both Clément Faugier and Sabaton. Children are familiar with a simple dessert of fromage blanc or petit-suisse served with a dollop of the purée. Added to cakes - and macaron fillings (one of my favourite chocolate-chestnut macaron recipes is in 'Teatime in Paris'), it gives an extra moisture and silky texture.
The most classic patisserie with chestnut purée is the Mont Blanc pastry: with a meringue and cream heart, encased in delicious, thin strands of chestnut and vanilla cream. (See my article on Angelina's popular classic).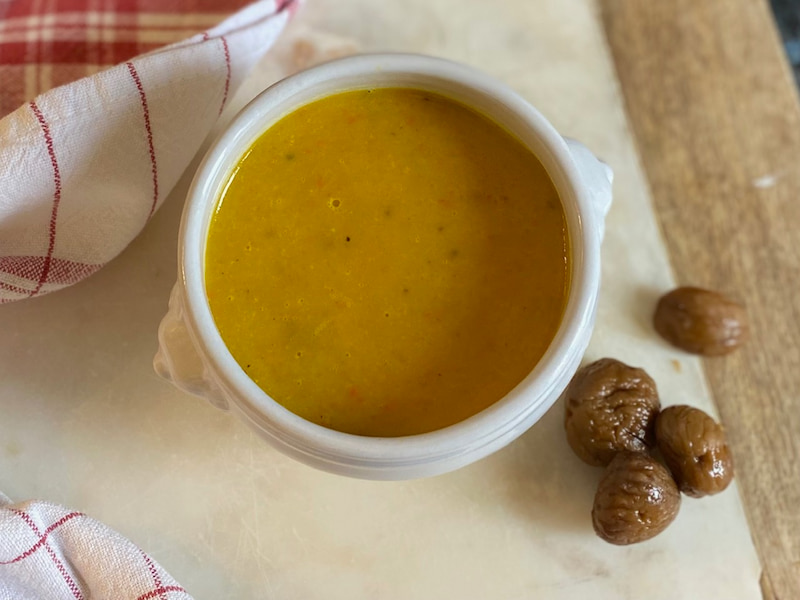 Savoury Chestnut Dishes
On the savoury side, pre-cooked chestnuts are easily found at the market and in supermarkets vacuum-packed or in jars/tins or frozen (either pre-cooked or raw). Although naturally quite sweet, they're a delicious, healthy addition to tarts, gratins, added to roasted vegetables to accompany the Christmas turkey (dinde de Noël), or topped on soups;
For soups: replace ginger with 12 pre-cooked chestnuts to make this healthy Pumpkin, Leek & Chestnut Soup and mix them into mushroom soup;
If using jarred chestnuts, consume quickly once opened.

Using Chestnut Flour (Farine de Chataîgne)
Chestnut flour is naturally gluten free and available all year round. When using in recipes, as it tends to be pretty strong and rustic in character, lighten cakes and pastries by mixing it with regular plain flour.
Sift the chestnut flour first, as it is prone to be quite lumpy. Use Chestnut Flour to make these recipes:
Christmas in France means Chestnuts!
In Autumn and Winter in Paris, it's a familiar and welcoming sight to see chestnuts roasting on top of supermarket trolleys on large pans. Sold in pokes at the exits of metro stations or just on the street, they're a real treat!
Chestnuts had a poorer history but today chestnuts are in many christmas treats, especially yule logs (bûches de Noël). However, perhaps the most popular French way of enjoying chestnuts over the festive season is with candied chestnuts (marrons glacés), found in most top patisseries around France.
Enjoy completely on their own, as they are expensive due to being hand-picked and requiring a long process to make them. Alternatively, top broken marrons glacés on desserts, ice cream or add to the middle of vanilla or salted caramel macarons (recipes in both my books). Add a layer of candied chestnut paste to this French almond tart.