Easy pumpkin soup recipe with the added healthy benefits of leeks and ginger, made in only 35 minutes. Serve with fried sage leaves for a festive touch and mini curry macarons from my first book just adds that bit of delicious fun!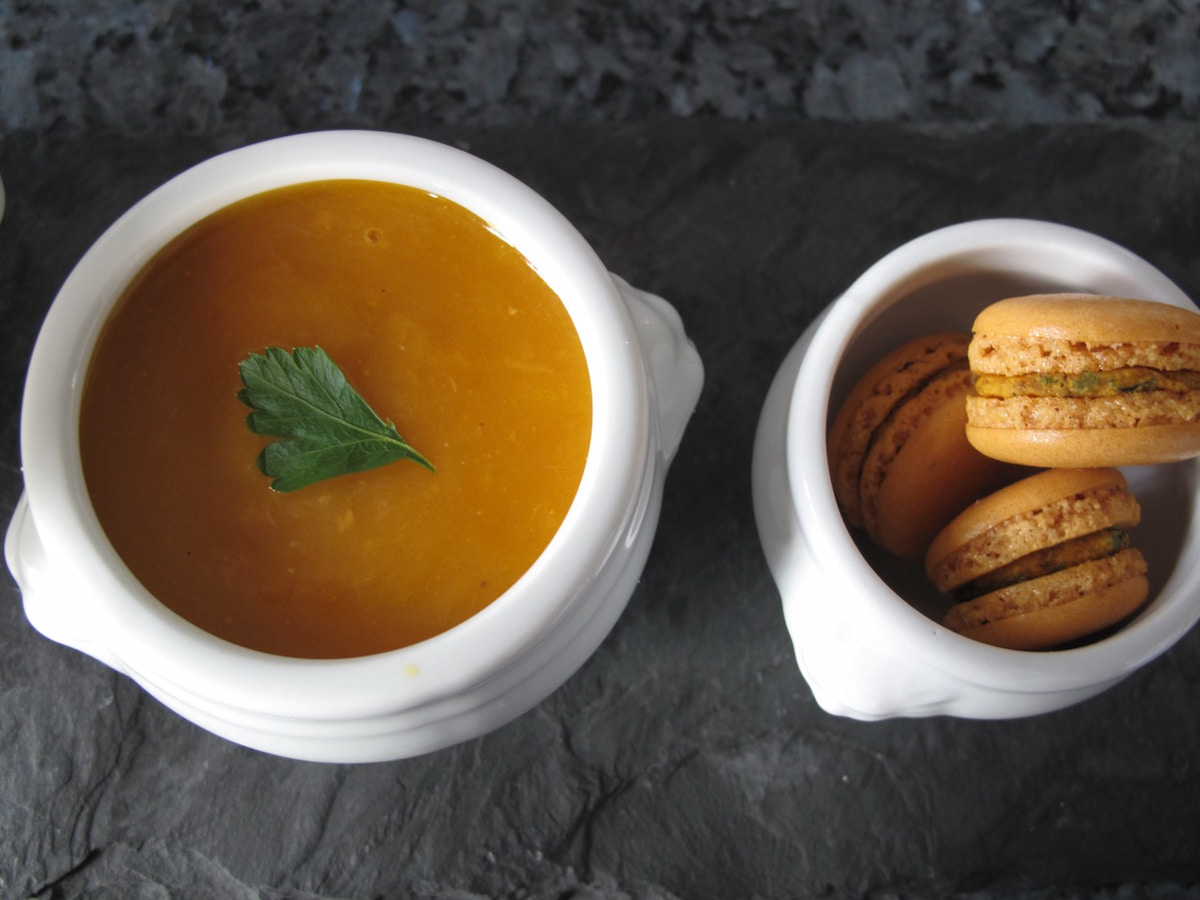 What are the Health Benefits of Eating Leeks?
It gets pretty cold mid-Autumn around Paris and so when I heard a French doctor on TF1 radio tell us how best to stay healthy and keep colds at bay, it was music to my cold little ears.
Moreover, his tip was also useful for those of us who perhaps over-indulge in rich, festive foods. His suggestion? Eat plenty of leeks. Apparently they help to clean out the gut. Trust the French to sound so poetic. So, as soon as it gets cold, I load up on fresh leeks (poireaux) at the market and use them in recipes like this one.
Now that we're stocked up on leeks, are you ready for a tasty clean-out? Then this is the ideal soup to precede and follow the holiday's festive meals.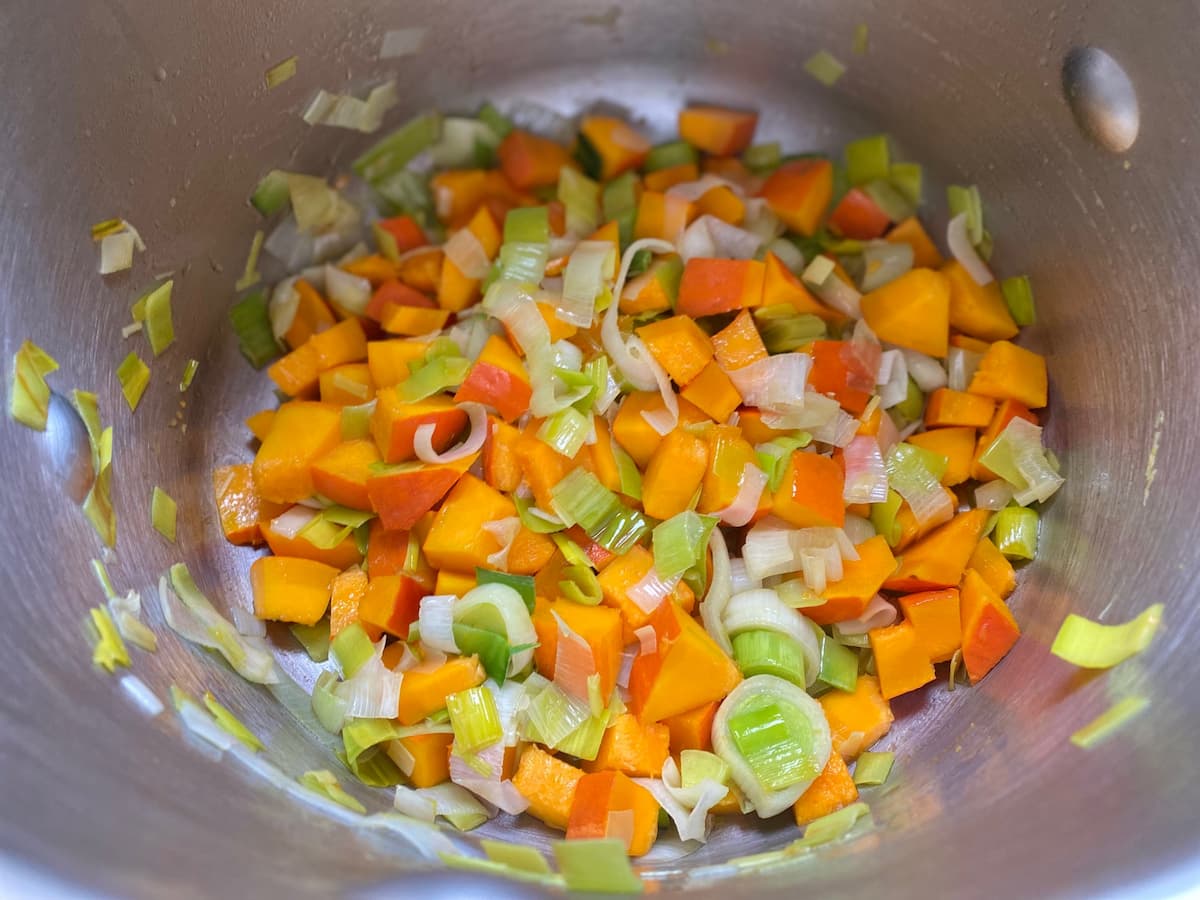 What Part of Pumpkin is Used for Soup?
I normally use regular pumpkin (bought in slices) from the market for this soup. Use the flesh only of regular pumpkin without the skin.
If you like a more intense pumpkin flavour, it's also great with red kuri squash, known as potimarron (Japanese chestnut pumpkin) in France. I love it so much, I even made delicious spiced potimarron macarons with it! The beauty of using Japanese chestnut pumpkin is that the skin is edible.
Roasted Pumpkin Ginger Soup
As it's difficult to cut through the pumpkin raw, I'd recommend roasting the whole pumpkin in the oven for 20 minutes first. This makes it easier to cut into chunks. It perhaps takes a bit longer to prepare but that way, you can call it roasted pumpkin soup!
Can you Eat Ginger in Soup?
Ginger is fabulous added to pumpkin soup. It gives a great spicy kick to bring us back on top form and it's particularly good for digestion. Moreover, ginger helps keep colds at bay and is good for virility. Oh-là là ! 
I use a good tablespoon of grated root ginger which is the best for this soup. However, ground ginger can also be used if you can't find it.
Incidentally, I love adding ginger to chocolate macarons (recipes in my books), chocolate fondant cake, rhubarb compote and to this moist passion fruit and chocolate cake.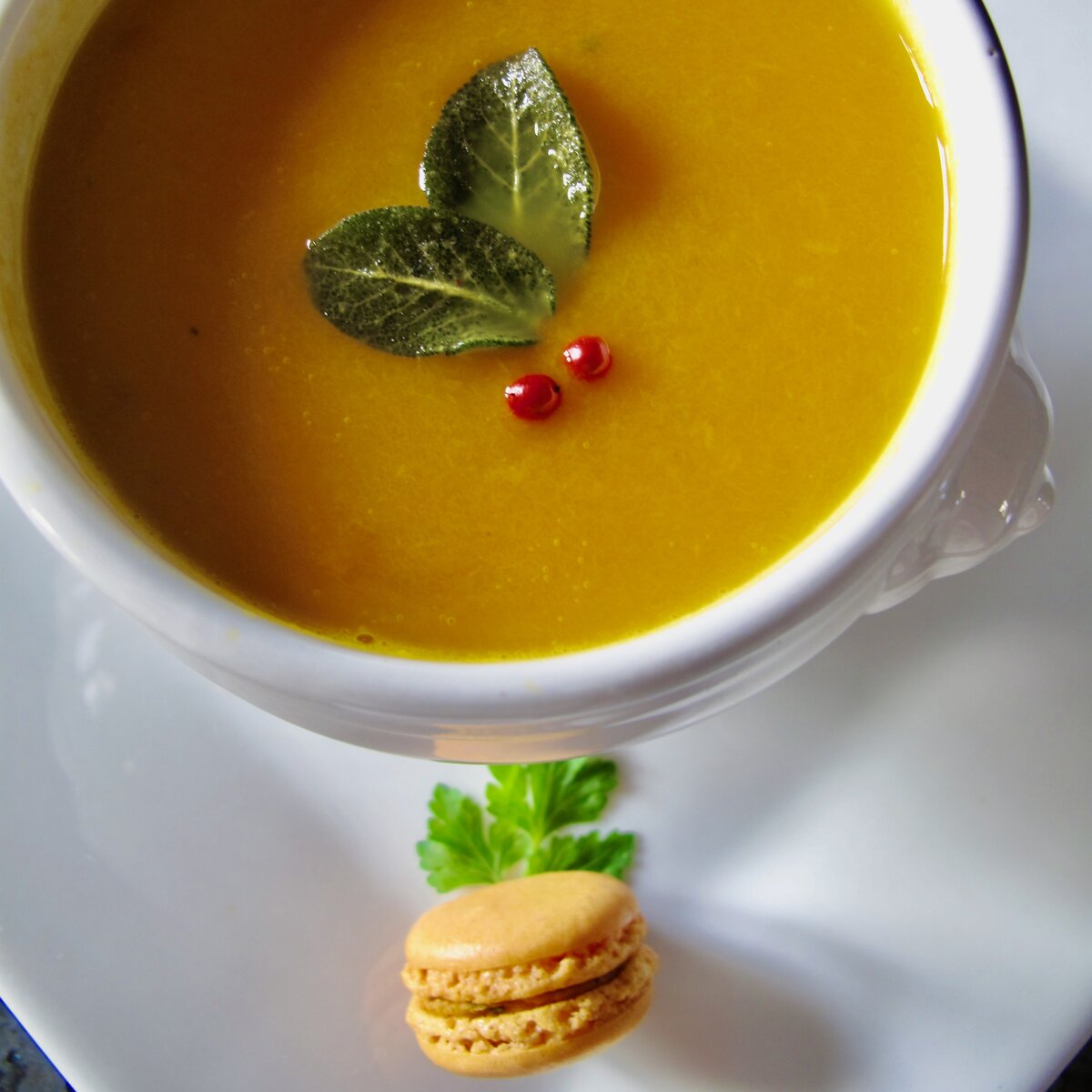 Is Pumpkin Soup Fattening?
This recipe is particularly healthy.  For a bowl, it counts in at just 155 calories.
Not only is it not fattening, but pumpkin soup is so healthy. It's full of iron, zinc, fibre and carotene (see more on the market pumpkin page). Carotene is what we all need at this time of year to bring the glow back to our cheeks.
Alternatively, if you're not following a particular calorie-counted or vegan diet, swirl in some cream just before serving. Plus, if not following a vegetarian diet, sprinkle on smoked crispy bacon as a delicious garnish.
To keep this a vegan recipe, however, for a festive look add some fresh herbs (parsley, coriander or sage leaves) to look like holly and add a couple of fresh cranberries or pink peppercorns.
Although ATTENTION! Pink Peppercorns should be strictly avoided if you suffer from nut allergies. Read more about why pink peppercorns should be avoided if you're allergic to nuts from my friend, Christina Conte.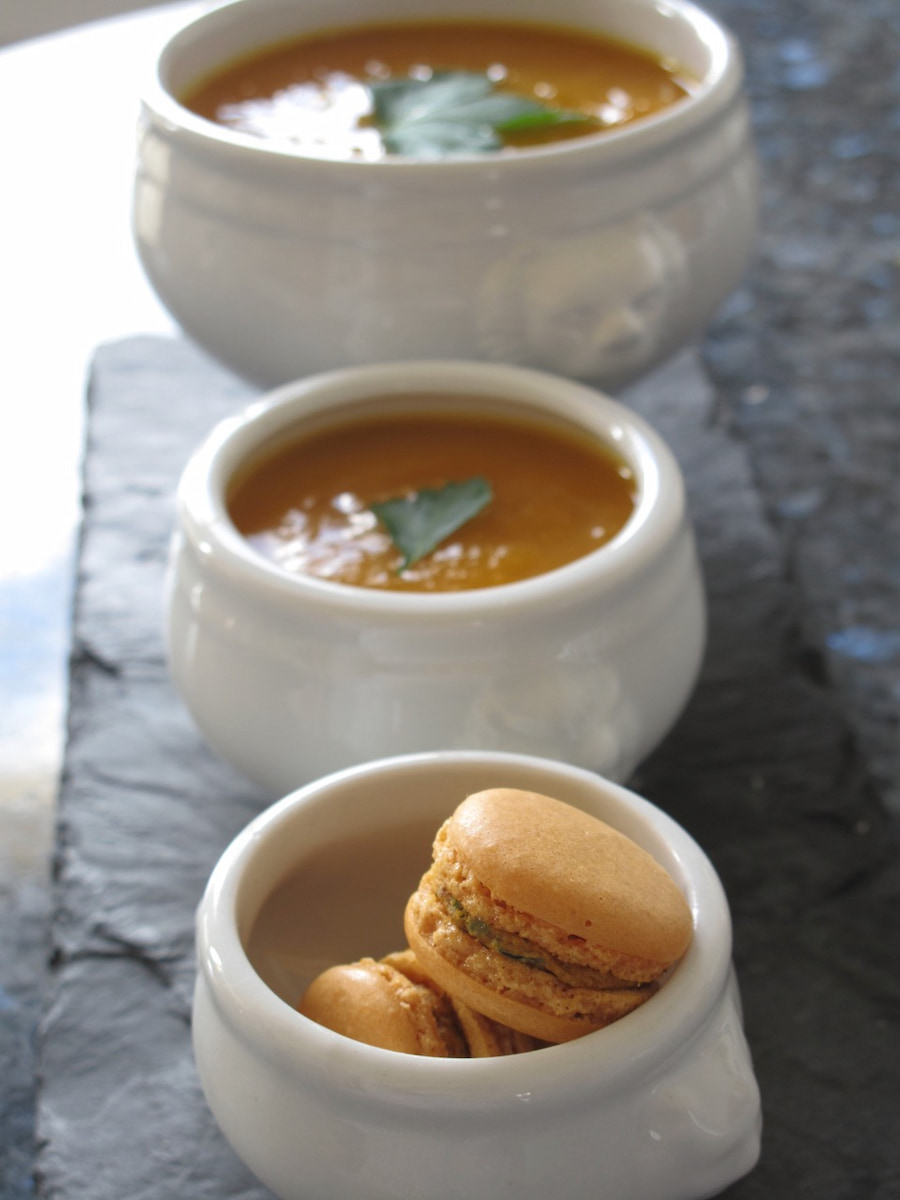 Take Pumpkin Soup to the Next Level: Garnish with Macarons
What? Macarons with soup? Intrigued faces are guaranteed at the table! I love taking guests by surprise with savoury macarons as a mini pre-starter or Amuse-bouche. Serve with a couple of mini curry tikka mac'sala macarons (See page 100 of my book, Mad About Macarons) The flavours together are a delicious adventure.
See more in my article on what to serve with savoury macarons.
Pumpkin Soup with Chestnuts
For a naturally creamy touch without adding any cream, toss in a few pre-cooked chestnuts in with the stock and the result is extra thick with a wonderful taste of Autumn.
Pumpkin Ginger Soup with Leeks
A spicy, warming pumpkin soup with the added health benefits of leeks and ginger, made in only 35 minutes. Serve with fried sage leaves for a festive touch 
Ingredients
2

tablespoon

olive oil

4

medium leeks

sliced

900

g (2lb)

pumpkin

peeled & chopped* (or one small potimarron chestnut pumpkin)

1

tablespoon

fresh ginger root

grated (or 1 teaspoon ground ginger)

850

ml (1.5 pints/ 3 cups)

vegetable stock

good

pinch

freshly grated nutmeg

salt & pepper

to taste
Instructions
Heat the olive oil in a large pot then soften the leeks and pumpkin together. Sweat gently for about 5 minutes then add the ginger. Sweat a couple of minutes more.

Add the stock (just enough to cover the vegetables), cover and simmer for about 25 minutes.

Blend with a hand mixer, add the nutmeg and season with fleur de sel salt and a few grinds of the peppermill to taste.
Notes
* if using Japanese chestnut pumpkin or red kuri squash (potimarron), roast whole in the oven for about 20 minutes to make it easier to cut into chunks. No need to discard the skin as this variety of squash is edible. To Serve: top with some fresh herbs (parsley, coriander or sage leaves). For a festive touch, add a couple of fresh cranberries or pink peppercorns (N.B. pink peppercorns are to be avoided if you have a nut allergy).
Also delicious with mini curry macarons (recipe in my book, Mad About Macarons).
This post was originally published 4 January 2012 but has been completely updated with new images, more explanatory text and a printable recipe card.