Healthy Chocolate Beetroot Cake, gluten free and reduced in butter and sugar. My best recipe, now updated, is so fudgy and moist, there's no need for any frosting or creamy filling.
Incredibly moreish, it uses good quality melted dark chocolate, based on a classic French flourless chocolate fondant cake but adapted for the added beetroot.
Can You Taste the Beetroot in a Chocolate Beet Cake?
Why is it that most people pull a face when you mention chocolate beetroot cake and ask,
'Can you taste the beetroot?'
In my carrot cake muffins and purple carrot cake, can you really taste the carrots?
Well no, you can't really taste it; it's part of the whole tasting sensation with the spices and cream cheese frosting. Likewise with this cake, you can't really taste the beetroot as such. It does have a slight taste of the vegetable but in a delicious sense.
To get to the root of it, perhaps many people are confused with the beetroot preserved in vinegar we so often see in supermarkets. It's good but better in salads and in this Corsican charcuterie plate. Keep vinegar or tinned beetroot well away from a chocolate cake! It should be just a plain, natural cooked beetroot without any additions whatsoever.
The taste in this cake is, therefore, subtly earthy. That's what makes it deliciously moreish.
If you can wait a day while the cake matures, the subtle beetroot flavour actually diminishes.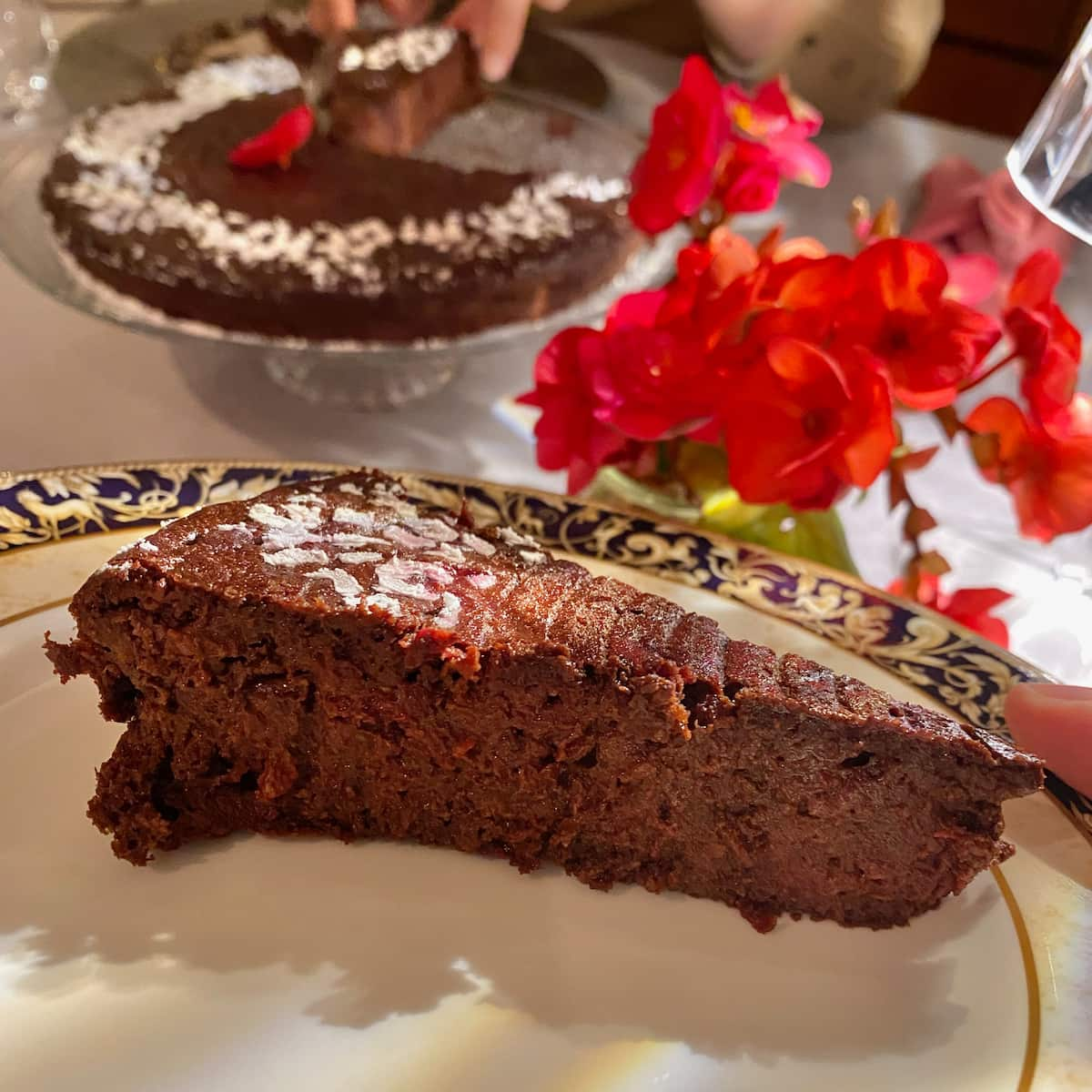 How do you Make a Delicious Chocolate Cake?
To make a chocolate cake delicious, the rule of thumb is to use good quality chocolate. In my humble opinion, based on testing so many of the best chocolate cakes in France, it's not enough to add just cocoa powder. If using cocoa powder, then ensure that's good quality too: unsweetened Dutch cocoa powder.
Melting dark chocolate (minimum 60% cocoa solids) over a double boiler just melts the chocolate gently without burning it and respects the quality of the chocolate. That's why recipes mention boiling water - it's to gently melt the chocolate.
The best chocolate is not all, however. The cake should also be moist. If cakes are slightly dry, it calls for added fillings and toppings which, quite frankly, in France isn't how we enjoy plain chocolate cake. They are more fondant and so we enjoy them mainly on their own, or served with a little ice cream, Chantilly or crème anglaise (the thinner French answer to custard).
See my other French-style chocolate cakes:
Extra Moist Chocolate Beetroot Cake
Beetroot also adds that perfect moisture and gives a fudgy texture. The result is the most fondant chocolate beetroot cake. Since I first posted this recipe in 2011, I am proud to have updated it by reducing the sugar and butter as much as I dare, while preserving flavour and textures.
It makes sense: it contains cooked beetroot, which already holds plenty moisture - so why add any unnecessary butter or fat to give moisture to a cake? After experimenting with the quantities, I'm happy at this quantity and it's my best chocolate beetroot cake yet.
What's more, by cutting down the sugar to just 100g, you'll see what I mean. Reducing sugar means you can really taste the good quality chocolate. That's why I also make cakes from scratch: to control the sugar quantity.
Just try a slice and you'll see what I mean.
Beetroot also gives this chocolate cake a luxurious, natural deep purple velvet colour without adding any food colouring. If you don't want to actually see bits of grated beetroot in the cake, then purée the beetroot instead. Personally I love it grated because I'm that wicked Mum who says, 'Eat your delicious vegetables and love them'.
Until you've tried this recipe, don't turn down the opportunity to enjoy chocolate and beetroot flavours together. I even created a chocolate and beetroot macaron in my first book, Mad About Macarons: Make Macarons like the French.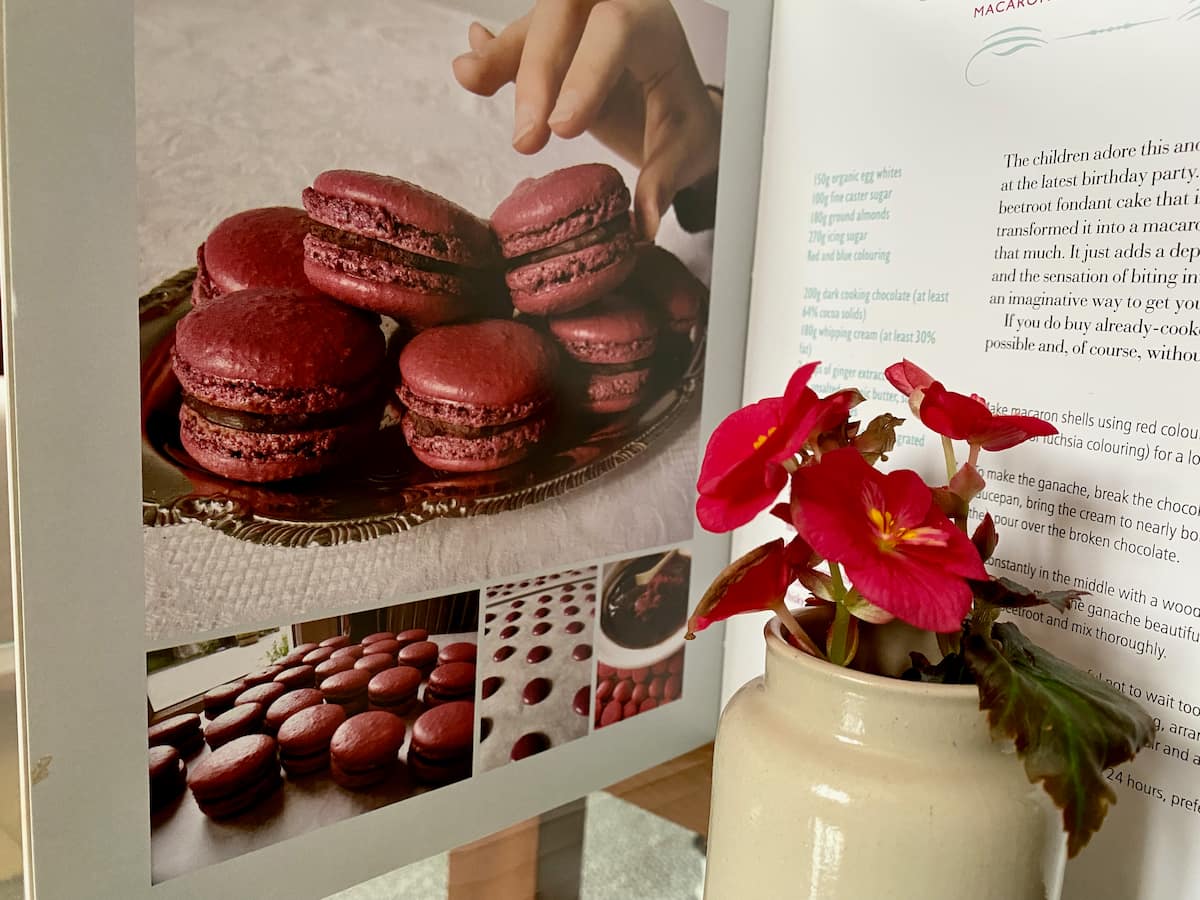 How is Beetroot Cooked for a Cake?
Choose unblemished and hard beetroots. Depending on their size, bake in the oven anything between 25-45 minutes, covered in foil to trap in the beetroot's moisture. Remove from foil then leave to cool.
Once cool, peel off the outer skin to reveal brightly coloured cooked beetroot.
For much more on cooking beetroot, roasting it with interesting facts,
see the French market page guide to beetroot (betteraves).
Quick and Easy Recipe
So the cake is packed with good chocolate and extra moist, thanks to the beetroot. It's reduced in sugar and butter so don't go cutting any more than what I've developed in the recipe. I've done the work for you!
What's more, this cake is so quick to make too:
There's no need to whip up the egg whites;
No need to add any toppings or fillings;
The cake is made in just 40 minutes.
How to Make a Healthy Chocolate Beetroot Cake
First line a 23-24cm round baking tin and weigh all your ingredients. Preheat the oven to 180°C fan (more details below in the printable recipe card).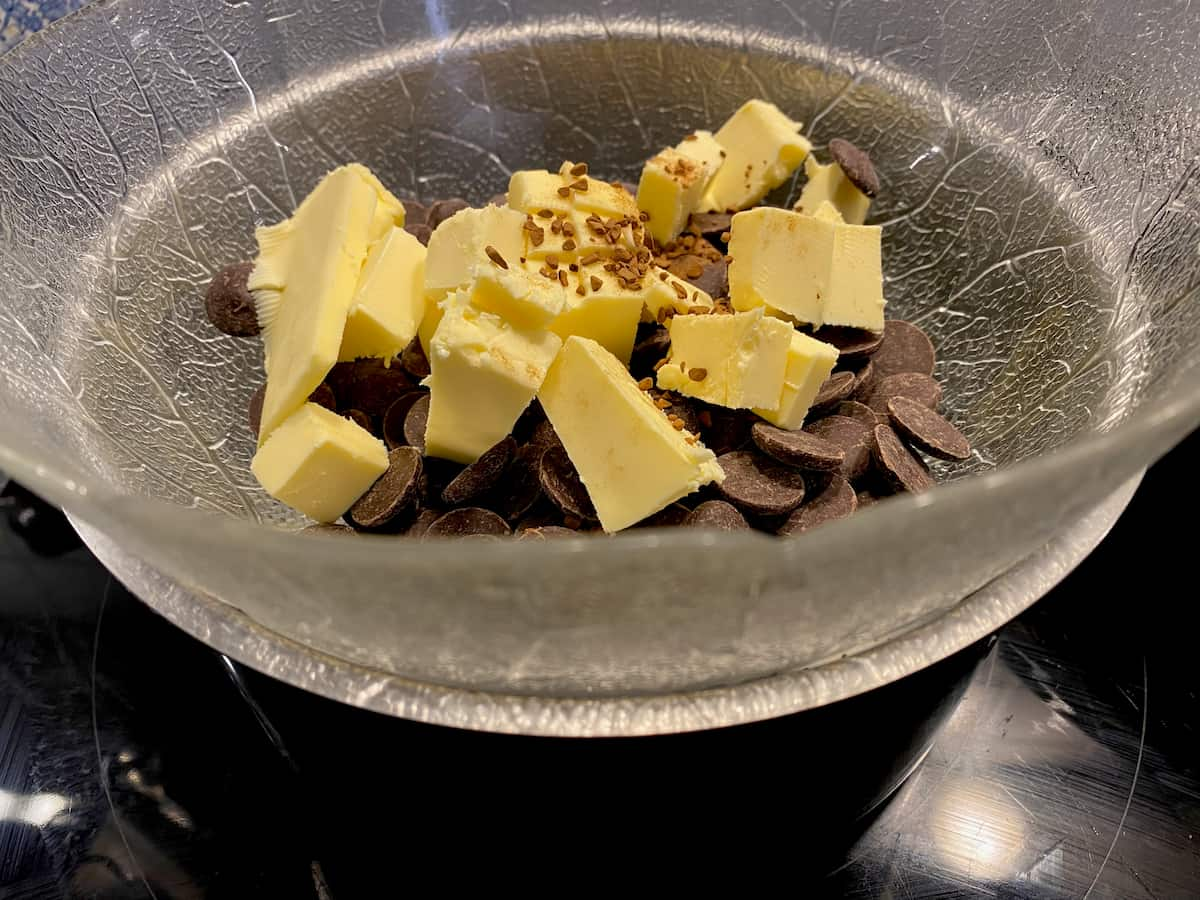 Gently melt the bits of chocolate, butter and coffee in a double boiler - over a pan of simmering water
Peel the cooked (natural) beetroot then either grate (if you like to see the red bits in the cake) or purée in a blender
Once the chocolate has melted, add he sugar and stir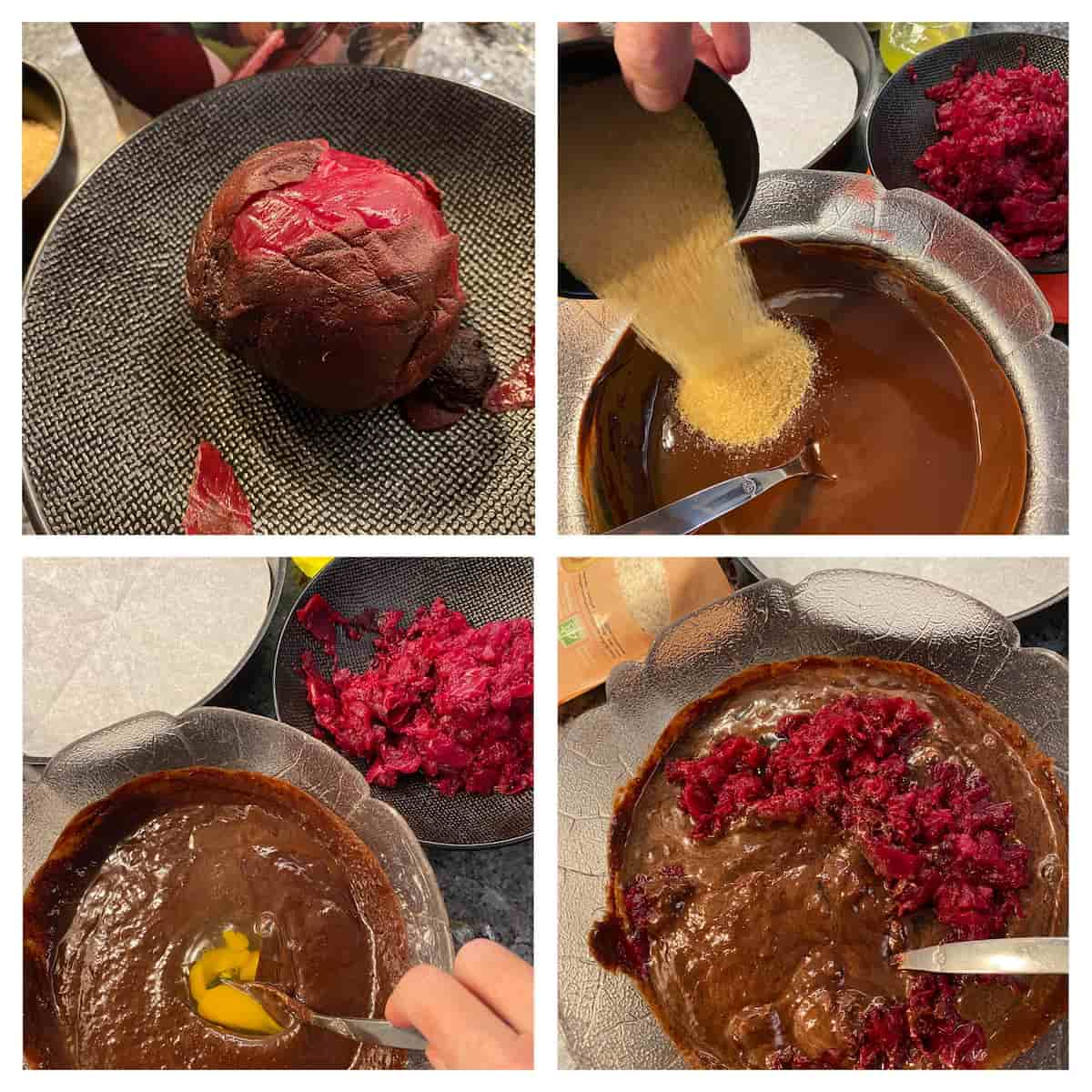 Stir in the eggs, egg whites (no need to whisk) until well blended together. Then add the grated or puréed beetroot.
Bake for 25 minutes.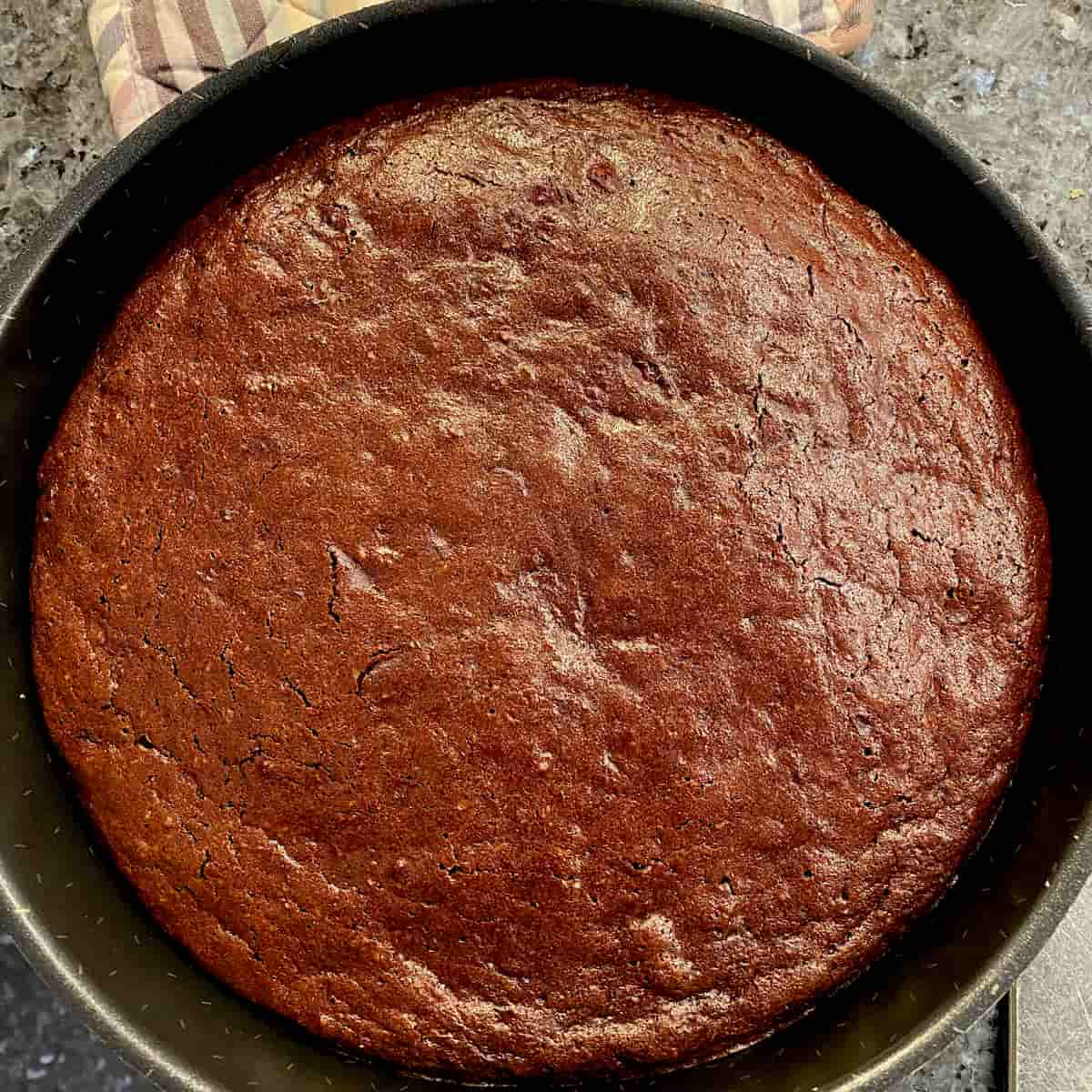 Leave to cool in the tin for a few minutes then upturn on to a wire tray to cool and peel of the parchment paper lining of the tin.
It's ready to eat - or leave overnight to mature for a day.
When ready to serve, dust with a sprinkling of icing/powdered sugar or sprinkle over a paper doilly for a creative pattern.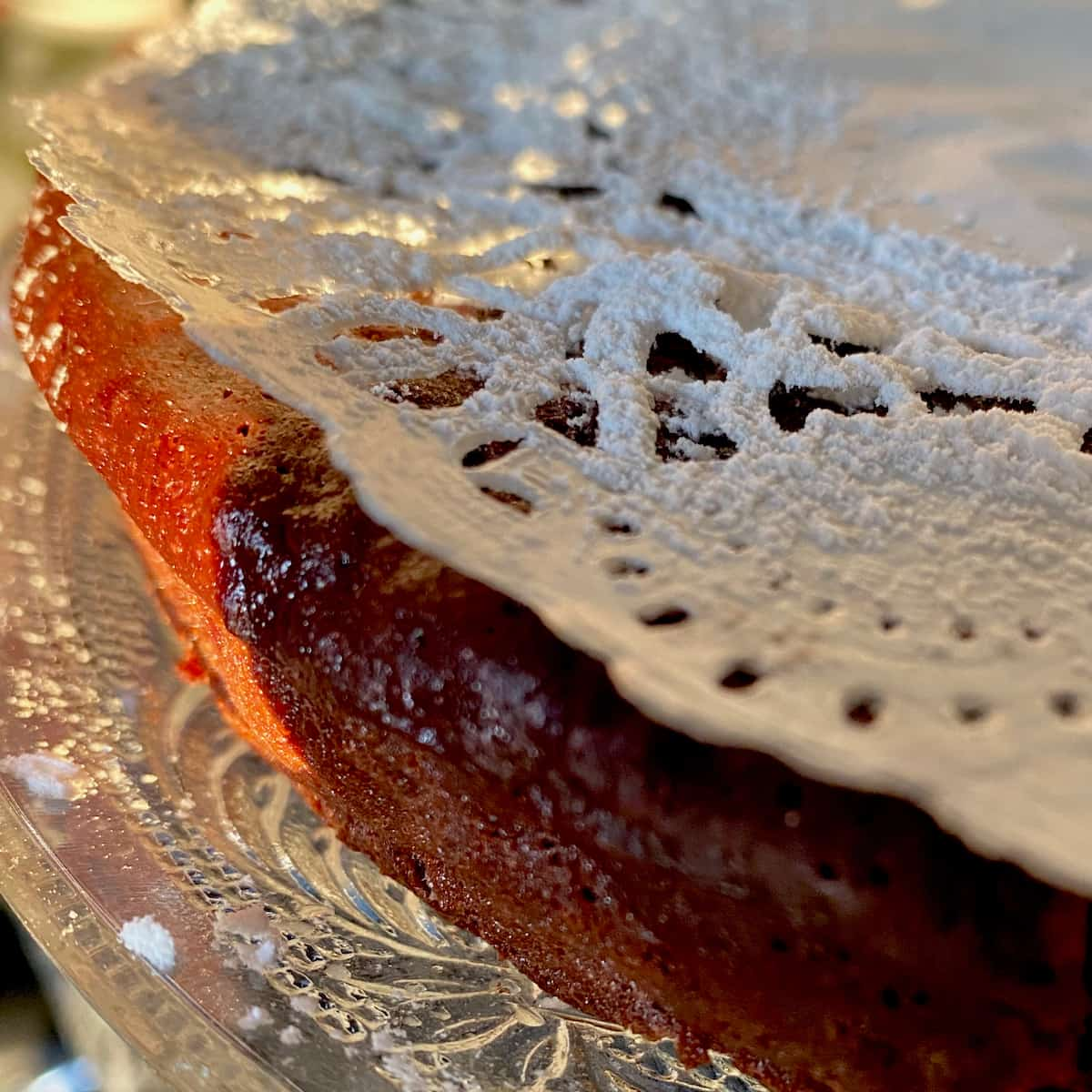 How Best to Serve?
Serve slightly warm or at room temperature as a dessert. As beetroot marries well with ginger and orange, serve with a little Chantilly cream with a touch of orange zest or topped with a few bits of glacé ginger.
I personally love this cake on its own without any extras. It would also be good with a topping of nougatine (caramelised roasted nuts).
If you prefer to top with a frosting, use the orange frosting recipe in my carrot cake muffins which is also reduced in sugar and gluten free (with either full or half fat cream cheese). Alternatively, serve with a Chai crème anglaise.
To drink: enjoy served with tea or a 'noisette' as they ask for in Paris (espresso coffee with a dash of milk, like a macchiato), an off-dry Champagne, a fruity red wine or dessert Granache wine.
Chocolate Beetroot Cake
Healthy Chocolate Beetroot Cake. Gluten free, flourless, reduced in butter and sugar, it's so moist and fudgy, it's best on its own without any frostings or toppings.
Equipment
non stick metallic round cake tin

23-24 cm
Ingredients
200

g (7oz)

dark chocolate (bittersweet)

minimum 60% cocoa solids

100

g (3.5oz/1 stick)

butter

unsalted

1

teaspoon

soluble coffee powder

100

g (3.5oz/½ cup)

cane sugar

3

eggs

organic

3

egg whites

organic

230

g (8oz)

cooked beetroot, grated or puréed

organic (250g before peeled)

25

g (1oz/¼ cup)

ground almonds or hazelnuts
Instructions
Line the bottom of the cake tin with baking parchment and preheat the oven to 180°C fan/200°C/400°F/Gas 6.

Set a bowl with the broken chocolate pieces, butter and coffee over a pan with a little simmering water (double boiler/bain-marie). Ensure the bowl doesn't touch the water.

Once melted, stir in the sugar. Take off the heat, gradually add the eggs and whites into the mixture (no need to beat the whites - just stir well into the mix), stirring well after each addition.

Stir in the grated (or puréed) cooked beetroot and ground almonds/hazelnuts.

Pour the mixture into a lined (non-stick) cake tin and bake for 25 minutes.
Notes
Measures: Please note that all my recipes are best made using digital kitchen scales in precise metric grams. Both ounces (and cups) are given as an approximate guide. 
If you prefer a cream cheese frosting on top, use my recipe topping for carrot cake muffins using either full or half fat cream cheese.
Nutrition per 82g slice: 7g protein; 15g carbohydrates; Glycemic Index: 7
This recipe was first published 3 February 2011 but is now completely updated.
The recipe has been slightly adjusted to contain even less sugar and butter.