An easy 'Terre et Mer' Salad, where land and sea meet on a French charcuterie plate with Corsican cured ham, smoked salmon and a green salad with apple and beetroot. Made in under 30 minutes.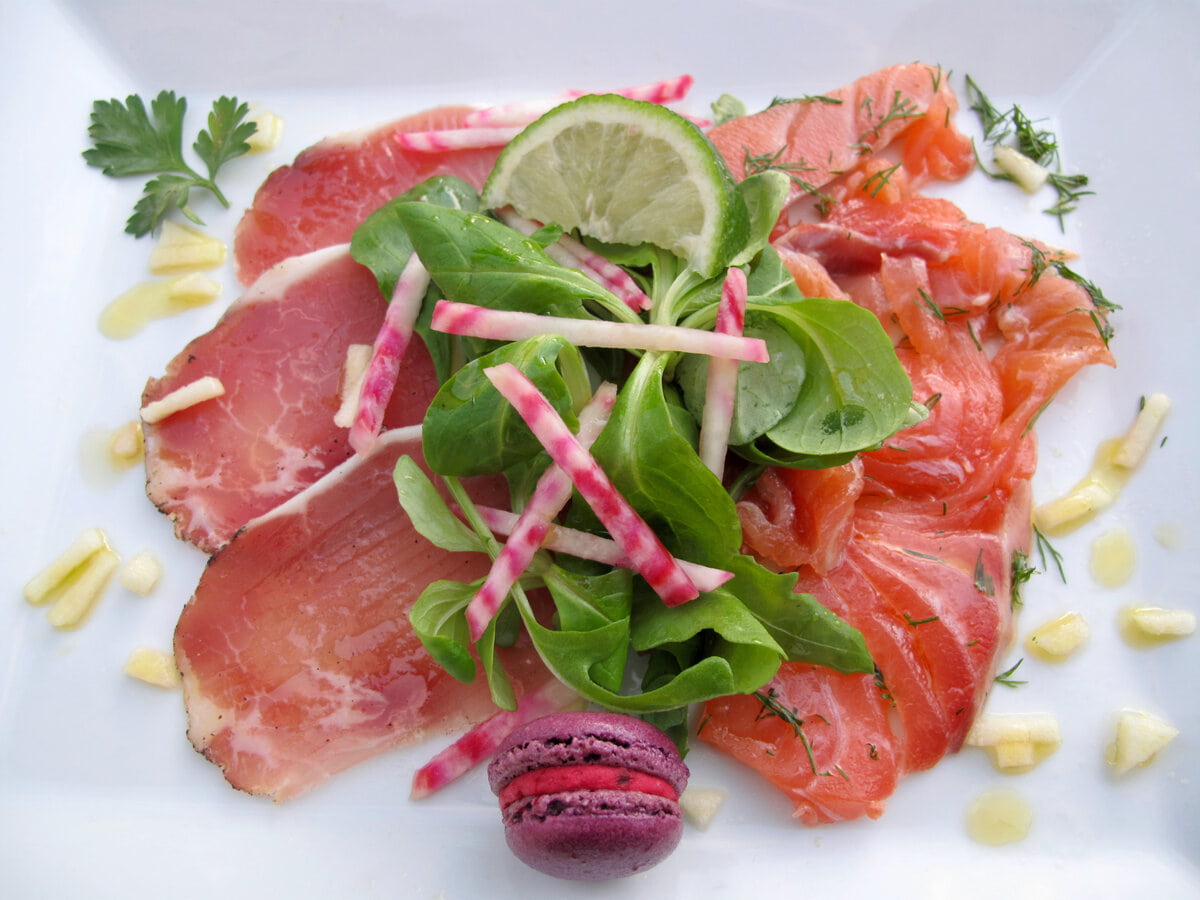 Where land and sea meet on a charcuterie plate
A Taste of Corsica
Visiting family around Calvi, on the west coast of Corsica, it's typical to see a wild and dramatic coastline.
Genoese Towers dotted along Corsica's dramatic coastline almost echo cries from the past from distant tower-keepers, warning of pirates or invaders to claim the Island of Beauty.
Windy walks along the ragged coast of Punta di Spanu is not just invigorating. Its air is also filled with the heady aromas of the maquis.
What is the Corsican Maquis?
The Corsican maquis, or undergrowth, is a heady mix of wild herbs: rosemary, thyme, myrtle, wild cistus, laburnum, sage, mint and curry plants.
Such an intoxicating mixture of salty, smoky, spicy perfumes come together as a herbal, almost gingerbread-like smell around the island. Honestly, it's so particular to Corsica, I wish I could bottle its unique fragrance.
Corsica's Cuisine
Just 15 minutes by car inland and you're already in the often snow-capped mountains. Donkeys and goats graze on the higher maquis-floored slopes. Life is at a completely different pace to Parisian life.
With so much coastline you'd think that Corsican cuisine is centred around fish. Conversely, it's more about the land - with slow-cooked family dishes like veal and pepper stew.
It's also rich in its ewe's milk or goat cheese, with its most famous being brocciu.
A bit like ricotta, brocciu is the main ingredient of its most famous dish, Cannelloni au Brocciu. This is more than any ricotta and spinach dish with its typical herbs, echoing the land- much like the simple Mint Omelette my Corsican mother-in-law makes often.
Likewise, try its most popular dessert, the fiadone Corsican cheesecake. Moreover, don't ever leave the island without trying some beignets au brocciu - either salted or sweet, found in the best bakeries.
What is Typically on a Charcuterie Plate in Corsica?
Corsica is an island where charcuterie is king and any mountain walk (notably the GR20) will finish with a huge board of charcuterie to share. Please don't be confused with charcuterie boards seen on the internet that show cookies, cakes, unicorns and more sweet treats - that is NOT a French charcuterie plate at all. For a good explanation of the real-deal, see my friend Cynthia's post on what a typical board should look like, from What a Girl Eats.
A French charcuterie platter is typically simple as the emphasis is on the cured meats - and there are plenty of varieties to choose from:
Lonzu - salted tenderloin and less fatty, as it's the leanest cut of cured ham with almost a sweet, nutty taste;
Coppa - dark crimson coloured, this is made with pork loin and has fat marbled through the muscle. Perhaps the most popular of Corsican meats and easier to find around France;
Figatellu - unlike the others, never eaten raw but cooked or bbq. U-shaped and almost black, this sausage made of liver and minced pork meat is particularly strong in flavour;
Prisuttu - much milder than above, this cured meat is also dark and salted with sea salt.
Each platter is based around these above cured meats (see Corsican charcuterie for more detail) with a little cheese (they are so strong, a little goes a long way!) plus a pot of typical Corsican fig jam to put out the cheese and figatellu fires!
I couldn't resist adding a savoury macaron, just to add a little Parisian fun to the whole plate!
Inspiration for Land & Sea Salad
This starter recipe got its inspiration from the restaurant, U Fanale in Calvi. When we visited a few years ago, chef Philippe Gouret surprised us with a Corsican starter salad of terre et mer, translated as where land meets sea.
At first glance, it seems a strange combination with smoked salmon and smoked charcuterie on the same plate. However, just try them together. It works!
How to Make a Simple French Charcuterie Plate with Salmon
Serve the smoked salmon (or smoked trout) with thin slices of your favourite charcuterie or cured meat. Add some lamb's lettuce (salade de mâche) or watercress (cresson) and julienne strips of chiogga beetroot (marinated in olive oil and Xeres vinegar), like the chef prepared.
I add some finely chopped Granny Smith apple marinated in lemon juice for that extra personal touch.
Try it also with fresh figs or some radishes in season.
Plus, adding a beetroot and horseradish macaron takes it to the next level! Macaron recipe in my book, Mad About Macarons - there's a whole chapter on savoury macarons.
French Charcuterie Plate with Salmon (Salade Terre et Mer)
An easy 'Terre et Mer' Salad, where land and sea meet on a French charcuterie plate with Corsican cured ham, smoked salmon and a green salad with apple and beetroot. Made in under 30 minutes.
Ingredients
8-12

thin slices

charcuterie* (see notes)

(Lonzo, Coppa, or other cured ham)

8

slices

smoked salmon

(or smoked trout)

1

tart apple (Granny Smith, Ariane)

chopped finely

½

lemon, juice only

(or lime)

1

chiogga beetroot

chopped finely in strips

3

tablespoon

olive oil

extra virgin

1

tablespoon

Xeres wine vinegar

(or white balsamic)

Lettuce of your choice

(lamb's lettuce or watercress)

8

radishes

halved (optional for decor)
Instructions
Marinade the apple slices immediately in the lemon/lime juice.

Prepare the vinaigrette of olive oil and vinegar, whisking together. In another bowl, marinade the raw thin beetroot slices in a tablespoon of it.

Prepare the plates with charcuterie slices on one side, smoked salmon on the other side and in the middle, place the lettuce leaves and top with vinaigrette, fleur de sel salt, a few turns of the peppermill, plus the beetroot and apple slices at the last minute.
Notes
Serve either 2-3 slices of charcuterie and salmon each per person, according to taste. Top with fresh herbs of your choice and serve with either a crusty baguette or oatcakes.
Here I add mini beetroot and horseradish savoury macarons (recipe in my first book, Mad About Macarons)
This recipe was first published 9 November 2012 but is now completely updated.