A gluten free moist chocolate almond cake, made extra special with a hint of Grand Marnier and topped with a festive glaze. A popular French cake often served on special occasions, fit for the Queen of Sheba, otherwise known as the Gâteau Reine de Saba.
Mention 'The Queen of Sheba' and Handel's famous music from Solomon plays full swing in my head.
Little did I know when I married my Frenchman in 1997 that the Queen of Sheba is la Reine de Saba in French.  So imagine, years later, how it was music to my ears to hear that the French make a gluten-free chocolate cake called the Queen of Sheba. A Reine de Saba Chocolate Almond Cake is a welcome arrival to any party, topped with a silky boozy glaze.
Reine de Saba (Queen of Sheba)
I loved to play 'The Arrival of the Queen of Sheba' as a piano duet with my bestie growing up in Edinburgh.  Even the day I married my Frenchman, Dad and I arrived to Handel's music as I played Queen for the day. What a memorable entrance it was with an oversized Scottish golf umbrella, wondering if the organ of Saint Giles would be drowned out by the bagpipes playing to the tourists outside.
Only recently I discovered that there's a Reine de Saba museum in Paris, particularly dedicated to Yemen. Out of 27 years in the City of Light, I still haven't been to it yet on rue de Pradier in the 19th. So, if you have been or plan to go, please tell me below in the comments.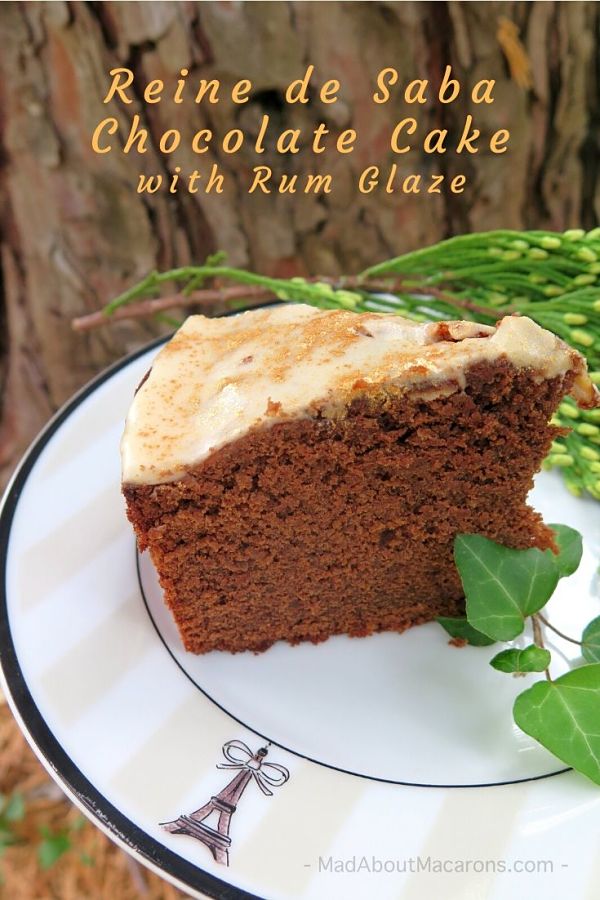 Reine de Saba Chocolate Almond Cake Recipe
I saw a recipe for the Reine de Saba cake in a free French booklet of '50 Best Chocolate Recipes' published by France Loisirs many years ago. It was popped into my bag at the checkout after Christmas shopping in a French kitchen appliance shop in Paris's 16th. If you know the chic 16th in Paris, getting something free here is pretty much unheard of, so I treasured it.
Earmarking the festive-looking Reine de Saba chocolate cake, this wee book of recipes was forgotten about during that festive season madness. It was put away in the bookcase for another Christmas, dwarfed and hidden by my other cookbooks. Then recently on a bout of tidying (inspired by an episode of Marie Kondo on Netflix, as I thought, 'Do I really need to keep all of those books?'), I re-discovered this slim chocolate-coloured book.
It fell apart the moment I opened it. Well, it was free.
That Reine de Saba recipe still looked enticing. After trying it out a few times using different moulds, toppings, and tweaking a couple of things like reducing sugar and adding rum, this is it. That wee book perhaps is already in tatters but this recipe is definitely a keeper and now a firm, family favourite next to the Chocolate Ginger Fondant Cake.
Gluten-Free Dessert Recipes
Can you Handel another French gâteau that just happens to be a gluten free chocolate cake? If you would like more recipes like this, don't forget that you can find all my gluten free recipes on le blog.
What Can I do with the Leftover Egg Yolks?
As you can see from the recipe below, this recipe calls for two egg whites. Normally egg whites can keep for a few days in the fridge but I prefer to use up fresh egg yolks as quickly as possible on the day.  You'll find a whole index of egg yolk recipes to choose from by number of yolks.
French Christmas Dessert Recipes
The baked, crispy glaze topping takes this recipe into Christmas dessert mode or for a special occasion birthday cake. The family loved this topped with freshly whipped Chantilly cream, laced with just a touch of dark rum (or with Grand Marnier®).
Finish off with a dusting of unsweetened chocolate powder or edible gold dust. If you like your Christmas chocolate cake spiced, then add a teaspoon of gingerbread or pumpkin spice to the cake and/or the glaze.
Plus (you know it's coming, don't you?) why not serve with some almond macarons? Don't forget that Parisian macarons are also gluten free.  You'll find the recipes for all my macarons in both my books, Mad About Macarons and Teatime in Paris!
Reine de Saba Chocolate Almond Cake
Reine de Saba Chocolate Almond Cake
---
Description
A French celebratory, gluten free moist chocolate and almond cake, made extra special with a hint of Grand Marnier and topped with a festive glaze.
Ingredients
125

g (4.5oz)

dark chocolate

(min. 60% cacao)

75

g (3oz)

butter

unsalted, diced

3

organic eggs

separated

1

egg white

75

g (3oz)

sugar

75

g (3oz)

ground almonds (almond flour)

1

tbsp

potato flour or cornflour

(Maïzena)

2

drops

vanilla extract

(or 1/2 tsp vanilla powder)

pinch

salt

(fleur de sel)

1

tbsp

Grand Marnier® (or dark rum)

optional
For the Glaze:
175

g (6oz)

icing (confectioner's) sugar

1

egg white

1

tsp

Grand Marnier ® (or dark rum)

optional

1

tsp

gingerbread or pumpkin spice

optional
Instructions
Break the dark chocolate into bits in a bowl with the diced butter and place over a pan of simmering water (bain- marie). Ensure the water doesn't touch the bottom of the bowl so not to overcook the chocolate. Mix together until melted and set aside.

Preheat the oven to 200°C/180°C fan/400°F/Gas 6. Grease a 20cm cake tin with a little butter.

Separate the eggs: place the 4 egg whites in a large clean bowl to whip them later. In another bowl, place the 3 egg yolks and whisk together with the sugar until light and creamy. Add the cornflour, vanilla and stir in the ground almonds. Add in the melted chocolate, alcohol if using, and mix together. Set aside at room temperature.

Whisk the egg whites with the salt in either a stand mixer or using an electric hand whisk. When the whites are whipped up and firm, gently fold into the chocolate and almond mixture.

Pour the batter into the cake tin and bake for about 20 minutes without browning the surface (a smaller, higher cake tin will need longer baking, about 30 minutes). Remove from the oven to cool.
Make the Glaze:
Mix together the egg white with the icing sugar and Grand Marnier (or rum) if using.

Depending on the cake tin, there are 2 ways of baking the glaze:

1) Directly in an easy-release cake tin: once the cake is cooled down (but still warm), spread on the glaze and return to the oven for no more than 5 minutes. Remove from the oven, leave to cool then turn out on a serving plate.

2) Remove the cake from the tin and place on an ovenproof serving plate. Spread on the glaze then return to the oven for no more than 5 minutes. Remove from the oven then decorate, if desired.
Notes
For special occasions such as Christmas, serve the cake topped with whipped cream laced with a dash of Grand Marnier® or rum or simply with a dollop of crème fraîche.