Arguably the best pea soup recipe in the world. An authentic, easy French recipe for Potage Saint-Germain. Historically, made with fresh peas - or use frozen when out of season. Can also be made with split peas from the pantry, although takes longer.
Easy Pea Soup Recipe
This isn't a brand new recipe and not one I can call my own that has been developed.
Instead, this is taken from one of The most famous recipe books for chefs by Auguste Escoffier's Le Guide Culinaire (1902). In it, he specifies that the soup's purée base (called 'Saint Germain') is made using fresh peas.
With very few ingredients, it's so easy to prepare and cook. In fact, it's ready in just 35 minutes!
Frozen Pea Soup Recipe
As fresh peas are not always available in France outside of Spring and Summer, make this using frozen peas in winter. They're just as healthy and even better if you can use organic ('bio' in France).
Split peas as a pantry staple are good too but they take longer to prepare. Details are in the recipe card below.
If you want your pea soup like the Count Saint-Germain, leave the carrot out but I like the addition, as it complements the sweet taste of the peas. That way, I omit the tablespoon of sugar that chef Escoffier added.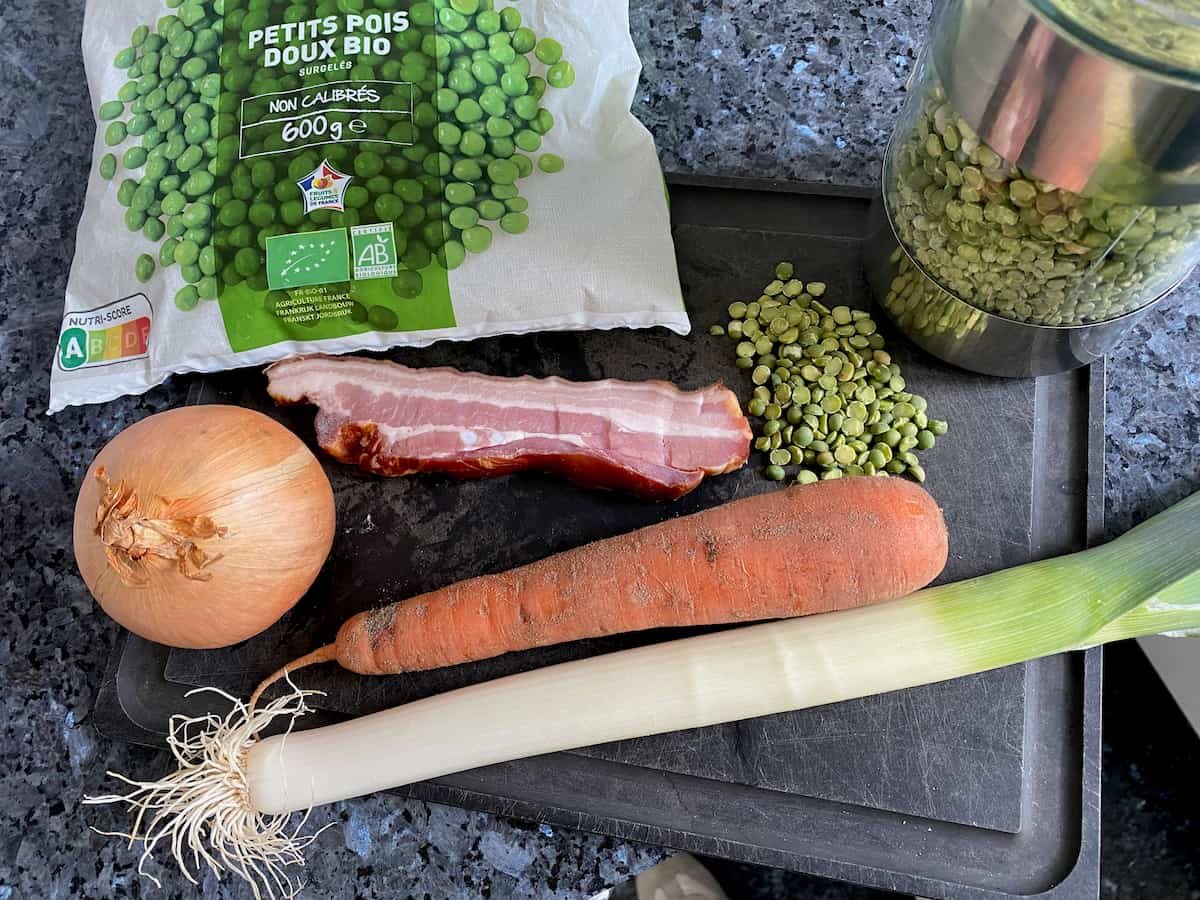 What's in a Potage Saint Germain Soup?
An authentic Saint Germain potage is mainly made with the freshest of peas and has the following basic ingredients:
fresh peas but when out of season, use frozen. The modern version has gradually replaced the fresh with split peas from the pantry;
bacon bits or lardons;
leek (including the green part);
carrot (optional);
lettuce leaves (add if the soup is too pale);
a bouquet garni (bay leaf, fresh thyme and parsley).
I also sometimes add an onion - but don't tell anybody, peas. Living on the risky side of life, you say?
Why is the Soup Called Potage Saint Germain?
When I first heard of the soup's name, I was all excited thinking it was from our local town of Saint-Germain-en-Laye just outside of Paris. I was wrong. It's a pity because we even have a local baguette called une Saint Germain! Excellent accompaniment.
Instead, it was Louis XVI's (16th) war minister, Count (Comte) Claude-Louis de Saint-Germain that gave the soup its name. He adored fresh peas so much and as he was also a specialist in agriculture, I guess he had green fingers! Although in Larousse Gastronomique, it says it was Louis XV's war minister - so who's correct? Please leave a comment if you have any ideas. Although I will still sleep alright tonight not knowing for sure...
I have tried to find more information about this but alas, all I can find is from our tourist office in les Yvelines. The Count loved the particular fresh petits-pois de Poissy (near St Germain), Makes sense:'Petit Pois Si!' Get it?
shelling peas means green fingers
What is the Difference Between Split Pea Soup and Pea Soup?
Split peas are a pantry staple but they also make pea soup thick. They also give a slightly yellowish tinge to the final soup and need to be cooked slightly longer than fresh. As split peas are lighter in colour, you may want to green up the soup a bit by adding a few lettuce leaves and more of the green part of the leek.
As split peas are dried, they also need to be soaked in advance. Weigh them out in a large bowl and cover with water for about 2 hours.
On the other hand, using fresh peas means that the colour is a much more vibrant green and the cooking time is shorter.
For more, see the French market page on fresh peas.
Pea Soup Recipe with Ham
Ideally use a chunk of ham or bacon and cut into small strips - otherwise use ready-prepared bacon bits or lardons.
Fry the bacon bits without any oil or butter (there's enough fat in them) for about 5 minutes then add the chopped leeks and carrots.
Toss them around in the bacon, cover an leave to soften for another 5 minutes.
Add the fresh (or frozen peas) and bouquet garni.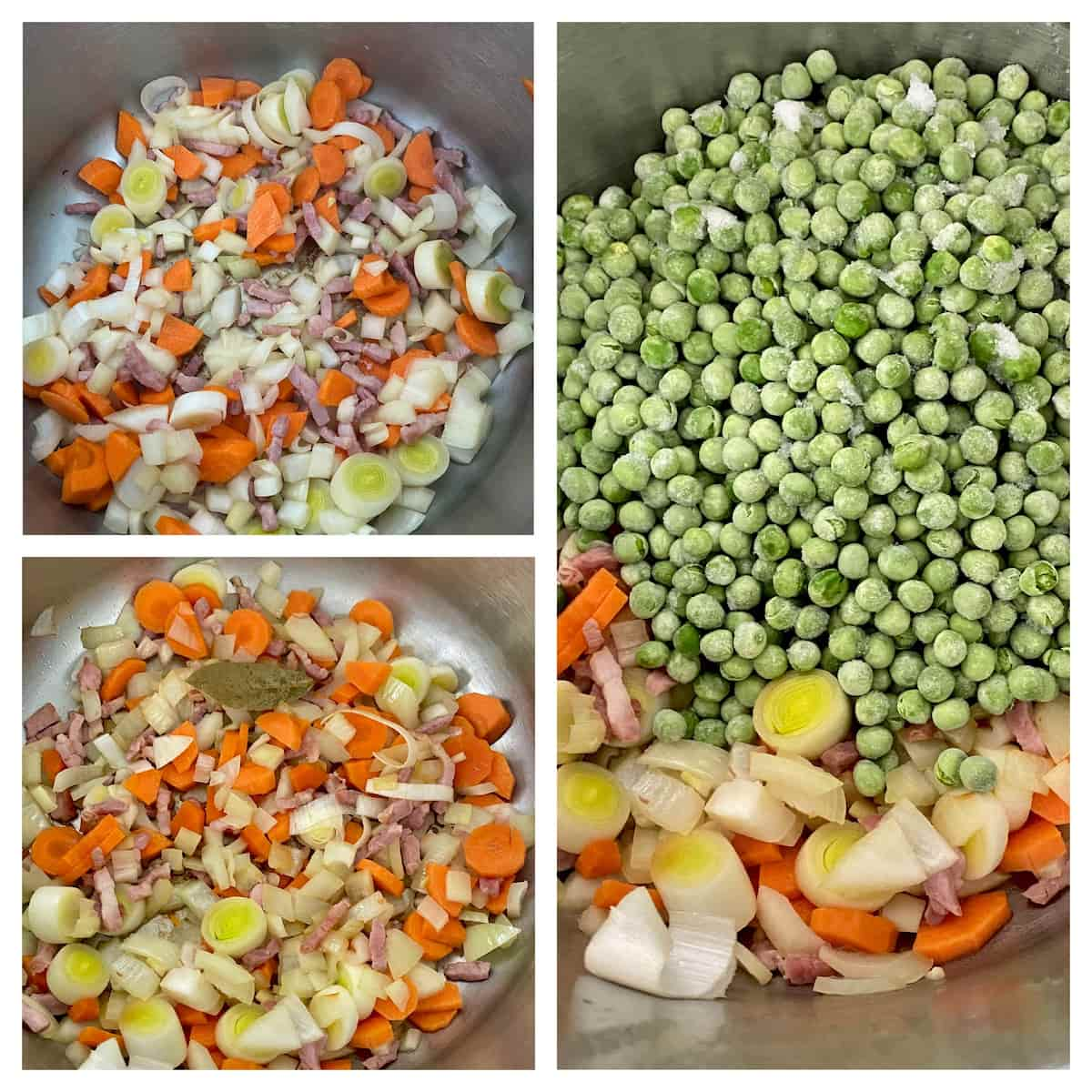 Add the water and salt. Bring to a short boil.
Cover and simmer for 15 minutes (or 20 minutes if using frozen peas).
Discard the bouquet garni and reserve a ladleful of the peas for a garnish.
Blitz with a hand blender or mixer to blend the soup until smooth then add the ladle of peas.
For a vegetarian version, simply omit the ham or bacon.
My tip: I often like to replace it with a little smoked paprika to give the impression there's ham in it.
Garnish for Potage Saint Germain
According to chef Escoffier, le potage Saint Germain is served:
"...with a garniture of two spoons of fine, green peas and tufts of chervil leaves." - Auguste Escoffier (Le Guide Culinaire)
So just before mixing the soup, take out a ladle and set aside. Blend the soup with an immersion blender or mixer then add the peas at the end as the garnish.
I don't know about you, but chervil isn't always easy to find so either add it, use a little fresh parsley or leave without. Don't forget the knob of butter to be added also at the end of cooking.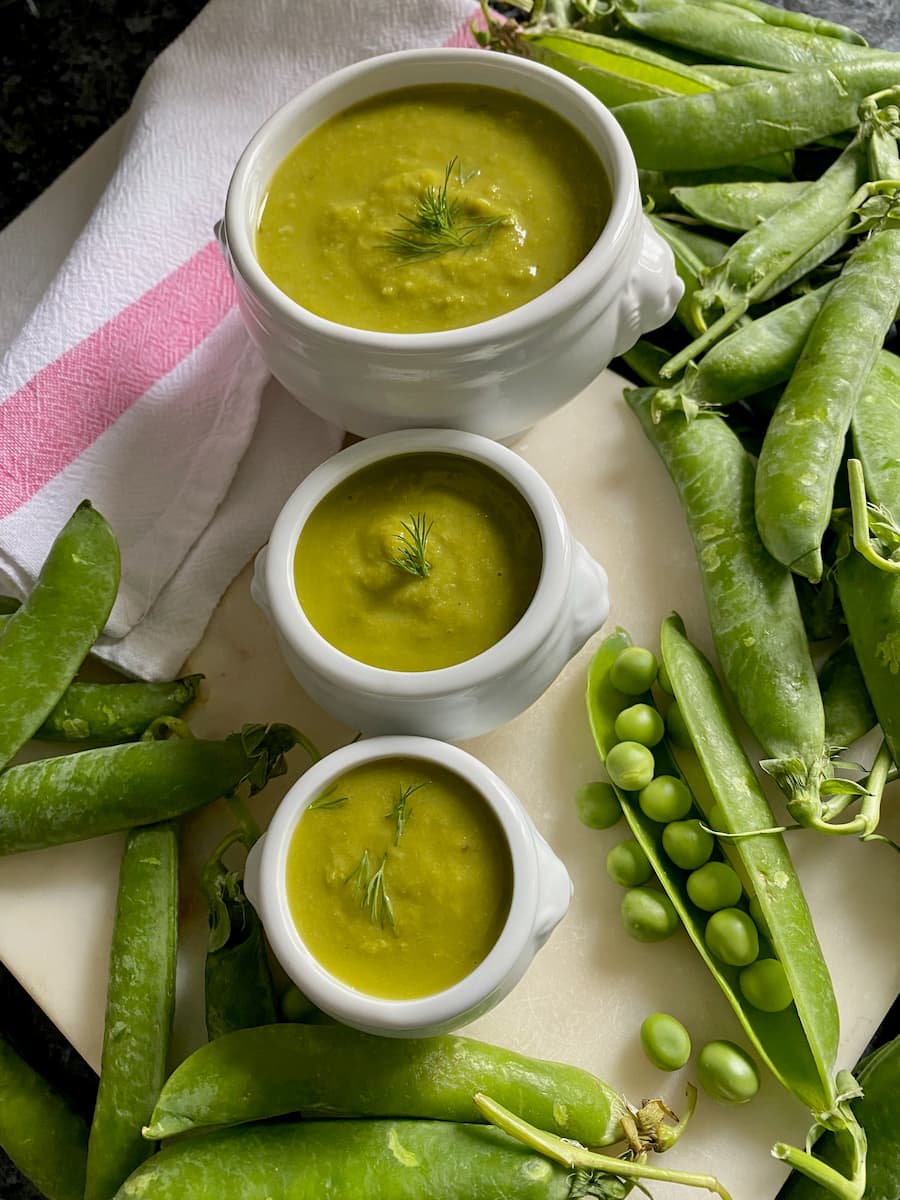 Pea Soup (Potage Saint Germain)
An authentic, easy French pea soup recipe for Potage Saint-Germain. Historically, made with fresh peas (or frozen), but can also be made with split peas from the pantry.
Equipment
large heavy based cooking pot
Ingredients
600

g (1¼ lb/ 4 cups)

fresh peas (shelled from about 1 kg)

or frozen

75

g (3oz/3 tbsp)

bacon

cut into strips or lardons

1

leek (including the green leaves)

chopped

1

small

carrot

peeled & sliced

bouquet garni

(bay leaf, fresh thyme & parsley stalks)

½

teaspoon

salt

fleur de sel (Maldon or Celtic)

750

ml (12 fl oz/ 3 cups)

water

knob

butter

fresh chervil or parsley

to garnish (optional)
Instructions
In a large, deep pot, fry the bacon bits without any fat for about 5 minutes over a medium heat (or in butter if vegetarian version).

Add the leek and sliced carrot and toss around in the fat until well coated and slightly softened for about 5 minutes. Add the bouquet garni and peas, again tossing around in the ingredients for a further minute.

Add the water and salt. Bring to a near boil, cover and turn down the heat. Simmer for 15 minutes for fresh peas or 20 minutes for frozen. If using split peas, simmer for 30 minutes.

Discard the bouquet garni and keep aside one ladleful of the peas.

Blend with a hand blender or mixer until well puréed and smooth. Stir in the butter and the ladle of peas for the garnish.

Taste and add pepper and extra salt if needed.
Notes
Garnish: add a little fresh chervil to serve. Vegetarian pea soup: omit the bacon and fry the vegetables in 15g (tbsp) of butter over medium heat in step 1. Split Peas: Soak 300g of split peas in a large bowl of water for 2 hours and proceed as above. As they are not as green as fresh, add a few salad leaves and more of the green from the leek. Nutritional Information per serving: 5g protein; 6g lipids, 9g carbohydrate, 0 Glycemic index.