Creamy Mushroom Soup, a healthy French starter made without cream and with a delicious touch of coffee.
Surprise guests by serving in coffee cups and dust with unsweetened cocoa powder like a cappuccino. What makes the soup creamy? It's thickened using a roux.
French Mushrooms (Champignons de Paris)
When I first bought mushrooms at the market in France, I was surprised to see how they were sold with such large stalks and earthy feet.
They were totally different to the pale, pre-packaged mushrooms presented in cellophane punnets looking as clean as a button in supermarkets. While we can get the latter in our French supermarkets, why would I pick these if I can get the freshest, tastier ones at the local market for the same price?
Use Parisian, cremini or portobello (giant cremini) mushrooms - since I find they have more flavour than the normal white button mushrooms.
French Apéritif or Pre-Drinks Fun Teaser Dish
Have you tried savoury macarons? In France, they're great as an apéritif - my favourite part BEFORE the meal that's just so French. However, served with a mini coffee cup, this makes the best little amuse-bouche or teaser before the entrée, (starter or appetizer).
Want to take this creamy mushroom soup to the next level? Serve with a dollop of crème fraîche with truffle and the most fun mini mushroom and truffle savoury macarons.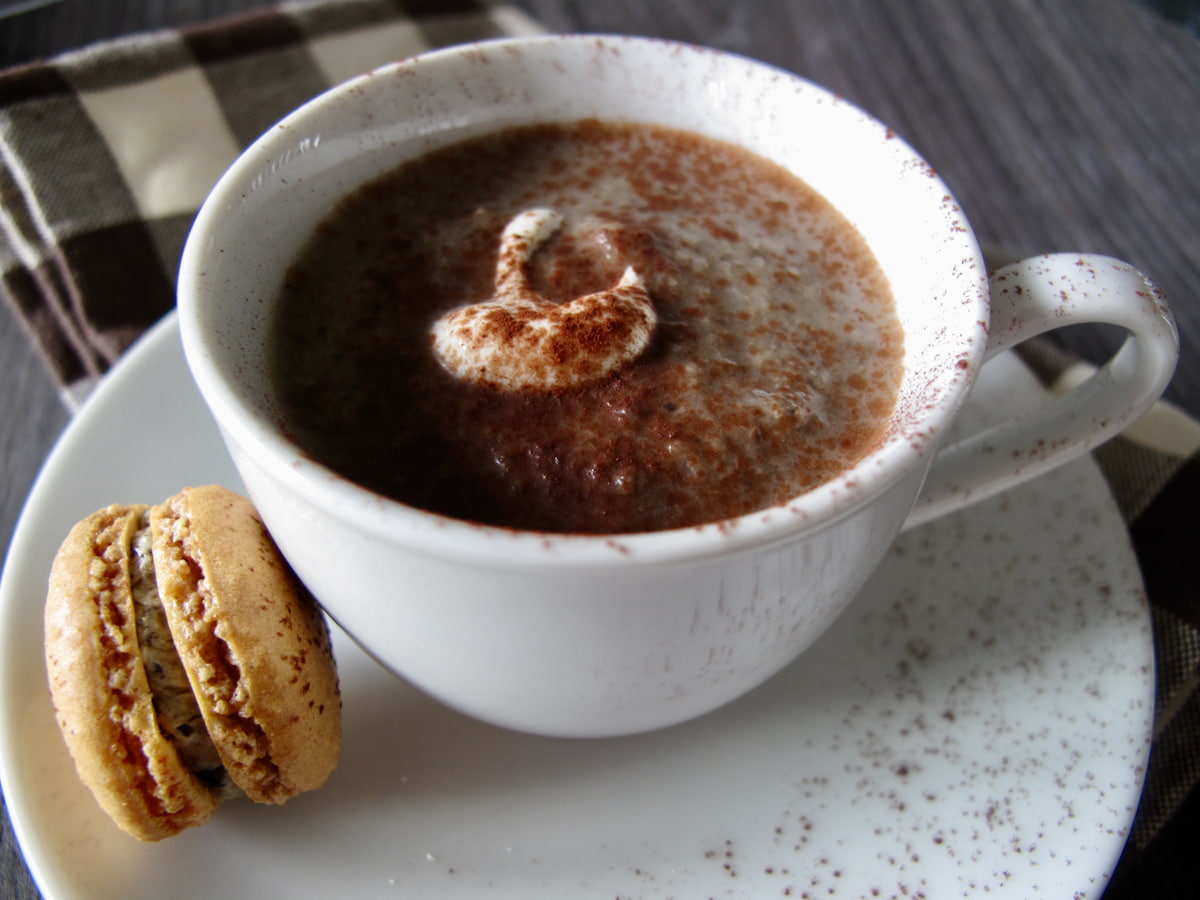 Mushrooms with Coffee - A Combination That Works
I often serve this creamy soup as a mushroom cappuccino, served in a dinky little coffee cup. This way it guarantees surprises at the table. Especially as the touch of coffee is a delicious surprise. Added with French mini mushroom and truffle macarons, you'll have them laughing! I love seeing guests' faces when I serve this.
What wines to serve with mushrooms? Serve with Champagne or a white wine from the Jura, an Alsatian Riesling or a fruity, almost honey-like Chenin blanc.
What's more, it has coffee in it! Inspired by a starter of creamy mushroom soup in Brittany recently, the chef added a hint of coffee to the soup. Who would have thought that mushrooms and a subtle hint of coffee could work so well?
On return, French scientist Raphaël Haumont also talked about this on 'Allo Docteurs, a French TV show, pointing out that mushrooms and coffee share the same taste molecules.
So my previous little cups of creamy mushroom soup have been given a make-over.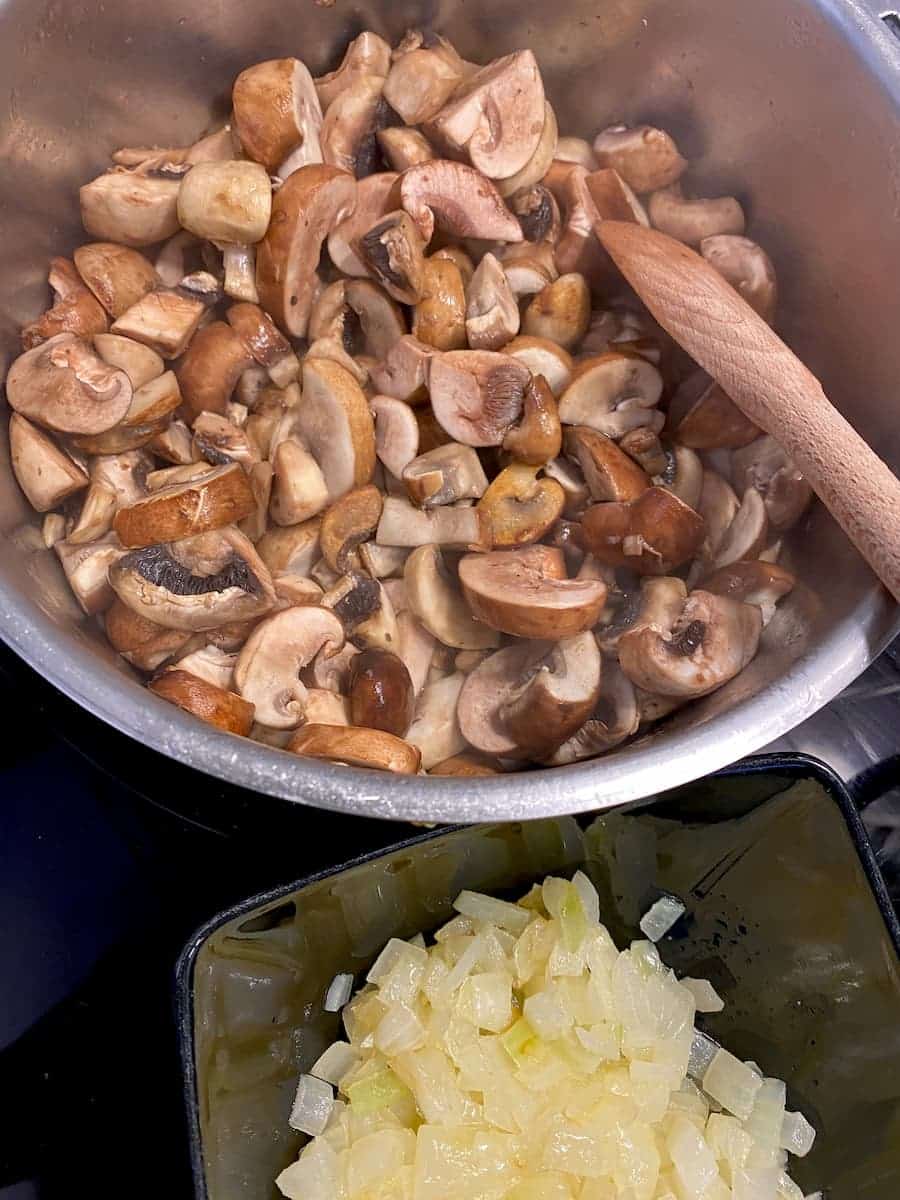 From a few experiments with this recipe, I recommend adding coffee granules at the end of cooking.  For this quantity, I suggest two teaspoons but taste it for yourself and see, as it may need a touch more. 
It's entirely up to your taste but the secret is to have just enough to taste it but create the intrigue.
How do you Thicken Up Mushroom Soup?
Before I made this recipe without any milk or flour. However, the end result left a slight wateriness to it that seemed to split. I felt it needed a creamier texture for a better consistency - plus without the cream to keep it healthy.
So, to thicken up mushroom soup, use the same method for the Crème Dubarry (French cauliflower cream soup) and make a roux.
How to Make a Roux for Soup
Making a roux for soup creates a creamy texture as well as thickening it up. It is just gradually mixed into the soup.
Here's how, step-by-step.
First melt butter and whisk in flour.
Once the flour and butter are creamy, add the milk while constantly whisking until the paste is thick. Whisk in some mushroom stock, created from sweating the mushrooms, and add it to the soup.
I use a little milk to make a liaison with a roux of butter and flour but apart from that, there's no cream in it.
However, if you're not afraid of cream, add a small dollop of crème fraîche with a little truffle oil (or truffle shavings if you have them).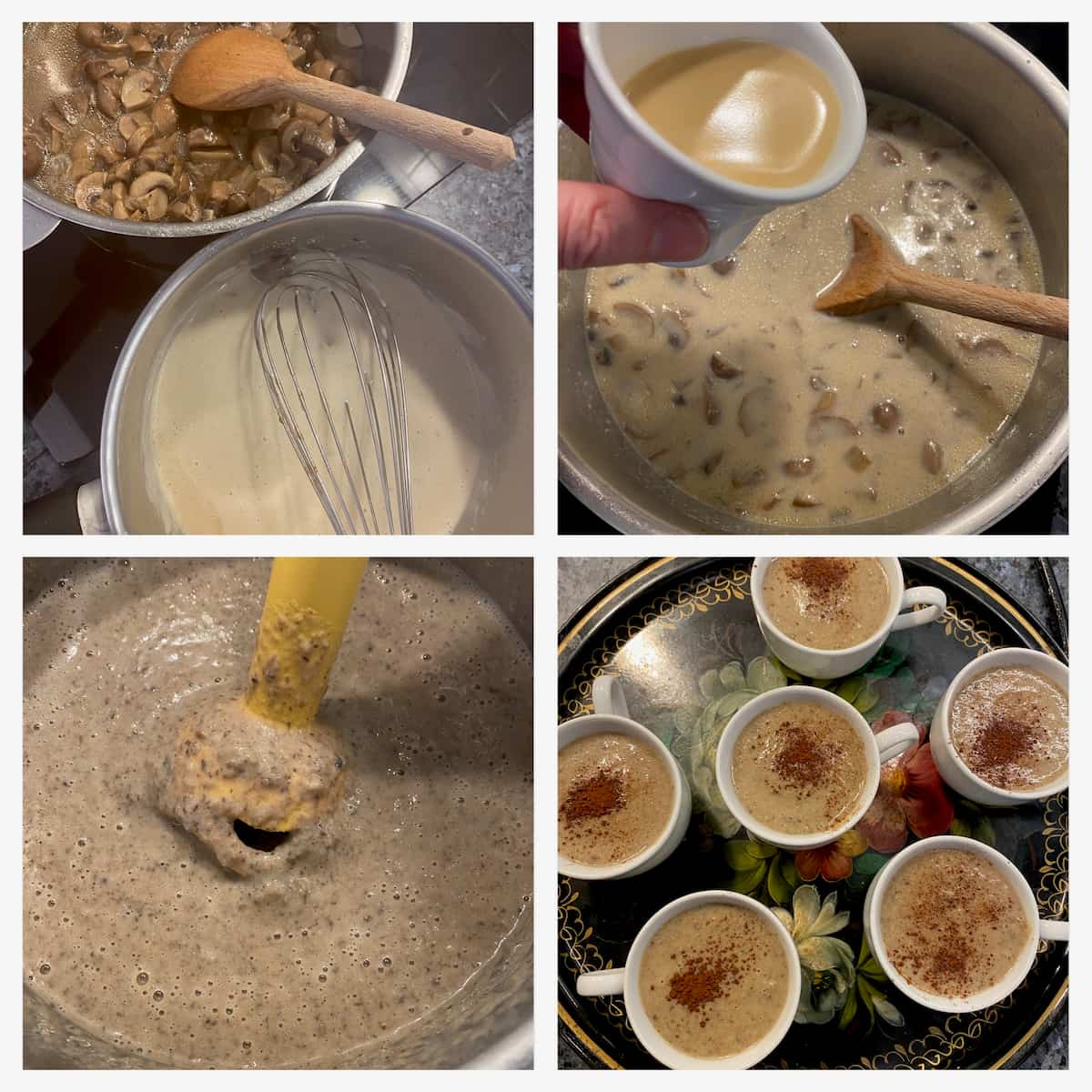 Finally top with a dusting of unsweetened cocoa powder (I use Dutch Van Houten 100%) - as this completes the cappuccino look. I use crème fraîche to make this quickly.
For an authentic cappuccino look, froth up some whipped cream (crème fleurette, 30% fat) and top to serve.

Creamy Mushroom Soup
Creamy Mushroom Soup, a healthy French champignon soup made without cream and with a delicious touch of coffee. Surprise guests by serving in coffee cups and dust with unsweetened cocoa powder like a cappuccino. What makes the soup creamy? It's thickened using a roux.
Ingredients
600

g (1.25lb/ 6 cups)

mushrooms (Cremini/button)

chopped

1

onion

finely chopped

50

g (2oz/¼ cup)

butter

1

litre (1.75pints/ 4 cups)

vegetable stock

(or chicken stock for non-vegetarians)

25

g (2 tbsp)

plain flour

50

g (2 fl oz/ 3 tbsp)

whole milk

(or half fat)

2

teaspoon

soluble coffee

1

tablespoon

crème fraîche

or double cream (optional)

1

teaspoon

truffle oil

1

teaspoon

unsweetened cocoa powder

for dusting
Instructions
In a large, high-sided pan, cook the onion over a medium heat in half of the butter without browning for about 5 minutes. Remove the onion from the pan, throw in the chopped mushrooms and sauté them until they give off all their liquid. Return the cooked onion to the pan.

Add the stock and leave to cook on the lowest heat uncovered until the liquid reduces by at least a quarter for about 30 minutes.

Meanwhile in a small saucepan, prepare the roux. Melt the rest of the butter and, using a balloon whisk, whisk in the flour for about 5 minutes until the mixture looks creamy. Quickly add the milk and continue to whisk until the sauce thickens. Whisk in some of the hot liquid from the soup then add to the bigger pot.

Blend the soup using an electric mixer or hand blender. Season to taste plus add the coffee granules, stirring to dissolve.

Optional: stir the truffle oil into the crème fraîche then add a mini dollop on each serving.
Notes
For some extra delicious fun, serve with my mini mushroom and truffle savoury macarons for the best creamy mushroom soup effect.
Measures: Please note that all my recipes are best made using digital kitchen scales in precise metric grams. Both ounces (and cups) are given as an approximate guide. 
This post was originally published 24 September 2012 but text is now updated to include better images and an added roux and coffee in the recipe.