If you're looking for just one pastry street in Paris, most Parisians with a sweet tooth will guide you to Rue du Bac - also known as Paris Pastry Street. Situated on Paris's Left Bank (Rive Gauche) in the 7th Arrondissement, it has been a shopping street for centuries.
Starting from the metro stop of Rue du Bac (line 12), let me take you with me down pastry street. If you're starting at the other end from Metro Sèvres-Babylone (line 10/12), work your way up from the bottom of this post from Bon Marché's La Grande Épicerie.
Please note that none of these addresses in this post are sponsored - I just love to share where we live!
Moreover, none of the pastries and chocolates bought for this post were consumed all at one time in one day.  They have been enjoyed avec modération, consumed at different times. For more, check out the lifestyle article, 5 Ways to Eat Like the French.
Chapon (et la Chocolaterie du Bac)
How many chocolate shops in Paris look like you could actually lick the storefront?
Patrice Chapon has been making his chocolate from "bean-to-bar" since 1985 from his workshop in Chelles, 20km north-east of Paris.
Originally a restaurant chef then pastry chef in Deauville, Monsieur Chapon then popped over the Channel for a short stint as official ice-cream maker to the Royal Family at Buckingham Palace - he explained a lovely anecdote of the Queen Mother surprising him one day with rose petals from the royal gardens, and asked him to make a sorbet with them. After inspiration from Harrod's food hall, he realised his real vocation was back in France making chocolate and by 2005, he opened this second shop in Paris.
It takes 10 days to make the chocolate as we see it in the store. Even the cacao growers in the tropics (10° North or South of the Equator) are amazed at what final result can be achieved from simple looking cacao beans. (More on how he makes his chocolate here).
Try a cornet of mousse from his popular chocolate mousse bar, initially created for the 2006 Salon du Chocolat in Paris. The most intense? The Venezuelan 100% Chocolate Mousse with its hints of dried fruits, wood with a surprising bitter aftertaste. For something lighter, head to his Madagascar 75% light and fruity mousse with a slight menthol taste; a Cuba mousse with a slightly smoky, underwood taste (hm - could I have that with a peaty Whisky, please?) or why not a rounder taste in the mouth of the light notes of apricot, dried fruits and caramel with the Perou? Try dipping in one of his orange confit sticks, sold by the pot.
Check out his prize-winning chocolate with a salted dome (chocolat au dôme de sel) and praline Agates. If you love a gooey, fudgy chocolate cake then try the VSD: Vendredi Samedi Dimanche. I'm not sure it will last that long, to be honest!
Chocolaterie Chapon, 69 Rue du Bac, 75007 Paris
Dalloyau
Next is Dalloyau, just around the corner on rue de Grenelle. The boutique is currently closed, under renovation but the other addresses around Paris are still open.
The institution's emblem reminds us that they've been around since 1682, firmly nestled into their pastries. Don't be fooled by some appearances.  These two religieuses (double choux buns) are savoury! Not sure of the salmon being so yellow, but they were good. Watch this space for an update here once their boutique re-opens. Did you know that Dalloyau created the Paris Opera cake in 1955?
Dalloyau, 63 rue de Grenelle, 75007 Paris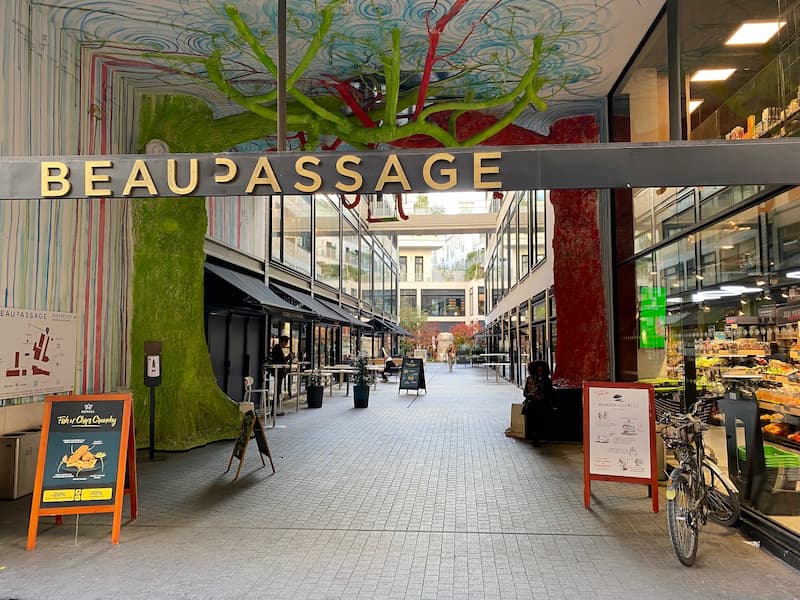 BeauPassage
Don't miss the opening at N°83 on the left (just before rue de Varenne) to BeauPassage, the gourmet square at the back of rue de Grenelle. It's a good stopping point for lunch with a choice of eateries. For teatime, stop for macarons et al at the Pierre Hermé Café. There are so many of them around Paris, but this one has a quiet outside terrasse amongst some greenery, if you're looking to hide from the paparazzi behind the totem-like statue, Les Mangoustes de Beauvais.
Thierry Marx Bakery, BeauPassage
Pop in next door to Thierry Marx's Boulangerie to pick up this brioche tigrée. It's a combination of brioche made with organic flour and chocolate and puff pastry (pâte feuillétée) rolled together around a fondant centre of hazelnut praline and chocolate. I saved it for breakfast next day for a real decadent treat! Huge choice of artisanal breads, excellent sandwiches, buttery viennoiseries (croissants, pain au chocolat, etc.) and lots of seasonal fruit tarts plus classics including chocolate or the citron-yuzu.
Thierry Marx's Bakery, 17 allée du Beaupassage, 75007 Paris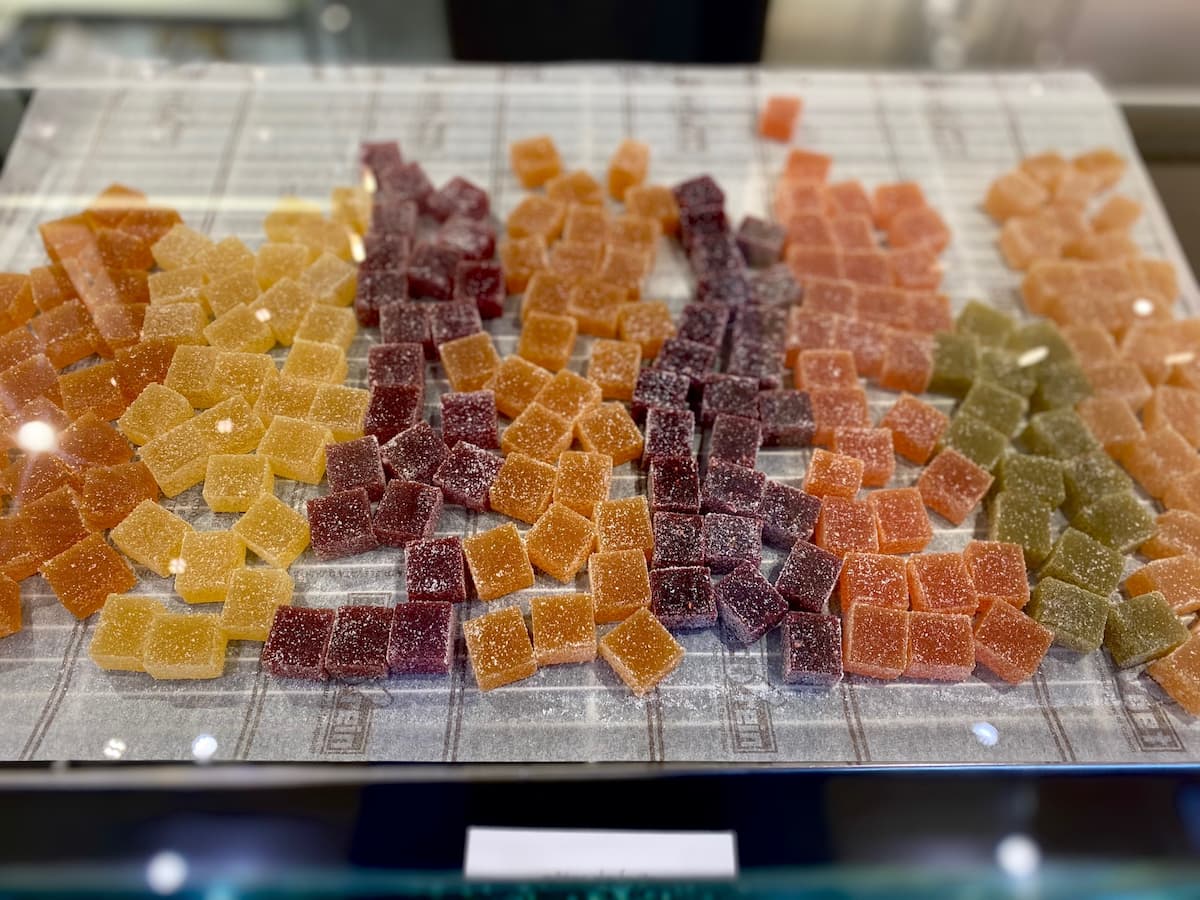 Jacques Genin
Continuing on rue du Bac, just on the next corner to rue de Varenne, is Jacques Genin. Perhaps best known for his signature salted caramels, chocolates and fruit jellies, his exquisite pastries from his lab in the Marais's (rue de Turenne) can be ordered here for a weekend pick-up.
Every day the flavours of his fruit jellies change. As long as I can get a hold of the green rhubarb, lychee and cassis, I'm happy! Never afraid to try new taste sensations, he has even invented vegetable jellies: I personally preferred his cooling cucumber jelly, pepper and beetroots' sweetness were unearthed but somehow the originality of turnip just didn't quite hit my spot.
Monsieur Genin loves demonstrating how cheeky he can become when chocolate is concerned. I can't resist this photo of him during the first Bac Sucré event, when he made  chocolate bars with capers. The saltiness of the capers came through on the aftertaste with a crunchiness in the chocolate that made it quite a sensation.
You're always in for surprises! A cheeky chocolate conjurer, I call him.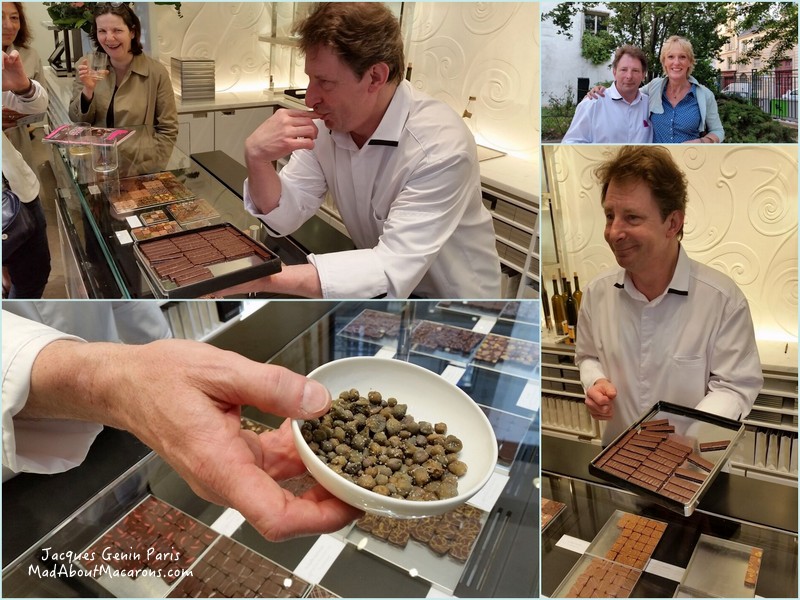 Meanwhile, his famous passion and mango caramels are always a sensation, along with honey/chestnut, pistachio. I stop here. Just taste them for yourself.
Jacques Genin, 27 Rue de Varenne, 75007 Paris
Philippe Conticini
Pastry chef, Philippe Conticini opened his first patisserie in Rue du Bac, La Pâtisserie des Rêves. Popular for his award-winning Paris-Brest (a praline cream choux pastry wheel), his pastries are all designed to evoke the sweet dreams of childhood. Now his savoir-faire has moved on to his own venture, simply 'Conticini' around the corner on rue de Varenne. I particularly love his pain au chocolat, a real weekend treat for breakfast - just check out the lamination of his pastry!
Even the taste of his sweeties (bonbons) were childhood-provoking. A real privilege to meet chef Conticini himself a few times, he is most sincere when he explains how the critic scene in the Disney film, Ratatouille, was a turning point for him.
While meeting a group of Japanese tasting something so French and completely different to what they'd tasted before, he realised this could evoke such déjà vu memories of something they'd thought they'd eaten before. "It wasn't possible!", he confided.  That was the revelation: to realise he could aim to create that intrinsic pleasure of evoking delicious childhood.
Maison Philippe Conticini, 37 rue de Varenne, 75007 Paris

Des Gâteaux et du Pain
From a long family history of exquisite chefs, Claire Damon is a demon of pastry. Influenced by nature from her native Auvergne and l'Aveyron, I had my first taste of her pastries on a Seine barge to celebrate the Bûches de Noël. She is the only women in the group of exceptional pastry chefs of Relais Desserts International: her yule log included a light mousse with hay and it was sheer bliss.
Alas, even after politely asking (as I always do in Paris - it's normal etiquette), strictly no photos are allowed inside her boutique. So, you can see our tastings on social media - I'll try to put together a reel on instagram to tantalise you with some music - what about Saturday Night HAY Fever?
My personal favourites? Classics such as Shahzadeh (pistachio dacquoise & mousse with rose cream), Mont Blanc Cassis (with candied chestnuts from the Auvergne), and Pomme Tatin with Maple Syrup. As the boutique's name implies, she is also a demon bread maker.
Des Gâteaux et du Pain, 89 rue du Bac, Paris
Jean-Paul Hévin Chocolaterie
Hev'ins above: have you tried his macarons? Now in the location of Conticini's original Pâtisserie des Rêves (followed briefly by the gluten-free bakery of Helmut Newcake), Jean-Paul Hévin has opened yet another of his boutiques centred essentially around chocolate.
He refers to chocolate as a product that's alive and creative which is still evolving. Lucky for us, his choice of chocolate-ganache-filled macarons and chocolates reflect this.
With 6 boutiques in Paris, he has a staggering 11 boutiques in Japan, and so there are always some Japanese influences in his offerings. Newbies in the window are almost in competition with the intense chocolate classics, but when I was last in the shop, the Lemon Teatime (lemon cake with yuzu icing) and Mango Caramel Paname (with coconut shortbread and chocolate mousse) had disappeared. Time for yet another trip?
Jean-Paul Hévin, rue du Bac, 75007 Paris
Oh Oui! Sucre Minime, Plaisir Ultime
New on the block since June 2020, Oh Oui! has made quite a stir. Minimum sugar and ultimate pleasure, it certainly is. Don't be fooled by their small shopfront, as they have a super delivery service around France. Why? Because they specialise in 30% less sugar than traditional pastries (some are up to 65% less sugar) and create pâtisserie that diabetics (type 1 & 2) can enjoy with a glycemic index (indice glycémique) between 27-32. All while preserving flavour. Not just for diabetics, this is for anyone who is sensitive to sugar in their diet, or just looking for a healthy alternative.
They replace normal plain white flour with either wholemeal flour or chickpea flour, for example. White sugar is replaced with ingredients that have a natural low glucose level such as coconut sugar, agave syrup or grape sugar; no synthetic sugars or extracts are used. They prioritise fibre (e.g. oat bran), use only natural extracts and palm oil is a strict no-no.
Convinced? We were on tasting their Finger Citron: the Sicilian lemon tart and beautifully dosed. Our family favourite, the Allumette Truffée, gave a lovely contrast of textures and intense dose of chocolate with its layers of crumble and hazelnut ganache. Oh oui,  you can taste the difference that it's a healthy alternative. As they say, "Indulge yourself without feeling guilty!"
Oh Oui, 95 rue du Bac, 75007 Paris
Oh My Cream
False alert. It's a skincare shop.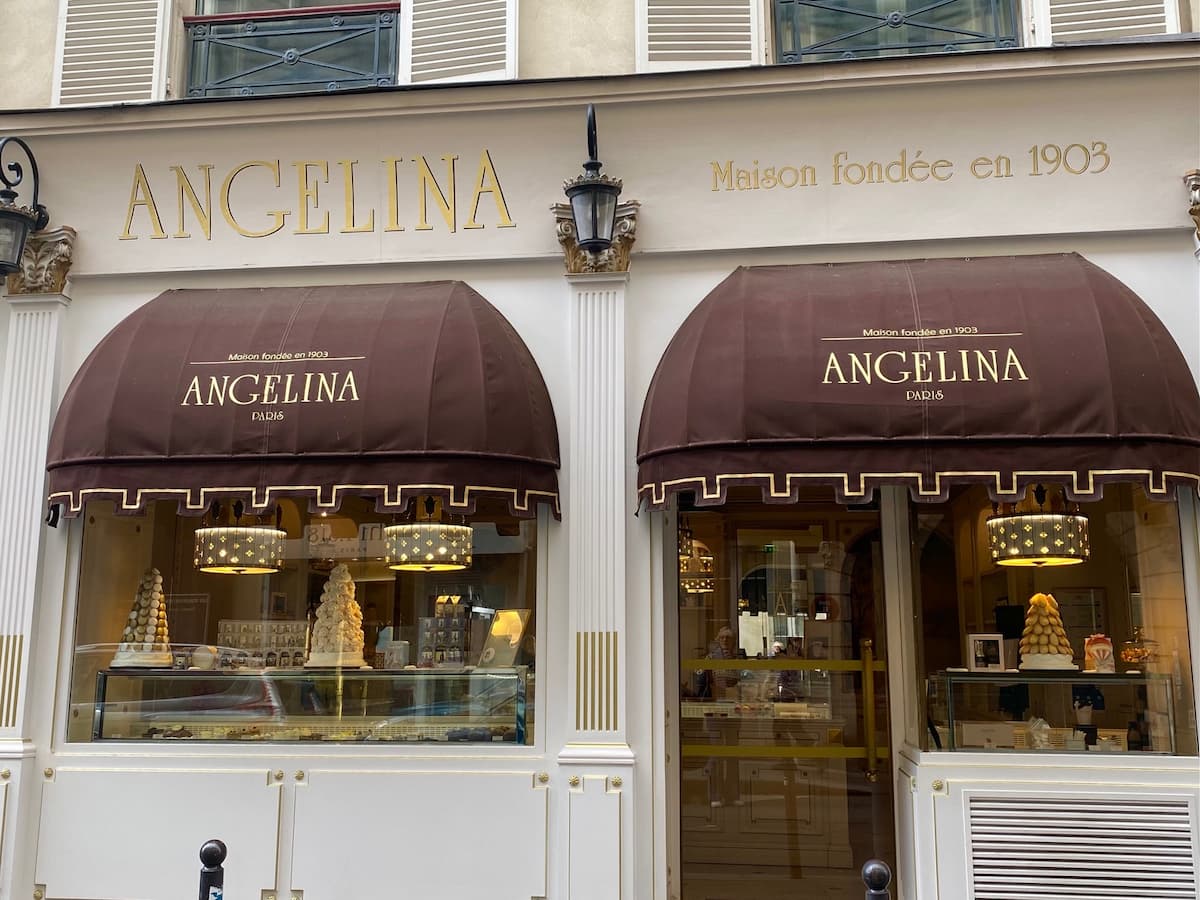 Angelina
After that wonderful capering around, on to classic pastries on rue du Bac. It's always difficult to pass a shop like this when there are air vents out on to the street and the fragrances of patisseries just lin-ggger.
Don't miss the Mont-Blanc, its signature pastry since 1903. This classic is a mound of vermicelli made of chestnut paste which encases light whipped cream and a heart of meringue. Normally crème de marrons (chestnut vanilla cream) is rather sweet but that's what makes these pastry houses so special: they are not too sweet at all with just the right balance of sugar. Like most patisseries, each season sees new pastries and during Autumn and Winter, expect to see some variation on the Mont-Blanc.  This year, it's a caramel version, so fasten seat belts. My latest crave chez Angelina is the Demoiselle Tatin, topped with cream and a hint of crumble.
Art fans should look up, as James McNeill Whistler lived in this building at N°108 from 1892-1901. Mathematician fans? Laplace died in the same building in 1827. So there you go.
See my article for more on their classic pastries and history.
Angelina, 108 Rue du Bac, 75007 Paris
Bac à Glaces
The real McCoy: Parisian, homemade ice cream has been made here since 1955. With a choice of over 60 ice creams, they are all 100% natural (no additives, colouring, flavours, stabilisers, chemicals etc.) and include ice creams without eggs. Natural stevia is used to sweeten their sorbets, so are ideal for those on a lactose-free diet too. For those who prefer their sorbets with alcohol, you're covered too!
Our favourite classics? Roasted Pistachio, Cinnamon, Gingerbread and Sesame Halva (have you tried my black sesame ice cream yet?). Let me know yours!
I managed to catch this photo before the afternoon crowd appeared, still going strong even in the cooler months of the year. Cosy seating is also available inside in their tea room, where you can also taste their ice cream desserts, including many delicious variations to the Classic Vacherin Dessert.
Vegans will be happy to hear their cones are made for them too!
Bac à Glaces, 109 rue du Bac, 75007 Paris
Foucher
Founded in 1819 on 126 rue du Bac, Louis-Aubin Foucher made this chocolate shop famous in the second half of the 19th century - notably for introducing international delivery from 1887. As of 1902, delivery in Paris was popular with his chocolate-laden tricyles: imagine receiving a chocolate box from a Frenchie on a bicycle? Swoon. Did you know that Foucher was the first French chocolate shop to open in Japan?
Today, pop in for their hot chocolate (chocolat chaud), either to sit in at the small salon at the back of the shop or to take away. Personally, we adore the sesame praline chocolates, mendiants, candied chestnuts (marron glacés) steeped in Madagascan vanilla, or chocolate-covered cherries which have been macerated for months in liqueur.
Chocolat Foucher, 134 rue du Bac, 75007 Paris
La Grande Epicerie
La Grande Epicerie, at the corner of rue du Bac and rue de Sèvres, is renowned for its gourmet food halls. Luring us in with its deli, choice of cheeses, caviar, teas, water bar and wine cellars - to its bakery, chocolate and patisserie sections. Try their macarons - at the moment I'm falling for their citrusy flavours, such as lime and ginger plus orange and lemon together.
Their pastries are always exquisite, from billowy lemon meringue and apple rose tartlets, Paris Brest, Saint-Honoré, to the latest seasonal temptations. We love how they draw a cross-section plan of each pastry. New for Autumn/Winter:  La Charlotte Mont-Blanc and Citrus Pavlova. For vegans, there's even an exotic tart with pineapple, mango, passion fruit, lime and coconut.
The other food hall is situated in Rue de Passy, Paris 16th.
La Grande Epicerie de Paris (Rive Gauche)
38 Rue de Sèvres, 75007 Paris
Bac Sucré Annual Event (June)
Le Bac Sucré is now a delicious annual event in June. Created by Florence Mazo Koenig and first inaugurated in 2015 by the Mayor of the 7th (Rachida Dati), the event highlights the creative artisans' savoir-faire. Alas, the event has been postponed in the last couple of years, but here's hoping it continues.
Rue du Bac (metro line 12)
Paris 7
More on Rue du Bac
Would you like easy patisserie recipes and the history behind them, including Rue du Bac? Then you'll find plenty of inspiration in my second book, Teatime in Paris!
This post was first published 17 June 2015 to document the first Bac Sucré event but has now been completely re-written with updated images to reflect the new and renovated boutiques on the street, including the Beau Passage area.
None of this post is sponsored.