Le Salon du Chocolat Paris is an annual event that takes place every end October at the Porte de Versailles. Just when the weather starts to tell us we need more chocolate - in the form of bars, pâtisserie and, of course, macarons.
Let me share some of this year's 2022 edition highlights including an inspirational innovative chocolate masterclass by Thierry Marx and Raphaël Haumont.
The World Chocolate Masters
Over the course of the Salon du Chocolat is the final stage of the most gruelling global competition for the World Chocolate Masters. This year, 18 rising talents from 18 different countries melted in front of an international professional expert jury, including Amaury Guichon for the superfinal.
However, only one finalist can become the true World Chocolate Master and so the last 10 superfinal contestants in Paris battled it out from France, Greece, Italy, USA, Korea, Japan, Belgium, China, Poland and Spain.
After 2 years of working towards the Masters with incredible showpieces, one of their first 7 assignments was to create a unique shop window (#WOW) showpiece. Each contestant came up with incredible stunning sculptures but you can see why the final winner was Lluc Crusellas from Spain. See his incredible life-like chocolate elephant and sugar-free brioche.
Anna from Italy was the only woman super-finalist, receiving a standing ovation. She worked with her own homegrown strawberries, for example, to serve up her gelato ice cream.
Chocolate Sculptures
This wasn't Lluc Crusella's life-like chocolate elephant, but this one still gathered the crowds amongst the many cocoa companies from around the world - plus a beautiful mermaid was guarding piles of macarons like pearls.
This monumental sculpture was so huge at 4 metres high and wide that it had to be made directly in the building by chocolatier, François Daubinet.
His giant sculpture, 'Cristalline de Chocolat' weighed in at 150 kilos and took him 2 weeks to make.
Likewise, Jean-Luc Decluzeau, chocolate-maker constructed a lifelike Bugatti car, sculpted entirely out of chocolate. Definitely something to melt for!
Every stand has something going on.
So much to take in, smell, taste, then bring out the wallet. In previous years, this is when I realised my kids also love good, dark chocolate and even willing to bring out their pocket money for the good stuff!
This year there were less stands than previous years and the familiar chocolatiers were not around. Nevertheless, there were still plenty of wonderful discoveries.
It's also the time of year when the French bûches de Noël (Yule logs) are presented for the season, just like fashion. For an idea of a whole show devoted to them, see my post of French Yule Logs by Relais Desserts.
So what else was on show?
Cacao Show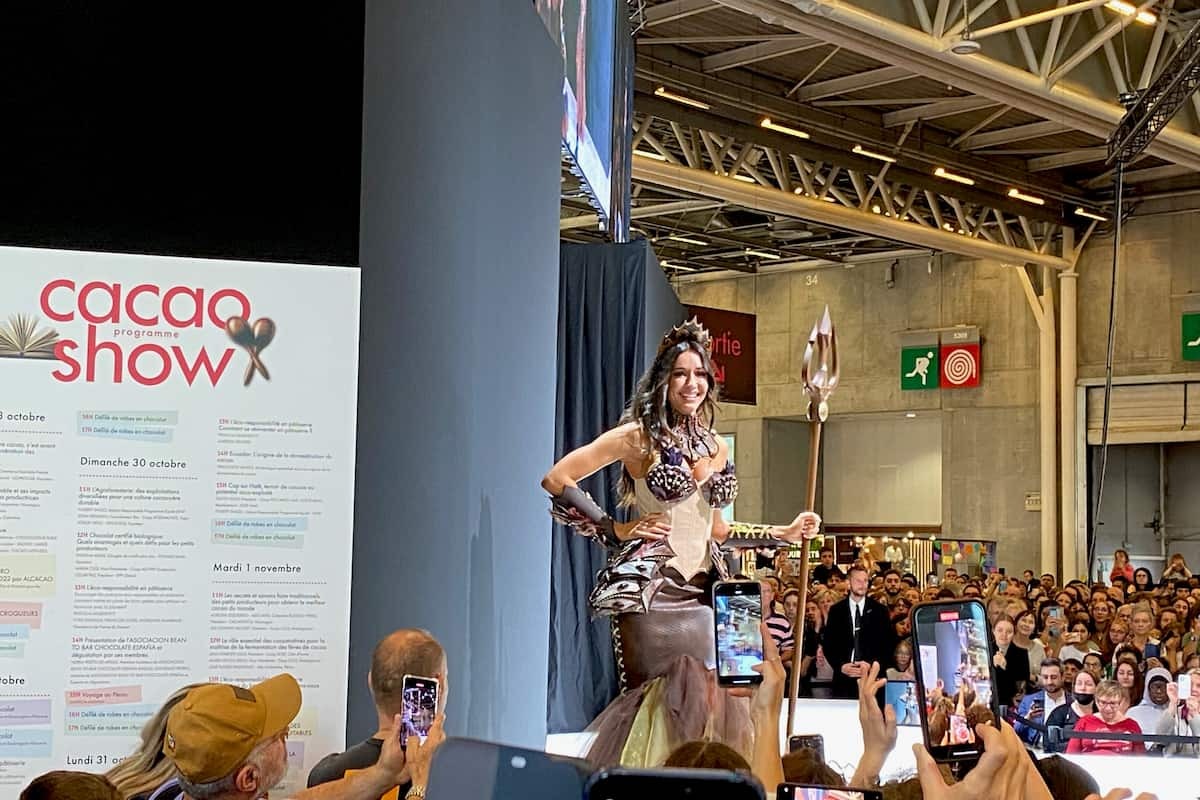 Every year, another central highlight is the delicious fashion show, where a variety of dresses and mens' outfits are made out of chocolate.  The parades are featured in the afternoon when the crowds form. Outfits can be simply outrageous to sumptuous with even chocolate Neptune cupped shells by Pascale Brunstein, Meilleur Ouvrier de France. Oh-là-là-la-la. You name it.
It can also the perfect moment to avoid the crowds and visit the other attractions and stands.
Tip on Handbags - Be Prepared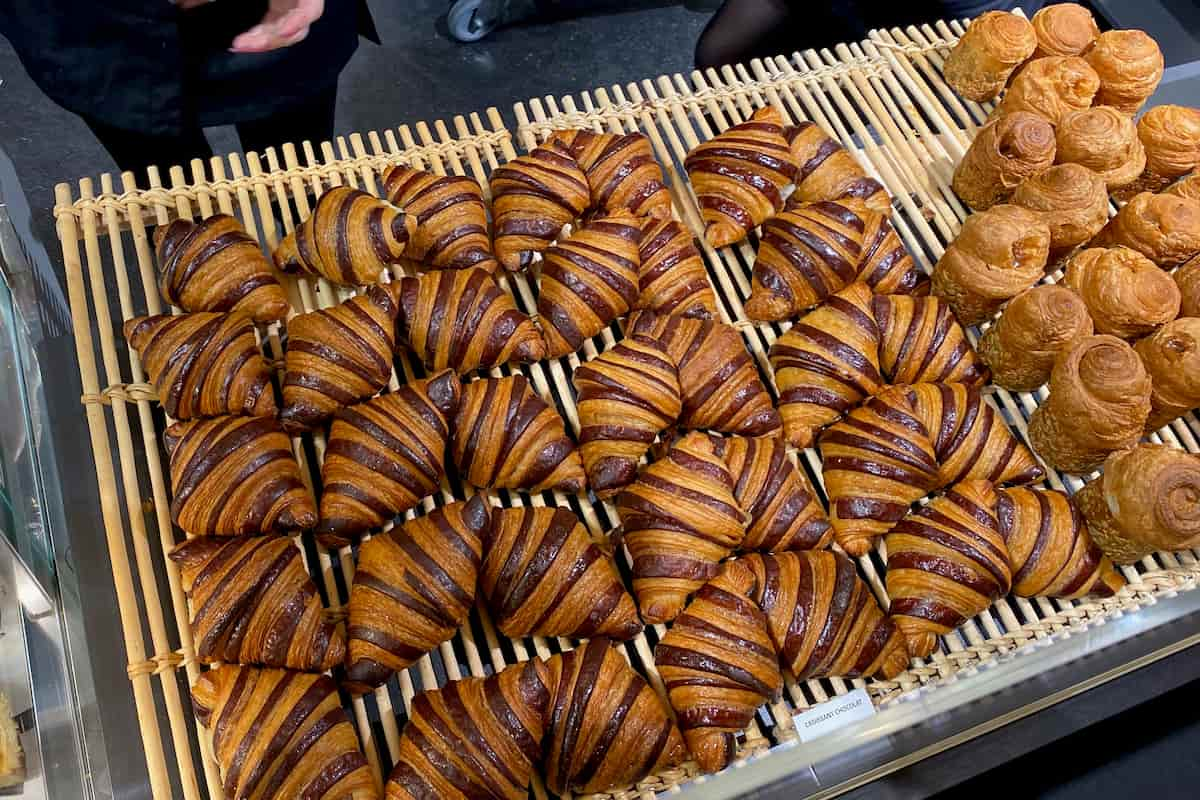 One recurring problem I have here is passing the likes of these praline croissants made with Piemonte hazelnuts. I plan to return later to buy them for tomorrow's breakfast to find that they are sold out.
So don't make my mistake! Take a good sturdy hold-all bag (even better that keeps contents cool) that will look after your purchases well while you're still enjoying the rest. That way grab the goodies while you can and keep them intact.

Pierre Marcolini Chocolate Bean to Bar
No macarons from Pierre Marcolini this year at his stand.  Instead a few of his carrés (chocolate square tablets) featuring his bean to bar fabrications were on show.
He features his Grand Cru blends like wine labels. Unlike chocolate you find in supermarkets with percentage of cacao determining cacao content, his percentages don't necessarily mean that a 75% is stronger in intensity than a 68%, for example.
His blends feature the 3 major chocolate varietals: Forastero, Trinitario and Criollo. The result could be a smooth and round mouth-feel to a more robust varietal with less percentage. He also has made incredible bars featuring the rare varietals such as Nacional and Porcelana (its white cocoa bean can fool us into looking at milk chocolate when in fact it's dark!).  Don't get me started - I used to give chocolate walks to his shop in rue de Seine for years and so I can get carried away.
Instead this year, the main feature was on his chocolate infusion. Used as a mixer in 3 different cocktails, setting fire to a sprig of rosemary with a Whisky base did look fabulous. However, at 3pm opted for the non-alcoholic version of pure cacao infused drink.  Alas, there was too much sugar added in my personal opinion. The result didn't quench my thirst and so made straight for the stand to buy water!
Cyril Huet
I love discovering somewhere new, don't you? Especially when the cakes are not that sweet.
Cyril Huet is in Sèvres, just on the outskirts of Paris and after trying a few of his cakes, was smitten. Our unanimous favourites were le Café Noisette. I was so in awe of tasting, I forgot to take a photo of its cross-section. Divine it was.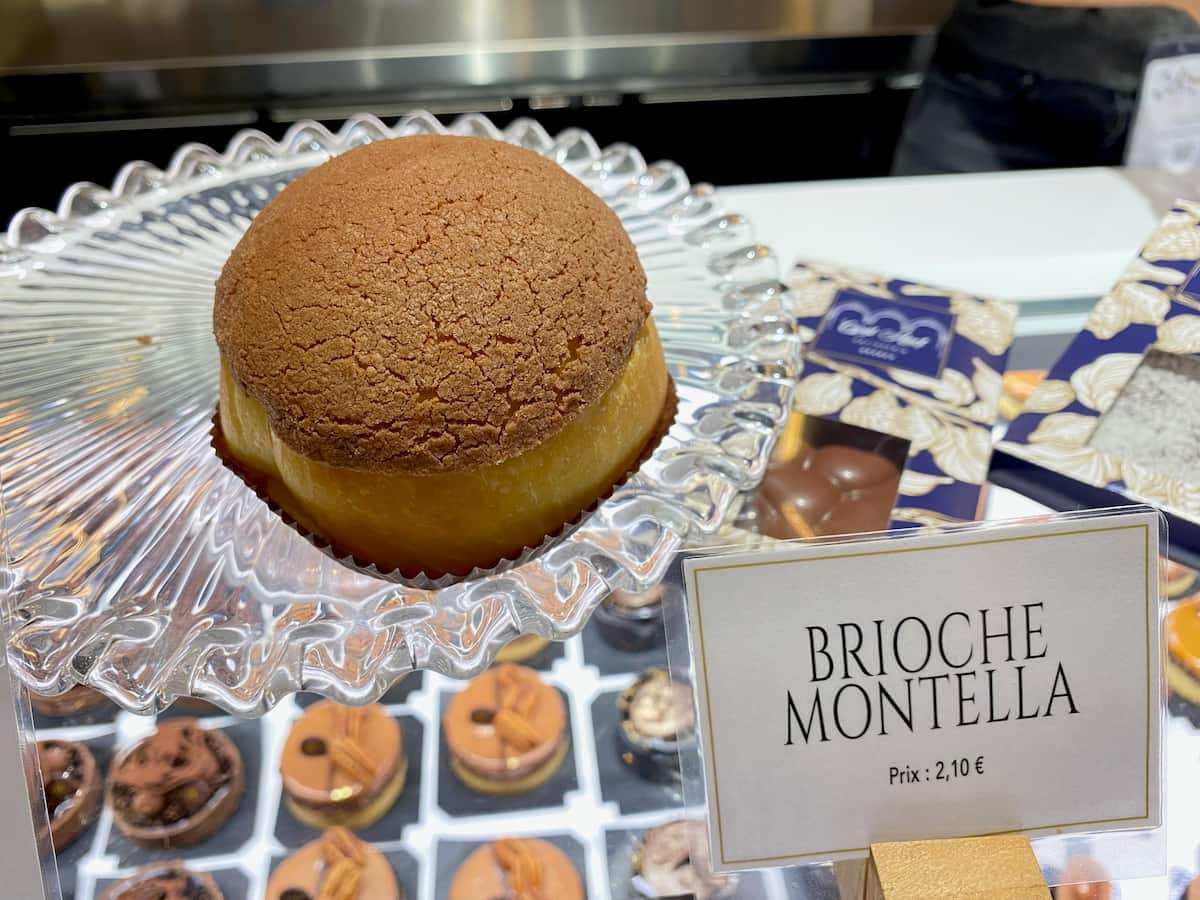 What do you do when there's only one cake left? Normally I'm extremely polite and leave it for the next person but I hadn't tried the Brioche Montella.
Sharing it with my daughter, it was an extremely soft and fluffy brioche bun topped with this beautiful chocolate crumble or craquelin.
I have a whole chapter devoted to making craquelin in my recipe book, Teatime in Paris.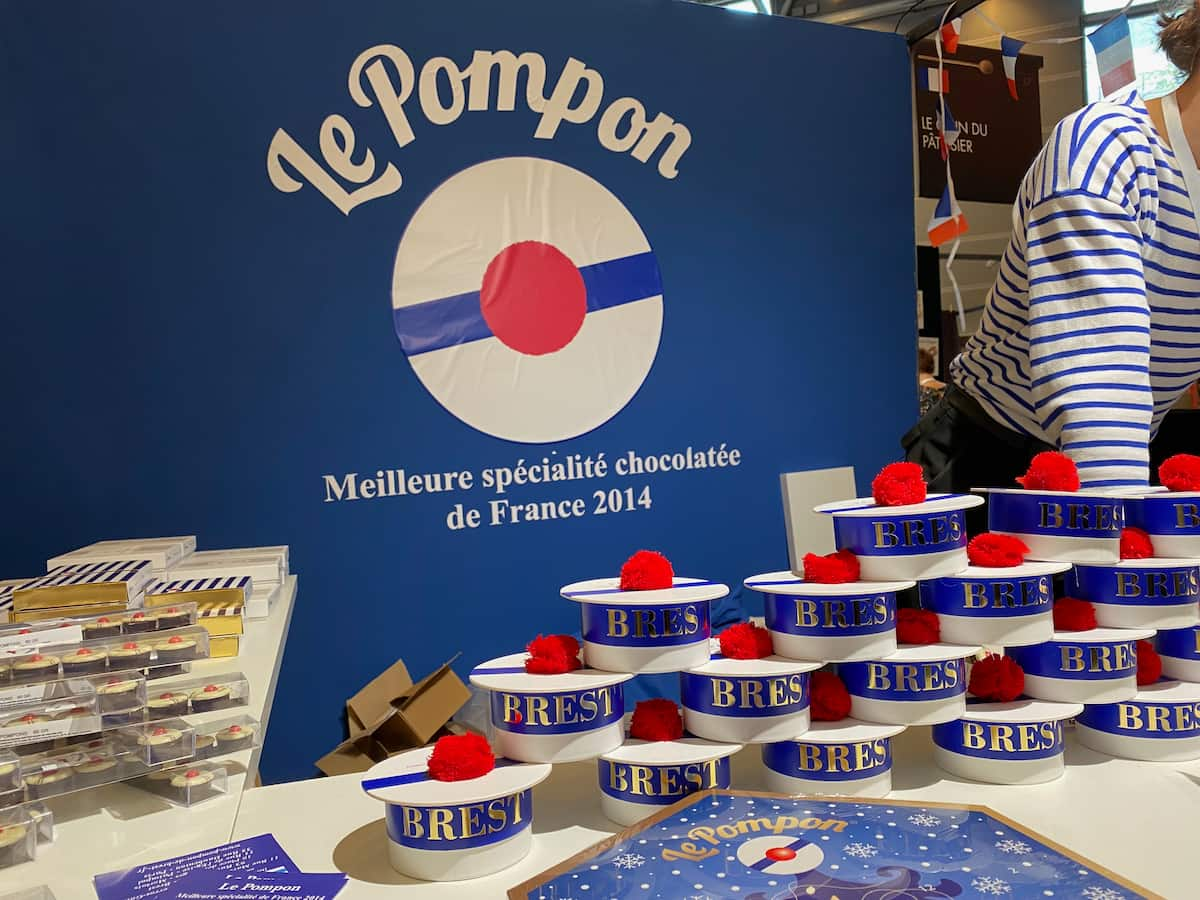 Breton Chocolate Specialities
I remember seeing Le Pompon in Brittany on holiday last year. Which reminds me I still haven't posted on our gourmet trip there yet - it's coming soon. In the meantime, their chocolates and packaging are rather eye-catching with the typical red pompom de Brest.
Three of their many Breton specialities are around their famous salted butter:
Specialities from Lyon
So many visitors were leaving with the brightly coloured striped pâtisserie handbags from la Maison Pralus in Lyon.
Their famous Praluline is a round brioche studded with the popular pink pralines, created in 1955 by Auguste Pralus, Meilleur Ouvrier de France.
Read more on Lyon's best pâtisserie and chocolate.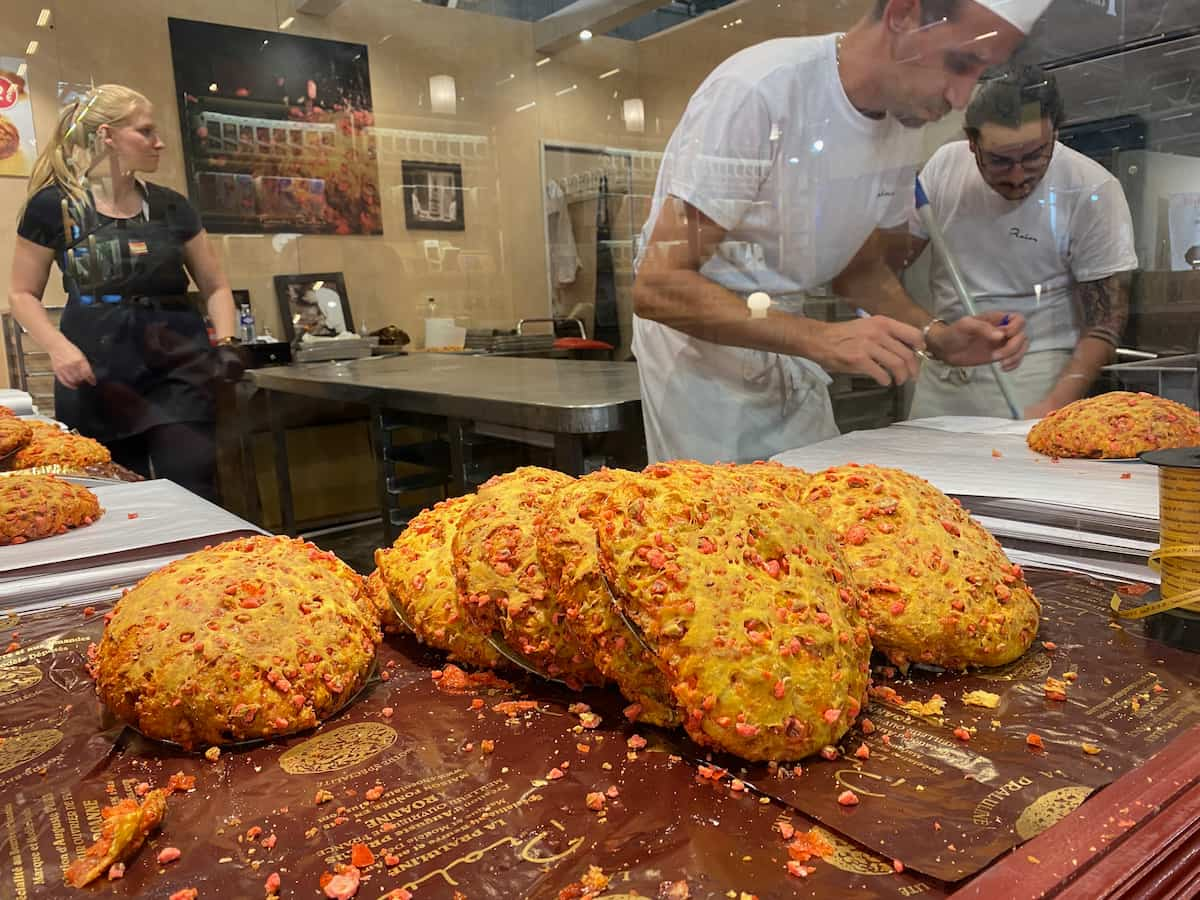 Specialities from Bordeaux
Bordeaux isn't just famous for its wines. They are also proud of their traditional Canelés, prepared in their familiar fluted moulds with a dark exterior and light eggy vanilla and rum inside.
Did you know that they were invented in the 18th century by the local nuns, originally calling them canelas? As egg whites were used to clarify the wines in Bordeaux, the nuns got together to create these delicious cakes using the leftover egg yolks. Again, I have my best recipe for them in my book, Teatime in Paris.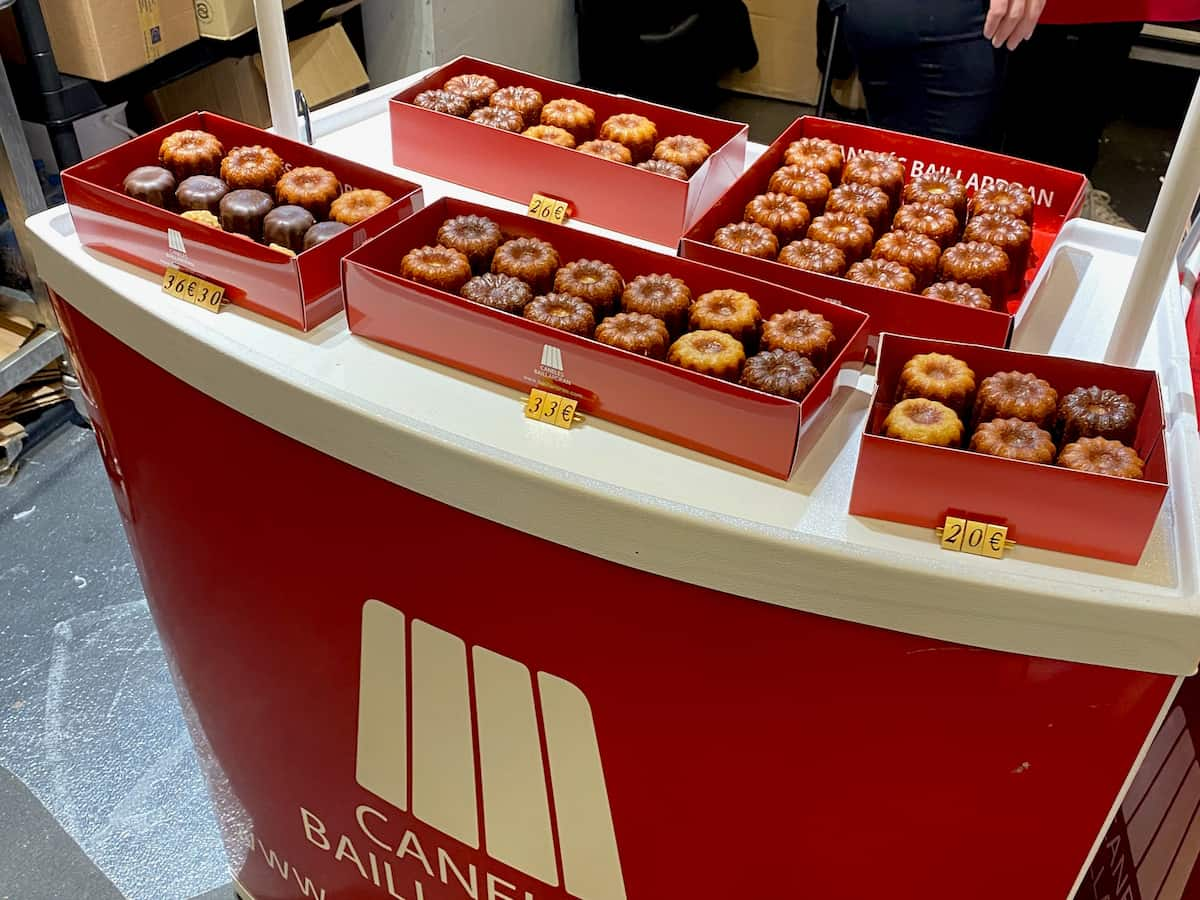 Laurent and Kyoko Duchêne
Macarons often stop my in my track. Especially if they are this good from Laurent and Kyoko Duchêne.
As you know from my latest post of my Top 20 Best Macarons in Paris, they are definitely my favourites - lemon fans just bite into the citron or café flavours. Slightly crispy on the outside and deliciously fondant inside with the perfect balance of acidity.
By the way, I ate them next day. There is no way I can go around the Salon and taste my way through so much! For more on how we are disciplined like the French, read my daughter Julie's article, on Five Ways to Eat Like the French.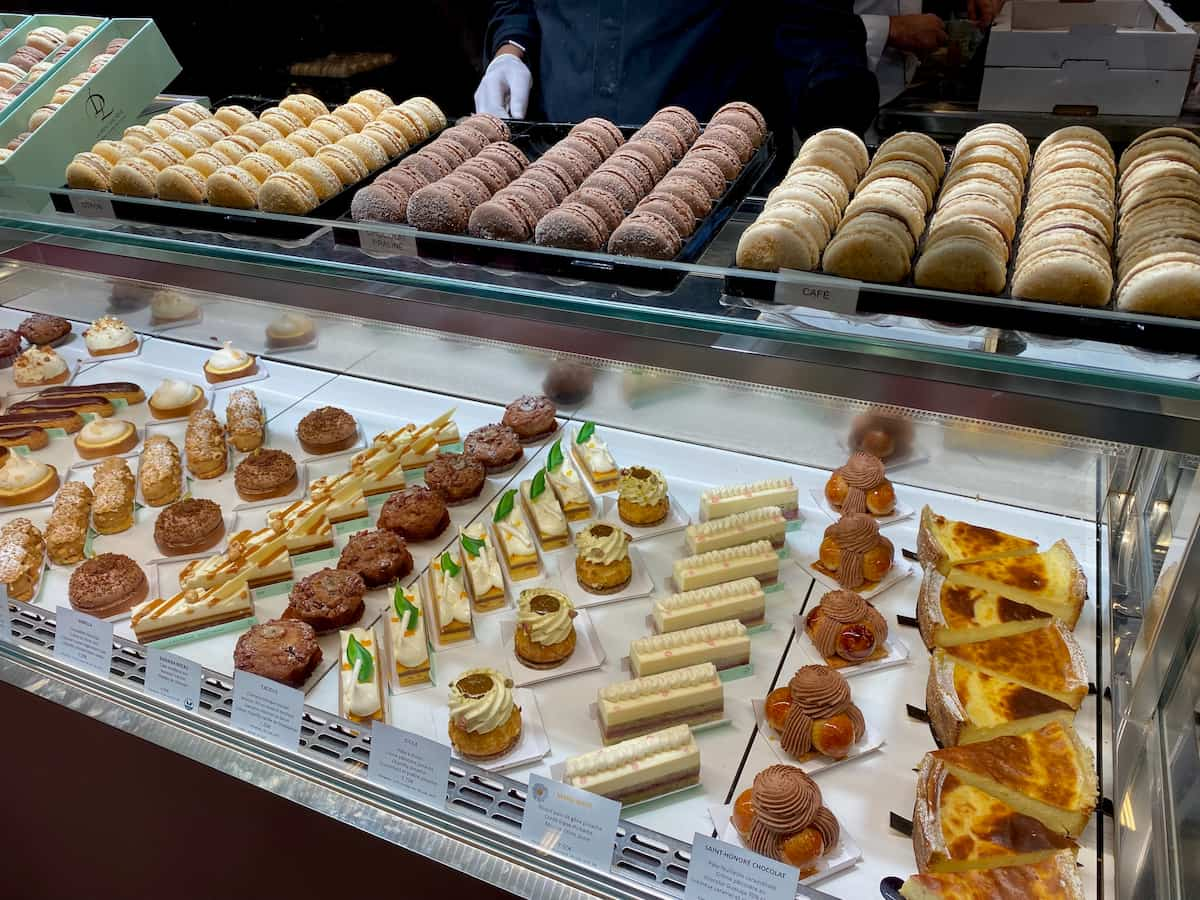 Chocolate and Pâtisserie Masterclasses
Throughout the 4 days there are many masterclasses or pastry shows, including pastry chefs in residence such as Philippe Conticini and Cyril Gaidella (Champion de Dessert 2017 and Boulangerie Zest in Neuilly, limit Paris with a new tea salon).
Masterclasses from the likes of Fouquet's and Nicolas Paciello (from Cinq Sens Paris) were all accompanied by the famous Parisian cookery school of pastry chefs, Ferrandi for the smooth running of cuisine operations.
To top it all, the lovely Mercotte hosted each show. As French TV presenter for Le Meilleur Pâtissier (France's presigious amateur Bake-off Equivalent), food critic and blogger before a blog was even a thing, she is one of a kind. I believe she knows every French pastry chef and chocolate maker - and upcoming amateurs too.
Twice I have joined her on a French pastry jury and been baffled by her dynamism and knowledge yet is incredibly kind and down-to-earth. She was super at asking questions on the pastry shows like this one.
Innovative Approaches to Baking with Chocolate
My personal highlight was close to a subject I'm passionate about: how to reduce sugar without it affecting taste. As you know from my dessert recipes, I am always reducing sugar as much as I dare, with the emphasis on preserving flavour.
However, the masterclass by both Michelin-starred chef, Thierry Marx and food scientist, Raphaël Haumont took this concept much further. Both specialise in molecular cuisine but are demonstrating that it's not just about test tubes and liquid nitrogen. They have founded together the Centre of French Culinary Innovation and their research is so  exciting for the future of cuisine, that they are going down in French culinary history, as documented at the Cité Gastronomique in Dijon.
They showed us how they could completely eliminate sugar from a chocolate cake and make it taste just as good along with the help of chef Ricardo Silva.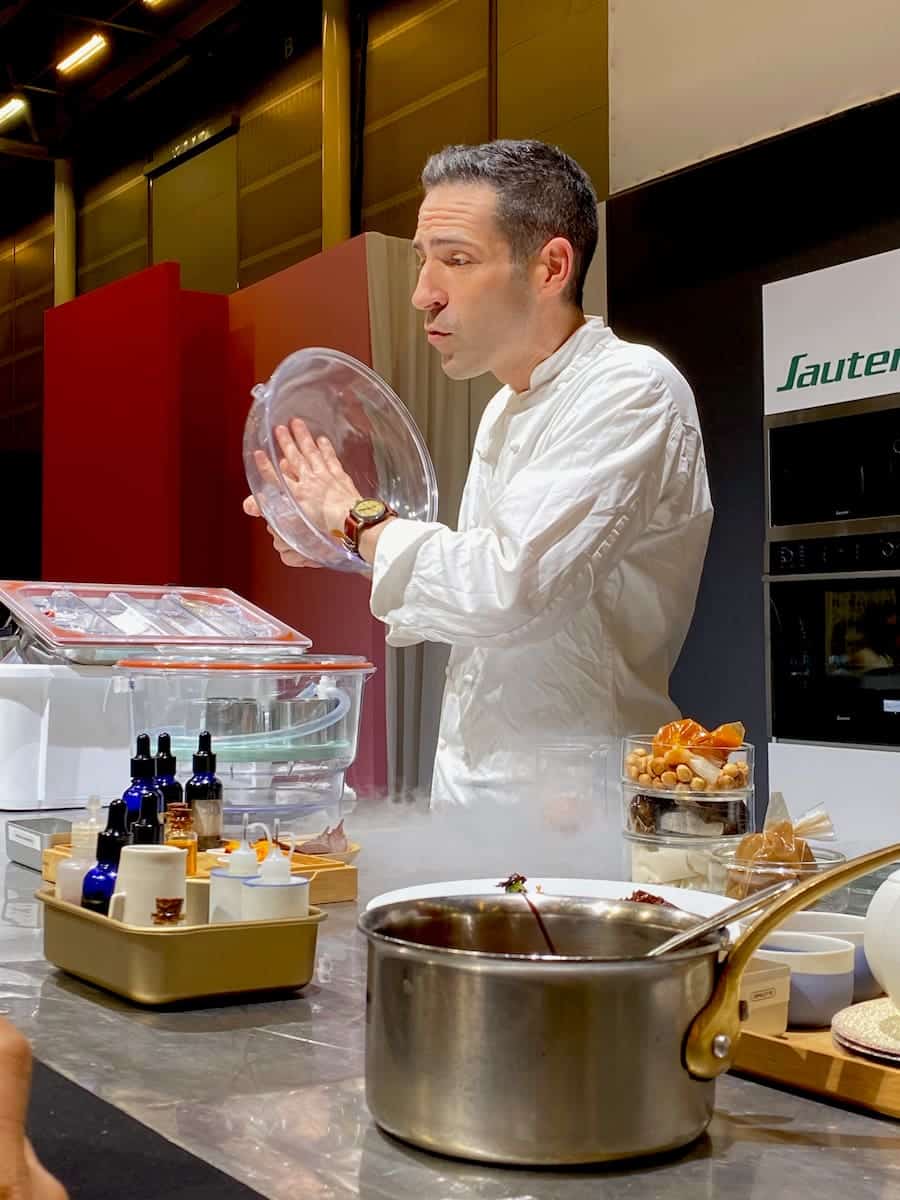 By blending together just mineral water and a grand cru chocolate with a little agar-agar, it was poured into a siphon (I use this to make my sugarless white chocolate mousse with orange blossom to complete a strawberry and rhubarb crumble). Conversely, no sugar or cream was added whatsoever to make a dark chocolate mousse using the siphon (my lightest dark chocolate mousse uses a little sugar and egg whites but still includes sugar).
That wasn't all. They both continued to pour the mousse into a version of a cocotte-minute or vacuum and within seconds, the mousses turned into little moist cakes. They took it a step further to introduce cucumber water (made in a centrifuge) since the flavour association is fabulous with chocolate. Homemade essential oils and spices such as shiso were also introduced, as well as a buckwheat crumble.
The whole presentation was totally inspiring with the main take-away being: just because we are used to adding butter, sugar and perhaps flour to a chocolate fondant cake, doesn't mean we should still do it.
We need to question cooking methods. Are they all really necessary? Do I need to cook vegetables in so much water if vegetables contain 85% water already? I have learned that asparagus or mushrooms no longer need to be cooked the same way, for example.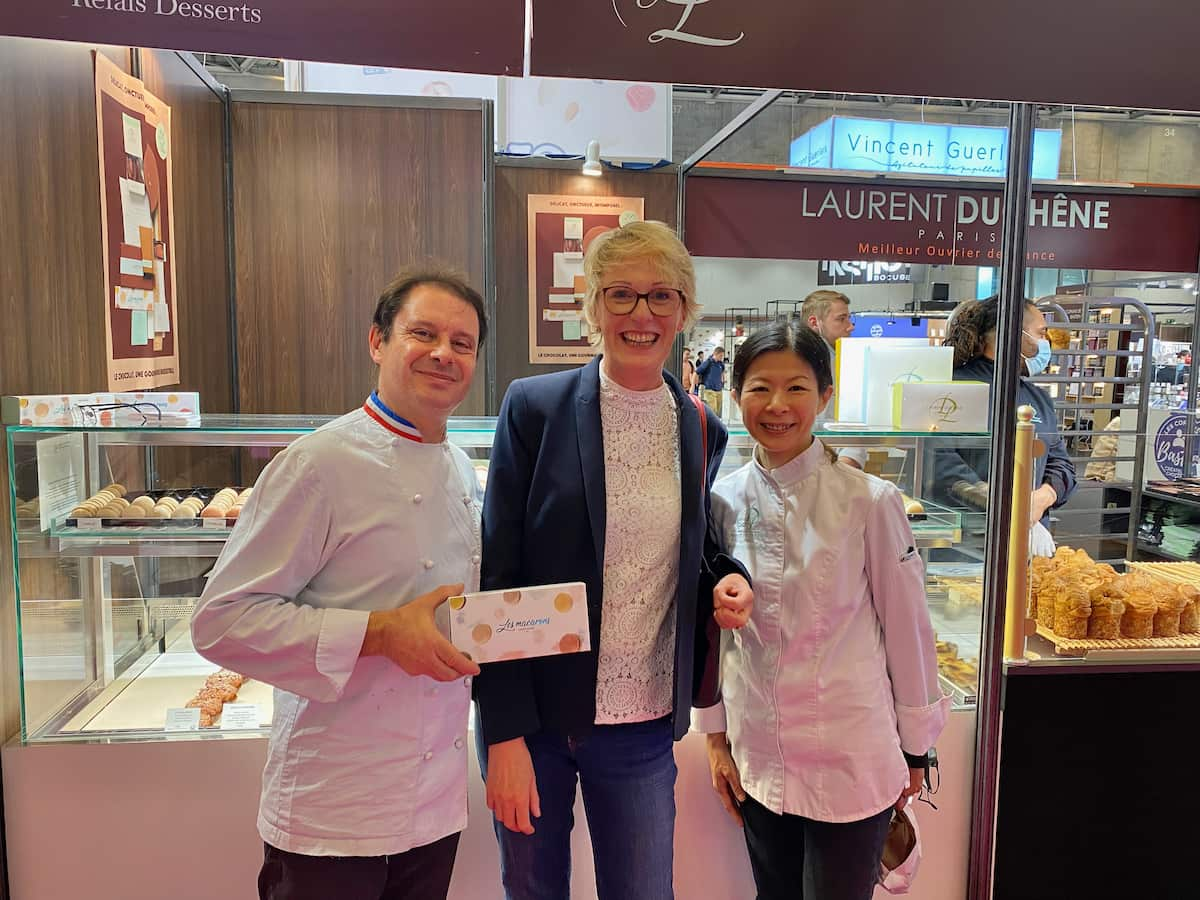 It's difficult to cover everything taking place at the Salon du Chocolat, but hope this gives you just a taste of the whole event.
See the Salon's website for more details and tickets for the next show.
This post was last published 30 October 2014 but is now updated to reflect the latest show in Paris