Rhubarb crumble revisited with a French twist. Served individually chilled with a white chocolate mousse with rose and topped with toasted oats.
Ideal for entertaining, this is a simple make-ahead dessert - both the rhubarb and strawberry compote and crunchy oat crumble freeze well too.
Easy Make-Ahead Individual Desserts
Love entertaining and being organised ahead of time? Then these individual rhubarb oat crumble desserts are perfect. Each of the three layers are made in advance: the fruit compote, white chocolate mousse and oat crumble. Even the compote and crumble can be frozen, so this dessert can be made at any time of year.
As a result, it's an easy dessert to prepare up to a week or a day before for dinner parties or lunches outside on the terrace.
What Can you do with a lot of Rhubarb?
Some of us are lucky to have neighbours who grow rhubarb plus, in Spring, it is becoming so much more popular than ever at our French markets. See the new market produce rhubarb page. If you're like our family who adores rhubarb, we buy so much that I'm often flashed puzzled looks from French locals, who ask me each year, "What are you going to do with all that rhubarb?"
My quick answer is rhubarb compote! I dollop it on granola, rice pudding, on ice cream or just eat it on its own. It's also perfect as a base for this dessert. What's more it freezes so well that you can have rhubarb compote at any time of year.
However, I appreciate not everyone has easy access to rhubarb. So, it was time to update this recipe.
Either make it just with rhubarb, with strawberries, or replace the rhubarb with strawberries instead. They all work well.
What Other Fruit Goes With Rhubarb?
When I first published this recipe, I made it purely with rhubarb but now I've dared to add strawberries, as this is another fruit that goes so well with it.
Don't have rhubarb? I've tried the same recipe completely with strawberries - and it's just as delicious.
If you do make this recipe using just strawberries, add less sugar, as strawberries are naturally sweeter than rhubarb. My ratio of rhubarb to sugar is 4:1, the ratio for strawberry compote is 5:1.
Do you Need to Peel Rhubarb for a Crumble?
First prepare the rhubarb for the crumbles. You may need to peel the rhubarb if the skin is particularly thick and stringy but otherwise I leave it on and cut into slices, discarding the leaves. All is shown in this video demonstration for preparing rhubarb.
Do you need to pre-cook the Rhubarb for Crumble?
The short answer is yes - for this recipe. Rhubarb is extremely sour if eaten raw. On the other hand, my Scottish grandpa used to eat a stick of rhubarb raw and dip it in sugar. Just thinking of it makes me salivate!
Although it was good, it's an acquired taste. It was too sour for me so this low sugar rhubarb compote is my answer to please everyone in the family. Compote is a healthy version of jam, as it only uses half the amount of sugar and so it's a delicious healthy base for making these chilled rhubarb crumbles.
White Chocolate Mousse with Rose
Normally in Britain, we'd serve a rhubarb crumble warm from the oven with hot, thick custard. This, however, is my French twist to the classic comfort dessert. Instead, serve the crumbles individually in glass dishes and well chilled with this light and fluffy white chocolate mousse.
How did I develop this recipe? I took inspiration from Michelin-starred French chef, Anne-Sophie Pic's beautiful book for entertaining, Recettes pour Reçevoir with her restructured style recipe for Rhubarb tart with tarragon. Served in glass verrines, she layers rhubarb compote with shortbread and tops with a white chocolate espuma using a siphon.
Instead, I made this oat crumble version, as I love the crunchy texture in this dessert. I omitted the mousse's sugar completely (I find white chocolate is sweet enough) and added rose (and/or orange blossom water) to it, following my own white chocolate mousse version, made without a siphon.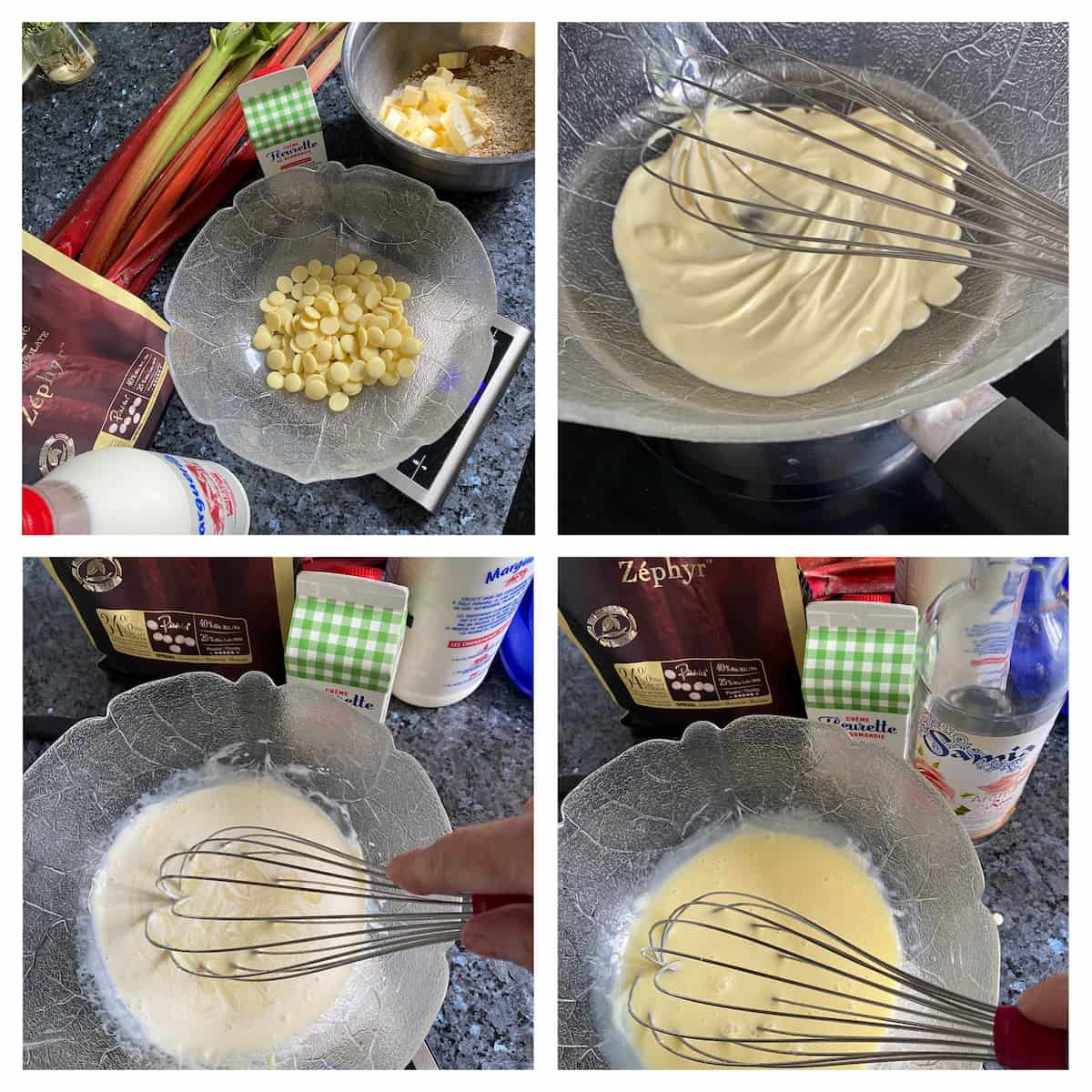 Can I make this Mousse without a Siphon?
Don't worry if you don't have a siphon: just follow my easy recipe for White Chocolate, Rose and Orange Blossom Mousse.
Crunchy Oat Crumble Topping
As I love a good crunchy Scottish apple crumble with oats, this topping is toasted in the oven and just crumbled directly into the glass.
Serve in mini shot glasses or verrines. If you like a toasted oat crumble topping like this, you should try this French Apple Crumble Cake.
How to Serve Ideas
This dessert can easily be made in advance and assembled at the last minute. Moreover, some of these garnishes can also be prepared in advance, giving the rhubarb crumbles an extra wow factor. Here are some ideas - please feel free to add your own creativity and share your ideas in the comments below.
Top with macarons or macaron shells (they're also handy to keep in the freezer);
Serve with almond tuiles;
Top with a strawberry or rose petal (brush with egg white, coat in sugar and dry for an hour);
For more rhubarb, serve with dried rhubarb chips (crisps).
Rhubarb Crumble Revisited
The classic rhubarb crumble is given the French touch. Served individually chilled with white chocolate mousse with rose, they're topped with toasted oats. Ideal for entertaining, this is a simple make-ahead dessert - both the compote and crunchy crumble freeze well too.
Ingredients
Rhubarb and Strawberry Compote
200

g (7oz)

rhubarb (about 1-2 sticks)

leaves removed, sliced

200

g (7oz)

strawberries

hulled and chopped (1½cups)

50

g (2oz)

sugar

(about ¼cup)

1

tablespoon

rose syrup

(optional)
Toasted Oat Crumble
100

g (4oz/½cup)

medium porridge oats

100

g (4oz)

plain (all-purpose) flour

100

g (4oz)

unsalted butter

softened

50

g (2oz)

light brown sugar

¼

tsp (good pinch)

salt

(fleur de sel)
White Chocolate and Rose Mousse
100

g (4oz)

white chocolate

100

g (4oz)

whole (full cream) milk

100

g (4oz)

whipping/heavy cream 30% fat

(crème fleurette)

½

teaspoon

rose water
Instructions
Rhubarb Compote
Follow the full instructions for the rhubarb compote recipe* then refrigerate until needed (or defrost if you've made it in advance and frozen).
White Chocolate Mousse
Over a pan of simmering water, place a bowl with the white chocolate broken into bits. As soon as it looks like it's melting, take off the heat and whisk gently, adding the milk then the cream and add the rose water.

Pour into the siphon, add the gas canister (according to manufacturer's instructions) and place in the fridge for at least an hour. If you don't have a siphon, then follow my recipe for the white chocolate mousse (link below).
Crunchy Oat Crumble
Preheat the oven to 200°C/400°F/Gas 6/180°C fan. Place all ingredients in a large bowl and rub them together until they resemble breadcrumbs. Spread an even layer of the crumble mix on a baking sheet lined with baking paper (or a silicon mat) and bake in the oven for 10-15 minutes until golden.

Set aside to cool.
To assemble
Spoon a third of each serving glass with the rhubarb & strawberry compote, spoon on the airy white chocolate mousse and top with the toasted crumble.
This recipe was first published in June 2017 but has now been completely updated with new images, a video and the recipe now includes strawberries.
Like the recipe? Please do leave a rated review below - your support is much appreciated.
For more recipes like this, see the collection of healthy French chocolate recipes.