I promised you this taster of the Saint-Germain-en-Laye Chateau Roof Visit. It's a fabulous way to discover this royal town's history which breathes around the Château and boasts a rooftop view over the River Seine to Paris.
As Paris visitors flock further west to the Palace of Versailles - also in les Yvelines - this visit will uncover the importance of Saint-Germain-en-Laye with the Kings of France before the court moved to Versailles in 1682. Birthplace of Louis XIV and also the composer, Claude Debussy, you will find that Saint-Germain has had a few surprising culinary births too.
Following on from this introduction to Saint-Germain-en-Laye as part of my series of easy-to-do day trips from Paris, guided visits on the castle roof run between May and end September, and are easily reserved in advance (see all practical details at the end of this post).  Although visits are only in French, English can be organised in advance if done in a group.
In the meantime, before your visit, let me whet your appetite as a Scottish-French local and guide you on your own DIY tour.
Château de Saint-Germain
There were two castles: the current pentagon-shaped Château Vieux and the Château Neuf . The latter newer castle was built under Henri II, finished by Henri IV and dismantled under Louis XVI and his brother, future Charles X. It's one of the rare castles dismantled before the French Revolution, with the bricks and stone recycled by the Saint-Germanois.
Today, the Château Vieux now houses the National Archaeological Museum. A model in the museum gives us an idea of both castles' grandeur, terraces and gardens which, at the time, cascaded all the way down to the Seine (now the town of Le Pecq).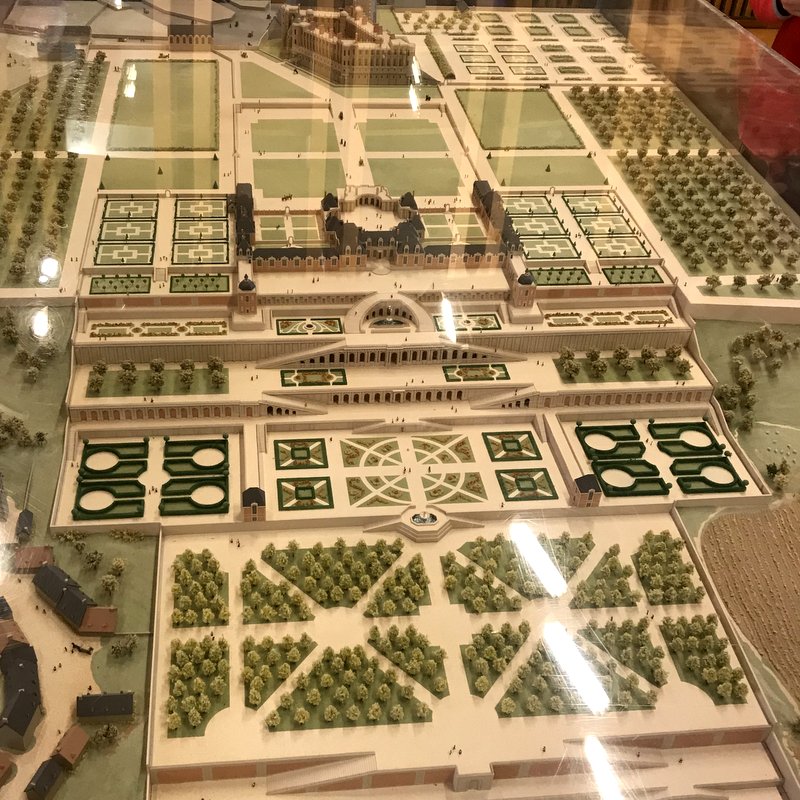 Today the castle's inner courtyard is one of the Renaissance's most beautiful.
A visit on the castle's rooftop is pretty special, showing off a panorama of the Seine Valley - including a skyline view of Paris to La Défense and Sacré Coeur. Look carefully, and you catch sight of the Eiffel Tower, poking out behind the Mont Valérien.
Just by visiting the Castle roof in the space of 30 minutes, we gathered nuggets of delicious history as we walked around the chimneys.
The fortified castle originated in 1122, when Louis VI le Gros built on the plateau of Laye. Only the dungeon (the square tower on the left of the museum entrance) retains the original shape, with a Campanile tower stuck to it, much like that of the Louvre in Paris.
Louis IX (Saint Louis) completed the castle and by 1238 had a chapel built, the only part of the castle to survive the fire during the Hundred Years' War from 1337 between Philippe VI Valois and the Black Prince. It was Charles V that re-built the castle by 1367, adjoining the Gothic Chapel.
Saint Louis Chapel, Saint Germain Chateau
Louis IX's Gothic Chapel was probably good practise for his Saint Chapelle in Paris built ten years later, constructed on much the same lines.
It's here that the story starts to get deliciously interesting at Saint-Germain-en-Laye, as it's where François I married la Reine Claude in 1514. Since then, the rosace was filled in, as the banquet hall he added on was right behind it.
Each time I walk around the Chapel, I can't help thinking of greengage plums. Did you know that the Greengage plum is known as Reine Claude in French, named after François I's Queen as she adored them so much? La Reine Claude would have surely approved with it spread on her royal baguette over breakfast with François I.
François I at Saint-Germain-en-Laye
This was François I's favourite residence. He loved the castle so much, he turned Charles V's fortress into a Renaissance palace.
King Francis I is said to have spent 1000 days at Saint-Germain-en-Laye which, considering the sumptuous castles in the Loire Valley and Fontainbleau, is quite something!
François I's symbols are not difficult to spot on the roof: his crowning initial with the Fleur de Lys carved in stone and flaunted on the imposing chimneys high above the town. Spot also his salamander, especially on the enormous banquet hall chimney inside.
François I's son, Henri II continued with more of the building work, including the new castle which was completed under Henri IV. During the reigns of both Henri IV and Louis XIII, the Château Vieux was left to royal children and their household staff.
Louis XIV and Saint-Germain-en-Laye
The Sun King, Louis XIV was born in Saint-Germain's Château Neuf, 5 September 1638. All that's left of the "new" castle is the red-bricked Pavillon, now part of the Hotel Henri IV that looks over the Seine to Paris. This hotel boasts a couple of other births from the culinary world: soufflé potatoes and the legendary Béarnaise sauce.
I was lucky to see the original birth and baptism papers from the local archives during an enlightening conference of Louis XIV in Saint-Germain-en-Laye, thanks to our local historian, François Boulet. The baptism took place in the St Louis Chapel when Louis (le Dauphin) was 4 years old in the presence of his parents, Louis XIII and Anne of Austria.  It was such a long awaited royal birth that 30,000 bells peeled all around France to celebrate!
Following Louis XIV marriage in 1660, he moved into the Château Vieux, breaking with tradition with the new castle.
From his reign in 1666, Louis XIV spent a staggering quarter of his reign at the castle before eventually moving to his newly embellished Versailles in 1682. In Saint-Germain, it wasn't merely for hunting but for the Court, where the greater part of his powerful and personal decisions were made.
We often just associate Versailles with Louis XIV but we can frequently forget just how important Saint-Germain was for the the Sun King and the court. It's here where he learned to dance and where Lully performed many of his premières in the giant ballroom.
Improvements were made to the castle by Jules Hardouin Mansart and André Le Nôtre designed the French gardens and the vast terrace overlooking the Seine before his other wee gardening job at Versailles.
Saint-Germain Pharmacist Treats Royal Headaches with Chocolate
As the longest reigning monarch in France, Louis XIV probably ate extremely well at Saint-Germain-en-Laye. I suspect one of the ingredients to a long and prosperous life was chocolate, introduced to the French court by his mother, Anne of Austria, and his wife, Marie-Therèse who both brought over their chocolate luxuries - in the form of a chocolate drink - from Spain.
Later at  Versailles, it was under Louis XVI that chocolate finally flourished outside of the French court in Paris, thanks to the pharmacist in Saint-Germain-en-Laye, Sulpice Debauve, appointed King's Physician in 1778 to help cure the Queen Marie-Antoinette's headaches through chocolate coins or pistoles. More on that later, as this addictive subject merits its own post - but again, Saint-Germain is one of the ingredients!
James VII of Scotland in Exile at Saint-Germain-en-Laye
When Louis XIV and his court permanently moved to Versailles on 20 April 1682, the Sun King 'lent' the Château Vieux to his cousin, James VII of Scotland (II of England) while the Stuarts were in exile from Britain during the Glorious Revolution. He stayed here with his family for 13 years until his death in 1701 and is buried in the church across the road from the castle.
Many of the Jacobites stayed in Saint-Germain-en-Laye until the French Revolution and finally left in 1793. For a brief summary of the Jacobites, I guess you could watch Outlander! Did you know that Saint-Germain is twinned with Ayr in Scotland?
French Revolution, Wars to Today
During the French Revolution the castle was used as a prison, then a hospital for the treatment of contagious diseases, a cavalry school under Napoleon Bonaparte, barracks then a military prison.
Thanks to a visit from Queen Victoria to Saint-Germain-en-Laye in 1855, eager to learn more of its British past with the Stuarts, she urged Napoleon III to save the castle from abandon and so it was restored. In 1862 Napoleon III created the Museum of Celtic & Gallo Roman Antiquities as part of the castle and the following year it was listed as a historical monument. Restoration work was carried out by Eugène Millet, who studied under Viollet-le-Duc (of Notre Dame restoration fame).
The Peace Treaty of Saint-Germain-en-Laye was signed at the castle on 10 September 1919, officially ending WWI with Austria.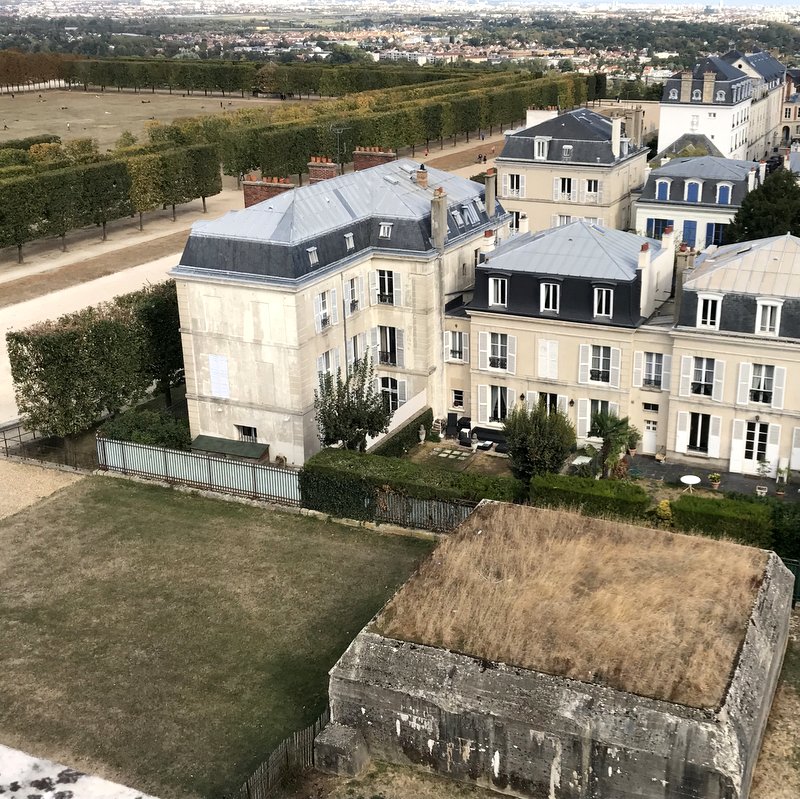 The Castle was used as Headquarters by the German Army in France during the German Occupation (1940-1944), as was the Château d'Hennemont, which is now the Lycée International. Many German bunkers are reminders throughout Saint-Germain of around 18,000 soldiers occupying the military town. Thankfully, and astonishingly, Saint-Germain wasn't bombarded by the allies. There are two bunkers right next to the castle in between the hôtel particuliers or mansion houses.
Today, the castle houses the National Archaeology Museum. It includes the world's largest collection of prehistoric art, illustrating the life and inventions of men from their origins to the merovingian period. Furniture is replaced by countless exhibition cabinets, showing a fascinating insight into life to the middle ages.
Saint-Germain-en-Laye's Speciality Cakes
No visit can finish without a taste of the local culinary specialities.  Both puffed potatoes or some Sauce Béarnaise, born at the Henri IV hotel's restaurant, are not the easiest to sample on the street (see the recipe for Sauce Béarnaise), so I'd recommend popping in to at least two patisseries in particular for their speciality cakes.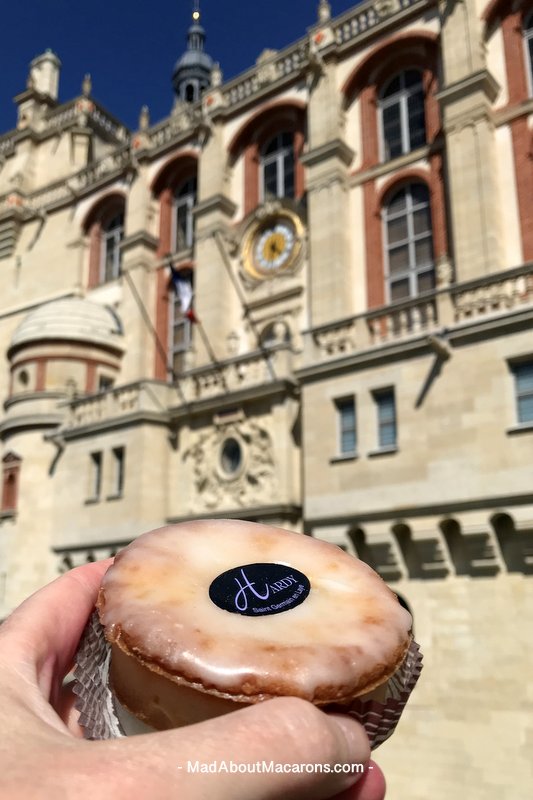 Since 1920, the Pâtisserie Hardy has been making Le Gâteau Saint-Germain, of which I'm constantly told that the recipe's secret has never left their boutique. It's a sweet tart filled with almond paste with bits of almonds and glazed with a light icing - see my recipe for le gâteau de Saint-Germain.
Saint-Germain-en-Laye's chocolate speciality, Le Debussy, was created by the Patisserie Grandin to celebrate the birth of composer, Claude Debussy on the same street on rue au Pain, the oldest street in town (called bread street, as at the time of François I, this was where the bread was baked as there was no oven at the castle.)
Le Debussy is a hazelnut sponge with praline mousse with raisins soaked in rum and coated in dark chocolate. You'll also find a Saint-Germain cake at Grandin. If you love rum, then it's guaranteed to satisfy with its boozy glaze!
Saint-Germain-en-Laye Chateau Roof Visit
We loved the compact yet relaxed 30-minute roof tour: simply book on the morning itself directly at the Museum ticket office to ensure your place. Alternatively, book a longer visit by telephone or email in advance, and you're good to go (precise details below). Note: I may add that I suffer from vertigo but I honestly had no trouble on this Saint-Germain-en-Laye Castle Roof Visit.  As groups are small with a guide and another member of museum staff behind us with clear footpaths, it's very secure. No children under 10 are admitted, however.

So, on a lovely day, jump on the RER A express train line from Paris to Saint-Germain-en-Laye, pop into the ticket office just across the road to book if it's not done already, then enjoy a walk around. There's so much to see and do.
What Else to do in Saint-Germain-en-Laye?
I often call Saint-Germain a mini royal Paris, as it's so beautifully compact for boutiques and there's plenty to do. I thoroughly recommend wearing good walking shoes as there's plenty to do:
The farmers' market (Tuesdays, Fridays & Sunday mornings - the latter is the biggest);
The quaint boutiques! Even the several cheese shops alone are worth a stop. Check out Foucher's interior - it's like stepping back to 1923 when it opened.
Walk in the extensive castle grounds (it's free), including the long terrace built by Le Nôtre overlooking Paris, plus a walk through the beautiful forest (the walks are all well signposted);
Visit the church across from the castle, where James VII Scotland rests;
An afternoon visit to the Claude Debussy Museum, recently refurbished at N° 38 rue au Pain (closed Mon/Tues);
Maurice Denis Museum - this is currently closed for renovation until 2020;
The Fête des Loges in July-August is one of Europe's biggest fairs. Shuttles run from the RER station.
An absolute must? My DIY chocolate & patisserie tour - Patrick Roger, Pascal le Gac (formerly from Maison du Chocolat), Gontran Cherrier, Eric Kayser, to name a few more, plus an ice cream stop at La Fabbrica de Luca, a few doors away from the oldest house in Saint-Germain on rue de la Salle. Have I missed anything?
Practical Information
SAINT-GERMAIN-EN-LAYE CHÂTEAU ROOF VISITS: Open 2 MAY - 30 SEPTEMBER
2 Types of Visits are possible, organised directly at the Chateau Museum in FRENCH ONLY. For a guided visit in English, advance reservation should be done for a group.
"Historique du château et visite des toits" (1h weekly visits - 1h30 on weekends Full price each 5€/7€)
ADVANCE RESERVATIONS ONLY by telephone (01-34 51 65 36) or by email  (Reservation.man@gmx.fr)
Promenade sur les toits (Duration: 30 min Wednesdays, Saturdays & Sundays at 2.45pm Full price each €4). Reservations to be made on the day itself, weather permitting, directly at the boutique/ticket office of the Museum.
Jardin des Arts
3 rue Henri IV
78100 Saint-Germain-en-Laye
Getting There from Paris:
Only 20 km west, this makes for an ideal day trip from Paris with a short 30 minute train-ride on the RER A line (red) west (ouest) to the terminus at Saint-Germain-en-Laye.
Disclaimer: This post is not sponsored.  As a local, I'm proud to introduce new ideas for your day trips from Paris.