Just a taster of some of the Valentine chocolates Paris has to offer in February.
As you can imagine, we're spoiled for choice in Paris, so I can't possibly mention them all, but I'm sure you'll find something here that tickles your fancy from some of the best Parisian chocolate boutiques.
Say it with Parisian Chocolate Hearts
If you're into hearts, then you won't be disappointed: the majority of chocolates are either heart-shaped or come in red-ribbon heart-shaped boxes.
Some of the luxury chocolate boutiques have more emphasis on their windows, others on particularly beautiful packaging - while others are perhaps not quite as wow-factor on the presentation side, but their chocolates are definitely worth falling head over heels.
Speaking of heels,Jean-Paul Hévin and Georges Larnicol will have you swooning over their chocolate stilettos, Eiffel Towers, mopeds or even pianos filled with macarons. There's something for every budget - from the cutest of mini boxes to more decadent assorted arrangements to say I love you.
Pierre Marcolini
Pierre Marcolini - the double chocolatier who makes his own chocolate from cacao bean to bar - centres around his classic red heart raspberry chocolates available year-round but it's all in the packaging, ranging from a mini duo box to a giant cone for all budgets.
Other valentine hearts have been designed to join in with names to create the mood: Seduction (raspberry pulp), Passion (milk chocolate-passion fruit), Frisson (white chocolate-lime), Tendresse (Montélimar nougat praline), Plaisir (Iranian pistachio praline), and Douceur (salted butter caramel).
Patrick Chapon
Patrice Chapon is another chocolate maker who creates his tablets and stunning chocolates from bean to bar. His windows show off his famous chocolate yellow Smileys along with Valentine pink hearts and rather catchy-kissy red lips.
Not to be missed in any of his boutiques? Taste his hot chocolate and any of the famous chocolate mousses - including a Pure 100% cacao chocolate mousse.
Chocolate-moulded hearts and lips are also featured at Dalloyau, but admittedly my heart is beating to unlock their duo of pastries for two.
Foucher
Maison Foucher, also in rue du Bac, has been there since the shop opened in 1819.
Their heart-shaped milk and dark praline-filled chocolates are perhaps for those with a sweeter tooth. Red fruit calissons (sweet marzipan confections from Aix-en-Provence) add a different red touch as well as their chocolate disks of fruits and nuts, known as Mendiants.
For more here, see my article including the chocolate shops
on rue du Bac - Paris pastry street.
It's still hearts galore at Le Chocolat Alain Ducasse with a large heart to be enjoyed à deux: either a dark chocolate coconut-passion, or a milk chocolate praline.
La Maison du Chocolat
La Maison du Chocolat celebrates Valentines not just with heart-shaped boxes but the emotion of love's infatuation with that frisson feeling or quivering. Nicolas Cloiseau explores this through his chocolates and has created a "Pop" gift box containing four themed chocolates, each provoking a slight shudder with the play of chocolate and fruity acidity or salty surprise.
There are two milk ganaches: Yellow Fusion (praline, caramel and nuts with a hint of lemongrass and lemon notes), Orange Passion (passion fruit with lime, mango and vanilla); and two dark ganaches: Striking Red (acidulous punch of redcurrant, strawberry and raspberry), Dashing Blue (Persian blue salt with praline and blue poppy seeds).
The red fruits are indeed particularly striking, with the clever shuddering effect taking hold – I'm in love!
Patrick Roger
Patrick Roger, Meilleur Ouvrier de France (or MOF, the highest accolade given to French craftsmen in their field) is known best as the chocolate sculptor who thinks outside the box. You'll find his latest masterpiece sculpted in chocolate in all of his Paris boutiques. Love intense chocolate sensations? Then I have the recipe for Patrick Roger's chocolate cake.
As part of his permanent Valentine chocolate collection in Paris, his love hearts are filled with an assortment of chocolates, as well as his bright-eyed marzipan hearts.
Hugo & Victor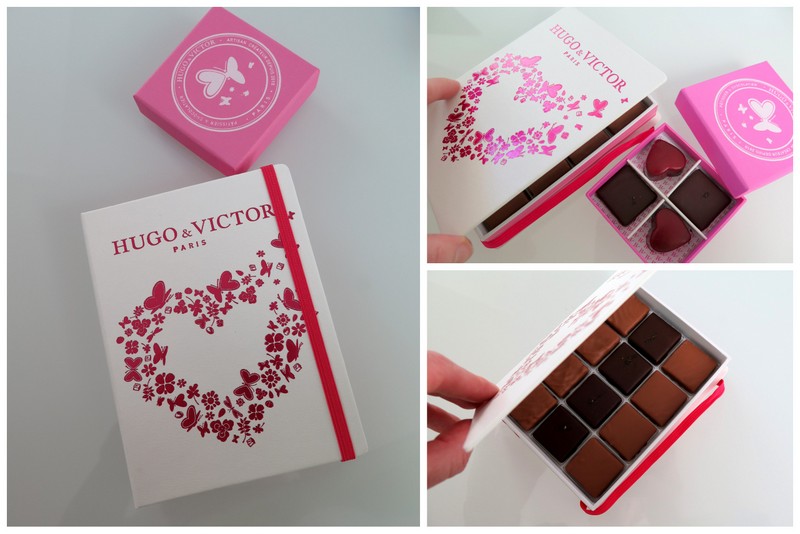 Have that fluttery feeling of butterflies in the stomach? Then head to Hugo & Victor with their heart and butterfly theme – and there's no need to "book" your valentine chocolates here!
I adore their presentations with the cutest little dusky pink box holding four dark chocolates: a delicate jasmine tea ganache and deep love-hearts containing runny cranberry caramel.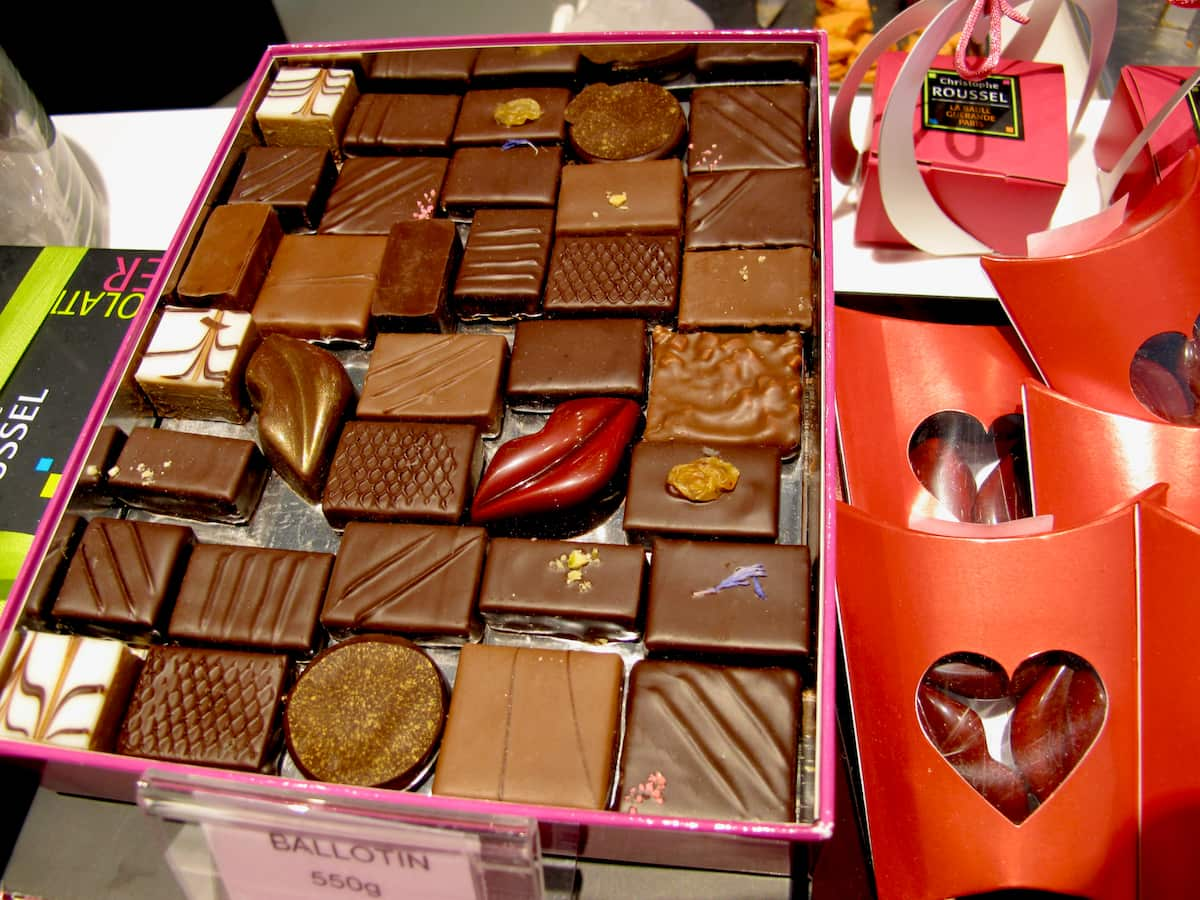 Christophe Roussel
Also well known for his chocolate kisses, Christophe Roussel continues his seductive selection of kisses and sweet hearts in rue Tardieu.
If you're planning on a Valentine's weekend around Montmartre, this is your address for chocolates and macarons - plus a taste of hot chocolate to get you in the mood before climbing the Butte!
For more see my chocolate and pastry self-guided tour in Montmartre.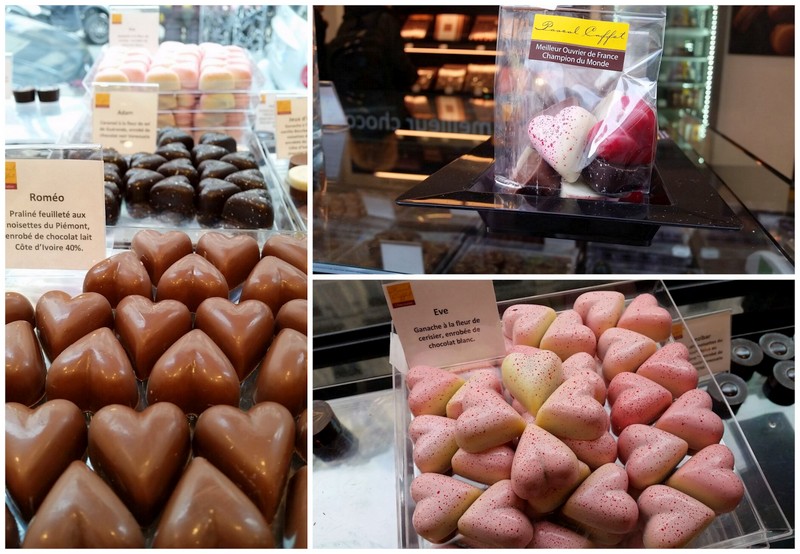 Pascal Caffet
Another Meilleur Ouvrier de France, Pascal Caffet is King of pralines, using hazelnuts from Piemonte.
First I was introduced to Adam, a dark 70% Venezuelan chocolate with a heart of salted caramel ganache, and Eve, a subtle cherry blossom ganache dressed in white chocolate.
On the other hand, Romeo, an Ivorian 40% milk chocolate with his crispy praline heart doesn't yet have a Juliette - so I'll just take at least a couple of Romeos, please.
I'm hoping that next year Juliette turns up as a dark praline seducer like her other half but in the meantime, I found another "Dark Favourite" of 70% dark chocolate topped with a heart, containing a praline mix of Valencian almonds and Piemonte hazelnuts.
For much more, see my article on Pascal Caffet in Paris.
Valentine's Pâtisserie in Paris
Most chocolatiers in Paris also make a special valentine's chocolate pastry for something special.
Pascal Caffet makes a frozen Valentine's dessert for two, the Cocooning: 70% dark Venezuelan chocolate mousse and biscuit, red fruits and Bourbon vanilla crème brûlée.
For a complete making of one, see my article on the pâtisserie, Baisers Sucrés with Sweet Kisses in Paris Valentine Creation where creative pastry chef couple, Kévin Bézier et Gnagalé Sissoko make some of the best Valentine's chocolates in Paris.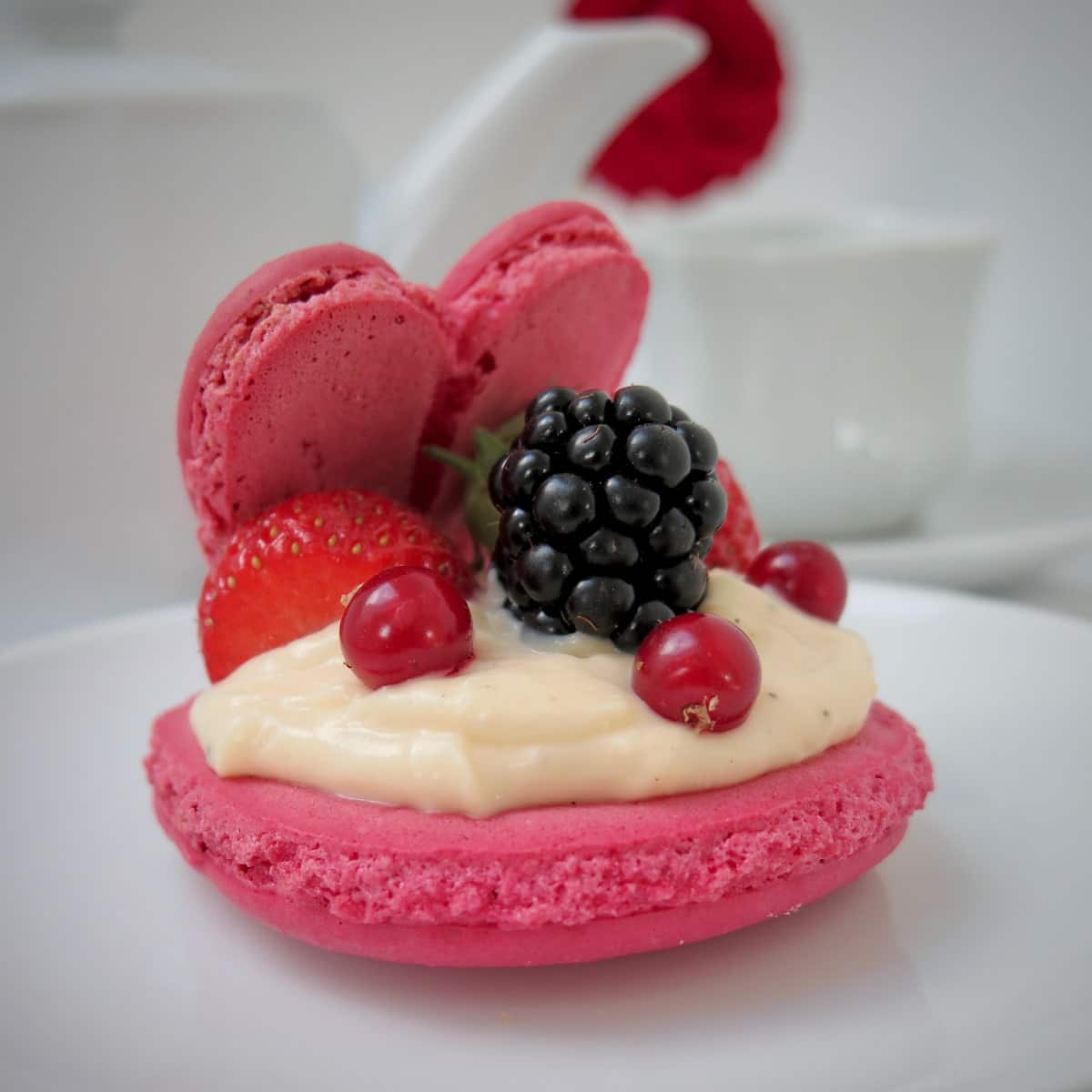 Perhaps the most tempting teasers of classic large macaron hearts filled with raspberries: Pierre Marcolini adds vanilla and yuzu; while Angelina adds rose and redcurrants for a "Heart to Heart".
Pierre Hermé couldn't have a Valentine's Day without his famous Ispahan macaron heart of rose, raspberry and litchi. Discover his "Venus Heart" tart of quince, apple and rose.
To make your own apple rose, see my recipe for Apple Rose Tarte Tatins.
Paris Chocolate Museum
As Valentine's Day usually falls during the French school mid-term holidays, don't forget there's the Paris Chocolate Museum (links to my article on it). Learn all about the history of chocolate (Choco Story) plus finish off with a talk and tasting.
Not all chocolatiers are necessarily attracted to a Valentine theme in Paris. Instead, they are preparing for their collection for Easter - see my guide to French Easter Chocolates in Paris.
This post was first published 9 February 2016, it has now been updated - also made to be easier to read.