Individual tarte tatins with apple roses, an easy make-ahead dessert recipe inspired by pastry chefs, Alain Passard and Christophe Felder. Step-by-step how to make apple roses stand on their own.

Who Originally Created the Apple Rose Tart?
The craze of Apple Rose tarts all started in Paris in 2013 with 3-Starred Michelin Chef of l'Arpège, Alain Passard. His fabulous Tarte au Bouquet de Roses© took the traditional apple tart to the highest new creative level, inspired by French Haute-Couture, art, and his apple-loving home town in Brittany.  Since then, pastry chefs worldwide have followed with their own incredible artistic takes, including Pierre Hermé's Venus Cake. I'm no chef, so I've been experimenting to find a much easier version to make at home. So let me introduce you to the Apple Rose Tarte Tatin.
Apple Roses Without the Pastry
We've seen so many apple rose tarts and pies on Pinterest, YouTube etc. where the technique of wrapping the pastry around the apple slices is used to hold the rose in shape.  Alain Passard's roses are rolled from one large rectangular peeled apple "sheet" (I LOVE the look of this machine to do this!), packed one next to the other, and lightly baked in the oven. Pierre Hermé also uses this machine but instead makes little folds using raw apple dipped in lemon juice and water, which are placed into the pastry cream to hold them in.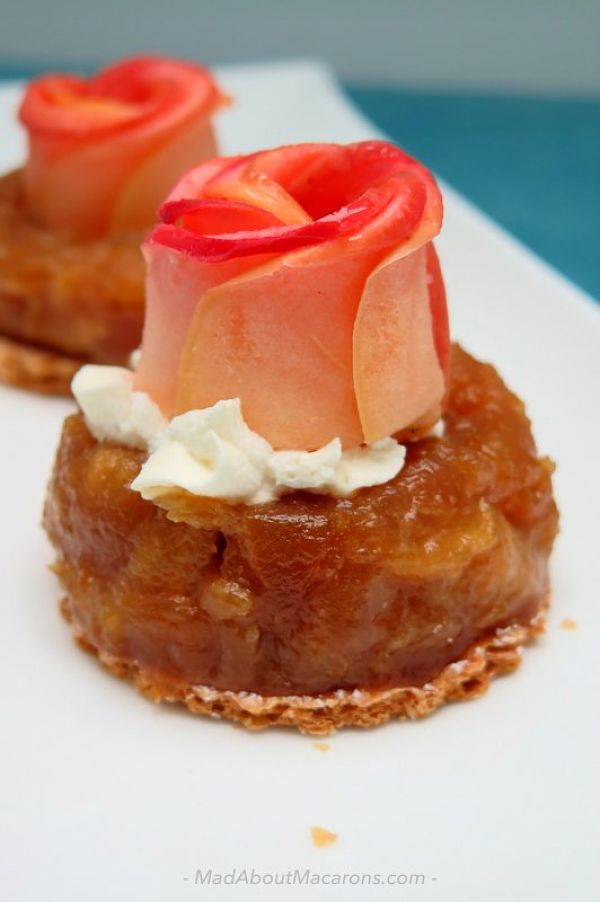 Instead, I wanted to make a simple apple rose without the puff pastry that could also stand on its own without having to be pushed into a pastry cream to keep its shape. Could I have a tasty decor that wasn't difficult to make? Was it possible?  Yes!
I experimented using a mixture of techniques, notably from pastry chef Christophe Michalak's method of peeling and slicing Golden Delicious apples, brushing with butter and topping with brown sugar and baking in the oven - then rolling.  I liked this, but I felt it lacked the lovely romantic red apple rose look and so, to keep it simple, I wanted to avoid baking them.
Then I discovered Anne Reardon's version of preparing red apple roses for a tart.  The roses were not baked and pushed into the tart's pastry cream to hold their shape.  What I liked with her technique of soaking the roses was that they seemed a bit more "cooked" by melting the butter. So I reduced the butter and played.
Apple Roses That Hold their Own
While my roses were sitting in the fridge to be used, I made some mascarpone cream from the Saint-Honoré recipe in Teatime in Paris (replacing the violet with vanilla, of course!), just so that the rose could be held in shape  - but the biggest surprise came when I realised the cream wasn't needed for prop reasons!  After I had rolled up and placed the apple roses in each cavity of a mini-muffin mould and placed them in the fridge until needed, the apples had set.  The great news is that they can hold their own - so, if you want a dollop of cream or crème fraîche, then it's purely for taste but not essential.  Moreover, the apple roses last for 2-3 days in the fridge!
Apple Rose Tarte Tatin
Inspired by Chef Christophe Felder (another Christophe amongst top French pastry chefs!), with his mini cocktail tarte tatin, I developed it by making larger individual dessert versions, adding gelatine to hold its shape and, by adding a simple red apple rose, created the Apple Rose Tarte Tatin. I'm sure you'll do a better job at piping out the cream - I did this far too fast for a quick photo here and wish I had taken the time to make this look prettier.
The recipe may look long, but take heart: it's so much easier than it sounds.  I'm just taking you through it in plenty of detail! It's also a recipe that's all made in advance and easily assembled so it's easy to surprise your loved ones!
How to Make Apple Rose Tarte Tatins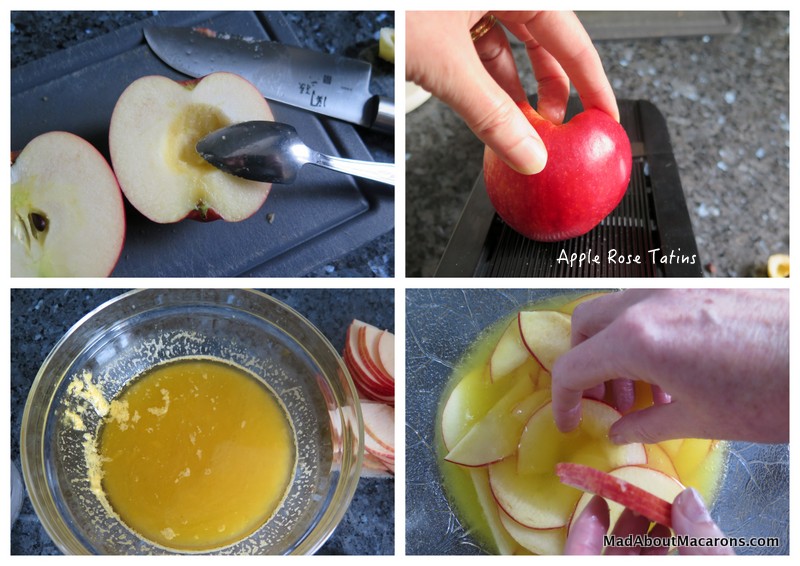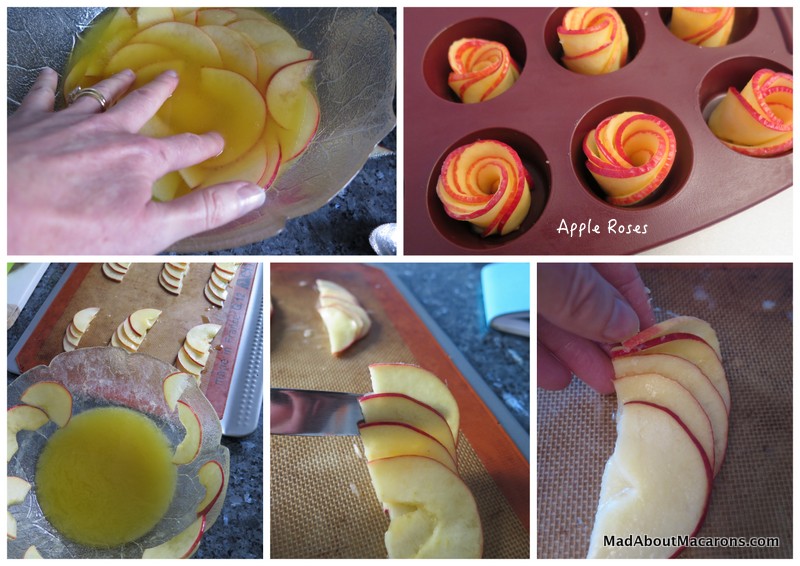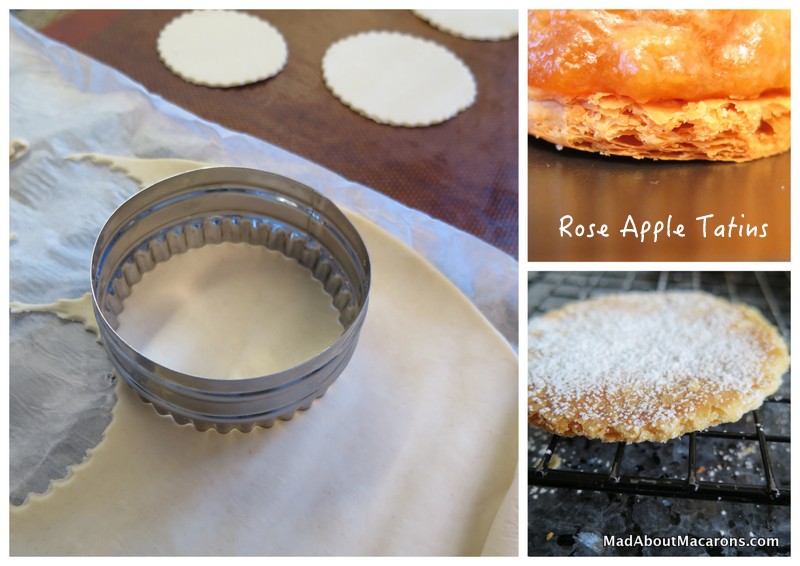 Brushing the final roses before serving with a touch of syrup helps eliminate any odd trace of butter that may be left on them after being in the fridge - and gives them a lovely sheen without having to make a glaze.

Good News! The apple roses freeze well too, so each stage of the recipe can be prepared in advance so that this special, romantic dessert will be a surprise until the last minute!
Apple Rose Tarte Tatins
Individual tarte tatins with apple roses, an easy make-ahead dessert recipe inspired by pastry chefs, Alain Passard and Christophe Felder.
Ingredients
Apple Tarte Tatins
2

Granny Smith apples

or other tart apple

2

Golden Delicious apples

200

g (7oz)

sugar

50

g (2oz)

butter, unsalted

cut into pieces

good

pinch

fleur de sel salt

2

tablespoon

warm water

1

(2g)

gelatine sheet
Apple Roses
1

Red Gala apple

or other firm apple with red skin

150

ml (5.5fl oz)

Juice of 2 oranges

Make up with water if not enough

100

g (3.5oz)

sugar

50

g (2oz)

butter, unsalted

1

tablespoon

rose syrup (I use Monin's)

optional - just enough to brush on a glaze
Pastry Bases
1

ready-rolled puff pastry

Cut out 6 circles to the size of your moulds using a cookie cutter

1

tablespoon

icing (confectioner's) sugar

for dusting
Instructions
Caramelised Apple Tatins
Peel and core the apples then cut them up into small cubes. Place them in a oven-proof dish.  Preheat the oven to 200°C/400°F/Mark 6)/180°C fan.

In a small saucepan, heat the sugar and a few drops of water over high heat.  Stirring from time to time with a wooden spoon KEEP YOUR EYE ON IT (don't cut the apples now - no cheating!  That's why we do this first). After about 8-10 minutes it will turn into a lovely golden caramel. As soon as it does, lower the heat and stir in the butter.  Take off the heat and stir in the warm water until the caramel is smooth.  Add the salt and stir again then pour over the apples.

Cover with aluminium foil and bake for 30 minutes. After 25 minutes, Soak the gelatine in cold water for 10 minutes. Remove the foil and stir the apples then bake for a further 5 minutes. Squeeze out the water and dissolve the gelatine to the apples.

Set aside until cool, then spoon into silicone moulds. (If you don't have silicone, regular muffin moulds will do).  The moulds can be muffin, briochette, domes, savarin ... whatever takes your fancy! Then place them on a tray and freeze for 3 hours.
Apple Roses
Prepare the steeping mixture in a large bowl: squeeze in the orange juice (and water if need to make up to 150g), and add the sugar and butter.

Wash the red apple, cut in 2 then spoon or cut out the middle core, taking off the stalk and bottom too.  Using a mandolin, cut the apple into thin slices - WATCH your fingers! (If you don't have a mandolin, use a sharp knife and cut them as thin as you can).

 Microwave the mixture for 2min 30 seconds. Filter out the froth on the butter using a sieve into another bowl. Add the apple slices to the warm buttery juice and leave to soften them for 10-15 minutes.  (No more, otherwise the butter will harden and it will become messy).

Drain the slices of the butter and on a baking sheet topped with baking parchment or a silpat mat, arrange about 5-8 slices in a row. If there's excess butter, then pat them very lightly with kitchen paper. Transfer to the fridge for 10 minutes to make it easier to handle them.

Now taking the opposite end of each row, tightly roll the apples into a rose shape. Transfer to muffin moulds and chill in the fridge to keep their shape.
Pastry Bases
Preheat the oven to 180°C/360°F/Mark 4/160°C fan. Using ready-rolled pastry (if not roll it out to about 5mm thick - think a pound coin), cut out circles using a cookie cutter or bottom of a glass, at least the same width as the widest part of your individual mould size. Place on baking paper on a baking sheet, placing another sheet of baking paper on top then cover with another baking sheet (so that the pastry doesn't puff up and rise in the oven).

Bake for 15 minutes. Dust with icing sugar and leave to cool on a wire tray.
To Assemble the Apple Rose Tarte Tatins
Take the tatins out of the freezer, peeling off the frozen apple mixture and place directly on to the pastry base (if using regular moulds, then cut around the edges with a sharp knife and tip up on to a plate or pastry scraper). Leave at room temperature for about an hour until defrosted. When ready to serve, top each with a dollop of crème fraîche or whipped cream (although optional) and the apple rose. Just to give a final sheen to the roses, brush with syrup.
Notes
Brushing the final roses before serving with a touch of syrup helps eliminate any odd trace of butter that may be left on them after being in the fridge – and gives them a lovely sheen without having to make a glaze.
NUTRITIONAL INFORMATION: 525 Calories per serving; 2g protein; 20g carbohydrates.