Mini macaron trifles with raspberry, rose and lychee. Inspired by the flavour of Pierre Hermé's Ispahan macarons, giving a Parisian touch to a retro British trifle dessert – and making them gluten free too!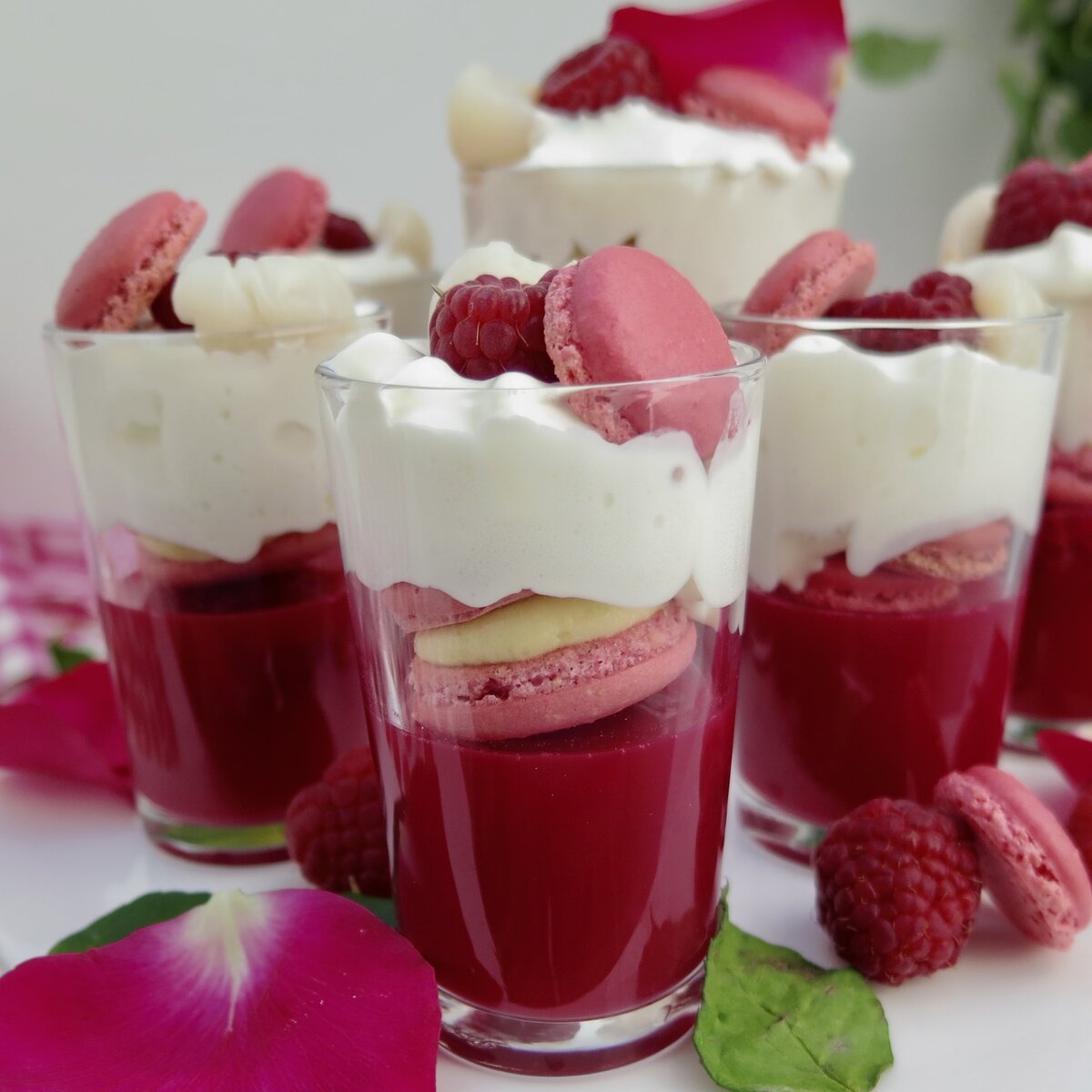 Retro British Trifles with a Parisian Touch
I have been itching to show you these mini macaron trifles – Ispahan style!
As I was listening to Abba, my kids caught me using my macaron spatula as a microphone. Caught! Transported back home to Scotland in the 80s – and before you could say Super Trouper – my nostalgic mind had turned to trifle.
You see, Mum always made her best and biggest celebratory trifle for end of year parties. However, with such a huge festive spread on the buffet table, we didn't have that much room left for dessert. How frustrating, looking at its pretty pristine layers of fruity wobbly jelly, sherry sponge, custard and cream in that big, glass bowl.
French Verrines: Perfect in Shot Glasses for Serving Mini Macaron Trifles
Hence my urge to make mini versions.
Better known as verrines in Parisian patisseries, so called as they're presented in small shot glasses. Incidentally, Chef Philippe Conticini was first to come up with the idea in Paris.
As a result, I couldn't resist using Parisian macarons to replace the classic trifle sponge (macarons are gluten-free). They fit a verrine or shot glass perfectly. Moreover, adding a handy few homemade rose macarons left in the freezer, I whipped up these mini macaron trifles in no time. The result was that French touch of Parisian "Ispahan" inspiration.
What Does Ispahan Mean?
'Ispahan' is a Damask rose named after the city Isfahan (French: Ispahan) in Iran where it was apparently discovered in one of the city's beautiful gardens. The rose has been made famous in Paris by pastry chef, Pierre Hermé. He is renowned for his Ispahan macaron, created while previously working at Ladurée: a bright pink macaron, filled with rose cream, lychee and raspberries.
Pierre Hermé is originally from Alsace – the region famous for their French Gewürtzraminer wines with tones of rose and lychees. So you can see why he chose such a romantic combination with raspberries to conjure up a rosy selection of Ispahan desserts.
More Inspiration for Mini Macaron Trifles
For more trifles, see the following recipes. What about adding macarons to turn them into mini macaron trifles? This makes them gluten free.
How to Make Classic Trifles Gluten Free
To turn classic trifle recipes into gluten free macaron trifles, use the macaron recipes in my books. Just pick the macaron flavours to match the trifles.
Here are some ideas from the latest macaron recipes in Teatime in Paris:
Mojito macarons (make a lime jelly and add a touch of mint essence in the cream)
Fizzy Orangina macarons (using orange jelly)
Raspberry, Lime & Tarragon "Maclairs" (for something a bit different!)
Rhubarb and Poppy macarons (great with strawberry trifle) … the list goes on so over to you!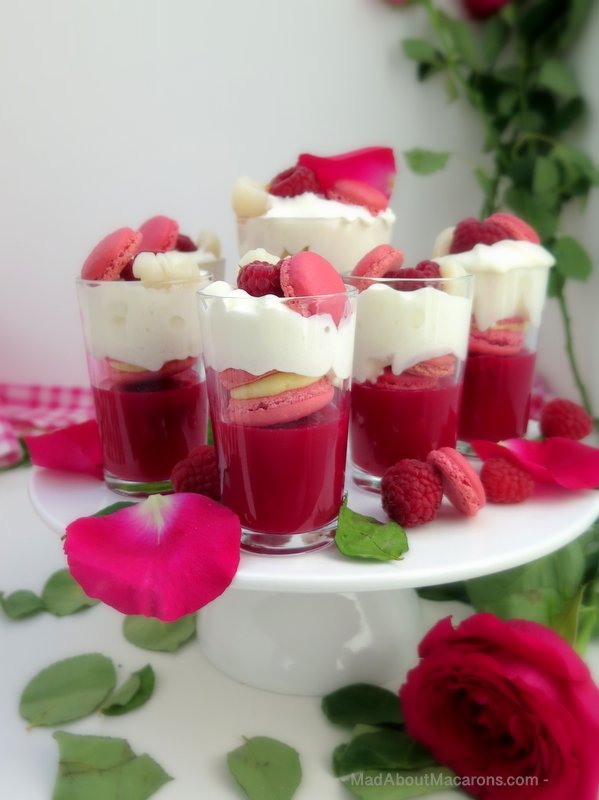 Mini Macaron Trifles - Parisian Ispahan Style
---
Description
Mini macaron trifles with raspberry, rose and lychee. Inspired by the flavour of Pierre Hermé's Ispahan macarons, giving a Parisian touch to a retro British trifle dessert - and making them gluten free.
Ingredients
200

ml (7fl oz)

Raspberry juice

2

Gelatine leaves @ 2g each

8

rose or raspberry macarons

240

ml (8.5fl oz)

Whipping cream

(30% fat), chilled

2

tbsp

rose syrup

(I use Monin)* see NOTES

24

raspberries

(3 per shot glass)

8

lychees
Instructions
Place a large glass bowl in the fridge for the Chantilly cream later.

Make the jelly: Soak the gelatine in cold water for 5 minutes. Heat the raspberry juice in a saucepan (don't boil), squeeze out excess water from the gelatine and dissolve into the warm juice.  Add 1 tbsp rose syrup.

Drop in a couple of raspberries in each shot glass and top with the jelly, filling up to a third of the way up.

Chill in the fridge for 2 hours.

Using an electric whisk or stand mixer, whip up the cold cream in the chilled bowl and add 1 tbsp rose syrup (or 2 tsp sugar and 1 tsp rose water) until whipped firmly.

Once the jellies are set 2 hours later, top with a macaron then the Chantilly cream and decorate with a lychee and raspberry.
Notes
Pressed for time? Make raspberry jelly using half a packet mix and follow instructions.
Either buy rose macarons or make them yourself using the recipes in my books! Don't forget homemade macarons freeze well and are gluten free.
*If you don't have rose syrup, add 2 tsp sugar & 1 tsp rose water (concentration of 3% rose essence to water - otherwise if more powerful just a couple of drops!)
If serving with wine, serve with a late harvest Gewurtzraminer or pink Champagne.
NUTRITIONAL INFORMATION: 230 Calories per serving (serves 8); 3g proteins; 13g lipids.