An easy recipe for a raspberry macaron filling using fresh or frozen fruits in a white chocolate ganache with just a hint of rose. Fills approx 30 macaron shells.
What is the Most Popular French Macaron Flavour?
To 'macalong' story short, this raspberry and rose macaron all came about as I was meandering the sweet streets of Paris. It happens often, as you can imagine. Who can't be inspired by the growing number of French pâtisseries filled with the most divine pastries - and Parisian macarons?
Over the years living here, I often ask the sales assistants what their most popular macaron flavours are (top tip: ask in French and they tell you much more). It depends which patisserie you go to - and it's subjective, of course. I mean, it's like asking what the most popular French music is, no? As we can't generalise too much, there are particular favourites amongst the French and also amongst different nationalities it seems.
Who would believe that chocolate, raspberry and rose are three of the most popular flavours. Put them together and you get this.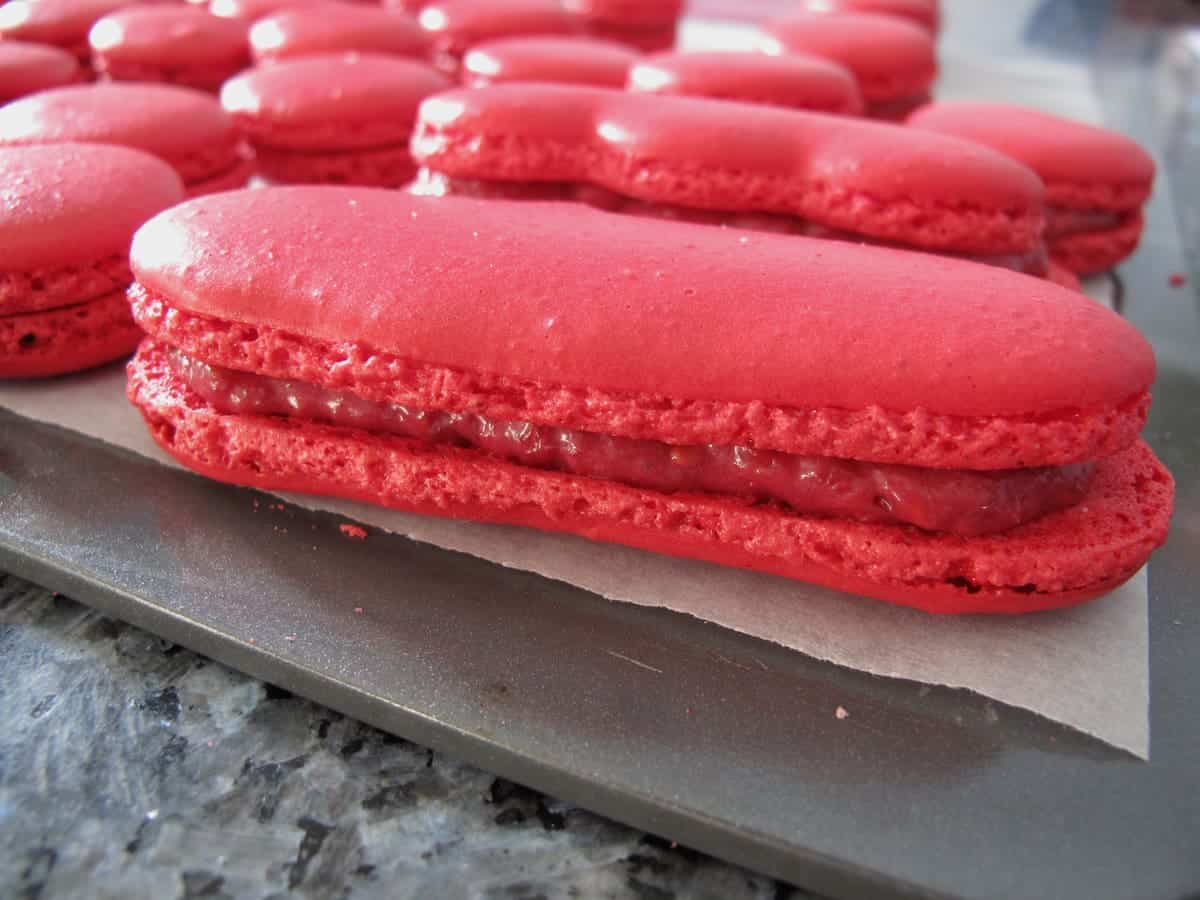 What are Macaron Fillings Made Of?
Imagine tart (some say sour), yet tantalisingly fruity; acidic yet counteracting with the velvet vanilla sweetness of white chocolate with a hint of rose petals. The result is sweet - yet not overly sweet - macarons: crisp meringue-like on the outside and compact, fondant in the inside.
This, of course, comes from the macaron magic. Fillings need to infuse in the macaron shell for at least 24 hours.
Many people use jams (confitures in French) to fill their macaron shells. It's less time consuming and often used as fillings in French bakeries. However, I personally find these particularly sweet. The taste taste is higher on my list than in the looks department. So I like to use reduced-sugar jams:
That's why fruit in a ganache done this way using white chocolate is a a creamy yet fruity balance.  Likewise, most macarons are made using a chocolate ganache.  The rest is filled with buttercreams, many of which I use in my first recipe book, Mad About Macarons.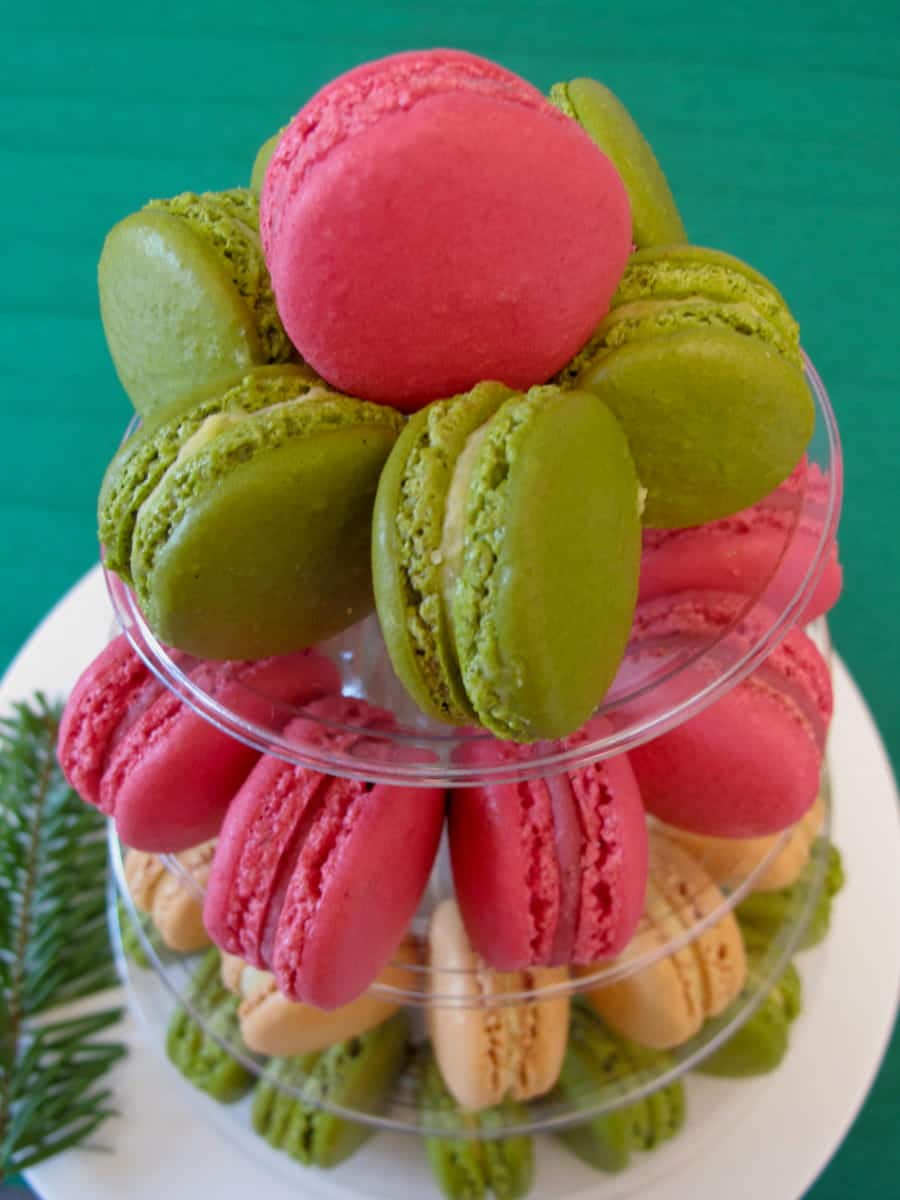 What Type of Filling is Best for Macarons?
That said, the best type of filling is the kind that's not too sweet. Let's face it, we need sugar to make the macaron shells so the filling needs to be a good balance.
Moreover, as the filling penetrates into the meringue-like shell for the first 24 hours to work its magic, the ultimate resulting texture should be a fondant centre with a crispy exterior.
With both these criteria in mind, we're looking at this as an example of a creamy white chocolate ganache with the acidity of the fruit without any sugar added to the filling.  There's enough sugar in the white chocolate.
Easy Raspberry Macaron Recipe
To make the macaron shells, simply follow the instructions in my first book, Mad About Macarons: How to Make Macarons Like the French. Originally published in 2010, I wrote this fun book to take the fear out of making macarons - and encourage first-time macaron bakers to make that first move. I'm bowled over that it has been reprinted 12 times and has been the starting block for many professional macaron bakers today.  I can't tell you how thrilled I am to have your lovely stories via your messages on social media and here on le blog.
Incidentally, you'll find most of my favourite sweet Parisian streets in my recipe book, Teatime in Paris: A Walk Through Easy French Pâtisserie Recipes (2015). There's a whole chapter devoted to macarons, including these macalongs plus much more.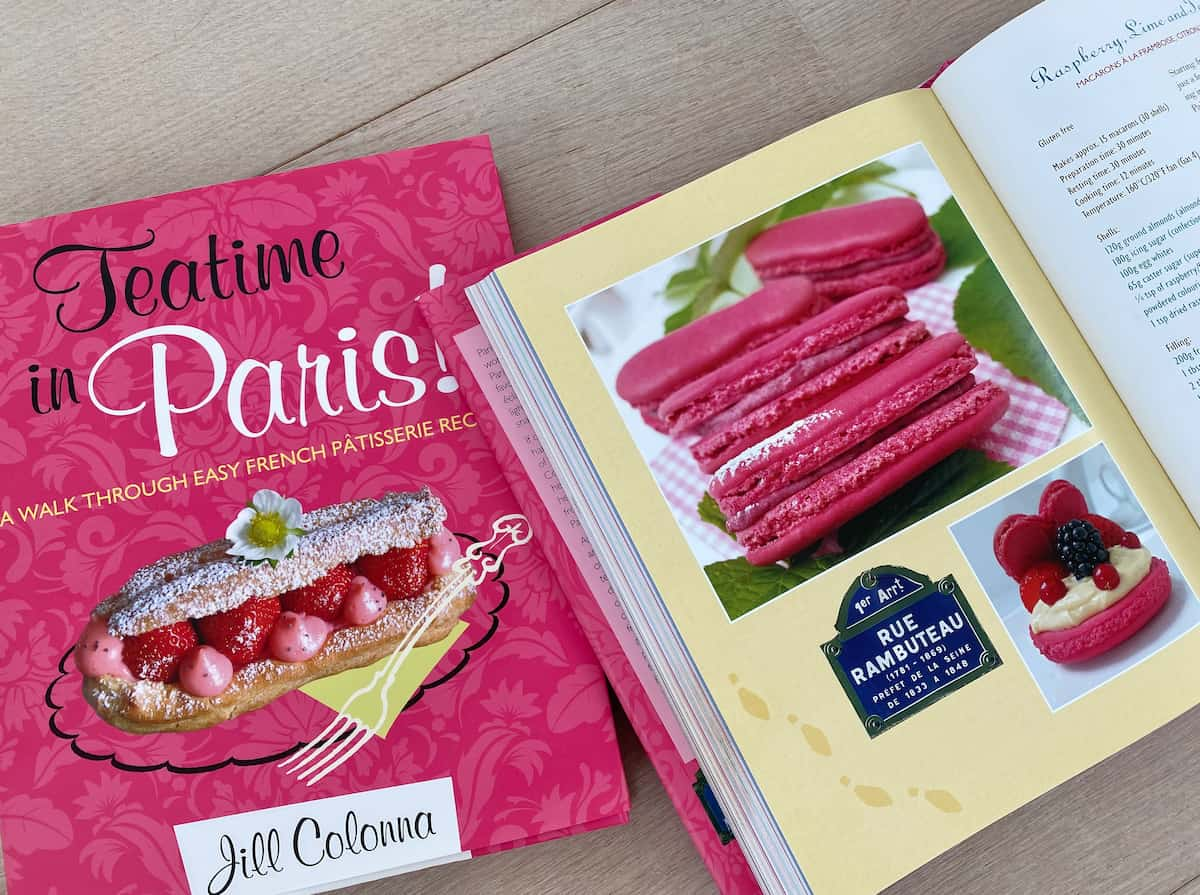 More on Raspberry Macarons in Paris
For much more, see the following related recipes and articles: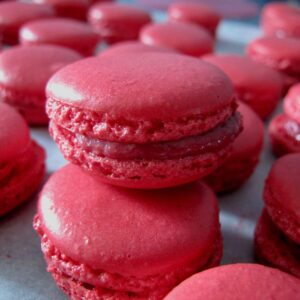 Raspberry Macaron Filling with Rose
An easy recipe for a raspberry macaron filling using fresh or frozen fruits in a white chocolate ganache. Fills approx 30 macaron shells.
Ingredients
200

g (7oz)

fresh (or frozen) raspberries

1

teaspoon

rose water

180

g (6oz)

white chocolate

broken into pieces
Instructions
Blitz the raspberries in a food processor for about 3-4 minutes, until the seeds are well and truly crushed.  (If you really don't like seeds, you can filter the seeds through a sieve at this point.)

Gently heat the raspberry purée in a saucepan with the rose water - over a medium heat - and gradually stir in the white chocolate bits and. Stir slowly with a wooden spoon until the white chocolate has completely melted and blended with the fruit.

Set aside to cool then refrigerate for an hour before piping out the filling on to your macaron shells.
Notes
Once your macarons are filled, store in an air-tight container in the fridge for 24 hours to appreciate macarons at their best.
Follow my basic step-by-step recipe for making the macaron shells from both of my books, Mad About Macarons and Teatime in Paris. 
Rose water: please avoid concentrated aromas. I like to use brands with a concentration of 3% rose essence to water. It's essential to add it slowly and taste as you go, as rose waters are all different. Best chose a natural rose water for baking (e.g. Levanthym brand, Eau de Rose N°34)
This post was first published 9 September 2013 but is now completely updated