Recipe for Gingerbread Trifle with apple and caramel -  a perfect Autumnal or winter dessert. Serve with salted caramel macarons for a special occasion. Layers of gingerbread cake and apple jelly trifle, spiced buttery apples, salted caramel sauce then topped with a cloud of lightly whipped Baileys cream.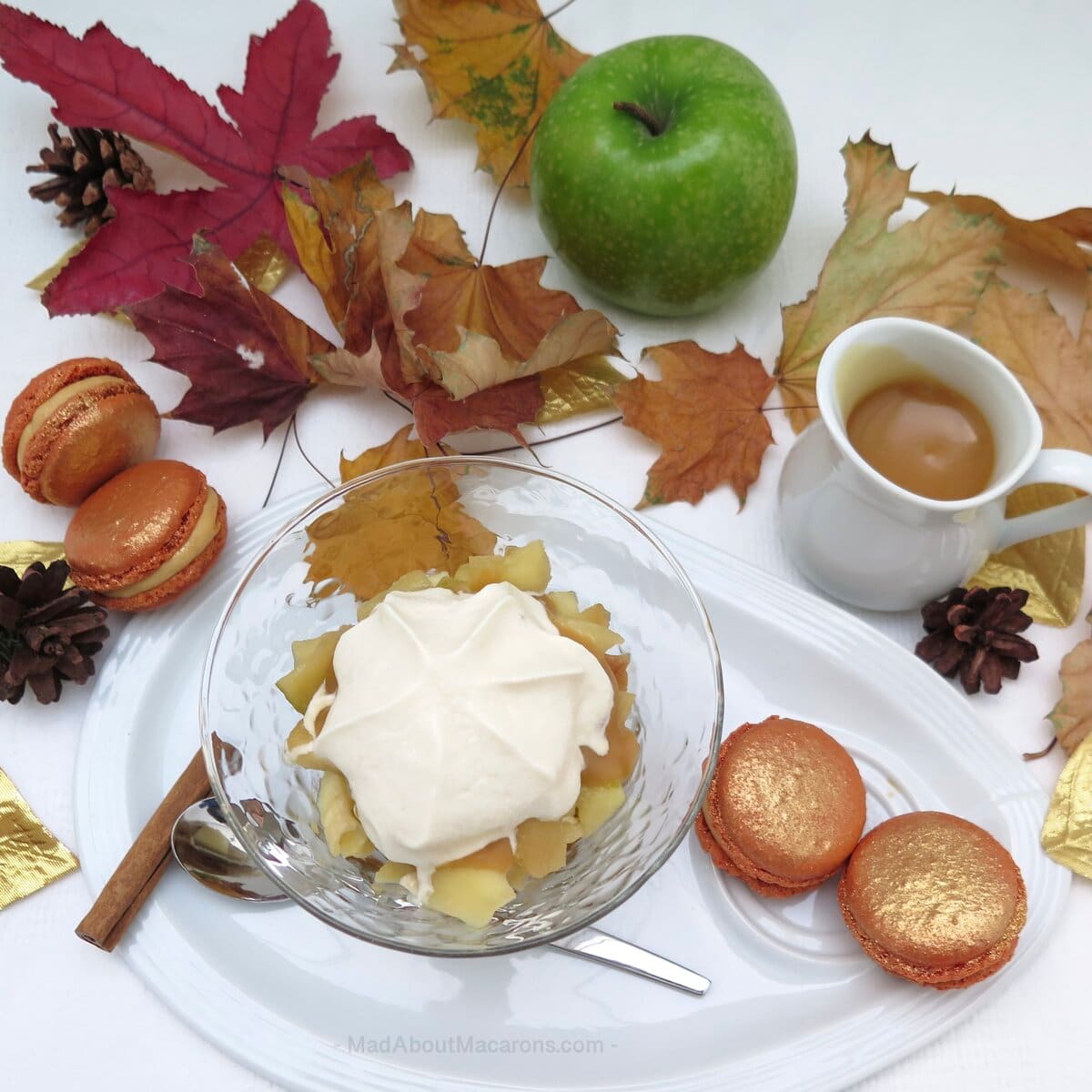 Apple Layered Dessert with Caramel
As I adore the combination of warming spices with acidic apples, I couldn't resist creating these Gingerbread trifles. They're great for the holiday season - and for something a bit different for a festive dessert.
Each trifle layer is divine. As trifles normally have jelly, I made my own homemade version with apple juice.
So, imagine a trifle base of gingerbread cake in apple jelly topped with buttery, spiced apples dribbled over with a generous amount of salted caramel?
What Alcohol is Good in Trifle?
Normally, the tradition is to add Sherry to a classic trifle - and I adore sherry in this Berry Trifle with macarons to make it gluten free.
For this gingerbread trifle, the final flourish is a cloud of lightly whipped Chantilly cream with an optional hint of Baileys. Somehow with the spiced apples, this is such a good pairing with the Baileys.
For special occasions, serve with salted caramel macarons. The recipe is an extract from my 2nd book, Teatime in Paris.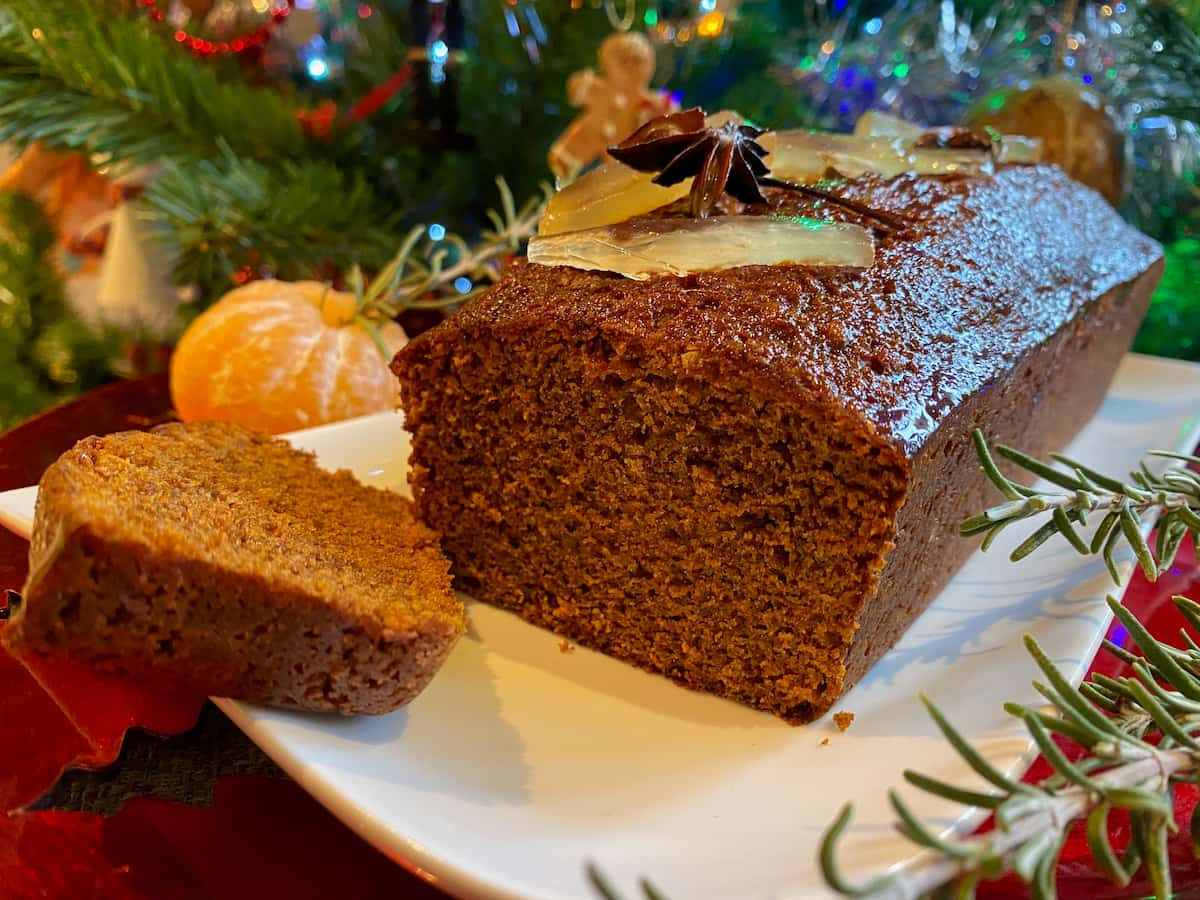 How to Make Gingerbread Trifle
Should Trifle be made the Night Before?
It's not necessary but the flavours will mature overnight with the gingerbread and the resulting taste will be fabulous.
More Festive Trifles
What's more, make these trifles extra fun by decorating with gingerbread men.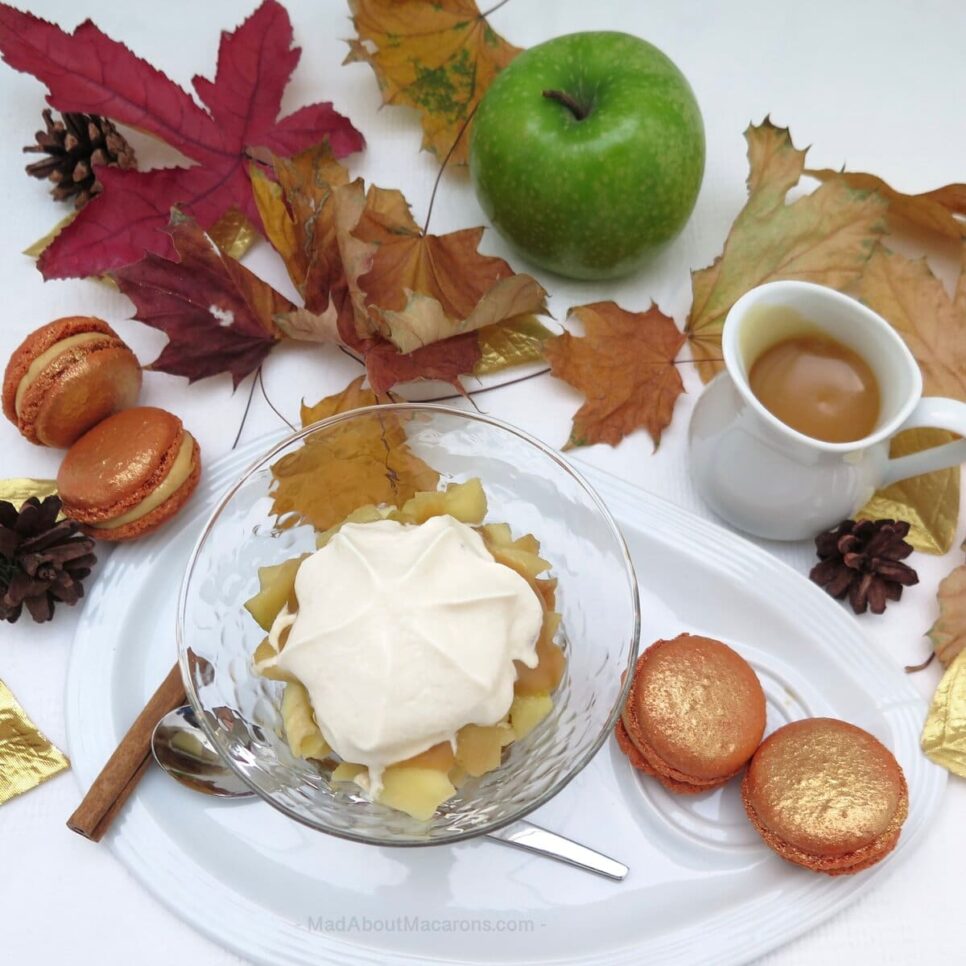 Gingerbread Trifle with Apple and Salted Caramel
Layers of gingerbread and apple trifle, spiced buttery tart apples and salted caramel sauce then topped with a cloud of lightly whipped Baileys cream
Ingredients
150

g (5.5oz)

gingerbread

(see recipe link below)

200

ml (7fl oz)

apple juice

2

@2g

gelatine leaves

3

Granny Smith apples

peeled, cored, cut into rough cubes

1

tablespoon

butter

1

tablespoon

cane sugar

½

teaspoon

gingerbread spice

(pain d'épices)

½

portion

salted caramel sauce

see recipe link in NOTES*

250

ml (9fl oz)

Whipping / heavy cream (30% fat)

chilled

1

tablespoon

Baileys liqueur

(optional)
Instructions
Make the Apple Jelly: Soak the gelatine in cold water for 15 minutes.  Heat the apple juice in a pan and add the gelatine (squeezed of any excess water) and stir to blend.

Break the gingerbread up into small pieces and place at the bottom of each glass. Pour over the warm apple jelly with just enough to cover and set aside to cool in the fridge for at least an hour.

Prepare the apples: sauté them with the butter, spices and sugar gently over a medium heat in a frying pan for about 10 minutes or until they're cooked through but not mushy.  Set aside to cool for about 15 minutes.

Spoon the spiced apples on top of the sponge in each glass.  Gently heat the caramel sauce* and dribble on top of the apples.

When ready to serve, whip the cream with the icing sugar until quite firm but still soft, adding the Baileys if using, and top each glass.