Varieties of cherries in France, their healthy benefits, the famous French candied or glacé cherries, and cherry recipes with more ideas how best to use them.
Are Cherries a Berry or a Fruit?
Cherries are stone fruits since they contain a pit or cherry stone inside. Unlike berries, which contain mainly edible seeds, cherry stones are inedible.
Benefits of Eating Cherries
According to Cerises de France, cherries are not just delicious to eat but have many healthy qualities. Containing calcium, iron, copper, they also contain magnesium and are high in zinc, manganese, iodine and selenium.
Cherries are high in sugar amongst red fruits and consequently have a good level of energy. Each variety is different but they generally contain a good amount of vitamin C (4-21mg per 100g) and carotene, especially the deeper in colour. They also contain a little amount of all the B group vitamins.
Infusing cherry stalks into an infusion is supposed to be a good diuretic.
French Cherry Varieties
The Bigarreau cherry is the most popular variety in France with a firm skin and sweet. There are many varying cherry colours of sweetness and acidity that belong to its family (e.g. Burlat being most popular, Summit and Van);
Two sweet cherry varieties which carry on the season into July in France are both the Canada Giant and La Sweatheart;
The darkest cherries are the sweetest. The tart ones are lighter in colour;
Other dark cherry types include: La Earlise, La Early Red, Pacific Red, la Bellise.
The Montmorency cherry is a particularly acidic variety grown since the 17th Century in Île-de-France and best used in jams and preserves;
Louis XV apparently was crazy about cherries - as was Napoleon Bonaparte - so much so, the lighter coloured Napoleon cherry is named after him;
The Guigne variety is reserved for making Kirsch, the famous cherry alcohol, which I love to add a little to a classic French clafoutis;
How to tell if they're fresh? The cherry stem is fresh and not dry.
Candied or Glacé Cherries
Since the Romans, fruits were preserved with honey to preserve them until sugar was discovered during the Crusades.
Cherries are candied in the Luberon, the sunny Provençal region that grows the most cherries and most popular for Glacé or candied cherries.
The most famous come from the town of Apt the world famous capital of candied fruit. AptUnion is the largest manufacturer with a factory shop. In 1962, several Apt family confectioners decided to join in a cooperative and in 1988 became La Maison du Fruit Confit. The factory now also has a candied fruit museum and tearoom (a favourite haunt of ours when visiting my parents-in-law next door!);
According to AptUnion, the Bigarreau Napoléon cherry variety is best for candying to make glacé cherries, thanks to its firm white flesh. Used in all sorts of British-style cakes, in France they're most famous in a brioche des rois, a version of the galette des rois or King Cake served at Epiphany.
Maraschino Cherries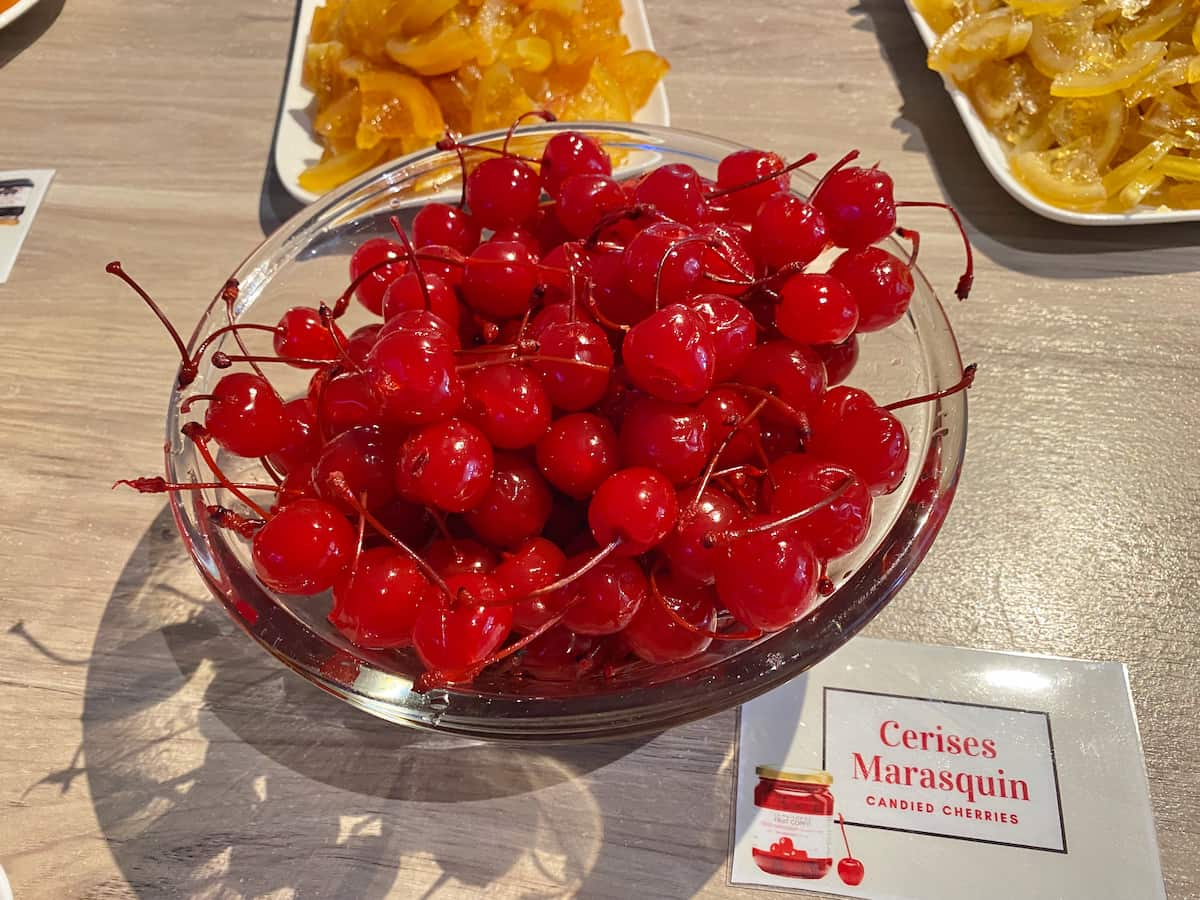 Maraschino or Marasquin cherries are bright red cherries preserved in syrup and flavoured with bitter almond. At the AptUnion they still contain the stalk.
As they are strong in bitter almond and pretty sweet, they are best eaten sparingly as a garnish for cocktails.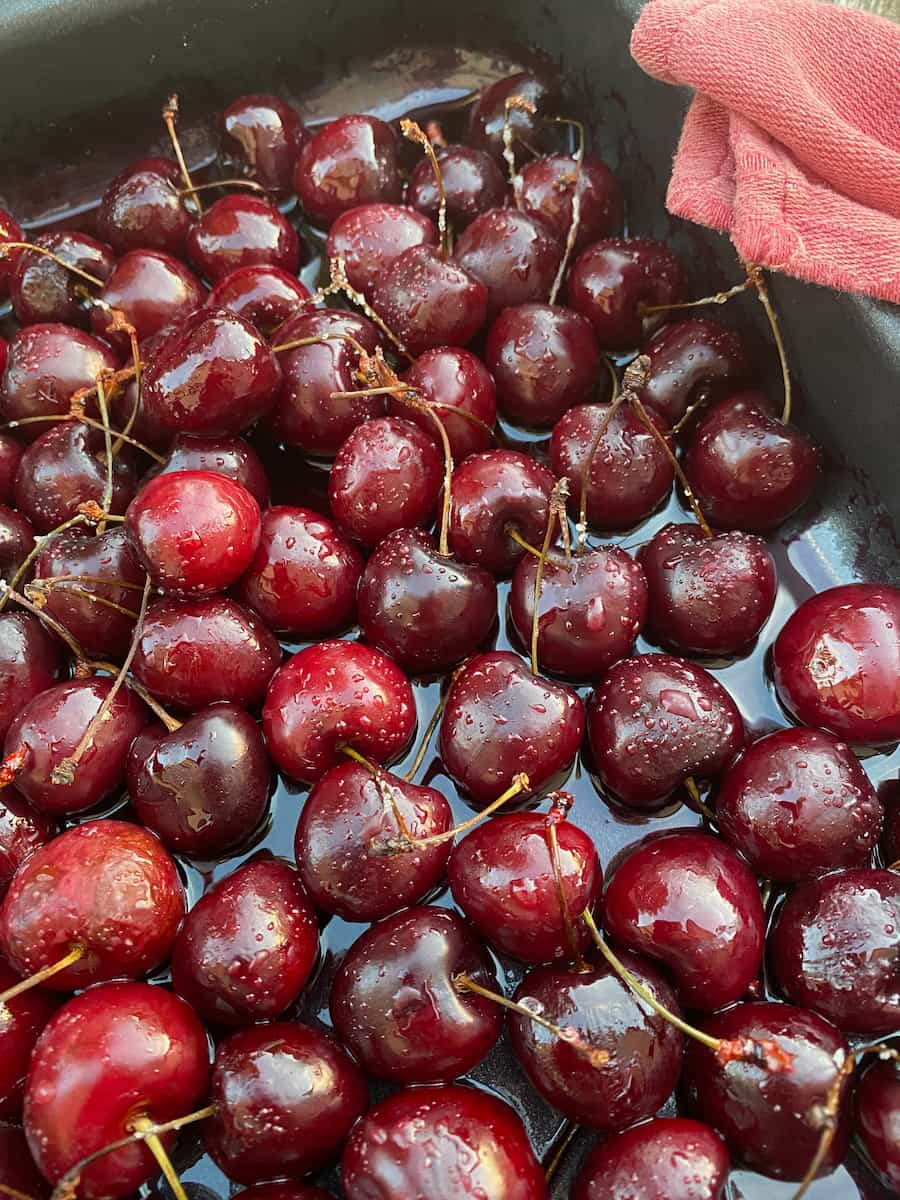 How to Preserve Cherries
To preserve cherries, I love to roast them - it's the quickest and easiest way at home.
Simply spread out washed cherries in an ovenproof dish or roasting tin, sprinkle over a little sugar, a splash of Kirsch liqueur and roast in the oven at 200°C/180°C fan/400°F/Gas 6 for about 15 minutes. Leave to cool then decant into jars and store in the fridge for up to 5 days or freeze.
Delicious with many dessert recipes below or simply on vanilla ice cream.
Cherry Season in France
Summer. End May - mid July.
What Goes Well With Cherries?
According to Niki Segnit in her fabulous book, 'The Flavour Thesaurus', cherries go well with a few particular ingredients, such as coffee, coconut, hazelnut, smoked fish, cinnamon, banana, lamb and peach. Chocolate is another gorgeous flavour combination - see my recipes below.
I have added some of my recipes that you can add cherries to, as a result.
Almond and Cherries
Best Cherry Recipes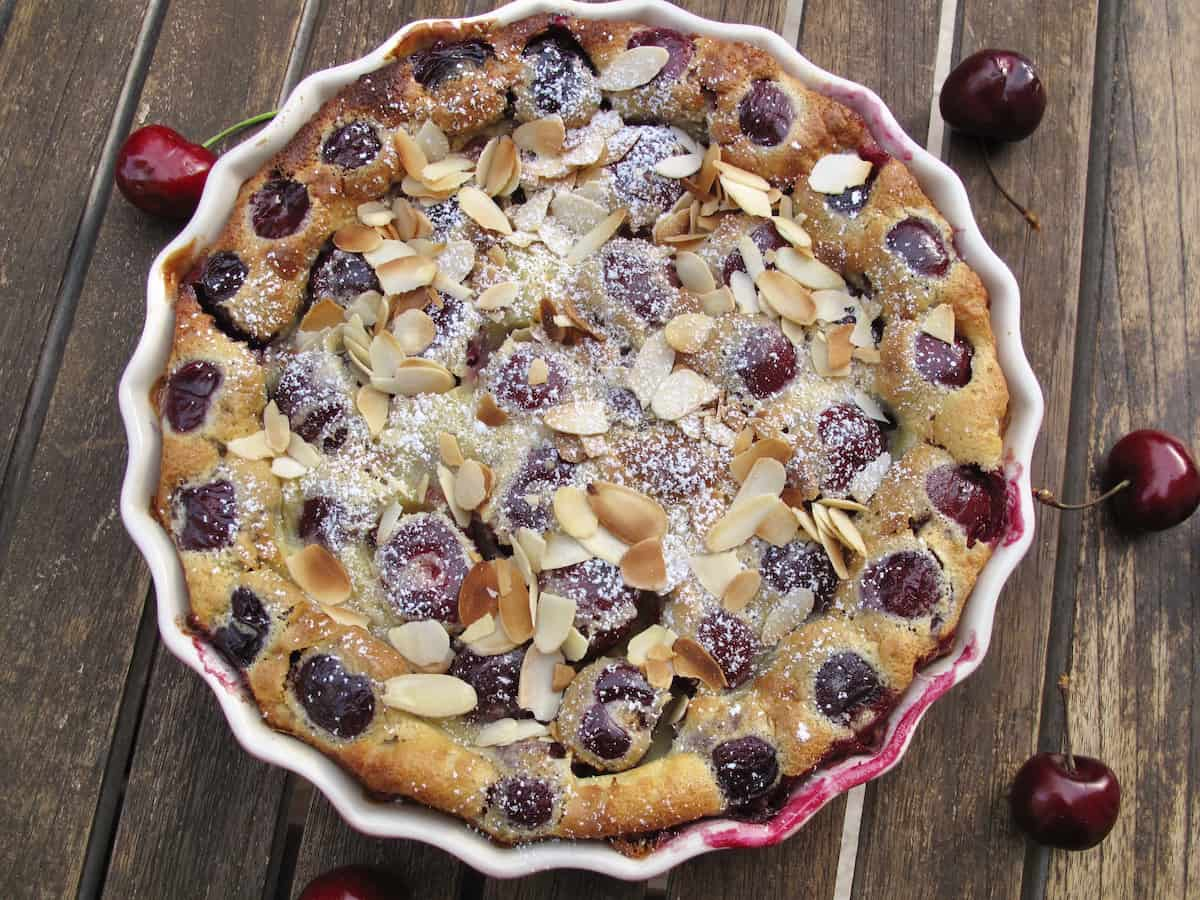 The most classic of French desserts is the Cherry Clafoutis. Basically a baked custard with cherries, it's also great chilled for breakfast.
No Bake Chocolate Puddings are easy individual desserts to make. Serve chilled with either fresh or Amarena cherries (almond flavoured in syrup) all year round.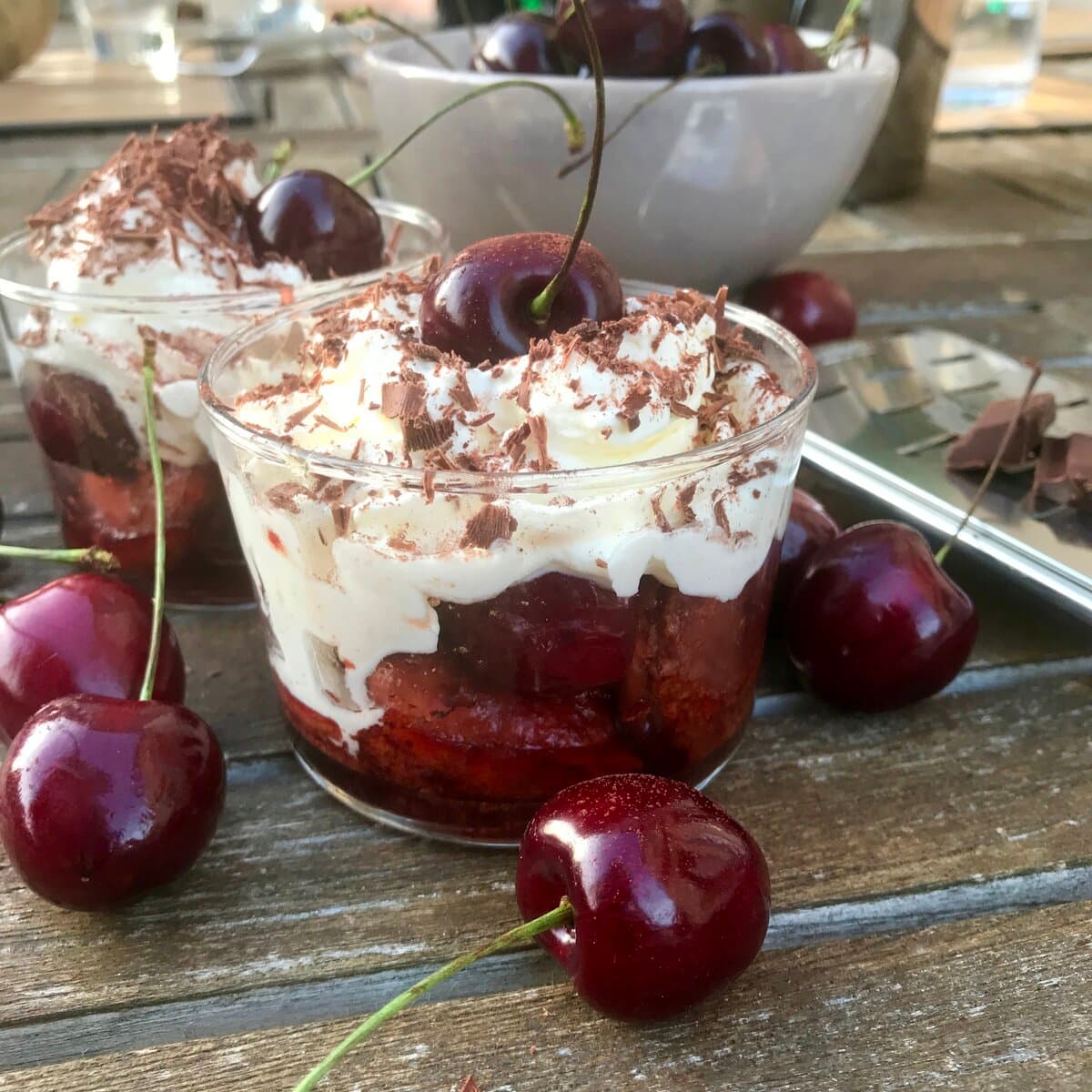 Black Forest Creams - Delicious during cherry season, these trifle-style desserts are made gluten free with chocolate macaron shells.
Cherry Sauce with Cardamom - this is a delicious coulis made from fresh or frozen cherries. Serve with these rose panna cottas or dribble on top of vanilla ice cream.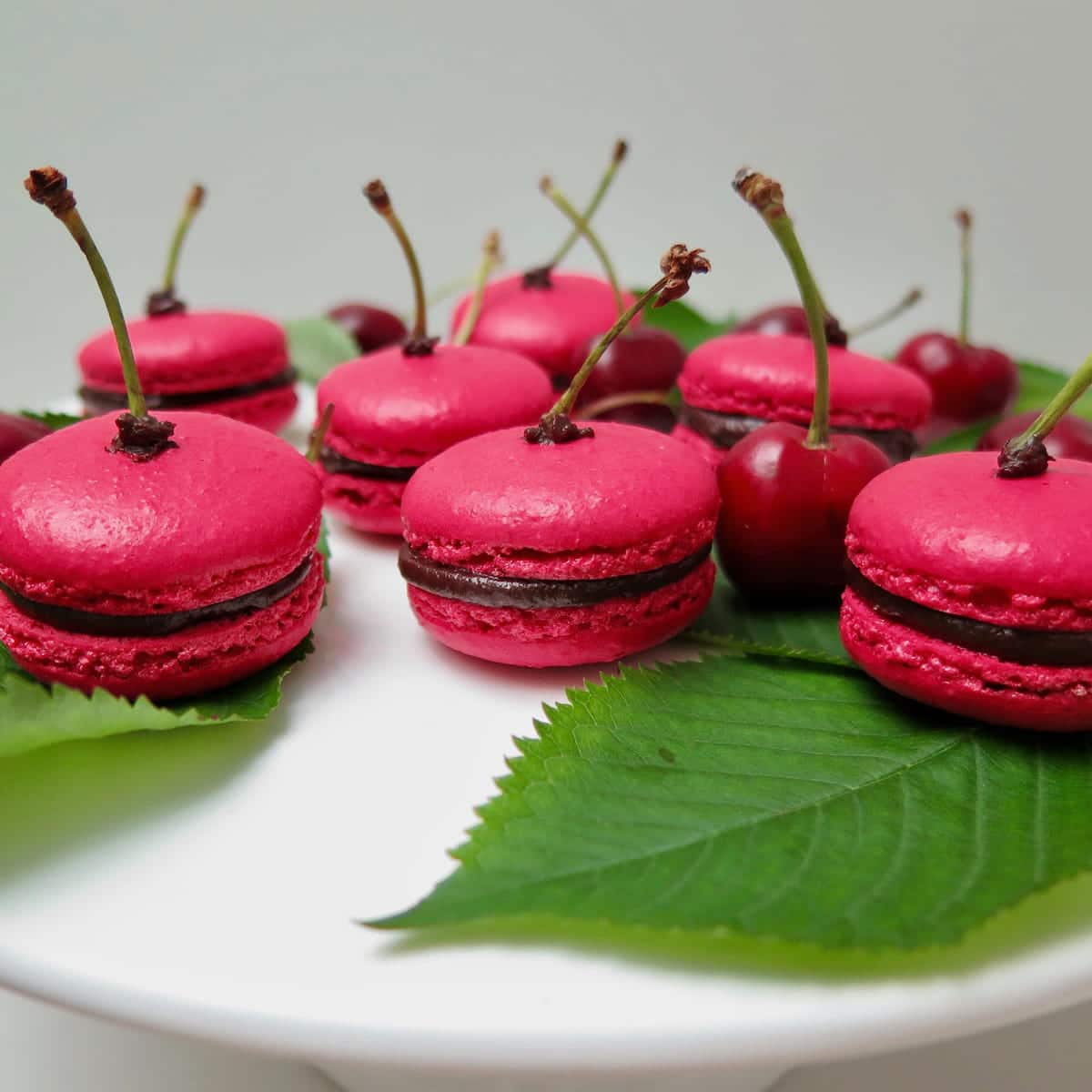 Chocolate cherry ganache is a delicious macaron filling.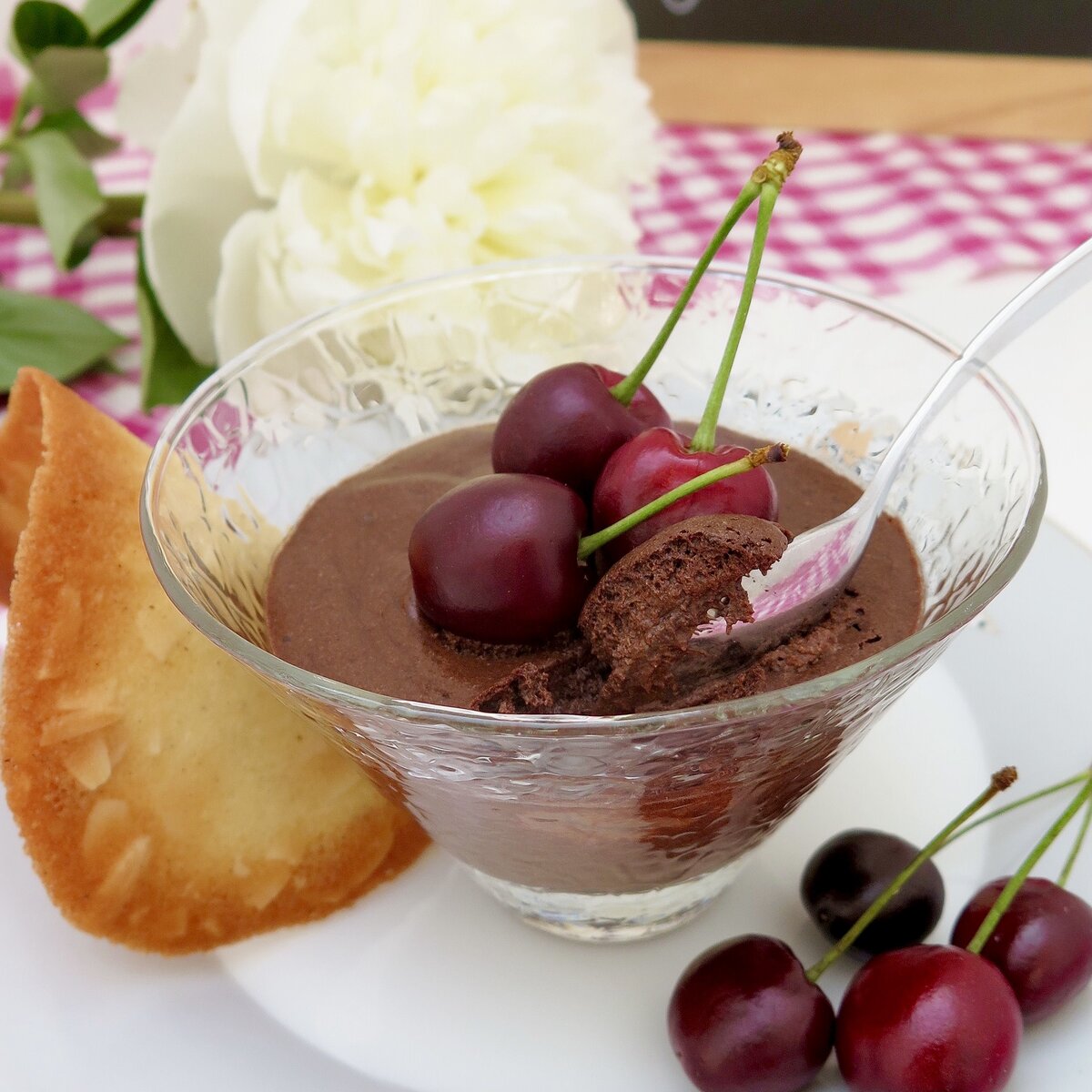 Serve fresh cherries on top of this light and airy French recipe for dark chocolate mousse.
Melting Moments are mini oat cookies studded with glacé cherries. Quick to make and always a hit at children's birthday parties.