Melting Moments, healthy melt-in-the-mouth oat cookies, are so easy to bake at home with kids. It's also a good oat cookie recipe without eggs. As mini cookies, they're great for birthday parties too.
Made in just 30 minutes, you'll discover why they're called melting moments.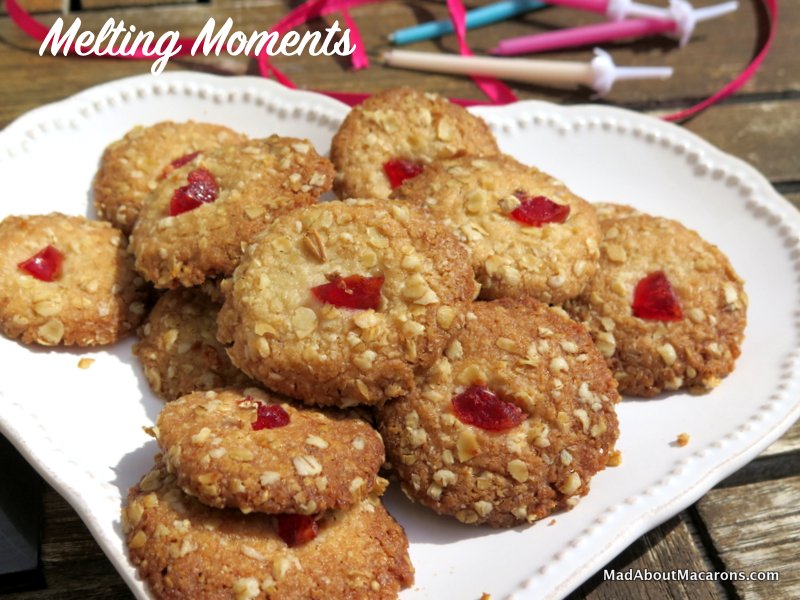 Why are They Called Melting Moments?
Why Melting Moments? Well that's what these biscuits or cookies were called from my Brownie's Cookbook. (Were you ever a Brownie?  Not to be confused with the chocolate cake, Brownies are the younger group before Guides, as part of the Baden Powell Scout groups.) It was my first ever introduction to baking, when I also had precious moments with my own Mum in the kitchen and the gooey fun to plunge my hands in sticky dough and roll them in oats.
So I have a soft spot for these wee melt-in-the-mouth gems. Now, too do my own kids. A birthday party always includes their favourite melting moments - as I discovered on my daughter Julie's 18th party. She's always a kid with these oat cookies!
As Julie was preparing a last-minute 18th birthday party before the French baccalaureate exams, I offered to help. She was excited to make macarons and her favourite giant birthday éclairs with strawberries and elderflower cream (recipe is in my book, Teatime in Paris.) I just piped them out in a giant "18" as an éclair cake!
Then, sure enough, she was checking out our splattered, tattered recipe sheet to get rolling her favourite little buttery biscuits in oats. Who could forget these?
Easy Oat Cookies - Great for Baking with Kids
Melting Moments are so fun to make with kids. Why is rolling the best part? To get their palms sticky, rolling these dainties into little balls, flattening them quickly and pressing in tiny pieces of glacé cherries.
The proverbial cherry on top has been seeing them gain some confidence in the kitchen via baking. When it comes to the tasting in the end, their final masterpieces always taste better when they've been made by their own hands.
Plus, ça va sans dire (it goes without saying), that making them is indeed precious melting moments of mother and daughters together in the kitchen. Even their Dad was asking to press the cherries on top. Jealous or what?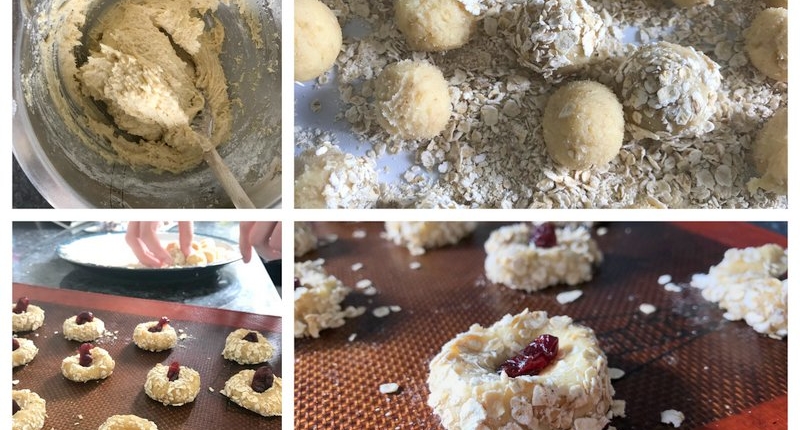 Melting Moments - Great Recipe for Glacé Cherries
I particularly adore the glacé cherries, as we buy them cheaply by the kilo in Provence, near my parents-in-law's house in Saignon, near Apt.  Did you know that Apt is the world capital of glacé fruits (candied fruits)? So every time we visit, I stock up on glacé fruits from cherries, candied orange peel, to crystallised ginger.
However, all that to say is ensure your glacé cherries are good quality and sticky wet make Melting Moments the best. Dried out ones at the back of the cupboard will ruin the lovely taste of them!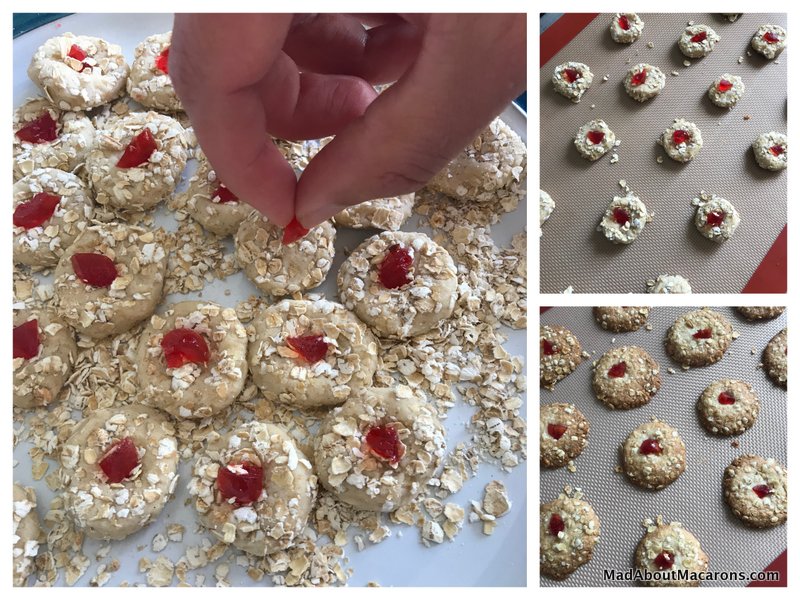 Healthy Oat Cookies
Melting Moments are also one of the quickest and easiest cookies to rustle up for a tea party. They're also full of soluble fibre using oat flour and finished off rolled in oat flakes.
This is an updated recipe from my original post published on 24 October 2011 - as, over the years, we don't have an overly sweet tooth so we've lowered the sugar content again since.
Oat Cookies Without Eggs
As you can see from the recipe, the egg is entirely optional.  We have made this recipe many times without an egg and the taste is just as good.
Melting Moments Oat Biscuits
Melting Moments - Oat Biscuits
Melt-in-the-mouth buttery oat biscuits, rolled in oats and topped with bits of glacé cherry - perfect for making with children and sharing with the adults.
Ingredients
100

g (3.5oz)

butter

softened

55

g (2oz)

caster sugar

1

small

organic egg

(optional)

½

teaspoon

vanilla extract

or vanilla powder

100

g (3.5oz)

plain (all-purpose) flour

50

g (2oz)

fine oatmeal

2

teaspoon

baking powder

medium porridge oats

for rolling

4

glacé cherries or dried cranberries for decoration

Cut into fine bits
Instructions
Preheat the oven to 180°C. Cream the butter and sugar until light and fluffy. Beat in the egg and vanilla. Stir in the flour, oatmeal, baking powder and mix well.

Roll walnut size pieces of the mixture into balls, and roll each one in the oat flakes.

Place them on baking trays covered in baking paper or on a silicone mat, flattening slightly each one with the finger, then place ¼ glacé cherry on each (or any other candied fruit; candied orange peel is good, too.)

Bake for 10-12 minutes until golden brown then cool on a wire rack.
Notes
I used to make this with egg, but as so little is added, I often omit it and the biscuits are just as good! Melting Moments can also be rolled in desiccated coconut.