A quick and easy recipe for gluten free brownies using rice flour. Extra fudgy made with the best bittersweet chocolate, they're topped with pistachios or hazelnuts which toast while baking.
Quick and Easy Gluten Free Brownies
These gluten free brownies are inspired by the 100% gluten-free bakery in Paris, Chambelland as they're one of the best I've tasted in Paris. What's more, the recipe is so quick and easy to follow.
I love how the nuts are just scattered on top of the batter before baking - almost as an after-thought, as they're not mixed in the batter.
As a result, this lazy addition means they come out of the oven extra nutty and toasted.
As I don't follow a gluten-free diet myself, I couldn't resist tasting a few of their breads for research purposes and, if you follow me on social media, you'll see I tasted my research seriously for a Bonjour Paris article on the Top Gluten-Free Pastries in Paris.
The Best Quality Brownies Packed with Flavour
The secret to making the best brownies is to use the highest quality of bittersweet or dark chocolate. The higher the amount of cacao, the less sugar is added and so the taste of the chocolate shines through.
From our French supermarkets, I usually bake with Nestlé's Corsé dark chocolate (chocolat noir) with a minimum of 64% cacao. Otherwise, use high quality brands such as Barry from specialist baking shops.
As for the nuts, use the best quality nuts that are unsalted and without any oils. I find good quality nuts in the health food sections of supermarkets or in specialist stores selling organic produce. If you're looking for the top, la crème de la crème, go for the best Italian nuts such as Sicilian pistachios or Piemonte hazelnuts.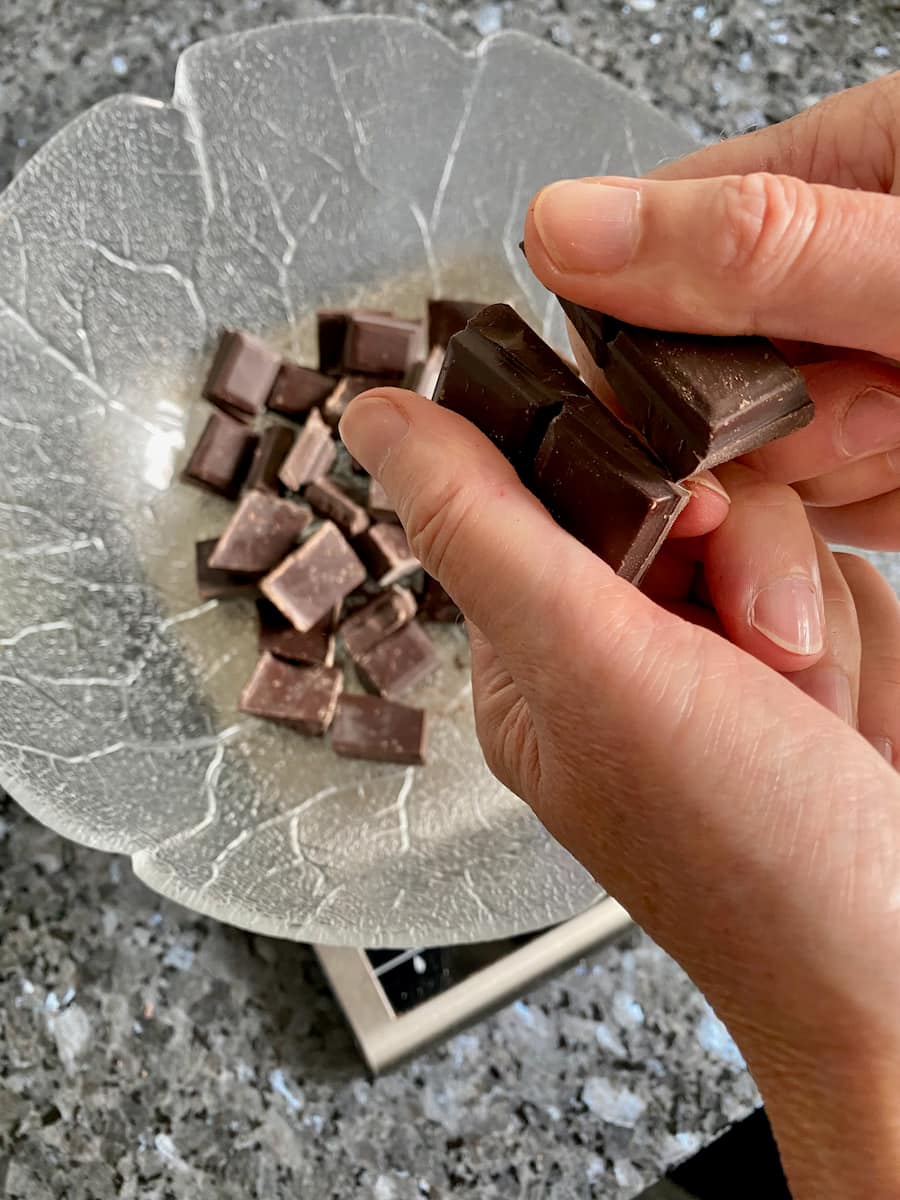 What is a Gluten Free Flour Substitute for Brownies?
This recipe uses rice flour which is the best gluten free flour substitute for brownies. It's light and so fine that it's hard to tell they're gluten free!
Although rice flour can be replaced by other gluten free flours such as coconut flour, ground almonds or almond flour, the result gives a slightly crumbly and grainy texture.
Therefore I strongly suggest using the rice flour for this recipe. Rice flour gives an extra smooth fudginess to the brownies and there's no need to sift.
Does Gluten Free Reduce Calories?
While rice flour makes these brownies totally gluten free, the interesting part is that it doesn't reduce the calories.
For example, for the 90g of rice flour in this recipe, the same weight of all-purpose or cake flour with gluten has exactly the same amount of calories (306 calories).
Likewise, if I used gluten free buckwheat flour, it's also the same amount of calories (298 calories). On the other hand, nut flours contain double the calories. So gluten free recipes using nut flours doesn't mean that it's lower in calories.
How to Make Gluten Free Brownies
I adapted Chambelland's brownie recipe (taken from the French Fou de Pâtisserie magazine) by slightly reducing the sugar and added a touch of salt to bring out the flavours of the chocolate.
First measure out ingredients using a kitchen scale.
Prepare the Bain-Marie (double boiler): boil about a cup of water in a saucepan, then turn down the heat to simmering. Place a heatproof bowl of the measured chocolate (chopped or broken into bits) and cubes of butter over it and stir occasionally. When nearly completely melted, turn off the heat.
Meanwhile, whisk together the eggs with the sugar. I use caster or superfine to ensure the fudginess of the brownies.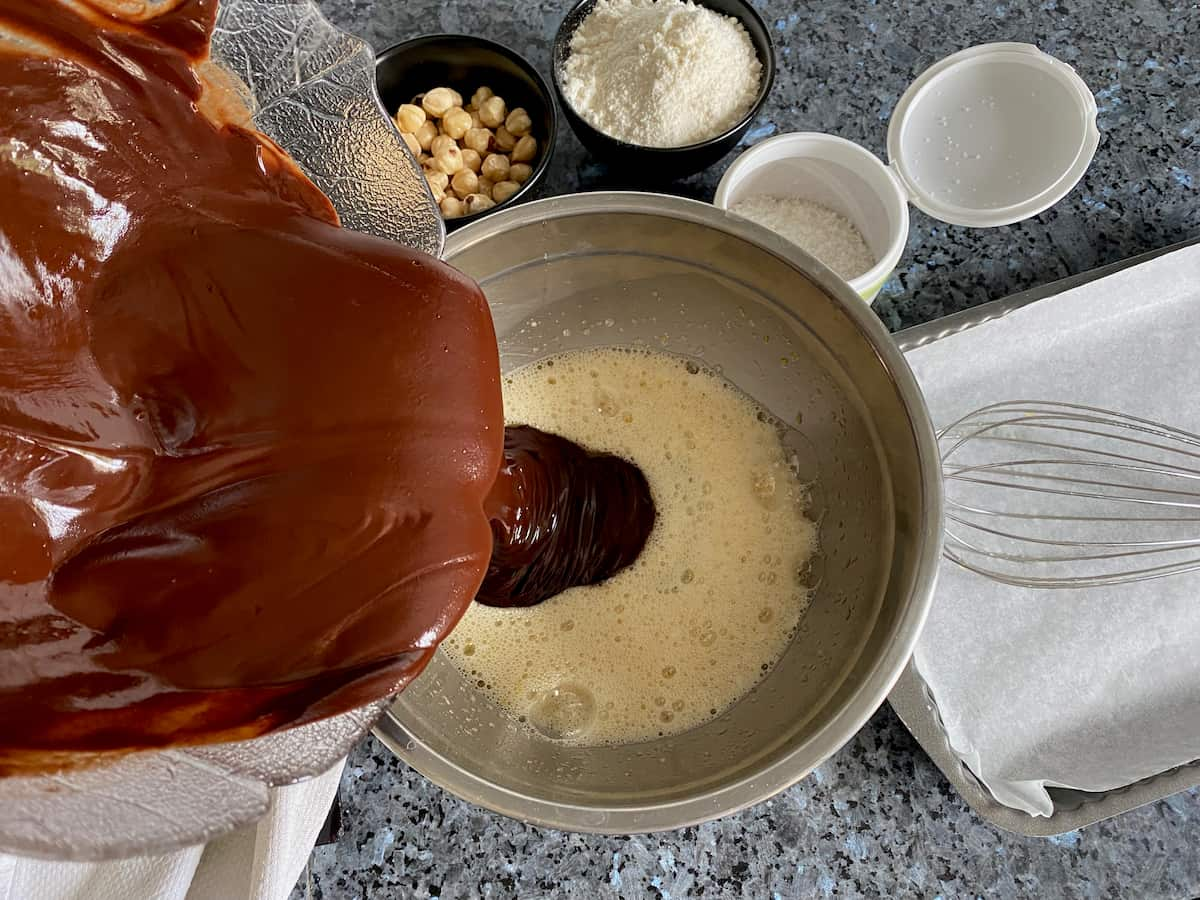 Add the melted chocolate and butter to the eggs and sugar.
Then gradually add and mix in the rice flour and salt.
Pour the batter into the lined brownie tin and evenly spread with a spatula.
To crush nuts quickly, place in a bag and roll or thump moderately with a rolling pin.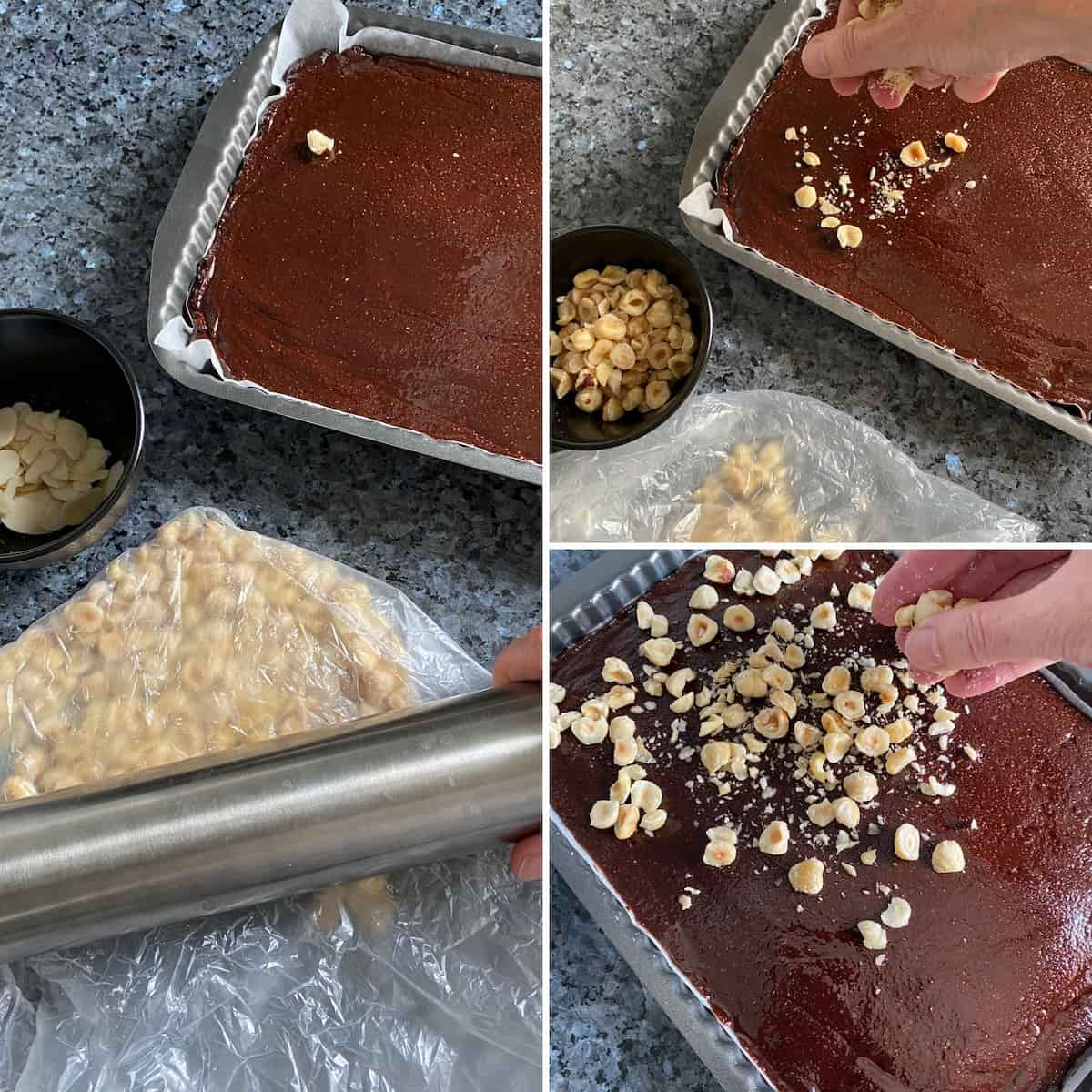 Sprinkle with pistachios, broken hazelnuts, slivered almonds or walnuts and lightly press into the surface.
Bake the brownies for 30 minutes.
Leave to cool on a wire rack for 10 minutes then cut into squares. They're ready to party later today or tomorrow.
How Long Can I Store Brownies?
Gluten free brownies can be kept in an airtight container or cookie tin for up to 5 days (although it's difficult to test that one).
As they taste just as good (if not better) next day, it's a handy chocolate recipe that can be made the day before.
As a result, they're perfect for school bake sales, taking them into the office for teatime, or just being organised in advance for children's parties.
How to Serve
Great on their own served at room temperature but also great served slightly warm for dessert.
Just heat for a few seconds in the microwave and serve with chestnut ice cream or pistachio ice cream for the ultimate nutty chocolate gluten free bliss!
Gluten Free Brownies
Quick and easy gluten free brownies using rice flour, inspired by the Chambelland bakery in Paris. Fudgy with the best bittersweet chocolate and topped with nuts that toast while baking.
Equipment
25cm (9 inch) tin x 3cm (1 inch) depth

lined with baking parchment
Ingredients
400

g (14oz)

dark cooking chocolate / bittersweet chocolate

min. 50% cacao

190

g (6¾oz/ ¾ cup)

unsalted butter

cut into squares

130

g (4½oz/ ⅔ cup)

caster/superfine sugar

4

eggs

organic

90

g (3oz/ ¾ cup)

rice flour

¼

teaspoon

salt (fleur de sel)

Maldon or Celtic sea salt

75

g (2½oz/ ½ cup)

pistachios

or pecans/walnuts/hazelnuts/almonds, broken
Instructions
Line the brownie tin with baking/parchment paper and preheat the oven to 180°C/160°C fan/360°F/Gas 4.

Melt the chocolate and butter in a heatproof bowl over a pan of simmering water (bain-marie), ensuring that the water doesn't touch the chocolate.

In a large mixing bowl, whisk the sugar and eggs lightly until the sugar has dissolved.

Add the melted chocolate/butter to the eggs, add the rice flour, salt and combine together using a spatula.

Pour the batter into the tin and even out the surface with the spatula. Scatter over the broken nuts and press lightly into the surface.

Bake for 30 minutes. Leave to cool for 10 minutes in the tin then cut into small squares.
Notes
Baking in advance: Ideal for baking the day before, they're just as good next day. Storage: Can keep in an airtight container in the fridge for up to 5 days. Freezes well for up to six weeks. To serve: Remove 30 minutes beforehand to taste them at their best at room temperature. Nutritional information: 218 Calories per 47g portion; 7g protein; 34g lipids; 24g carbohydrates; Glycemic index: 14
This recipe was first published June 19, 2016 but is now completely updated which means it's now possible to leave your rated review below.