Honey lemon biscuits - a quick and easy cookie recipe that's ideal for teatime and baked in only 10 minutes.
Honey Lemon Biscuits were just asking to be baked. It was a sign: Corsican lemons poking out from an oversized basket, stuck to their prickly leaves. I filled a large bag and, dreaming at the Monoprix checkout, thought about my favourite lemon and passion fruit meringue tart I could make with them. Corsican hubby would be pleased.
Then Lucie suddenly came down with a virus all last week while Mummy bear tried to calm her scratchy throat and racking cough with hot lemon and honey drinks. Finally when the fever subsided after a few days, it was my turn for the symptoms; then Antoine; like crashing dominoes, we were. The lemons didn't make it to dessert mode - instead these easy lemon biscuits with honey.
Don't Forget the Honey, Mummy
The oversized jar of honey, bought from the market at Apt last summer, was also our best medicine.
Miel de Garrigues, or honey from the Mediterranean coastal regions from such typical wild aromatic fresh herbs as lavender, thyme, sage and rosemary. This kind of honey was the perfect soothing addition to drinks, yoghurts and to spread on our favourite brioche (thank you, freezer!).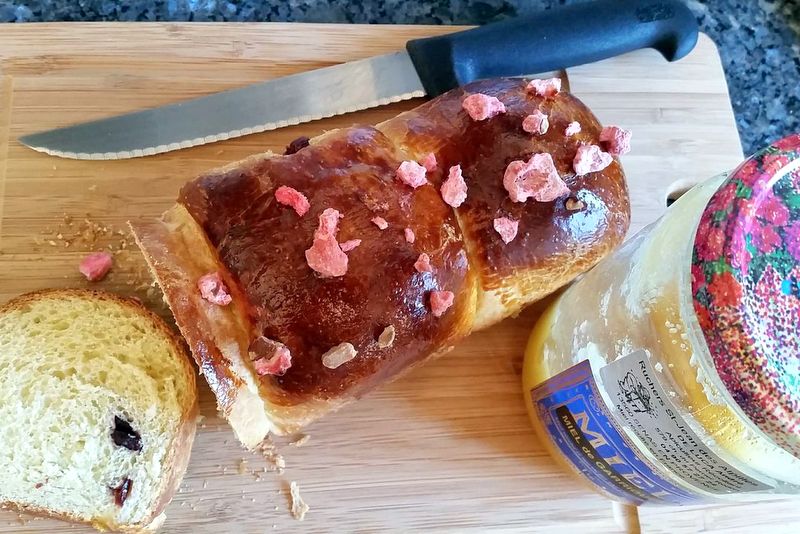 Feeling sorry for myself (I'm a typical Aries - I'd hate to live with me), I felt the love circulating via friends with hints on the best remedies on Facebook - thank you!  Now I've discovered Rooibos, that has really helped.
Luckily I hadn't lost my appetite. Come teatime this weekend, the end of the honeypot was looking rather concrete and unappetising.  With only a few seconds in the microwave, the last of the liquid nectar was just too good to down all in one go, so I found these biscuits on the internet.
I say biscuits with my Scottish accent, my American friends call them cookies, the French call them sablés, so what on earth was I supposed to write as a title?  Incidentally, the French refer to them as sablés since as you mix the butter and flour together with your fingertips, it resembles sand (our breadcrumbs reference).
Honey Lemon Sablé Biscuits
Recipe slightly adapted from 750 grammes French website for Petits délices au miel.  I reduced the sugar and added a pinch of salt. I used a stronger honey (like mountain honey) which flavours the biscuits beautifully and doubled the quantity of lemon.
Makes about 40 sablés (depending on the size of your cookie cutters) @ 83 Calories each.
I was planning on coating them with a ginger and lemon glaze but after having tried the first ones, I can honestly say they don't need any fancy toppings.  They are delicious and tasty enough on their own. Although don't forget the tea! Serve with lemon tea - or why not a warming pot of Ginger Rooibos tea?
Lemon Biscuits with Honey
Quick and easy cookies that are delicious using a strong mountain honey or Acacia honey that are particularly good with a pot of ginger Rooibos tea if you have a cold - or not!
Ingredients
250

g (9oz/ 2 cups)

plain flour (all-purpose)

50

g (2oz/ ¼ cup)

sugar

130

g (4.5oz/ 10 tbsp)

unsalted butter

softened

2

egg yolks

2

lemons, zest only

unwaxed/organic

3

tablespoon

runny honey

dark mountain honey (strong flavoured)

1

good pinch

salt

fleur de sel (Maldon or Celtic salt)
Instructions
Measure the flour in a large bowl.  In the centre, add the sugar, softened butter, lemon zest, honey and salt. Mix all together well with the tips of your fingers until the mixture resembles breadcrumbs (or sand - sable - as the French say) then add the egg yolks.

Alternatively, if you have a stand mixer, mix all the ingredients together for a couple of minutes maximum until well blended together.

Split the dough into 2, cover with cling film and set aside in the fridge for 30 minutes.

Preheat the oven to 170°C/150°C fan. Remove the dough from the fridge and film and roll out with a rolling pin to about 5mm thickness.  Cut the dough using your favourite cookie cutters.  Put the biscuits on a baking tray covered with parchment paper or a Silpat mat.  Bake for 10 minutes.

Leave the cookies to cool on the tray for a couple of minutes (this will make it easier to remove them) then cool on a wire rack.
Notes
I prefer to use a dark, full-flavoured honey, such as a mountain honey, to let the flavour shine through. Please use good quality organic lemons.