An easy, no-bake recipe for German Chocolate Pudding - a light dessert inspired by Germany's Black Forest chocolate cherry cakes. I've taken a basic French crème au chocolat, topped it with Chantilly cream and cherries and served it with tuiles, financiers or chocolate cherry macarons.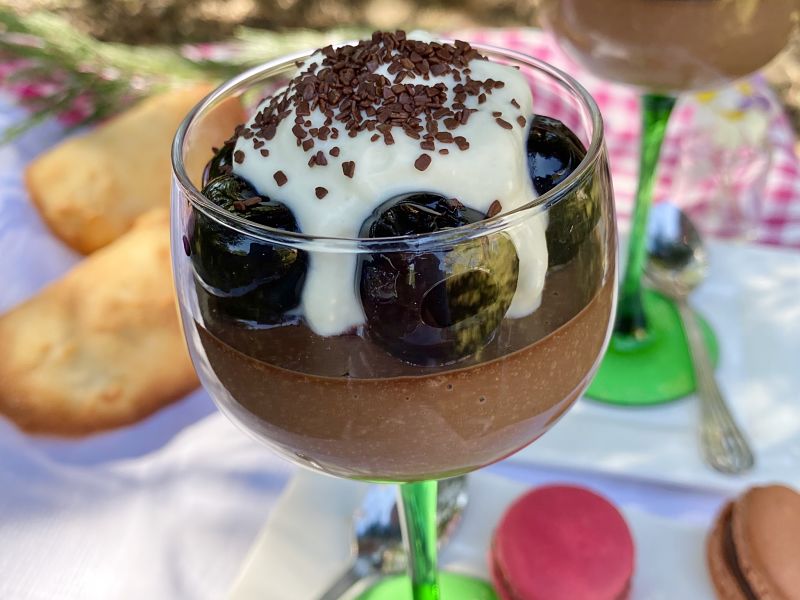 Inspired by the German Black Forest with Cherries
Do you really think a sweet tooth determines family holiday destinations? Well, perhaps it does, as it inspired these individual Chocolate Pudding Desserts. It has been over 40 years since I last visited Germany and the same, embarrassing amount of time since I practised my rusty high school German. Mein Deutsch ist nicht gut! It was high time to visit.
We headed to the medieval town of Staufen, south of Germany's Black Forest, a jewel nestled in between lush mountainous forests, vines, cafés and bakeries.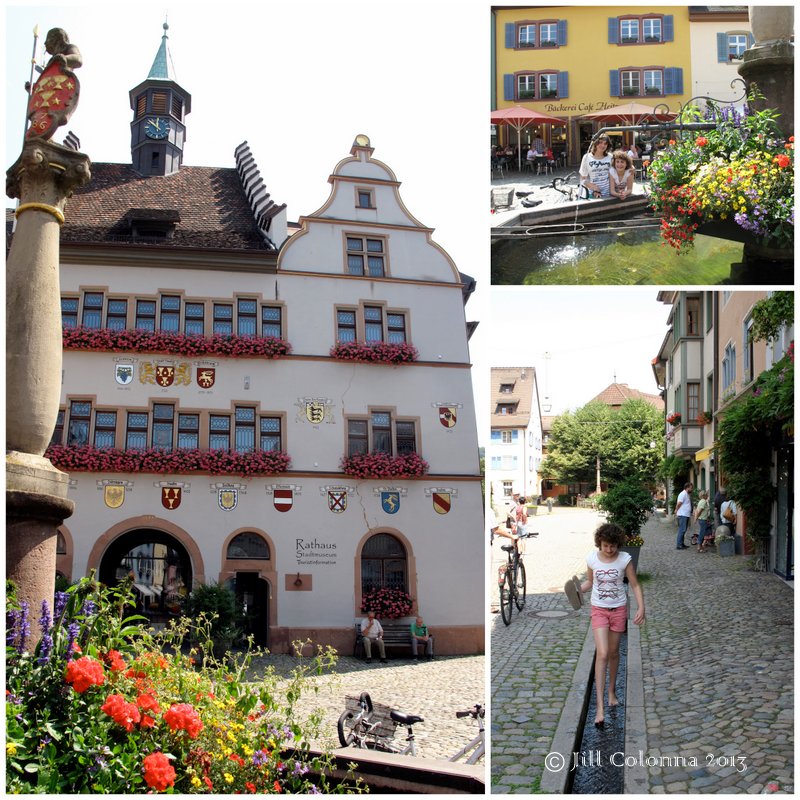 The Heart of the Black Forest
What amazed us most about the region, is how clean and tidy the towns are. Everything is immaculate, even down to the neat stacks of wood piled outside geranium window-boxed freshly painted houses. It's also the first time I've seen kids paddling about in the gutters! (Well, one of them was mine - was ist das?) The Germans seem particularly eco-friendly: bikes are the norm, an impressive amount of houses have flashy solar panels and their signposting is nothing short of perfection.
We stayed at the Gasthaus Krone (meaning 'crown'), which is an excellent address in Staufen - including their Michelin 'Bib Gourmand' restaurant - they have again been awarded by Michelin in their 2021 guide.
Luckily the friendly owner spoke some French, since my painful phrases embarrassingly resembled a mix of German vocabulary, French grammar and stuttering English fillers-in. I am determined to return after doing some homework next time, but at least communication through food is easier!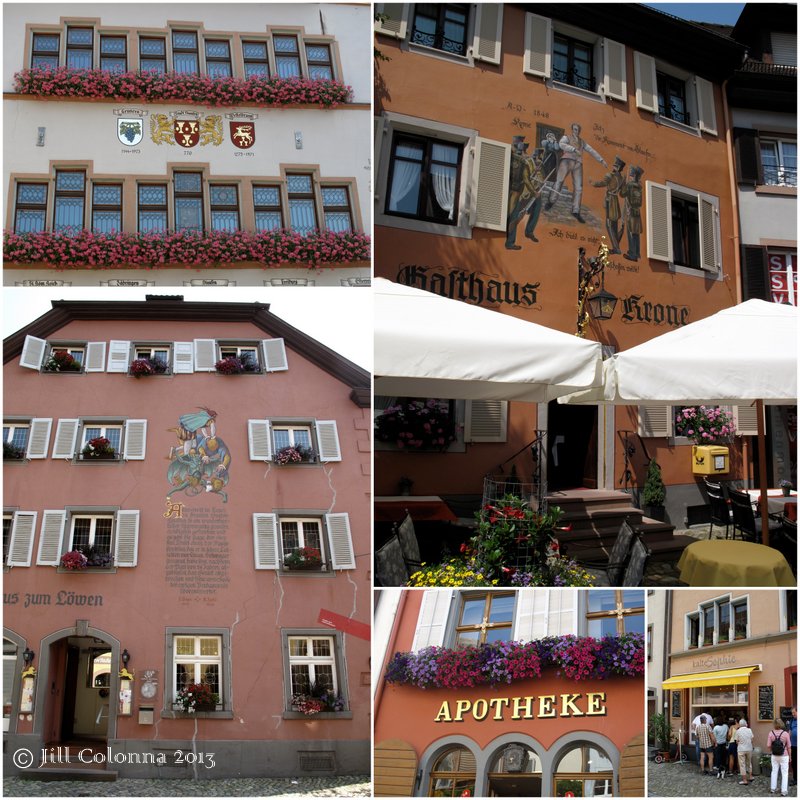 The city crest is a shield with 3 wine glasses so when in Staufen, it would be rude not to taste; their welcoming barrels proudly strut their tasting offerings.
Local Wine Varietals of Staufen
This is what holidays are made of: sitting back, people-watching, nibbling on a salted bretzel and sipping the local traditional grape varieties - including the oldest, Gutedel. Personally, I preferred the dry Muscat for white wines but their red wines shone high above the rest with some stunning Pinot Noirs, bursting with jam-like cherry fruits.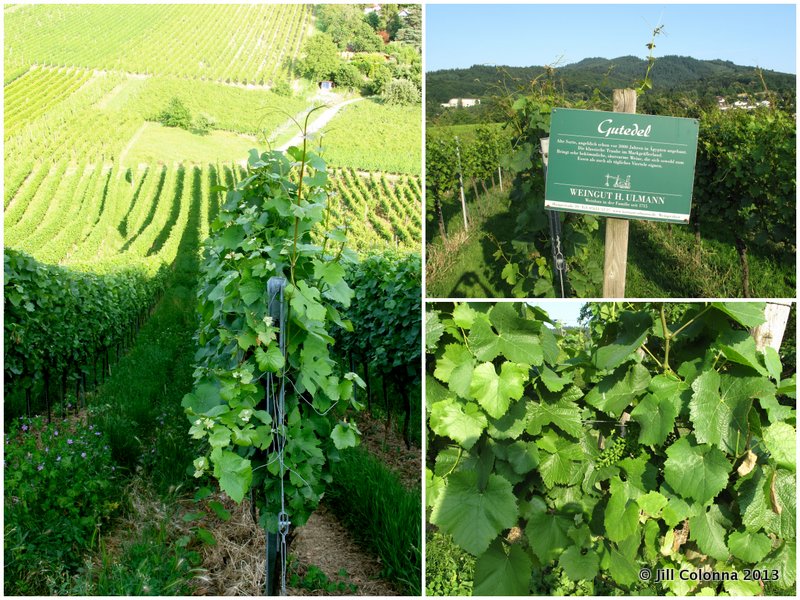 Staufen Castle, although now a ruin (built in 850), can be visited to admire the breathtaking vista of the Black Forest and Rhine Valley. Looking out the arched window, we're reminded by such an enormous cherry tree that we're in black cherry country.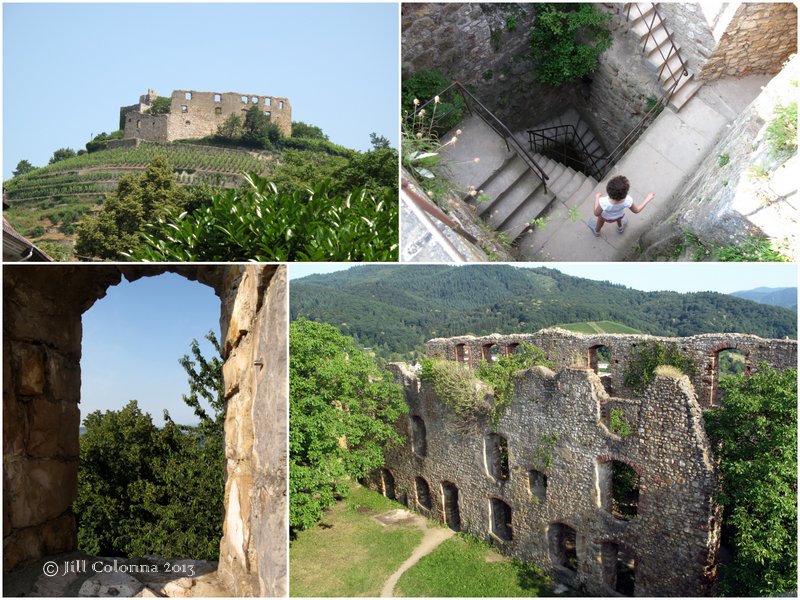 After such a climb during the heatwave, it was time to follow the tempting signs dotted around the town to the nearest cake shop.
It didn't take us long to discover the Café Decker, undoubtedly the best cake shop and tea salon in Staufen. It was so deliciously decked in cakes that we (admittedly) returned three times.
Black Forest Cakes, küchen, more chocolate cakes, redcurrant meringue pies and macarons were just some of the treats that would make anyone go off their sweet trolley. I think I put on three kilos during the week!
So, switching to ice cream seemed a lighter idea: teasingly steeped in Kirsch liqueur, it made an ideal excuse for an afternoon nap by the snoring river.
What is Black Forest Flavour?
The Black Forest cake consists of layers of chocolate sponge, whipped cream and cherries. So desserts referring to Black Forest have chocolate, whipped cream and cherries. In this case, the chocolate creams are minus the sponge, making them gluten free. Moreover, it's a no-bake dessert recipe, easily made in advance.
French No-Bake Chocolate Creams with Cherries
Back home, the Black Forest German trip made us crave chocolate and cherries for dessert. So I whipped up these gluten free chocolate puddings. I call them German, as they're inspired by a Black Forest cake with chocolate and cherries but the basic recipe is more French in style: crèmes au chocolat.
This recipe is ideal for using up egg yolks and for serving with your chocolate macarons. What's more, it's holiday style: quick, easy, tasty and no bake! Check out the egg yolk recipe collection for more ideas!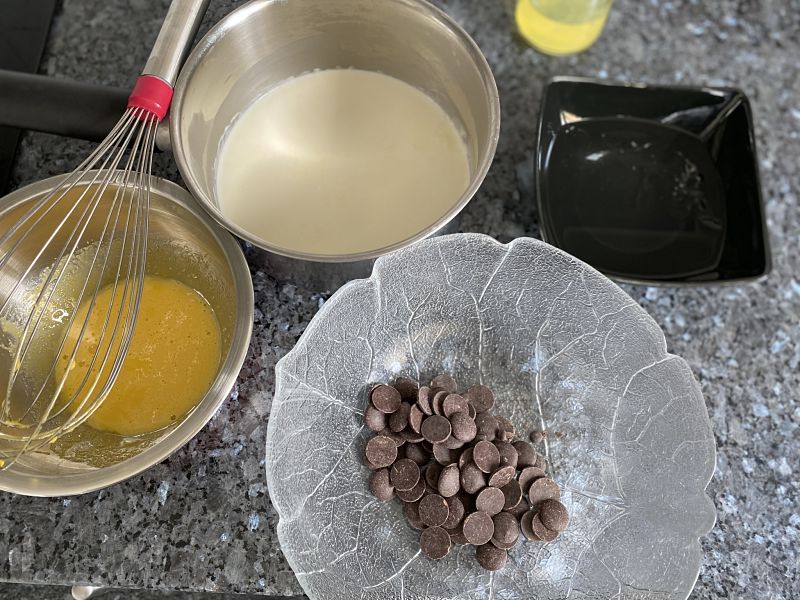 Chocolate Pudding Desserts with Cherries
No Bake Chocolate Pudding Desserts
A light, no bake recipe for Chocolate Pudding. An easy dessert inspired by the beauty of Germany's Black Forest chocolate cherry cakes. Basic French crème au chocolat topped with Chantilly cream and cherries.
Ingredients
1

@2g

gelatine sheet

200

ml (7fl oz)

whole milk

300

ml (10.5fl oz)

whipping cream (30% fat)

3

egg yolks

organic

50

g (2oz)

sugar

150

g (5.5oz)

dark (bittersweet) cooking chocolate

60% cacao, broken into bits

1

tablespoon

Kirsch liqueur
Topping
16

cherries

or jarred cherries soaked in Kirsch (e.g. Griottines)

150

ml (5fl oz)

whipping cream (30% fat)

chilled
Instructions
Soak the gelatine in cold water. Meanwhile break up the chocolate into pieces in a large bowl. In a saucepan, boil the milk and cream.

In another bowl, whisk together the yolks and sugar until light and creamy. Pour over the hot milky cream, mix and transfer back to the saucepan.

Whisk vigorously over a medium heat until the cream thickens. Take off the heat then pour over half of this hot cream on to the chocolate. Stir until the chocolate melts, add Kirsch (if using), the gelatine (squeezed of any excess water) and then whisk in the rest of the hot cream.

Transfer to 8 mini serving dishes (or 4 larger wine glasses if you're greedy like us), cool and chill for at least an hour.

Whip up the cream and pour on top*. Decorate with fresh cherries and/or Griottine cherries soaked in Kirsch - or roast cherries with a splash of Kirsch and tablespoon of sugar.
Notes
* If you have a siphon, fill it up half way with chilled cream (no less than 30% fat) and splash in a couple of tablespoons of Kirsch or cherry syrup, fit with the gas canister, shake and chill for a few minutes. Instant, homemade lighter-than-air cream!
NUTRITIONAL INFORMATION: 266 calories per one bigger portion (served in 4 wine glasses) or half in mini verrine shot glasses (serves 8).
Disclaimer: None of the establishments mentioned in this post are sponsored. This was a private family trip and I'm sharing these addresses as we personally found them to be excellent. This post was first published 13th August 2013 but text is now updated with new photos and a printable recipe.