Welcome to the month of June, when the birds start tweeting that it's cherry time! So to celebrate cherry season in Paris, let me share a quick and easy chocolate cherry ganache recipe to fill your macarons.
I've also taken the opportunity to explain why we don't eat macarons straight away and why it's so important to leave your macarons to settle for at least 24 hours before eating them.
Intensifying Cherry Flavours - 2 Ways
I love making this chocolate cherry ganache, as it's so simple. Cherries do need a helping hand to intensify their delicate flavours - especially in a macaron filling as they do need a little more punch.
So fry the cherries in a little butter and splash with Kirsch. It's almost a cheat's way of speeding up the process of roasting them. I find that the cherry flavour is intensified both ways. However, please go ahead and roast them in butter and Kirsch if you prefer. Roasting cherries takes about 20-25 minutes.
It's Not Cherry Season - Can I Still Make a Chocolate Cherry Ganache?
Even if it's not cherry season and you don't have fresh cherries, you can still make this chocolate cherry ganache using frozen cherries (defrosted).
However, chopped tinned cherries are best as long as they are excellent quality.
I use excellent tinned Amareno cherries from Apt, Provence (the world capital of candied fruits) which are steeped in Amaretto liqueur.
Otherwise use French Griottine® cherries that are jarred and soaked in Kirsch.
How Long Should You Wait Before Eating Chocolate Cherry Macarons?
I know. It's upsetting, isn't it? You make a batch of macarons at home and you want to eat them right away. Instead, we store macarons in an airtight box in the fridge for at least 24 hours. What? Why can't we eat the macarons straight away? The answer is simple but it's a very important tip when making macarons.
Eat them straight away and I guarantee you will be disappointed: the macarons will be too dry and crispy and the filling will not be given its full potential.
Many people who try macarons that are too dry, eating too quickly after making them, believe that's what macarons taste like. Wrong! That's what gives macarons a bad image. Please, please. Have patience and leave the filling to work its magic.
Leave macarons in the fridge for at least 24 hours before eating, as this lets the filling infuse into the shell. For chocolate ones, 36 hours is preferable.
In addition, you must leave them at room temperature for 30 minutes before serving. This is what gives the macarons their typically scrumptious soft inside, while remaining crispy on the outside.

Jill Colonna: 'Mad About Macarons: Make Macarons like the French' (2010)
The result means a slightly crispy outside and a delicious fondant centre. This way the chocolate ganache will have slightly merged into the macaron shell as a whole.
The resulting taste and texture is simply divine.
French Macarons Recipe for Chocolate Cherry Ganache
The recipe below is for the macaron ganache filling only. Get my step-by-step macaron recipes, plus tips and troubleshooting techniques in both my books.
That's just the macarons with a chocolate ganache! Have you tried these salted caramel macarons yet? With macarons, enjoy an empty canvas.
Which Flavour is Best in Macarons?
I often have readers ask me this question and to be honest, it's difficult to just pinpoint a few. The beauty with macarons is that any flavour is best, as savoury macarons are also delicious fun as well as the sweet kinds.
For savoury, I particularly love spice in them, as the sweetness of the macaron shell cancels out the fiery spices, such as my tikka curry macs, Thai green/red curry macarons etc. - see my article on serving savoury macarons.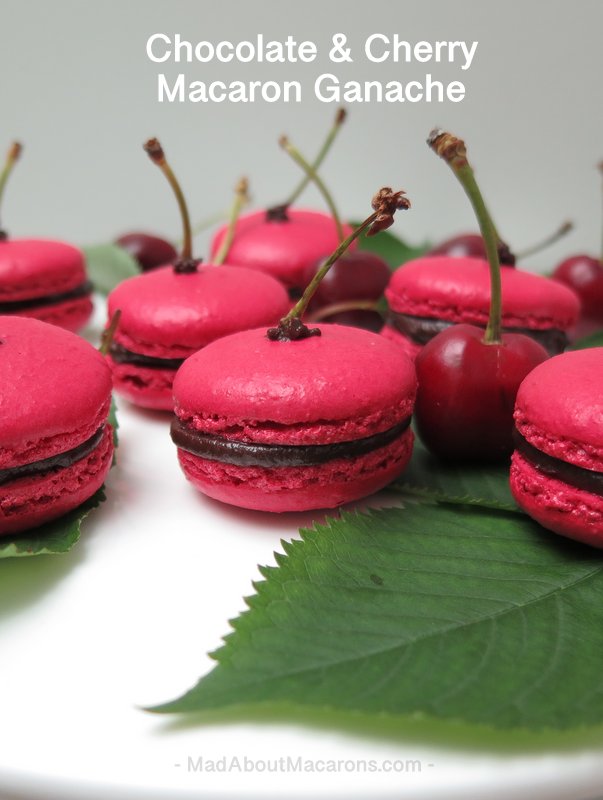 Chocolate Ganache Macaron Fillings
On the more classic sweet side, bittersweet chocolate ganache-filled macarons are best for chocolate lovers who love the intense chocolate experience. These macarons with a chocolate cherry ganache filling are just an example.
The list of chocolate combinations is endless - I have a whole chapter of them in Mad About Macarons. Some favourites include chocolate pistachio; chocolate hazelnut; chocolate, ginger & cardamom; white chocolate & liquorice; white chocolate & coffee; and white chocolate, vanilla, pistachio and wasabi.
Moreover, there are many more in my second book, 'Teatime in Paris':
chocolate, chestnut and cinnamon; salted caramel; Mojito (mint, lime & rum).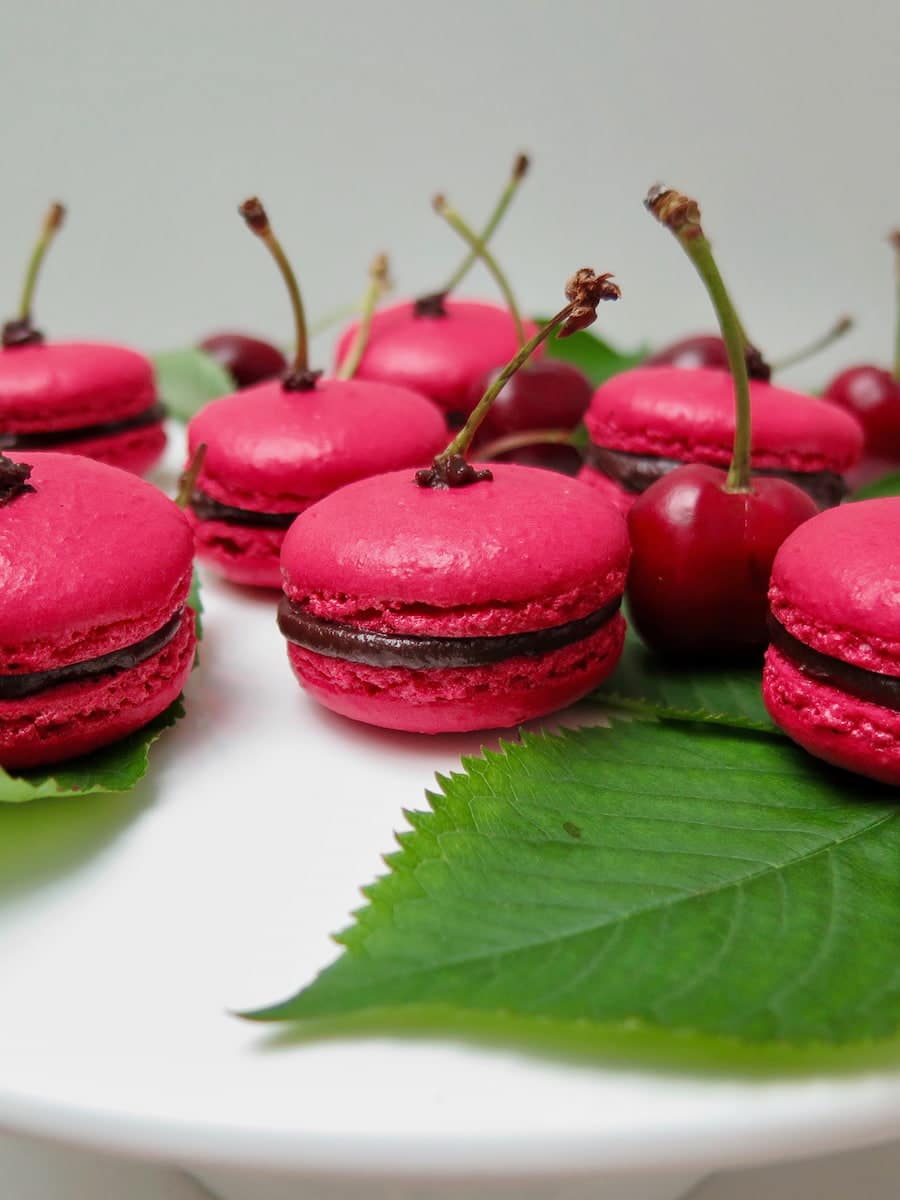 More French Recipes with Cherries
Chocolate Cherry Ganache (Macaron Filling)
Quick and easy chocolate ganache recipe with cherries for filling your macaron shells
Ingredients
100

g (3.5oz/ about 12-14)

organic black (griotte or burlat) cherries

organic, washed, pitted & halved* SEE NOTES

25

g (1oz)

butter, unsalted

1

tablespoon

Kirsch liqueur

(or Amaretto)

120

g (4oz)

Dark (bittersweet) chocolate

(at least 64% cacao)

85

g (3oz)

Whipping cream (30% fat)

2-3

drops

Almond extract
Instructions
Melt the butter in a non-stick frying pan and over a high heat, sauté the cherries for 5 minutes. Splash in the Kirsch and leave the cherries to soften over a gentle heat, uncovered, for 10 more minutes. Remove from the heat then blitz to a purée in a food processor.Out of season, use tinned cherries or Amaretto cherries soaked in Kirsch.

Break the chocolate into pieces in a heatproof bowl and melt together with the cream over a pan of simmering water (bain marie). Ensure the bowl does not touch the water.

Once melted, stir in the cherry purée and add the almond extract. Leave to cool in the fridge for about 30 minutes. Be careful not to wait too long as the chocolate hardens quite quickly.

Transfer to a piping bag and pipe the ganache onto your macaron shells and sandwich the shells together.
Notes
Cherries: Here I'm using fresh but out of season, skip step one and chop up tinned or Amaretto cherries steeped in Kirsch liqueur. See more on the cherry market page.
Like all macarons, store in an airtight container in the fridge for at least 24 hours. Macarons should not be eaten straight after making them, as it doesn't give the filling enough time (especially chocolate) to work its magic into the shells, making the inside fondant and outside slightly crispy, as a macaron should be.
Chocolate Macaron Tip: take out of the fridge 30 minutes before eating to enjoy them at their best.
The basic macaron shell recipe and instructions are in both my books, along with many flavour fillings plus all my tips.
Nutrition: 33 calories for one macaron filling (enough for 30 macarons).