Easy Béarnaise sauce recipe, a French classic. Like the mother Hollandaise but with added herbs and no lemon, created near Paris in the 1830s.
How many times have you seen the French classic Béarnaise Sauce on a menu and thought it was perhaps too difficult to make? Well, let me show you how easy it is to whip up an authentic version at home. It also tastes 100 times better than the jarred stuff in supermarkets!
Moreover, did you know that there's at least another herb ingredient in it, apart from tarragon? Read on from the birthplace of the Sauce Béarnaise itself in Saint-Germain-en-Laye, just outside Paris and discover the "simple Béarn-ecessities of life" (groan!).
Difference Between Hollandaise and Béarnaise Sauce
In the 1800s, Chef Antonin Carême noted that in French cuisine, there were four basic sauces – each called a "Mother Sauce". Later, Auguste Escoffier took Câreme's rules of Haute Cuisine a step further by adding a basic fifth sauce, the Hollandaise sauce, an emulsion of egg yolks, white vinegar and wine (or lemon juice) plus melted butter.
So the fifth mother sauce, Hollandaise was born thanks to Escoffier. Later, its most famous offspring, the Béarnaise sauce was born in Saint-Germain-en-Laye, just west of Paris. It's known as a 'child' of the mother hollandaise sauce as it takes the sauce as a base and adds to it.
What does it taste like?
It has the same creaminess as the basic hollandaise and the subtle acidity of the vinegar – but the taste of the Béarnaise has the fragrant addition of three ingredients: shallots, tarragon and chervil. The tarragon in particular lends a slight sweetness to the sauce.
The Origins of Béarnaise Sauce, near Paris
Why the name, Béarnaise? Did you know it had nothing much to do with the French Province of Béarn? Instead, the sauce's origins took place at Le Pavillon Henri IV, a hotel in Saint-Germain-en-Laye which was built over the original spot of the Château Neuf, where Louis XIV was born in 1638. For more on this part, see my introduction to Saint-Germain-en-Laye.
In the 1830's, Head Chef Jean-Louis Françoise-Collinet experimented with a shallot reduction then, taking the basic mother recipe for Sauce Hollandaise, replaced the lemon juice with white wine vinegar, shallots, chervil and tarragon and the Sauce Béarnaise was born. It's the tarragon and white wine vinegar that makes that fragrantly addictive acidity that we associate with the star of sauces with serious steaks.
Why did chef Collinet call it Béarnaise? Inspired by the name of the hotel, Henri IV, it was the King's previous home at the Château Neuf before it was a restaurant and he came from the province of Béarn.
Shortly before, the chef also accidentally invented the soufflée potato and served both of his creations at the opening of the hotel in 1836.
Béarnaise Sauce – Herb Ingredients
Today, the hotel's chef, Patrick Käppler, has posted the Béarnaise Sauce recipe in French, published by the Hotel Pavillon Henri IV, without the actual quantities. As you can see, to continue the sauce's tradition, he doesn't just use the classic tarragon (estragon) herb as an ingredient – but also chervil (cerfeuil) and parsley (persil) herbs too.
Following my challenge from L'Office de Tourisme in les Yvelines, this Béarnaise Sauce recipe was also cited by the novelist, Alexandre Dumas.  More known for his Three Muskateers and The Count of Monte Cristo, as a serious gourmet and cook, he also published his Grand Culinary Dictionary (only in French).  He cites using a good vinegar from Orléans, uses oil instead of butter and parsley or tarragon:
Alexandre Dumas: Le Grand Dictionnaire de Cuisine (1873), under "Sauce",
Sauce échalote à la béarnaise.
Mettez dans une petite casserole deux cuillerées à bouche d'échalote hachée et quatre cuillerées de bon vinaigre d'Orléans ; la poser sur le feu et cuire les échalotes jusqu'à ce que le vinaigre soit réduit de moitié ; retirez alors la casserole, et quand l'appareil est à peu près refroidi, mêlez-lui quatorze jaunes d'oeufs, broyez-les à la cuiller et joignez-leur quatre cuillerées à bouche de bonne huile. Posez alors la casserole sur un feu doux ; liez la sauce en la tournant, retirez-la aussitôt qu'elle est à point, et lui incorporez encore un demi-verre d'huile, mais en l'alternant avec le jus d'un citron ; finir la sauce avec un peu d'estragon ou de persil haché et un peu de glace de viande.
What Is Béarnaise Sauce Used For?
Béarnaise Sauce is the perfect accompaniment with salmon, chargrilled steaks, chicken and asparagus.
Moreover, if you love Eggs Benedict, you'll know that poached eggs marry well with Hollandaise sauce – but try it with Béarnaise sauce, with its added herbs, and it is sheer luxury.
Can Béarnaise Sauce Keep?
Béarnaise sauce is best when made as close as possible to serving.  Ideally I'm not a chef serving this in a restaurant so I don't have these kind of worries at home but I hear the best way to keep Béarnaise sauce without it splitting is by keeping it in a thermos.
Ideally, serve within an hour (no more than 2 hours max.), keeping the sauce slightly warm (not hot!) over a pan of simmering water. If the sauce gets too hot and starts to split, add a little warm water.  Frankly, I've not had problems with the latter, as the recipe is so easy and as long as it's served reasonably quickly, the results are light and fluffy.
The sauce also freezes well.
Easy Béarnaise Sauce Recipe
Many chefs make this straight in the pan using the same quantities in the recipe, just like Dumas describes above.
I prefer making it over a bain-marie (bowl over simmering water) and, although this method sounds more hassle, it's actually much less easy to curdle the sauce and the result is light and sabayon or mousse-like. However, if you prefer to make the sauce in the same pan, then carefully ensure that the temperature doesn't get too high.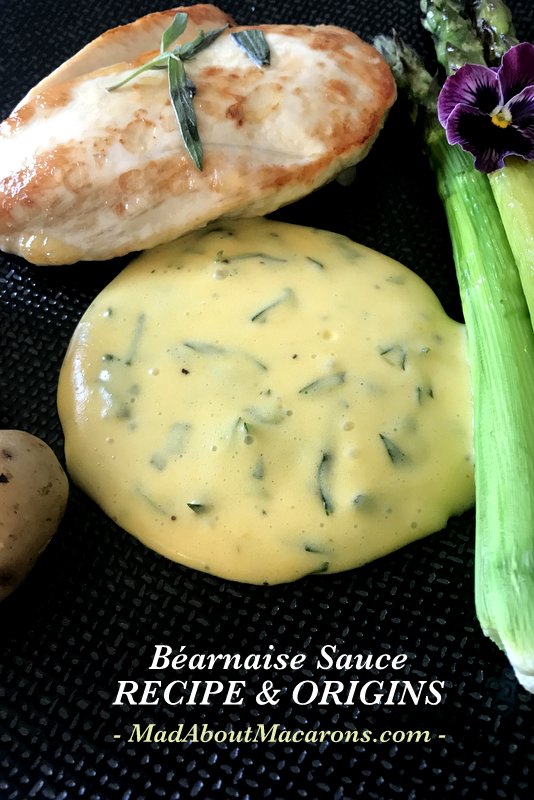 Béarnaise Sauce
---
Description
An easy recipe for the classic French Sauce Béarnaise, with added herbs to the classic ingredients of its mother sauce, the Hollandaise. Created in the 1830s near Paris, in Saint-Germain-en-Laye. Perfect accompaniment for steaks, salmon, chicken and asparagus.
Ingredients
50

g (2oz)

white wine vinegar

90

g (3.5oz)

white wine

2

small

shallots

chopped finely

3

branches

fresh tarragon

branches separated from finely chopped up leaves

3

grinds

black pepper

3

egg yolks

organic

1

tbsp

water

125

g (4.5oz)

unsalted butter

gently melted

1

tbsp

fresh chervil

finely chopped

pinch

salt

fleur de sel

1/2

tbsp

fresh parsley (flat-leaf)

optional
Instructions
Bring the white vinegar, wine, shallots, tarragon branches and pepper to a boil in a small saucepan. As soon as it boils, reduce the heat and leave to reduce for about 5 minutes until there's about a couple of tablespoons. Pour into another bowl and set aside to cool then filter out the shallots and herbs using a sieve.

Fill the saucepan with 1/4 of water and bring to a simmer. Place over it a large bowl with the cooled vinegar reduction, yolks and water then whisk constantly until the sabayon becomes mousse-like.

After about 5 minutes, as soon as the sauce starts to thicken, take the bowl off the heat and, continuing to whisk, incorporate the warm, melted butter. Add the chopped tarragon, chervil and parsley, if using. Season with a little salt and it's ready to serve.
Notes
If not serving straight away, keep at room temperature and return the bowl over the simmering water before ready to serve to re-heat, adding a little hot water if necessary.
The Béarn-ecessities of life
They'll come to you …
More Links