Healthy apple horseradish sauce, good with smoked salmon and cold meats like roast beef or pork. Low in calories with mainly grated apple.
Serve a little directly on the salmon and the rest at the table inside the scooped out apple. For an extra fun wow factor, this is good with mini beetroot and horseradish savoury macarons.
Holiday Starters
This has to be one of my all-time favourite starters over the holiday season. It's incredibly quick to prepare in advance - as long as you have a jar of horseradish sauce in the cupboard. It sounds like a no-brainer, but this popular condiment is  actually not as easy to find in France as it is in the UK and America. These days, it's easier to find it in the international food aisles at the supermarket.
Feeling patriotic, Scottish smoked salmon is definitely on my menu for starters. My favourite is Salar Hot Smoked Salmon from the Outer Hebrides in North-West Scotland. However, use any good quality wild smoked salmon.
What is in Horseradish Sauce?
Ready prepared horseradish sauce is a condiment that contains grated horseradish, which is a spicy root from the mustard family. Known in France as 'raifort', it's rare to find it at the French market but, when there is some, they always come from Germany. Usually the commercial sauce has added vinegar and salt to the horseradish.
So, provided you can get horseradish root, you can actually make your own by simply grating it and adding vinegar and salt. As it's too difficult to find, we tend to buy the commercial version.
What Does Horseradish Sauce Go With?
If you're like me, horseradish sauce is an excellent kitchen cupboard necessity - especially during the holiday season. If it's served straight, the taste is instantly hot and spicy. You can tell it's from the mustard family as it has a fiery kick!
Normally, in Britain, it's traditionally served directly from the pot with roast beef - even with leftovers served in sandwiches with horseradish sauce. It's also great with cold meat cuts such as pork and cured hams.
However, we love to serve horseradish sauce with smoked salmon and tame the spice down a bit. So we add apple, lemon juice and half fat crème frâiche. The horseradish just adds that intriguing kick, which is so good with Scottish smoked salmon (or hot smoked, Salar).
As horseradish also goes so well with beetroot, add a little to the dish too. Why not add a little horseradish to this Corsican charcuterie 'Terre et Mer' plate?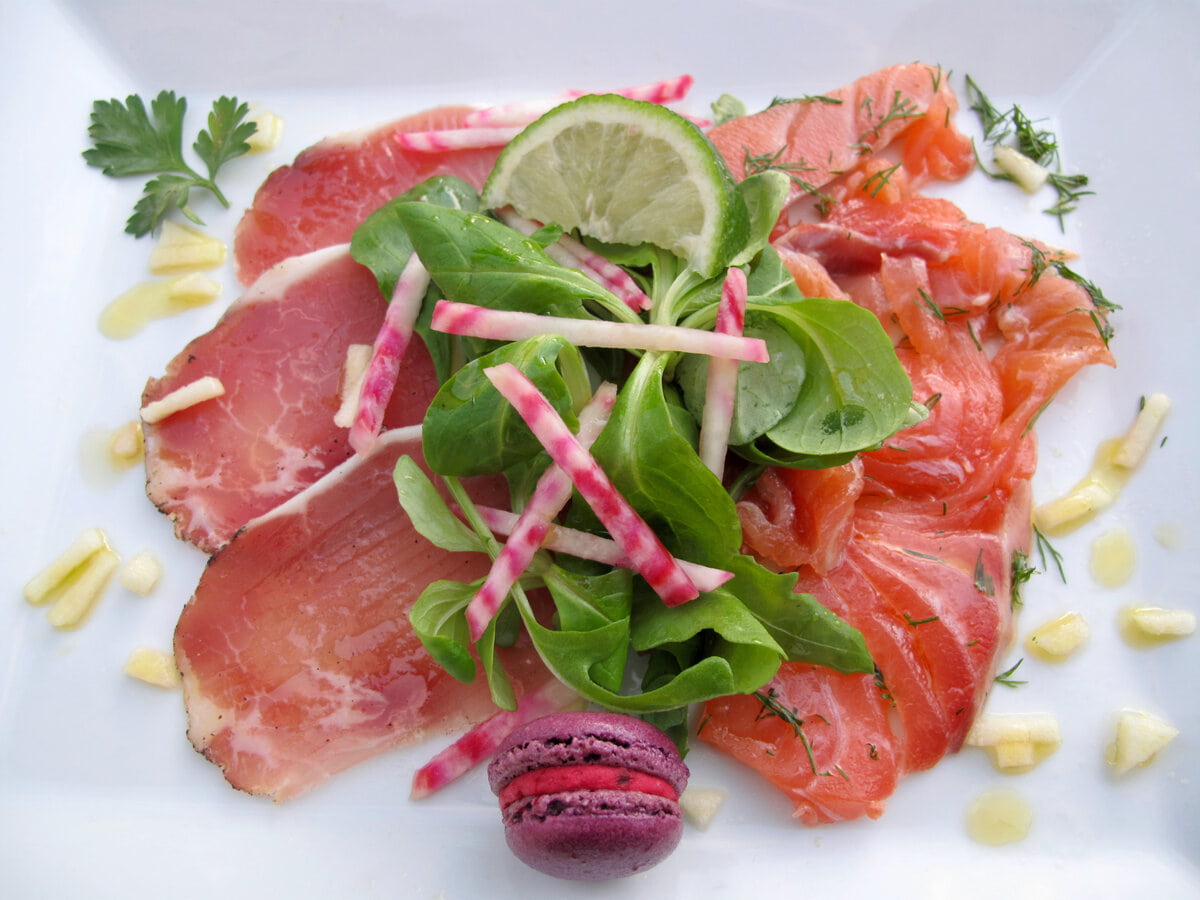 Simple Horseradish and Apple Sauce
I got this recipe from the back of a packed Salar smoked salmon - as it's perfect to go with it. The tart apple makes this sauce so deliciously light as most of it is just grated apple.
I insist on using a tart apple, as the acidity is perfect.  Any sweet type of apple will not taste the same!
See more on the market produce page for apples and beetroot/beet
At first guests think it's pure cream looking at the colour, but on tasting they dollop on more when they realise it's mainly apple with half fat crème fraîche tossed in as an afterthought! As you can see from the calorie count, it's low and healthy too. Serve a little on serving plates and provide extra sauce on the table.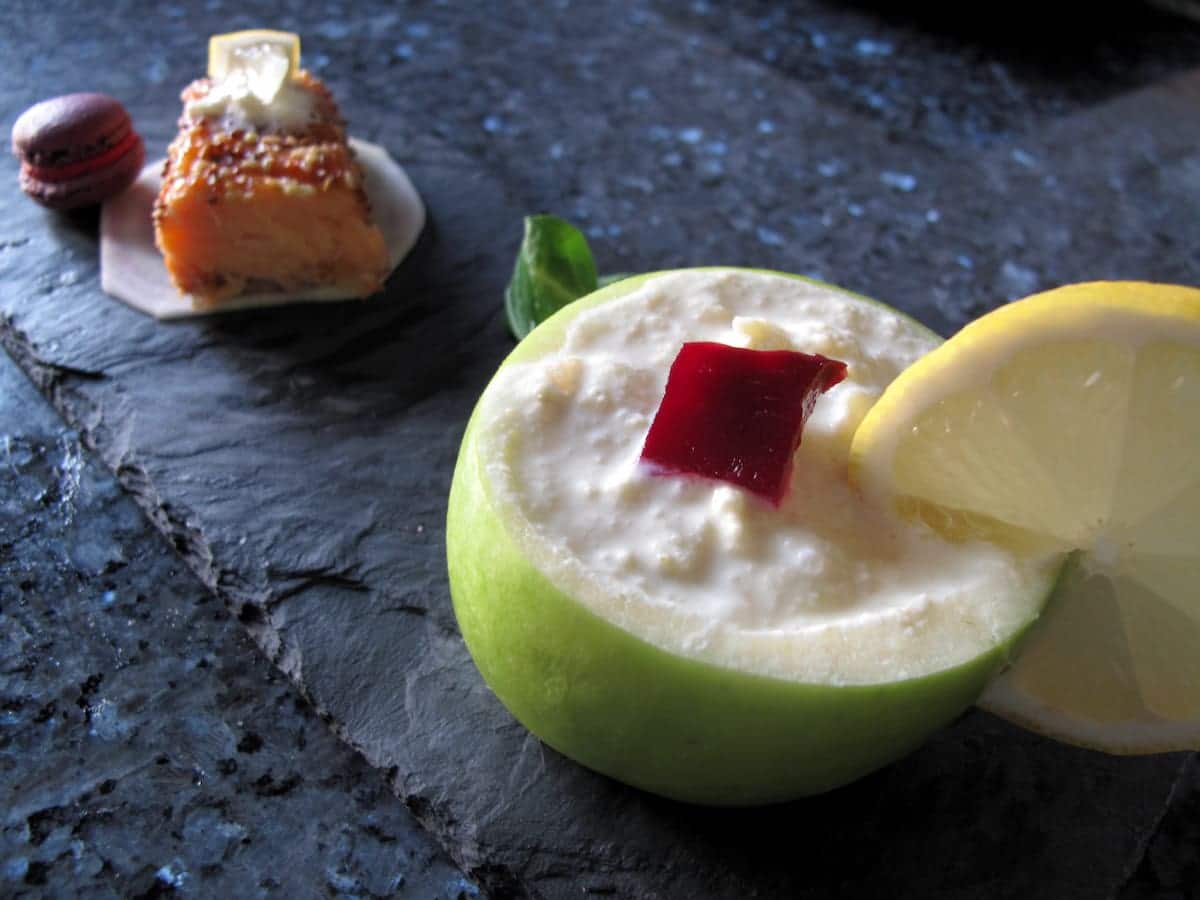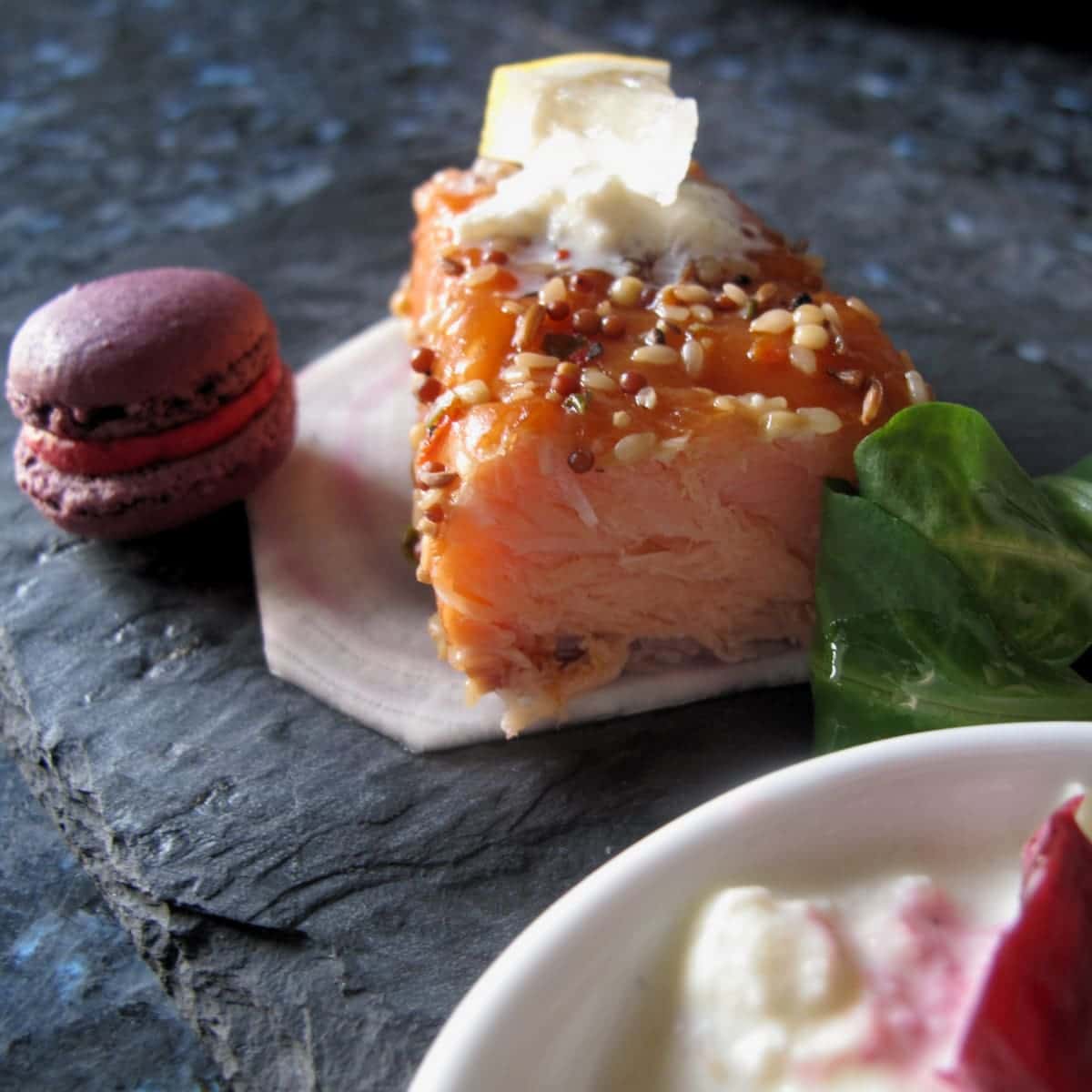 For that extra special and fun touch, this goes famously with a beetroot and horseradish macaron (see mini macs savoury macarons on p.103 of Mad About Macarons.) Otherwise serve with a little beetroot/beet on the side.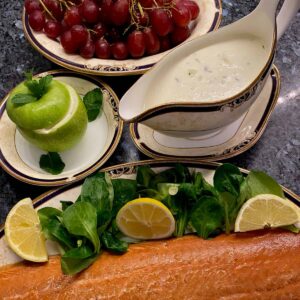 Apple and Horseradish Sauce
Healthy apple horseradish sauce, good with smoked salmon and cold meats like roast beef or pork. Low in calories with mainly grated apple.
Ingredients
1

tart apple

organic (e.g. Granny Smith, Braeburn)

1-2

tablespoon

cream of horseradish sauce

(see variations below)

1

lemon, juice only

1

tablespoon

dill

chopped

120

ml (4oz)

small tub low fat crème fraîche

15% fat

1

beetroot (or radishes/lamb's lettuce)

finely sliced, to serve (optional)
Instructions
Grate the apple then quickly add the lemon juice so that it won't turn brown.

Mix in the other ingredients and season to taste.
Notes
Serve chilled with smoked salmon or cold hot-smoked salmon with sliced beetroot or radishes. Also good with cold meats such as roast beef and pork.
For a dinner party, serve any extra sauce on the table served inside a scooped-out apple with a wedge of lemon.
Variations: replace the horseradish sauce with 1 teaspoon of wasabi or 2 teaspoons of Dijon or Savora mustard, according to taste.
This recipe post was first published 26 December 2011 but has now been completely updated.