Recipe for the French galette des rois served at Epiphany in France, with a pistachio and chocolate twist to the classic frangipane. Extract and adapted basic recipe from my second book, Teatime in Paris! Don't forget to hide the trinket inside and have a crown or two ready for the winning King and Queen.
What is Special about A Galette des Rois?
What I love about living in Paris is that the party continues after the festive season, food-wise. Just when the decorations officially come down, there's something special to look forward to. Officially as of Epiphany on 6th January, suddenly the Pâtisserie windows are filled with Galettes des rois - which in English, is simply King Cake. Although these days we see them around Christmas and up until the end of January when we are rather saturated with them.
I love trying the top ones for inspiration around Paris - see most of the best  galettes des Rois in Paris.
However, I also love to make my own.  Not only is it cheaper but it means we can generously fill it. Personally, I'm not keen on galettes that are mainly pastry with very little frangipane; I love them well garnished!
What's more, it means we get to pick our own trinkets (French 'fèves'). This is just Lucie's own collection of trinkets which represents rather a lot of successful galettes where she was Queen for a day!
Being a lazy gourmet, I use store-bought puff pastry (always choose pur beurre, the full butter version, which is better quality than plain puff.) Even better, ask/reserve good quality puff pastry from your local baker; in France we can ask politely for some, as normally you're supposed to be buying the galettes!
Galette des Rois Tradition
The Galette des Rois (or King's Cake in English) is traditionally served at Epiphany and is said to have taken its name from the three wise men.
It's not a cake as such but more of a giant puff pastry sandwich filled with frangipane (almond cream added to pastry cream) with a trinket hidden inside to crown a King or Queen, whoever gets it in their slice.
In this recipe, the classic frangipane is replaced by an almond and pistachio cream topped with some dark chocolate.
What Does Galette des Rois Taste Like?
The traditional French Galette des Rois normally tastes of almond, as it's usually made just with almonds for a frangipane filling. This pistachio version is just has an extra pistachio flavour to it with added chocolate. Together with the puff pastry as a crispy exterior, it's quite filling but ever so satisfying.
Normally we serve this at goûter time (teatime) or dessert with French cidre from Normandy or Brittany (either Brut/dry or Doux/sweet) and with sparkling apple juice for the children.
Galette Flavours
Experiment with more flavours. This one is almond, pistachio and chocolate. However, based on the same recipe, make it with cherries instead of chocolate, hazelnuts and chocolate, pear etc.
All our family variations are in my book, Teatime in Paris.
What is the Ritual When Eating La Galette des Rois?
La Galette des Rois is usually enjoyed as one big King Cake and contains a fève or trinket. So that there is no cheating as to who gets the trinket when cutting the galette, there is a particular ritual.
Tradition in France is that the youngest person in the room sits under the table. They shout out, one by one, each person's name in the room as the galette is cut by an 'older and wiser' person above. The person who gets the slice with the trinket nestling inside their part wears the crown and is then King (or Queen) for the day.
Sometimes in the chic pâtisseries, you're given two crowns. That way a King can choose a Queen to accompany him/her and vice versa.
Galette des Rois Recipe with Almond Pistachio Paste and Chocolate
First prepare the almond paste (with the pistachio - or simply extra almonds for a traditional frangipane almond cream);
Mix all the ingredients together and spread it evenly on to the first circle of puff pastry;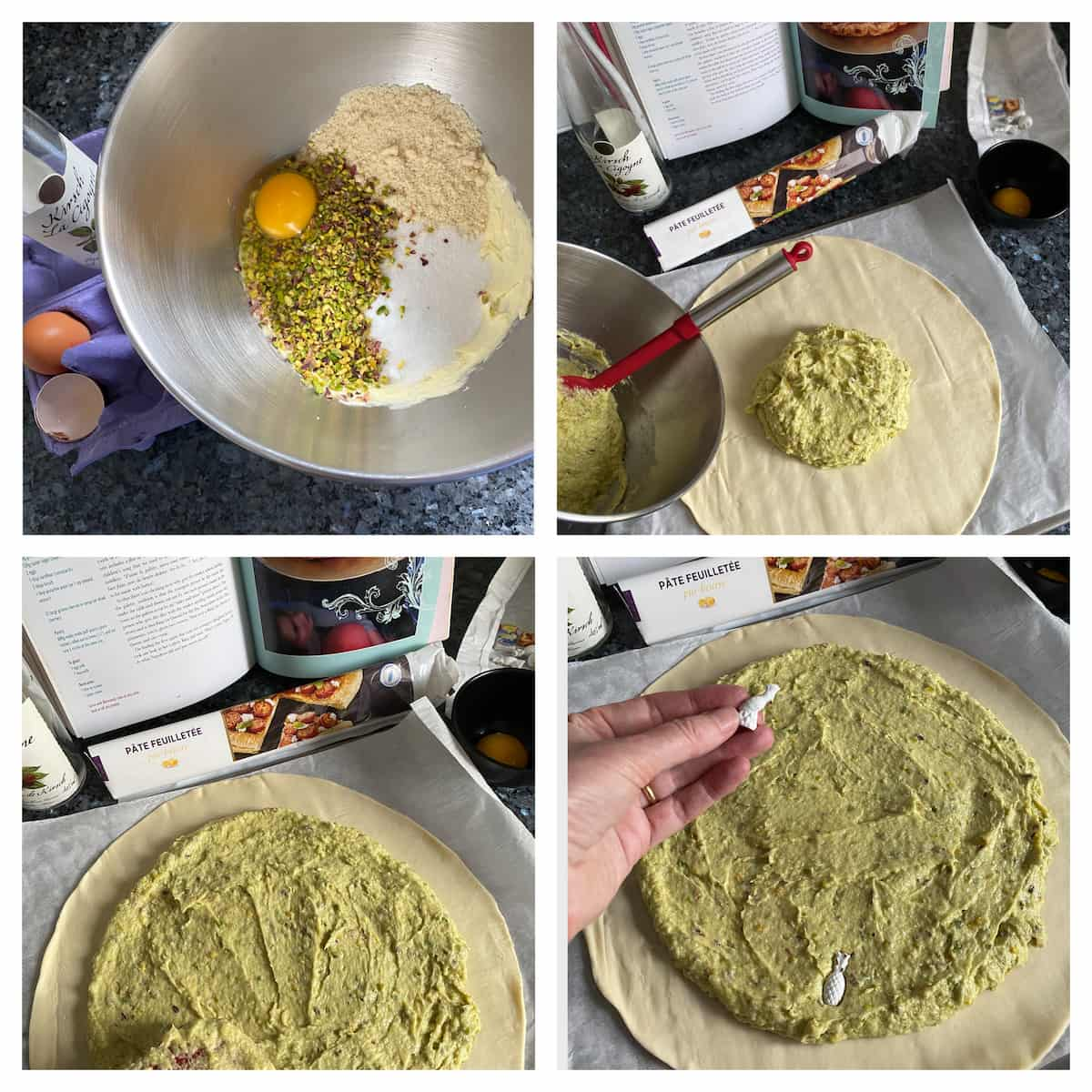 Spread the mixture evenly, leaving about a couple of centimetres at the border;
Insert the trinket (known as the fève) in the paste, towards the outside near the border. If a big galette and a few people, then I like to add a second trinket;
Place the chocolate chips on top of the cream;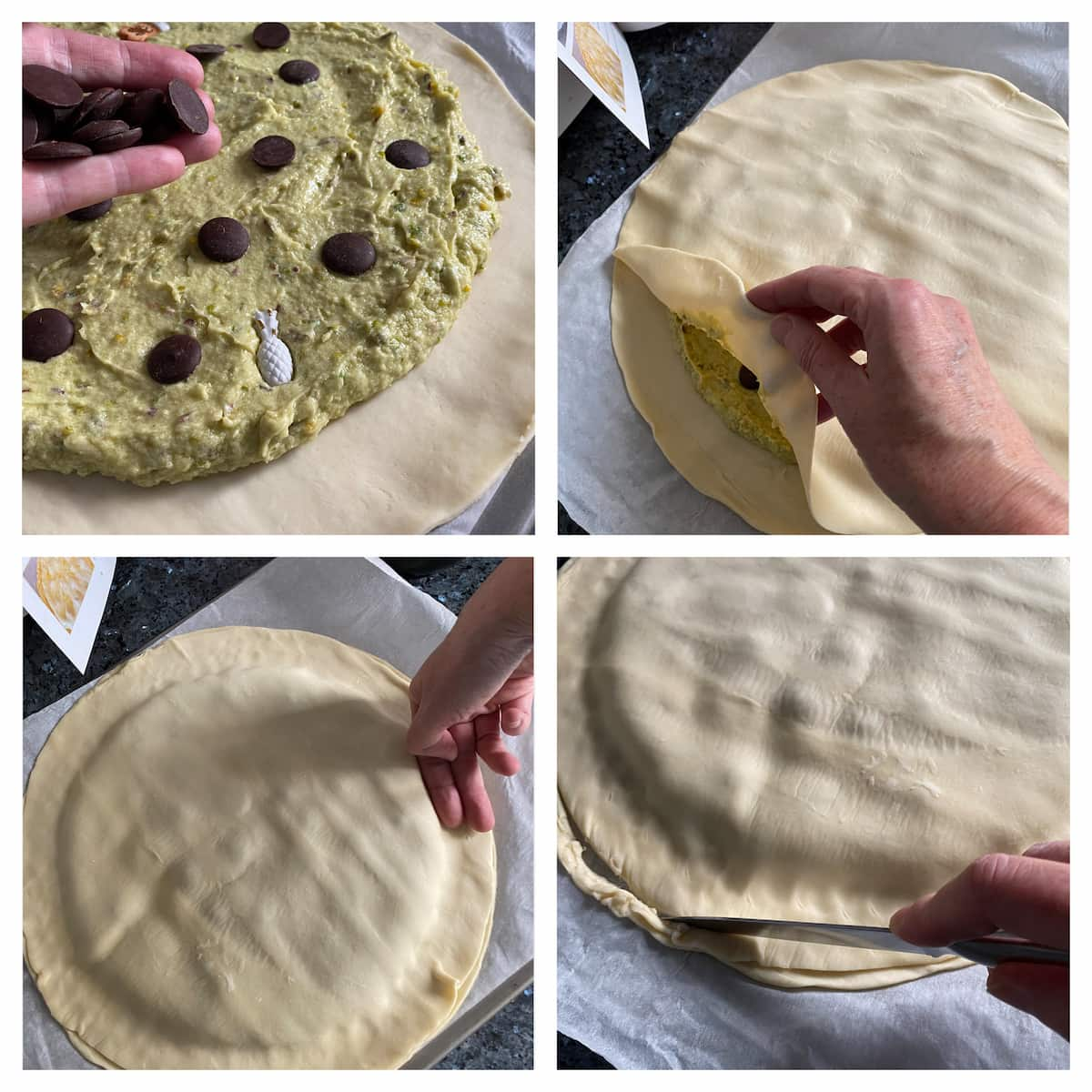 Top with the second circle of puff pastry. Press in from the border to seal off any air bubbles around the filling. See in much more detail in the printable recipe card below.
Once the border is well sealed, make indents with the blunt edge of the knife.
Brush with egg yolk and chill in the fridge for 30 minutes.
Ideas to Decorate a Galette des Rois
Decorate the galette with the back of a knife when the puff pastry is glazed and chilled first.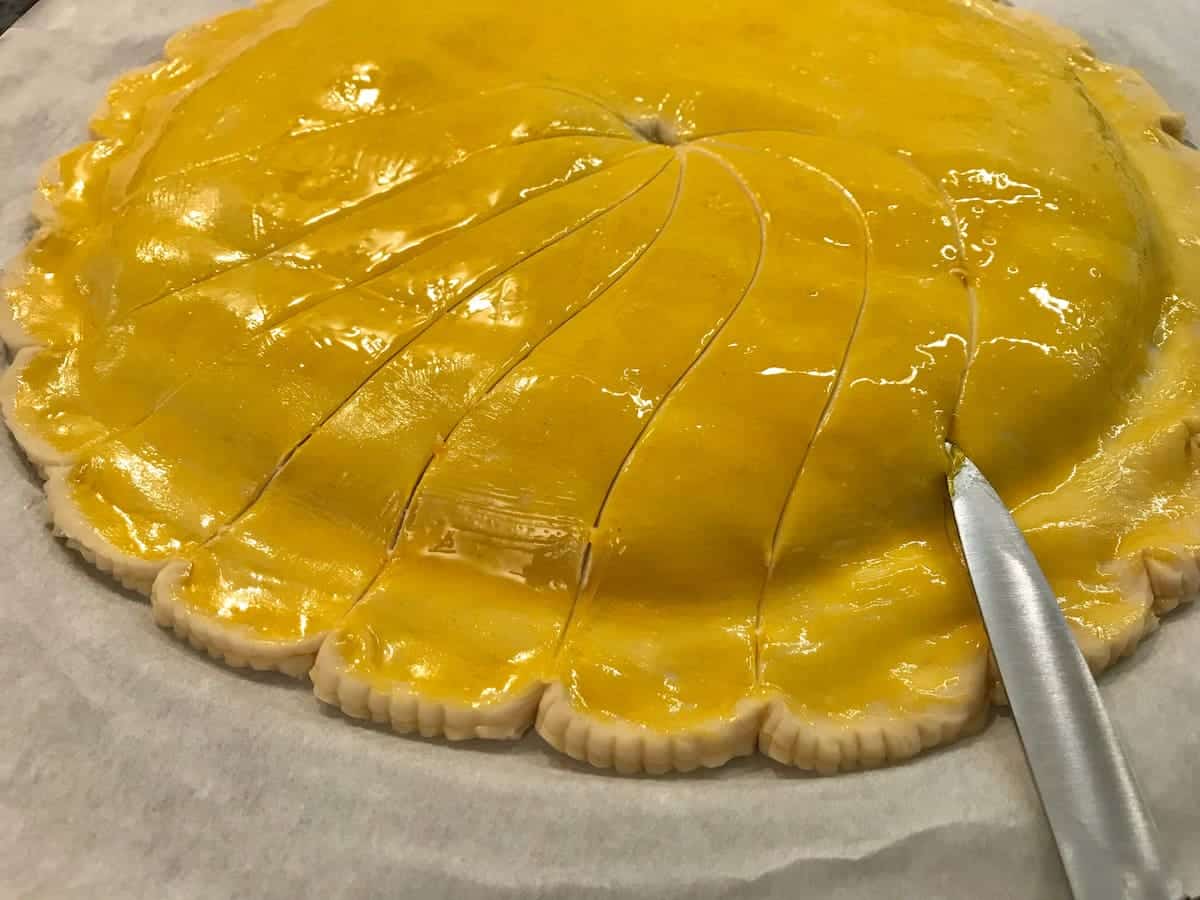 Either make a sun-ray effect (this is popular in pâtisseries), simple criss-crosses or be more original with your own creativity. This one below was done by my daughter, Lucie.
Decorating a galette des rois is up to your creativity (use the blunt end of knife).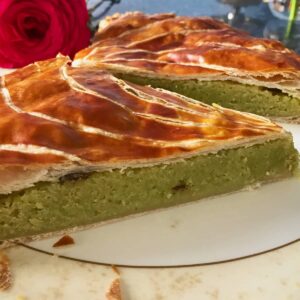 Galette des Rois
Recipe for the classic French galette des rois served around Epiphany in France, with a chocolate and pistachio twist. Extract and recipe adapted from my second book, Teatime in Paris! Don't forget to hide the trinket inside and have a crown or two ready for the winning King and Queen.
Ingredients
Almond cream filling:
140

g (5oz)

unsalted butter

softened

100

g (3½oz)

ground almonds (almond flour)

50

g (2oz)

ground pistachios

(or more almonds for the classic)

115

g (4oz)

caster sugar

(superfine)

2

eggs

organic

1

tablespoon

cornflour

(cornstarch)

1

tablespoon

Kirsch liqueur

or rum

30

g (1oz)

dark chocolate chips

600

g (or 2 packs of 230g circles)

ready-made puff pastry (pure butter)

cut into 2 circles
glaze:
1

egg yolk

1

teaspoon

water
Traditional extras
1

trinket

1-2

paper crowns

(or find a real one!)
Instructions
Almond & Pistachio Cream
Cream the softened butter in a large bowl then gradually add all the other ingredients and mix together well to form a smooth cream.

Place the first pastry circle on a baking sheet covered with baking parchment. Spread the almond and pistachio mix evenly on top, leaving a space of 2-3 cm (1 ¼") as a border.

Insert the porcelaine trinket well into the almond cream towards the edge of the galette (to avoid the slicer slicing into it) and top evenly with the chocolate chips.

Place the second puff pastry circle on top and seal the outside edges, ensuring there are no air bubbles. You'll be left with the top circle slightly smaller than the bottom so, using a sharp knife, cut off the surplus pastry, sealing thoroughly all the way around the galette.

Now go around the galette's border and, using the blunt side of a knife and keeping it straight, make tiny indentations to perfectly seal the pastry's edges.

Brush the top of the pastry with the egg yolk and water glaze. 

For best results, chill in the fridge for about 30 minutes (optional but helps the decor about to be done stay intact).

Preheat the oven to 180°C/160°C fan/360°F/gas 4.

Again, using the blunt side of the knife, carefully score a sun-ray or criss-cross pattern by cutting gently into the pastry, but not too much that you cut right through the pastry. Pierce 4 or 5 little holes in the pastry, so that air can escape.

Bake in the oven for about 30 minutes.
Notes
Serve warm with cider.  
Variations:
To make the classic galette des rois, just omit the chocolate and replace the pistachios with more ground almonds/almond flour.
Replace the pistachios with ground hazelnuts;
Add sliced fresh or tinned pear, or with a few boozy cherries as I show in my recipe book, 'Teatime in Paris'.
You can find my recipe (including detailed step-by-step instructions) for Pistachio and Griotte Cherry Galette des Rois and many more galette des rois variations in my 2nd recipe book, Teatime in Paris: A Walk Through Easy French Pâtisserie Recipes - as well as many more French recipes.
This post was first published 8 January 2013 but is now completely updated.