Almond Tart is baked with strawberries and looks like a cake. Served upside-down, glazed and topped with more strawberries, edible flowers and roasted rhubarb.
The almond tart can be prepared a day in advance then glazed and decorated on the day of serving.
Make a French Cake like a Parisian Bakery
Take a good look at this almond tart. It looks more like a shiny cake out of a Parisian pâtisserie, doesn't it?
It's basically a simple French tart filled and baked with a delicious almond cream and strawberries. Except it's turned upside down then dressed up with pink glaze and as much frilly decoration to fit the occasion. It's a nifty trick!
Inspired by French MOF (Meilleur Ouvrier de France) pastry chef Nicolas Bernadé 's raspberry "framboisier" (thanks to the Fou de Pâtisserie magazine, Spring 2016). Instead, I omitted his raspberries and vanilla cream on top and made an easier homemade strawberry version. I also added roasted rhubarb.
If you can't find rhubarb, just top with more strawberries.
How to Make an Upside Down Almond Tart
To make the almond tart, prepare the sweet pastry dough as in the recipe for the Gâteau de Saint Germain.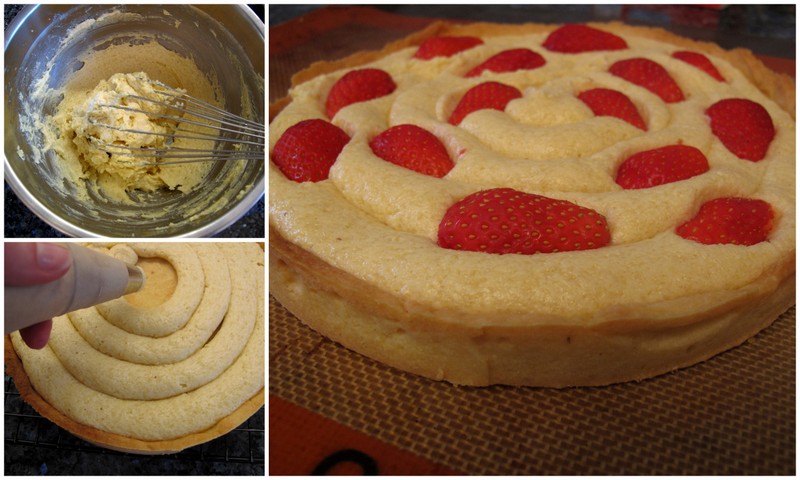 Fill the tart base with the almond cream, press in some strawberries and bake.
When baked, leave to cool on a wire rack. When cool, turn the tart upside down.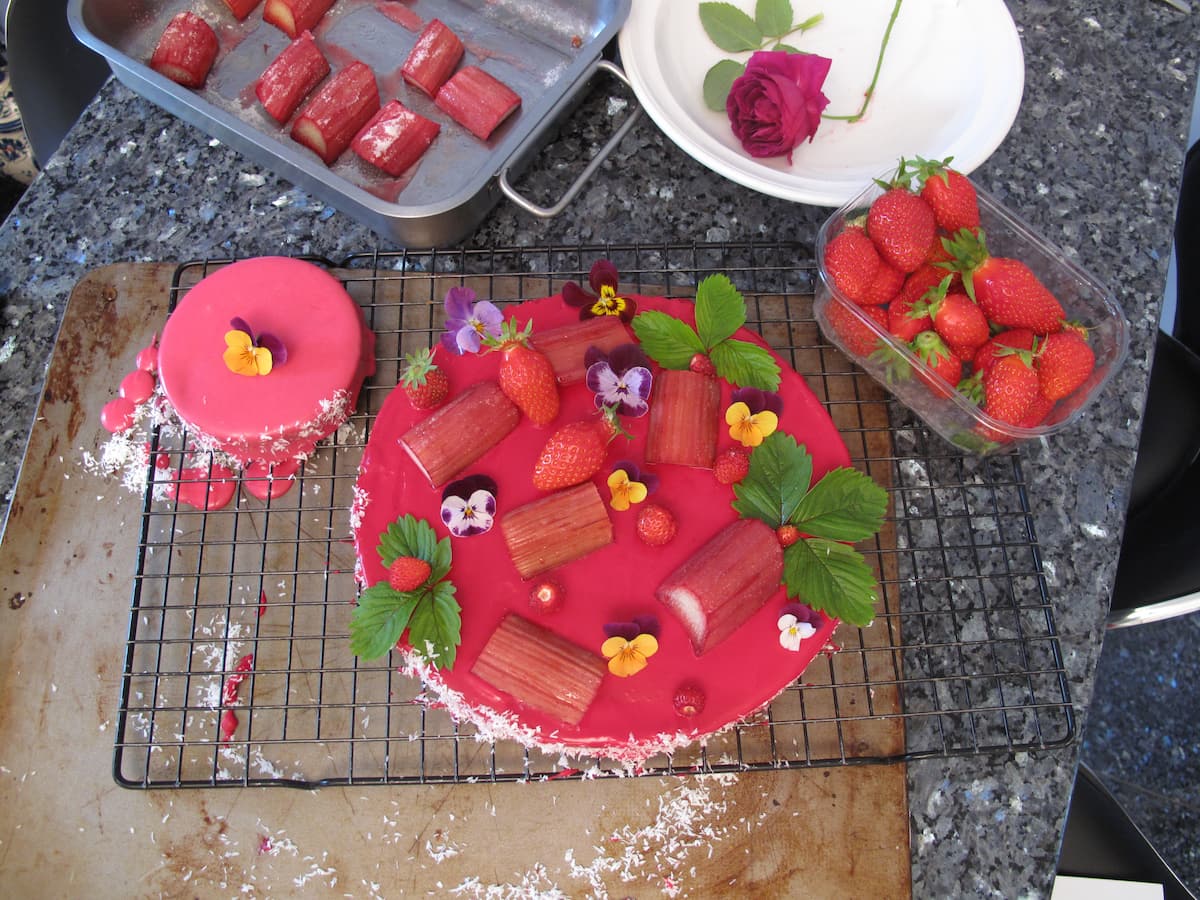 Glaze, sprinkle the sides with dessicated coconut and decorate with roasted rhubarb, strawberries and edible flowers.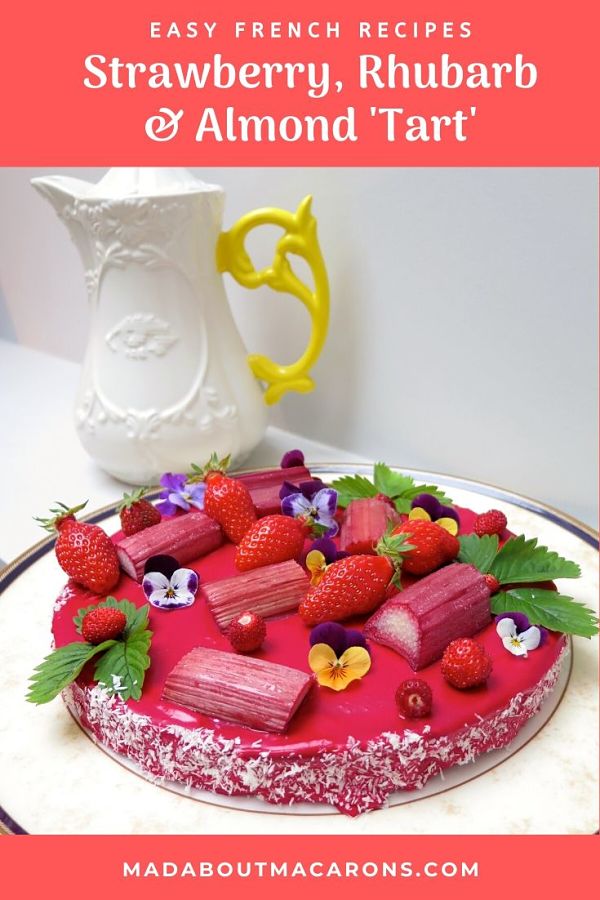 Almond Tart with Strawberries
An upside-down French tart baked with almond cream and strawberries, topped with a glaze, fresh strawberries and roasted rhubarb.
Ingredients
Tart Base
1

quantity sweet pastry

(ready-made or see my recipe below)
Strawberry Almond Cream
3

Organic eggs

(medium)

75

g (3oz/ ⅓cup)

Sugar

100

g (3.5oz/ ½ cup)

Unsalted butter

softened

100

g (3.5oz/ 1 cup)

Ground almonds/almond flour

200

g (7oz)

Fresh strawberries

washed, hulled and cut in 2 if big (about 1 ½ cups)
Quick Tart Glaze
6

tablespoon

icing (confectioner's) sugar

3

tablespoon

water

pinch

powdered dark pink (fushia) edible colouring
Decor
1-2

rhubarb sticks

washed, leaves discarded

2

tablespoon

sugar

edible flowers (e.g. violas)

1

tablespoon

small or wild strawberries

2

tablespoon

dessicated coconut
Instructions
Tart Base
Make the tart base by following the classic pâte sucrée (sweet pastry dough) and set aside to cool.
Roasted Rhubarb (optional as decor)
Preheat the oven to 180°C/360°F/160°fan (gas 4).

Cut the rhubarb into 4-5cm lengths. Place in an ovenproof dish, sprinkle over the sugar and roast in the oven for about 10 minutes until soft. Set aside to cool.

Turn down the oven to 170°C/340°F/150°C fan (gas 3).
Strawberry Almond Filling
In a mixing bowl, whisk together the butter and sugar. Gradually add the eggs and ground almonds (almond flour) until smooth and creamy.

Transfer the mixture to a piping bag and pipe out a spiral to fill the tart base (alternatively, spoon the mixture and spread evenly with a palette knife).

Press the strawberries into the almond cream and bake for about 15 minutes until the cream is golden. Set aside to cool on a wire rack.
Glaze Icing
Dissolve the icing sugar in the water and add a tiny amount of red or deep pink powdered food colouring (just a tiny heap at the end of a knife is enough).

Decor: turn the tart upside down on the rack and coat with the glaze, spreading smoothly with a spatula or warmed palette knife. Add the coconut to the tart sides by patting it on with the palm of your hand.

Decorate with the roasted rhubarb, extra strawberries and edible flowers of your choice.
Notes
Sweet Pastry Tart Base: For my favourite sweet tart base and pâtisserie-style glaze, see the whole tart chapter in my book, 'Teatime in Paris' (pages 69 and 106). Otherwise follow the classic pâte sucrée recipe (sweet tart pastry base) below.
Make-ahead dessert the day before: The strawberry almond tart can be prepared a day in advance then glazed and decorated on the day of serving.
Drinks: Serve with an off-dry Champagne, or Darjeeling tea, the Champagne of teas.
I highly recommend using the measures in grams & ml (instead of cups)
for more accuracy and better, consistent results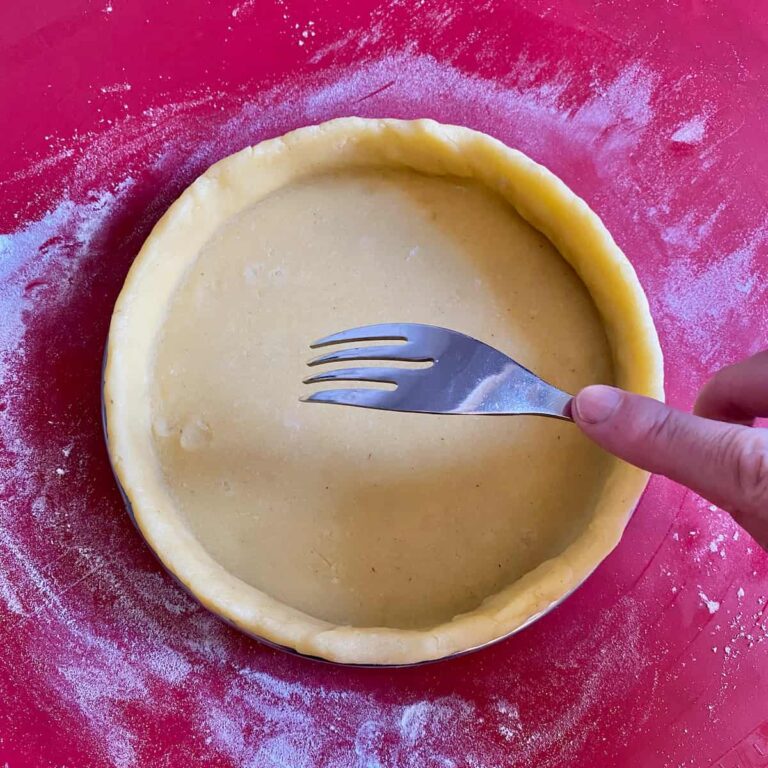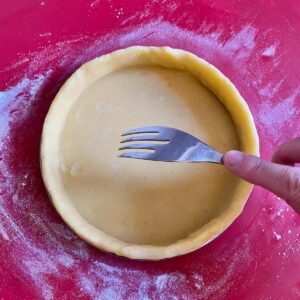 Pâte Sucrée Recipe (Sweet Pastry Dough)
French Pâte sucrée is the best all-round sweet pastry dough for tarts. This is the most basic and easiest recipe to work with - taken from my book's tart chapter in Teatime in Paris (2015).
The result means no soggy tart bottoms, just a delicious tart pastry base with a touch of vanilla. It's perfect as a base for fruit tarts, chocolate and almond tarts. Makes 500g pastry dough for 1 large tart or 8 tartlets.
Equipment
loose-bottomed tart tin or tart ring (27-28cm/11" diameter x 3cm)

stand mixer with paddle attachment

optional as dough can be mixed by hand

Rolling Pin

with optional end rings to roll out evenly

baking beans

or washed coins, rice or dried beans
Ingredients
125

g (4.5oz/½ cup)

unsalted butter

at room temperature (not melted), cut into cubes. Chilled if mixing by hand.

75

g (2.75oz/½ cup)

icing/powdered/confectioner's sugar

½

teaspoon

sea salt

fleur de sel

1

medium

egg

organic (room temperature)

¼

teaspoon

vanilla powder

or extract

240

g (8.5oz /1.9 cups)

T45 French all-purpose/cake flour

or plain (all-purpose) flour, sifted
Instructions
Using a stand mixer with a paddle beater (otherwise mix by hand with cold butter), mix the butter, sugar, vanilla and salt until pale and creamy.

On low speed, gradually add the egg and flour and mix until combined. Half way during mixing, push the dough down the sides of the bowl and paddle with a spatula. Continue mixing just until the dough comes away from the sides of the bowl and stop.

Form the dough into a ball. Wrap in cling film and chill in the fridge for an hour. Normally you will only need ⅔ of this dough quantity - either freeze the rest or keep it chilled for up to 3 days.

Remove from the fridge and after 5 minutes (as easier to work with), roll out the pastry to 3-4mm (⅛ inch) thickness on a lightly floured surface.

When completely rolled out about 3cm (about an inch) bigger than the tart tin/ring, transfer the dough by rolling around the pastry roller and cover the tart tin. If using a tart ring, place the ring on baking paper or a silicone mat.

Press well into the tart tin or ring, leaving no air holes around the edges. Trim off excess pastry by rolling over the edges with the rolling pin. Prick evenly with a fork.

Leave to set in the fridge uncovered in the tin/ring for at least 20 minutes. Preheat the oven to 180°C/160°C fan/Gas 4/360°F.

Blind bake (top with baking parchment and baking beans - see NOTES) for 15 minutes. Remove baking paper and beans.

Bake uncovered for a further 5-10 minutes or until the pastry is golden. This step may be optional, depending on the recipe filling's instructions (such as this almond rum tart, which stays in the tin and is baked further with the filling in it).

Leave to cool for about 5 minutes then remove from the tart tin/ring. Set aside on a wire rack to cool completely before filling.
Notes
For the original detailed step-by-step recipe, see the tart chapter in my book, 'Teatime in Paris' (2015) along with many more tart recipes.
Storage: although this dough can be prepared on the day of baking, it can be made 1-2 days in advance. Keep chilled rolled in cling film until ready to roll or prepare the tart shell and keep covered in the fridge. Otherwise freezes well - either the raw dough or the baked tart shell. Just defrost thoroughly before use.
Flour: Although all-purpose flour is good, I generally prefer a finer T45 (French all-purpose) cake flour for tarts. For more, see FAQs
For chocolate pastry, add 1 tablespoon unsweetened cocoa powder to the flour in step 2.
This post was first published 13 June 2016 but has now been updated.