If you're visiting the Marmottan Monet Museum in the 16th arrondissement in Paris, then a pâtisserie stop at Pascal Caffet is not to be missed.
He's not just a Meilleur Ouvrier de France in pâtisserie but also world champion in pastry, chocolate and ice cream plus makes the most incredible pralines.
Don't be fooled by McDonalds on the corner of Place de Passy in Paris's 16th arrondissement. It marks the start of Rue Duban, where the Marché de Passy indoor market adds to the hustle and bustle with delivery vans and upmarket florists, but a few steps takes you to this most celebrated Chocolatier and Pâtissier, Pascal Caffet.
It was the signature of Pascal Caffet en plus that lured me right in. The name rang a curious bell. Nearly 18 years ago, Lucie's christening cake was personally delivered to Paris by Antoine's uncle, Tonton Claude, who lives near Troyes. I remember how proud he was, showing off his local pâtisserie's talents by one of France's most prized pastry chefs, Pascal Caffet, who now has 3 boutiques in Troyes alone. Since then he has opened yet another 2 boutiques in the Champagne region, two in Burgundy, plus in Italy and Japan. Thankfully for us there are also two in Paris.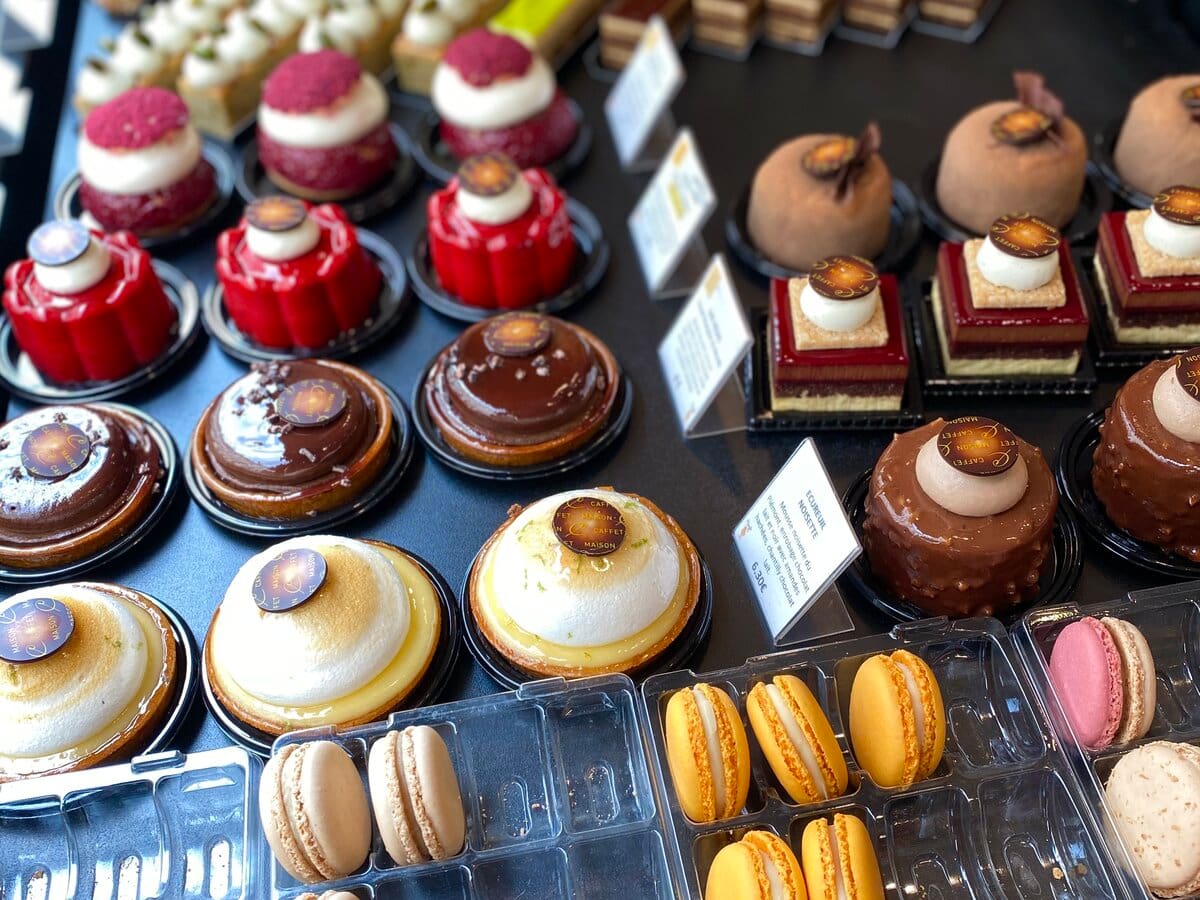 Entering the boutique, it was everything I love in a top pâtisserie and chocolate shop: not just the products and knowledge about them, but also the warm welcome. The owner, Charles Benchetrit, couldn't be a more friendly and passionate ambassador of Pascal Caffet's creations.
Last week, returning to buy more, I was in for a huge surprise. Smartly casual wearing a cheeky smile, Pascal Caffet was there himself – totally modest for such a prizewinner, most notably for being the youngest ever Meilleur Ouvrier de France (aka MOF, the highly coveted Olympian of French craftsmen in France) in pâtisserie at age 27 in 1989, and in 1995 as world champion of pastry-chocolate-ice cream in Milan.
What better excuse is that for us customers to taste? Previously I'd particularly loved the Paris-Troyes (top left), based on the classic praline-filled round choux, the Paris-Brest. This is his take on it using an almond praline cream, a light Madagascan vanilla cream and dribbled with a 66% dark chocolate. The ultimate pastry to try is his Las Vegas (bottom left), which earned him the title of MOF with chocolate biscuit, dark chocolate mousse (Venezuela 70%), Madagascan vanilla crème diplomate, crispy almond and raspberries. You can see why.
This time I was treated to a small tasting in the shop with the Exotique (above), with a soft exotic fruit mousse, wild strawberries and sponge. My favourite part was the crunch of the pineapple in syrup at the end…
Did I mention that Pascal is also extremely down to earth and fun, too? I want to frame this shot of him sneaking in at the last second. For all his prestigious line-up of awards, it hasn't gone to his head!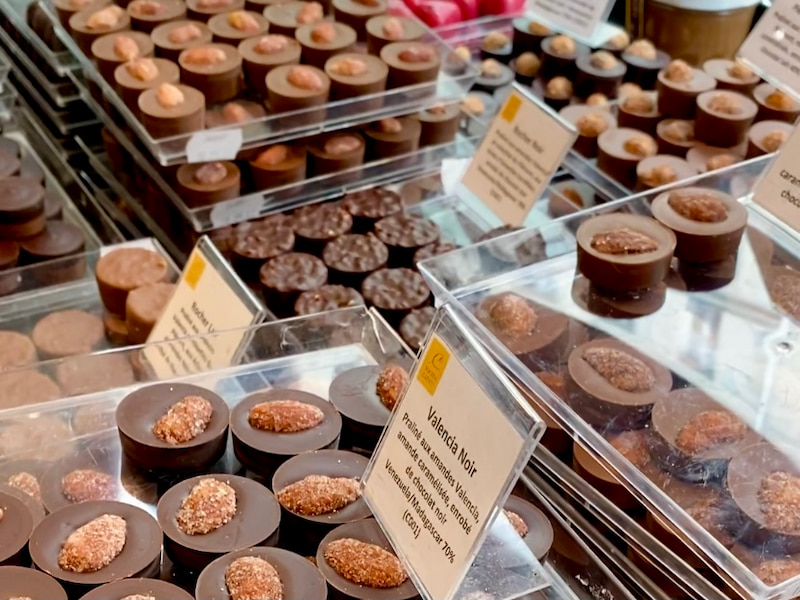 He's also mad about macarons: with 20 different flavours to choose from, they're all made with the most delicate chocolate ganaches, making them how we love them: ever-so-slightly meringue crispy on the outside and beautifully soft in the inside. Charles let me taste Chocolat passion, Vanille framboise, caramel à la fleur de sel. What is it with salted caramel? I have to say this one was my personal favourite.
Chocolates are another passion: this pure origine Brésil was striking for a 100% cacao ganache in that it wasn't bitter, just a pure chocolate sensation with a long aftertaste. Oh, and it's made with Criollo, one of the rare cacao varieties which makes up only about 5% of global production, so it's the Grand Cru Classé of chocolate. If you love pralines, this is the place to come!
At first I thought these round nutty chocolate disks were mendiants. They are instead given the tongue-in-cheek name, Croqs'Télé, as they're perfect for munching in front of the TV (ahem – we don't munch in front of the telly, do we?). Filled with praline, they're topped with caramelised almonds and hazelnuts from Piemonte.
These raspberry caramels hit the spot and would do for Lucie, too, as she has a brace: they're deliciously clever non-stick caramels on the teeth.
Dare I say, she also appreciates the pots of salted caramel and recognises the enormous difference between Nutella and Pascal Caffet's range of artisanal chocolate-hazelnut spreads (pâte à tartiner) or Chocopraliné, as he calls it.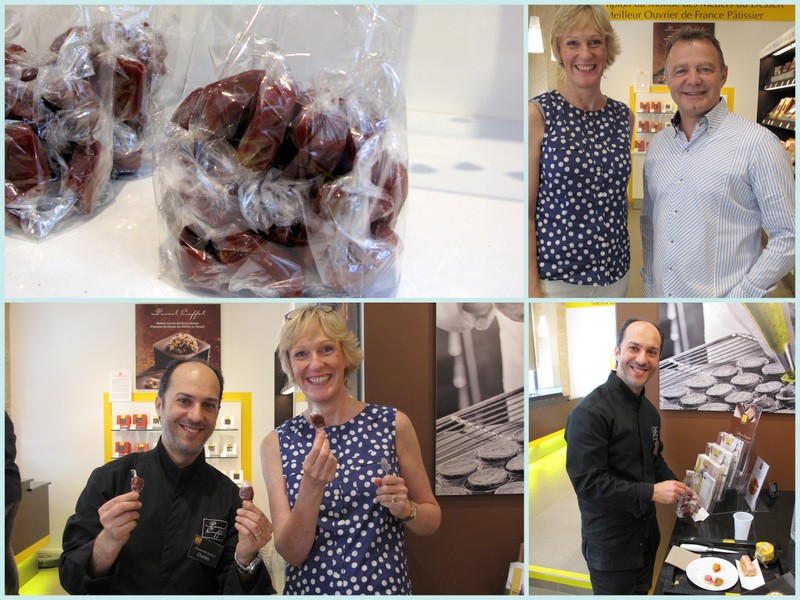 Our family have done his éclairs proud. After tasting so many of them, you could say we're experts of les éclairs au Caffet! Intense coffee, passion fruit, pistachio, Paris-Brest, hazelnut praline, Chocotartiné®, acidic lemon and salted caramel. Not bad, eh? Oh, and the Fraise Gourmande is missing since we tasted it in the shop. Gourmande and strawberry it certainly was.
I wonder if we get a tasting medal? Well, no – we still have many more treats to try out – but in true French style, avec modération… I thoroughly recommend you help me out and taste them for yourself.
Pascal and Charles – you rock! Thanks for coming to Paris.
Pascal Caffet
13 rue Duban, 75016 Paris
Tel: 01 – 45 20 08 04
Metro: La Muette
---
This post is not sponsored. I was not asked to write anything about the store and, as always, all comments and views are entirely my own.
This article was first published on 8 June 2015 but is currently being updated with new images and more explanatory text.