Spring out of bed in the morning to make these light and extra cheesy savoury cheese waffles for breakfast.
Perfect with rosemary and honey, made with either tapioca or rice flour. Inspired by our holiday Brazilian Cheese Puffs (Pão de Queijo) they are so light and gluten free.
How to Get Teenagers to Get up in the Morning
The Olympics may be well over in Brazil but the spirit continues at home as we brace our own starting line: Mondays. Know that feeling?
Especially as motivating teenage medal-potential sleepers to spring out of bed. That's as easy as trying to place a fitted sheet that's too small on a larger mattress. Forget it in the holidays and what's more, it's then an uphill struggle in the first few days of school and work routine. OK, parents included.
Unless there's something for breakfast that rekindles a particular holiday moment. Try this incredible kitchen toasted cheese aroma. From experience, this recipe has seen teenagers, and husband, jump over hurdles of inside-out clothes and head to the kitchen in a matter of seconds.
Brazilian Cheese Waffles
We discovered these incredible cheese waffles in Brazil, at our Pasada in Paraty, a couple of hours drive from the City of Rio de Janiero. They were such a hit each morning that I promised the family I'd make them back home. Lo and behold - now I wonder why I didn't make them sooner, as they are so easy!
The hotel (Pasada Literaria) explained the recipe was a secret but whispered it was based on the Brazilian classic cheese puff balls, Pão de Queijo. So I looked up recipes for them, including from my Brazilian friend, Denise Browning of From Brazil to You. It wasn't as easy as that on this side of the globe for ingredients.
Ratio of Tapioca Flour to Rice Flour
Except for the Brazilian recipe for cheese puffs, I had a problem: the main classic ingredient is tapioca flour. Could I find it around Paris? I tried health food shops - even in Corsica on family visits - and everyone met me with the same bewildered look. Until one informed assistant at La Vie Claire suggested I use rice flour instead of tapioca flour.
So I played with the recipe until it tasted just as we remembered it without the tapioca flour.
Normally the ratio of tapioca flour to rice flour is 2:1 but I found on experimenting with this recipe that a bit more than half of rice flour was a better consistency. Frankly, it was the same taste as we had remembered it. What's more, they were extra cheesy with a low-fat flavourful cheese.
As a result, I have given different quantities for both tapioca or rice flour in the recipe below, depending on what you can find.
Can I Put Cheese in my Waffle Maker?
So I set about developing a recipe based on flavour memory. As we had an orange looking cheese at the hotel, I first tried using cheddar.
Frankly, I wouldn't recommend cheddar in the waffle maker, simply as it's higher in fat and results in getting the waffle maker rather greasy.
Instead, I suggest using a lower fat cheese such as parmesan or, even better for orange colour, a medium aged to mature Dutch mimolette cheese. It's not only like parmesan but just as strong in flavour, low in fat and not messy while cooking. I recommend this kind of cheese much more than mozzarella, which is stringy and has less flavour in the waffles. Although mozzarella is good to cook with, for these waffles, they have less flavour. As this is just our family's personal opinio, I urge you to try for yourselves. Please let me know in the comments below.
This is exactly how the hotel served them: with a sprig of rosemary and an individual pot of runny honey. I loved the rosemary so much with it that I was stuffing it into the grooves! So to make it just as tasty and quicker, I added some chopped up rosemary to the dough. You'll see how good it is. Add that runny honey and you're all ready and set to go!
Don't have a waffle iron? Make them without the grooves as scotch pancakes or drop scones.
How to Make Cheese Waffles
This recipe couldn't be easier. The hardest part is just grating the cheese! Once you have all ingredients at the ready and a waffle maker or iron, it's ready to just mix all the ingredients together and just cook for about 5 minutes for a batch of two waffles.
Don't be alarmed at my recipe that seems like it's a lot of cheese.
As long as you follow my ingredient recommendations with low fat flavourful cheese (rather than cheeses high in fat like cheddar), then the quantities are just right.
More Cheese Recipes
Love cheese? Try our favourite cheese recipes: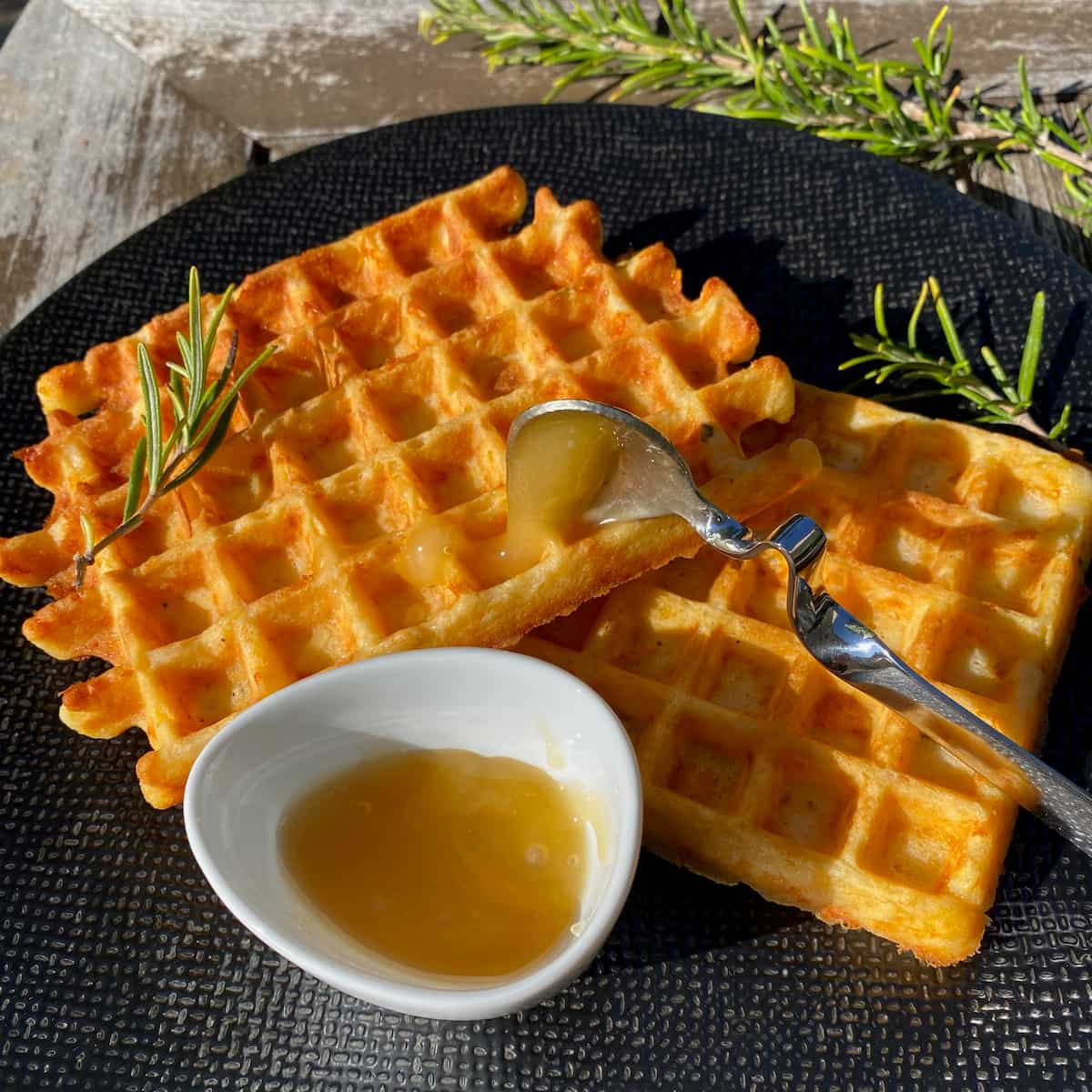 Cheese Waffles
Light and savoury cheese waffles for breakfast. Inspired by Brazilian Cheese Puffs (Pão de Queijo), made with either tapioca or rice flour. Gluten free.
Ingredients
300

g (11oz)

Tapioca flour

or 175g/6oz) for Rice flour

1

teaspoon

fleur de sel salt

(Maldon or Celtic sea salt)

150

g (5.5oz/ scant ¾ cup)

Hard aged low fat cheese

grated Mimolette or Parmesan

4

Organic eggs

80

g (3oz/ ⅓ cup)

Unsalted butter

melted

250

ml (9fl oz/ 1 cup)

Full fat milk

1

sprig

rosemary

finely chopped (and/or for decor)
Instructions
Mix together all the dry ingredients in a large bowl then gradually add the eggs, melted butter and milk. If by hand mix with a hand whisk until you have a lovely smooth batter.  Otherwise mix together all the ingredients in a food processor.

Ladle the batter into a hot waffle iron and follow manufacturer's instructions.  I found that cooking for 5 minutes was just perfect but you may need to cook them for a minute less.

Continue ladling the batter in batches until you have finished.
Notes
Serve with a sprig of rosemary and honey – ideally a strong mountain honey goes perfectly.
Also delicious topped with a poached or fried egg.
Don't have a waffle iron? Then serve them as pancakes! Measures: Please note that all my recipes are best made using digital kitchen scales in precise metric grams. Both ounces (and cups) are given as a guide. 
This recipe was first published 3 September 2016 but is now updated
with new images and more explanatory text with more tips.