Easy French recipe for Potato Gratin Savoyard - a classic family dish of thinly sliced scalloped potatoes, grated cheese and stock instead of cream or milk. Unlike its creamy Dauphinois sister, stock makes the potatoes just as extra fondant under a crispy cheesy top.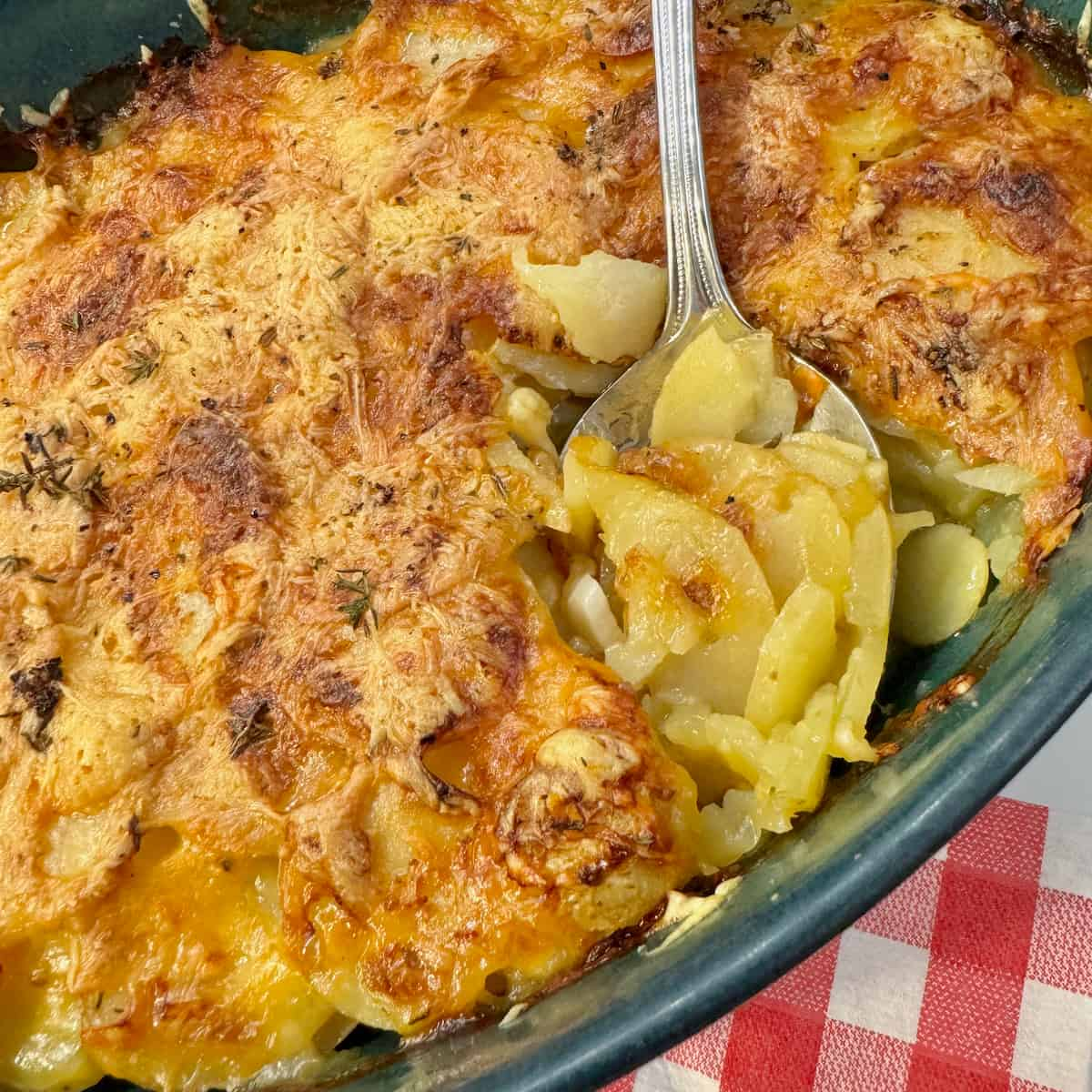 Savoyard Potato Gratin Without Cream
Over the years, I have been making this family favourite gratin, inspired by my now tattered and loved-to-bits French table recipe book by the Scotto sisters (edited by Gilles Pudlowski): France The Beautiful Cookbook.
It's simply layers of extra thinly-sliced potato, interspersed lightly with grated Emmental cheese. Before whacking it in the oven, beef/chicken (or vegetable) stock is quickly poured over it. So while baking, the gratin cooks itself in the juices without having any problems of curdling cream or, indeed, worrying about our arteries!
According to my Larousse Gastronomique (French culinary dictionary), a gratin is a family dish brought to the table directly from the oven. Everyone watches and listens to us cut into the crispy top layer with plate in hand. Can you imagine Auguste Escoffier serving this to his family? A visit to the Escoffier museum near Nice is worth a visit, where it's possible to imagine this scene.
Pommes de terre à la Savoyarde - proceed as for the recipe Gratin Dauphinois but replace the milk by Consommé (beef/chicken stock).

Auguste Escoffier, Le Guide Culinaire (1903)
What Does Gratin Mean in French?
A Gratin (pronounced: 'gra-tang') is the golden brown crust that forms on the surface of a dish that has been heated in the oven or grill, more often due to a top layer of melting cheese or breadcrumbs.

Larousse Gastronomique
While it's still bubbling hot and set down ready to serve, all eyes in our family are on that top crusty layer of cheese.
Once served and no leftovers, Antoine and the girls still, however, compete to scrape the last pieces of crunchy cheesy remnants that stick to the top of the dish.
So it's not for nothing that Gratin originally comes from the French verb, 'gratter', meaning to scrape, precisely referring to these crunchy bits left on the dish.
Is Au Gratin Potatoes and Savoyard Potato Gratin the Same as Dauphinois?
There are various kinds of potato gratins in France. Each commonly have layered, thinly sliced or scalloped potatoes, topped with butter and baked in the oven until the potatoes are soft and the top is golden and crunchy. It's the sauce to soften the potatoes that changes.
Not to be confused by the most popular rich and creamy Gratin Dauphinois from the Dauphiné region - also known as Au Gratin potatoes outside of France - the gratin Savoyard from Savoie has no cream or milk in it. If you prefer the cream version, then follow the French classic recipe for le Gratin Dauphinois. Also called potatoes à la Daupinoise in French, it is made with or without cheese.
The Gratin Savoyard or Pommes de terre à la Savoyarde (gratin is masculine; pommes de terre is feminine so there's an 'e' on Savoyarde) always includes cheese and, instead of cream/milk, is made with chicken or beef stock.
What Kind of Potatoes are Best for Making a Gratin?
To make gratin potatoes from scratch, you'll first need good quality potatoes.
Ideally for this gratin, use waxy potatoes, as they keep their shape. Waxy potato varieties include Charlotte, Belle de Fontenay, Anya, Desiree, Russet, Yukon Gold or Yellow. Jersey Royals are good but they're smaller, so not so easy to slice.
Having said that - if there are no potato gendarmes around - basically any potato I've tried works well. Even floury potatoes like Maris Piper, although waxy is best as their starch content thickens the stock naturally.
Tips for Making the Best Potato Gratin from Scratch
Slice potatoes as thinly and evenly as you possibly can. Cutting the thinnest, even potatoes slices will ensure even cooking and mingle with the flavours more easily in the oven.
Ideally use a food processor with slicer attachment. This makes the whole process much quicker and uniform. Otherwise cut by hand using a good, sharp knife.
If using a mandoline slicer, use the safety attachment, as it's pretty dangerous for slicing large quantities of potatoes (I speak from experience when slicing off the tip of a finger trying to make a pineapple carpaccio years ago).
Herbs: add a little (a teaspoon) fresh thyme or finely chopped rosemary before baking for extra depth of flavour. These herbs cope with cooking without altering their flavour. If you prefer fresh parsley or chives, add just before serving to preserve their flavour and vitamins.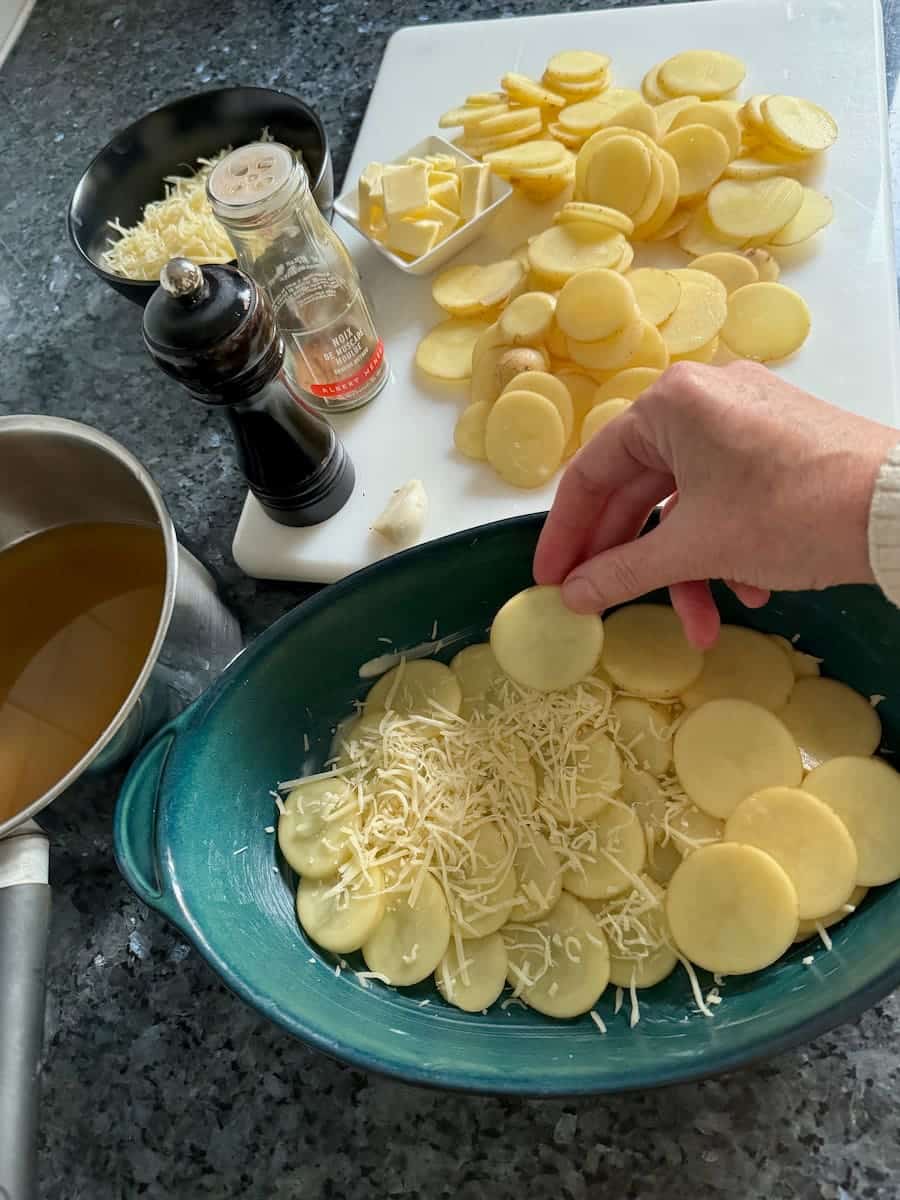 Can I Cut the Potatoes in Advance?
This recipe is different to a creamy Dauphinois so the answer is a bit different. Although possible to cut potatoes ahead of time and steep in a bowl of water to stop them oxidising (turning grey), I prefer to cut them as close as possible to cooking for a gratin Savoyard.
Why? This is so that the potato starch isn't washed off. As the stock makes the sauce more liquid, the starch helps thicken the whole dish in the oven.
What Cheese in a Potato Gratin Savoyard?
For the best cheese, ideally use French for authenticity. We use the light and fruity French Emmental cheese, ideal for this gratin.
For a more robust flavour, depending on what you're serving with it, use another French Savoie cheese, Beaufort, or a mix of the two.
The result is quite powerful, with a fruity and nutty taste (speaking of which, it's not classic but great with added walnuts). Otherwise Gruyère (Swiss) is great, or its equivalent in France, Comté from the Jura.
Can I Freeze Potato Gratin or Reheat Next Day?
This Potato Gratin Savoyard is perfect for freezing or for preparing in advance. It's great reheated next day. To freeze, cool, cover and seal for up to a month but don't freeze if you use frozen stock.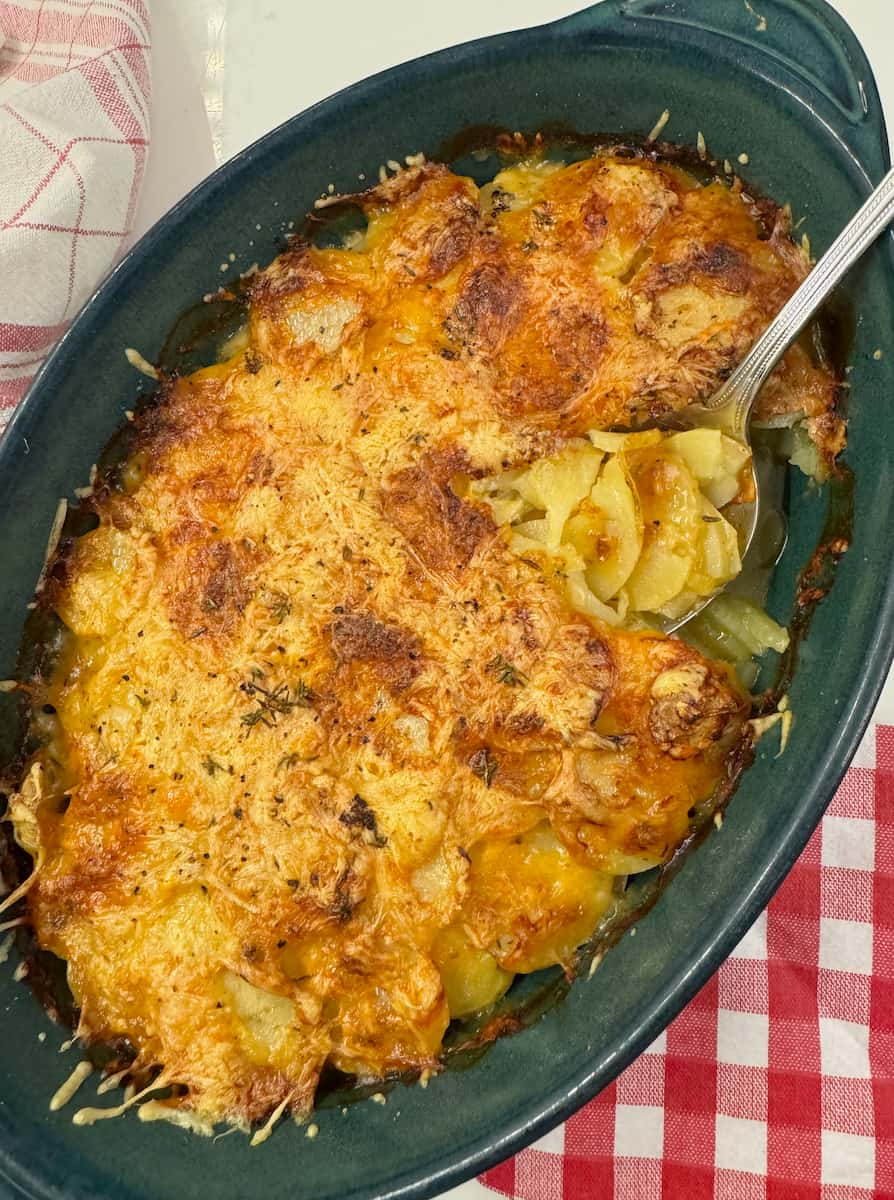 How to Serve
Serve the potato gratin Savoyard directly at the table. Top with freshly chopped flat parsley, chives or other fresh herbs of your choice.
Delicious as a side dish served with poultry or meat dishes - excellent with Coq au Vin, a Corsican Veal Stew or pan-fried pork in honey sauce.
If serving with fish, use vegetable stock and serve with pan-seared John Dory or Herb-Crusted Salmon.
Potato Gratin Savoyard
Easy French potato gratin recipe without cream. Unlike the Gratin Dauphinois, thinly sliced scalloped potatoes are layered with cheese but milk/cream is replaced by chicken or beef stock (or vegetable for vegetarians).
Equipment
Ovenproof gratin dish

26 x 18cm / 10 x 7in
Ingredients
600

g (1.25lb/ 2 cups)

waxy potatoes (e.g. Charlotte)

peeled, thinly sliced*

1

clove

garlic

300

ml (10floz ½ pint/ 1¼ cups)

chicken stock

(or vegetable)

150

g (5.5oz/ 1¾ cups)

grated cheese

Emmenthal, Gruyère or Beaufort*

good

pinch each

nutmeg, salt, pepper

40

g (1½oz/ 2¾ tbsp

butter

unsalted

1

tablespoon

fresh flat parsley

finely chopped (optional)
Instructions
Preheat oven to 190°C/170°C fan/375°F/Gas 5.

Wash the potatoes, pat dry and peel if you prefer. Slice them as thinly as you can, preferably using a slicer attachment of a food processor (if using a mandoline please use safety attachment and watch your fingers!) or with a good sharp knife.

Heat the chicken (beef or vegetable) stock, adding the nutmeg, pepper and salt.

Rub the baking dish with the clove of garlic and grease with some of the butter. Spread a uniformed layer of potatoes covering completely the bottom of the dish, then a fine layer of cheese.

Continue layering like this until there's enough potato for the last layer. Pour over the hot stock, top with a final layer of cheese and dot with the remaining butter.

Bake for about 45 minutes until golden and the stock has disappeared into the fondant potatoes. Sprinkle with fresh parsley.
Notes
Delicious served directly at the table with roast meats or chicken. If entertaining, I make double quantities in 2 gratin dishes, as this can go down well!
Potatoes: pick waxy and all-round potatoes such as Charlotte, Desiree, Yukon Gold or Yellow – although, basically any potato I've tried works well (even floury potatoes, although waxy is best as their extra starch thickens in the stock). As Charlotte have a thin skin, I keep them on but if you prefer, peel potatoes.
Stock Tip: use good quality stock over a stock cube if possible. Frozen stock or bouillon (fond de volaille/veau) is easily available in many French frozen food stores/supermarket sections.
 To make your own, add water to an empty carcasse of roast chicken and heat until the flavours mingle.
Cheese: Ideally use a

fruity French Emmental or Beaufort cheeses from the Savoie for an authentic Gratin Savoyard, otherwise Comté from the Jura - the equivalent in Switzerland is Gruyère.
Nutrition per 276g serving: 24g protein; 74g carbohydrates; 23g lipids; Glycemic Index: 19
This recipe was first published 30 March 2017 but is now completely updated