Easy French recipe for tenderloin pork with honey sauce. Pork is glazed in honey and mixed with cream to create a quick, delicious sauce in just 30 minutes. However, ensure you use pure honey for the recipe to caramelise the pork easily - so discover below how to spot if it's real or fake.
Quick and Easy French Pork Recipe
I can't believe I still hadn't posted this family recipe. I say it's ours but I simply got the idea from our butcher at the market many years ago when the girls were little. When I was looking for simple ways to cook a French Filet Mignon (lean tenderloin cut) or Grillades de porc (fan-like cut also lean), the butcher suggested I just fry it with honey and crème fraîche or cream.
Was that it? Et voilà ! My French mother-in-law has her traditional way of cooking tenderloin: she marinates it in olive oil, garlic and herbs and grills it for a long time on the BBQ. It's divine but this is with a sauce - and so much quicker cutting it into pieces.
So our Glazed Honey Pork was created and, over the years of tweaking it just right, it has become the girls' favourite winter dinner (next to the Blanquette de Veau, spicy chicken tagine and chestnut flour, pumpkin and mushroom tart). In fact, each time our girls return home from their studies, they ask for this comfort dish.  Now it's time to pass them the recipe to make it themselves. The recipe is so easy, the quantities are simple to adjust for 2, 3, 5 or 6 people.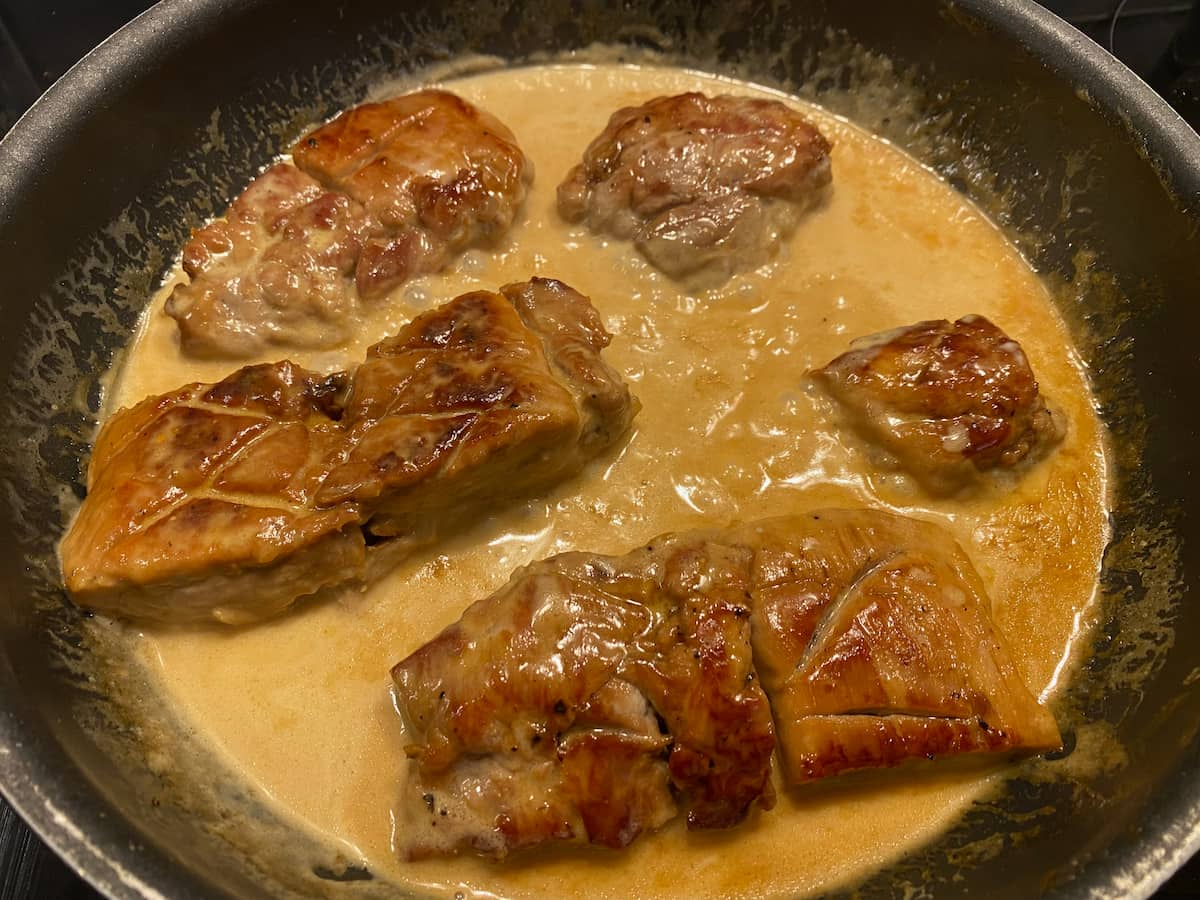 Honey Glazed Sauce for Pork Tenderloin
This is one of the best ways to cook tenderloin pork. We prefer tenderloin (filet mignon), as it's a lean cut. It's so quick and easy and our family favourite French pork loin recipe - especially in winter. Moreover, that creamy honey sauce is so good, you may just have the family looking to scrape the pan clean!
I learned over the years not to put the pan in the sink straight away, as our youngest daughter, Lucie, would fly into the kitchen when her plate was clean to see if she could then lick the pan for any remaining sauce. Correction - she still does this even years later! So it's comfort food at its best. If serving to children and prefer without the spice, omit the cayenne pepper.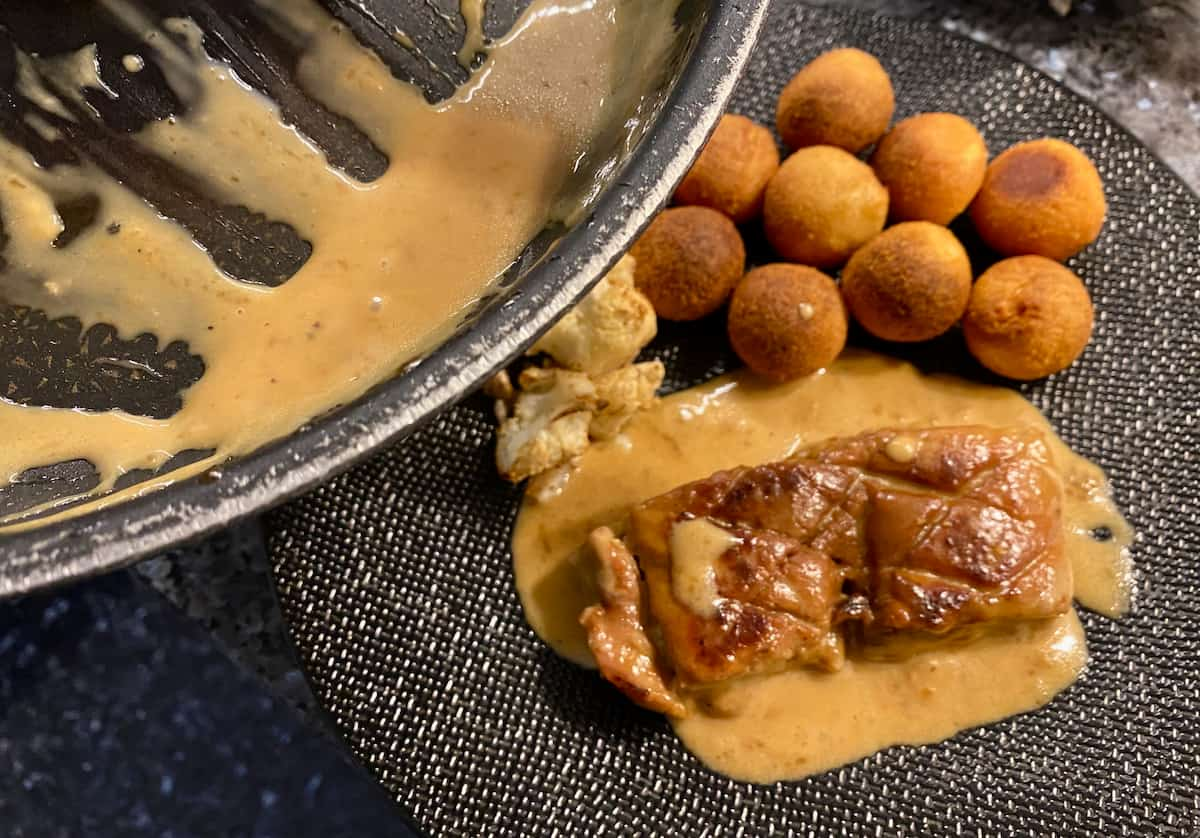 Best Honey For Cooking
Please use good quality honey for making this recipe.  The other day while making this, I didn't understand why my meat wasn't caramelising as it usually does easily with the honey. In fact, the pork didn't caramelise at all! I discovered it was because the honey wasn't real; what I thought was honey (labelled Miel aux fleurs) was, in fact, a mixture of factory-made syrups made to look like honey.  Don't be scammed by cheaper honey in supermarkets. It's probably fake.
We watched a documentary on the French news recently explaining that honey is one of the main top five fraudulent food products. So beware of fakes; there are many honey scammers out there!  I had used a low-cost supermarket brand from our local supermarket and honestly, this dish wasn't at all the same. So, beware of buying cheap honey if it's just for cooking.
In this recipe, it's easy to spot if the honey is fake if the pork doesn't caramelise quickly. Real, pure honey caramelises fast with the reaction to heat. Conversely, fake honey transforms into a mousse or a form of caramel either extremely slowly - or not at all. When I added the fake honey to the recipe that day, I tasted it afterwards to discover it had no flavour of honey - just sweet syrup with no flavour.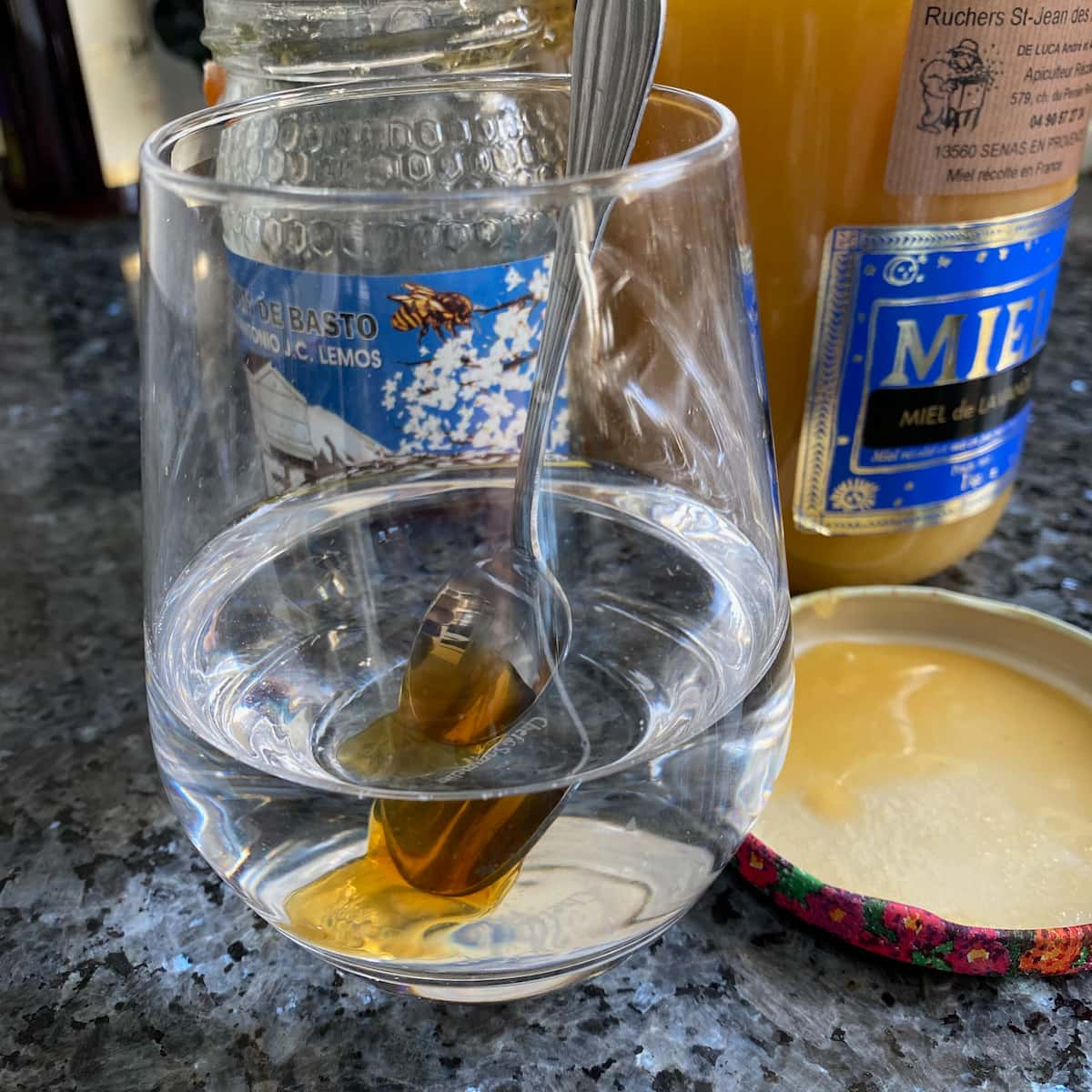 How do you Tell Real Honey from Fake Honey?
So, how can you avoid falling for scams? There are ways to first check as soon as buying honey to see if it's genuine. Here are some simple ways to tell real honey from fake, thanks to information provided by l'abeille-heureuse:
Read the label: it should say that it contains 100% honey and state its source, list of ingredients, expiry date etc.;
Don't buy from unknown vendors where you don't know their source;
It's seems evident but it should taste of honey. Fakes don't even taste of honey or have no real flavour;
Like taste, the texture is different. Real honey tends to have some slight crystals, foam or pollen, while fake is completely liquid without any impurities in it (possible addition of gelatine, more sugar/syrup etc.). A genuine jar of honey solidifies and is difficult to spread after time, while an imposter will remain liquid and easy to pour after months;
A spoonful in a glass of water, real honey settles at the bottom and doesn't dissolve easily in the water unless stirred to mix. Conversely, fake honey dissolves quickly;
Honey on bread trick: when spread on a slice of bread, real honey stays intact and the bread dries within minutes vs the scam product will trickle into the bread, being totally absorbed.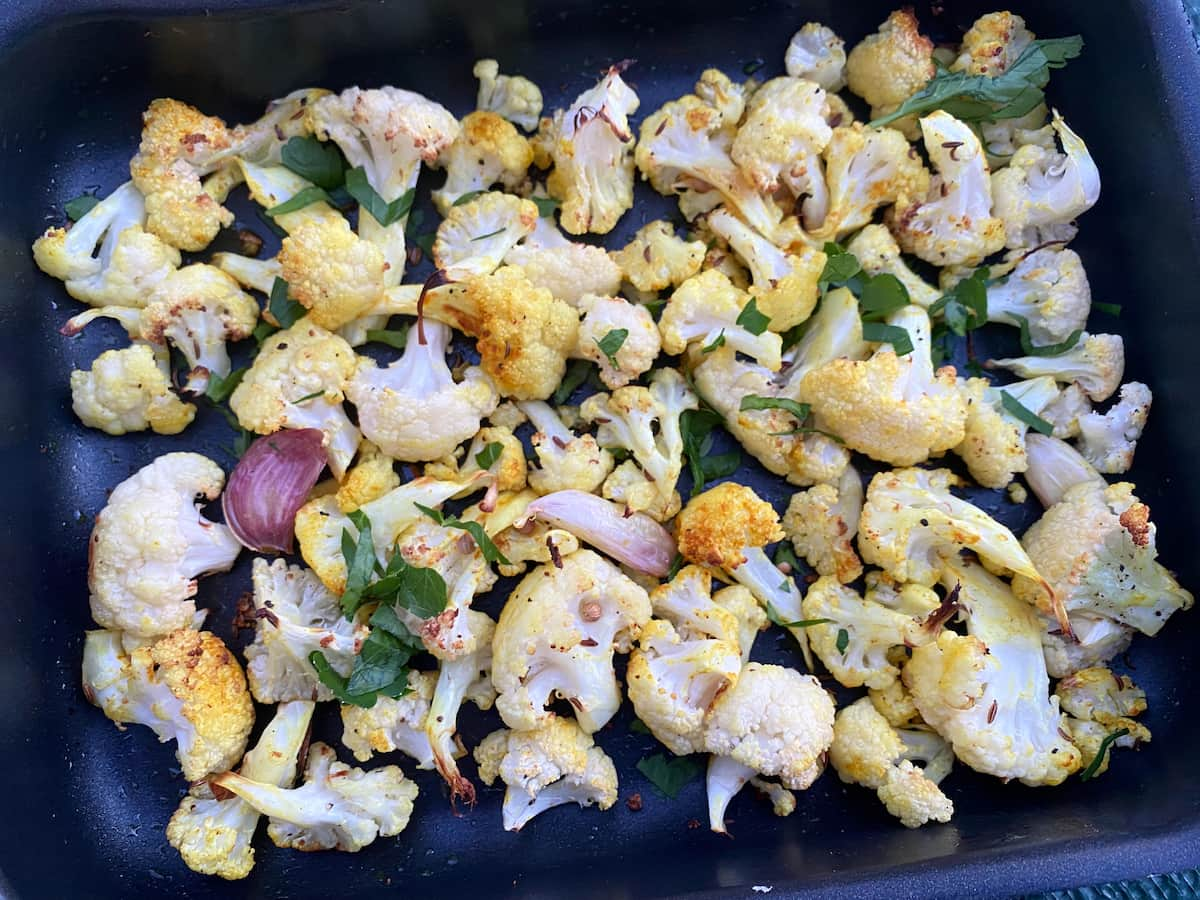 How to Serve Honey Glazed Pork for Dinner
As there is plenty of creamy sauce, we love to serve this with pommes noisettes, these crispy potato balls that are so popular in France. You'll find them in all frozen food sections in supermarkets, or in frozen food stores such as Picard or Thiriet.
For a vegetable accompaniment, as it's a winter dish, we love this with roasted cauliflower with a light sprinkling of 4 spices (quatres-épices: cinnamon, cloves, nutmeg and ginger). Also perfect served with fried, sliced apples.
Delicious with a fruity white or red - even a chilled rosé.
Note: This recipe is gluten free but if you're following a strict gluten-free diet, watch how you serve it with accompaniments. Potatoes are gluten free naturally but read the label for pommes noisettes (or pommes dauphinois) as they may have gluten added in their ingredients.

How to Glaze the Pork in Honey
It couldn't be simpler:
After seizing the pork slices on one side, coat each slice with a tablespoon of honey.
Within minutes the juices start to bubble up and caramelise quickly.
Turn over the pork slices to brown on the other side and the pork will also look caramelised and juicy.
After a few minutes, add some crème fraîche/Greek yoghurt/heavy cream), stir with the juices and violà!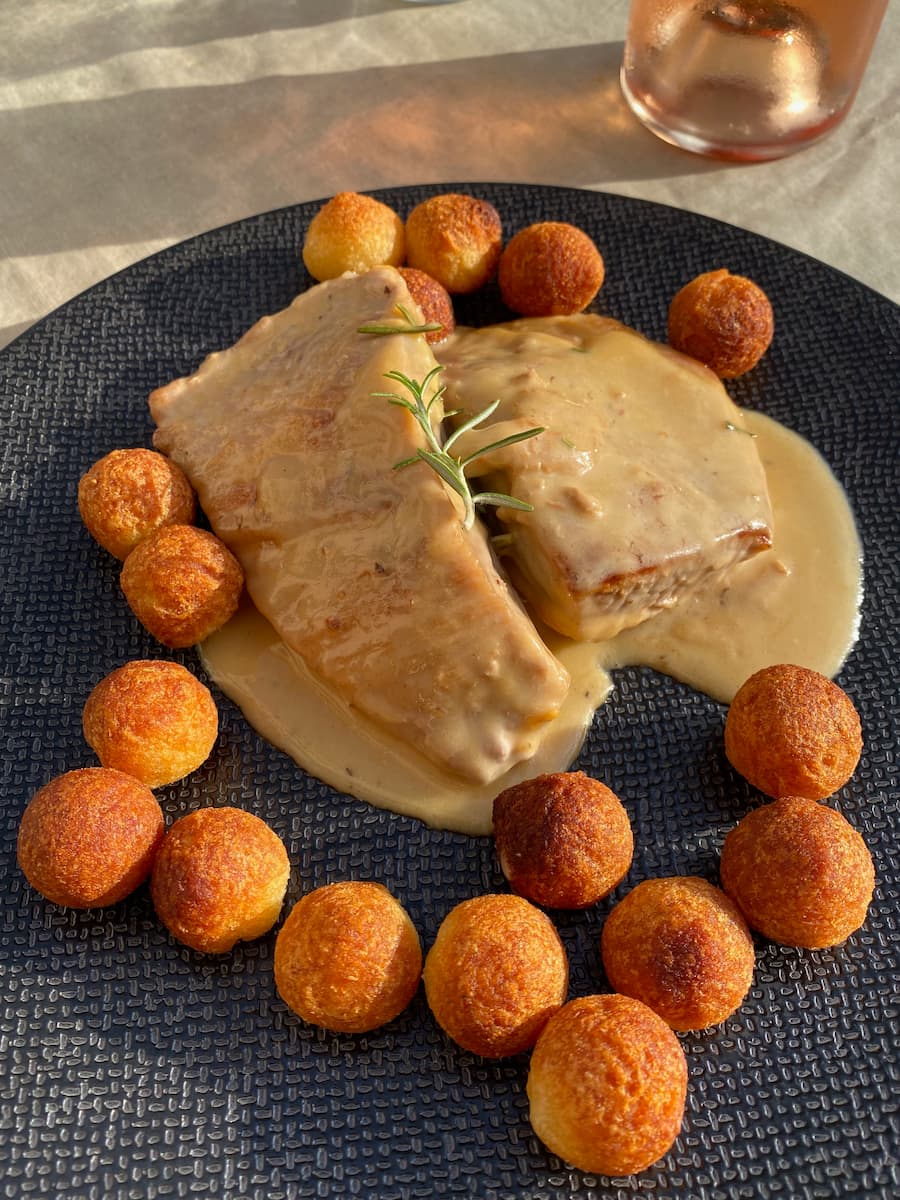 A Quick Pork Recipe
Honey Glazed Pork Tenderloin
Easy French recipe for tenderloin pork. Pork is glazed in honey and mixed with cream to create a quick, delicious sauce in just 30 minutes.
Ingredients
800

g (2lb)

tenderloin pork or fillet

trimmed of silvery sinew and cut into 4 pieces

25

g (1oz/2 tbsp)

butter (unsalted)

4

tablespoon

honey

(see notes)

¼

teaspoon

cayenne pepper

salt & pepper

to taste

250

g (9oz/ 1 cup)

crème fraîche

(heavy cream or Greek yoghurt)
Instructions
Using a sharp knife, cut the pork fillet horizontally down the middle. Then in the other direction cut in half to give 4 pieces. Score each piece of pork.

Heat the butter in a medium hot frying pan and once melted and starting to bubble, seize the pork on one side.

Add the cayenne pepper and dribble a tablespoon of honey on each pork slice. Crack a couple of turns of the pepper mill and add a little salt. Then turn the fillets over to caramelise with the honey.

After about 7 minutes cooking, the juices will darken and pork starts to look caramelised. If not, cook another couple of minutes. Not caramelising at all? (see notes)

Turn the pork fillets back over. Add the cream or crème fraîche, stir to combine with the juices and leave the sauce to bubble for a few minutes until the sauce takes on the caramelised juices.
Notes
If serving to young children, omit the hot cayenne pepper.
Serve with roasted cauliflower or the vegetables of your choice. We like to serve with pommes noisettes. 
Note on Honey: If the pork isn't caramelising it could be that you're using fake honey (you're not alone!). Read my checklist in the post but a good way to check is by placing half a spoon of honey in a glass of water. If it dissolves into the water easily, it's fake. Real honey stays at the bottom of the glass.
This recipe is gluten free but if you're following a strict gluten-free diet, watch how you serve this with accompaniments. Potatoes are naturally gluten free but read the label for pommes noisettes (or pommes dauphinois) as they may have gluten added in their ingredients.
NUTRITIONAL INFORMATION: 500 calories per 284g portion with 22 g protein each.
Love recipes with honey? Try this iced honey parfait as part of my twist to a Scottish Cranachan dessert.