A taste of Autumn on a plate, with the most deliciously rustic chestnut flour tart base to accompany the season's pumpkin and mushrooms. A vegetarian special for Thanksgiving, Christmas or just for feeling special.
Every time October arrives, the girls always ask for this tart. If I'm entertaining, I love preparing them as individual tartlets as a starter, just to be posh. Why do we love it at this time of year? Because the combination of chestnut flour with pumpkin, mushrooms with some leek and sage is simply divine. Trust me, it's totally worth the effort to make the pastry.
It's vegetarian, although we don't mention this to Antoine, as he thinks we're not feeding him otherwise. Somehow the lush, smooth taste of the chestnut flour pastry base fools us into thinking that there's bacon or chicken in it.
If you've tried this, you'll know what I mean.
A Vegetarian Alternative for Christmas or Thanksgiving
Which means it is perfect as a vegetarian no-turkey alternative for Thanksgiving or Christmas – or just a family treat to fall for! It's also a versatile recipe: often I throw in the mushrooms and leek, topping it with some walnuts.
For non-vegetarians, if you want to add leftover turkey, it's perfect together too.

As you can see from the photos below, it's also delicious topped with pecan nuts if you don't like mushrooms. Or walnuts, just for that extra seasonal crunch! Adding a few pre-cooked chestnuts just adds that extra chestnut flavour, so popular in French supermarkets, sold as either vaccum-packed or in jars.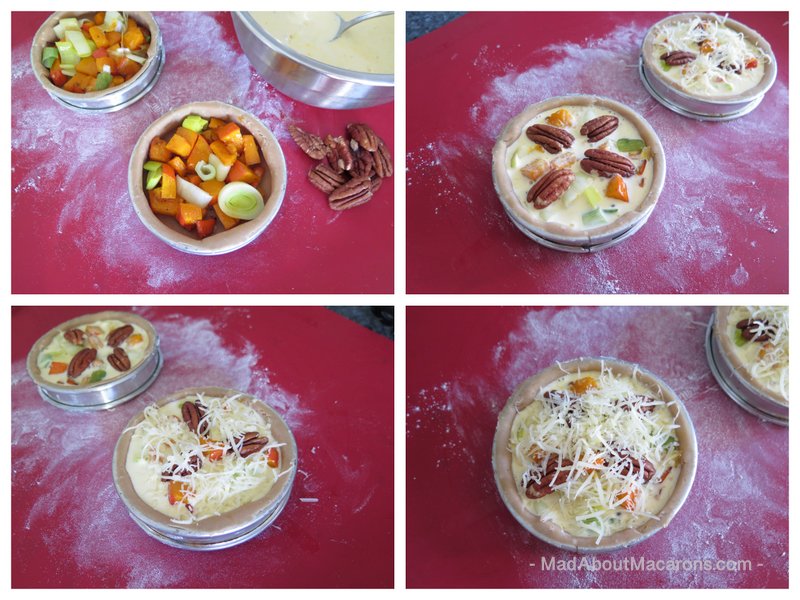 What is Potimarron in English?
French potimarron is so popular in France, perhaps even more so than regular pumpkin (potiron), sold by the slice at our local markets. Known more widely as Chestnut Pumpkin, Japanese Red Kuri squash or red Hokkaido, the potimarron is best for this tart recipe. That's because it's less watery than regular pumpkin or butternut and it even tastes of chestnut – hence the part, 'marron' in the French name, which means chestnut. There's no need to peel off the skin, either, as it's edible.
If you can't find potimarron, use regular pumpkin or butternut squash. As they give off more liquid, I would recommend blind-baking the pastry first for an extra 10 minutes, covered in parchment and baking beans.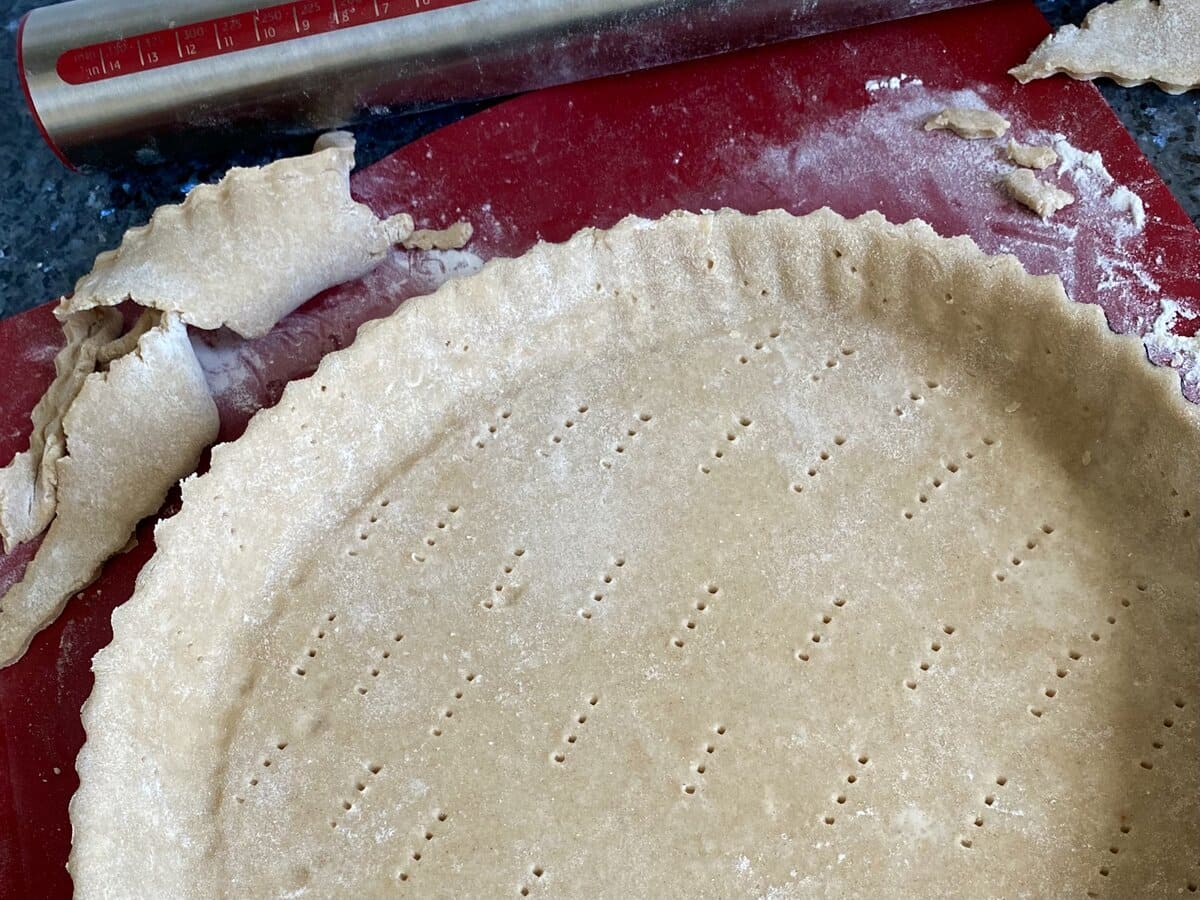 Chestnut Flour Homemade Tart Base
Chestnut flour is easily available in health food stores and in the organic healthy sections of many supermarkets in France. If you haven't tried it yet, I urge you to do so. It's one of the staple ingredients in Corsican cooking and popular in France. It's also so powerful and rustic in flavour – that's why I mix it with plain (all-purpose) flour.
Please don't be put off by making the pastry. You'll discover the pastry is a pleasure to work with if you follow this recipe to the letter, using measurements in grams or ounces with a digital kitchen scale (find out why measuring by weight rather than volume by cups makes baking life easier). It's totally worth it.
What Wine to Match a Pumpkin, Mushroom & Chestnut Flour Tart?
The flavours of chestnut, pumpkin & mushroom in a tart or individual tartlets match well with a light and fruity red wine.
What's more, in Autumn, France goes slightly crazy over the basic Beaujolais and Beaujolais Nouveau the 3rd Thursday in November (that's how I met my Frenchman, but that's another story!).  As our student days are over, we prefer the more sophisticated medium bodied Beaujolais Crus (Morgon, Brouilly, Julienas…) – excellent value for money, in my humble opinion, compared with their expensive neighbours up the road in Bourgogne.
A light Loire red is also a great match with the tart – such as Chinon or Saumur reds.
Roasted Pumpkin, Mushroom and Chestnut Tart
Makes one large tart (28cm diameter) or 8 individual tartlets
Roasted Pumpkin, Mushroom and Chestnut Flour Tart
---
Description
A taste of Autumn on a plate, with the most deliciously rustic chestnut flour tart base to accompany the season's pumpkin and mushrooms. A vegetarian special for Thanksgiving or Christmas. For non-vegetarians, add some leftover turkey.
Ingredients
Chestnut Flour Tart Base:
100

g (3.5oz)

chestnut flour

sifted

150

g (5.5oz)

plain flour

(all-purpose T55)

125

g (4.5oz)

unsalted butter

softened

1/2

tsp

salt

(fleur de sel)

4-5

tbsp

water
Filling:
300

g (11oz)

pumpkin ( (or red kuri squash/potimarron)

roughly chopped into small chunks

3

tbsp

olive oil

1

leek, white part

sliced finely

300

g (11oz)

mushrooms (Parisian mushrooms, cremini)

cut into big pieces

1

tsp

sage leaves

finely chopped

3

eggs

organic

250

g (9oz)

crème fraîche or half fat cream

(I use 15% fat)

good pinch

ground nutmeg

good pinch

salt and pepper

2

tbsp

freshly grated parmesan*

(not the packaged grated stuff)
Instructions
Preheat the oven to 200°C/180°C fan (400°F/Gas 6).
For the chestnut flour pastry base:
Mix all the ingredients together in a stand mixer or food processor and mix just until the dough forms a ball. Wrap in cling film and leave to rest in the fridge for 30 mins. Remove the dough from the fridge and leave to stand about 10 minutes, to make it easy to roll it out.

Roll out the pastry on a lightly floured surface. Then, roll the pastry around the rolling pin to transfer it to a 28cm tart tin.

Press the pastry well into the sides. Roll over the top of the tin to clean up any rough edges. Chill in the fridge for 30 minutes (this is important so the sides won't fall during baking later).

If making a large tart, blind bake for 15 minutes covered in parchment and baking beans. No need for tartlets.
For the filling:
If using a hard pumpkin like potimarron/Red Kuri squash, roast whole in the oven for 15 minutes. This will make it easier to cut into small chunks (no need to cut off the skin, it's edible). Let cool slightly to spoon out the seeds.

Place the chopped pumpkin with 2 tbsp of the olive oil and chopped sage in a roasting tin. Roast in the oven for 20 minutes.

Meanwhile, over medium heat, dry fry the mushrooms: there's no need to add any oil. Wait until the mushrooms give off their liquid then transfer to a plate. Set aside to cool slightly.

In the same pan, add the remaining olive oil and gently fry the sliced leek until translucent but not brown.

In a bowl, whisk together the eggs, crème fraîche, nutmeg, grated cheese and season to taste.

Sprinkle the roasted pumpkin and sage over the tart base, top with the leek and mushrooms and pour over the creamy egg mix. Bake in the oven for about 30 minutes.
Notes
* for strict vegetarians, use your favourite cheese, otherwise replace with emmental.
For Thanksgiving and Christmas: You could also replace (some of) the mushrooms with leftover turkey.
Matching wines with Chestnut & Mushroom Tart: Enjoy with a Beaujolais Cru: a Saint-Amour, Morgon, Fleurie, Côte de Brouilly - or a red from the Loire (Chinon/Saumur).
This post was originally published 18th November 2015 but the text is now completely updated with more recipe details.